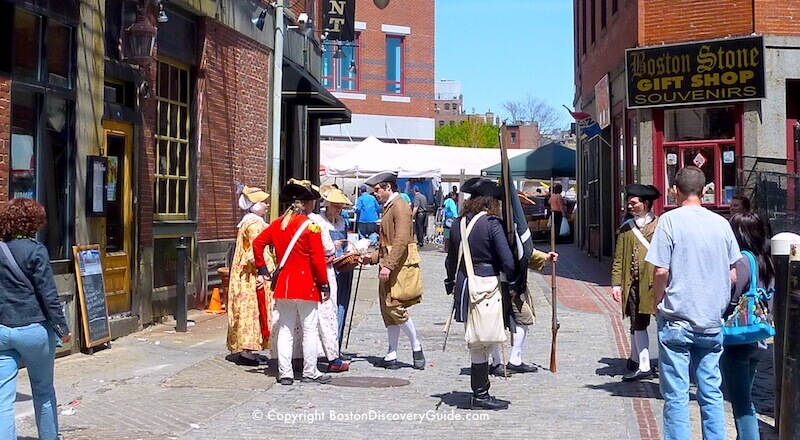 Boston Harborfest, the largest Independence Day festival in the United States, celebrates Boston's colonial, Revolutionary War, and maritime history and heritage with fireworks, entertainers, historical reenactments, music, events along the Freedom Trail, Harbor cruises, walking tours, plus a lot more!
Almost 3 million people from all over the world come to Boston for the festival.
Although the best-known Independence Day celebrations are the Boston Pops Concerts and July 4th Fireworks Spectacular, Harborfest packs 200+ other events into the festival's five fun-filled days.
Festivities begin on June 30 and run through July 4, and take place in Historic Downtown and the Downtown Waterfront, Faneuil Hall, Charlestown Navy Yard, and Long Wharf.
Many Harborfest events are free this year, while the rest range from inexpensive to pricey.
If you need a convenient place to stay, check out our recommendations for Boston hotels for Harborfest, based on location.
Boston Harborfest dates back to 1981, so the 2018 celebration marks the 37th anniversary of this gala July event.
Harborfest Boston Daily Schedule
Highlights of Harborfest events each day include:
June 30: Harborfest Begins!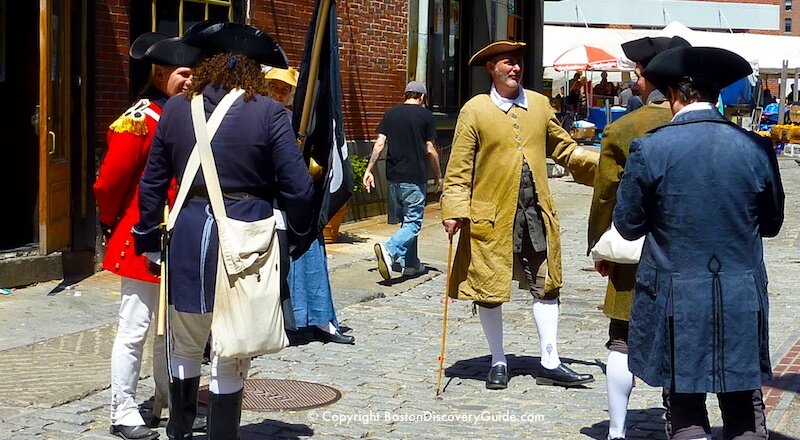 Main event: Opening Ceremony, 11am, Faneuil Hall Marketplace - Boston Mayor Marty Walsh launches Harborfest in this festive event at Faneuil Hall on the Freedom Trail with speeches, music by the 215th Army Band, and the Official Boston Harborfest cake.
A Visit with Paul Revere at Paul Revere House (163 Salem Street, Boston's North End) - 1pm - 3pm (617-523-6676) - Bring your children to meet Paul Revere (played by a costumed reenactor) and find out what really happened during his famous Midnight Ride. Free with regular admission to Paul Revere House.
Beacon Hill Treasures Walking Tour - 1pm, 3pm - Join this 1.5 hour walking tour of Boston's most historic neighborhood. Historic New England - members $10, non-members $15. Registration recommended; call 617-994-5920 or register online at: http://shop.historicnewengland.org/HGO-HARBORFEST-1-MTX-1-10365/
Revolutionary King's Chapel Talks - 10:15am-4:15pm - Stories about key figures and events at pre-revolutionary King's Chapel on the Freedom Trail - Every half hour from 10:15am - 4:15pm at King's Chapel (58 Tremont Street). Free.
---
Harborfest - July 1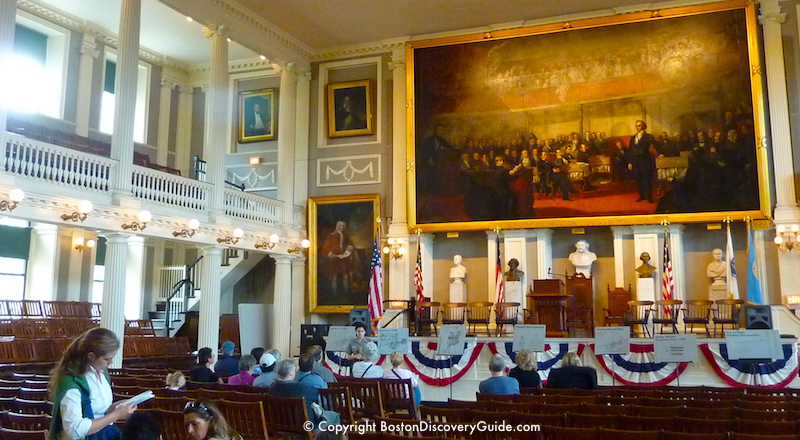 Arts at Harborfest - 11am-6pm - Local artists display and sell their work under the trellis at Christopher Columbus Park in the North End (next to Boston Marriott Long Wharf Hotel). Free - plus whatever you spend on art. Nearest subway station: Blue Line/Aquarium.
Colonialfest! - 11am-4pm, Old North Church (193 Salem Street) - Experience Colonial life through hands-on activities: fife-playing, sewing, chocolate-making, hat-making, quill writing. Nearest subway station: Orange and Green Lines/Haymarket; walk across the Greenway to the North End.
Movie & a Movie: Yankee Doodle Dandy - 6pm at Christopher Columbus Park - Singing group Sweet Harmony from Boston's Hyde Park neighborhood sings show tunes before an outdoor screening of Yankee Doodle Dandy after sunset (8:30pm). Bring your blanket and snacks! Free.
Where to Stay for Harborfest
Harborfest Highlights - July 2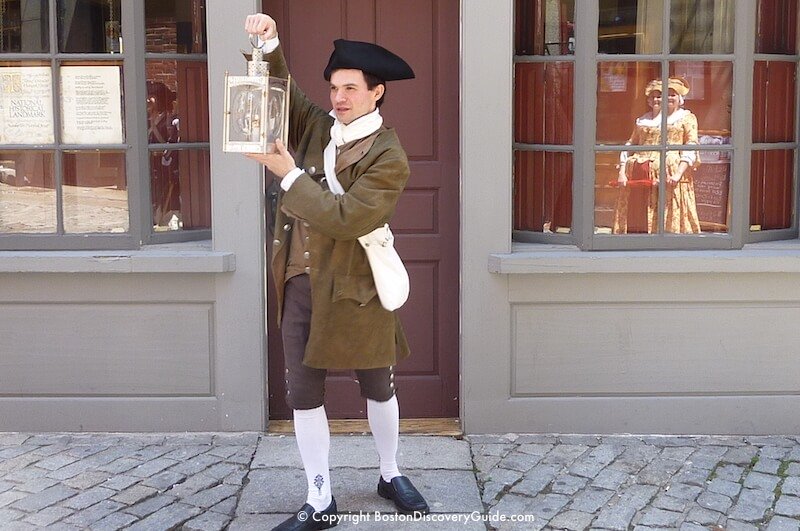 Boston Harbor Island Events - On Georges Island from 11am-3pm, enjoy music by the 215th Army Band's brass quintet, fife and drummers, pop/rock favorites and more! On Spectacle Island from 1pm - 4pm, relax to the sounds of jazz by Boston-area ensembles at Jazz on the Porch. Concerts are free. More about getting to the Boston Harbor Islands.
Family Walk: Never Be Bored in Boston - 10am-12:45pm - This kid-friendly walk starts at Chinatown Gate (intersection of Beach Street and the Rose Kennedy Greenway) and heads up the Greenway and Freedom Trail to the skate park by the Zakim Bridge, with plenty of detours to explore and enjoy the sights and sounds. Bring snacks and water - youngest kids will be happiest in a stroller if you do the whole 2-3 miles. Free but registration required; call 978-807-4901 after 6pm. Sponsored by the Appalachian Mountain Club. Nearest subway station to Chinatown Gate: Orange Line/Chinatown.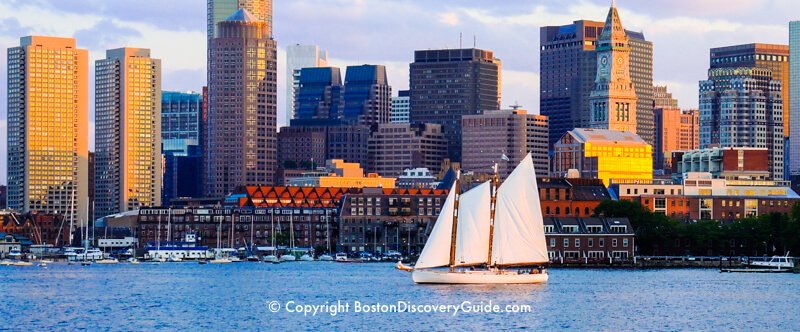 Tour Boston by boat - the best way to see the city!   Check out these fun sightseeing, music, and entertainment Boston Harbor cruises on the Yacht Northern Lights and Schooner Adirondack III: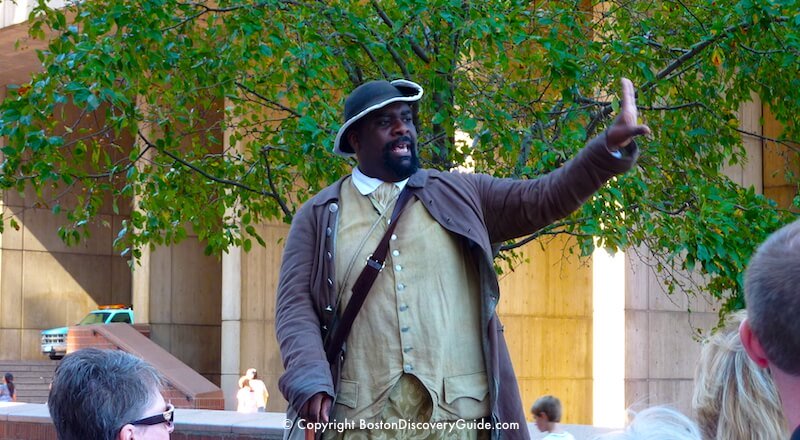 Red, White, and Blue Scavenger Hunt - 8am-8pm, Boston Public Market (100 Hanover Street) - Family-friendly scavenger hunt through Boston's locally sourced indoor marketplace. Also takes place on June 30, July 1, 2, and 4.
Boston Pops Concert - On the Esplanade. More information
More Things to Do and See in Boston
Essentials: Boston Harborfest
Where: Primarily in Central Boston neighborhoods, Boston Harbor, and along the Freedom Trail: Historic Downtown, West End, Downtown Waterfront, North End, Charlestown, Beacon Hill - use our Boston Sightseeing map to see neighborhood locations
Cost: Some free events, many more ranging from about $3 - $20, and others (mostly cruises and pub crawls) from $20 and up
Where to stay: Hotels convenient to major Harborfest activities
Parking: Try to avoid parking by taking public transportation. If you have to drive, Boston Common Parking Garage is centrally located for Downtown Boston events, and convenient to most of the others. If you are visiting Boston and are sure you must drive, read our Boston driving tips
Daily (or Almost) Harborfest Events
These events occur throughout Harborfest (June 30-July 4), except as noted.
Free Events:
Red, White, and Blue Scavenger Hunt - 8am-8pm, Boston Public Market (100 Hanover Street) - Family-friendly scavenger hunt through Boston's locally sourced indoor marketplace.
USS Constitution Visits - 9am - 6pm - With restoration almost complete on the USS Constitution, she will reenter the water later this summer so areas now visible will soon be submerged until 2037. Touring the ship is free; valid photo ID or passport required by visitors 18 and older in order to board ship. You can also learn more about the ship at the USS Constitution Museum (admission by donation) in the Charlestown Navy Yard, Building 22.
Revolutionary King's Chapel Talks - 10:15am-4:15pm (1:15am-4:15pm on July 2) - Stories about key figures and events at pre-revolutionary King's Chapel on the Freedom Trail - Every half hour from 10:15am - 4:15pm at King's Chapel (58 Tremont Street). Free.
Chocolate Making Demos at Captain Jackson's Historic Chocolate Shop (21 Unity Street, Boston's North End, inside the Clough House by Old North Church, 617-523-4848) - Costumed Colonial reenactors will show you how chocolate was made during the 18th century. Free, but donations are appreciated.
Events with Fees:
Old North Church - "Behind the Scenes" - Daily, July 30-July 4, plus additional times throughout the year. Old North Church (193 Salem Street, Boston's North End) opens its doors for these fascinating 30-minute tours combining history with views of the bell ringing chamber, crypt, and more. Tour fees range from $6-$10 per person.
- More tours include "Old North's Anglican Art & Architecture"and Tolerance & Tombstone's Tour of the church's colonial crypt and nearby Copp's Hill Burying Ground (Freedom Trail site)
More info on their website: oldnorth.com
Sunset Duck Tours - Departing at 6:30pm and 7pm on July 1, 2, 3, and 5 (note: not on the 4th) from outside the Prudential Center, New England Aquaarium, and Museum of Science - Tour Boston and cruise the Charles River on one of Boston's famous Duck Tours. $40 adults; $33 seniors/students/military; $27 children 3-11; $10.50 children under 3; plus 5% on all fares for MA CCF (Convention Center financing) surcharge.
Otis House Museum and Beacon Hill walking tour - Walking tour of Beacon Hill Otis House Museum, at 1pm and 3pm. House tours are given on the half hour between 1pm and 4:30pm - Join this special 1.5-hour walking tour of Beacon Hill and 18th century Otis House (141 Cambridge Street, Boston's West End, near Mass General). Registration recommended at 617-994-5920. $15. June 30-July 3.
Revelry on Griffin's Wharf at the Boston Tea Party Ships and Museum (306 Congress Street, between the Downtown Financial District and South Boston Waterfront; 617-531-6203) on July 1, 2, and 3, 7pm - Explore the wharf and ships, meet costumed reenactors playing Paul Revere and the Sons of Liberty, hear stories, and take part in a scavenger hunt; hear stories about the golden age of sail. Admission $15 adults, $10 children 12 and under

Find more events at Boston Harborfest's website
Boston Insider Tips for Harborfest
Slather yourself with sunscreen
Bring a water bottle
Many events require reservations - make them early!
Get a Boston Discount Card to get discounts on some events and admission fees; if in doubt, be sure to verify that you can use the card for specific Harborfest events
Make hotel reservations as early as possible to get the best rates; Boston gets VERY crowded during early July because Harborfest, the July 4th Fireworks, and the Boston Pops concerts attract HUGE numbers of visitors to the city
More Events at Harborfest Venues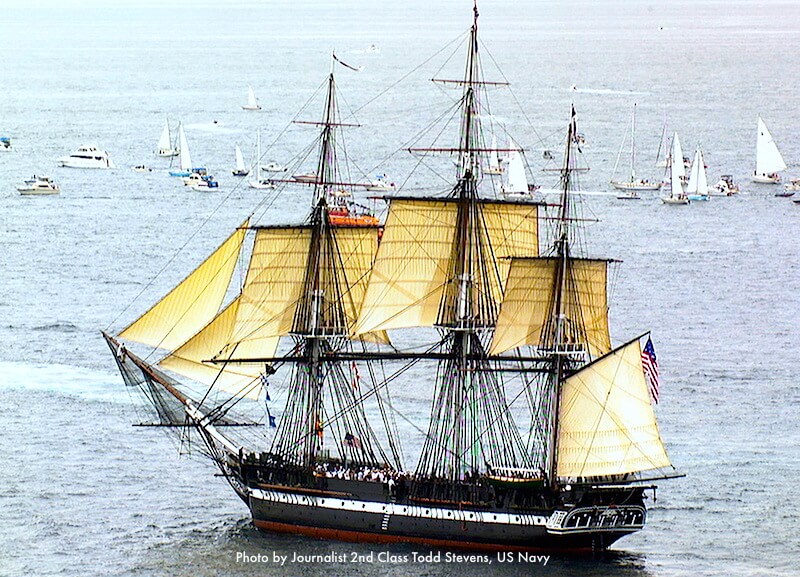 Many of the attractions listed above offer additional events during Harborfest and throughout the summer. Check their websites to find out more:
Old State House: www.revolutionaryboston.org/revboston/events/upcoming
Christopher Columbus Waterfront Park
Massachusetts State House: www.sec.state.ma.us/trs/trsidx.htm
Paul Revere House: www.paulreverehouse.org
Faneuil Hall: www.nps.gov/bost/planyourvisit/guidedtours.htm
Old North Church: http://oldnorth.com/
Freedom Trail Foundation: www.thefreedomtrail.org
Boston by Foot: www.bostonbyfoot.org/
Museum of African-American History: www.afroammuseum.org
Otis House - www.historicnewengland.org/historic-properties/homes/otis-house
Bunker Hill Monument and Museum: www.nps.gov/bost/learn/historyculture/bhm.htm
USS Constitution: www.navy.mil/local/constitution
USS Constitution Museum: www.ussconstitutionmuseum.org