Boston Harborfest, the largest Independence Day festival in the United States, celebrates Boston's colonial, Revolutionary War, and maritime history and heritage with fireworks over the Boston's Inner Harbor, entertainers, historical reenactments, live music, Freedom Trail site tours, the annual USS Constitution turn-around cruise in Boston Harbor, an arts market, and a classical car show, plus a lot more!
Festivities begin on July 1 and run through July 4.
Harborfest began in 1981. Events this year take place primarily in Boston's Historic Downtown district and Downtown Crossing this year and include a spectacular 45-minute fireworks display over the Inner Harbor.
Some Harborfest events are free, including music and other live performances at "The Steps" (Washington and Franklin Street in Downtown Crossing) and appearances by costumed historical reenactors.
Other events are fee-based, including tours of some of the participating Freedom Trail sites (typically $15 per person), Fireworks cruises on July 2 and 3, and USS Constitution Turn-Around cruises on July 4:
Boston Harborfest dates back to 1981, and the 2023 celebration looks like gala summer event.
Why does Boston have such a large Independence Day celebration? This is where the fight for American liberty began, and July 4th is a very special occasion here.
From our Patriots Day holiday in April to the Freedom Trail through the city to reenactors dressed in Colonial attire, Boston commemorates its revolutionary heritage all year, but around July 4th, celebratory pride escalates to such a degree that you'll see patriotism on steroids.
Harborfest is the nation's biggest Independence Day celebration. Don't miss this exciting experience!
Top photo: Reenactors on Boston's Marshall Street, part of the Blackstone Block Historic District in one of the oldest parts of the city
---
Highlights: Boston's Harborfest - Free Activities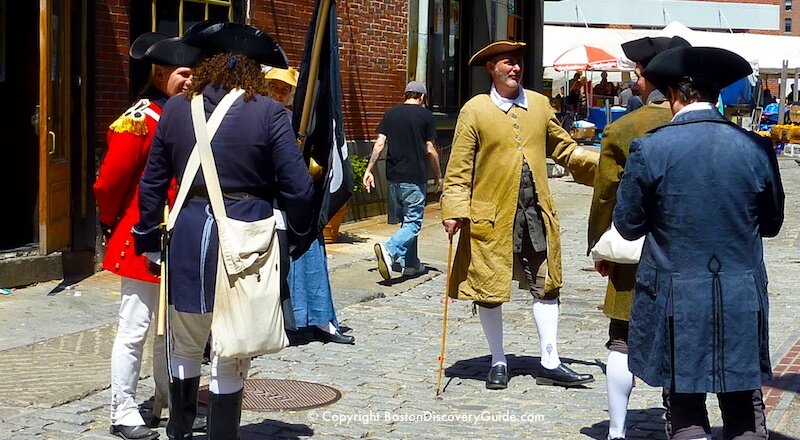 July 1: Harborfest Kick-Off
11am - 5:30pm - DTX Arts Market @ Summer Street Plaza (the pedestrian-only area between Macy's and Roche Brothers in Downtown Crossing) - Local artisans offer their creations for sale; if you're visiting Boston, an original work of art by a Boston artist could be your special souvenir!
11am - 8pm - Local musicians perform music across all genres from a stage at The Steps in Downtown Crossing
12 noon - 12:30pm @ "The Steps" in Downtown Crossing (the stairs on the plaza at Washington and Franklin Streets in Downtown Crossing) - The 215th Army Band performs patriotic tunes
12 noon - 12:30pm - Boston Officials kick off the 4-day festival with a short welcome speech. Look for roving historical re-enactors and USS Constitution staff plus live mucical and other performances nearby
12 noon - 2pm and 5pm - 7pm - The DownTown Mediterranean Trio will stroll around Downtown Crossing as they play music
1pm-4pm - Middlesex County Volunteers perform with fifes and drums throughout the Downtown Crossing area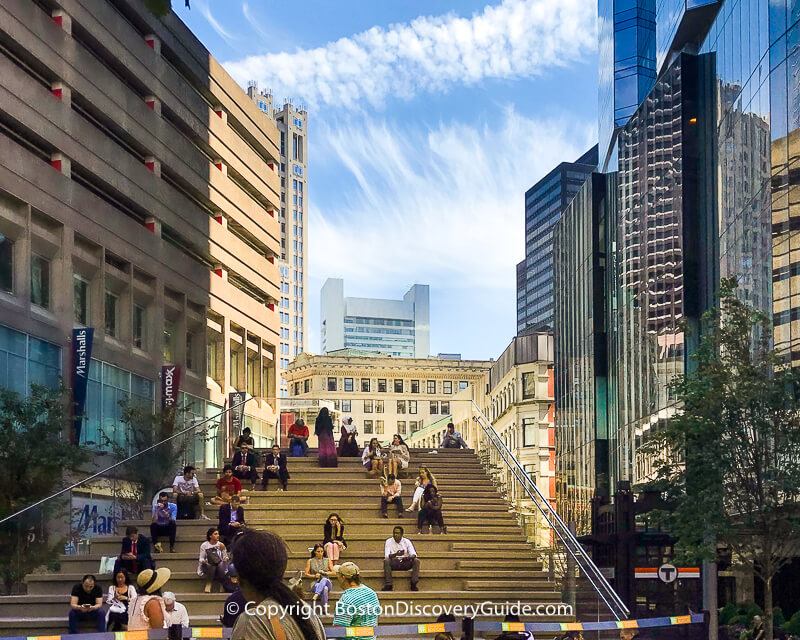 ---
July 2: Fireworks, Concert, Chowderfest, Parade of Lights, Classic Car Showcase
11am - 5:30pm - Classic Car Showcase on Summer Street - a "must see" if you love old cars
11am - 5:30pm - DTX Arts Market @ Summer Street Plaza - Local artisans offer their creations for sale
12 noon - 2pm - Chowderfest! - Takes place at Downtown Crossing
12 noon - 7pm - Live musical performances and entertainment by a variety of groups
6pm - 9pm - Pre-Fireworks Concert at Christopher Columbus Park
8pm - 9:30pm - Parade of Lights - Long Wharf (on the Downtown Boston Harbor)
9pm - 9:45 - Harborfest Fireworks - Spectacular display of fireworks launched from Long Wharf - You'll be able to view the fireworks from just about everywhere along the waterfront around Boston's Inner Harbor, including East Boston, much of Charlestown's waterfront, the North End, the Downtown Waterfront, Seaport, the South Boston Waterfront, and even Castle Island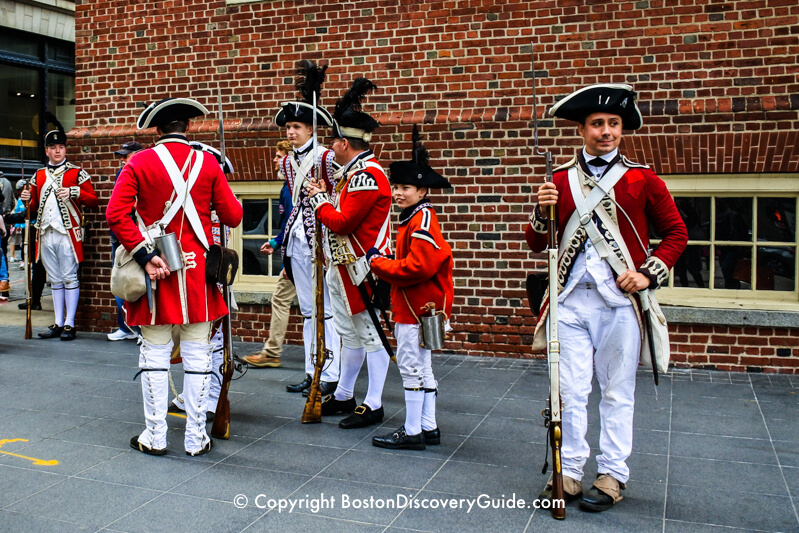 ---
July 3: Music, Entertainment, & a Pooch Parade
12 noon - 3pm - Pooch Parade - Downtown Crossing
12 noon - 6pm - Live musical performances and entertainment by a variety of groups
---
July 4: Boston's 246th July 4th Parade, Reading of the Declaration of Independence, & (to be confirmed) Boston Pops Concert & Fireworks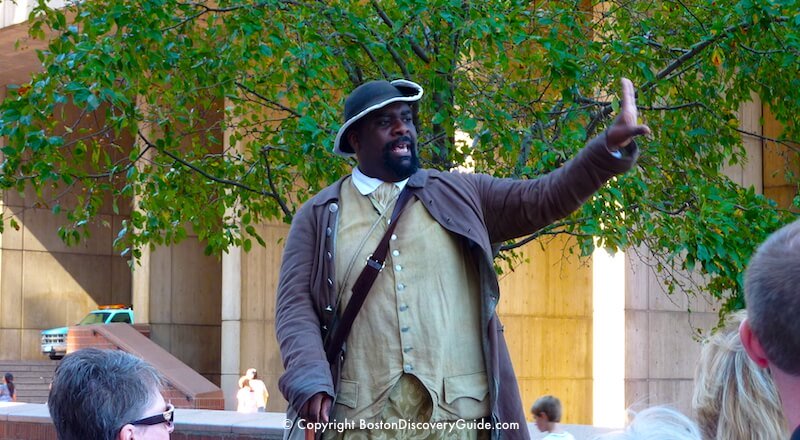 9am - Join a flag-raising ceremony on City Hall Plaza followed by a parade to the Granary Burying Ground where wreathes will be laid on the graves of the Patriots buried there. You can view the parade along the route and in Downtown Crossing.
After the wreath-laying ceremony, the parade continues through Downtown Crossing to the Old State House, where the current Captain Commanding of the Ancient and Honorable Artillery Company will do its traditional reading of the Declaration of Independence from the balcony - exactly where it was first read to Boston citizens on July 18, 1776.
10am - Freedom Trail sites such as Old North Church, Paul Revere's House, Old State House, USS Constitution, and Old South Meeting House will offer tours
11am - Faneuil Hall Tours
11:30am (time to be confirmed) - USS Constitution's annual turn-around sail through Boston Harbor. Watch from the Boston Harbor shoreline (including Castle Island) or from one of these Turn-Around cruises:
More July 4th Fireworks - Winthrop (northeast of Boston, to the east of Logan Airport) puts on a wonderful fireworks show on Independence Day. For a memorable experiece, you can view the display from one of these special cruises:
---
Boston Pops July 4th Concert and Fireworks
The legendary Boston Pops Concert and July 4th Fireworks takes place on July 4th (to be confirmed).
Please note: At this time, the Boston Pops Concert appears to be pre-recorded, and while the fireworks appear on the official Boston Harborfest schedule, no details are available and there has been conflicting information. So stay tuned ...
Find out more about the concert and fireworks
---
July 4: USS Constitution Turn-Around Cruise 2023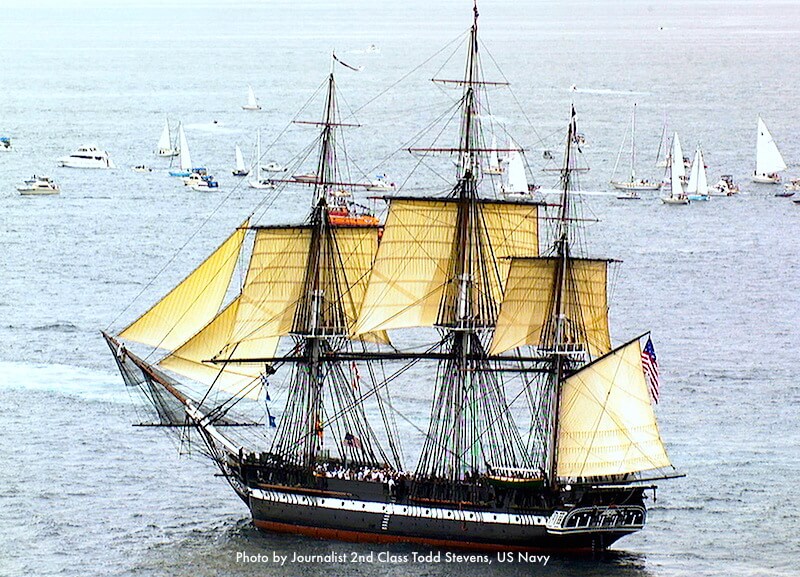 The USS Constitution makes her annual turn-around cruise in Boston Harbor each Fourth of July to celebrate our nation's independence.
The magnificent 204 foot-long wood-hulled ship which first launched in 1797 and is the oldest commissioned warship afloat in the world will sail out to Fort Independence on Castle Island, exchange a 21-gun salute, and then turn around and head back into the Inner Harbor and exchange cannon fire with Boston's Coast Guard Base in the North End.
Departure from Charlestown Navy Yard's Pier One takes place at 10:45am (time to be confirmed) and she returns to her Navy Yard berth across from the USS Constitution Museum at 2pm.
Best places to watch: points along the harbor or Castle Island, or from one of these Turn-Around Cruise in the Harbor:
The USS Constitution will also be open for free tours during Harborfest, as well as throughout the summer.
---
More To Do during Harborfest
Freedom Trail History & Sightseeing Tours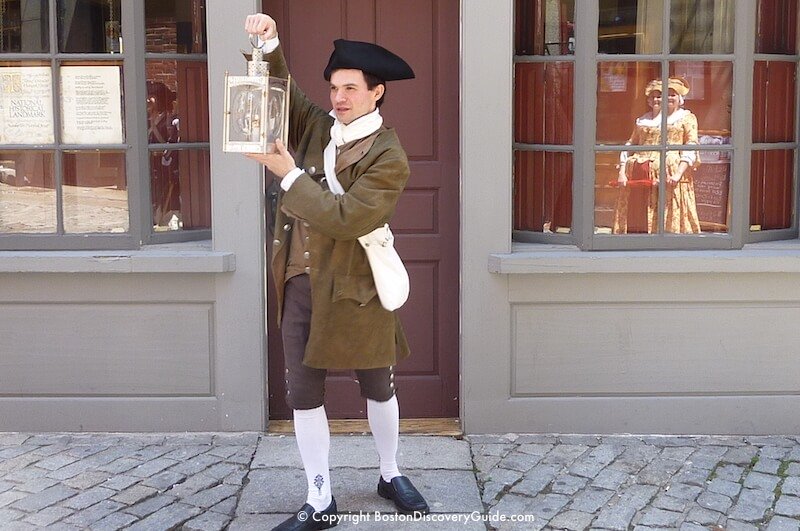 July 4th is the perfect time to explore Boston's historic Freedom trail. You can explore on your own or join one of the popular tours led by costumed historical re-enactors. Find out more
---
Boston Harbor Cruises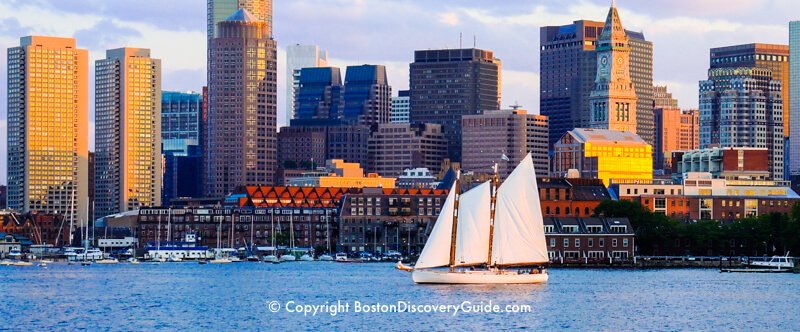 Tour Boston by boat - the best way to see the city!   Check out these fun sightseeing, music, and entertainment Boston Harbor cruises on the Yacht Northern Lights and Schooner Adirondack III:
Fall Foliage Cruises (through November 6)
Popular Cruises on the Northern Lights:
Northern Lights Sunset Cruise - Grab a refreshments from the bar and then relax as you watch the sun set on this sail around the Harbor, just in time to catch the USS Constitution fire its cannons as the sun dips down past the horizon
Sunday Evening Jazz Cruise on Northern Lights - End your weekend on the perfect note by grooving to live jazz as you watch the ever-changing sunset colors as the sun sets behind Boston's city skyline (Oct 23, 30)
Holiday Cruises
Gift Card
---
Where to Stay during Boston's Harborfest
Many of the city's most popular hotels will become fully booked during the Harborfest period and rates will reflect summer peaks - but there are always good options whwen you know where to look. Here's some information to help you get started:
Hotels for Harborfest activities
Conveniently located hotels outside the city
You will find the best rates if you book early and stay flexible about the location, especially since Boston is a very walkable city and has decent public transportation.
---
More Things to Do and See in Boston
***y-gyg-cruises.shtml***
---
More Events & Tours at Historic Sites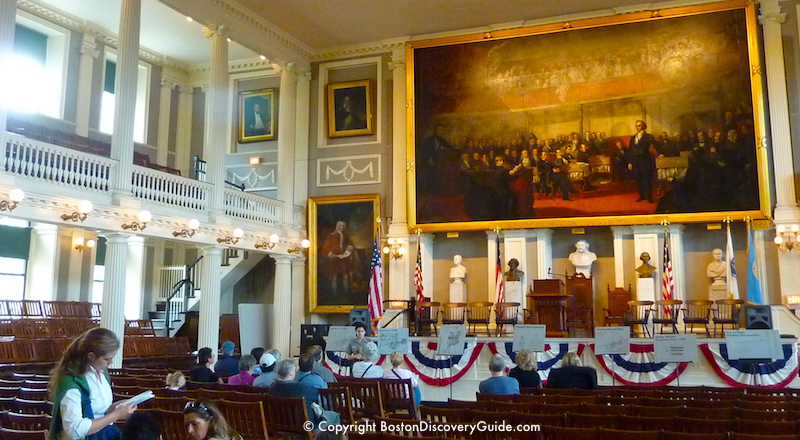 These events require small admission fees which support the upkeep of these historic Freedom Trail sites.
Old North Church
Visit Captain Jackson's Historic Chocolate Shop (21 Unity Street, Boston's North End, inside the Clough House by Old North Church) where costumed Colonial reenactors will show you how chocolate was made during the 18th century. See Old North Church's photography exhibit commemorating bravery and action. More info: https://oldnorth.com
King's Chapel
King's Chapel's History Program offers a variety of interesting programs and tours. Find out more: http://www.kings-chapel.org/history--tours.html
They also offer outstanding short (about 35 minutes long) concerts every Tuesday at 12:15pm throughout the year. See the schedule: http://www.kings-chapel.org/tuesday-recitals.html
---
Essentials: Boston Harborfest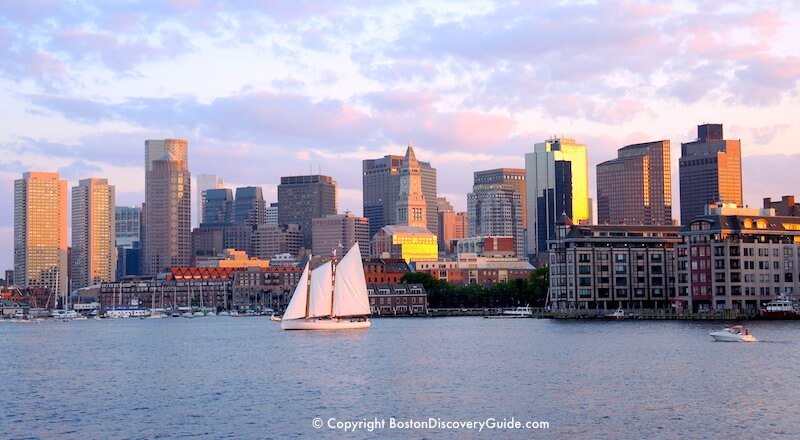 ---
Boston Insider Tips for Harborfest
Slather yourself with sunscreen
Bring a water bottle
Get a Boston Discount Card to get discounts on events and admission fees
Make hotel reservations as early as possible to get the best rates; Boston gets crowded during early July because the July 4th holiday events attract many visitors to the city
---
More Events at Harborfest Venues
Many of the attractions listed below offer events during Harborfest and throughout the summer. Check their websites to find out more:
Old State House: www.revolutionaryboston.org/revboston/events/upcoming
Christopher Columbus Waterfront Park
Massachusetts State House: www.sec.state.ma.us/trs/trsidx.htm
Paul Revere House: www.paulreverehouse.org
Faneuil Hall: www.nps.gov/bost/planyourvisit/guidedtours.htm
Old North Church: http://oldnorth.com/
Freedom Trail Foundation: www.thefreedomtrail.org
Boston by Foot: www.bostonbyfoot.org/
Museum of African-American History: www.afroammuseum.org
Otis House - www.historicnewengland.org/historic-properties/homes/otis-house
Bunker Hill Monument and Museum: www.nps.gov/bost/learn/historyculture/bhm.htm
USS Constitution: www.navy.mil/local/constitution
USS Constitution Museum: www.ussconstitutionmuseum.org
---
More Articles about Things to Do in Boston in July
---
Need a Boston Hotel or Apartment?
Use this handy map from Booking.com to find the perfect place to stay. Just enter your dates to find what's available, see the best rates, and make your reservations.