Boston Harborfest, the largest Independence Day festival in the United States, celebrates Boston's colonial, Revolutionary War, and maritime history and heritage with fireworks, entertainers, historical reenactments, music, events along the Freedom Trail, Harbor cruises, walking tours, plus a lot more!
Almost 3 million people from all over the world visit Boston during early July.
Although the best-known Independence Day celebrations are the Boston Pops Concerts and July 4th Fireworks Spectacular, Harborfest packs 200+ other events into the festival's fun-filled days.
Festivities begin on June 28 and run through July 4, (to be confirmed) and take place in Historic Downtown and the Downtown Waterfront, Faneuil Hall, Charlestown Navy Yard, and Long Wharf.
A number of Harborfest events are free this year, while the rest range from inexpensive to pricy.
If you need a convenient place to stay, check out our recommendations for Boston hotels for Harborfest, based on location.
Boston Harborfest dates back to 1981, so the 2021 celebration marks the 38th anniversary of this gala summer event.
Top photo: Reenactors on Boston's Marshall Street, part of the Blackstone Block Historic District in one of the oldest parts of the city
Hightlights: Boston's Harborfest - Free Activities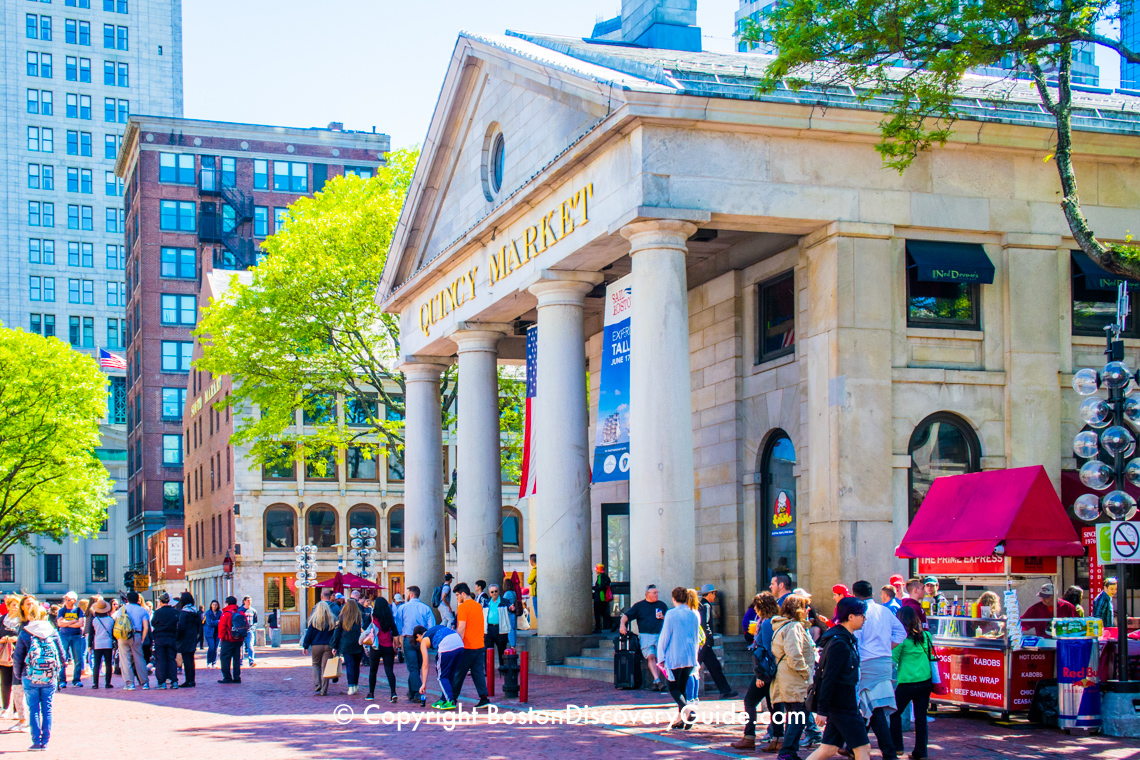 July 1: Arts at Harborfest
Visit Downtown Crossing, where local artists will display and sell the work from 10am-6pm. If you're visiting Boston, an original work of art by a Boston artist could be your special souvenir!
July 1-3: Live Music
Come enjoy a variety of musical acts in Downtown Crossing by mostly local groups from our vibrant Boston music scene. July 2: Harborfest Opening Ceremony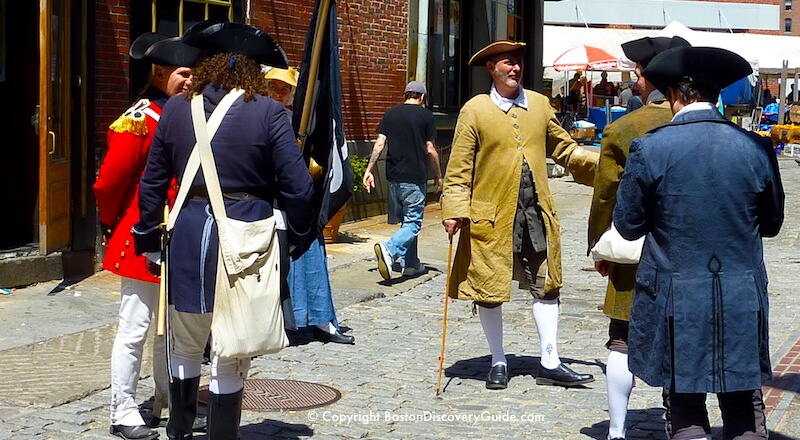 Faneuil Hall Marketplace, 11am-1pm - Boston Mayor Marty Walsh launches Harborfest in this festive event at Faneuil Hall on the Freedom Trail with speeches and cutting of the Official Boston Harborfest cake. Costumed reenactors add authenticity.
July 2: Chowderfest!
Back by popular demand, the Chowderfest returns to Harborfest from 12 noon - 2pm and gives you the opportunity to taste free samples of authentic clam chowder made by top Boston restaurants and vote to determine which is the best in the city. The Merchant, Waterline, and Artisan Bistro are among the participating restaurants.
July 2: Parade of Lights & Fireworks on the Harbor
Brightly-lit boats of all shapes and sizes form a sparkling parade around the Inner Harbor and Seaport waterfront at 8:30pm, followed by dazzling fireworks lighting up the sky at 9pm.
Enjoy the views along the Downtown Waterfront, Seaport and East Boston shore - or treat yourself to front-row seats on these special Parade of Lights/Fireworks harbor cruises:
- Northern Lights' Fireworks & Lighted Boat Parade Cruise - A classic 1920s style commuter yacht; includes desserts, cheese, flatbreads, sliced fruit, plus cash bar
- Adirondack III Fireworks & Lighted Boat Parade Cruise - An 80' tall ship-type schooner; includes desserts, cheese, flatbreads, sliced fruit, plus cash bar - ABOUT TO SELL OUT
July 4: Boston Pops Concert & Fireworks Spectacular on the Esplanade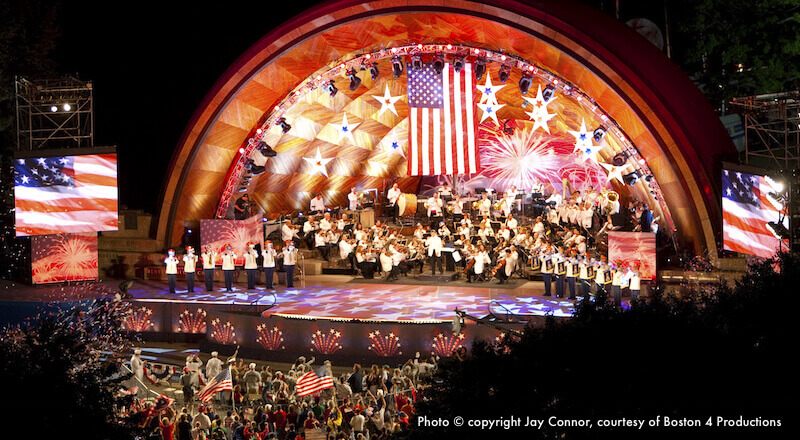 Boston Pops Concert and Fireworks - Don't miss Boston's legendary July 4th celebration on the Esplanade.
Find out about the concert and fireworks, and when to arrive
July 4: USS Constitution Turn-Around Cruise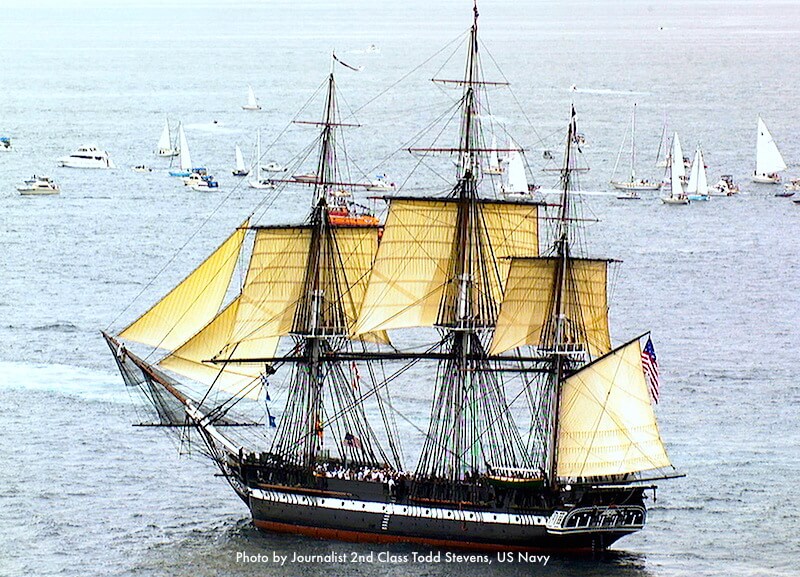 The USS Constitution makes her annual turn-around cruise in Boston Harbor each Fourth of July to celebrate our nation's independence.
The magnificent 204 foot-long wood-hulled ship which first launched in 1797 and is the oldest commissioned warship afloat in the world will sail out to Fort Independence on Castle Island, exchange a 21-gun salute, and then turn around and head back into the Inner Harbor and exchange cannon fire with Boston's Coast Guard Base in the North End.
Departure from Charlestown Navy Yard's Pier One takes place at 10:45am and she returns to her Navy Yard berth across from the USS Constitution Museum at 2pm.
Watch from points along the harbor or Castle Island, or even better, from the water on the Schooner Adirondack III or the Northern Lights:
USS Constitution Turnaround Sail aboard Northern Lights, with 3-course brunch made on board
USS Constitution Turnaround Sail aboard Adirondack III, with pastries, bagels, muffins, fruit, and dessert
July 4: City of Boston's Independence Day Ceremony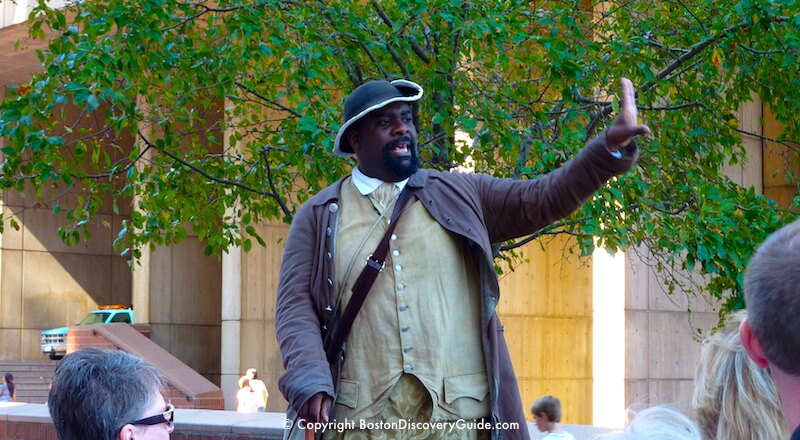 Join a flag-raising ceremony on City Hall Plaza at 9am followed by a parade to the Granary Burying Ground where wreathes will be laid on the graves of the Patriots buried there. Afterwards, the parade continues to its destination, the Old State House.
More Harborfest Events - July 1 - 7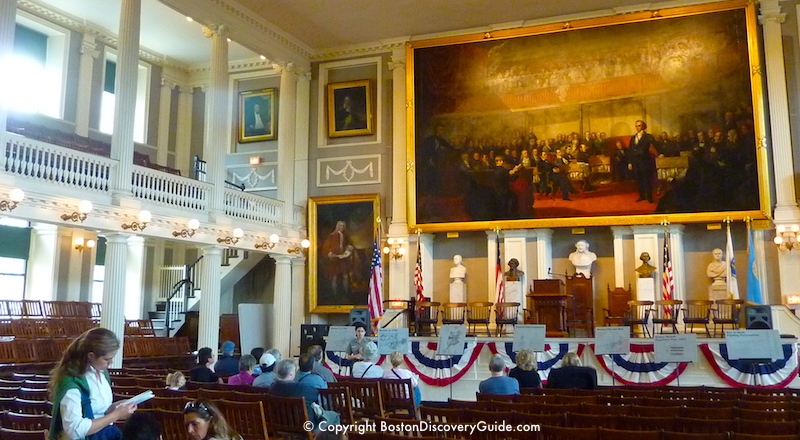 Revolutionary King's Chapel Talks
10am-5pm, every half hour at starting at 15 and 45 minutes past the hour (58 Tremont Street) - Stories about key figures and events at pre-revolutionary King's Chapel on the Freedom Trail. Free, but suggested donation to visit the chapel is $4. July 1 - 7.
Redcoats: Changing of the Guard Ceremony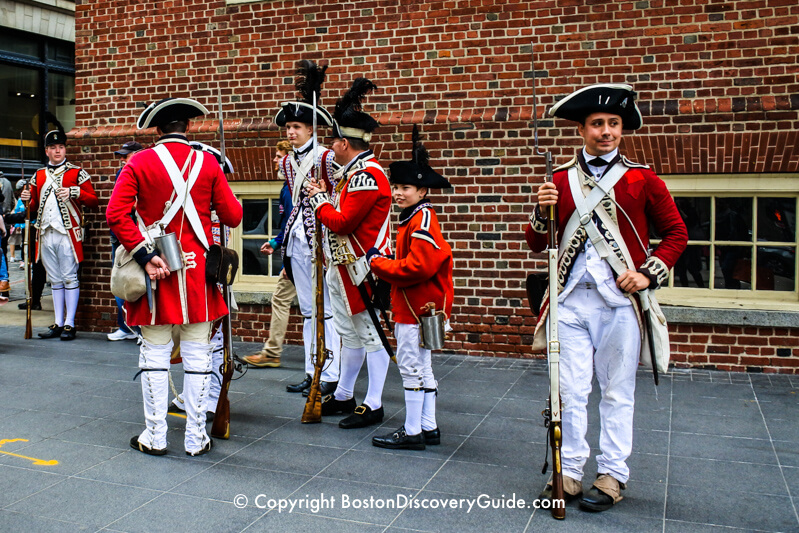 You'll feel like you're back in Colonial Boston in 1775 when you watch this special reenactment of the Redcoats' Changing of the Guard Ceremony and watch costumed reenactors interact with them from 12 noon - 2pm. Downtown Crossing at Washington and Summer Streets. Free.
Freedom Trail Walk into History Tours
From 10:15am - 6pm on July 1-4, you can join daily tours along the Freedom Trail led by costumed guides. Tours leave on the hour every hour from the Boston Common Visitor Information Center (139 Tremont Street) and last 90 minutes each. Adults $14, Seniors/Students $12, Children 6-12 $8.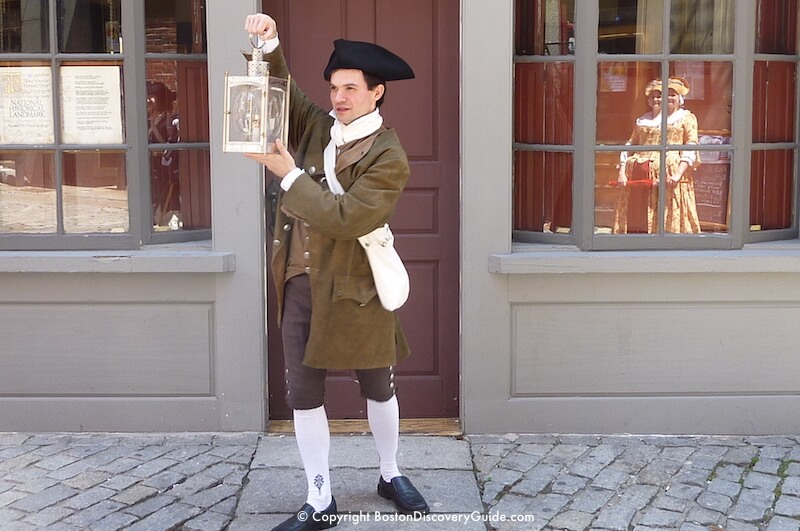 Where to Stay during Boston's Harborfest
Many of the city's most popular hotels will become fully booked during the Harborfest period and rates will reflect summer peaks - but there are always good options whwen you know where to look. Here's some information to help you get started:
Hotels in great locations for Harborfest activities
Hotels near the Pops concert and fireworks on the Esplanade
Conveniently located hotels outside the city
You will find the best rates if you book early and stay flexible about the location, especially since Boston is a very walkable city and has decent public transportation.
More Things to Do and See in Boston
***y-gyg-cruises.shtml***
More Events & Tours at Historic Sites
Most of these events require small admission fees which support the upkeep of these historic Freedom Trail sites.
Old North Church
Visit Captain Jackson's Historic Chocolate Shop (21 Unity Street, Boston's North End, inside the Clough House by Old North Church) where costumed Colonial reenactors will show you how chocolate was made during the 18th century. See Old North Church's photography exhibit commemorating bravery and action. More info: https://oldnorth.com
King's Chapel
King's Chapel's History Program offers a variety of interesting programs and tours. Find out more: http://www.kings-chapel.org/history--tours.html
They also offer outstanding short (about 35 minutes long) concerts every Tuesday at 12:15pm throughout the year. See the schedule: http://www.kings-chapel.org/tuesday-recitals.html
Boston Harbor Cruises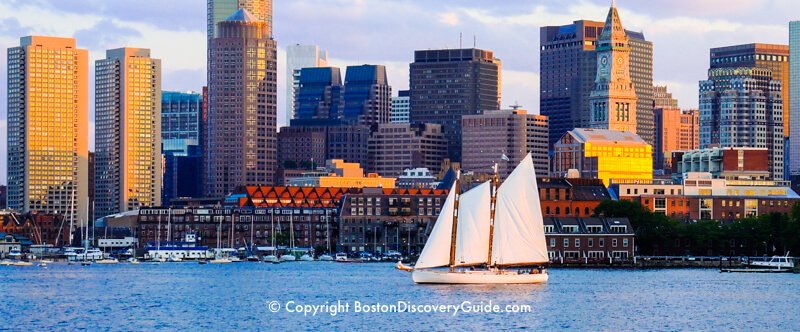 Tour Boston by boat - the best way to see the city!   Check out these fun sightseeing, music, and entertainment Boston Harbor cruises on the Yacht Northern Lights and Schooner Adirondack III:
Fun Boston Harbor Cruises To Do Right Now:
Book Now for May:
July 4th Cruises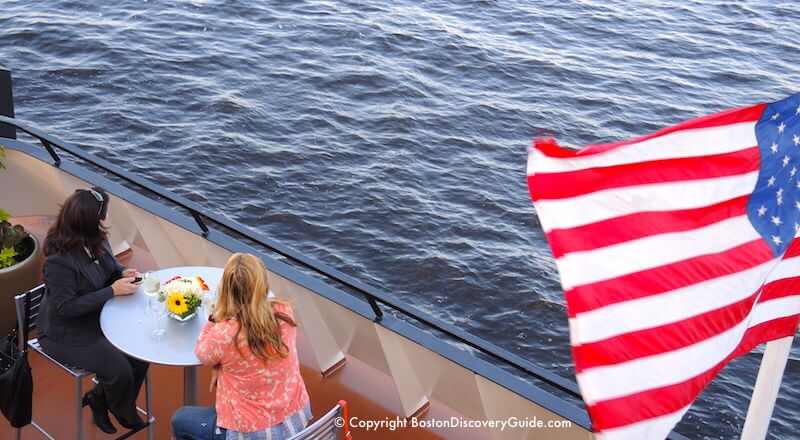 Enjoy a spectacular cruise around Boston Harbor on the 4th - as well as almost every other day this summer. The following companies offer fireworks cruises on the 4th, regular cruises at other times, and/or charters: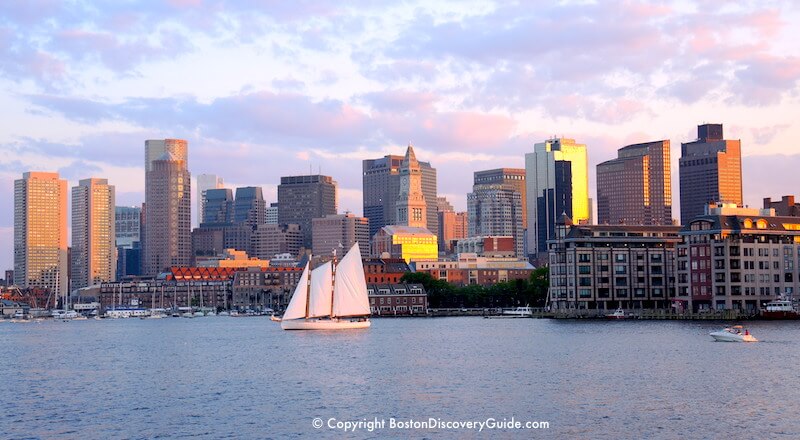 More Events at Harborfest Venues
Many of the attractions listed above offer additional events during Harborfest and throughout the summer. Check their websites to find out more:
Old State House: www.revolutionaryboston.org/revboston/events/upcoming
Christopher Columbus Waterfront Park
Massachusetts State House: www.sec.state.ma.us/trs/trsidx.htm
Paul Revere House: www.paulreverehouse.org
Faneuil Hall: www.nps.gov/bost/planyourvisit/guidedtours.htm
Old North Church: http://oldnorth.com/
Freedom Trail Foundation: www.thefreedomtrail.org
Boston by Foot: www.bostonbyfoot.org/
Museum of African-American History: www.afroammuseum.org
Otis House - www.historicnewengland.org/historic-properties/homes/otis-house
Bunker Hill Monument and Museum: www.nps.gov/bost/learn/historyculture/bhm.htm
USS Constitution: www.navy.mil/local/constitution
USS Constitution Museum: www.ussconstitutionmuseum.org
Need a Boston Hotel or Apartment?
Use this handy map from Booking.com to find the perfect place to stay. Just enter your dates to find what's available, see the best rates, and make your reservations.