Freedom Trail tours give you a fun and informative way to experience Boston's most famous historic sites while also seeing the oldest parts of the city as well as lots of newer attractions along the way.
You can choose from all kinds of Freedom Trail tour options.
Available tour options include groups led by professional costumed guides with deep knowledge of the city's history, free tours led by Park Rangers, "drive-by" tours on the popular hop-on hop-off trolleys and duck tours, and self-guided explorations along the 2.5 mile red brick (or painted) path that conveniently connects all the Freedom Trail sites.
How to choose?
Take a look at all the following options, and choose the best fit for your schedule, budget, and interests.
More about Boston's Freedom Trail
Top photo: Costumed Freedom Trail Guide leading a Freedom Trail tour, (c) Boston Discovery Guide
Boston Discovery Guide is a reader-supported publication. When you buy through our links, we may earn a commission at no additional cost for you. Learn more
---
Guided Walking Tours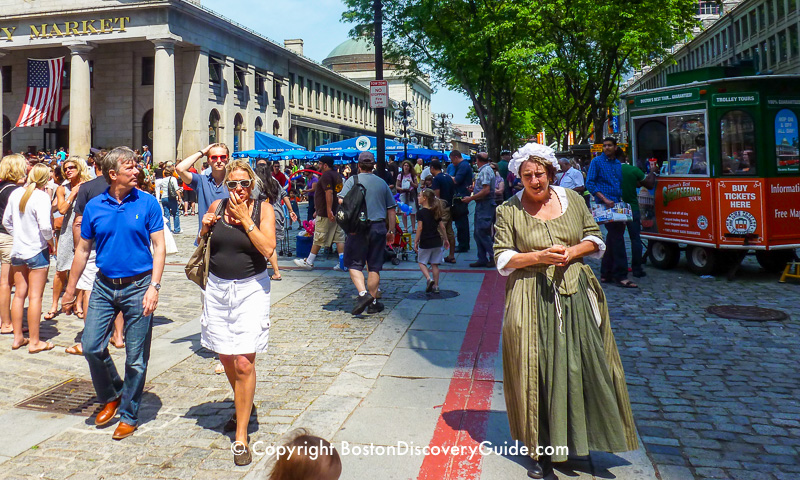 Guided Freedom Trail walking tours usually last about 1.5-2 hours. Although the Trail covers 2.5 miles, these tours include only selected sites and are much shorter. You can easily explore the rest of the trail on your own.
The tour guides provide lively, entertaining narration about the historic sites and other attractions as you walk along the Trail. Some guides where Colonial costumes to add to the fun.
Most tours start on monument-filled Boston Common, and end up at Faneuil Hall, part of the historic Faneuil Marketplace filled with lively restaurants and many stores and boutiques.
Here are several to consider:
In addition to professionally guided walking tours, you can also join free tours led by Park Rangers during July and August. For more information and schedules, go to: https://www.nps.gov/ and search for "Boston".
Freedom Trail Tours - Save with a Boston Discount Pass
If you plan to immerse yourself in history as well as other attractions such as museums, getting a GoBoston Discount Card can save you money because it gives you free admission to 40+ top Boston area attractions including a 2-day ticket to a hop-on hop-off trolley, for savings totaling up to 55%.
In addition to a Freedom Trail tour, other Freedom Trail sites covered by the GoBoston card typically include Paul Revere's House and the USS Constitution Museum. Other interesting history-related attractions include a historical sightseeing cruise, the Plimouth Plantation living museum, and Salem Witch Museum. (Please note: included attractions may vary at times.)
You can get the card for 1-7 days, depending on what works best with your schedule.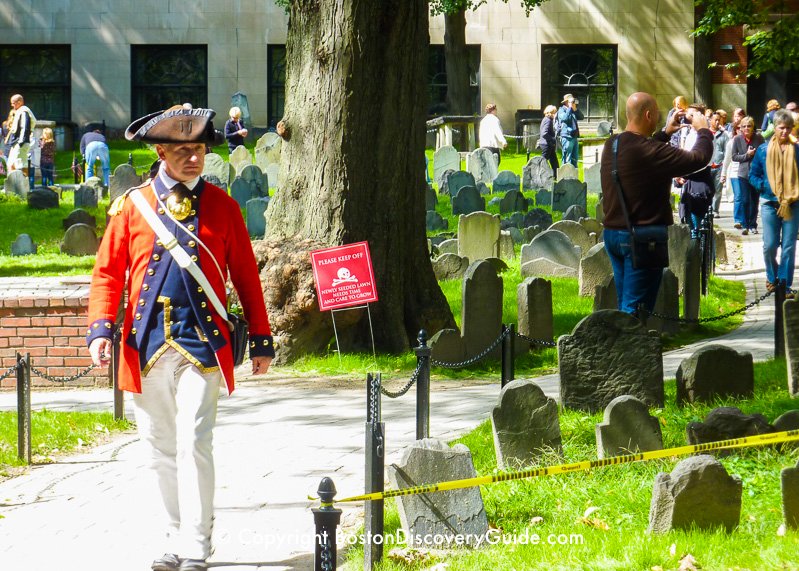 ---
"Drive-By" Freedom Trail Tours: Hop On Hop Off Trolleys, Duck Tours, Harbor Cruises
Want alternatives to a walking tour? Consider the Hop-On Hop-Off Trolleys and Boston Duck Tours. Both take you by or near numerous Freedom Trail sites, and offer additional sightseeing benefits as well.
Boston's Hop-On Hop-Off trolley tours take you along a central historic route where you see several sites such as Boston Common, the State House, and Faneuil Hall. Others are close to the trolley stops. Since you can get off and then back on the trolleys as many times as you wish, you can easily go explore on foot and visit the sites at your leisure.
Get your Hop-On Hop-Off trolley tickets now
Boston's duck tours follow a similar route to show you Freedom Trail sites as well as many other attractions. You also get a fun sightseeing tour up and down the Charles River.
Book your Duck Tour tickets now
Availability: The hop-on hop-off trolleys operate all year. Duck Tours are available from March through late November.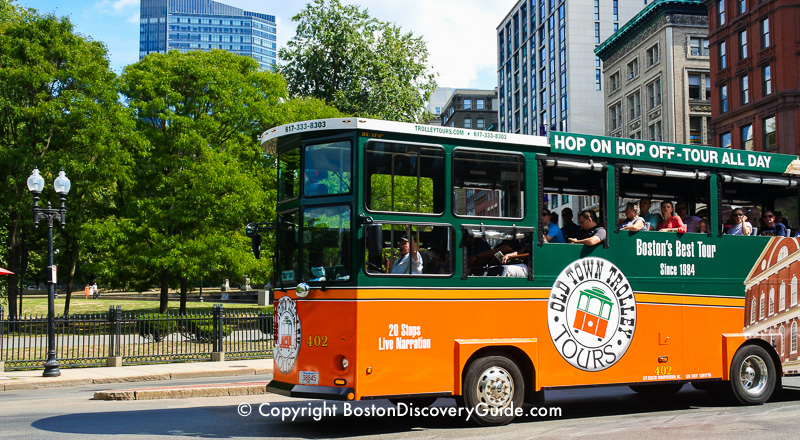 ---
"Cruise-By" Tours: Harbor Cruises Past the USS Constitution and Bunker Hill
Boston Harbor cruises give you a unique view of the USS Constitution and Bunker Hill Monument from the perspective of being on the water.
Choose the 90-minute narrated Boston Harbor Sightseeing Cruise if you want to get great views of Boston's historic North End, the Bunker Hill Monument, the Tea Party ships, the Bunker Hill Monument, and the USS Constitution ("Old Ironsides), America's famous ship from the War of 1812.
The professional guides on board will make bring the history of what you see to life, from heroic tales of the Revolutionary War to local legends.
If you are on a sunset cruise, you'll see "Old Ironsides" as she fires her cannon for the traditional sunset gun salute and may even be able to hear the notes of "Taps" floating across the water.
More Fun Boston Cruises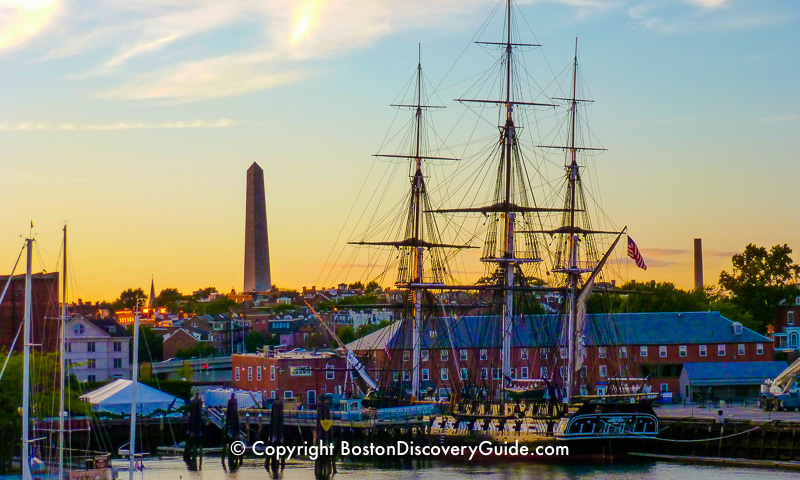 ---
Self-Guided Freedom Trail Walking Tours
Pick up an excellent free map of the Freedom Trail at the Visitor Information Center on Boston Common (near the Park Street T station). You'll normally need to ask for it at the counter - maps in the display racks near the entrance are not free. You can also view an online version of the free map here.
Walk along at your own pace. Start and stop wherever you like. Walk fast and cover the whole trail in a couple of hours, or visit just a couple of sites, perhaps detouring to shop in Faneuil Hall Marketplace or enjoy a steaming cup of cappuccino in the North End.
Boston Common in Downtown Boston anchors one end of the Freedom Trail and Bunker Hill in Charlestown is at the other. You can start at either end, or at any point in the middle.
The Freedom Trail is not a loop - so if you walk from one end to the other, you will not be close to where you started. Fortunately, all of the sites are reasonably close to the T (Boston's subway).
More about Boston's Freedom Trail
Boston Freedom Trail Sites
Boston Common | Massachusetts State House | Park Street Church | Granary Burying Ground | King's Chapel | King's Chapel Burying Ground | Benjamin Franklin Statue | Old Corner Bookstore | Old South Meeting House | Old State House | Boston Massacre Memorial | Faneuil Hall | Old North Church | Paul Revere's House | Copp's Hill Burying Ground | Bunker Hill Monument | USS Constitution
---
More Articles about Sightseeing in Boston
---
Need a Boston Hotel or Apartment?
Use this handy map from Booking.com to find the perfect place to stay. Just enter your dates to find what's available, see the best rates, and make your reservations.
---
More Fun Ways to See Boston