Boston Coupons, Deals, & Discounts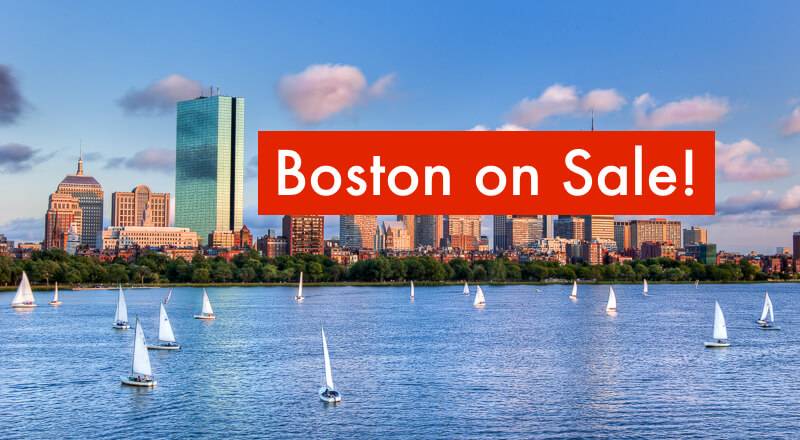 Boston coupons, discounts, sightseeing passes, and deals can save you big money on almost every part of your vacation - hotels, attractions, museums, sports, events, tours, cruises, theater shows, sightseeing, restaurants, and even day trips.
How big?
Discounts start at around 10% and go up to 50% - 90% off.
Use enough coupons and discounts, and you can slash the cost of your Boston vacation.
Here's a roundup of how to save BIG in Boston.
How to Save on Boston Hotels: Discounts, Deals, & Last Minute Savings

It's no secret that Boston hotel rates rank among the highest in North America, especially from April through mid-November. Your hotel billcan easily be your biggest travel expense, so finding discounts and deals can save you significant dollars.
The good news is that whether you're looking for last-minute reservations or booking in advance, the deals are out there, even though finding them isn't always easy. Here's where to start:
Groupon
Groupon's Flash Deals are especially good when you need last-minute reservations. Like many of Groupon best discounted deals, only a limited quantity of rooms are available for each hotel, the deal is good just for a short time, and you usually need to move fast to get it. Click on the hotels you like, and confirm the location, amenities, and of course price. Choose your hotel and book it - couldn't be easier!
Groupon usually offers good deals on their Market Picks too, plus you get a 5% Groupon Bucks credit toward your next deal.
Booking.com
Booking.com offers two types of special deals on Boston hotels: Today Deals for last-minute reservations, and Bargain Deals, which usually offer the lowest prices if you're booking at least 3-4 weeks in advance. To see the Bargain Deals, you need to sign in to the Booking.com website (or register if you haven't already).
How much can you save? Today Deals typically offer about 30% - 50% savings, and sometimes even more. You need to move fast to get Today Deals, but the amount you save can be worth it!
Bargain Deals usually give you 10%-15% savings, but you get to choose from a wider selection of hotels.
TripAdvisor
You've probably read hotel reviews and checked rates on TripAdvisor - but did you know you can also use this popular website to find the great hotel deals?
The fastest way to do this is to go straight to their Boston, Massachusetts Deals page.
They'll show you all the Boston hotel deals and discounts offered by leading hotels for specific dates - so if you know what your travel dates are, this is the best place to look. To find the cheapest deals, click on Sort by and choose Price (low to high).
The second way to find deals on TripAdvisor is to go to their Boston Special Offers page. Special Offers are only available for certain dates - so check this page if your travel dates are flexible.
Want More Hotel Savings Information?
Find more about saving with Groupon, Booking.com, and TripAdvisor on our Boston Hotel Deals page
Half Price & Discount Tickets from Goldstar: Shows, Cruises, Attractions
Goldstar Events offers savings of up to 50% or more on theater, entertainment, sports events, tours, and cruises.
Sometimes, they offer free passes. Once you sign up for Goldstar discounts, they'll notify you instantly when free tickets become available.
In addition to half price tickets for shows, comedy clubs, and other performing arts, Goldstar frequently offers tickets for Boston Harbor dinner cruises, and special performances by famous visiting performers such as Cirque du Soleil. You'll sometimes even see Boston Celtics tickets on offer.
More Current Offers from Goldstar
- Cinco de Mayo Weekend Cruise - Spirit of Boston - May 5 (always sells out early) - Goldstar $10-$18; Full price $20-$35
- Boston College Eagles Basketball @ Boston College - Goldstar $16-$50; Full price $25-$50
- Boston Bridal Bash - Revere Hotel - Goldstar $8; Full price $15
- NYC Comedy Invades Boston - 730 Tavern, Cambridge - Goldstar $5; Full price $10
- NYC Comedy Night at BareWolf - BareWolf Brewing - Goldstar $7; Full price $13
- Hasty Pudding Theatricals: Intermission Impossible - Farkas Hall on Harvard Campus - Goldstar $15-$20; Full price $30-$40
- CRASHFest Music Festival - House of Blues- Goldstar $38; Full price $48
- 1692 Salem Witchcraft Walk - Salem - Goldstar $6; Full price $12
- Flamenco Festival 2018: Berklee Performance Center - Goldstar $27-$38; Full price $40-$52
- Tipsy Chocolate Tours - Boozy walking tour in Boston's Back Bay - Goldstar $48; Full price $68
- AcousticaElectronica: Immersive Music & Dance Show - Oberon - Goldstar $Complementary-$40; Full price $25-$55
- Disney's Beauty and the Beast @ Wheelock Family Theatre - Goldstar $13; Full price $26
- Dr. Seuss's The Cat in the Hat @ Boston Center for the Arts - Goldstar $Complementary-$15; Full price $20-$30
- Shear Magic - Charles Playhouse - Goldstar $22-$37; Full price $56
- Tea Party Ships & Museum - Boston - Goldstar $18; Full price $28
- Stand Up Comedy at Nick's Comedy Stop - Boston - Goldstar Complementary - $10; Full price $20
- The Donkey Show - Oberon, in Cambridge - Goldstar $15; Full price $35

Boston Discount Cards for Attractions, Museums, & Cruises
Discount cards give you a great option for saving on admission to museums, attractions, cruises, and sightseeing. Once you buy the card, it gives you free admission for a specified number of days. Depending on which card you get and how much you use it, you can save almost 50% or more.
Two different types are available in Boston, so choose the one that fits your needs best.
Boston CityPass Discount Card
Boston CityPASS gives you entrance to 4 top attractions over a 9-day period while letting you save up to 45% of the regular admission cost - almost half off.
You'll save money with Boston CityPASS even if you go to only 3 of the attractions. But you'll probably want to go to all 4 because these truly are top Boston attractions.
Find out more about Boston CityPASS
GoBoston Discount Card
Go Boston Card gives you free admission to 40+ top Boston attractions, tours, museums, day trips, and cruises.
You buy the card for a certain number of days (1, 2, 3, 5, or 7), save up to 55% and use the card for as many attractions as you'd like during the card's valid period.
Find out more about Go Boston Card
Another Option - Get Your Guide
If you only have time for one or two attractions, check out what Get Your Guide has to offer. You can book your tickets online in advance so that you don't waste time standing in line, and sometimes pay less than the walk-up price.