Want to explore Boston's best art galleries?
You'll find them clustered in 4 distinct parts of the city: the SoWa (South of Washington Street) district in the South End, the Fort Point neighborhood in South Boston, Newbury Street in Back Bay, and scattered among the antique shops and boutiques along Beacon Hill's Charles Street.
Thanks to the city's top notch art schools, vibrant communities of artists, world-class museums, and plenty of art collectors specializing in every art genre and period, art galleries in Boston offer something for every taste and budget.
Whether you want to become acquainted with the art scene in Boston or purchase art for your home or office, visiting galleries (and of course museums) gives you an efficient place to begin.
But Boston has a lot more to offer: art walks, periodic open studios, and artisan markets where the line between "art" and "craft" blurs. Want to connect with other enthusiasts? "First Fridays" have you covered.
In this article, we'll give you a quick overview of all these possibilities, and what you'll find in various venues. Use our map at the bottom of the page to get oriented with the locations.
Then comes the fun part: Go out and explore!
Interested in seeing more art in Boston? Check out our art museums
Top photo: Harrison Ave in SoWa, home to many top contemporary art galleries, (c) Boston Discovery Guide
Boston Discovery Guide is a reader-supported publication. When you buy through our links, we may earn a commission at no additional cost for you. Learn more
---
SoWa Art Galleries in Boston's South End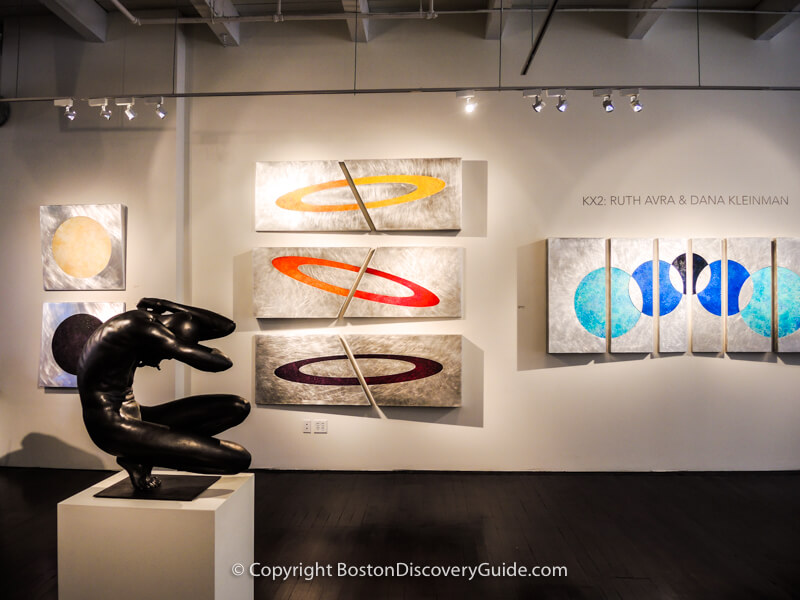 SoWa, located in Boston's hip South End neighborhood is where you'll find Boston's most active arts community. Head to SoWa when you want to explore the city's trendiest art galleries and see the latest work of modern and contemporary emerging and established artists.
SoWa refers to South of Washington (Street) where numerous artists set up studios, galleries, and living space in formerly abandoned factories and warehouses several decades ago when this slice of the South End neighborhood offered some of the cheapest rents in the city.
Real estate values throughout the South End have soared since that time as renovations and gut-level rehabs have transformed the once-derelict Victorian brownstones and dilapidated buildings into highly-prized condos and lofts and, for better and worse, gentrified the neighborhood.
Although many - perhaps most - artists can no longer afford to live in SoWa or elsewhere in the South End, dozens of galleries and hundreds of artists studios remain, thanks to non-profit organizations such as USEA (United South End Artists) and The SoWa Artists Guild.
These organizations keep art alive here through a variety of popular art events throughout the year.
How to Explore SoWa Art Galleries
Multiple events open to the public throughout the year give you lots of opportunities to view the galleries' current exhibitions, discover which ones align with your personal vision, and perhaps get new perspectives. At many of these events, you can also visit artists in their studios, view their latest work, and chat with them.
You can find many of the SoWa galleries and studios in two enormous buildings stretching along pedestrian-only Thayer Street where it intersects 450 and 460 Harrison Avenue.
Here are 7 of the most popular free family-friendly art events in SoWa:
Although Open Studios, Art Walk, and other special events give you the best opportunity to visit artists in their studios, you can explore the many SoWa galleries at any time.
To start your SoWa gallery hopping experience, head to 450 Harrison Ave and then walk down Thayer Street where you'll see two enormous buildings stretching all the way back to Albany Street.
Galleries plus a few boutiques fill first floor spaces and artists' studios occupy the upper floors.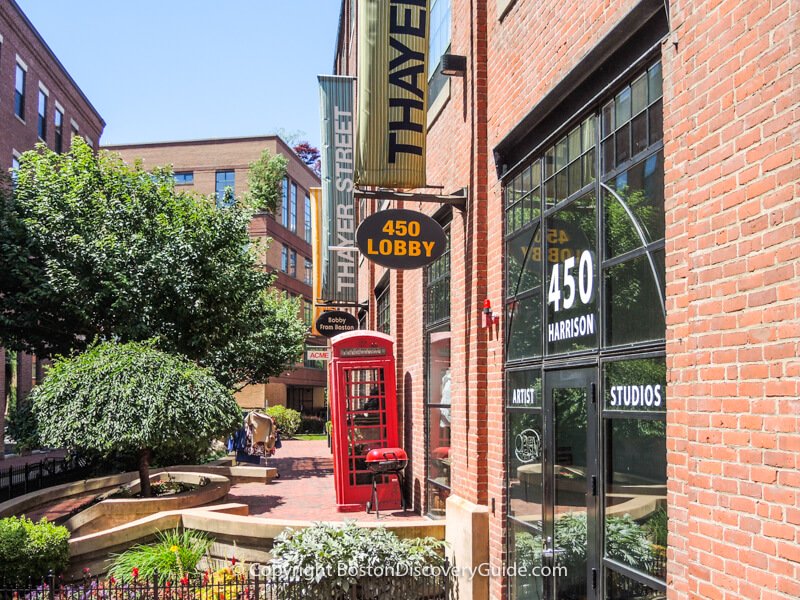 Each gallery sets its own hours - so to maximize your visit by finding the greatest number of open galleries, come on Wednesday through Sunday between 11am-5pm (although some galleries close on Sundays from about November through April).
Here's a sample of what you'll find at 450 & 460 Harrison:
More SoWa galleries to explore nearby:
Combine with Your Gallery Excursion
Boston's South End is known for its many chef-owned restaurants and wine bars. Here are a couple of fun experiences to introduce you to the neighborhood's foodie culture:
Getting to SoWa
Public Transportation: By T: Orange Line/Back Bay Station, and then a short walk.
Parking: Free parking available for for Thayer Street shoppers for up to 90 minutes at 365 Albany Street, Monday - Friday, with validation, and up to 3 hours with validation on Saturday and Sunday, excluding during SoWa Open Market.
During Open Market, plenty of inexpensive paid parking is available in nearby garages and lots - just follow the signs.
---
Fort Point Galleries & Artists' Studios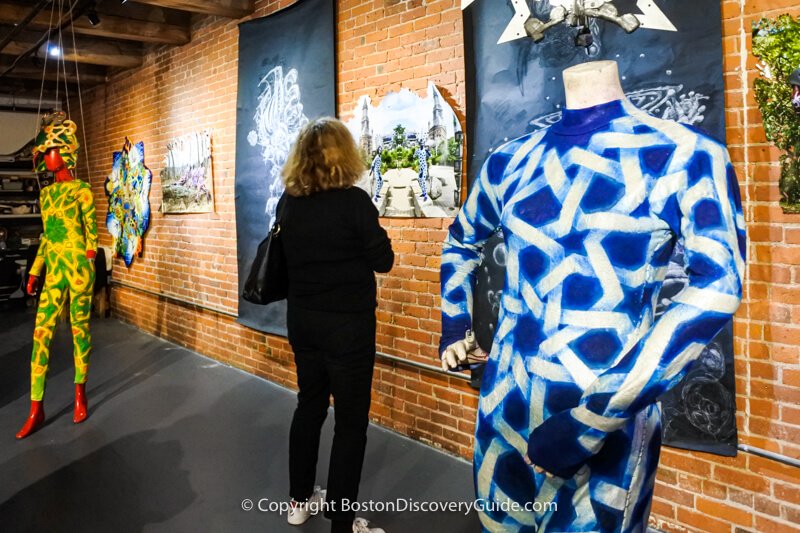 Fort Point is one of New England's oldest and largest artist communities, and home to over 300 artists who have carved studio, gallery, and living space out of the early 19th century factory and warehouse buildings in this former industrial area in the South Boston Waterfront neighborhood.
What makes Fort Point unique is that despite soaring real estate prices in this rapidly gentrifying neighborhood, artists have continued to be able to live here.
Their ability to remain is largely due to the efforts of Fort Point Arts Community (FPAC), a non-profit organization which has helped ensure affordable housing in for artists in three Fort Point artist buildings containing live-work studio spaces.
To start exploring art in Fort Point, begin at FPAC-managed galleries which display the work of the community's artists:
Even better: If you will be in Boston in October, put Fort Point Open Studios 3-day event on your calendar.
Although the focus is on the open studios, galleries will be open as well. It normally takes place on the 3rd weekend of the month - but check our October calendar just to make sure.
Stop by the FPAC Gallery at 300 Congress Street, pick up a map showing the more than 150 open live/work studios in 14 buildings, plus galleries and pop-up venues.
If you're not sure where to start, head to the huge Midway Artist Studios building (15 Channel Center Street), where visiting even half of the 89 studio/homes can easily take a full day.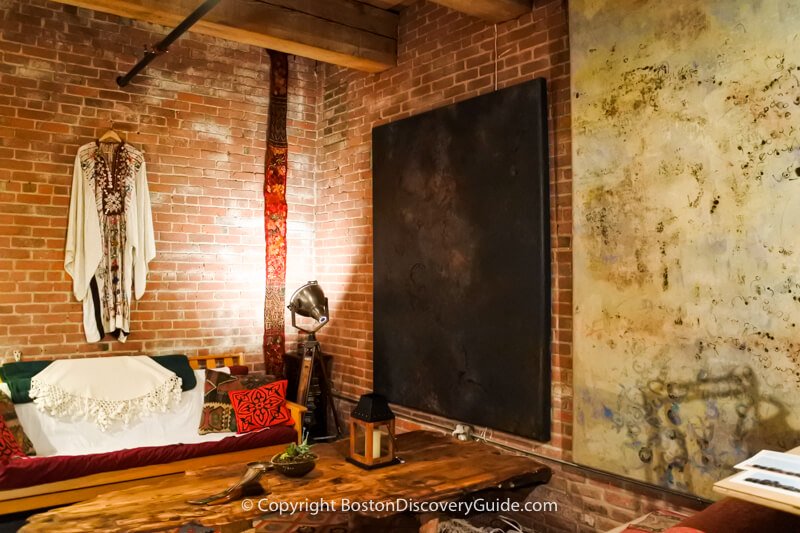 Stroll around, explore the art, and chat with the artists who work in a wide range of creative media: painting, sculpture, jewelry, photography, pottery, textiles, print making, fashion, graphics, video, and design.
Combine with Your Gallery Excursion
Fort Point's many chef/owned restaurants attract fans from across the city. Combine your art gallery visit with a meal for the perfect day in Boston.
Find out about Fort Point restaurants
Getting to Fort Point
Public Transportation: By T: Red Line/South Station; walk across the Summer Street Bridge
---
Newbury Street Art Galleries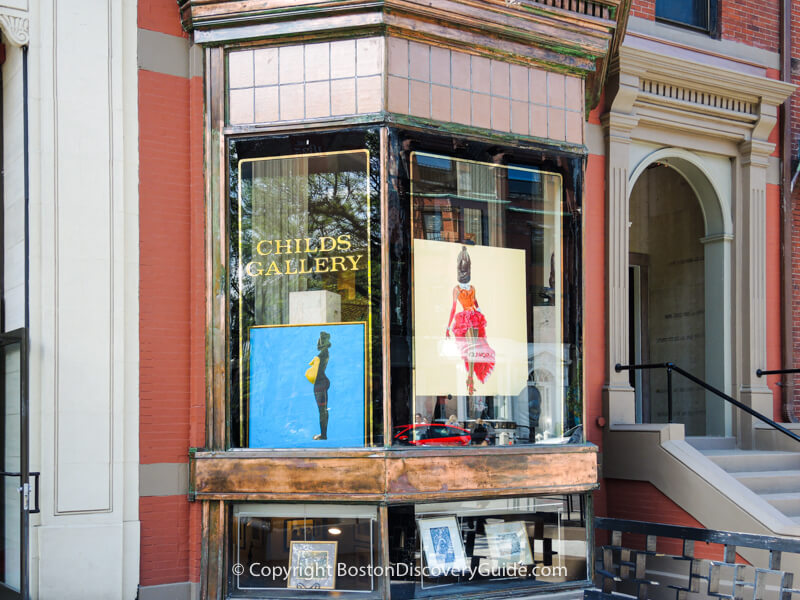 Newbury Street's 6-block stretch between the Public Garden to the east and Mass Ave to the west in the Back Bay neighborhood are home to about 15-20 art galleries (plus a few antique shops with seriously good art offerings).
This is where to come if you want to see works by top renowned artists such as Picasso, Miro, and Renoir, as well as important emerging artists.
Periods range from contemporary to Old Masters, and while some works will cost you more than a 3-bedroom Beacon Hill townhouse, others are in a more affordable range.
In short, Newbury Street is the best place in Boston to see top-end art outside of a museum.
If you're an art lover, your perfect day in Boston will be an afternoon of gallery-hopping along Newbury Street combined with a Back Bay wine sipping experience.
Find out more about Newbury Street galleries
---
Art Galleries in Beacon Hill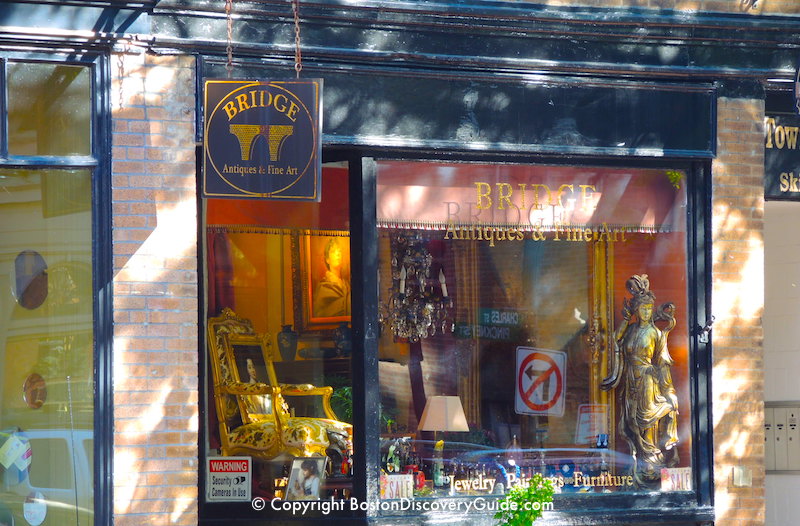 Perhaps the most fascinating place to look for art in Boston is among the galleries and antique stores on Beacon Hill's Charles Street between Beacon and Cambridge Streets. This is where to come when you want to find something unexpected and irresistable to take home with you.
The best way to view the art on Charles Street is simply to start at one end - let's say Beacon Street across from the Public Garden - and walk down one side of the street, going into the places that catch your eye. Don't forget to look up and down, as some are below street level while others are on the second floor. Once you reach Cambridge Street, cross over to the other side and repeat.
Not all the galleries will be open, and some are by appointment only - but Friday and Saturday afternoons are usually a good bet. Peer through the window of any places that are closed and if you like what you see, make an appointment and come back.
Find out more about shopping for art, antiques, and vintage collectibles along Charles Street
---
Map Showing Gallery Locations in Boston
---
How to Visit Art Galleries in Boston: Visitor Tips
Hours: Many Boston art galleries have infrequent and/or unpredictable hours. Some are open at additional times by appointment. Some close for large chunks of time, like the entire month of January or August. Like any other retail store, there is no charge to enter.
If you're just walking around a neighborhood and want to explore a couple of galleries but don't care which ones you see, the hours won't matter so much to you - although you should still avoid Mondays if possible, as they're almost univerally closed on that day.
But if you're interested in a specific gallery, first check the hours on the gallery's website, and then always call to confirm.
Prices: You'll find everything from very affordable (ie, under $100) to sky-high prices - although of course, when you fall in love with a piece, sometimes you don't care.
But like with other types of expensive items (houses, cars, horses), you may find some negotiability. You have nothing to lose by asking.
---
More Articles about Where to See Art in Boston