Home >
Art Galleries in Boston
Where to find top Boston art galleries, studios, & shows
Renowned art gallery on Boston's Newbury Street
If you love art, you'll have fun discovering the best art galleries Boston has to offer.
Although Boston art galleries can be found in every neighborhood, prime destinations for browsing and shopping for art include Newbury Street, the South End, Charles Street in Beacon Hill, and the Fort Point Channel area of the South Boston Waterfront neighborhood.
With top notch art schools in the area, thriving communities of artists, world-class museums, and plenty of art collectors specializing in every art genre and period, art galleries in Boston offer something for every taste and budget.
In addition to all the art galleries, Boston artists also display their work in open studies, shows, and other venues. Although I love Boston's expertly curated galleries, I also enjoy looking at (and sometimes buying) art in these informal settings, where you'll see pieces from emerging artists as well as some of the established "giants" in the Boston art world.
If you're visiting Boston and want to explore some of our galleries as well as other art venues, it can be hard to know where to begin.
Return to Top - Art Galleries in Boston
Guide to Art Galleries in Boston
This Guide to Art Galleries in Boston will get you started by focusing on three areas with high concentrations of galleries and antique shops, where you'll often find terrific art.
Following those sections, you'll find recommendations for where you can find the best open studios, artists' studios, and artisan markets.
Art that you purchase while traveling can become one of the most special - and lasting - memories of a trip.
To see a grand-scale example of what can happen when you buy art when you travel, just visit Boston's Isabella Stewart Gardner Museum - the result of one woman's European travel acquisitions!
Back Bay - Top location for art galleries in Boston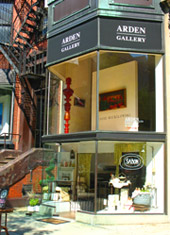 If you're wondering where you'll find the largest number of art galleries, Boston's fashionable Newbury Street in Back Bay is the answer.
In between the high-end designer boutiques, sparkling jewelry stores, and some of the city's best restaurants and hotels, you'll find over 30 art galleries, as well as antique shops with sizeable art offerings.
Most of these galleries are located along Newbury Street, and "gallery hopping" - browsing in one, then another, and then another - is a favorite Boston activity, especially on the weekends.
Serious art shoppers will also do well on Newbury Street. Whether you want to spend very little or part with sizeable funds, you find galleries that are happy to cater to your needs.
Some Newbury Street galleries represent one specific style or period, while others are much more eclectic. Altogether, you'll find every time period, style, and level of artistic expertise represented.
More about Newbury Street art galleries
Beacon Hill - Art in antique shops
Unlike Back Bay, Beacon Hill has only a few art galleries - but Boston's gracious 18th century neighborhood located on the other side of Boston Common does have plenty of antique shops where you can find amazing art, especially sculpture. You may have to poke around a bit . . . but your efforts will be well-rewarded!
Almost all of Beacon Hill's antique shops are located along Charles Street, where you'll find most of Beacon Hill's small stores, restaurants, and hotels.
In case you're a Boston visitor who's trying to get oriented to the city, Charles Street runs between Boston Common and the Public Garden. Follow it south, and it divides the Theatre District from Park Square, runs along the edge of Bay Village, and then bends right, at which point it turns into Tremont Street and passes through the South End.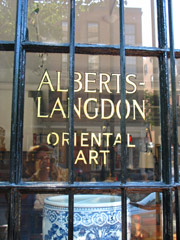 Follow Charles Street north, and it passes through Beacon Hill, finally intersecting with Cambridge Street; on the other side of Cambridge Street is Boston's West End.
You could probably walk the length of Charles Street, from end to end, South End to West End, in 15-20 minutes - if it weren't lined with tempting stores with windows filled with fabulous things.
But 6 blocks (including 2 very short ones) of Charles Street that pass through Beacon Hill are so crammed with interesting shop windows to peer into that this stretch alone is easily a 20 minute walk.
And that's if you don't go inside any of the stores. If you love antiques and art . . . well, you'll definitely want to explore every antique store that you see!
Beacon Hill is rumored to have at least 40 antique dealers. I usually lose count at around 30 - the gorgeous art treasures are too distracting!
Some Beacon Hill antique shops keep more or less regular hours but some don't, or they open by appointment only. In general, Thursday - Sunday from about 11am - 5pm is when you're most likely to find the largest number of them open.
Some consistently include art in their inventory; others are more hit-or-miss. If you love treasure hunts, this will be your favorite Boston shopping adventure.
For that reason, the best way to shop for art (or antiques) in Beacon Hill is to simply walk along Charles Street, look at the period and style of what's in the window, and decide if you want to go in. Because virtually all of these shops are along a few blocks of Charles Street, you won't miss anything if you use this approach - although do look up, because some shops are on the 2nd floor.
Most of the shops specialize in furnishings that would like at home in the 18th and 19th century neighborhood residences. However - perhaps in memory of New England's 19th century China trade - several of the antique stores / galleries specialize in very fine Asian objects and art. A couple of others emphasis European styles.
Here's a small taste of what you'll find. Please keep in mind that inventories change as items are sold and replaced by new ones . . . so in particular, antique dealers may not always have much art - or they may have a lot!
Return to Top - Art Galleries in Boston
A Room with a Vieux Antiques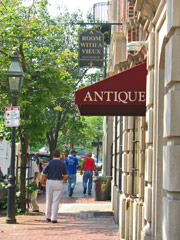 20 Charles Street; 617-973-6600; www.aroomwithavieux.com
Fabulous 18th and 19th century French antiques, as well as some Art Deco treasures.
Mostly furniture (specializes in bedroom furniture) - but also objets d'art, so definitely worth popping in to see what's on display.
A second location in Brookline (361 Boylston St) and a large warehouse mean that if you don't see what you want, just ask, as it may be tucked away somewhere else.



Antiques Period
44 River Street; 617-973-6601; www.antiquesperiodboston.com
Not quite on Charles Street, but right around the corner (from Charles Street, turn on Pinckney or Mt. Vernon toward the river - River Street is about 30 steps away).
Many, many gorgeous things . . . emphasis is on neoclassical European, especially French furniture and home furnishings . . . but also an extensive collection of reasonably priced Old Master drawings and objets d'art. Very knowledgeable shop owner who makes frequent buying trips to Europe.
Churchill & White
122 Charles St; 617-367-0917; website
Very fine 18th and 19th century porceleins, furniture, and some paintings and sculpture.
You'll mistake Churchill & White for one of the top Boston art galleries. On of my favorite spots for drooling - I mean, window-shopping.
Return to Top - Art Galleries in Boston


Danish Country Antiques
138 Charles St; 617-227-1804; www.europeanstyleantiques.com
Gorgeous high-quality Danish, Swedish, and Chinese antiques, with an emphasis on furniture . . . but from time to time, they also have fabulous 3-dimensional objects that you'll want to use as sculpture.And that's in addition to the very tempting clocks and trunks . . . not exactly art, but beautiful enough to be. My current favorites here - gorgeous red-lacquered Provincial wooden Chinese bowls.
Good
133 Charles Street; 617-722-9200; www.shopatgood.com
Exquisite shop arranged like an art gallery offering mostly home accessories and jewelry . . . but you'll also find art - mostly paintings, photographs, engravings. The selection is unpredictible and changes quickly, but what you find is sure to be irresistible, just like everything else in this shop. Come here when you want something unique. Prices are usually affordable.
If you don't see what you're looking for, just ask. They have a lot of other things in drawers and in the back.
Judith Dowling Asian Art Gallery
133 Charles Street; 617-523-5211; website
Specializes in Japanese art. On the gallery's 2 floors, you can see exquisite paintings, ceramics, Buddhist and Shinto arts, textiles, folk art, and other treasures displayed in traditional Japanese surroundings. One of the finest Boston art galleries.
Return to Top - Art Galleries in Boston
Twentieth Century Ltd Goods
73 Charles Street; 617-742-1031
Specializes in vintage jewelry. "What does vintage jewelry have to do with art???" you may be thinking.
Well, perhaps not a lot . . . but this may be the best vintage jewelry shop / jewelry-as-art gallery in Boston, so I can't resist mentioning it in case you're in the neighborhood and want to pop in.
And come to think of it, beautiful jewelry can be considered an art form . . . uh, wearable art?
Directions to art galleries in Boston's Beacon Hill neighborhood
Nearest Subway ("T") Station: Red Line/Charles-MGH. Take the Charles Street exit out of the station, and carefully cross Cambridge Street to reach Charles Street.
Return to Top - Art Galleries in Boston
South End art galleries - Boston's trendiest location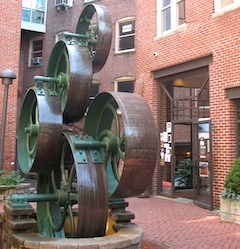 You'll find the trendiest, most avant garde Boston art galleries in the ultra-hip South End neighborhood.
First stop: The SOWA Artists Guild at 450 Harrison (and that's also the address - 450 Harrison St) in the South End.
The Guild is a non-profit organization made up of professional artists, many of whom live and have studios in Boston's South End.
SOWA, or SoWa, is an acronym for South of Washington (Street), where numerous artists have studios, galleries, and living space in formerly abandoned factories and warehouses.
At 450 Harrison, you'll find 15 galleries and over 50 studios. The Guild, along with many of the galleries and studios, is open during the week from 9am - 7pm and from 11am - 5pm on weekends. You can buy directly from the artist.
On the first Friday of every month, you can attend the enormously popular First Friday Open Studios from 5 - 9pm at the SOWA Artists Guild at 450 Harrison Ave. Most studios and galleries are open during this time, and you can stroll around, enjoy the art, and chat with the artists.
Don't confuse First Friday Open Studios with the South End's annual South End Open Studios event, typically held on the 3rd weekend in September. During this 2-day event, 300 artists who belong to United Soute End Artists (USEA) open their studios and galleries to visitors.
During warm weather, from mid-May until almost the end of October, you can also enjoy SoWa Open Markets every Sunday. At these popular events, you'll find talented artists, artisans, and even farmers and bakers showing and selling their work.
Return to Top - Art Galleries in Boston
Berenberg Gallery
4 Clarendon St; 617-536-0800; website
The Berenberg Gallery specializes in contemporary folk art and self-taught artists - sometimes called "outsider" art. The resulting art often involves highly personal images that express the artists' passions and world views outside of the constraints of mainstream art.
The Berenberg showcases both emerging and established artists who produce paintings, photographs, sculpture, prints, and other media. You'll see some terrific pieces here. The Berenberg is the only Boston gallery with this focus.
Bernard Toale Gallery
450 Harrison Ave; 617-482-2477; website
If you love cutting-edge contemporary art galleries, the Boston leader in this area is considered by many to be the Bernard Toale Gallery, formerly on Newbury Street but located in the South End since 1998.
The Toale Gallery is where you'll find the work of internationally known as well as emerging experimental avant garde artists. Their work spans a variety of styles and media, including painting, sculpture, photography, prints, and new media.
Chase Young Gallery
450 Harrison Ave, South End; 617-859-7222; hours Monday - Saturday, 10:30am - 6pm; website
This well-respected Newbury Street art gallery, begun by Jeffrey Chase in 1990, represents top contemporary artists.
Although the gallery originally focused on representational painters, and you can still see this strong interest, it now also includes abstract artists, sculpture, and photography.
Shows typically run for about 4 weeks, with opening receptions on the first Friday evening of new exhibitions. Happily, openings usually coincide with First Fridays in the South End . . . so expect an extra sizzle of excitement.
Gallery at The Piano Factory
791 Tremont St; www.galleryatthepianofactory.org
Open for a few hours on most Saturday and Sunday afternoons, plus additional hours for Friday openings.
Housed in an 1854 piano factory now repurposed as the Piano Craft Guild (PCG) to provide affordable living, work, and exhibition space for South End artists, the Gallery at The Piano Factory offers an eclectic mix of shows including a wide range of media.
You can almost always expect to see something interesting here. In addition, many of the resident artists have decorated the doors to their studio/loft space in a way that displays their are . . . so in a sense, the whole building functions as a gallery.
Gallery hours vary, so be sure to verify dates/hours on their website before coming.
A small black box theater called "The Factory Theatre," used by many local theater groups for performances, is also located here. See Boston Theaters for details.
Vessels Gallery
8 Union Park, between Shawmut Ave and Tremont St; 617-424-6700; website
Specializes in art pottery - actually, the pieces are more like sculptural objects than what you might normally think of as pottery.
This is the place to come for incredibly beautiful and surprisingly affordable pieces made by local and international artists. The knowledgeable gallery owner can tell you in detail about the artist behind each piece,where they are in their career, and where they may be headed in the future.
Great place if you want just one perfect piece - perhaps for a gift, perhaps for yourself - or if you're thinking about becoming a collector. Well-curated shows last 3-6 weeks.
Directions to art galleries in Boston's South End
Closest T Lines/Stations: Orange Line/Back Bay. As you leave the station, turn left and walk down Dartmouth Street for a block. Once you cross Columbus Ave, you're in the South End.
Return to Top - Art Galleries in Boston
Fort Point art galleries - Boston's trendiest location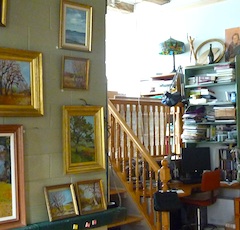 One of Boston's oldest and largest artist communities, Fort Point is home to over 300 artists who have carved studio, gallery, and living space out of the early 19th century factory and warehouse buildings in this former industrial area in the South Boston Waterfront neighborhood.
Artwalk, the Fort Point arts community's Open Studios, takes place twice a year in May and October, and provides an excellent starting point for your explorations of this fascinating area.
Or stop by Grand Circle Gallery to enjoy displays of stunning vintage travel posters, photography, and special exhibits.
How to visit art galleries in Boston - Tips for visitors
Hours: Many Boston art galleries have infrequent and/or unpredictable hours. Some are open at additional times by appointment. Some close for large chunks of time, like the month of January or August.
If you're just walking around a neighborhood and feel like exploring a couple of galleries but don't care which ones, the hours won't matter so much to you. But if you're interested in a specific gallery, first check the hours on the gallery's website, and then always call to confirm.
Prices: You'll find everything from very affordable to sky-high prices - although of course, when you fall in love with a piece, sometimes you don't care.
But like with other types of expensive items (houses, cars, horses), you may find some negotiability. You have nothing to lose by asking.
Return to Top - Art Galleries in Boston
More to places to enjoy and acquire art in Boston
Home > Art Galleries