Home > Art Galleries in Boston >
South End Open Studios
Where to meet emerging and established Boston artists
Do you love to discover exciting creations by top artists? If so, South End Open Studios may be a highlight of your Boston visit.
During this two-day event, approximately 300 artists from the United South End Artists (USEA) organization open up their studios and galleries in Boston's chic South End neighborhood.
You can stroll from studio to studio and look at terrific creations in all kinds of media . . . oils, watercolors, wood, photography, fibers, ceramics, glass, metal, and more.
You'll see paintings ranging from tiny miniatures to huge murals, from realistic to abstract.
Sculpture ranges from representational to conceptual, from exquisite statues to functional furniture and household items.
Some of our favorites include stained glass panels, fine art photography, and (speaking for my daughters), almost everything involving gemstones. And I've fallen in love with more paintings at this event than I care to count.
Whenever you find a piece that grabs your imagination, chat with the artist to learn more about it.
Can't leave without it? You can buy it directly from its creator. . . or arrange a return visit to the artist's gallery or studio to view it again after South End Open Studios is over.
Touring South End open studios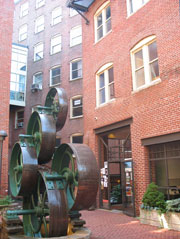 During the South End Open Studios weekends, United South End Artists volunteers hand out maps with gallery locations. You'll find them at the Boston Center for the Arts Plaza at 539 Tremont Street, the USEA building at 560 Harrison Ave, and 535 Albany Street.
Galleries and studios cluster around each of these locations - so you can begin your tour at any one of them. Use the Open Studio Map to find studio locations - or just look for clusters of balloons along the streets.
As you'll notice, many of the studios and galleries line Harrison Ave and other streets in the area south of Washington Street now called SoWa (or SOWA, depending on who's doing the abbreviating). Artists have been carving space out of the abandoned factories in this area since the 1960s - although now that the area has been nicely renovated and is very, very trendy, rents are no longer cheap.
If you're interested in walking through the neighborhood with a tour guide who will tell you about the South End's architecture, history, and attraction for artists, stop by the information table in the Boston Center for the Arts Plaza to find out the tour departure times.
This popular event attracts lots of South End residents, as well as visitors from all over Boston and beyond. As everyone walks around the neighborhood chatting about what they've seen and calling out "hellos" to friends, you'll hear the excitement and congeniality.
All this gallery-hopping will soon make you hungry and thirsty. Fortunately, many South End restaurants and bistros offer delicious brunch and lunch options. Or, if you're there in late afternoon, stop by a neighborhood bistro or brasserie for a glass of wine and perhaps an early dinner.
When to visit South End Open Studios
The South End Open Studios event is held annually in Boston's South End on a Saturday and Sunday during early fall. Check the Boston Events Calendar for September for exact dates.
But if the dates don't work for you, no worries - South End artists provide plenty of other opportunities for you to see their art.
SoWa Art Walk takes place on a Saturday and Sunday in late spring. This popular event features lots of open studios and galleries in the converted factory buildings in SoWa. Similar to the South End Open Studios event in the fall, art lovers come from all over the Boston area to stroll through the streets, enjoy art, and celebrate spring. Check Boston Events in May for details.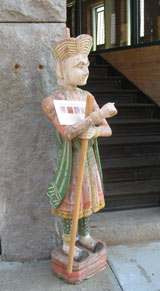 First Friday Open Studios occur, you guessed it, on the first Friday of every month at the SOWA Artists Guild building at 450 Harrison Ave, where over 50 artists' studios and over a dozen galleries open their doors to art lovers from 5pm to 9pm.
This very popular event combines art appreciation with social networking . . . followed by visits to South End restaurants and bistros.
SoWa Open Market gathers community artists, craftspeople, and food growers together in a fabulous open-air market each Sunday (except for holiday weekends) in the parking lot at 540 Harrison Ave from mid-May through October.
SoWa Holiday Market occurs in early December in the Cathedral High School Gym at 74 Union Park Street from 10am - 6pm. You can see and buy great gifts from 80 New England artisans who exhibit chic-to-cutting-edge jewelry, pottery, paintings, soaps, and ornaments. Call 617-481-2257 for more information.
I usually include dates for all of these in the Boston Events Calendar.
More to places to shop beyond Boston Shopping Malls
Home > Boston Shopping > South End Open Studios