Chef-owned restaurants, creative cuisine, and a cool vibe make the Fort Point area of the South Boston Waterfront a top choice for experiencing the city's thriving restaurant scene.
Some of Boston's most applauded chefs have opened restaurants in this increasingly trendy neighborhood, offering innovative cuisine that attracts enthusiastic foodies from all over the Boston area.
Although most Fort Point restaurants lack the waterfront views of many restaurants in the adjacent Seaport area, if you want to avoid crowds of tourists along the waterfront while experiencing some of Boston's best cuisine, Fort Point is the place to come.
If you're visiting the Children's Museum or the Boston Tea Party Ships and Museum, attending an event at the Convention Center, staying at the Residence Inn or Envoy Hotel, or exploring the numerous Fort Point art galleries and studios, stop by one of these restaurants for a memorable meal.
Top photo: Row 34 in Boston's Fort Point Neighborhood, (c) Boston Discovery Guide
Boston Discovery Guide is a reader-supported publication. When you buy through our links, we may earn a commission at no additional cost for you. Learn more
---
Row 34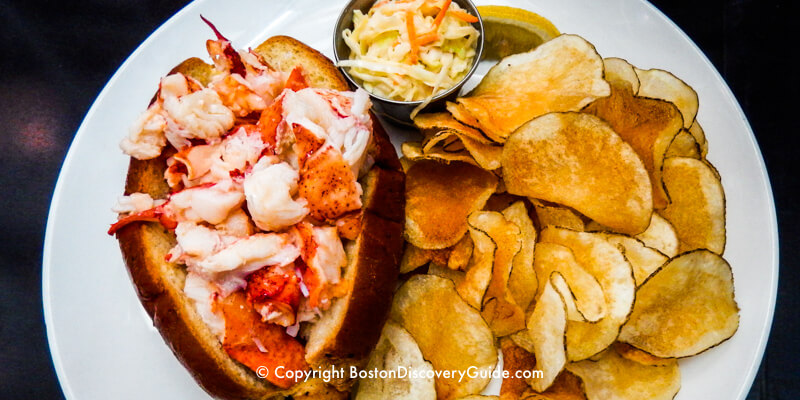 Sharing owners and oyster beds with Island Creek Oysters in Fenway, Row 34 offers a more informal ambiance but with the same emphasis on impeccably fresh high-quality seafood.
Located in a former steel factory, the restaurant features a sleek, airy indoor space with a variety of seating options, and a patio for outdoor dining during warm weather.
Although Row 34 showcases oysters and other shellfish with house-made dipping sauces on display at the raw bar, cooked dishes are equally good - including the lobster rolls, which are a serious contender for being the best in Boston. Whatever you order, make sure you get some of the grilled sourdough bread, especially if you have something to dip it in.
Favorites: Warm buttered lobster roll, beer-steamed mussels with chorizo and a fabulous sauce, grilled scup, roasted snapper, grilled veggies, butterscotch pudding
383 Congress Street | 617-553-5900 | www.row34.com
---
The Smoke Shop BBQ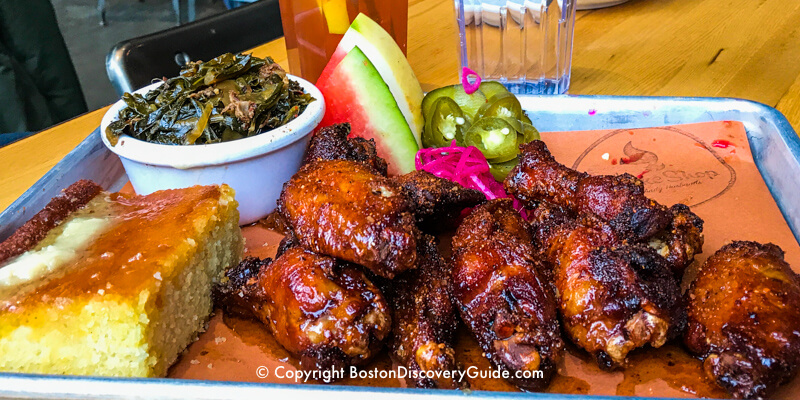 The Smoke Shop BBQ has its own Old Hickory smoker, veteran pitmaster/restauranteur/owner Andy Husbands at the helm, and an impressive bar offering over 200 whiskeys and a well-curated rotation of craft beers.
Most important: It serves up some of the best Texas-style barbeque in Boston.
Favorites: Wings, brisket, pulled pork, greens (ie, collards), hot catfish sandwich, ribs, burnt ends, cornbread
Insider's Tip: Order whatever you want - but make sure you get some wings.
You're welcome.
343 Congress Street | 617-277-7427 | www.thesmokeshopbbq.com
---
Flour Bakery + Cafe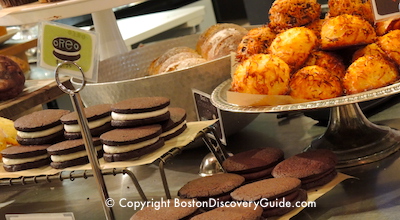 Flour's motto, "Make life sweeter ... eat dessert first!" sums up why you'll love this bakery/cafe, although its savory treats, sandwiches, and salads are as good as the pastries, muffins, scones, and desserts.
Just be aware that Flour is extremely popular, with an almost cult-like following, and since everything is made fresh daily, items do sell out.
So if you've set your heart on, for example, one of chef/owner Joanne Chang's famous pecan-studded sticky buns, do yourself a favor: call ahead and reserve it.
Favorites: Sticky buns, brioche au chocolat, coconut cream pie, lemon meringue tarts, barley and kimchi salad, roast chicken and brie salad
12 Farnsworth Street | 617-338-4333 | www.flourbakery.com
---
Bastille Kitchen
Located in an attractive brick-walled former warehoused and modeled after a French bistro, Bastille Kitchen starts with French classics but updates them with American ingredients and an innovative twist that you won't necessarily encounter in France.
Seafood is especially good here, with plenty of locally caught and sustainable choices.
Favorites: Bastille burger on brioche, sautéed sole with capers and rhubarb salad, seared scallops (shown in photo, and the frisee salad with duck confit, duck bacon, and a poached egg
49 Melcher Street| 617-556-8000 | www.bastillekitchen.com
---
Where to Stay in the South Boston Waterfront - Seaport & Fort Point
More South Boston Waterfront hotels
---
More Fort Point Restaurants
Bon Me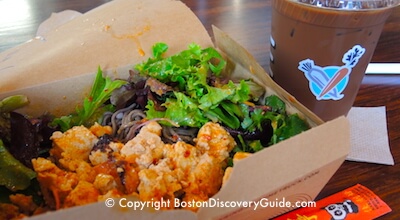 Starting first as a food truck featuring Vietnamese street food, Bon Me continues to attract enthusiastic fans to their Fort Point location.
An attractive seating area provides a place to eat your meal, but since Bon Me serves its generous-sized portions in cardboard to-go containers, lots of customers carry it out. Even if you eat there, you will still probably have some left to take home or back to your hotel.
Bon Me offers 4 main choices (plus options): Vietnamese bánh mì sandwiches on a toasted baguette (you choose the filling), noodle salads (you choose soba or rice noodles, the filling, and the type of Vietnamese dressing), rice bowl (choose white or brown rice), and mesclun-based salad (choose toppings and dressing).
Regular fillings such as spice-rubbed chicken, miso-braised pulled pork, and roasted soy and paprika tofu are always available, and a few specials are usually on order. Everything is fresh and made to order.
Bon Me's food should come with a warning that it is seriously addictive.
Favorites: Soba noodle salad with roasted tofu and spicy peanut sauce (shown in photo), sandwich with lemongrass chicken (when available), any of the options with the miso-braised pork, bubble tea
313 Congress Street (across from the Children's Museum) | 857-350-4035 | www.bonmetruck.com
---
Pastoral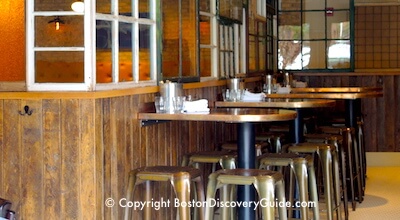 With an open kitchen featuring a gorgeous Florentine oven and rustic decor with a sort of retro vibe, Pastoral serves up plenty of pizza in an informal setting. Just as interesting, though, are other dishes that take advantage of the super-hot oven such as the oven-roasted chicken wings, roasted potatoes (available for Sunday brunch), and the wood-fired dough knots.
Pastas are a good bet here also. Even more interesting are the veggie dishes served as sides.
Favorites: Fennel sausage pizza with buffalo mozzarella and from-age blanc, English pea hummus with fried zucchini and eggplant, calamari with green olives and kale, ricotta dumplings with mushrooms, lavas, and smoked lobster, and the fried olives stuffed with sausage
345 Congress Street | 617-345-0005 | www.pastoralfortpoint.com
---
Menton
Menton is the crown jewel among chef/owner Barbara Lynch's mini-empire of Boston restaurants.
As the only Boston restaurant to gain 5 stars from a variety of rating sources, it offers a superb dining experience.
Menton is pricey - but interestingly, you could spend more elsewhere and not dine or drink as well, which also makes it somewhat of a bargain.
What to expect:  Two prix-fixe tasting menus with about 8 courses and optional wine pairings are offered. Menus change seasonally.
354 Congress Street | 617-737-0099 | www.mentonboston.com | Dinner only; reservations strongly recommended
---
Sportello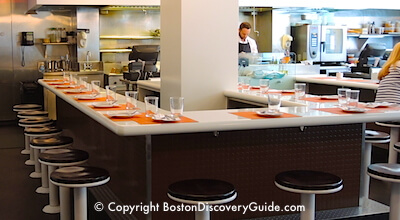 Styled like a rather elegant lunch counter, Sportello is another Barbara Lynch restaurant, next door to Menton but offering a more affordable price point.
Lunch and dinner menus feature Italian cuisine and fresh local ingredients, with an emphasis on seafood, and wonderful artisinal Italian wines.
Favorites: Spaghetti alla puttanesca, chicken Caesar salad, potato gnocchi with mushroom ragu and peas, and tagliatelle with bolognese sauce and fried basil
348 Congress Street | 617-737-1234 | www.sportelloboston.com
---
Drink
Downstairs from Sportello, Drink completes the triad of Barbara Lynch gems on this block.
No need to look for a beverage menu.
Just let the bartender know what type of alcohol and flavors you like, and you'll be presented with a specially selected wine or handcrafted cocktail created especially for you.
Although cocktails rightfully take front and center stage at Drink, the food shares the spotlight.
Favorites: Grilled peaches, Rhode Island calamari, and corn dogs created from house-made smoked duck sausage and mustard greens
348 Congress Street | 617-737-1234 | www.drinkfortpoint.com
---
Fun Boston Food Tours
---
Find Your Favorite Boston Restaurant
Favorite Boston Restaurants & Pubs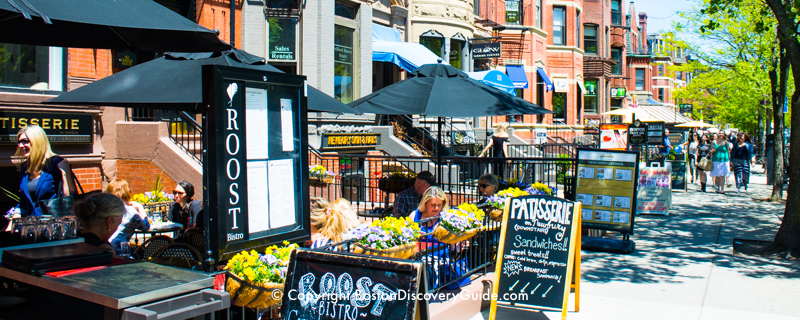 ---
More Articles about Dining & Things to Do in Boston's Seaport
---