Top photo: Boston's Theatre District on the edge of Chinatown, (c) Boston Discovery Guide
Boston Discovery Guide is a reader-supported publication. When you buy through our links, we may earn a commission at no additional cost for you. Learn more
---

To answer your second question about where to eat in Boston's Chinatown first: Chinatown is full of wonderful places to eat, and almost all will have plenty of options for vegetarians and carnivores alike.
Plus, the Theatre District / Downtown Crossing share several blocks with Chinatown and both offer lots more choices.
However, if you decide to head over to Copley Square instead, you'll find some wonderful fully as well as mostly vegetarian/vegan places that might work well for both you and your friends. As you'll see, our four favorites are along Boylston Street, across from or within a block or two of Copley Square.
Chinatown Recommendations for Dining on New Year's Eve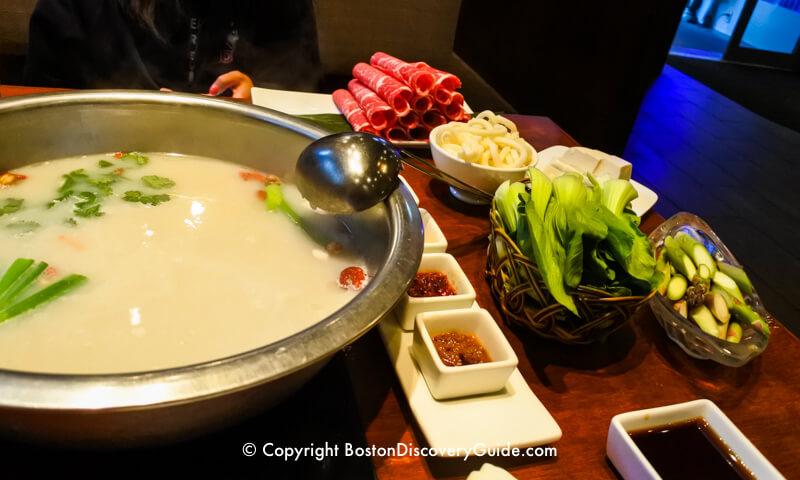 Q Restaurant (660 Washington Street) - Offers three different types of options: hot pot, where you choose from a wide assortment of veggies, meat, fish, tofu, and noodles, and then cook your choices in your bowl of hot broth; sushi, with plenty of options featuring raw or cooked fish, and vegetable-only selections; and "traditional" Asian stir-fries, noodle dishes, and others choices - again, vegetarian or not.
Taiwan Cafe (34 Oxford Street) - Lots of delicious tofu and vegetable dishes, with and without meat or fish.
Gourmet Dumpling House (52 Beach Street) - The main stars here are, not surprisingly, the dumplings - vegetarian and non-vegetarian. However, the menu offers lots of other good Cantonese choices including some outstanding vegetable-only dishes - try the sauteed Shanghai greens or Chinese watercress.
My Thai Vegan Cafe (3 Beach Street) - Great selection of vegan curries, dumplings, soups, and entrees based on Thai and other Asian cuisines.
Theatre District / Downtown Crossing Recommendations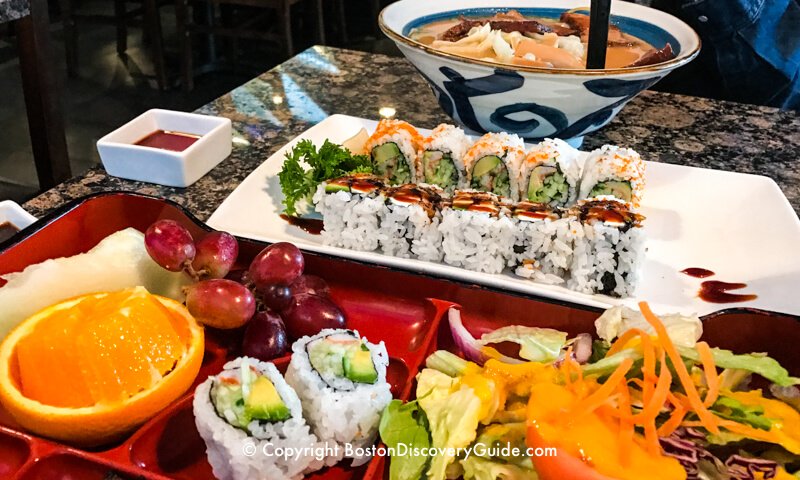 Sip Wine Bar (581 Washington Street) - Mezze plates, meatless salads, and other vegetarian options.
Caffe Nero (560 Washington Street) - Casual spot with sandwiches, salads, pastries with vegetarian choices.
Salavatore's (545 Washington Street) - Traditional Italian - go for the eggplant parmigiano, or pizza with veggie toppings.
Fin's Sushi & Grill (62 Boylston, across the corner from the Common) - Casual Japanese, and a favorite of Emerson College students - choose veggie-only sushi or one of the other vegetable-only dishes.
Abby Lane (255 Tremont Street) - Traditional American casual fare and comfort food, always with some vegetarian options as well as creative (and tasty) twists.
Mostly Vegetarian/Vegan Places to Eat near Copley Square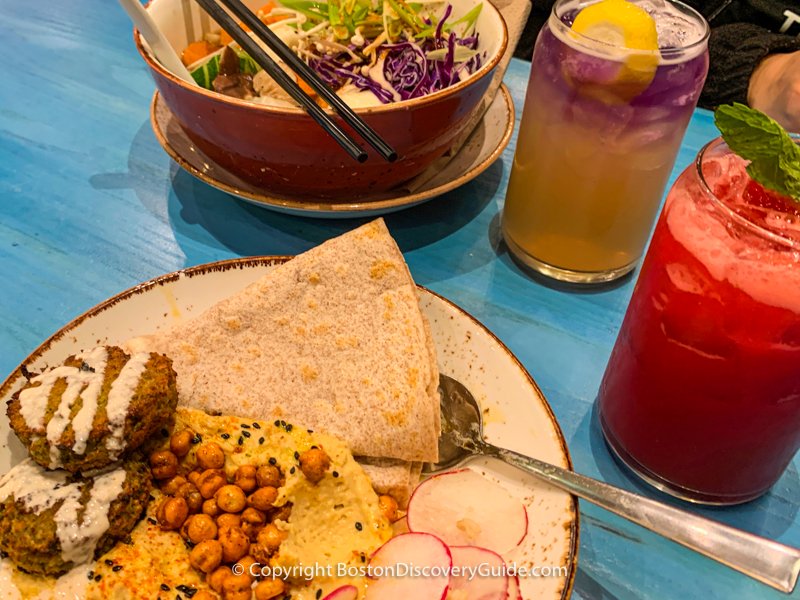 You can find numerous vegetarian and vegan cafes along Boylston Street near Copley Square:
Life Alive (431 Boylston Street) - Tasty vegetarian, vegan, macrobiotic, raw, and gluten-free menu options with fusion flavors in an upbeat, appealing setting
by Chloe (399 Boylston Street) - Vegan and vegetarian comfort food - burgers, sandwiches, pasta, desserts, with special attention to food sensitivities including gluten, soy, and nuts
Sweetgreen (659 Boylston Street and 800 Boylston Street in Prudential Center) - Choose your salad or grain "base" and then add other veggies, cheese (dairy and vegan), and proteins such as tofu, chicken, fish, eggs, falafel, and hummus. Gluten-free desserts
Dig Inn (557 Boylston and 800 Boylston Street in Prudential Center) - Build your own grain or greens bowls, or opt for one of the standard "marketbowls." Offers meat, chicken, fish, tofu, and cheese choices for protein, organic whole grains and veggies, local sourcing (where possible), and seasonal menus
---
First Night Activities near Boston's Chinatown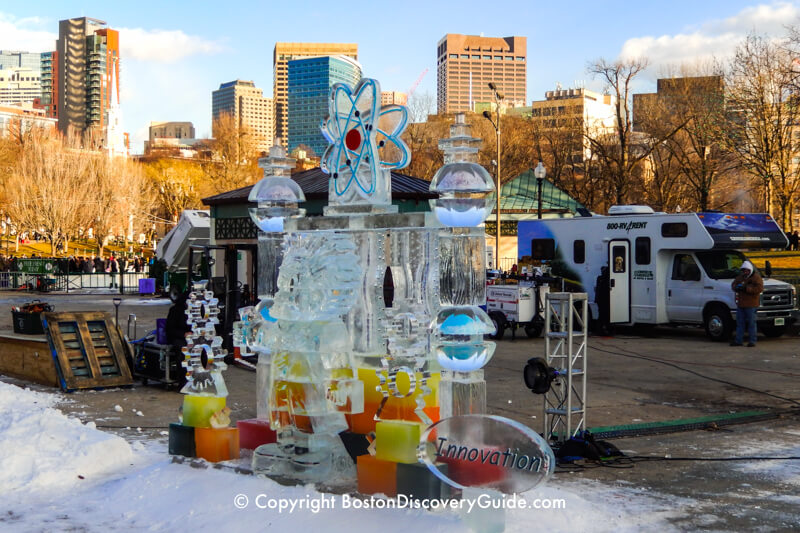 Now, to answer your second question: Although there are no First Night activities right in Chinatown or the Theatre District, there are ice sculptures and an ice skating show before the 7pm fireworks on Boston Common (1-4 blocks away, depending on where you go in Chinatown).
More about these and other First Night Boston activities
If you don't mind walking a little farther, the Blink! light and music show at Faneuil Marketplace puts on a spectacular display, and you can even do part of the Ice Sculpture Stroll along Harborwalk and the waterfront without getting too far from the Common. And don't forget the fantastic Midnight Fireworks over the Harbor to ring in the New Year!
More about the Fireworks, Ice Sculpture Stroll, & other New Year's Eve Events in Boston
Finally, if you decide to walk over to Copley Square, it's just three blocks away once you walk through the Public Garden, where you can also see lovely holiday lights.
As always, First Night should be wonderful. Dress warmly because the weather sounds like it will be frigid this year!
Have a wonderful time!!!

Publisher, BostonDiscoveryGuide.com
---
More Things to Do in Boston on New Year's Eve
---
More to Do in Boston in December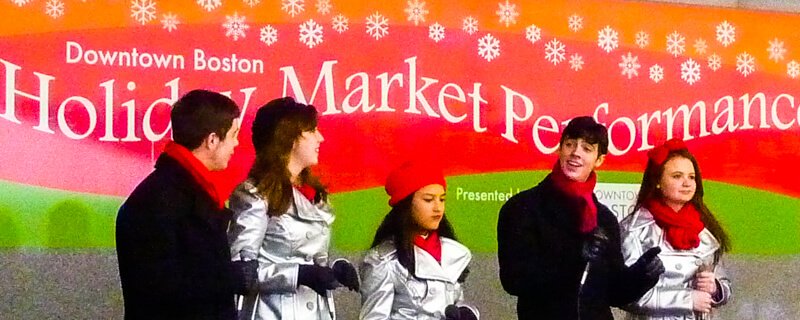 ---
Favorite Boston Restaurants & Pubs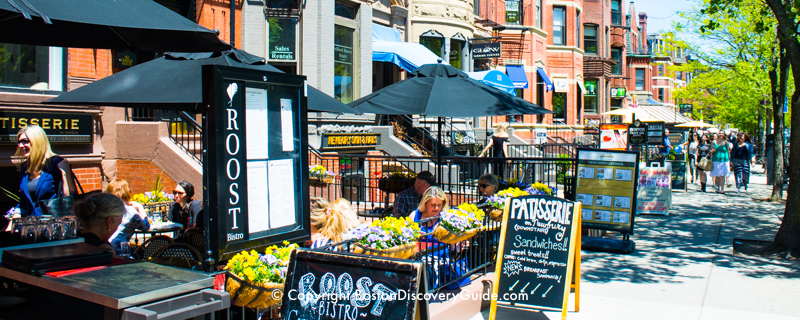 ---
Check Out More Top Boston Events Each Month
January | February | March | April | May | June | July | August | September | October | November | December | Year at a Glance
---
Boston Discovery Guide makes best efforts to update event information but we cannot guarantee the information as it may change without our knowledge. Please confirm details with event sponsors prior to attending.
---
Need a Boston Hotel or Apartment?
Use this handy map from Booking.com to find the perfect place to stay. Just enter your dates to find what's available, see the best rates, and make your reservations.