Home > Restaurants >
First Night Celebration - Where to Go for Dinner Before Fireworks?
Dinner in Chinatown? Or Other Locations?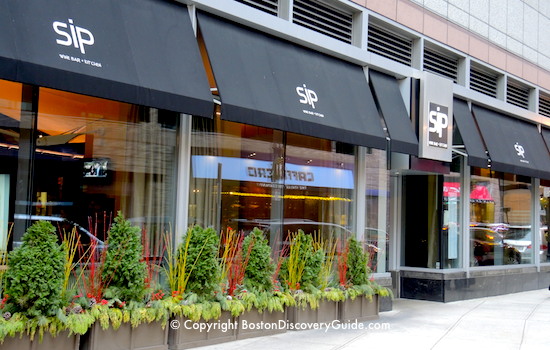 Sip - Restaurant near First Night fireworks on Boston Common - located on Washington Street in the Theatre District
Folks I know are going to Chinatown for dinner and then to First Night fireworks on Boston Common at 7 pm.
Is there something going on in Chinatown worth seeing that night? I'd prefer going into Copley or Boylston to check out the sculptors.
Where do you suggest getting something to eat if not Chinatown? I am a vegetarian and they are not. I'd probably go into town earlier anyway to check out the sculptors, shows, etc.
What are your thoughts?
Rosemary


Hi Rosemary,
In terms of location, Chinatown is definitely convenient to the First Night fireworks. Depending on where you go, you'll be only 2-3 blocks away from Boston Common, where the fireworks display takes place near the ballfield.
If you like Chinese food and want to meet your friends there but want to avoid meat, a good choice is Taiwan Cafe (34 Oxford Street), because they have LOTS of delicious tofu dishes.
I've tried maybe 5-6 of their tofu dishes on different occasions, and have loved them all.
They also have quite a few vegetable-only dishes - baby bok choi and eggplant are two of my favorites. There are also plenty of dishes with meat and seafood for your friends.
But if you're not crazy about Chinese food, there are a number of places along Washington Street in the Theatre District that are even more convenient to the Common, as you're only a block away. As far as I know, none of them are vegetarian but like most Boston restaurants, they offer some good options without meat.
Sip Wine Bar (581 Washington, near Avery Street and the Ritz-Carlton - photo at the top of this page) has several meatless salads. My hands-down favorite is the kale salad with grilled corn and parmesan and a green dressing - really, really fabulous, and I'm not even normally crazy about kale. They also have an excellent mezze plate with hummus and pita chips, tabbouleh, and feta cheese. You can order wine by the glass, in different sizes.
Almost across the street from Sip is Caffe Nero (560 Washington Street). It's more casual - sandwiches, salads, pastries. All are great - especially the house-made pastries. Wonderful coffee, too.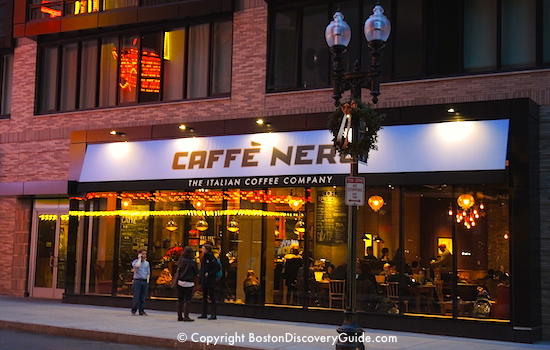 Caffe Nero - Even if you have dinner somewhere else, stop in here afterwards for espresso and one of their fabulous house-made desserts
Further up the street a bit, next to the Paramount Theatre, is Salvatore's (545 Washington Street) - traditional Italian and most dishes do have meat, but there's a terrific home-style eggplant parmigiano.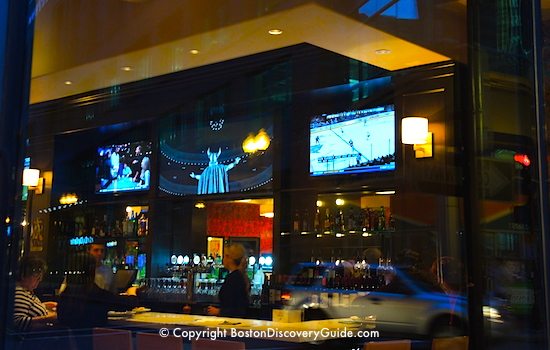 This is the bar at Salvatore's, photographed through the window which is why you can see the reflection of the car - the dining area is to the left, outside of this photo, but spacious and comfortable
I think Salvatore's has their pizza menu available in the evenings, and many different vegetarian choices on that, plus you can make your own combinations.
Also, I would guess that like most Italian restaurants, even if pasta with garlic and olive oil, or just a plain pomodoro sauce and cheese are not on the menu, they will make it for you if you ask.
In a somewhat different location, near the corner of Tremont and Boylston Streets (62 Boylston) across from the Common, is Fin's Sushi & Grill, a casual Japanese restaurant, a favorite with Emerson College students.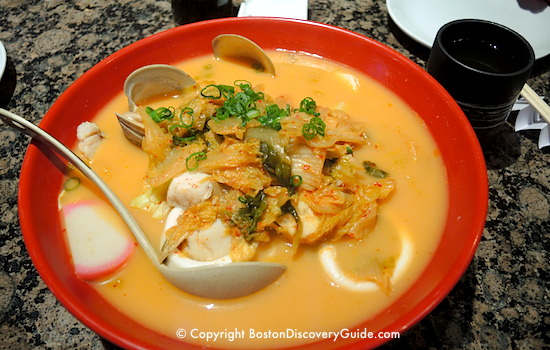 Seafood kimchi ramen soup at Fin's - You could probably ask them to make a vegetarian version - just don't add the seafood
I go to Fin's fairly often with my younger daughter for the vegetarian fried rice - we always get the kimchi version, which is rather spicy, but you can also get it without. Both are under $10. They also have vegetable noodle soup and tempura (get it with veggies, not shrimp) noodle soup which are perfect in cold weather.
Also in that direction, about a block down Tremont Street from Boston Common, is Abby Lane (255 Tremont Street), another Theatre District restaurant. The chef is Jason Santos - very talented and creative.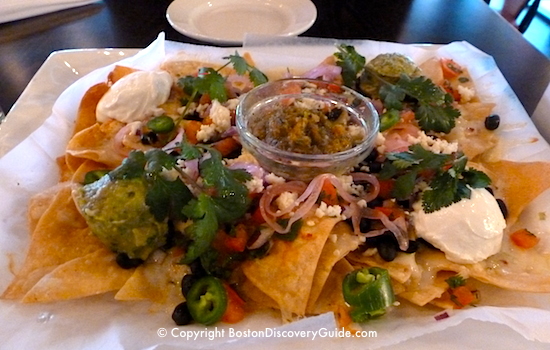 Abby Lane's nacho plate - definitely large enough to share, which is what my daughter and I did with this one, followed by steaming bowls of hot onion soup
I totally love Abby Lane's salads and veggies - you could, I think, happily make a meal from the Sides section of the menu (for example, the grilled broccolini, roasted brussels sprouts, butternut squash puree, and eggplant fries), or order their mid-Eastern falafel board. Like the yummy nacho platter shown in the photo, it's big enough to share, especially if you both order a salad.
Abby Lane also offers veggie burgers in place of their regular burgers, plus there is pizza. You could also probably ask them to put together a vegetarian plate for you, pulling from the sides paired with their meat and seafood dishes. In fact, I may do this myself the next time I go there.
To get to your other questions - as far as I am aware, there are no First Night events in Chinatown or the Theatre District. Most of the indoor events are in the Hynes Auditorium near Copley. However, two of the main ice sculptures are in Boston Common near Frog Pond, as well as a number in Faneuil Marketplace and along the Waterfront - you can find more info about them on our First Night Events page.
As always, First Night should be wonderful - and the weather sounds like it will be good this year.
Have a wonderful time!!!
Susan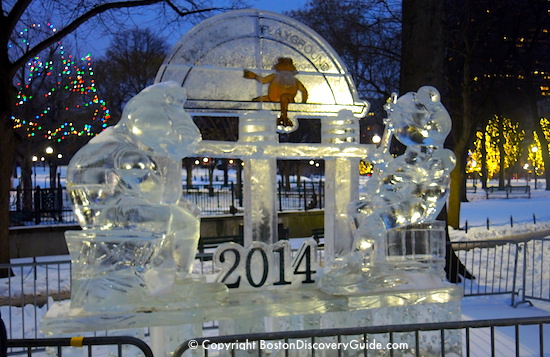 First Night ice sculpture in Boston Common depicting Tadpole Playground

Boston Discovery Guide makes best efforts to update event information but we cannot guarantee the information as it may change without our knowledge. Please confirm details with the event sponsor prior to attending.
Boston Discovery Guide > Restaurants > Where to Eat near Boston's First Night Fireworks