Spectacular harbor views make South Boston Waterfront restaurants in the Seaport district a top dining destinations for tourists and visitors alike.
Although you'll find plenty of mouth-watering seafood, Seaport restaurants also offer outstanding Italian, French, and Mexican food, as well as American cuisine.
With the Convention Center, CruisePort, several museums, and the Leader Bank Pavilion nearby, restaurants in this area can get crowded, particularly during holiday weekends - reservations are a good idea.
If you're arriving at CruisePort, attending a concert at the Leader Bank Pavilion or an event at the Convention Center, or staying at the Seaport Hotel, Renaissance Hotel, or Westin Hotel, at least some of these restaurants will be close. All are convenient either by foot or on the Silver Line bus.
(Interested in Fort Point restaurants instead? Find out more about them here.)
Top photo: Harbor-side dining along the South Boston Waterfront
Boston Discovery Guide is a reader-supported publication. When you buy through our links, we may earn a commission at no additional cost for you. Learn more
---
Barking Crab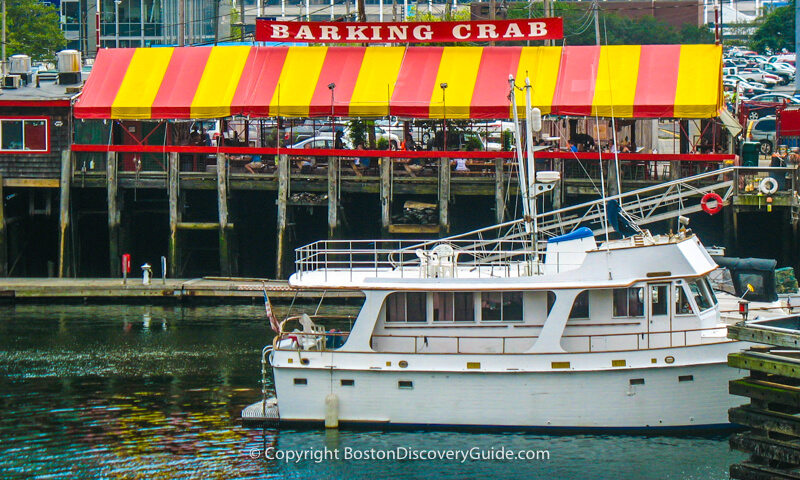 Barking Crab, overlooking Fort Point Channel near the Children's Museum, is basically the city version of a coastal New England seafood shack.
This is the place to come when you want to enjoy outdoor seating under the striped tent, order a pitcher of beer, and dine on simply-prepared seafood - fried clams, a whole lobster, steamers, a bowl of crab legs, local oysters from the raw bar.
Barking Crab is also one of the few places in Boston where you can order the quintessential shore dinner: a New England clambake (which includes a whole lobster, chowder, steamed clams, corn on the cob, and quite a bit more).
---
Legal Harborside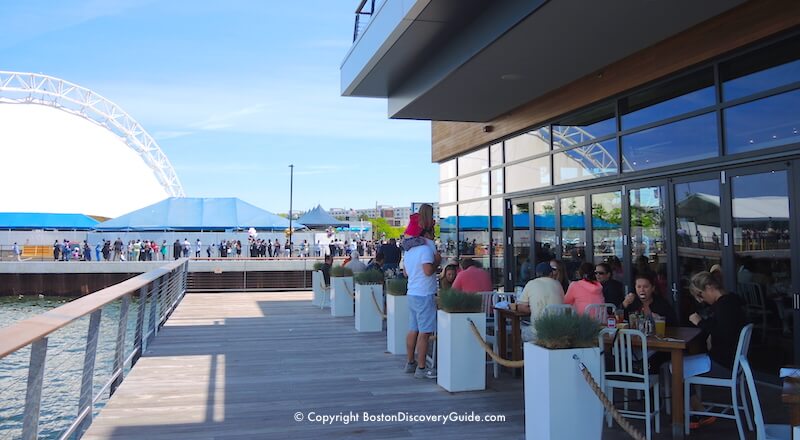 Each of the 3 floors at Legal Harborside offers a different experience - different food, different ambiance, different price point.
But what they share are spectacular waterfront views.
If you live here in Boston, you've probably eaten at Legal Sea Foods a gazillion times over the years.
But Legal Harborside is a different experience, although the commitment to high-quality seafood is the same.
Seating on the super-casual first floor spills onto the patio during warm months. Many menu items resonate with what you'll find at Legal Sea Foods restaurants - simply prepared seafood dishes - although some are more trendy.
The second floor restaurant, open only for dinner, is more formal, with glass walls overlooking the Harbor. In contrast to the extensive menu offered on the first floor, here you'll find a more expensive menu with a limited number of rather elaborately prepared selections.
The third floor features the best views, made even more spectacular when the retractable glass walls and ceiling are open. The focus up here is on the wine and cocktail menu, with sushi and a few appetizers on the side. Indulge in more than a couple of drinks and apps, and you'll run up a large bill quickly.
Favorites: 1st floor - Lobster roll, New England clam chowder, and grilled swordfish;
2nd floor - Octopus terrine with preserved lemon and black olives, striped bass with roasted fennel;
3rd floor - Avocado salad with king crab, green dragon maki, unagi nigiri
270 Northern Ave at Liberty Wharf | 617-477-2900 | www.legalseafoods.com
---
Legal Test Kitchen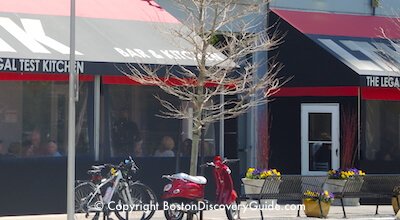 What makes Legal Test Kitchen kind of cool is that you'll get to try new dishes that may - or may not - eventually land on Legal's regular menu.
The top-quality seafood is standard Legal, and certain items such as the famous clam chowder have a permanent home on the menu. You may not love every preparation - remember the word "test" in the name - but dishes change every 6 weeks, so no, you'll never get bored.
Note: this restaurant is not on the waterfront.
225 Northern Ave | 617-330-7430 | www.legalseafoods.com
---
Jerry Remy's Sports Bar & Grill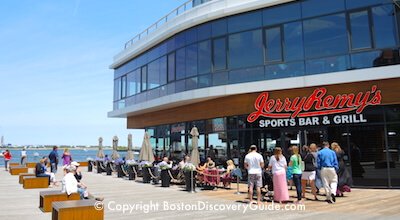 As you might expect based on the 32 foot video wall and 46 large plaza screens scattered throughout Jerry Remy's, the emphasis here is on sports, despite the sweeping Harbor views, especially if you're at an outdoor table.
The menu offers a wide variety of standard bar food - starters, burgers, wraps, salads, and fries. It's probably a bit above standard but between the big screens and the water views, who can focus on the food?
Favorites: Jalapeño cheddar burger, sweet potato fries, Caesar salad with calamari
250 Northern Ave | 617-856-7369 | www.jerryremysseaport.com
---
Temazcal Tequila Cantina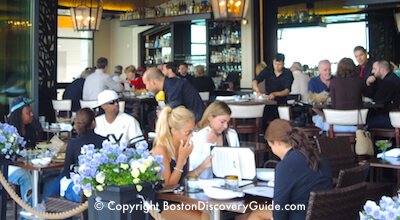 Temazcal is one of the most attractive South Boston Waterfront restaurants, and the food is tasty and well-prepared from high-quality ingredients. Prices are reasonable, especially considering the location, right on the Harbor with great views.
Favorites: Tortilla soup, fish tacos, mole enchiladas, chipotle fries, guacamole, queso fundido con chorizo
250 Northern Ave | 617-439-3502 | www.temazcalcantina.com
---
Water Cafe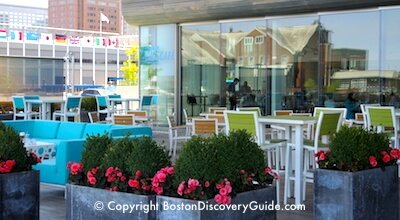 Tucked away at the back of the Institute of Contemporary Art and catered by Wolfgang Puck, Water Cafe provides a serene spot to relax and enjoy the Harbor view.
Menu choices vary by season, and include appetizers, soups, salads, sandwiches, and a few simple desserts, along with a small selection of wine and beer.
Favorites: Sweet pea ravioli with preserved lemon, farro salad, chicken sandwich
ICA Boston at 100 Northern Ave| 617-478-3291 | www.icaboston.org | Closed on Monday
More about visiting ICA Boston
---
Strega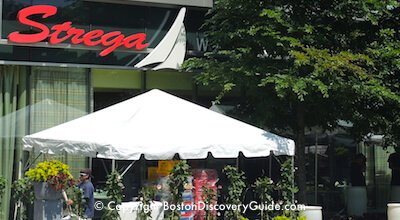 Strega's beautiful dining room and sleek bar with fireplace sets the stage for elegant dining featuring huge portions of perfectly cooked classic Italian dishes and along with a few local favorites (lobster mac 'n cheese).
Handmade pastas, top-quality ingredients, masterful cooking, and the amazing wine list make Strega the perfect destination for long celebratory dinners with family and close friends. Expensive, but worth it.
Although you may have some views of the harbor, especially from the patio dining area, the food here is the focus.
Favorites: Parmesan-encrusted cod (lunch menu), fettuccine Strega, seared Maine scallops
1 Marina Park Drive (56 Northern Ave) | 617-345-3992 | www.stregawaterfront.com
---
Empire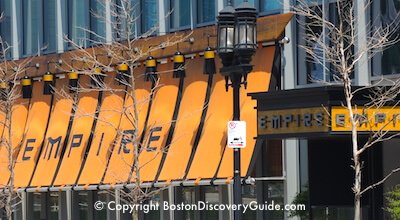 Swanky Asian-themed decor in the dining areas and bar/lounge, DJs, all-you-can-eat sushi nights, and multi-person drinks (think scorpion bowls for 4 or more) stake out Empire's territory as an entertainment hot spot near the waterfront.
If you're here for dinner, you'll find fusion cuisine - Asian flavors and influences overlayed on fresh American ingredients in creative ways - for example, scallion pancakes served with edamame hummus and sriracha sour cream. Prices may seem high (aside from the AYCE sushi nights), but many dishes are meant to share.
Note: this restaurant is not on the waterfront.
Favorites: Singapore street noodles, BBQ steamed buns (bao), salt and pepper calamari
1 Marina Drive (55 Northern Ave) | 617-295-0001 | www.empireboston.com | Evenings only (no lunch); dress code (no athletic wear, tank tops, flip flops, etc - check the website)
---
Gather & Brew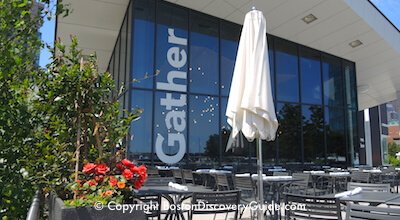 Gather serves up a variety of creatively prepared entrées along with starters, pizzas, burgers, and salads - great place for a tasty meal that doesn't break the bank.
Brew, next door, offers a more limited choice of food items, but focuses on drinks.
Both Gather and Brew are located in District Hall (not on the waterfront), designed as a place for people working in the Seaport area to congregate.
Favorites: Lobster Cobb salad, pan-seared halibut with harissa, hummus plate, bouillabaisse (a daily special, currently offered on Fridays.
75 Northern Ave in District Hall | 617-982-7220 | www.gatherboston.com | www.brewcafeboston.com
---
Rosa Mexicano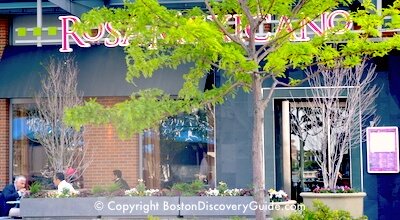 Part of a national chain, Rosa Mexicano serves a variety of regional Mexican dishes. If you're used to more casual Tex-Mex fare (which is almost always disappointing in Boston), this is something different and very good.
Outdoor dining in warm weather. Good choice of vegan and gluten-free options.
Favorites: Tortilla soup, guacamole, queso fundido, chili poblano relleno, pollo (chicken) pibil, flautas de pollo
155 Seaport Blvd | 617-476-6122 | www.rosamexicano.com
---
Yankee Lobster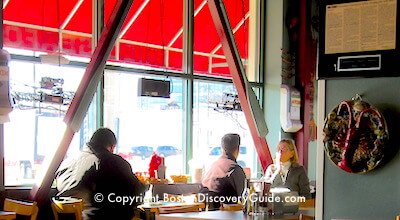 Yankee Lobster, located not far from Harpoon Brewery, is basically a fish market with a few tables where you can enjoy simply cooked versions of the day's catch in a no-frills setting, or get it to go.
Yankee Lobster pre-dates all of the fancier waterfront places, and if you're looking for a genuine local seafood place, this is is. Unfortunately, this restaurant is no longer a "hidden secret," so expect a long wait for a table during typical lunch and dinner hours.
Needless to say, all the seafood is fresh, and the cooking style is pure New England. You can also get a few non-seafood items such as chicken fingers, hot dogs, and burgers.
Favorites: Lobster bisque, clam chowder, lobster roll, calamari plate, blackened salmon, clam bake, whole lobster, seafood platters (there are 2 different combos), stuffed clams, fish stew, Boston cream pie
300 Northern Ave | 617-345-9799 | www.yankeelobstercompany.com
---
Fun Boston Food Tours
---
Find Your Favorite Boston Restaurant
Favorite Boston Restaurants & Pubs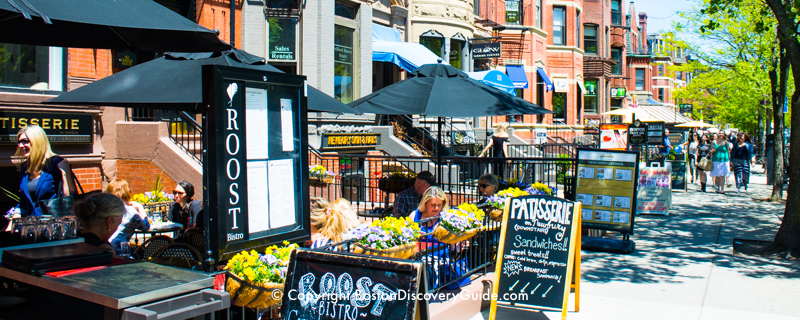 ---
More Articles about South Boston Restaurants
---