Beacon Hill: 10 Top Things to Do & See
Located right in the middle of the city, Beacon Hill is where Boston's first European settler built himself a log cabin in 1625, five years before the Puritans arrived and established the village they called Boston.
Full of elegant Federal-period mansions and charming cobblestone lanes lined with gas lamps, Beacon Hill's South Slope between Beacon and Pickney Streets gives you the chance to step back in time to when wealthy Brahmins ruled Boston society.
But wander farther into the neighborhood in the area between Pickney and Cambridge Streets called the North Slope, and you'll discover a more diverse view of the rich tapestry of Boston's history related to the abolition of slavery and the pursuit of religious freedom and equal rights.
And along Charles Street, known as the Flat Side, you'll find plenty of lively restaurants, wonderful boutiques, and some of the city's finest antique shops and art galleries.
Here are 10 interesting things for you to do and see in Beacon Hill.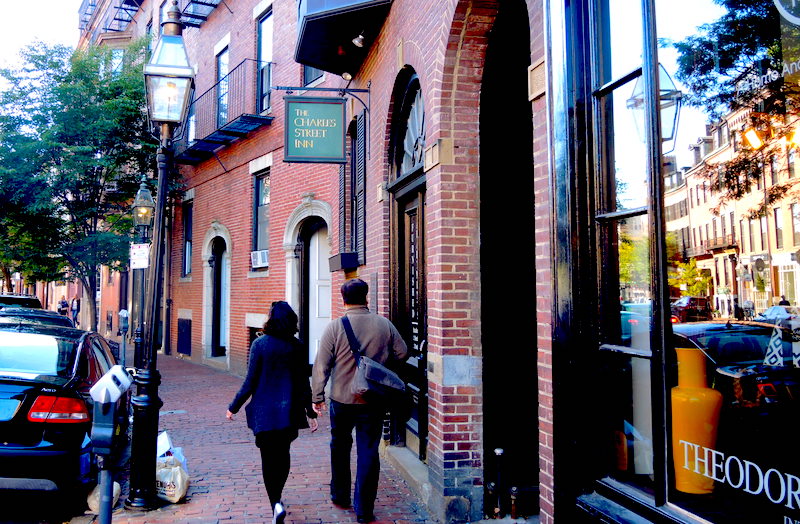 Start your exploration of Beacon Hill by walking down Charles Street, the commercial heart of the neighborhood where residents and visitors shop and eat.
Full of boutiques, antique stores, and wonderful places to eat, it's only about five or six blocks long, depending on how you count, and runs across the width of the neighborhood from Beacon Street to Cambridge Street.
Wander up and down the little side streets, where you'll find a few appealing shops and restaurants tucked between the beautiful Federal-era homes.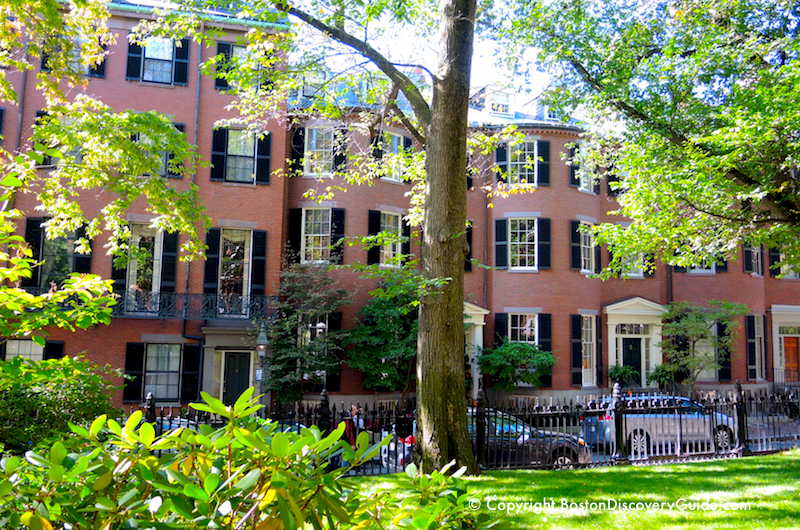 From Charles Street, head up the hill on Mount Vernon or Pickney Street, and within two blocks you'll come to Louisburg Square, the city's only remaining private park. You can't go in, but look for the statue for Christopher Columbus at one end.
The surrounding Greek Revival bow-fronted town houses and mansions, built in the 1840s and among the city's most expensive real estate, are the main attraction here, partly because of their famous former literary residents.
Louisa May Alcott (Little Women) lived at Number 10; William Dean Howells lived at Numbers 4 and 16.
3. Nichols House Museum & Otis House Museum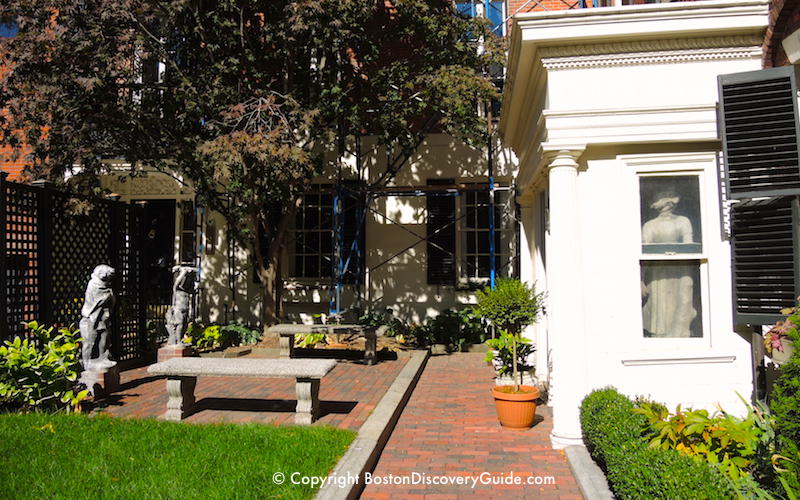 Want to see what the spectacular 18th and 19th century homes filling Beacon Hill look like on the inside? Two wonderful house museums give you the opportunity.
Although the houses were built only 8 years apart, visit both if you have time because inside, they are quite different.
Nichols House Museum (55 Mount Vernon Street) dates back to 1804. Famous Boston architect, Charles Bulfinch, designed the Federal-style house.
Garden designer, peace activist, and women's right to vote advocate Rose Standish Nichols lived in the house between 1885 and 1960. It still contains furnishings and art from several generations of her family, including pieces by 19th century sculptor Augustus Saint-Gaudens.
Visitor information: Nichols House website
First Harrison Gray Otis House (141 Cambridge Street), designed in 1796 and now designated as a National Historic Landmark, is another Bulfinch mansion and wonderful example of Federal style.
Otis House has been through an extensive restoration based on meticulous historical and scientific research, so you will see the bright colors, fancy furnishings, and mirrored doors enjoyed by Boston's upper class in the late 1700s - early 1800s. There is also a fascinating architectural museum in the basement.
Otis House is located just across the current Beacon Hill border in the West End - but historically this area was considered part of the North Slope of Beacon Hill. Bulfinch went on to build two other mansions for Otis on Beacon Hill's South Slope, but this one is considered the best of this period in Boston.
Visitor information: Otis House website
4. Massachusetts State House
The gold-domed Massachusetts State House (24 Beacon Street) dominates Beacon Hill and the surrounding area, and is Charles Bulfinch's masterpiece.
American Revolution heroes Samuel Adams and Paul Revere laid the cornerstones for it in 1795 and it was completed in 1798. Paul Revere originally covered the dome in copper, replaced by gold leaf in 1861.
Because the dome serves as the zero-mile marker for Massachusetts, Oliver Wendell Holmes called it the "hub of the solar system" - which is how Boston got its nickname, "The Hub."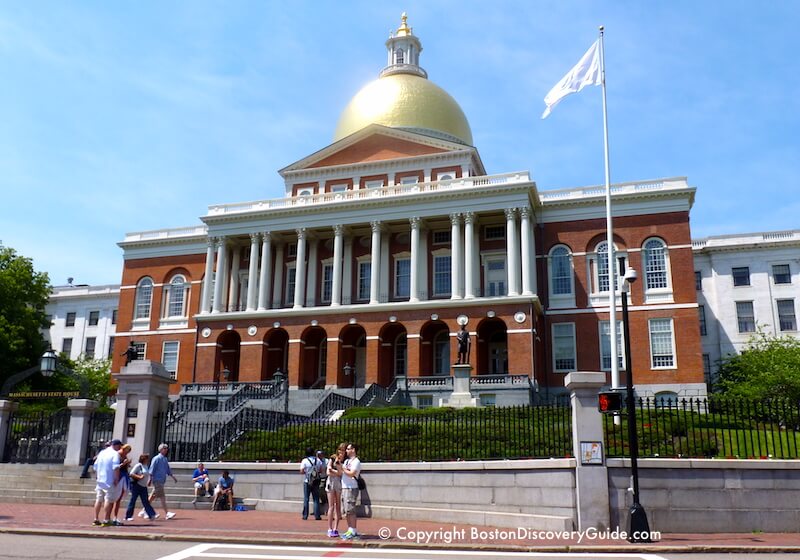 Set aside an hour or so to explore the State House, which is packed full of art and historic displays related to the American Revolution, Civil War, and Boston's role in the fight for liberty, or take a free guided tour.
Find out more about the Massachusetts State House on Boston's Freedom Trail - and how to get a free tour
Find out more about other Freedom Trail sites
---
More Fun Tours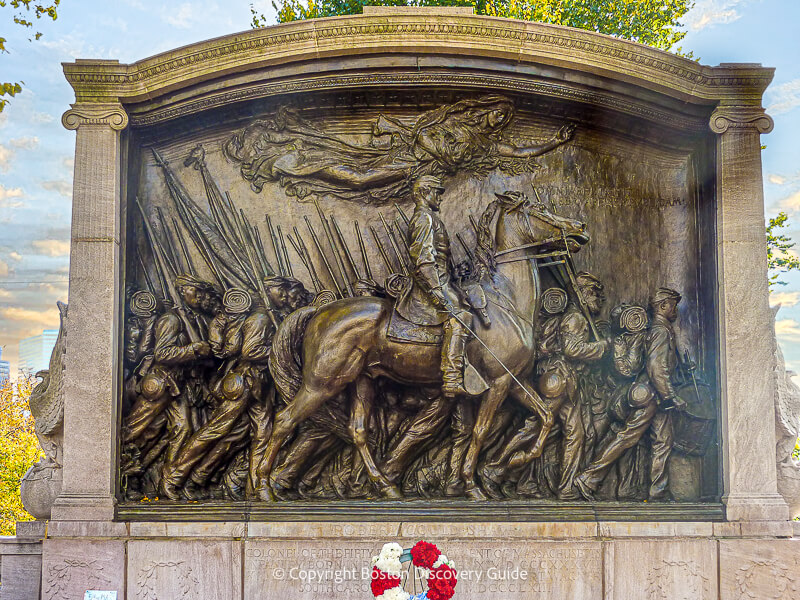 Directly across the State House on the edge of Boston Common, you'll see a magnificent bronze sculpture by Augustus Saint-Gaudens depicting the 54th Massachusetts Infantry, the first free black regiment in the Union Army, led by 25-year-old white Bostonian Colonel Robert Gould Shaw as they marched off to fight in the Civil War.
The Shaw Memorial marks the beginning of the Black Heritage Trail through Beacon Hill, which takes you past homes of prominent leaders in Boston's free black community during the 1800s and 1900s, safe houses along the Underground Railroad, and the Abiel Smith School and African Meeting House, both of which are now part of the Museum of African Americna History.
Unfortunately, you can go inside only the latter two, as the others are private residences, but you can join a free walking tour of the Black Heritage Trail, or follow the trail yourself.
You'll find tour information and self-guided walking tour maps on the museum's website.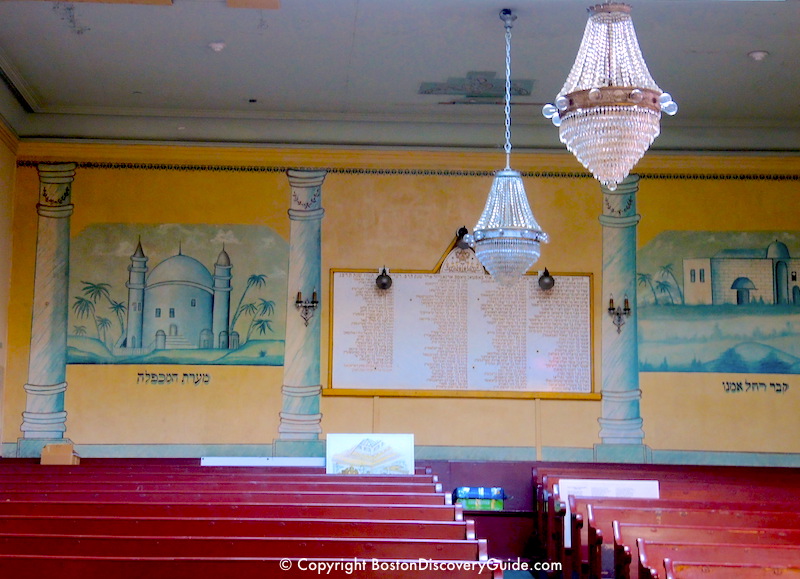 Once a synagogue built by Jewish immigrants from Lithuania in 1919 in one of the then-poorist areas on the North Slope of Beacon Hill, Vilna Shul (18 Phillips Street) is Boston's Center for Jewish Culture, offering a range of concerts, speakers, exhibits, social groups, and High Holiday and other services.
One of the things that makes Vilna special are the early 20th century wall murals. Hidden for decades by layers of paint, the murals are now being carefully restored as funds permit, and you can see sections of them when you visit.
You can explore Vilna Shul on your own, or join one of the informative guided tours. Although the tours are free, donations are gratefully accepted. Check Vilna Shul's website for visiting days/times.
7. Cheers - and other Beacon Street Attractions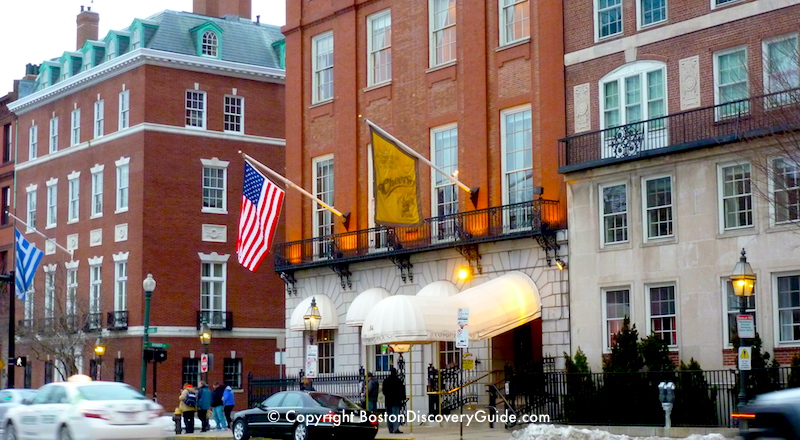 Perhaps the best-known sight on Beacon Street is the former Bull and Finch Pub (84 Beacon Street), now renamed Cheers, which you might recognize from the former TV show.
Just be warned - the show filmed only the outside scenes here.
Inside, the bar looks nothing like what you've seen on screen but it's a comfortable spot to enjoy a beverage and pick up a few souvenirs - touristy but fun. For "authenticity," visit the recreated Cheers in Faneuil Marketplace.
To experience a true neighborhood spot where locals do in fact know each other's name, have a meal at 75 Chestnut, a wonderful bistro around the corner with the same owner as Cheers.
Walk up Beacon Street in the direction of the State House, and at Number 50, you'll see a small granite plaque set in the wall to commemorate Reverend William Blaxton (a.k.a. Blackstone), the first English settler on the Shawmut (now Boston) peninsula. He built his cabin near this spot in 1625.
At Number 45, you can view the third house - really a mansion - built by Charles Bulfinch for Harrison Otis Gray in 1806.
8. Restaurants, Cafes, Bakeries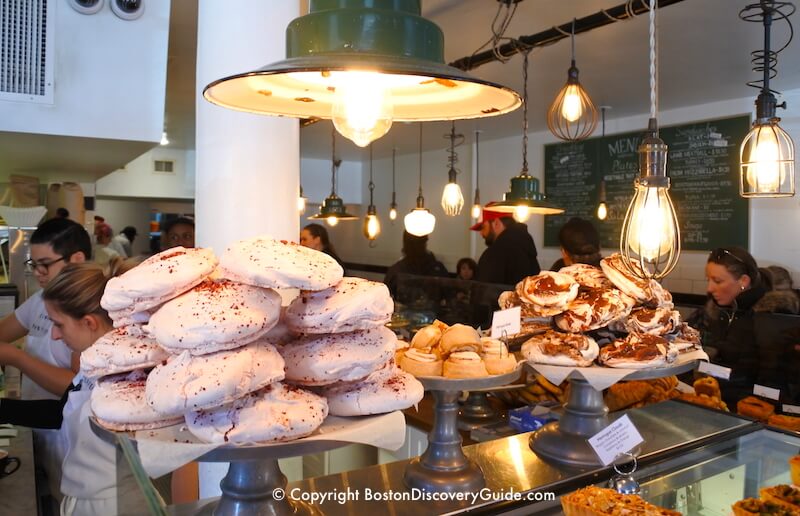 Beacon Hill boasts a number of wonderful restaurants, bistros, and bakery/cafes where you'll usually see a mix of local residents and visitors.
Here are some suggesions to get you started:
Charles Street - Walk down Charles Street, and you'll spot plenty of casual and more formal places to eat. Head to the Paramount (44 Charles Street) for casual American fare, Tatte Bakery/Cafe (70 Charles Street) and Panificio (144 Charles Street) for delicious pastries and other casual fare, Toscano (47 Charles Street) to splurge on a memorable Italian dinner
Grotto (37 Bowdoin Street, behind the State House) - Superb contemporary Italian cuisine in a creatively decorated, almost subterranean spot - Dinner nightly, Lunch Mondays - Fridays
75 Chestnut (75 Chestnut Street) - Bistro fare superbly prepared using fresh, mostly local products - Dinner nightly, Sunday brunch year round, Saturday brunch September through June.
Ma Maison (272 Cambridge Street) - Wonderful French bistro fare, perfectly prepared with fresh local products, headed by acclaimed chef/owner Jacky Robert.
The Sevens Ale House (77 Charles Street) - Friendly local neighborhood bar, on the dive bar end of the spectrum. Good place to enjoy local brews or a Guinness, throw darts, and watch a game.
Beacon Street along the Freedom Trail (toward King's Chapel) - You'll spot several small bistros, including Scollay Square (21a Beacon Street) for pub fare, Zen (21b Beacon Street) for Japanese grilled food and sushi, and Emmet's Irish Pub (6 Beacon Street) for pub fare with an Irish twist and live traditional Irish music sessions on weekend afternoons (3pm-6pm) - all three places are good; for something fancier, head to renowned steakhouse Mooo at the Fifteen Beacon Hotel (15 Beacon Street)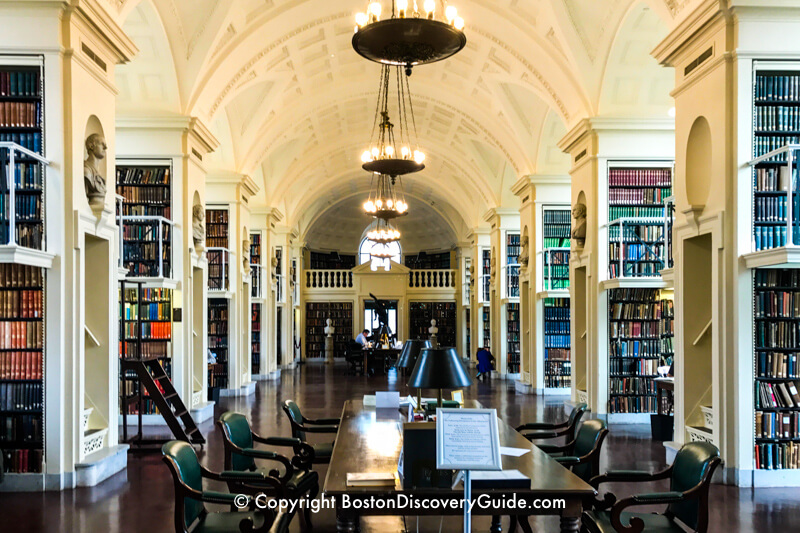 Boston Athenaeum (10 1/2 Beacon Street) is a members-only library. It dates back to 1807, has huge rare books and art collections, and boasts an impressive list of past members: Nathaniel Hawthorne, Ralph Waldo Emerson, Louisa May Alcott, John Quincy Adams, John F. Kennedy, Margaret Fuller, and many more.
Although only members can access most areas of the library, you can join a free art and architecture tour offered to the public 2-3 times each week, as well as occasional public lectures.
Check their website for details.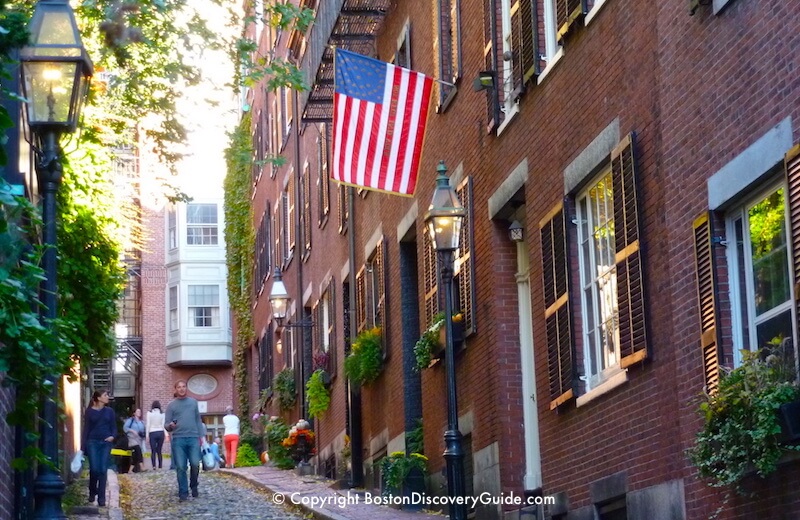 According to local tour guides, picturesque Acorn Street is the most-photographed street in America.
Is that true? No clue - but the cobblestone paving, Federal period row house, and gas lights mean you'll get some wonderful photos.
The best views are looking up Acorn Street from West Cedar Street.
Experience Boston's famous historic Beacon Hill neighborhood up close: Stay in one of these wonderful Beacon Hill hotels, such as luxury boutique Fifteen Beacon: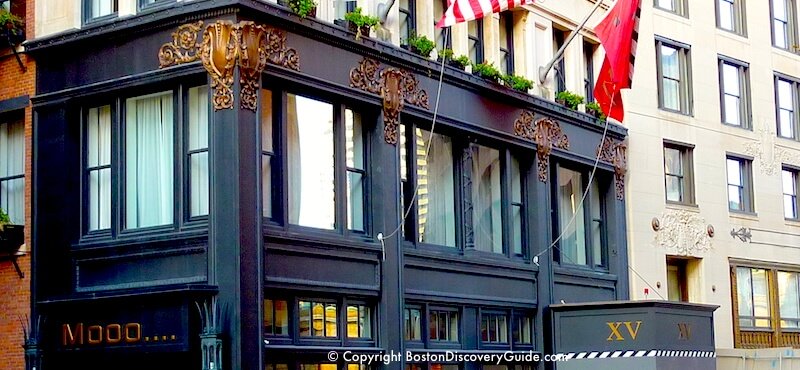 More top hotels in and near Beacon Hill:
Beacon Hill with a BOO - This Halloween tour of Beacon Hill's darkest secrets introduces you to the neighborhood's history of mystery, murder, and mayhem - Details
Beacon Hill Holiday Stroll - Special December shopping event along Charles street with refreshments, decorations, and plenty of holiday spirit - Details
More to Do in Beacon Hill
Walk across Beacon Street to Boston Common and have a picnic, go ice skating, or catch a performance of Shakespeare in the Park in July and August
Walk across Beacon Street to the Public Garden and admire the lavish flower gardens, go on a Swan Boat ride in the Lagoon, or pose for a selfie by the Make Way fro Ducklings statues
Walk across Storrow Drive on the footbridge near the Charles Street/Cambridge Street intersection to reach the Esplanade, where you can go for a run, relax on one of the floating docks on the Charles River, or enjoy a free summer concert or movie at the Hatch Shell
Getting to Beacon Hill - Directions & Parking
Subway: Green Line/Boylston or Orange Line/Chinatown
If you drive: The easiest place to park is in the garage under Boston Common, across Beacon Street.