Boston's best activities for summer let you take advantage of beautiful sunny days, warm nights, and the city's excellent waterfront location.
>
You'll quickly see why Boston offers the perfect combination of sports, culture, and lots of fun outdoor things to do on land and water.
Use our guide to find Boston's best summer activities: sailing, whale watching cruises, outdoor concerts, bike tours, local beaches, Red Sox games at Fenway Park, outdoor dining at our top restaurants, Shakespeare on Boston Common, and lots more!
Weather forecast not so good? Find out what to do in Boston in the rain.
Boston Discovery Guide's Recommendations: 10 Top Activities for Summer Fun in Boston
1. Find the Best Boston Tours for Summer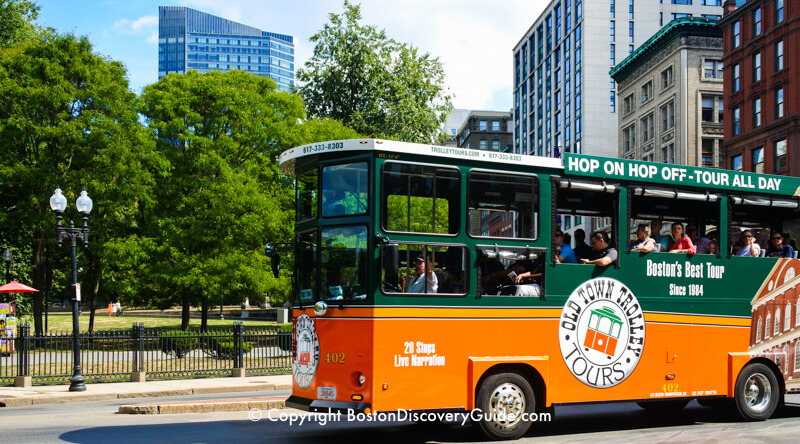 Boston Hop On Hop Off Trolley Sightseeing Tour - This narrated trolley tour around the city shows you over 125 points of interest from the comfort of a fun retro trolley. If you stay on the bus for the whole tour, it lasts almost 2 hours - but you can also get off and on as many times as you want at any or all of the 19 stops along the way at places like the New England Aquarium, Museum of Fine Arts, and Beacon Hill (where you'll find plenty of tasty restaurants). Tickets includes free admission to the Old State House, as well as a free Harbor Cruise (seasonal: April-October). More
American History Tour: Cambridge, Lexington, and Concord Day Trip from Boston - On this fascinating 4.5-hour tour, you'll travel along the historic Battle Road Trail and follow Paul Revere's path. You'll visit Harvard Square and see where Revolutionary War troops gathered in Cambridge, visit Lexington Battle Green, and go to more famous sites in Concord, including the Old North Bridge. Hotel pickup/dropoff More
Boston Brewery Tour plus Lunch or Dinner - You'll explore Boston's vibrant brewpub scene - and taste up to 15 different local brews. You'll make behind-the-scenes visits to learn about the brewery operations as you travel by bus. Lunch or dinner included. More
Boston in One Day Sightseeing Tour - This is a wonderful guided sightseeing tour, because not only do you get to see 20+ famous Boston sites as well as iconic areas such as the North End, Beacon Hill, and some Freedom Trail locations, but you also get to see the historic towns of Cambridge, Lexington, and Concord where so many important Revolutionary War events took place. The informative guide will share lots of stories about Boston history and other interesting events. More
---

More Ways to Experience Boston in the Summer
These fun tours, excursions, and special destinations let you enjoy the best of Boston even on the hottest summer days!
2. Summer Concerts in Boston - Find the Best Outdoor Venues
As soon as warm weather hints at summer's arrival, Boston concerts move to outdoor venues, where you can experience memorable performances by megastars, emerging artists, and popular favorites.
Check out lineups for Boston's four top outdoor concert venues:
Gillette Stadium Concert Schedule
TicketLiquidator Discount Code - Enter TLSPRING to get $10 off orders of $250+
TicketNetwork Discount Code - Enter TNTIX to get $10 off orders of $300+

More Gillette Stadium Events & Concerts
Fenway Park Concert Schedule
TicketLiquidator Discount Code - Enter TLSPRING to get $10 off orders of $250+
TicketNetwork Discount Code - Enter TNTIX to get $10 off orders of $300+

More Fenway Park Events & Concerts
Rockland Trust Pavilion Concert Schedule
TicketLiquidator Discount Code - Enter TLSPRING to get $10 off orders of $250+
TicketNetwork Discount Code - Enter TNTIX to get $10 off orders of $300+

More Rockland Trust Pavilion Events & Concerts
Xfinity Center Concert Schedule
TicketLiquidator Discount Code - Enter TLSPRING to get $10 off orders of $250+
TicketNetwork Discount Code - Enter TNTIX to get $10 off orders of $300+

More Xfinity Center Events & Concerts
Of course, concerts continue throughout the summer at Boston's indoor concert venues also.
Find all Boston concerts for each month
3. Whale Watching & Other Exciting Summer Cruises for You to Enjoy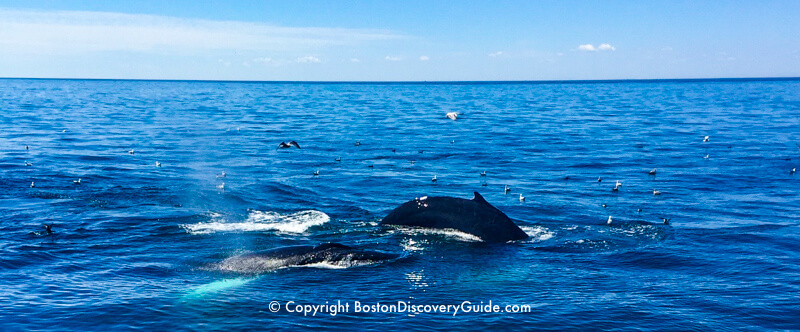 Located just 25 miles from Boston by water, Stellwagen Bank is the best place for whale watching along the East Coast.
Going on a Boston whale watching cruise brings you up close to some of the ocean's most fascinating creatures.
What will you encounter? Typically, you'll see humpbacks, minke whales, and finbacks, along with dolphins, sea birds, and other aquatic life. Plus, you'll pass numerous Boston Harbor Islands and several historic lighthouses.
Don't miss this unforgettable experience. Not surprisingly, for visitors and locals alike, whale watch cruises are one of Boston's most popular summer activities.
Find whale watching information and cruise reservations
Find out more about whale watching cruises
---
More Fun Summer Cruises
4. Visit these Gorgeous Boston Beaches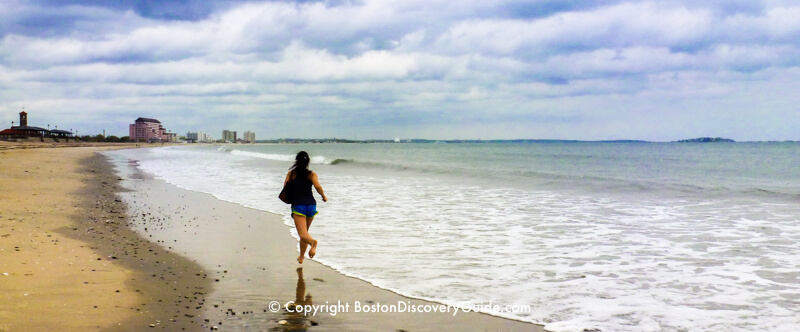 On hot summer days (or even warm spring and fall days), escape the summer heat by heading to a Boston beach.
True, Boston beaches don't rival the gorgeous sandy expanses of Cape Cod, the rugged beauty of Gloucester beaches, or ocean-facing beaches in Maine or Rhode Island - but you can reach them in less than an hour on public transportation from Boston, so you can't beat the convenience.
If you want a place to swim, build a sand castle, and soak up some sun without leaving the city, you'll find a lot to love at these convenient city beaches.
---
Boston Hotels with Outdoor Swimming Pools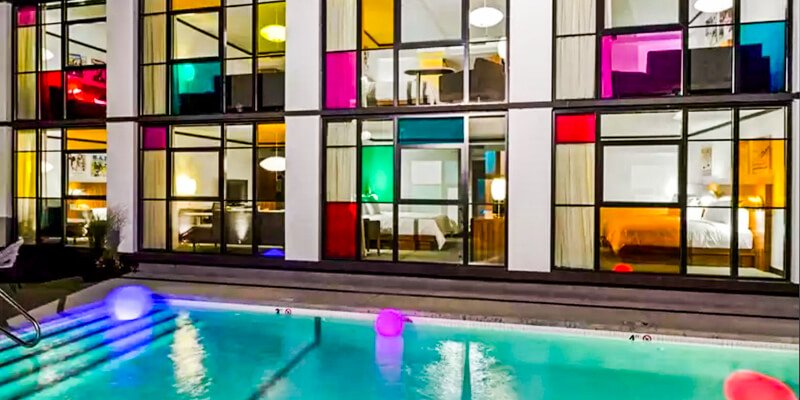 5. Experience the Boston Red Sox at Fenway Park!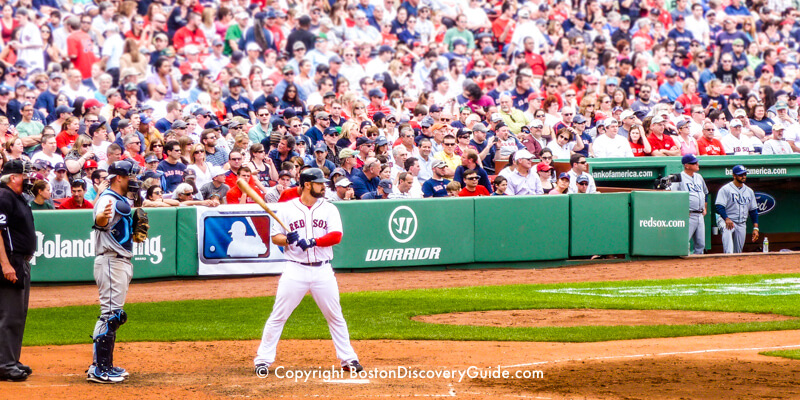 What to do on a warm summer afternoon or balmy evening in Boston? Head to Fenway Park, home field of the Red Sox. The in-town ball park is super-easy to get to using public transportation, the smell of Fenway Franks divine, and the experience of being part of the crowd cheering in the stadium is exciting, no matter which team wins.
Check the Red Sox home game schedule:
TicketLiquidator Discount Code - Enter TLSPRING to get $10 off orders of $250+
TicketNetwork Discount Code - Enter TNTIX to get $10 off orders of $300+

Find more tickets for Red Sox home games at Fenway
---
Where to Stay Near Fenway Park
If you're coming to a Red Sox game, spend the night or the weekend at one of the nearby hotels, such as the hip Verb Hotel, directly across the street from Fenway Park: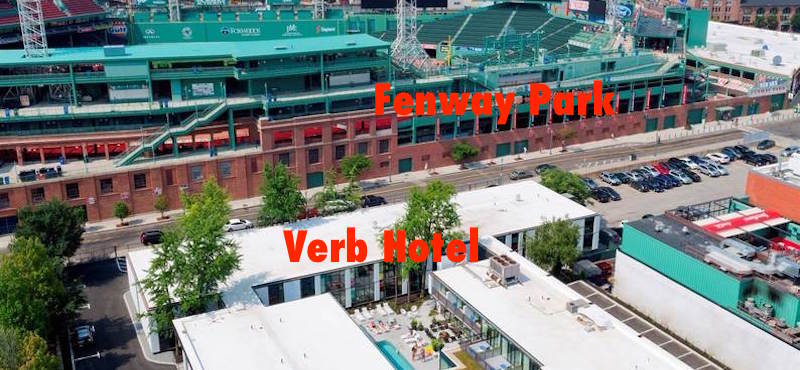 More top hotels near Fenway Park:
Check out more hotels near Fenway Park
More to Know When You Go to Fenway Park
Best parking garages and lots near Fenway Park
Top sports bars near Fenway Park
Recommended restaurants near Fenway Park
More to see & do in the Fenway neighborhood
6. Go Sailing . . . Make the Most of Being in a Waterfront City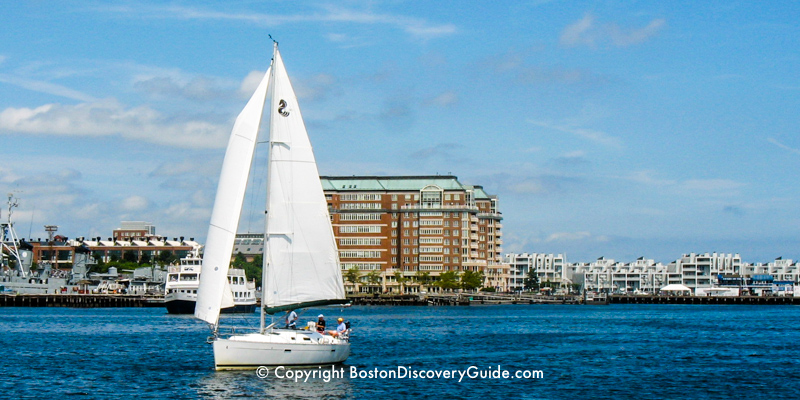 Water surrounds Boston on 3 sides, making it one of the best spots on the East Coast for sailing.
Of course, you can enjoy the water on one of the many Harbor cruises - but if you'd like more active involvement, spend a few days taking sailing lessons and you'll be addicted to this favorite local sport.
Find out about Boston sailing lessons, charters, clubs.
Fun Boston Tours for Summer
Boston Harbor Sightseeing Cruises for Summer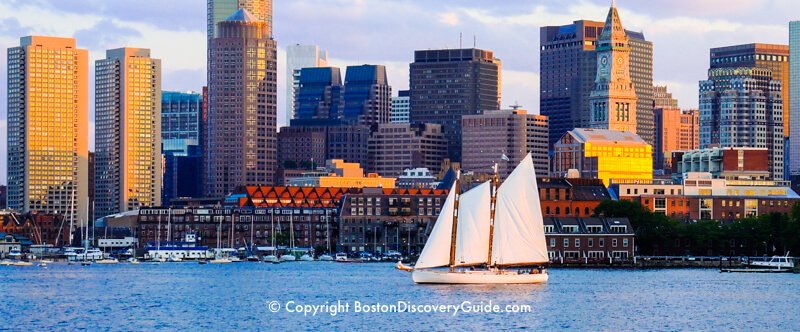 Tour Boston by boat - the best way to see the city!   Check out these fun sightseeing, music, and entertainment Boston Harbor cruises on the Yacht Northern Lights and Schooner Adirondack III:
Northern Lights Cruises:
Adirondack III Sailing Cruises:
7. Enjoy Patio Dining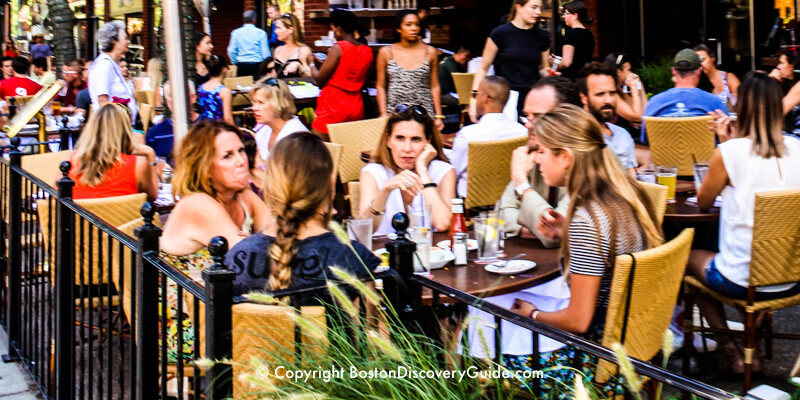 Dining outdoors is one of the great pleasures of being in Boston in the summer.
If you want to find the highest concentration of restaurants and cafes in all price ranges offering patio seating, head over to the centrally-located Back Bay neighborhood, where over a dozen restaurants with outdoor dining nestle among the designer boutiques and art galleries. More about outdoor dining in Back Bay
For dining outdoors overlooking the waterfront, the Seaport area of the South Boston Waterfront boasts plenty of exciting options. More about South Boston Waterfront/Seaport restaurants overlooking the Harbor
8. Relax at a Boston Beer Garden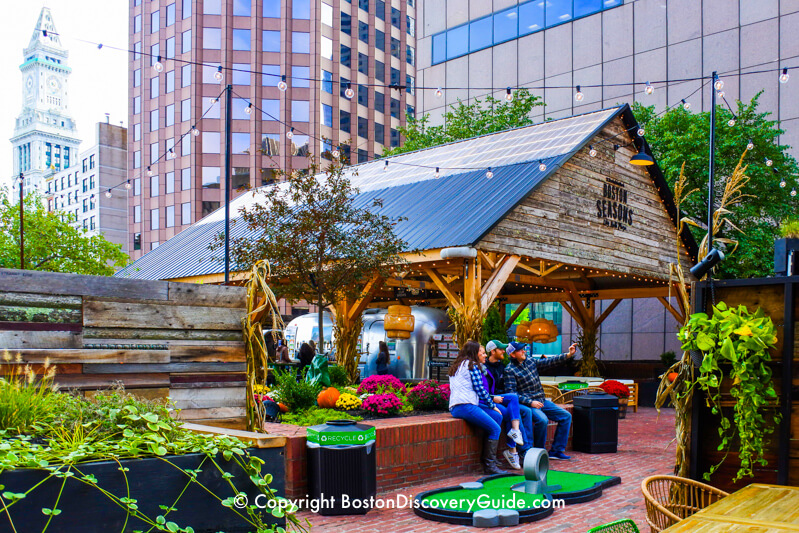 Need a relaxation break? Head over to "The Patios" at City Hall Plaza, where a beer garden, food trucks, food stands, plenty of places to relax and hang out, games such as putt-putt mini golf, and other activities transform this otherwise empty space across from City Hall Plaza. More information
More great places to relax and have fun in the city:
The Greenway - Grab fixings for a picnic from nearby Boston Public Market and find a grassy spot to enjoy your feast. Cool off in the splash fountains (no, they're not just for kids). Stroll through the gardens where something's always in bloom. Or quench your thirst at the pop-up beer garden. More info
Lawn on D - Located next to the Boston Convention Center in Seaport/South Boston, Lawn on D is where you'll find giant tire swings sized for adults, chairs for relaxing, lawn games such as cornhole, food trucks, occasional concerts, and a beer garden. More info
The Esplanade- This long, narrow strip of parkland next to the Charles River, hidden from view unless you know how to access it, is where you'll find a series of summer concerts, movies, and other activities including the famous July 4th Pops concert and fireworks. It's also an ideal spot anytime for relaxing on the floating docs, riding a bike, strolling or jogging, or sampling what's on offer at the seasonal beer gardens. More info
9. Take a Walk through History on Boston's Freedom Trail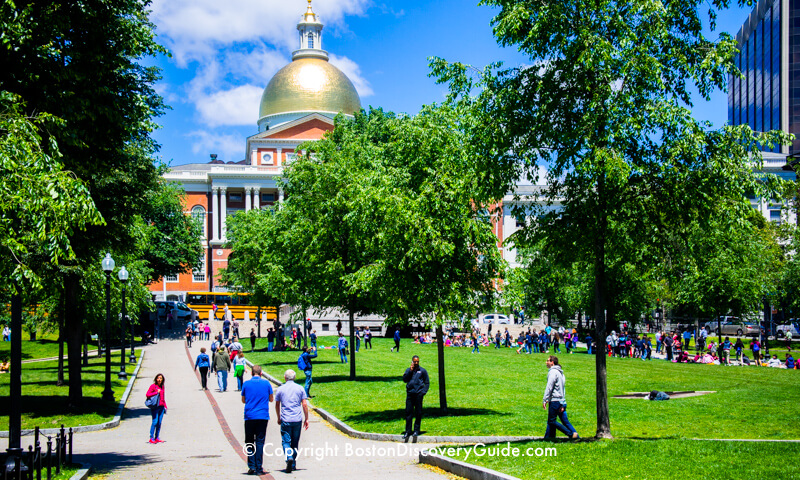 Get some exercise and learn about Boston and American history at the same time when you walk the length of the 2.5 mile Freedom Trail, starting at Boston Common.
The Trail takes you to 16 sites crucial to American liberty in historic downtown Boston, the North End, and Charlestown.
Find the best Freedom Trail Tours
Find out more about the Freedom Trail
10. See Boston in Bloom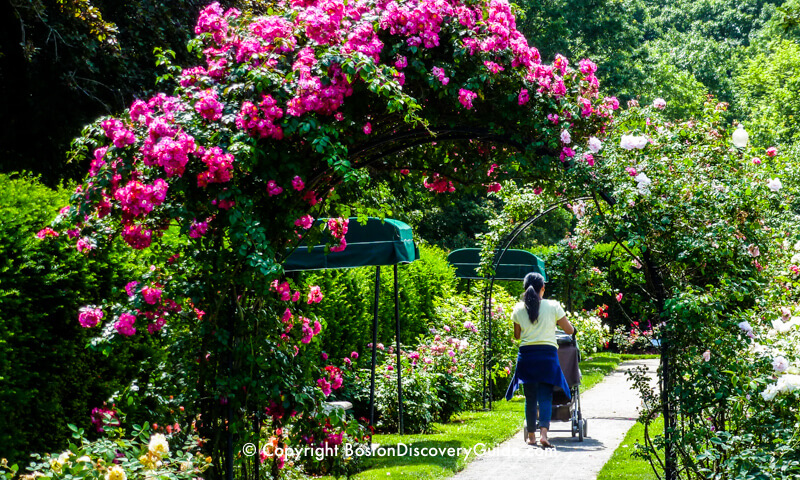 Boston's magnificent gardens, both public and private, burst into bloom in late spring and continue their spectacular displays throughout the summer.
Whether you're an avid gardener or just like flowers, garden tours in Boston and Cambridge from May to September let you view these special and sometimes hidden paradises - plus they provide a great way to explore the parts of the city where they're located: Beacon Hill, Fenway, the South End, Cambridge, and more.
Find out more about these colorful garden tours
11. Explore Boston by Bike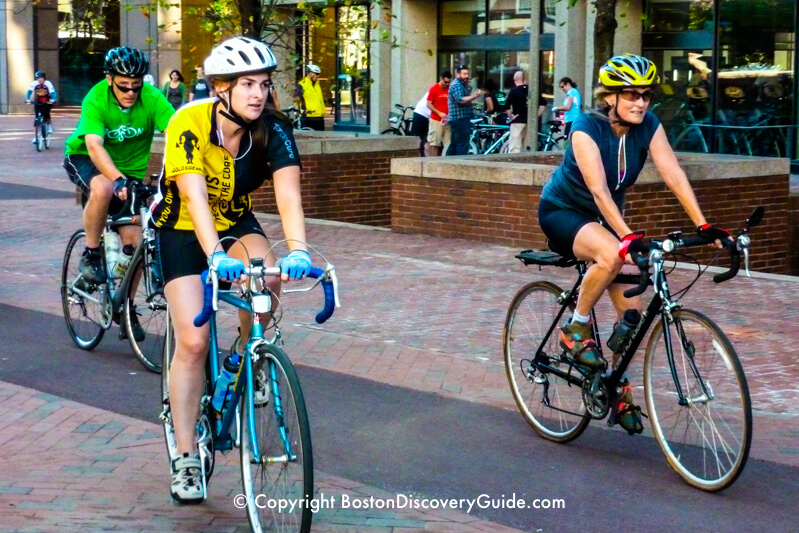 Combine exercise with Boston sightseeing when you join a group tour led by avid cyclists who'll share details about the city's history and culture as you ride.
Tours accommodate all skill levels and most are for kids as well as adults. One of the most popular summer activities in Boston!
---
More Fun Ways to Experience Boston in the Summer
These trolley tours, bus tours, and special destinations let you enjoy the best of Boston!
---
Check Out Top Boston Events Each Month
January | February | March | April | May | June | July | August | September | October | November | December | Year at a Glance
Need a Boston Hotel?
Use this handy hotel map from Booking.com to find the perfect place to stay. Just enter your dates to find what's available, see the best rates, and make your reservations.