Boston's best activities for summer let you take advantage of beautiful sunny days, warm nights, and the city's excellent waterfront location.
You'll quickly see why Boston offers the perfect combination of sports, culture, and lots of fun outdoor things to do on land and water.
Use our guide to find Boston's best summer activities: sailing, whale watching cruises, outdoor concerts, bike tours, local beaches, Red Sox games at Fenway Park, outdoor dining at our top restaurants, and lots more!
Weather forecast not so good? Find out what to do in Boston in the rain.
Top photo: Soaking up some sun at Columbus Park in Boston's North End, (c) Boston Discovery Guide
Boston Discovery Guide is a reader-supported publication. When you buy through our links, we may earn a commission at no additional cost for you. Learn more
---
Boston Discovery Guide's Recommendations: 12 Top Activities for Summer Fun in Boston
1. Explore Boston ... the Fun Way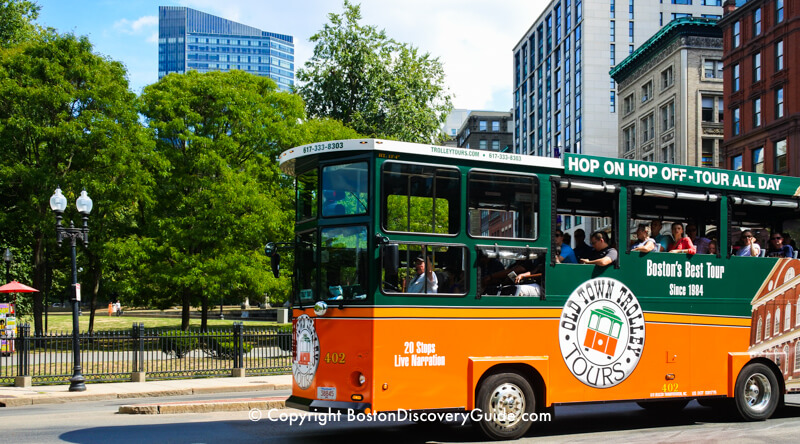 These popular tours and cruises give you a fun way to explore the city:
---
2. Cruise around Boston Harbor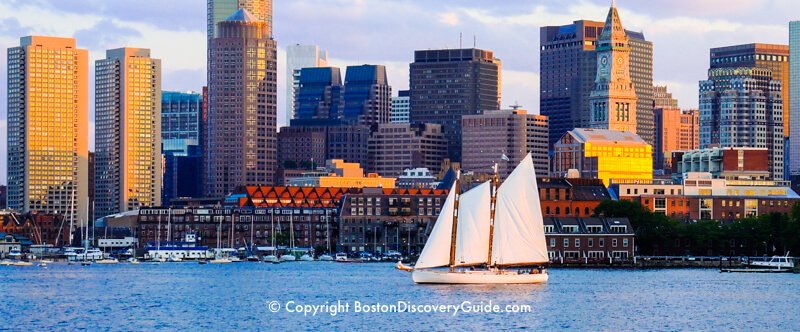 Tour Boston by boat - the best way to see the city!  
Check out these fun sightseeing, music, and entertainment Boston Harbor cruises on the Yacht Northern Lights and Schooner Adirondack III:
Popular Cruises on the Northern Lights:
Sailing on the Adirondack III
Book Your July 4th Cruises Now!
---
3. Chill Out on these City Beaches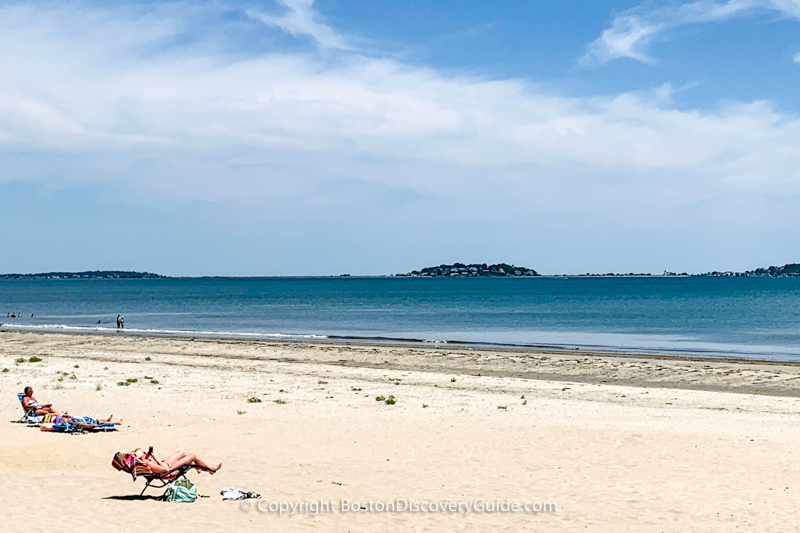 Escape the summer heat by heading to a Boston beach.
True, Boston beaches don't rival the gorgeous sandy expanses of Cape Cod, the rugged beauty of Gloucester beaches, or ocean-facing beaches in Maine or Rhode Island - but you can reach them in less than an hour on public transportation from Boston, so you can't beat the convenience.
If you want a place to swim, build a sand castle, and soak up some sun without leaving the city, you'll find a lot to love at these convenient city beaches.
---
Boston Hotels with Outdoor Swimming Pools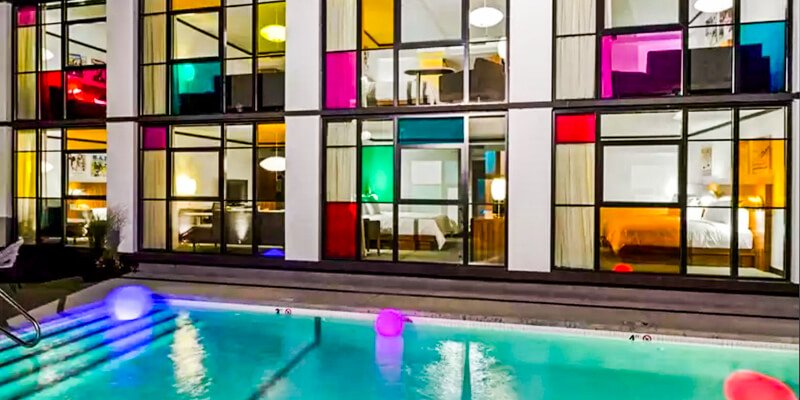 Find more Boston hotels with outdoor swimming pools
---
4. See Whales & Dolphins Up Close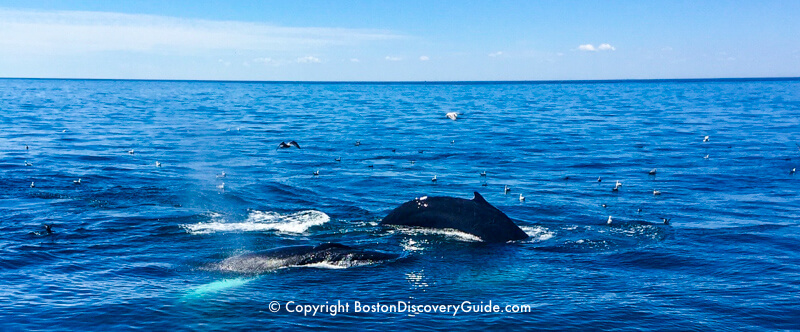 Located just 25 miles from Boston by water, Stellwagen Bank is the best place for whale watching along the East Coast.
Going on a Boston whale watching cruise brings you up close to some of the ocean's most fascinating creatures.
What will you encounter? Typically, you'll see humpbacks, minke whales, and finbacks, along with dolphins, sea birds, and other aquatic life. Plus, you'll pass numerous Boston Harbor Islands and several historic lighthouses.
Don't miss this unforgettable experience. Not surprisingly, for visitors and locals alike, whale watch cruises are one of Boston's most popular summer activities.
Find whale watching cruise reservations
Find out more about whale watching cruises
---
5. Visit Franklin Park Zoo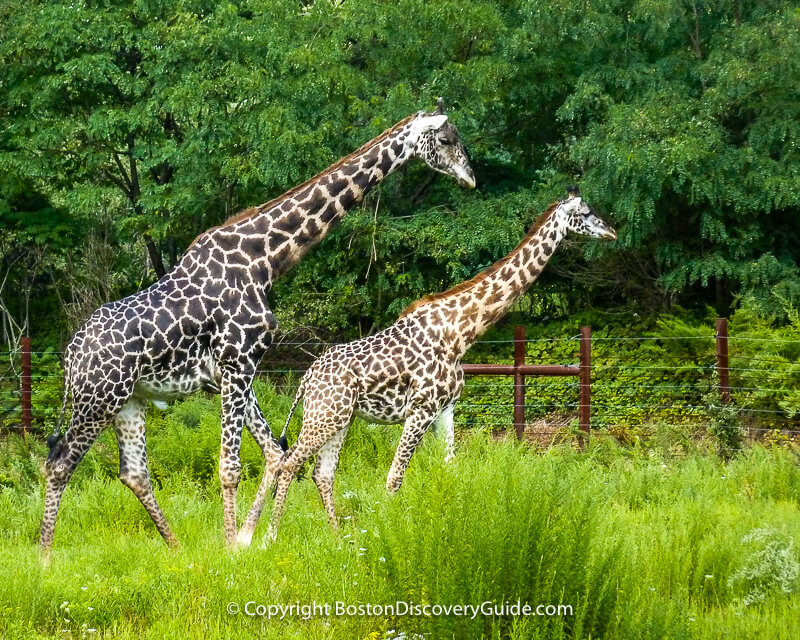 Boston's Franklin Park Zoo comes alive in summer as zebras, lions, kangaroos, tigers, wildebeests, ostriches, and others move outside to enjoy the sun (and sometimes, the shade).
You'll also see tropical forest animals such as gorillas, lemurs, pigmy hippopotamuses, ocelots, birds, plus farm animals.
Rainy day? Not to worry! Head inside to explore the tropical forest at Bird's World and other fascinating environments.
Dining at the Giddy-Up Grill is available when you get hungry, and don't forget to look for special and holiday events and education programs that take place throughout the summer (as well as the rest of the year).
Get your tickets online before you go.
---
6. Hoist the Sails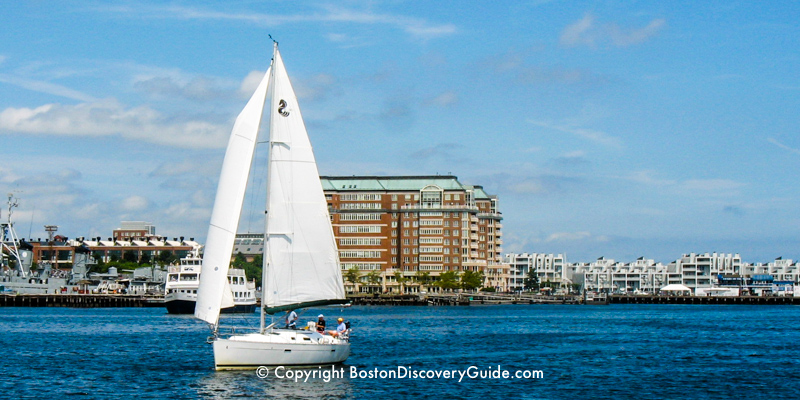 Water surrounds Boston on 3 sides, making it one of the best spots on the East Coast for sailing.
Of course, you can enjoy the water on one of the many Harbor cruises - but if you'd like more active involvement, spend a few days taking sailing lessons and you'll be addicted to this favorite local sport.
Find out about Boston sailing lessons, charters, clubs.
Check out Tall Ship cruises on the Adirondack III around Boston Harbor:
Boston Harbor Cruises on the Adirondack III:
---
7. Enjoy Boston's Sidewalk Cafes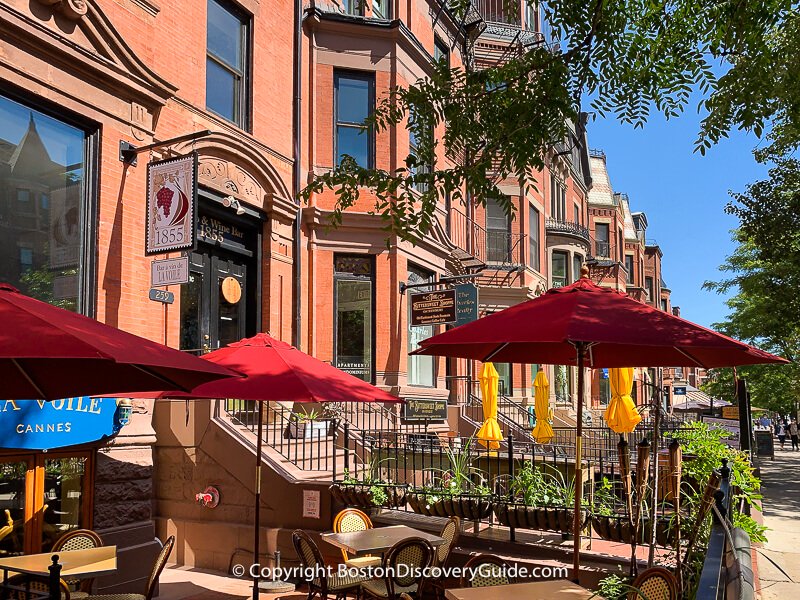 Dining outdoors is one of the great pleasures of being in Boston in the summer.
If you want to find the highest concentration of restaurants and cafes in all price ranges offering patio seating, head over to the centrally-located Back Bay neighborhood, where over a dozen restaurants with outdoor dining nestle among the designer boutiques and art galleries.
More about outdoor dining in Back Bay
For dining outdoors overlooking the waterfront, the Seaport area of the South Boston Waterfront boasts plenty of exciting options. More about South Boston Waterfront/Seaport restaurants overlooking the Harbor
---
8. Take a Walk through History on Boston's Freedom Trail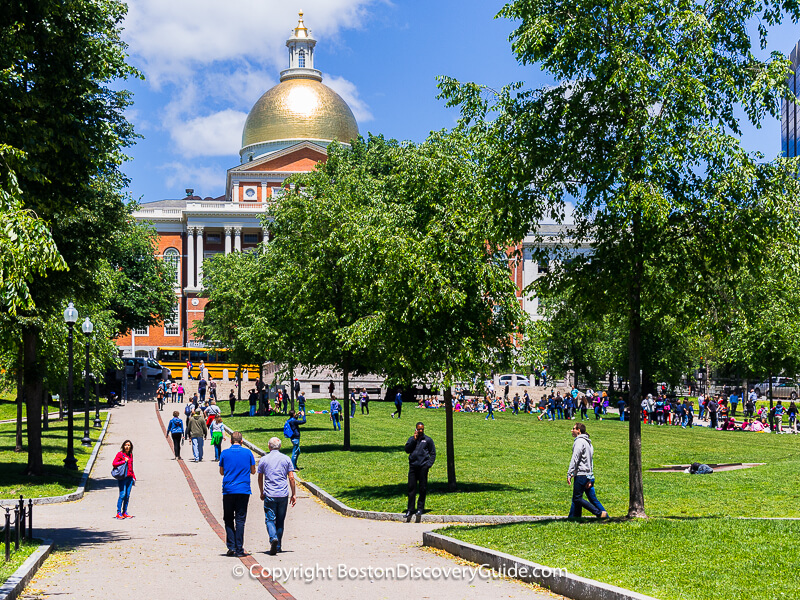 Get some exercise and learn about Boston and American history at the same time when you walk the length of the 2.5 mile Freedom Trail, starting at Boston Common.
The Trail takes you to 16 sites crucial to American liberty in historic downtown Boston, the North End, and Charlestown.
Find out more about the Freedom Trail
---
9. Explore Boston by Bike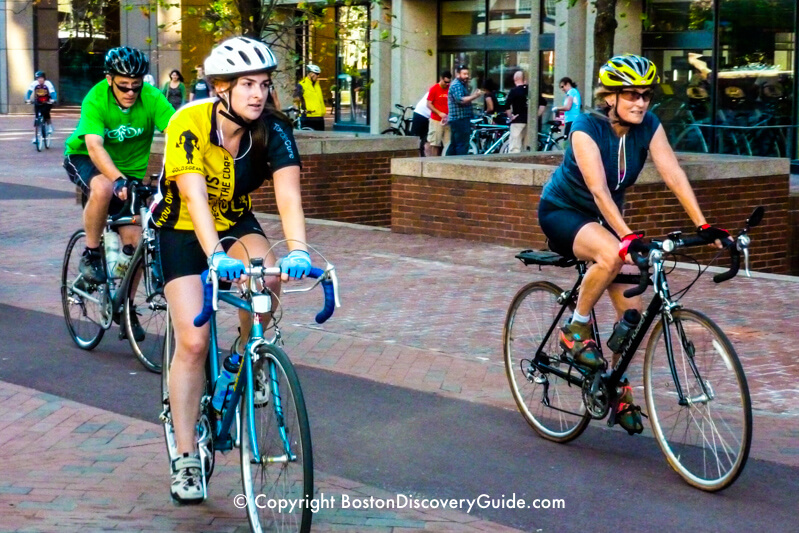 Combine exercise with Boston sightseeing when you join a group tour led by avid cyclists who will share details about the city's history and culture as you ride.
Tours accommodate all skill levels and most are for kids as well as adults. One of the most popular summer activities in Boston!
---
10. See Boston in Bloom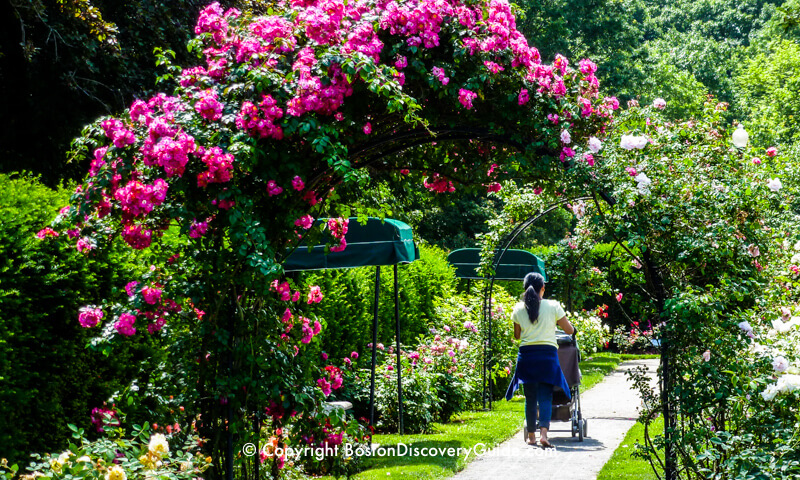 Boston's magnificent gardens, both public and private, burst into bloom in late spring and continue their spectacular displays throughout the summer.
Whether you're an avid gardener or just like flowers, garden tours in Boston and Cambridge from May to September let you view these special and sometimes hidden paradises - plus they provide a great way to explore the parts of the city where they're located: Beacon Hill, Fenway, the South End, Cambridge, and more.
Find out more about these colorful garden tours
Explore Boston's best-known parks
---
11. Summer Concerts in Boston - Find the Best Outdoor Venues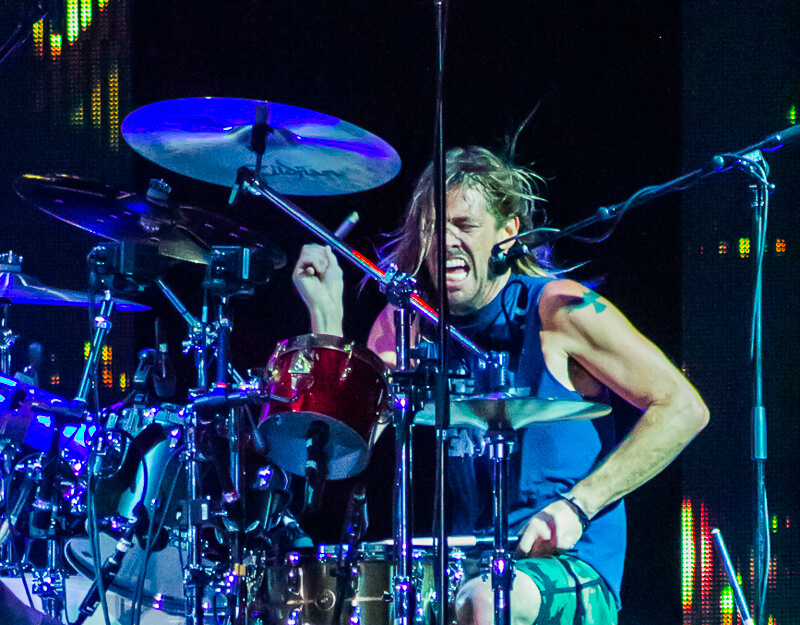 As soon as warm weather hints at summer's arrival, Boston concerts move to outdoor venues, where you can experience memorable performances by megastars, emerging artists, and popular favorites.
Check out lineups for Boston concerts in July at these popular outdoor concert areas:
Enter DISCOVERY 10 to save 10% on TicketLiquidator & TicketNetwork tickets
Find all Boston concerts for each month
---
12. Experience the Boston Red Sox at Fenway Park!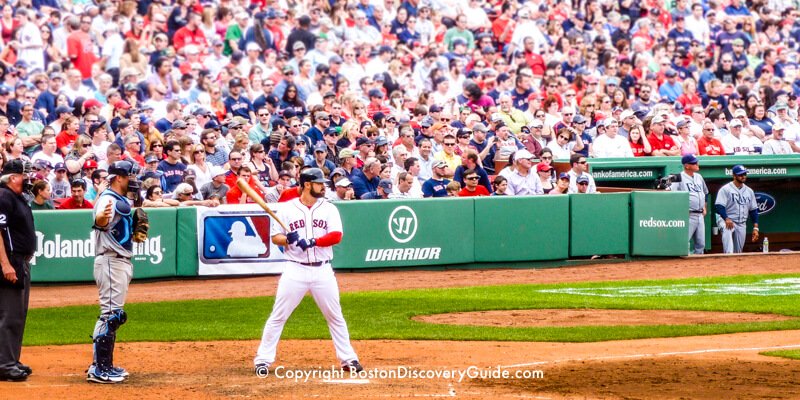 What to do on a warm summer afternoon or balmy evening in Boston?
Head to Fenway Park, home field of the Red Sox.
The in-town ball park is super-easy and fast to get to using public transportation, the smell of Fenway Franks divine, and the experience of being part of the crowd cheering in the stadium is exciting, no matter which team wins.
Check the Red Sox home game schedule:
Enter DISCOVERY 10 to save 10% on TicketLiquidator & TicketNetwork tickets
Find more tickets for Red Sox home games at Fenway
More to Know When You Go to Fenway Park
---
13. Concerts at the Hatch Shell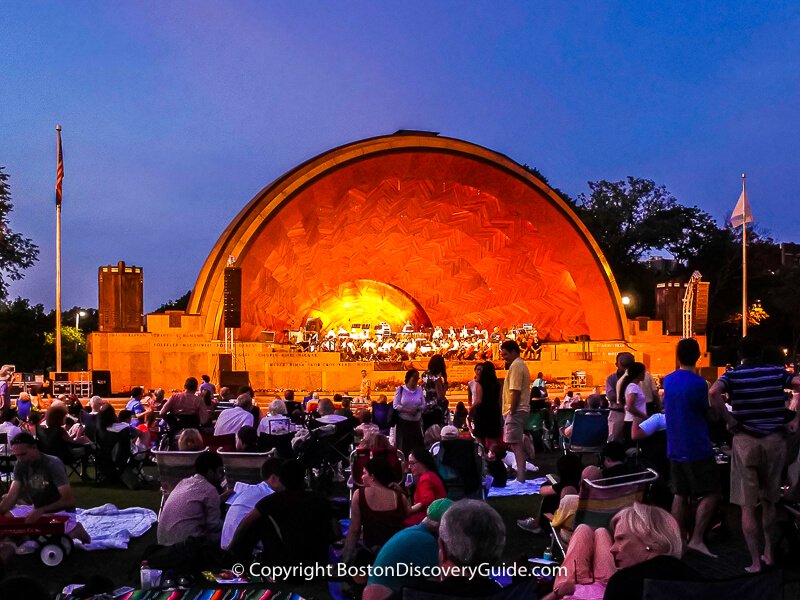 In addition to the famous Boston Pops July 4th concert at the Hatch Shell on Boston's Esplanade, you can enjoy free weekly concerts by the Boston Landmarks Orchestra throughout July, August, and early September at this popular outdoor venue.
The concerts usually start at 7pm and run about 2 hours. Bring a blanket or low folding chairs to sit on, and a picnic dinner.
Find concert dates and details for July, August, and September
More about what to see & do on Boston's Esplanade
---
14. Relax at a Boston Beer Garden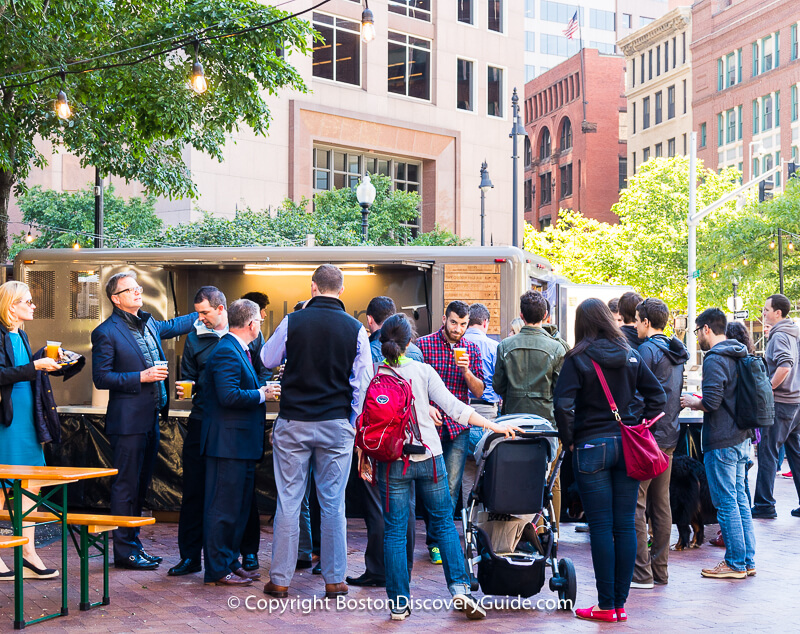 Need a relaxation break?
Head over to Boston's Greenway, where a beer garden, food trucks, food stands, plenty of places to relax and hang out, games such as putt-putt mini golf, and other activities transform this linear park where an elevated highway once stood.
You'll find plenty of other similar spaces around Boston, usually combining food, perhaps a beer garden or two, and space to hang out and relax.
Here's a small sample of places to enjoy:
---
Make Your Boston Hotel Reservations
Enter your travel dates in this hotel map from Booking.com to see what's available and find lowest rates:
More about how to save on Boston hotels
---
Check Out Top Boston Events Each Month
January | February | March | April | May | June | July | August | September | October | November | December | Year at a Glance
---