Boston Activities for Summer
Biking, Sailing, Races, Cruises, Beaches, Tours, Concerts, Outdoor Dining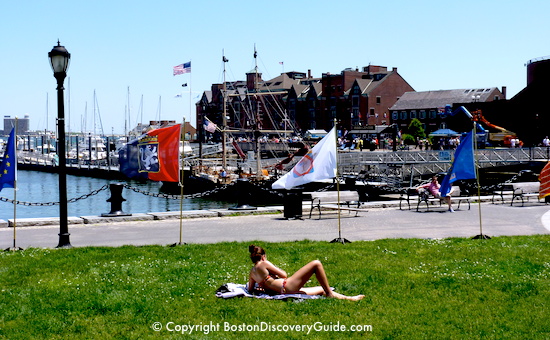 Enjoying summer sun at Boston's Christopher Columbus Park on the Waterfront
Boston activities for summer celebrate our warm but mostly comfortable weather, extensive city parks and paths, and our waterfront location.
If you're visiting during the summer, you can combine some of these outdoor summer activities with your sightseeing to get a flavor of the "real" Boston slightly off the typical tourist path.
Boston's outdoor warm-weather activities that you can participate in as a visitor include sailing lessons, bike tours, outings to local beaches, walking along the Freedom Trail, exploring neighborhoods, and watching (or even competing in) the Boston Marathon, Dragon Boat races, the Head of the Charles Regatta - and more!
Be sure to also check Winter Activities, as well as top Boston attractions for even more ideas about things to do.
Combine exercise with Boston sightseeing when you join a group tour led by avid cyclists who'll share details about the city's history and culture as you ride.
Tours accommodate all skill levels and most are for kids as well as adults. One of the most popular summer activities in Boston!
More about biking in Boston



Summer Concerts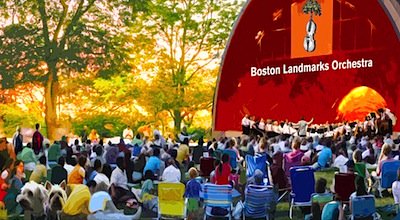 Boston's summer concert season moves outdoors to the waterfront Blue Hills Bank Pavilion, Fenway Park, and Gillette Stadium, with amazing shows by megastars - Bruce Springsteen and the E Street Band, Aerosmith, Coldplay, the Beach Boys. Plus, you'll hear plenty of free concerts and jazz along the waterfront, in Copley Square, at the Hatch Shell, and plenty of other locations throughout the city. Check the Boston concert schedule to find out what's going on this summer.
Whale Watching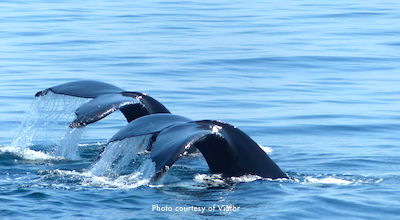 Another of the top Boston activities for summer is going on a whale-watching cruise out to a nearby coastal feeding ground for finback, humpback, and right whales, pluse many Although not right in the city, whale-watching cruises are among the biggest Boston attractions. Finback and humpback whales gather at nearby coastal feeding grounds. More about Boston whale watching cruises


Celebrate Independence Day on July 4th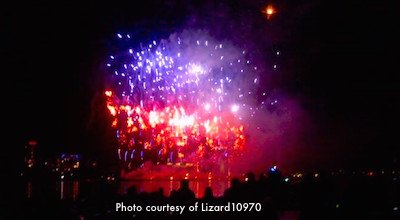 Boston's huge July Fourth celebration along the Charles River features a world-famous concert by the Boston Pops, followed by a spectacular display of fireworks over the water.
Pack a picnic lunch and enjoy summer in Boston at its best.
More about Boston fireworks and the Pops concerts


Outdoor Dining
Dining outdoors is one of the great pleasures of being in Boston in the summer.
If you want to find the highest concentration of restaurants and cafes in all price ranges offering patio seating, head over to the centrally-located Back Bay neighborhood, where over a dozen restaurants with outdoor dining nestle among the designer boutiques and art galleries. More
For dining outdoors overlooking the waterfront, the Seaport area of the South Boston Waterfront boasts plenty of exciting options. More
Sailing in Boston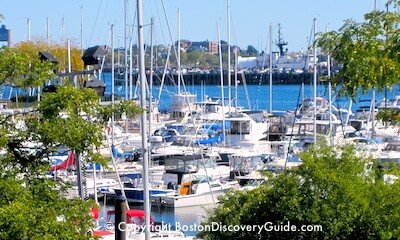 Water surrounds Boston on 3 sides, making it one of the best spots on the East Coast for sailing. Of course, you can enjoy the water on one of the many Harbor cruises - but if you'd like more active involvement, spend a few days taking sailing lessons and you'll be addicted to this favorite local sport. Find out about Boston sailing lessons, charters, clubs.
Boston Beaches
Although the Boston waterfront is a harbor, lined with wharfs and piers, several Boston and nearby beaches are easily accessible by public transportation and are perfect places to enjoy the sun and perhaps a swim or walk - a favorite Boston summer activity. True, they're not Cape Cod - but you can still have fun! More about Boston beaches, and one of our local favorites, Castle Island.
Sailing in Boston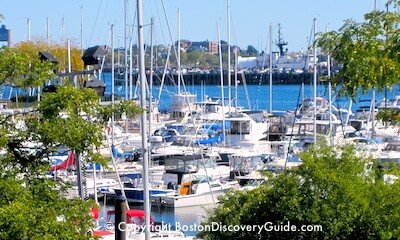 Water surrounds Boston on 3 sides, making it one of the best spots on the East Coast for sailing. Of course, you can enjoy the water on one of the many Harbor cruises - but if you'd like more active involvement, spend a few days taking sailing lessons and you'll be addicted to this favorite local sport. Find out about Boston sailing lessons, charters, clubs.
Running and Jogging

Forget your hotel gym - stay in shape during your Boston visit and enjoy spectacular waterfront views at the same time by running or jogging (or even walking) along the Boston Esplanade. Bridges connect the Boston and Cambridge sides of the river at multiple points, so you can set the length of your course to meet your needs. More about the Esplanade

Running in the world-famous Boston Marathon takes some planning and preparation, but for many people, it's the highlight of their Boston visit. Find out about Boston Marathon qualifying times. Meanwhile, get the Marathon date, and come watch for inspiration. Check for best watching spots along the Boston Marathon route. Or consider a shorter race - BAA's 10k race in June.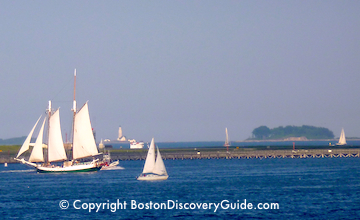 Hop on a ferry at Long Wharf, and head out to the Boston Harbor Islands for a day of hiking, exploring, swimming, photographing, and perhaps even a nap.
Only 20 minutes from the city, you'll find long stretches of gorgeous sandy beaches, a Civil War fort, miles of hiking trails, picnic areas, and even camping grounds. More about Boston Harbor Islands


Garden Tours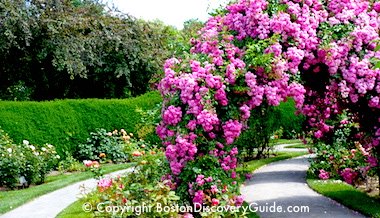 Boston has magnificent gardens, both public and private. Whether you're an avid gardener or just like flowers, garden tours in Boston and Cambridge from May to September let you view these special and sometimes hidden paradises - plus they provide a great way to explore the parts of the city where they're located - Beacon Hill, Fenway, the South End, Cambridge, and more. Find out more about these colorful garden tours.
Get big savings on cruises, whale watching, attractions
GoBoston Card

51 ways to save up to 55%

On attractions, tours, cruises

CityPASS

5 top attractions in 9 days

47% savings
Compare the savings! If you're going on a Boston Harbor cruise, whale watching, or visiting other attractions, these cards can save you a lot of money. Compare to find out which one is best for you.
Freedom Trail

Get some exercise and learn about Boston and American history at the same time when you walk the length of the 2.5 mile Freedom Trail, starting at Boston Common. The Trail takes you to 16 sites crucial to American liberty in historic downtown Boston, the North End, and Charlestown. Check out the Freedom Trail, as well as other Boston tours and trails


Shakespeare on the Common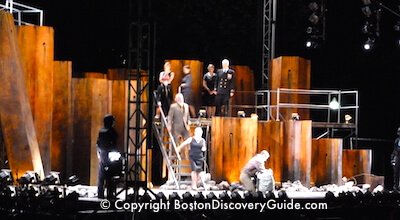 On balmy July and August nights, it's easy to understand why dropping by to see a free Shakespeare on the Common production is a favorite Boston activity for summer as the grassy slopes of this centrally located city park transform into an amphitheater under the stars. More about Shakespeare on the Common



Dragon Boat Festival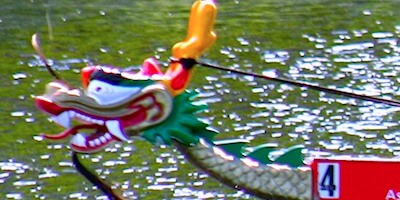 Watch the Dragon Boat races on the Charles River in June - or gather a group of friends and colleagues together to enter and complete. Boston's Dragon Boat races are the biggest and longest-running in the U.S, and whether you're racing or just watching, you'll find a lot to enjoy at the festival. Check the Boston Event Calendar for June for dates.


Run of the Charles Kayak and Canoe Race

This annual April kayak and canoe race on the Charles River is the biggest in New England, attracting more than 1,500 paddlers and many more participants. Whether you're competing or just watching, it's the perfect excuse for enjoying a day on the river, and perhaps a weekend visit to Boston. More about the Run of the Charles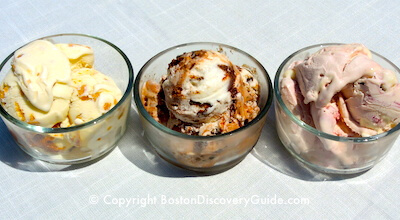 Scooper Bowl
If you're visiting the city in June, this favorite Boston summer activity is a must-do event! Scooper Bowl lets you eat all the ice cream you want, and help support cancer research at the same time - a real win-win! Top local and New England ice cream makers donate all the ice cream, including some special flavors you'll never see in a store. More details on the Boston Event Calendar for June

Boston Swan Boats
Since 1877, the Swan Boats have glided across the tranquil waters of the lagoon in Boston's Public Garden, providing 15 minutes of delight for just a couple of dollars. The pedal-powered boats transport passengers from mid-April through mid-September. A swan boat ride is one of my personal favorite Boston activities during summer months. More about the Swan Boats
You may also like . . .
Boston Discovery Guide > Boston Attractions > Boston Activities for Summer