Boston tours give you fun, unique ways to get to know the city and to see a few places even locals may not know about.
You'll get an "insiders" perspective from your guide, and see places you might not discover on your own.
Whether you choose to tour Boston by trolley, on foot, by land and river on our famous Duck Boats, or by taking a Harbor siteseeing cruise or even a whale watch, there's no better way to experience the best of Boston attractions and culture.
We even have day trip suggestions if you want to explore beyond Boston. If you're arriving by cruise boat, we list special shore excursions also.
Article Contents: What You'll Find
Top Photo: Hop-on hop-off trolley on Boylston Street across from Boston Common, (c) Boston Discovery Guide
Boston Discovery Guide is a reader-supported publication. When you buy through our links, we may earn a commission at no additional cost for you. Learn more
---
Most Popular Boston Tours
Hop On Hop Off Trolley Sightseeing Tours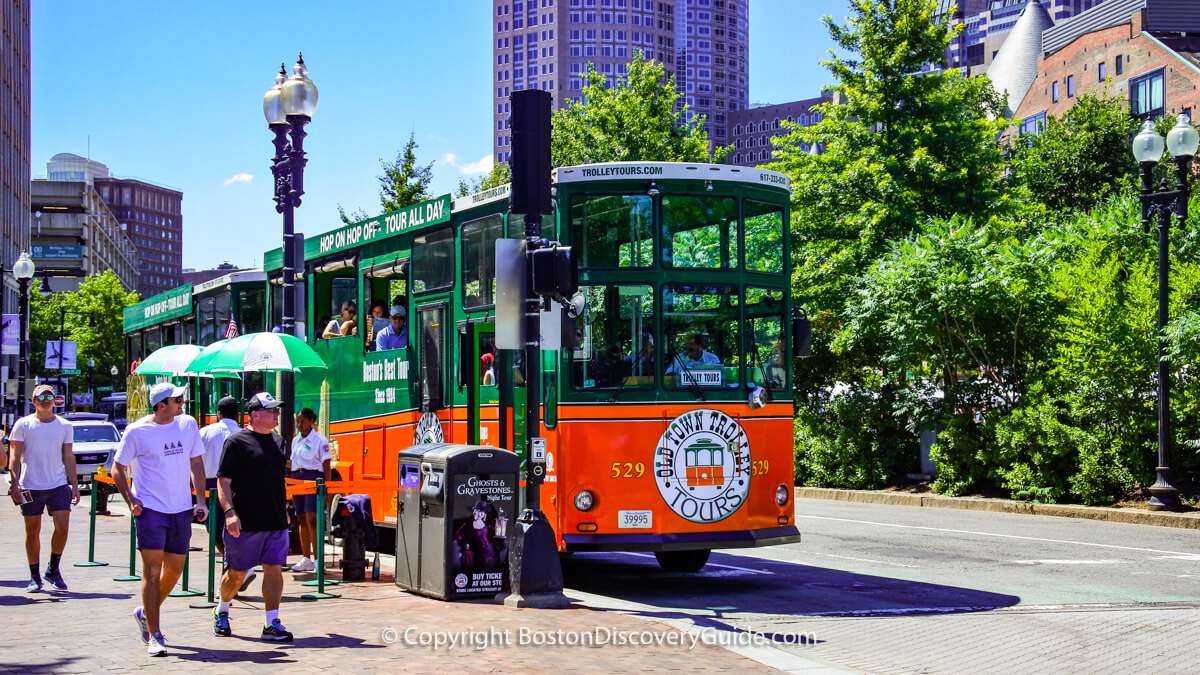 Hop-on hop-off trolleys show you the most interesting parts of Boston, letting you choose to get off, explore, and then get back on and ride further.
Part sightseeing, part transportation, these trolley sightseeing tours are a perfect way to relax and see the city.
Find out more about Hop On Hop Off Trolley Tours
Get your Boston Trolley Tour tickets now
---
Whale Watching Tours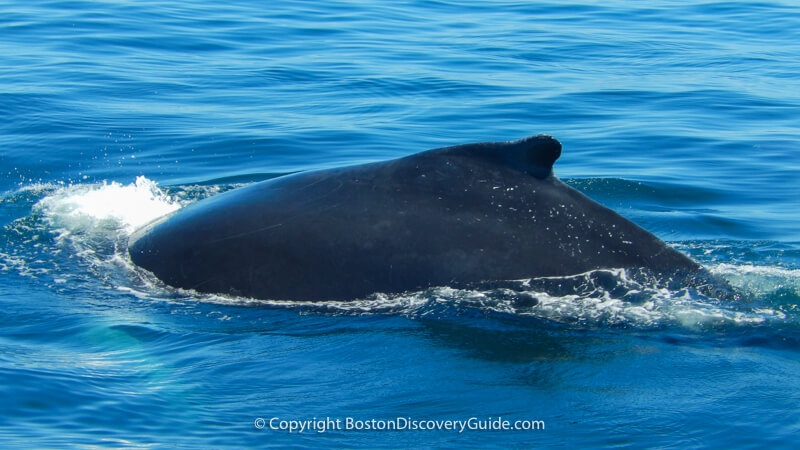 Explore a whole different world beyond Boston Harbor and see whales and other fascinating marine life close up and in action. How many whales will you see? Usually between 3 and 10 - but sometimes a lot more.
More about whale watching cruises departing from Boston
Reserve your spot on a whale watching cruise now
---
Fall Foliage Tours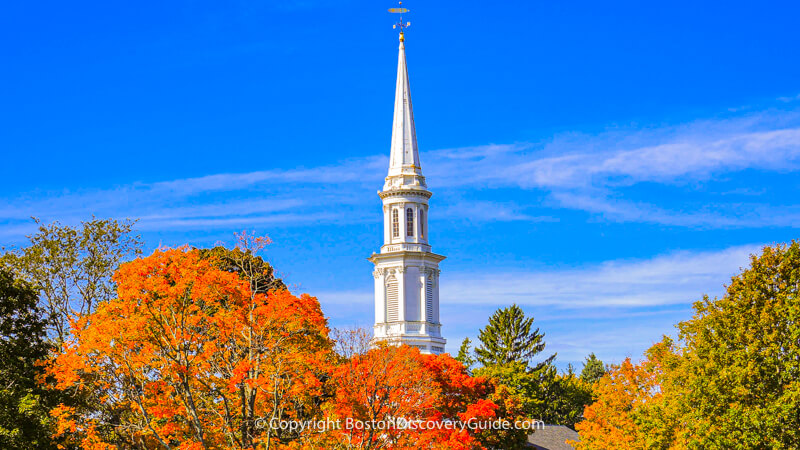 Tour the New England countryside near Boston during our most beautiful season and see spectacular scenery, quaint villages, and of course, gorgeous foliage.
More about fall foliage tours near Boston and around New England
Tickets for the most popular Fall Foliage Tour
---
Duck Tours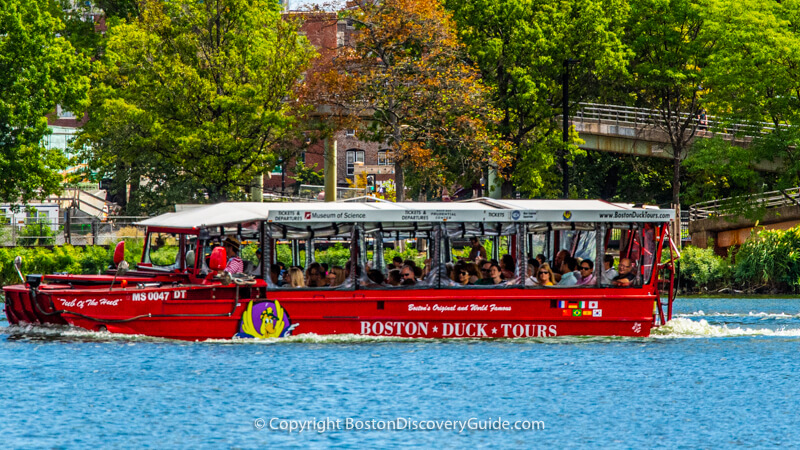 You'll cruise over land and water during Boston's most unique and fun sightseeing tour.
Once you board your Duck-mobile, you'll cruise through the city's most historic neighborhoods - Downtown, Back Bay, Beacon Hill, Charlestown where you'll see Boston's top attractions and historic sites.
And then you'll float down the Charles River for a unique view of Boston and Cambridge.
Get Your Duck Boat Tickets now
---
Sports, Culture, & History Tours
Fenway Park Tours
Get a behind-the-scenes view of America's oldest and most unique ballpark and hear Red Sox lore from official Fenway Park tour guides.
You'll get to sit in the Green Monster, visit the Red Sox Hall of Fame, and see all the other famous sites at this iconic Boston attraction.
On non-game days, you may even get to visit the Dugout and walk across Fenway Park's field.
Get your Fenway Park Tour tickets
---
Freedom Trail Tours
Freedom Trail tours give you a fun and informative way to experience Boston's most famous historic sites while also seeing the oldest parts of the city as well as lots of newer attractions along the way.
Join a tour led by a costumed guide or go on your own on an only-in-Boston walk through history.
More about Freedom Trail Tours
Find out about all the ways to tour the Freedom Trail
---
Boston MetroWest Breweries Tour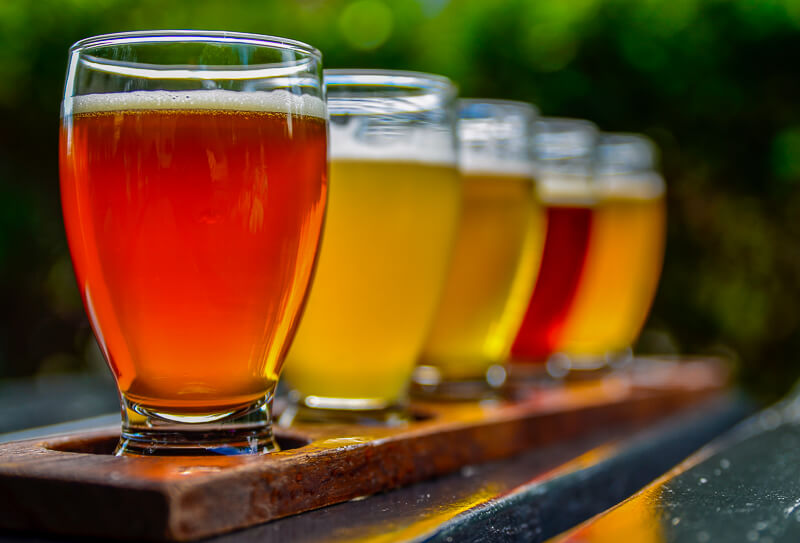 Beer has been an important part of Boston's culture ever since the Puritans arrived with their barrels of brew, and today dozens of microbreweries are following in the Puritans' footsteps by creating a huge variety of handcrafted beers with unique local flavors.
So that's why you can consider the MetroWest Breweries Tour as a way to experience Boston culture (because yes, we do love our bars, brewpubs, and historic taverns).
On this guided bus tour from downtown Boston, you get to visit four of the most interesting and unique craft breweries west of the city, sample up to 16 locally crafted beers, and get an insider's look at Massachusetts' vibrant brewery scene.
You'll also enjoy a lunch paired with the perfect beer while your guide keeps you entertained with interactive beer "lessons." This is a 21+ "cultural" experience.
Find out more & book this tour
Wang Theatre Tours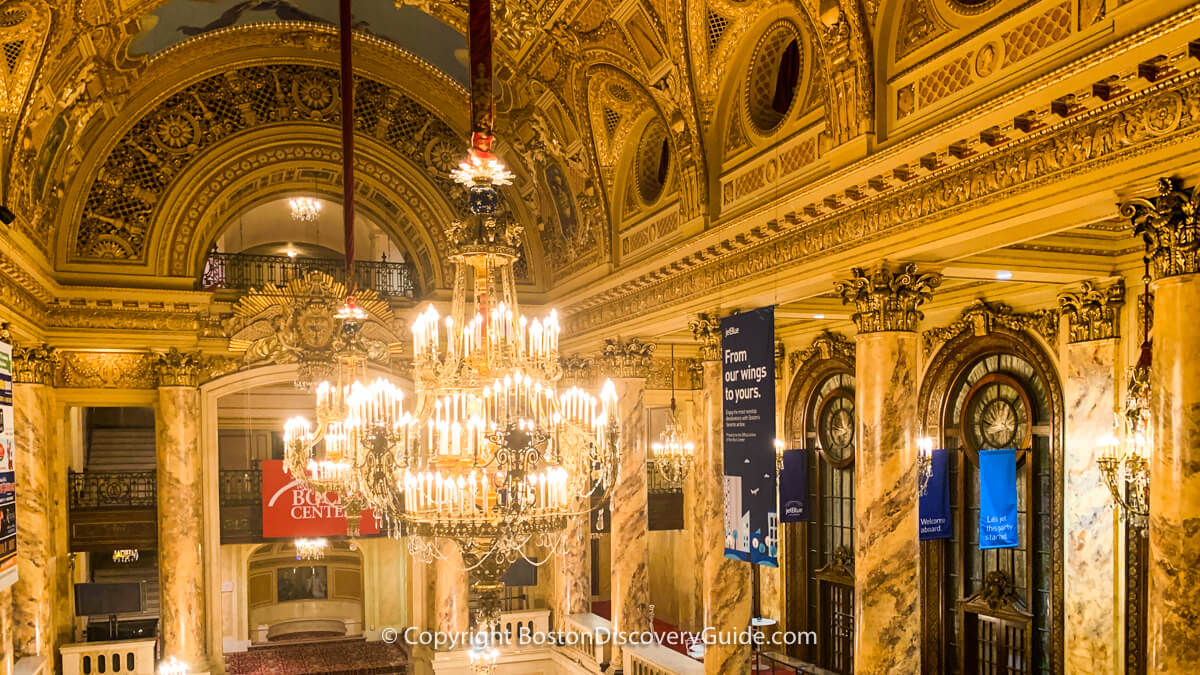 Get close-up behind the scenes views of one of Boston's most spectacular historic theaters when you take a Wang Theatre tour in the Theatre District. You'll also get to visit The Music Hall at the new home of the Folk Americana Roots Hall of Fame.
Find out more about Wang Theatre tours
Book your Wang Theatre tour tickets now
---
Boston Sightseeing Tours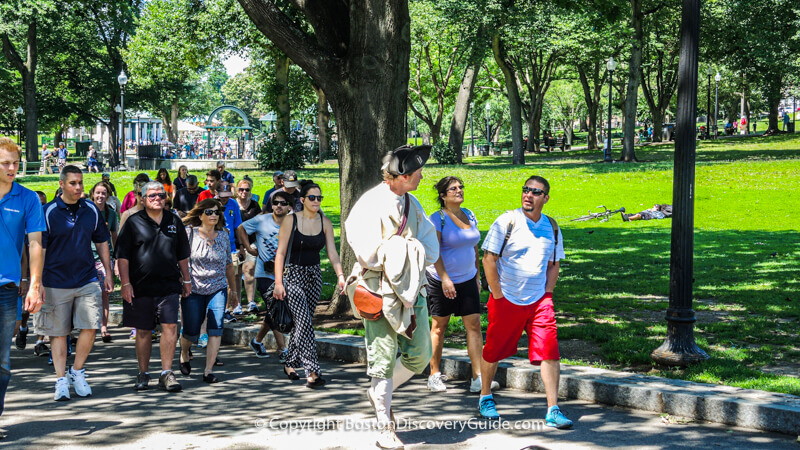 Want to see the most famous sites in Boston and nearby Lexington and Concord?
There are a lot of different tour options - so check out what's available
More about Boston sightseeing tours
Check out these Boston Sightseeing Tours
Bike Tours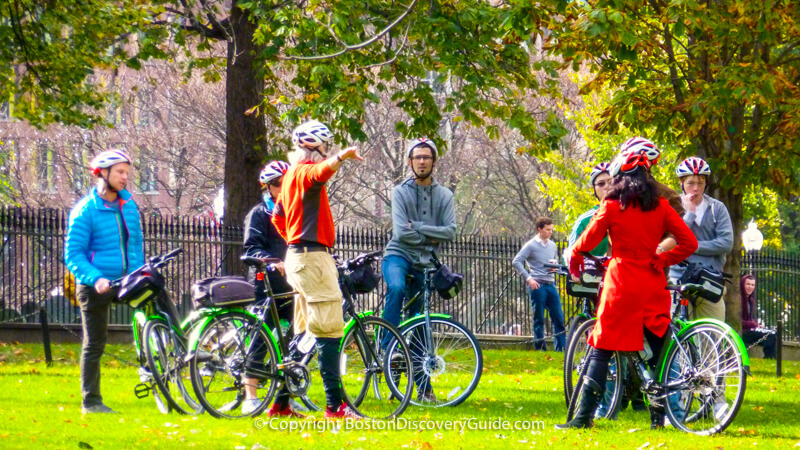 See Boston the fun way - on two wheels. Go with a guide past many of the city's iconic attractions, or try a self-guided route.
Find out more about Boston Bike Tours
Fun Tours for Families
Boston Tours for Kids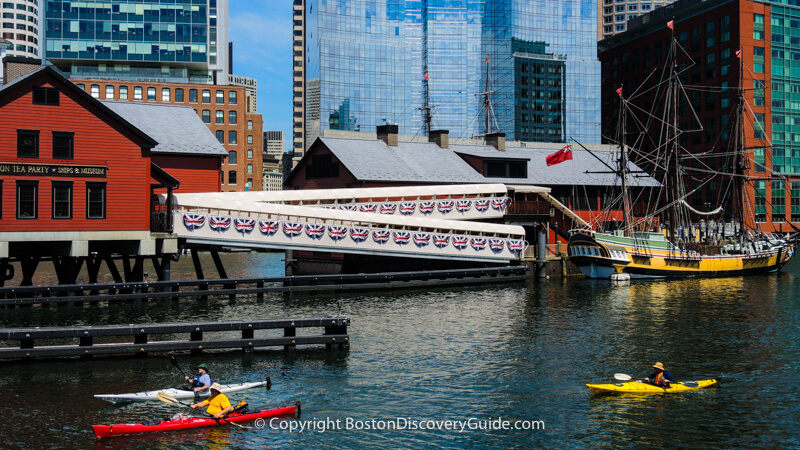 Your kids will love Boston (and you will too) when you take them on these fun tours.
More about best Boston tours for kids
---
Boston Tours for Teens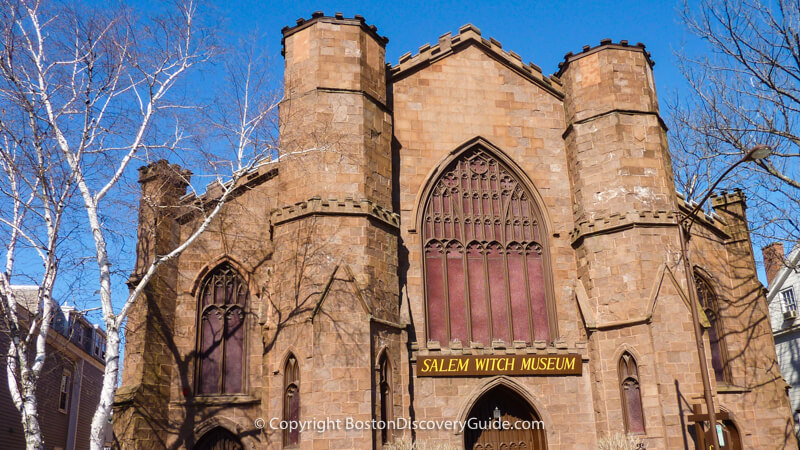 What do witches, chocolate, fast cruises, and ghosts have in common? These are tours that teens love.
The bonus? They're all a lot of fun, and are a great way to experience Boston and beyond.
Find out more about Boston Tours for Teens
---
Shopping Tours
Wrentham Village Outlets Bus Trip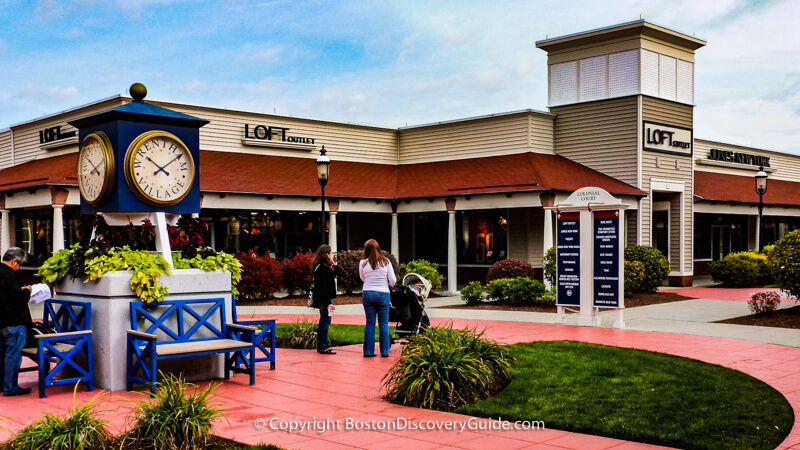 Want to save a ton of money at Boston's biggest designer outlet shopping mall? Located less than 40 miles south of Boston, Wrentham Village is where you'll find the biggest discount shopping savings in this part of New England.
With standard discounts from about 25% to 70% off the retail price and even more exciting savings during sales, Wrentham Village is definately a place all fashionistas will want to visit.
More about Wrentham Village Outlets
Book your round trip transportation to Wrentham Village - Currently not available
---
Day Tours from Boston
Day (& Weekend) Trips from Boston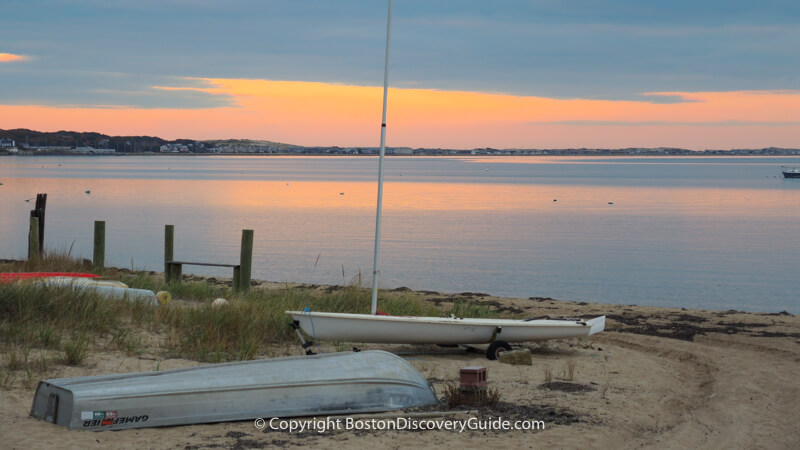 Salem (aka "Witch City), Provincetown beaches, Newport Rhode Island mansions, a recreation of the first Pilgrims' settlement at Plimouth Plantation, even New York City - these are just a few of the day trips you can take from Boston.
Of course, these destinations make wonderful weekend trips too!
More about Day Trips from Boston
---
More Boston Tours for You to Join
A favorite with kids and adults alike, these free tours of "Old Ironsides" give you a chance to explore the famous warship docked in nearby Charlestown Navy Yard ... Find out more about how to visit
Some of the best tours of Boston are on the water, where you'll get a unique perspective as well as a fun cruise ... More about how to see Boston from the water
Arriving on a cruise ship? These shore excursion tours are for you . . . More about Boston shore cruises
Don't let cold weather stop you! These tours keep you warm and show you lots of interesting city sights - plus you can stop for hot chocolate along the way . . . More about how to tour Boston once the weather turns cold
The fun way to explore Boston - see locations you've seen in the movies and on TV while seeing iconic Boston neighborhoods and attractions . . . More about Boston Movie Tours
Where to get an "insider's" view of Boston's most beautiful gardens in May and June . . .
More about where to find these once-a-year garden tours
---
Questions & Answers about Tours in Boston
---
Self-Guided Boston Walking Tours
Sometimes the best way to see a city is to explore it on your own. Try these self-guided walking tours:
---
---
---
More Fun Ways to See Boston