A Wang Theatre tour gives you a unique opportunity to get close-up, behind the scenes views of one of Boston's most spectacular historic theaters.
You'll learn about the Wang Theater's evolution from an opulent 1925 movie palace showing four films a day to a popular concert hall where audiences could experience famous artists ranging from the Bolshoi Ballet to The Doors to the lively performance venue, historic site, and home of the Folk Americana Roots Hall of Fame that it is today.
You'll also hear about its long physical decline, and then its rescue by computer entrepreneur Dr. An Wang who spent several years and many millions restoring the theater to its original splendor.
As you explore the multiple levels of the Wang Theatre's Grand Lobby and performance space, you'll see all of the theater's elaborate details up close in a way you can't do when crowds are present for a performance.
You may even have the chance, if no theater sets are in place, to walk out onto the immense stage and gaze out at the tiers of red velvet seats, just as performers have done for almost a century.
Close your eyes, and you can almost hear the excited buzz of an audience waiting to see you. Janis Joplin, Elton John, Bob Dylan, Lady Gaga, Gregg Allman, Eric Clapton, Jim Morrison, dancers from Alvin Ailey to Riverdance, actors from thousands of theater productions - you're standing where they've all stood.
Find out more & book your Wang Theatre tour tickets now
You'll feel the energy and sense the magic that's kept the Wang Theatre at the center of Boston's entertainment and nightlife for almost a century.
But if you're expecting this to be just a tour of a theater, you're in for a surprise - because beyond the stage, there's a lot more than you might expect to see here.
Check schedule & tickets for Wang Theatre shows
Top Photo: Second floor gallery, massive crystal chandeliers, and ornate gilded ceiling of the Wang Theatre's Grand Lobby, photographed during a tour
Boston Discovery Guide is a reader-supported publication. When you buy through our links, we may earn a commission at no additional cost for you. Learn more
---
---
What to Expect When You Tour the Wang Theatre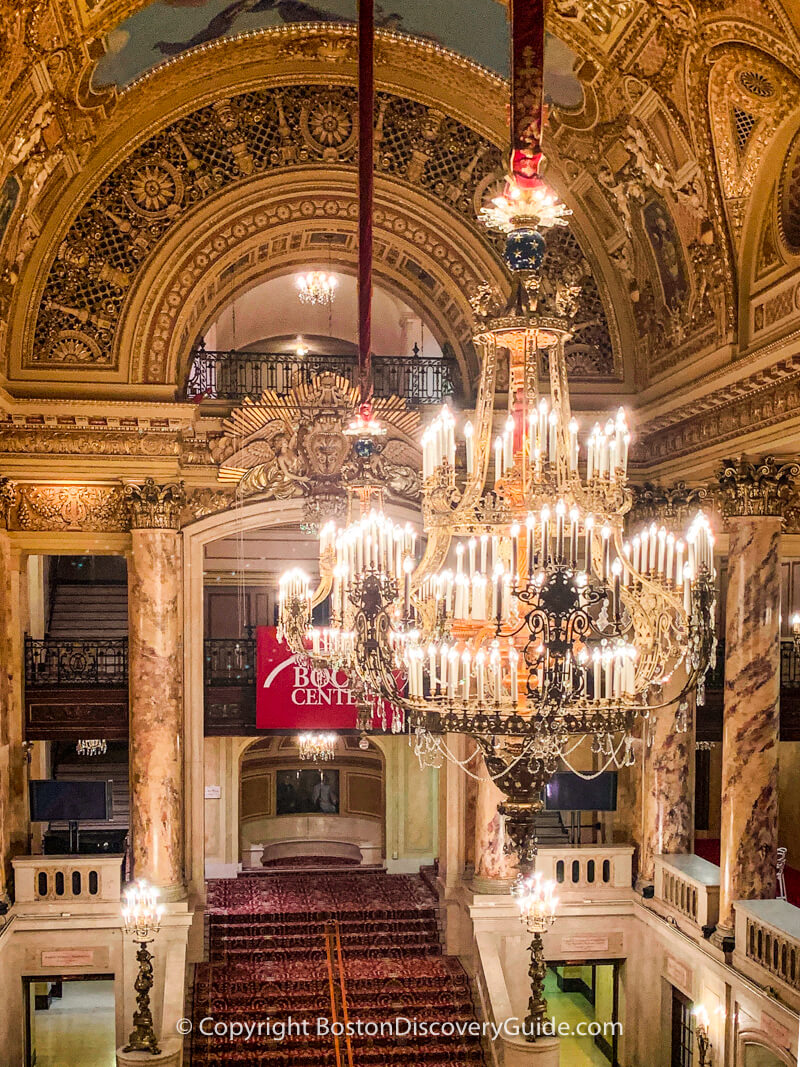 The sheer opulence of the Wang Theatre's richly detailed architecture, massive expanses of gilded moldings, enormous crystal chandeliers, mirrors, murals, and marble is hard to imagine until you see it all up close - and that's what this tour lets you do.
You'll walk up the grand staircase to get different perspectives, and peer past the rows of seats to the stage below.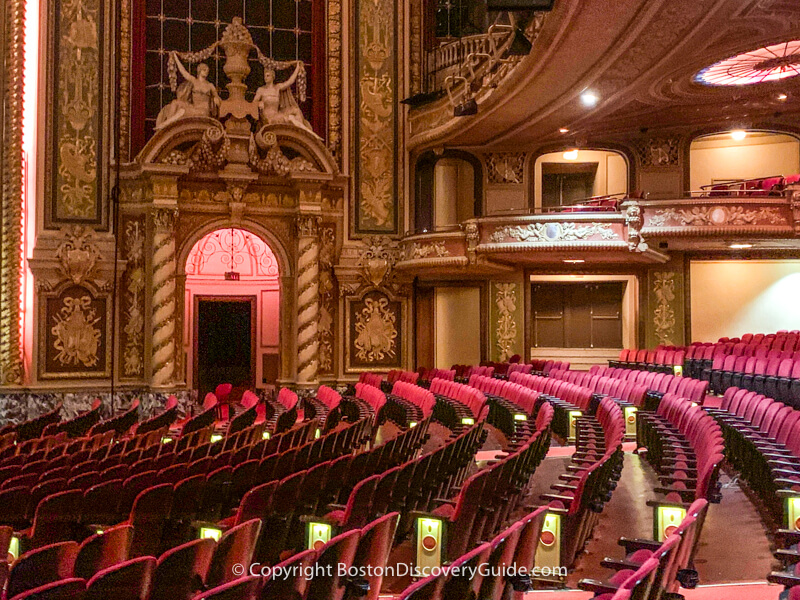 And then there's the size.
The theater's stage is one of the five largest in the U.S., and it seats 3,500.
When you're sitting in the audience, it looks large - but when you experience walking across it, it is immense.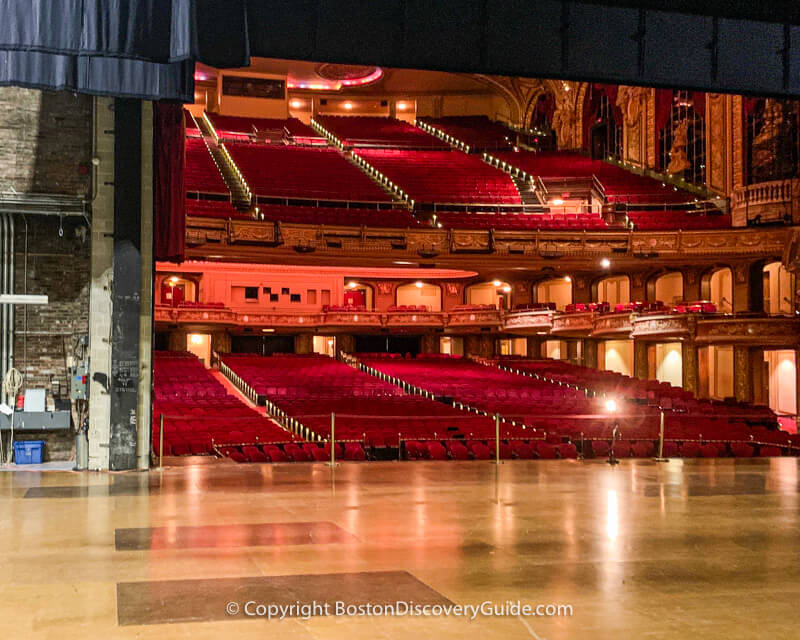 The tiers of plush red velvet seating have been reworked in recent years to ensure excellent sight lines for everyone in the audience.
But as you stand on the stage, you'll realize that performers look out and see a wall of people, with all eyes focused on the magic that's about to happen.
The audience feels much closer to the stage than you'd might expect.
Check Wang Theatre Tour ticket availability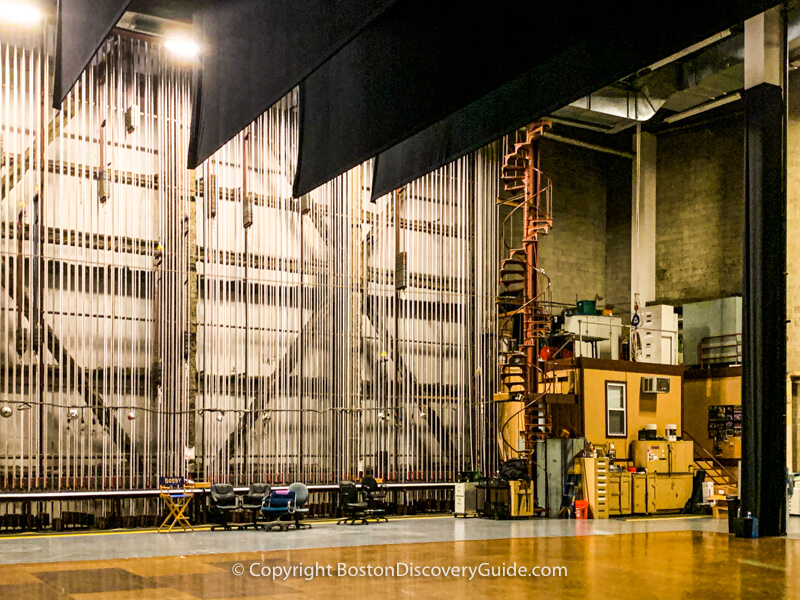 Look up, and you'll see a tall column of spiral stairs, dizzyingly high catwalks, and other infrastructure and scaffolding designed to support the most elaborate staging effects.
Look down, and you'll see an orchestra pit capable of holding up to 100 musicians beneath the front of the stage.
Of course you can go to a performance and be part of the audience yourself (and you should).
But on a Wang Theatre tour, you get to see everything up close in a way you can't when the space is filled with 3,500 excited fans.
If a set is in place for a show, you probably will not get to walk across the stage - but you may experience something even more exciting: glimpses of performers doing a last-minute sound check or rehearsing for the evening show.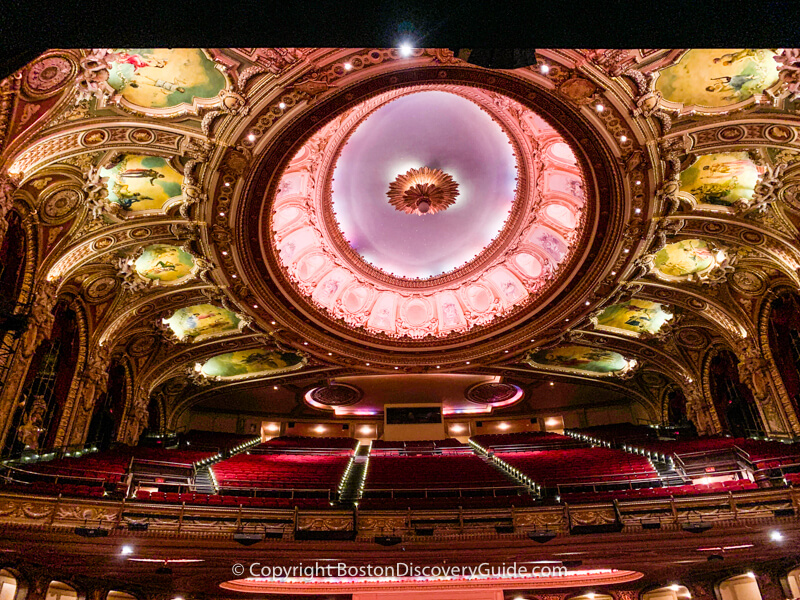 The 1-hour walking tours are led by professional Wang Theatre tour guides who give you interesting insights into the theater's history, art, and architecture, pointing out special features as you walk past.
Expect to hear entertaining and sometimes poignant stories of the people who contributed to creating the theater as it is today, as well as those who have performed here.
---
Check the Wang Theatre's Upcoming Schedule
Enter DISCOVERY10 to save 10% on TicketLiquidator & TicketNetwork tickets. Good through 12/31/24.
See the full schedule and available tickets for Boch Center (Wang Theatre & Shubert Theatre) shows
---
Behind the Scenes during a Boch Center Wang Theatre Tour
In addition to touring the Wang Theatre's public spaces, the tour takes you behind the scenes to the areas where the performers hang out.
Typically, you'll get to visit one of the theater's 11 dressing rooms, filled with lights and mirrors. Even though no performers will be present, you can almost smell a mix of stage makeup, bouquets of flowers, and opening night excitement.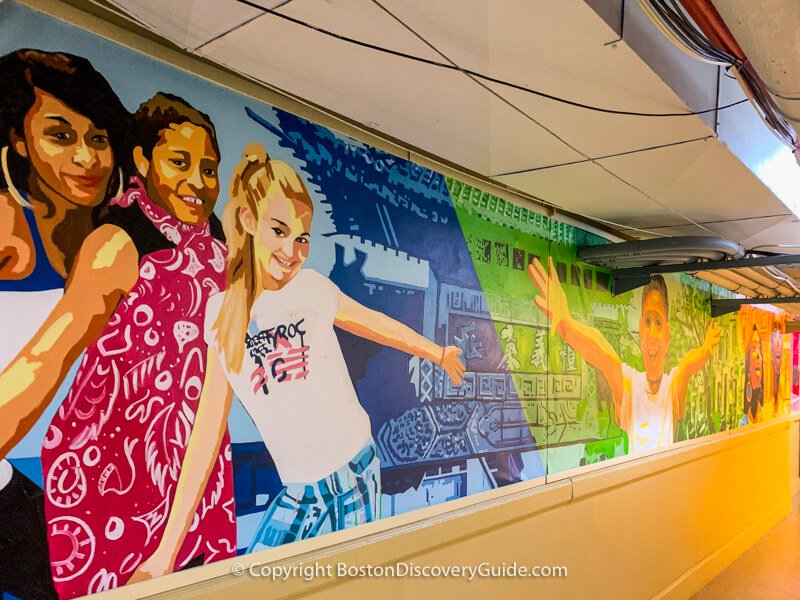 You'll walk past colorful murals painted by Boston students celebrating performers and diversity on one side of a long hallway.
As a non-profit, the Boch Center (of which Wang Theatre is a part) offers a variety of free education and community outreach programs.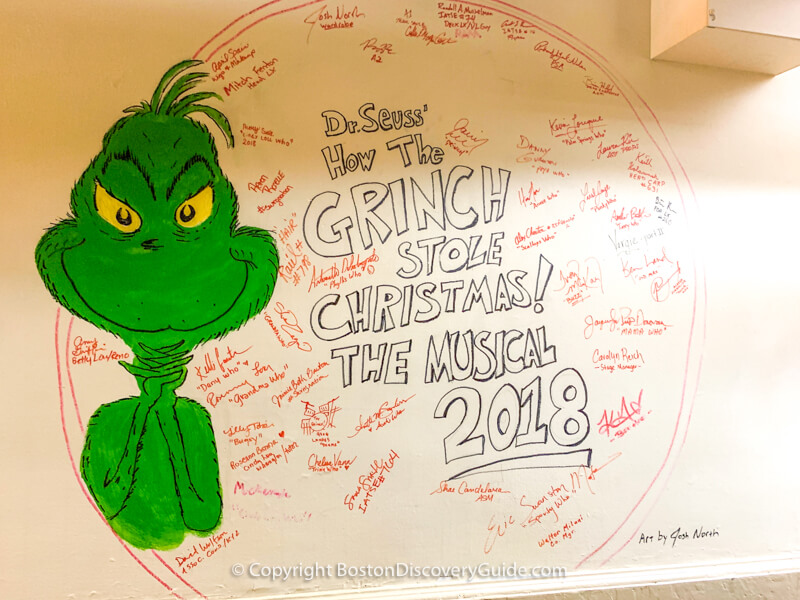 On the other side of the corridor, you'll see a huge autograph wall signed by performers and cast members from past shows and productions.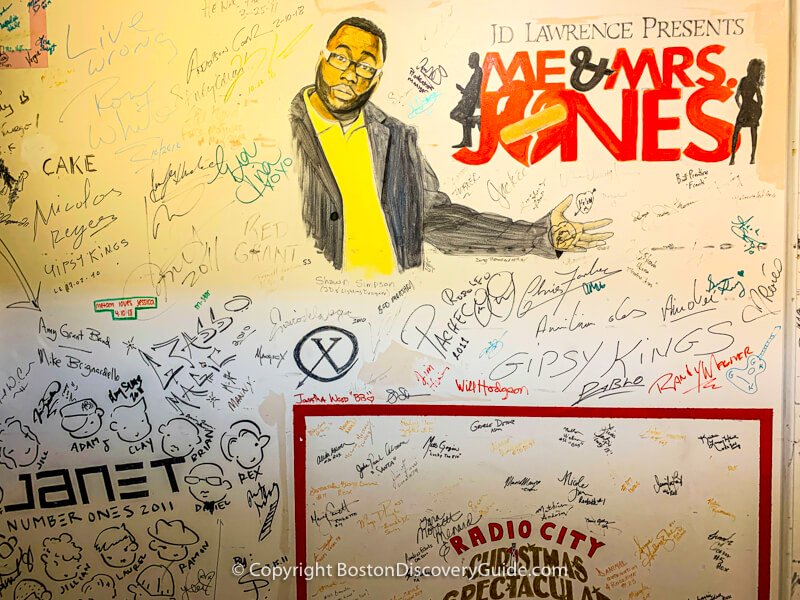 Look closely, and you're sure to see thank-you notes to the Wang staff signed by famous artists.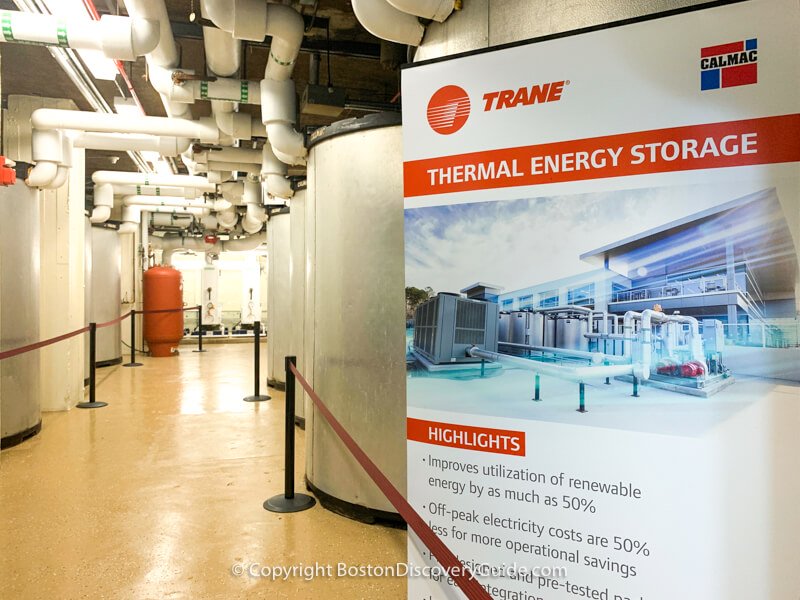 You may also get to check out another interesting and unique behind-the-scenes sight: a special energy-efficient cooling system that keeps the Wang Theatre comfortable all summer.
A series of cold air machines use off-peak renewable energy at night to freeze water in the tanks. Large fans distribute the cold air produced by the ice throughout the theater. This system is so efficient that it cools the theater even during the hottest weather, allowing the theater to stay open all summer.
---
The Music Hall & Folk Americana Roots Hall of Fame at Boch Center Wang Theatre
As an added and perhaps unexpected bonus, the Wang Theatre gives you an exclusive private look at The Music Hall, an exhibition area that is part of the theater's newest contribution to Boston's vibrant cultural scene: the Folk Americana Roots Hall of Fame.
You'll have the chance to explore two exciting exhibits: Cultural Heroes and Selections from the David Bieber Archives featuring memorabilia from rock, folk, and country stars.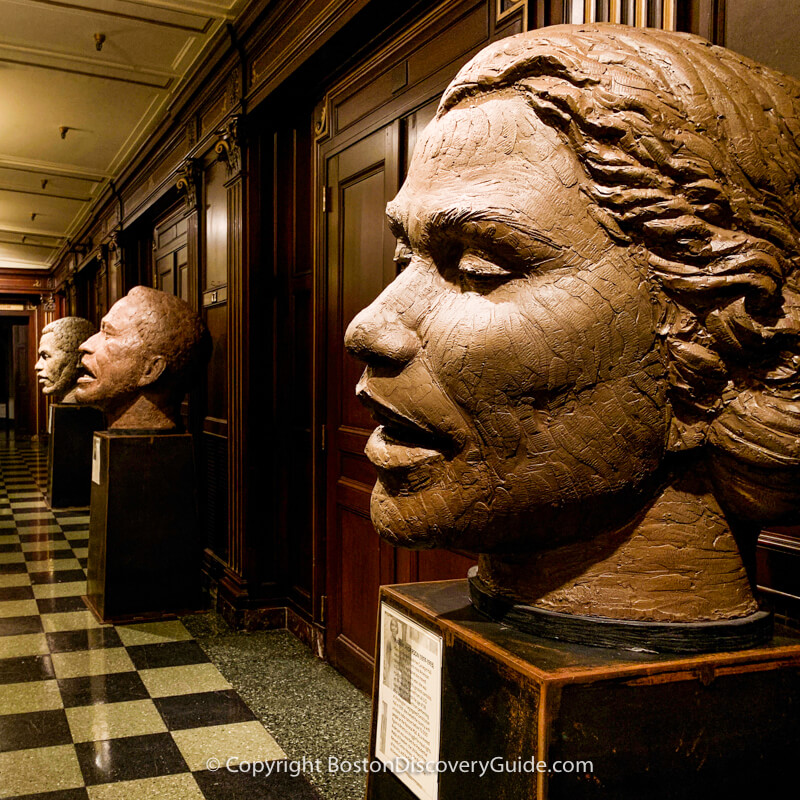 In Cultural Heroes, by American sculptor Alan LeQuire, you'll see seven giant heads of 20th century musicians - Lead Belly (Huddie Ledbetter), Marian Anderson, Billie Holiday, Josh White, Paul Robeson, Woody Guthrie, Bessie Smith - who furthered the cause of civil rights and social justice with their music and their lives.
Look closely, and you'll see LeQuire created each sculpture by using a variety of techniques to sculpt the heads from clay. You'll also notice that he depicts each artist while performing.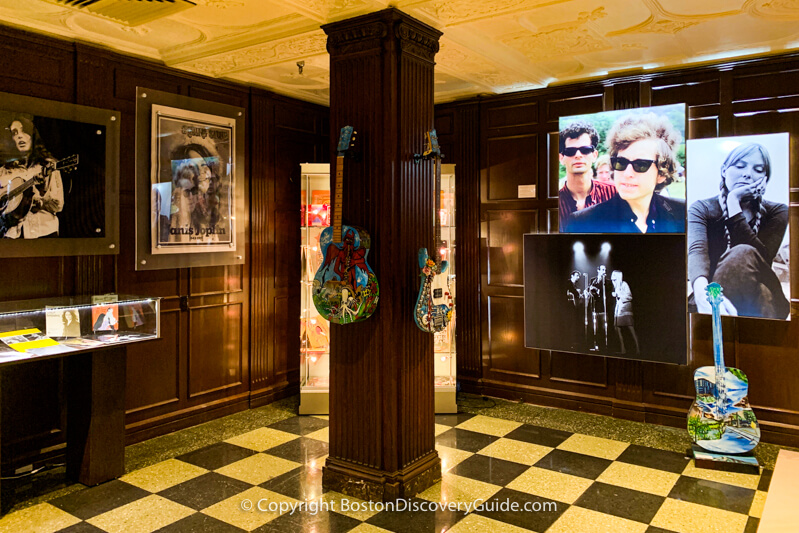 In the Selections from the David Bieber Archives, you'll find a mesmerizing collection of posters, musical instruments, album covers, and other memorabilia from a wide variety of popular artists from the 1960s onward with musical roots American folk traditions. See how many you can identify!
Get your Wang Theatre tour tickets
Essentials: Wang Theatre Tours
Address: 270 Tremont Street, in Boston's Theatre District (2 blocks from Boston Common)
Nearest T station: Green Line/Boylston
Parking: Boston Common Garage
Tour Availability: Monday - Sunday, 12 noon - 4pm (Winter schedule: Fridays and Saturdays only). Tours are available on a first-come, first-served basis. Tour schedules/availability are subject to change based on performance and theatre schedule. Call 617-532-1255 for schedule updates. Please arrive 15 minutes before your preferred tour starts.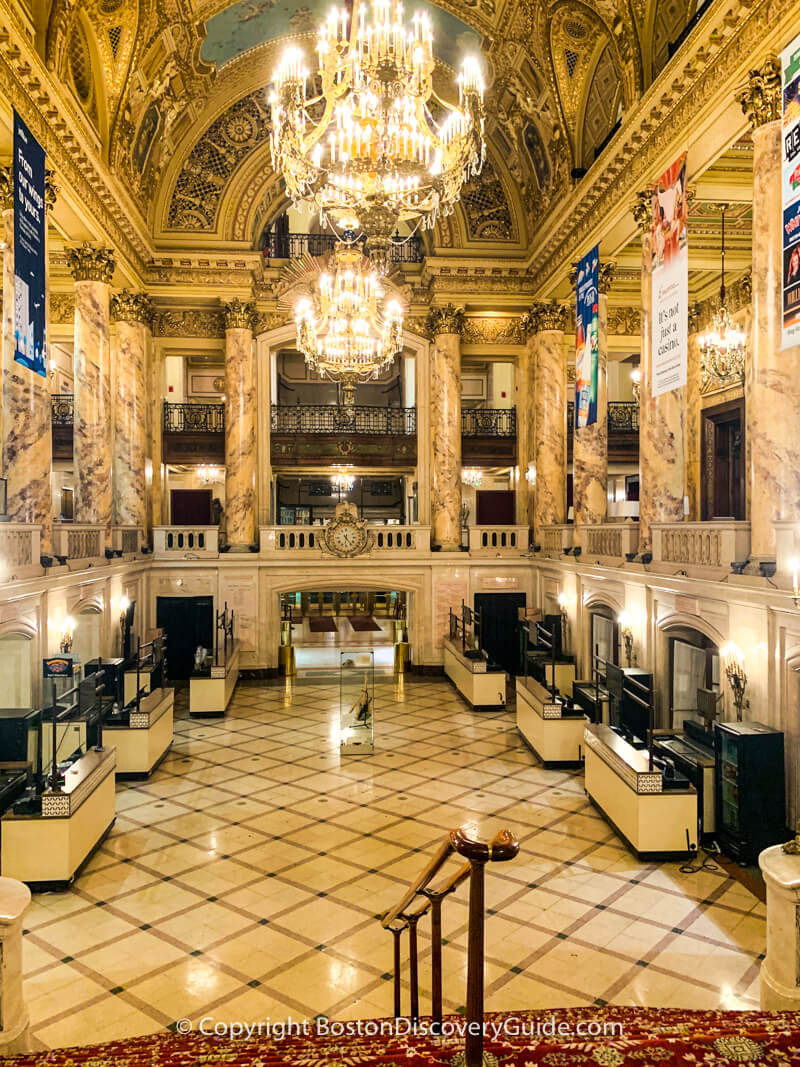 ---
Boston Theatre District Hotels
Enjoy your Boston performance or show experience to the fullest when you stay in one of the nearby Theatre District hotels, such as the fun and affordable Moxy, where theater lights and a food truck in the lobby pay homage to the neighborhood:

More top Theatre District hotels:
Check out more hotels in Boston's Theatre District
Want to see more choices? Use this Boston hotel map to find more places to stay near the Theatre District. Enter your dates to see cheapest rates for available apartments, hotels, and inns.
More about Boston Theatre District hotels
---
More Boston Nightlife & Entertainment
---
---
More Fun Ways to See Boston