Boston's Irish pubs attract large crowds as part of the city's lively nightlife scene - but many also feature tasty Irish food, plenty of Guinness, non-stop Irish football on big screens, and rousing Irish music.
And of course, they all offer warm Irish hospitality and craic (a Gaelic word meaning "fun and entertaining conversation"). Look for special festivities including Irish step dancing, green beer, and special Irish bands playing trad sessions on St. Patrick's Day.
With names like The Druid, The Burren, and the Black Rose, these Irish pubs sound like they could be in Dublin or Galway.
They're not, of course - but they combine touches of Irish culture with local tradition in a blend that's fun, unique, and quintessentially Boston.
The Boston metro area boasts dozens of Irish pubs - not surprising, considering that Boston is the most Irish city in the U.S., with over 20% of the Boston population claiming at least some Irish ancestry.
Our guide features an assortment of the best Irish pubs in Boston, Cambridge, and Somerville where you can have a great time, get a flavor of the "real" Boston, and perhaps, even for a moment, feel transported to the Emerald Isle.
Top photo: Inside an Irish pub
Boston Discovery Guide is a reader-supported publication. When you buy through our links, we may earn a commission at no additional cost for you. Learn more
---
Guide to Top Irish Pubs In & Near Boston
Our selection of popular Irish pubs and bars ranges from rollicking spots where Irish music, sports, and craic rule to quieter places where you can focus on conversation, food, and beverages hailing from Ireland - look for Guinness, Jameson, Tullamore D.E.W., Bushmills, Harp Lager, Smithwick's (that's Smitticks when said with an Irish brogue), Kilkenny Irish Cream, Porterhouse Oyster Stout, Murphy's on tap.
You can easily reach almost all of these pubs on the T (Boston's subway) plus perhaps a short walk - important to know if you're visiting Boston or don't have any volunteers for the designated driver role.
There are plenty of other cherished Irish pubs in the Greater Boston area - perhaps not as easy to reach by public transportation, but well worth the effort. You'll find about a dozen of them listed at the end of this article.
The Black Rose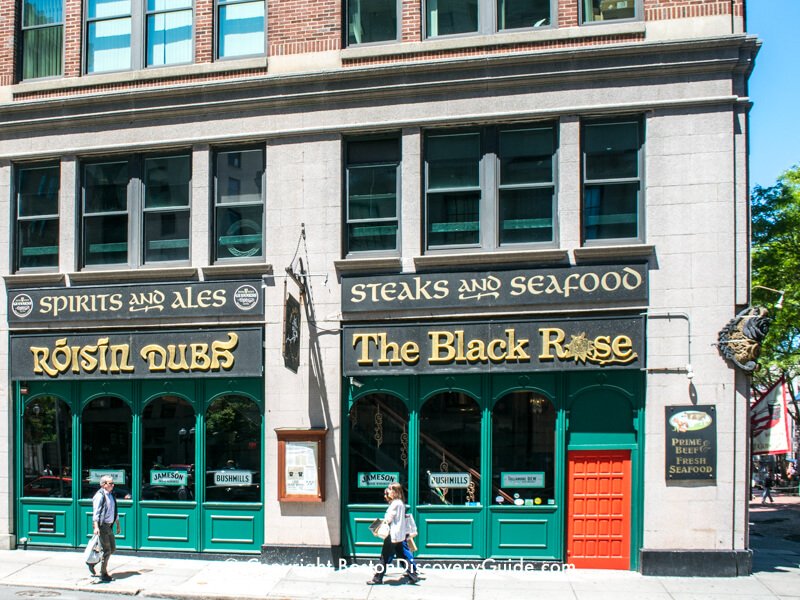 Walk along State or Commercial Street, and you'll hear music from The Black Rose luring you inside on almost any evening. Irish musicians perform here 5 nights each week, and often on Saturday and Sunday afternoons as well. Local regulars mix with a steady flow of Boston visitors thanks to the pub's location just a block away from Faneuil Marketplace.
If you've ever experienced the pleasure of a trad session in Dublin or Galway, you'll come close to finding the same thing here, along with plenty of Irish craic and of course, plenty of Guinness, Irish beer, and whiskeys at the bar.
The Black Rose's menu offers a few Irish specialties, including shepherd's pie, Guinness beef stew, and fish and chips, plus a full Irish breakfast is available on weekend mornings. The lobster roll and steamed mussels, while not specifically Irish, are always a good choice here.
Black Rose: 160 State Street, Boston's Financial District | Blue Line/State T station | 617-742-2286 | blackroseboston.com
---
The Burren - Traditional Irish Music Daily in Somerville
Started over two decades ago in Somerville's Davis Square by a pair of young Irish musicians, Tommy McCarthy and Louise Costello, The Burren enjoys renown as a mellow neighborhood pub where you can stop by any night of the week to hear traditional Irish music sessions and raise a pint of Guinness. Musicians range from local to international with occasional surprises, such as when U2 stopped by for a set back in 2009 after playing a show at the nearby Somerville Theatre.
The solid beer menu includes almost 20 local and national beers on draft, bottled beer including a few Irish labels, and ciders. Stop by for the weekend brunch and try the full Irish breakfast. On Sundays, local musicians take turns playing Beatles favorites. In their back room, The Burren hosts trivia nights, Americana music including jazz, country,blues, rock, and bluegrass, a weekly comedy night, and even a kids' open mic night.
The Burren: 247 Elm Street, Davis Square, Somerville | Red Line: Davis Square | 617-776-6896 | burren.com
---
Mr. Dooley's Boston Tavern
Located in the heart of Boston's Financial District, Mr. Dooley's Tavern attracts a loyal and lively crowd of locals thanks to the friendly bartenders, nightly live music including the occasional Irish trad session, and great service.
You'll hear so many Irish accents that you may forget you're not in Dublin, especially with all the Irish dishes on the menu - order the fish and chips, or come for the Irish breakfasts served on the weekends from 9am-4pm.
As a bonus, Mr. Dooley's is family friendly, with kids welcome until 10pm.
Mr. Dooley's: 77 Broad Street, Financial District, Boston | Blue & Orange Lines: State | 617-338-5656 | mrdooleys.com
---
The Bebop - Modern Irish Pub & Music in Boston's Fenway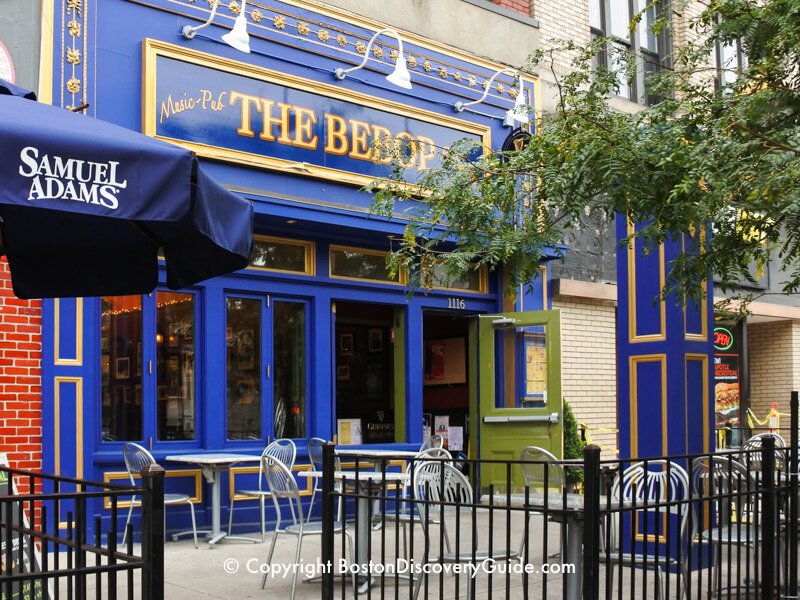 Not all Irish pubs in Boston evoke age and tradition. The Bebop, with the same owners as The Burren and located in the heart of Berklee College territory, combines daily live music with an upbeat modern Irish pub ambiance, including a nod to Irish cuisine with a tasty lamb stew and fish and chips on the menu.
Music starts at noon on the weekends (11am on weekdays) in a small area near the door, continues until 1am, and features mostly local musicians, including many from Berklee. What will you hear? Lots of jazz, as well as bluegrass, country, a classical open mic, folk, Celtic, indie - best place to check the schedule is on Bebop's website.
The Bebop is family-friendly until 10pm, when it becomes 21+. Look for an eclectic mix of students, locals, Boston visitors, and musicians - which recently included Bruce Springsteen and Patti Scialfa.
The Bebop: 1116 Boylston Street, Fenway neighborhood | Green Line: Hynes | (857) 250-4641 | thebebopboston.com
---
The Druid - Irish Pub in Cambridge's Inman Square
Come for an Irish trad session at The Druid on a Saturday afternoon or Tuesday night, raise your glass of Guinness Stout at the bar, and as soon as the music starts, you'll almost imagine you're in a friendly pub in the Emerald Isle.
An excellent Shepherds Pie along with a few other Irish-style faves on the daily menu plus a traditional Irish Breakfast served up for weekend brunch adds to the pleasure.
On other evenings, stop by for trivia night, an evening with a DJ, and more music events at this cozy neighborhood spot.
The Druid: 1357 Cambridge Street, Inman Square, Cambridge | Red Line: Central Square | 617-497-0965 | druidpub.com
---
J.J. Foley's
Among the 100+ or so Irish pubs in Boston, J.J. Foley's is legendary.
Opened in the South End by Irish immigrant Jeremiah J. Foley back in 1909, Foley's has been a gathering spot for over 100 years. Jerry Foley, grandson of J.J. and the bar's current owner, continues the tradition with his sons of providing food, drink, and a friendly welcome for all who come through the doors.
You'll see some Irish-American memorabilia on the walls and can order a Guinness at the bar, but TV screens over the bar show the Bruins and Red Sox rather than Irish football while the jukebox loops through decades-old American hits. The menu offers typical Boston pub fare - nothing fancy, but fish and chips, steak tips, and burgers are all solid choices and rotating specials provide variety.
So what makes Foley's one of the city's most popular Irish pubs? It's the warm hospitality. Stop by twice, and you're a regular. Three times, and the bartenders will know your name.
J.J. Foley's Cafe | 117 East Berkley Street, Boston's South End | Orange Line: Back Bay | 617-728-9101 | jjfoleyscafe.com
---
L Street Tavern
If you've watched Good Will Hunting or the late Anthony Bourdain's Boston episode of No Reservations, you've seen the L Street Tavern, although a somewhat grubbier-than-real-life version.
In real life, L Street Tavern is a small neighborhood no-frills Irish bar like many others in South Boston, aside from all the Good Will Hunting posters and other memorabilia hanging on the walls - unassuming, friendly, and a fine spot to stop by for a drink or catch up on conversation with friends.
Entertainment consists of a couple of arcade games, a jukebox, and lots of flat screens showing our local sports teams. No real food is served - just munchies. Although you can get Guinness on tap, most L Street regulars stick with Sam Adams.
L Street Tavern: 195 L Street, South Boston | Red Line: Andrew (about a 10-12 minute walk from the station) | (617) 268-4335 | L Street's Facebook page
---
Ned Devine's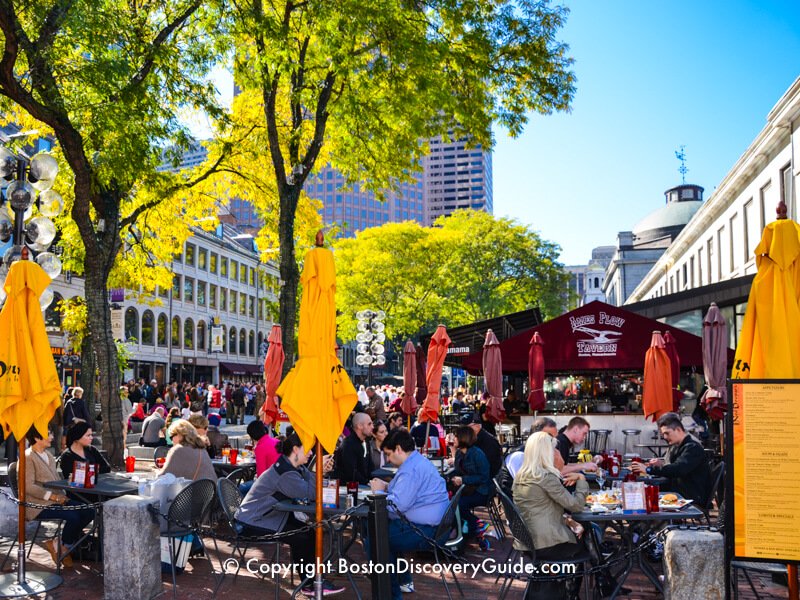 Ned Devine's Irish Pub, located in Faneuil Markeplace has two distinct personalities - by day, it's a convivial Irish-themed spot to enjoy better than average bar food with your Guinness, Bailey's, or Jameson, and by night a large and rousing dance club with a live band on at least one of its floors.
Go during the day to experience the Irish flavor. Sit outside when the weather is good, inside at the first-floor bar to enjoy the dark but cozy ambiance and perhaps watch Irish sports on the big screens, or head upstairs if you prefer to focus on food and conversation. Order the award-winning New England clam chowder, considered by many to be the best in Boston.
Ned Devine's: Faneuil Marketplace | Blue & Green Lines: Government Center; Blue Line: Aquarium | Ned Devine's website
---
Flann O'Brien's Pub
Named after one of the favorite pseudonyms of a major Irish novelist/playwright/satirist whose reputation has grown since his death in 1966, Flann O'Brien's Pub is an unpretentious neighborhood sports bar in the Mission Hill area that draws a mix of locals, college students, and staff from nearby Brigham & Women's Hospital who come to enjoy the nonstop games playing on the televisions, karaoke and trivia nights, and Guinness. There's always a warm welcome, plus a pool table in the back.
Vintage Irish brew posters and signs give Flann's a lot of atmosphere, and the pub food is good, especially the full Irish Breakfast available on weekends.
Flann O'Briens' Pub: 1619 Tremont Street, Mission Hill neighborhood | Green Line: Brigham Circle | 617-268-4335 | flanns.com
---
Lansdowne Pub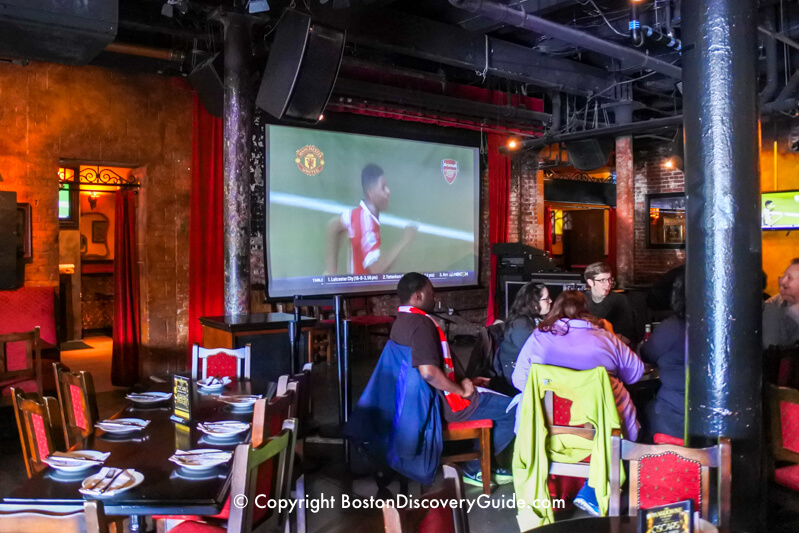 With live (non-Irish) music almost every night, Fenway Park down the street, and plenty of food events such as $1 oyster specials, Lansdowne Pub combines Irish flair and plenty of craic with numerous big screens, trivia nights, and karaoke. But quite honestly, if you're part of the huge crowds that pack the Lansdowne when so much fun is going on, you probably won't notice or care the Irish side of the equation.
To truly appreciate the Lansdowne's Irish pub ambiance, you need to stop by on a weekend around noon for brunch when fans of Irish football, rugby, and hurling gather in small groups around the big screen and dig into the huge steaming plates filled with Irish Breakfasts, prime rib hash, and other hearty breakfast specialties. Order some extra Irish bacon on the side and a mug of Irish coffee, and the rest of your day will seem very good indeed.
Lansdowne Pub: 9 Lansdowne Street, Fenway neighborhood | Green Line: Kenmore | 617-247-1222 | lansdownepubboston.com
---
R.I.P.
Lir Irish Pub - Closed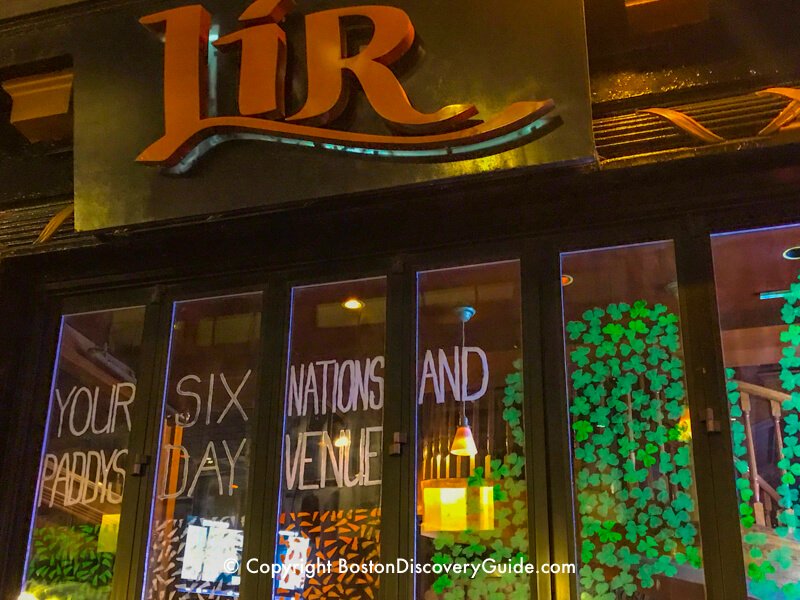 Lir is an Irish sports bar in Back Bay. You'll find a few Irish specialties on the menu to pair with the Guinness, Harp, and Magners - but the real reason to come is to watch international games on the HDTVs, especially if you're an Arsenal or 6 Nations rugby fan, or (inexplicably, since this is New England Patriots territory) a Seattle Seahawks supporter. Check the weekly games schedule on Lir's website for dates and times.
Lir is also the start and end point for Boston's annual Santa Speedo Run fundraiser, and if you've ever been warmed by the sight of scantily-clad Santas racing down Newbury Street on a frigid early December Saturday morning, you'll thank them for their support.
Lir: 903 Boylston Street, Back Bay neighborhood | Green Line: Hynes | 617-778-0089 | lirbonboylston.com
---
O'Leary's Irish Pub & Restaurant - Closed
Our recommendations for Irish pubs in Boston conclude with O'Leary's, an unpretentious place located in Brookline just over the border from Boston and within walking distance from Fenway Park but beyond the crazed pre-gaming and post-game celebration zone closer to the ballpark.
O'Leary's is a quiet but inviting neighborhood spot, attracting mostly locals. In many ways, it's the quintessential Boston Irish bar - appealing with lots of dark woods and vintage lights, good pub food and well-poured Guinness, and a friendly vibe. A low rail separates the bar from the dining area, and musicians occupy a small space near the front on weekends. You'll usually see owners Gráinne and Aengus behind the bar, giving an Irish-accented greeting to everyone who enters.
The few Irish dishes on the pub fare menu are nicely executed. Try the delicious Guinness beef stew, perfectly fresh fish and chips, and shepherd's pie, with Irish coffee to end your meal. Most of all, enjoy the hospitality.
O'Leary's Pub: 1010 Beacon Street, Brookline | Green Line/C: St Mary's | 617-247-1222 | O'Leary's Facebook page
---
Fun Ways to Experience Boston's Pub Culture
---
Hear Some Boston-Irish Music
Boston-based Irish band Devri plays sessions at several local pubs. This traditional jig gives you a flavor of what you might hear:
---
More Irish Pubs in Boston & Nearby Areas
Here's a baker's dozen more Boston Irish bars for you to visit:
Murphy's Law - 837 Summer Street, South Boston - A small unpretentious Southie bar with darts and music veering (proudly) into dive bar territory, also seen in Good Will Hunting and Gone Baby Gone; cash only
The Thirsty Scholar - 70 Beacon Street, Somerville - Convivial ambiance and Irish-American fare such as shepherd's pie and fish and chips and Guinness plus Irish breakfast on Sundays near Inman Square, Cambridge; craft beer from around the country, with shelves of books and old magazines from browsing; popular with Harvard students and faculty
Bull McCabes - 336 Somerville Ave, Union Square, Somerville - Small unpretentious (but wildly popular) neighborhood bar renowned for its freshly made food and outstanding live music almost every night except Monday
Olde Magoun's Saloon - 518 Medford Street, Somerville - Irish in spirit but the sports are American - watch all the local pro and college teams here while enjoying the local and imported craft beer and ales; food is good, with outstanding fish and chips on Fridays
Brendan Behan Pub - 378 Centre Street, Jamaica Plain - Divey vibe with Guinness, other beers on draft, live music including occasional Irish sessions, but no food (bring your own); cash only
Irish Village - 224 Market Street, Brighton - A favorite of Irish ex-pats who gather for Guinness, darts, and craic
Matt Murphy's - 14 Harvard Street, Brookline Village neighborhood - Bright and modern (just like a modern Dublin bar), with terrific Irish food including fish and chips wrapped in newspaper; cash only
The Plough and Stars - 912 Massachusetts Avenue - Small pub with live (non-Irish) music every night, Irish Breakfast on the weekends, and a variety of beers on tap; famous locally for a variety of past literary connections
McGann's Irish Pub - 197 Portland Street, West End close to TD Garden - Origins in Doolin Ireland, Manchester United and Six Nations games on the screens, Guinness on tap and Magners and Smithwick's in bottles, and a Full Irish Breakfast on the weekend brunch menu, there's a lot to love here - but to fully appreciate it, come at a time when you can avoid the pre- and post-game and concert crowds from the Garden
Tavern at the End of the World - 108 Cambridge Street, Charlestown (on the Somerville line) - Irish pub on the Somerville line - live music plus traditional Irish sessions every Saturday from 5pm-8pm and Six Nations on the screens; weekend brunch
Corrib Pub & Restaurant - 396 Market Street, Brighton Center - Friendly ambiance in Brighton's oldest pub - enjoy the Irish mixed grill or the bangers & mash in the adjacent restaurant, or knock back a Guinness or Smithwick's at the bar. There's also a second fairly similar Corrib Pub & Restaurant at 2030 Centre Street in West Roxbury
Shenannigan's Bar & Grill - 332 West Broadway, South Boston - The upscale food somewhat overshadows the Irish pub vibe, but at its heart, Irish hospitality rules
The Banshee - 934 Dorchester Ave, Dorchester - With 2 floors and 10 screens, this is the place to watch non-stop European soccer, rugby, and Irish football; good food, too
The Field Pub - CLOSED - 20 Prospect Street, Central Square, Cambridge - Small neighborhood bar with Guinness, pub food, darts in the side room, and lots of Irish ex-pats - what makes is special is the small patio in back, a rarity in Cambridge; cash only
Doyle's Cafe - CLOSED - 3484 Washington Street, Jamaica Plain - Family-owned old-timey corner bar with wooden floors, pew-like booths, and walls covered with Depression-era murals depicting Massachusetts history and countless other posters, memorabilia, and even a patched up bullet hole from a thwarted 1964 robbery (Billy Doyle shot the would-be robber four times)
---
More Articles about Celebrating St Patrick's Day in Boston
---