Boston's Irish Pubs: Guide to the City's Best
Where to Find Guinness, Irish Food, & Irish Music in Boston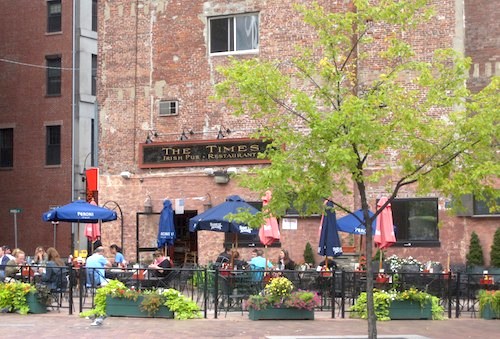 The Times (112 Broad St), Boston Irish pub in the Financial District overlooking the Greenway
Boston's Irish pubs attract large crowds as part of the city's lively nightlife scene - but many also feature tasty Irish food, plenty of Guinness, and rousing Irish music.
And of course, they all offer warm Irish hospitality. Look for special festivities on St. Patrick's Day, and perhaps Irish football on the big screens at those that double as sports bars.
With names like the Kinsale and the Black Rose, these Irish pubs sound like they could be in Dublin or Galway.
They're not, of course - but they combine touches of Irish culture with local tradition in a blend that's fun, unique, and quintessentially Boston.
Reportedly, the Boston/Cambridge/Somerville area boasts over 100 Irish pubs, including many in South Boston and Allston. This is not surprising, considering that Boston is the most Irish city in the U.S., wth over 20% of the Boston population claiming at least some Irish ancestry.
Here's a selection of some of the best Irish pubs in Boston and Cambridge where you can have a great time, get a flavor of the "real" Boston, and perhaps, even for a moment, feel transported to the Emerald Isle. I've organized them by neighborhood:
If visits to our Irish pubs will be a frequent event during your stay in the city, you may want to make reservations in a hotel near where you expect to be at Last Call. Check out hotels near Boston's Irish pubs for the ultimate convenience.
Irish pubs near Faneuil Marketplace / Downtown Boston
Ned Devine's Irish Pub
For outdoor seating on a sunny summer day, Ned Devine's Irish Pub has a perfect location in Quincy Market/Faneuil Hall Marketplace. Lots of visitors find it as they explore nearby Boston attractions such as the Freedom Trail.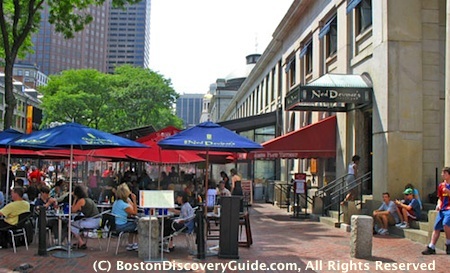 Inside on the main floor, polished wood paneling imported from Ireland, brass fixtures, and cozy seating evoke the Old Country. But upstairs, you'll find the Parris Lounge, a popular Boston nightlife destination with music and big screens.
Menu choices give a nod to Ireland with the shepherd's pie, but mostly you'll find Boston pub food favorites - paninis, fish and chips, lobster mac 'n cheese, and of course, clam chowder.
Directions to Ned Devine's: Quincy Market Building in the Faneuil Hall Marketplace; 617-248-9900


The Black Rose
Winner of many "Best Irish Boston pub" contests, the Black Rose gets raves for hosting top Irish musicians.
If you stopped by on the right night in the past, and you'd have heard U2, the Chieftains, flutist James Galway, the Clancy Brothers, Tommy Makim, and other famed Irish musicians. Stop by on the right night in the future, and who knows what up-and-coming star you'll hear?
Black Rose serves up outstanding food, partly because Irish products enhance the flavors. For example, lettuce wedge salad features Irish Cashel blue cheese in the dressing. Irish cheddar tops the onion soup, while Irish stout and whiskey butter also make menu appearances.
You'll find the Black Rose right around the corner from Faneuil Hall Marketplace.
Directions for the Black Rose: 180 State Street, Financial District, Downtown Boston; Blue Line/Aquarium; 617-742-2286; website

Mr. Dooley's Boston Tavern
The warm and welcoming bartenders at Mr. Dooley's Boston Tavern have made it one of the favorites among the Irish-themed Boston bars. Irish music on Friday, Saturday, and Sunday evenings add to the convivial spirits and mellow environment.
You'll also love the food, which is part of what makes this a true Boston Irish pub. Try the Irish sausages, either from the appetizer section of the menu, or as part of the Irish mixed grill on the dinner menu. The Irish beef stew and shepherd's pie are also great choices.
Direction to Mr. Dooley's Boston Tavern: 77 Broad Street, Financial District, Boston; Blue and Orange Lines/State; 617-338-5656; website


Green Dragon
Also one of the most historic Boston taverns - but ownership by the Somers family, who started and own other Boston Irish pubs, has imbued the Green Dragon with a pleasant Irish air in recent years. Great place for conversation and a quiet meal at midday or in the afternoon, and then much livelier in the evenings with live music and spillover from the Faneuil Marketplace nightlife scene. More about the Green Dragon
Littlest Bar
Now in a new Downtown location near Suffolk University and Downtown Crossing, the Littlest Bar is still small, but larger than it was.
47 Province Street; 617-523-9766
Hennessy's of Boston WRITE UP
25 Union Street, Faneuil Hall Marketplace, Downtown; 617-742-2121
Paddy O's
33 Union Street, Downtown Boston, 617-367-2114
Purple Shamrock
1 Union Street near Faneuil Hall, Downtown, 617-227-2060
Boston Irish pubs near Fenway Park / Kenmore Square
Lansdowne Pub
Come to this Irish-inspired pub down the street from Fenway for the tasty pub food and Irish fare, a cozy interior (despite its fairly large size) with lots of nooks and crannies, plenty of cold beer on tap, and sports-viewing events centered around the massive HD screen. Add to this mix the live bands (small cover) on Thursdays, Fridays, and Saturdays, dancing, karaoke, and open mic, and you'll begin to see why the Lansdowne Pub attracts lots of fans.
If you're looking for a relaxing drink and quiet conversation, come mid-afternoon. Better yet, come for brunch on weekend mornings and sample the Irish breakfast specialties.
Nights and weekends draw big crowds. With celebrations around special events such as Super Bowl Sunday, St. Patrick's Day, Red Sox home games, and the Boston Marathon, there's always a lot going on here and the Lansdowne gets packed - but at the end of the day, this pub really succeeds in its mission to combine Irish culture with Boston heritage.
9 Lansdowne Street, Fenway (across the street from Fenway Park) | Green Line/Kenmore | 617-247-1222 | www.lansdownepubboston.com

Boston Irish pubs near TD Garden / Government Center
The Kinsale
The Kinsale, located near TD Garden, Government Center, and Faneuil Hall Marketplace, hails from Ireland, where it started life as a genuine Irish pub before being shipped to Boston and reassembled.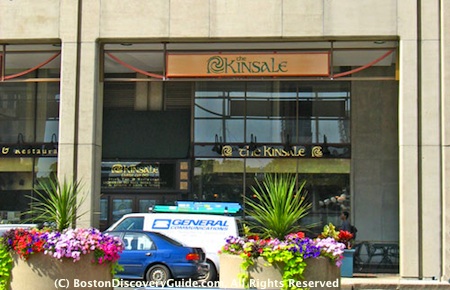 The Kinsale maintains a dual personality: by day, it fills up with workers from nearby government offices, businesses, and Mass General (MGH). But at night, crowds from nearby TD Garden spill in and it turns into a popular Boston nightlife spot fueled by live music, including some terrific Irish bands.
Even though the Kinsale is even larger inside than it looks on the outside, it still gets packed at night. It's also a popular site for bachelor and bachelorette parties as well as for large groups.
As for the food, head to the main menu for the most Irish-like choices - bangers and mash, a delicious Irish stout pie in puff pastry, and a mixed grill. Otherwise, you'll find regular Boston bar food: seafood, meat dishes, burgers, and sandwiches.
Although the Kinsale may not be the most authentic Boston Irish pub in the city despite its origins, you can still get a great lunch or dinner here with your favorite ale or stout. Saturday and Sunday brunch feature a full Irish breakfast.
2 Center Plaza on Cambridge Street, Government Center | Green and Blue Lines/Government Center | 617-742-5577 | website


The Harp
85 Causeway Street, West End; 617-742-1010
Hurricane O'Reilly's
150 Canal Street near TD Garden, West End; 617-722-0161
McGann's
Occasional Irish music, good food and drink, and plenty of big screens make this Irish pub near TD Garden a great place to hang out before, during, and after Boston Celtics and Bruins games.
197 Portland Street near TD Garden; West End; Green and Orange Lines/North Station; 617-227-4059
McGreevy's - Rock 'n Red Sox
Even if McGreevy's were "just" a Boston Irish pub, that would be enough to make it a great place to come.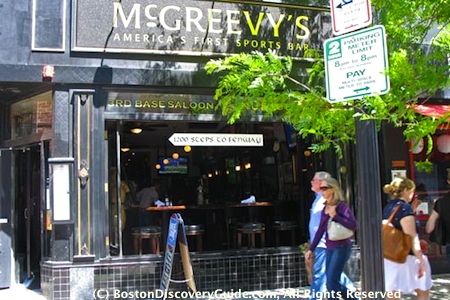 Co-owned by one of the Dropkick Murphys, a local Celtic punk rock band and huge Red Sox fan, McGreevy's is also a reincarnation of the bar when Red Sox Nation was born. Just steps (well, twelve hundred of them) away from Fenway Park, McGreevy's has enough genuine sports memorabilia and flat screens to also qualify it as a favorite Boston sports bar.

Lir
903 Boylston Street, Back Bay; 617-778-0089
J. J. Foley's Cafe
J. J. Foley's is the South End's contribution to the Boston Irish pub scene . . . and since this family-owned and run establishment has been around for over a century, it's been contributing for a long time.
In fact, J. J. Foley's claim to fame is that it's the oldest family-owned bar in the country. Opened by former County Kerry native and now new American Jeremiah J. Foley in 1909, Foley's continues to be where you'll find his grandson or great-grandsons behind the bar every night.
Like most of Boston's other wonderful Irish pubs, J. J. Foley's takes pride in its good food and good drink including, of course, a lot of Guinness. If you stop by on Sunday afternoons between 4pm - 7pm, you can enjoy live Irish music.
117 East Berkeley Street, South End | 617-728-9101 | website
The Squealing Pig
The Squealing Pig in Mission Hill is the real thing . . . owned and run by 2 Irish nationals, now local, the Pig exudes Celtic charm, excellent food, and plenty of charming Irish accents.
Located just across Huntington Ave from the Longwood Medical area of Fenway, the Pig attracts a diverse crowd to its small space, dominated by a 50 foot bar serving over 100 different beers.
Live music several nights each week add to the charm.
134 Smith Street, Mission Hill | Green Line/Brigham Circle | 617-566-6651 | website
Boston Irish pubs in South Boston ("Southie")
These South Boston Irish bars are the real thing . . . local pubs in Boston's most Irish neighborhood. You won't find much, if any, fancy decor or other outward signs of "Irishness" at some of these places - but you will get a sense of the warm hospitality of Boston's tight-knit Irish community.
Most of them are also on the route of the St Patrick's Day Parade through South Boston. If you do stop by on the day of the parade, be prepared for the crush of the enormous crowds.
Whitey's
268 W Broadway, South Boston; 617-464-4869
Shenannigan's Bar and Grill
332 W Broadway, South Boston; 617-269-9509
The Playwright
Good food, live music at times, nice neighborhood spot.
658 E Broadway, South Boston; 617-269-2537
Black Thorn Bar
471 W Broadway, South Boston; 617-269-5510
Neighborhood bar, where lots of the staff are from Ireland. Enjoy the outdoor "beer garden" during warmer weather.
L Street Tavern
Not on the St Patrick's Day parade route - but famous as the neighborhood spot featured in several scenes in "Good Will Hunting"
658 East 8th Street, South Boston; 617-268-4335
Irish Pubs in Cambridge
The Druid
With Irish Breakfast on the menu for Sunday brunch, trad sessions on Saturday afternoons and Tuesday nights, and plenty of perfectly poured Guinness and Irish Seafood Stew on the menu all the time, you'll almost think you're in Ireland.
Unlike many other Boston Irish pubs that double as sports bars, The Druid focuses on being a real Irish Bar. So no big screens on display - just great brew and food, great music and entertainment, and a great place to socialize with friends.
Red Line/Central Square | 1257 Cambridge Street | 617-497-0965 | www.druidpub.com
Asgard Irish Pub and Restaurant
350 Massachusetts Avenue; 617-577-9100
Grafton Street
The decor and ambiance will almost make you think that you're in a pub in Dublin's Grafton Street. You'll also find some of the best food in Harvard Square, as well as plenty of good things to drink.
1274 Massachusetts Avenue, Harvard Square; 617-867-9090
The Plough and Stars
912 Massachusetts Avenue, Central Square; 617-492-9653
Toad
1920 Mass Ave, 617-497-4950; known for its fine music every night; no cover

Irish Pubs in Somerville
The Burren
Live traditional Irish music 7 days a week. Started in 1996 by 2 young Irish musicians who wanted to have a place to play where friends could gather to listen while enjoying a drink and some great food. Saturday and Sunday brunch served starting at 10am. One of the best places in the Boston area to hear trad sessions, especially around St Patrick's Day.
Take the T's Red Line to Davis Square.
247 Elm Street, Davis Square, Somerville; 617-776-6896
Thirsty Scholar Pub
Neighborhood bar not far from Harvard with an Irish vibe, pub food, and a jukebox. It's been here forever - but lately it's famous because Justin Timberlake and crew were here for 2 weeks filming the opening scene of "The Social Network." Slightly closer to the Harvard Square T stop than the Central Square stop on the Red LIne.
70 Beacon Street, near Inman Square in Cambridge; 617-497-2294


Boston Discovery Guide Home > Nightlife > Boston's Irish Pubs