Boston's huge St. Patrick's Day Parade, traditionally held each year on the Sunday closest to March 17, attracts up to a million or more spectators, depending on the weather. You can also watch a live broadcast of this big event on NECN.
In 2023, the parade takes place in South Boston on Sunday, March 19, starting at 1pm. This year, marchers will follow the traditional 3.5 mile long route. (A shorter route sometimes gets substituted if there's lots of snow on the ground.)
Boston's St Patrick's Day Parade dates back to March 17, 1737, when the city's Irish immigrants inaugurated the event as a way to show solidarity in their new home, honor their birthplace, and pay respect to the Patron Saint of Ireland.
As usual, you'll see crowds dressed in plenty of green along both sides of the South Boston parade route, and Irish cheer will be plentiful, thanks in part of all the Boston Irish bars and pubs nearby.
Spectators normally stand 12-deep in some areas, especially around the Broadway T station - so arrive early and walk down Broadway to a less-crowded spot if possible.
In addition to Saint Patrick's Day, the parade also celebrates Evacuation Day (an official Boston holiday) in honor of the ousting of British troops from the city on March 17, 1776. As a tribute this historic event, the parade also honors our military services and veterans.
The parade features an interesting mix of bagpipes, brass marching bands, elaborate floats, military units, dancers, historic Minutemen companies, politicians, entertainers, individual marchers, societies, and other organizations. This first part of the parade is organnized by the South Boston Allied Veterans Council.
During previous years, a Peace Parade sponsored by Veterans for Peace follows the Saint Patrick's Day Parade. That does not appear to be happening this year.
Check details about the date and time for the parade (and any last-minute weather-related route changes) on the March Events Calendar for Boston.
Learn about other St Patricks Day events in Boston
Find out where to stay near the parade
Boston Discovery Guide is a reader-supported publication. When you buy through our links, we may earn a commission at no additional cost for you. Learn more
---
St Patrick's Day Parade Route, Boston 2023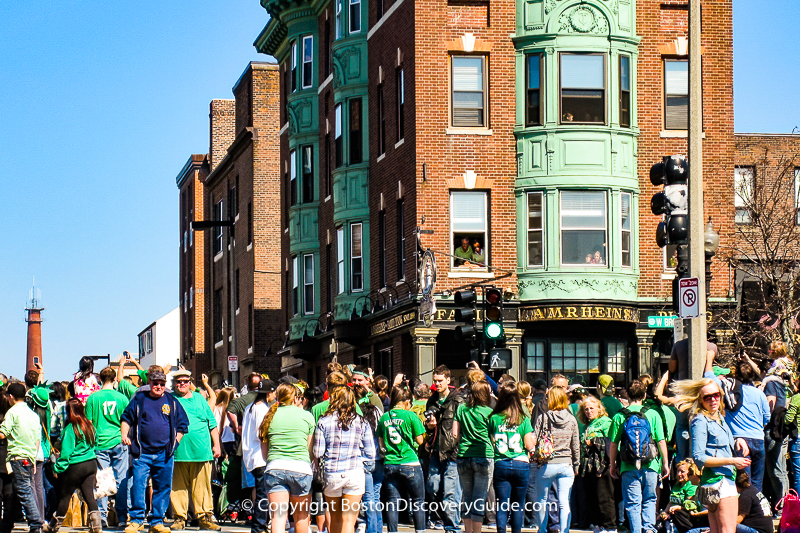 The route for the 2023 St. Patrick's Day Parade begins at the Broadway T station (Red Line).
The parade marches along West Broadway around Perkins Square, where the route shifts a bit to the left and continues down East Broadway.
Marchers pass the South Boston Vietnam Memorial and Medal of Honor Park on the left, and finally reach P Street, where they can see the blue expanse of Pleasure Bay a short block and a half away, with Castle Island across the water - a beautiful sight when the sun is shining.
At P Street, the parade turns right, and goes one short block before making another right at East 4th Street - in other words, a U-turn of sorts back toward the city.
Marchers continue heading west on East 4th to K Street, where they turn left at K Street, walk two blocks, and then go right on E. 6th Street until they reach G Street at Thomas Park, where Excel High School and the Dorchester Heights Monument are located.
The parade then circles back around historic Dorchester Heights on Telegraph Street, makes a soft left onto Dorchester Street, and heads west to Andrew Square (Red Line/Andrew T stop), where it ends.
---
St Patrick's Day Parade Route Map
This map shows the typical St. Patricks Day parade route.
---
Best Places to Watch the St Patrick's Day Parade - Plus Another 6 Important Survival Tips!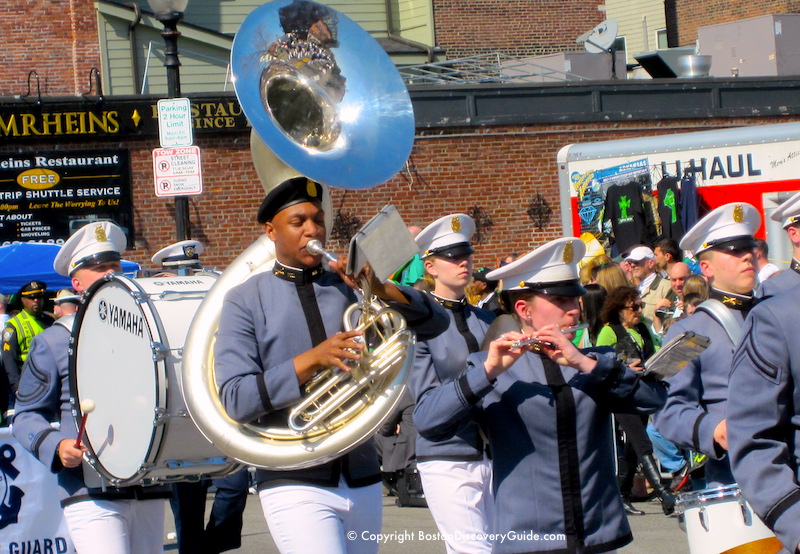 Boston's St. Patrick's Day Parade is much more than just a commemoration of an occasion to toast the Emerald Isle with green beer. It recognizes the contributions of Irish Americans to past and present day Boston, and celebrates the city's Irish heritage.
But most important, the parade is fun, and it draws enormous crowds - it's the 2nd largest parade in the U.S.
Here are 7 Important St Patrick's Day Survival Tips for having the best time while watching the parade:
1) Pick your viewing location carefully. The parade route covers over 3 miles, from the start point at the Broadway T (subway) station and the end at the Andrew T station. The biggest crowds gather around Broadway and Andrew Stations, so avoid these locations if you're at all claustraphobic or harbor secret fears about being crushed to death. Pro tip: If you watch from the less-crowded Farragut Road area, you can head over to Pleasant Bay Beach and Castle Island as soon as the parade passes by (assuming the weather is good enough to make being near the water appealing).
2) Stake out your viewing spot early. You're competing with up to one million other spectators curbside space. With a 3.5-mile route, that's still an average of almost 300,000 tightly packed people per mile.
Essentials: St Patrick's Day Parade
Getting there: Red Line/Broadway, to be on the parade route along West Broadway; Red Line/Andrew, if you want to avoid some of the biggest crowds - walk up Dorchester Street to East Broadway (about .6 mile)
Eat & drink: South Boston is known for its Irish pubs and restaurants, so you'll find plenty of spots along or near the route. Try: Shenannigans (332 West Broadway), Lincoln Tavern (425 W. Broadway), The Paramount (667 East Broadway); keep in mind that most places will be packed before, during, and after the parade
Stay near the parade: Hotels convenient for the St Patrick's Day Parade
Parade dress code: Wear green
---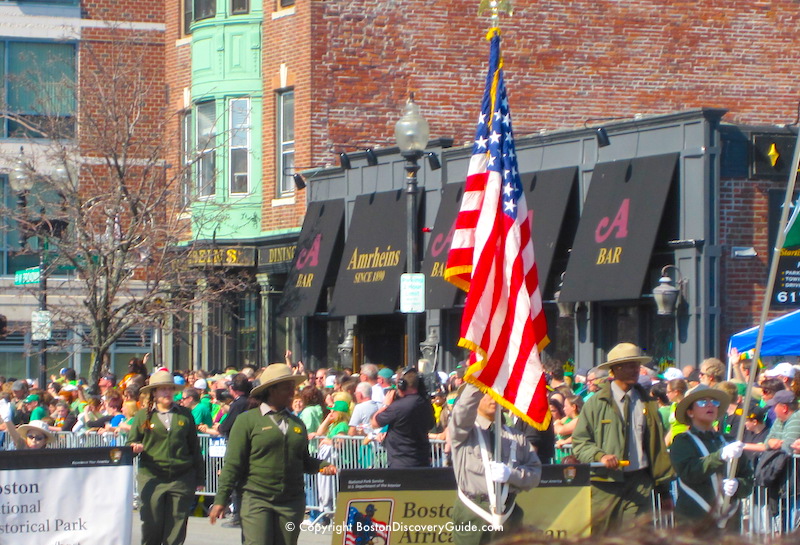 3) Do not drive. South Boston parking always is challenging because most available spaces are "Resident Only," and there aren't even enough of those for all the residents. Many streets will be closed to cars, while parking won't be allowed along others due to both the parade and the 5K road race earlier in the day. Even where cars are allowed, the police give pedestrians the right of way - so you'll be unable to move most of the time. Plan to take public transportation or walk.
4) Expect enormous crowds on the T, especially between about 12 noon and 1pm, when the parade starts. Actually, "enormous" is an understatement . . .
I was running late...didn't board the T's Red Line at Park Station on Boston Common to head to the St Patrick's Day Parade until 12:15pm - NOT a good idea!
Thousands of people already packed the train, but more and more people continued to squeeze inside the doors.
We joked about being unable to breathe - finally appointed a couple of big guys to block the doors...but still, at several moments, death by crushing seemed like a possibility.
Lesson Learned: Even when you're not much more than a mile away, plan to arrive early!
~ Susan, Publisher of Boston Discovery Guide
---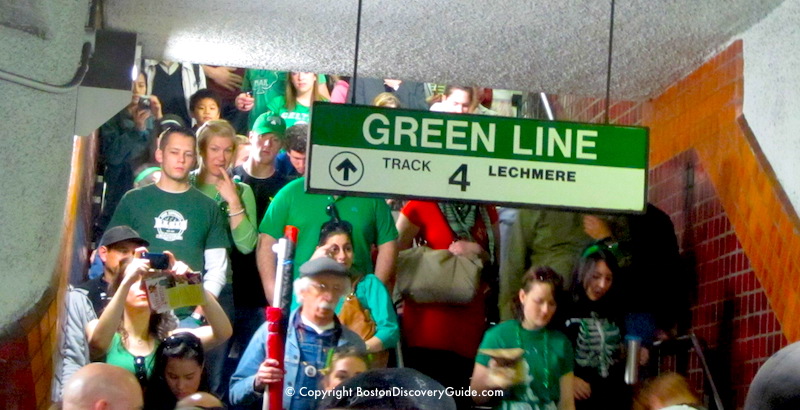 5) Plan your departure in advance if you take public transportation. Broadway Station will be closed after a certain time for departures, and bus service to both stations will also be disrupted. If you come by T and stay near Broadway to watch the parade, you'll need to walk to either South Station (about 1.2 miles) or Andrew Station (even farther) - so think about where you position yourself. More about the T (Boston's subway)
6) Don't plan to drink in public. In response to rowdy crowds, bar brawls, and street fights in past years, the Boston police keep a very close watch on the crowds, and in fact do an amazing job of keeping everything mellow and friendly.
7) Wear sunscreen and bring plenty of drinking water, especially if the temperature ever soars near 80 degrees, as it did when the photos on this page were taken. Who knew you can sunburn in March in Boston? During more typical March weather, dress warmly and bring gloves and a hat as you'll be standing outside for long periods of time.
---
What to Expect at the St Patrick's Day Parade
The huge St Patrick's Day Parade is the Boston's biggest parade of the year.
At least a hundred groups and many thousands of marchers participate as the parade winds its way around South Boston, where Irish immigrants first settled in the early 1800s and still home to a large Irish-American community.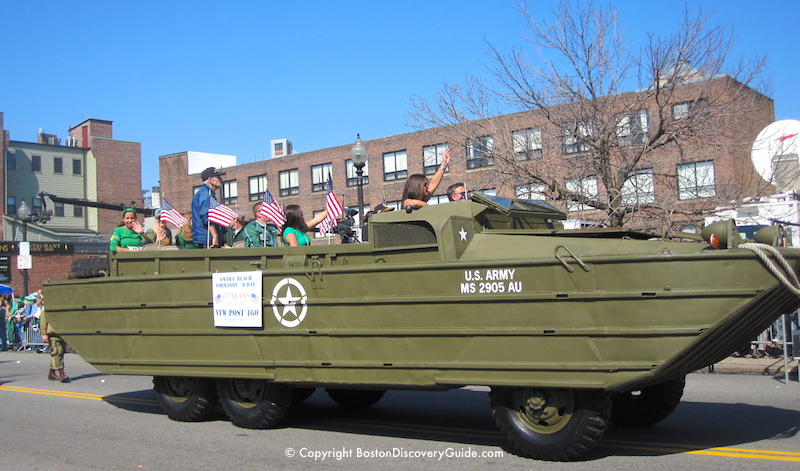 Up to 1 million people line up to watch the colorful floats, Irish and American pipe and drum bands, and marchers representing a wide range of Irish-American groups. You may spot most Boston-Irish politicians among the crowds, if not actually marching.
The parade has been a big Boston event every year since 1901 - except for 1993, when it had to be cancelled after a blizzard closed down the city, and in 2020 and 2021 when the Covid pandemic made large gatherings a health hazard.
The South Boston Allied War Veterans Council organizes the parade. If you'd like to volunteer or contribute to the parade as a sponsor, check their website for more information.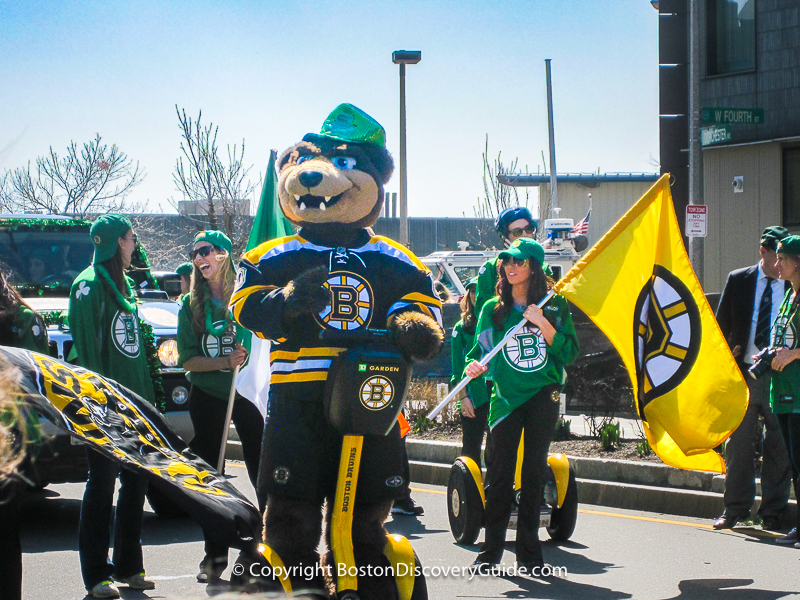 ---
John Boyle O'Reilly Society of Ireland Float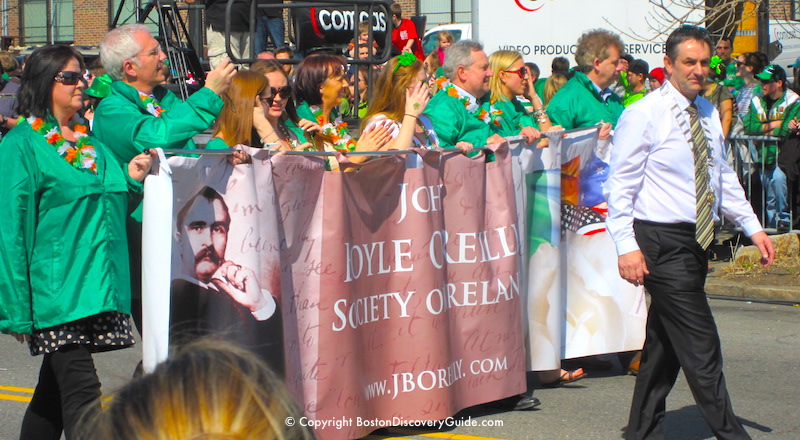 Although the parade includes a diverse group of marchers, one of the most unusual is the John Boyle O'Reilly Society of Ireland, devoted to keeping alive the memories of this 19th century Irish patriot, poet, and Boston journalist.
As a young apprentice printer in Ireland, O'Reilley distributed political pamphlets protesting British rule in Ireland, escaped imprisonment in Australia by gaining passage on a Yankee whaling ship, and ended up running the Boston Pilot, now known as the Boston Globe.
At the Globe, O'Reilly repeatedly denounced discrimination and promoted the civil rights of the Irish, Jews, Native Americans, and Blacks.
Irish-American and Boston native son President John F. Kennedy quoted lines from a poem by John Boyle O'Reilly in 1963:
The world is large, when its weary leagues two loving hearts divide;
But the world is small, when your enemy is loose on the other side.
---
More Fun Things to Do in Boston on St Patrick's Day
---
More about the Parade: Bagpipes & Brass
A wide variety of traditional Celtic music, marching brass bands, and Colonial-stye fife and drum units provide lively music throughout the parade.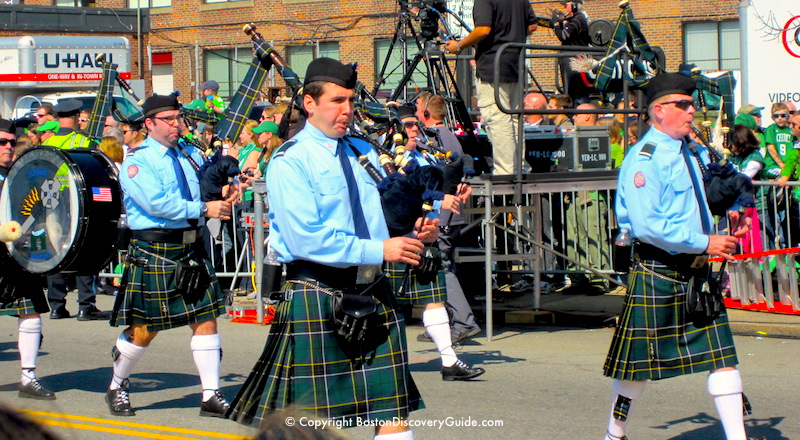 You'll hear the haunting music of bagpipes throughout the afternoon, as the parade typically includes several bagpipe bands such as this one.
Colonial fife and drum bands celebrate Boston's revolutionary spirit.
And lots of brass bands keep up a lively pace all afternoon.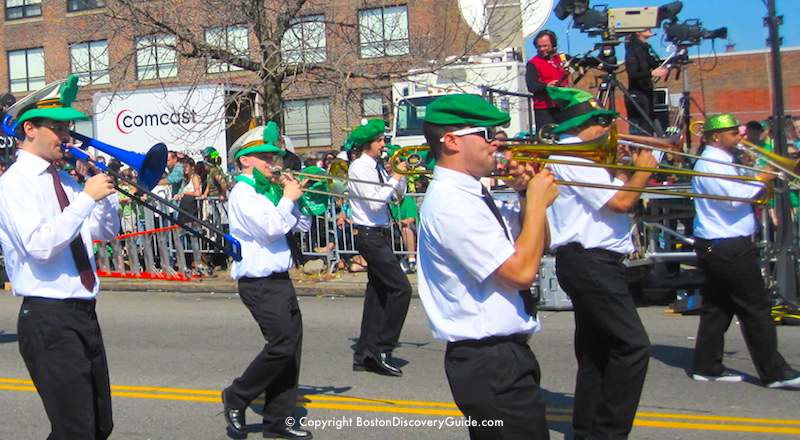 Come experience the St Patrick's Day Parade for yourself - along with the Boston Marathon in April, it's one of the traditions that define our city!
---
Where to Eat near the St Patrick's Day Parade
Wondering where to eat before or after the parade?
Southie is filled with legendary bars (you've already seen a couple of them in movies) and restaurants - so stop for brunch or dinner near the parade route at these Southie favorites:
Lincoln Tavern & Restaurant (425 W Broadway) - Known for its amazing brunches and contemporary American classics - burgers, wood-fire pizzas, salads. amd fantastic goat cheese dip
Loco Taqueria & Oyster Bar (412 W Broadway) - Tacos, lots and lots of tequila, and a lavish raw bar
Publico Street Bistro & Garden (11 Dorchester Ave) - Start with Latin-style avocado toast, don't miss the lobster benedict, and share an Argentinian meat platter or seafood paella - so much to love here, including the gorgeous decor!
Moonshine 152 (152 Dorchester Ave) - Asian fusion meets Southern Cajun in jalapeno crab rangoons, chicken and waffles with sriracha-bourbon sauce, and Asian pear kimchi - addictively good. Open for dinner and weekend brunch
Amrheins (80 West Broadway) - This is the oldest restaurant and bar in Southie, and although it may not be the oldest bar in America, it does boast the oldest hand-carved bar in the country as well as the oldest working draught beer pump in Boston. But enough with the bragging - it also plenty of good brew (including Guinness) on tap and a menu loaded with comfort food
Worden Hall (22 W Broadway) - With over 100 whiskeys, you may never get to the food - but if you do, go for bourbon hoisin steamed pork buns and a soppressata and garlic sausage deep dish pie - oh, and a Guinness crème brulée.
Murphy's Law (837 Summer Street) - Everybody's favorite dive bar, with authentically cheap beer and darts - filming location for Gone Baby Gone. Just overlook the t-shirts for sale - it's really not a tourist trap
L Street Tavern (658A East 8th Street) - Despite some remodeling, you'll still recognize it from scenes in Good Will Hunting. Despite the movie, it's still basically a neighborhood dive bar, and draws a mostly local crowd
Touchie's Shamrock Pub (501 East 8th Street) - Cheap beer and basic food, non-stop sports on the TV, live entertainment at times - an authentic family-run neighborhood pub, where everyone will know your name after your second visit. No movies have been filmed here, so it still feels like an authentic Irish-American bar, mostly untouched by time
MJ O'Connors (425 Summer Street, at the Westin Waterfront) - Further from the parade route - gorgeous Irish-themed decor with lots of dark wood, a gigantic bar, atmospheric lighting - look for live music on some nights and hearty comfort food, including a very good lobster roll
Boston's Irish Pubs - More places to raise a glass of Guinness
---
What to Do After the St Patrick's Day Parade?
More suggestions for things to do after the St Patrick's Day parade:
---
More To See & Do in Boston - 2023
---
More Things to Do in Boston in March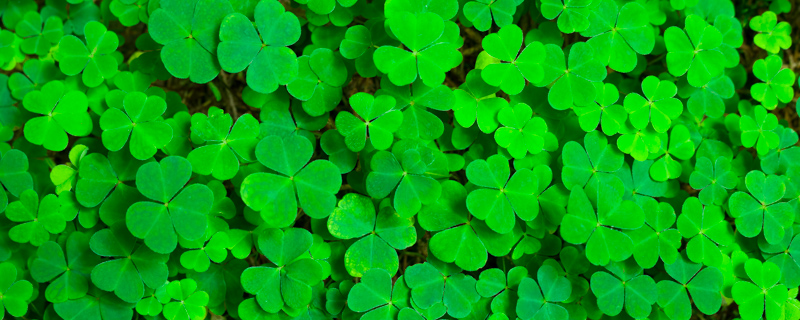 ---
More Articles about St Patrick's Day in Boston