Boston weather in March marks the transition between winter and spring - so get ready for a wild ride!
If you're visiting Boston this month, prepare for extremes - snow, ice, balmy almost-hot days, ripping high winds - and everything in between.
Obviously, if you're planning a trip to Boston in March, packing can pose some challenges. Your task will be much easier and you'll be happier once you're here if you plan to dress in layers.
Despite the weather - and sometimes because of it - March is actually a great time for your visit to Boston.
Boston hotels still offer reasonably low rates in March.
Plenty of indoor concerts, Bruins and Celtics games, and Theatre District shows provide ways to keep warm if the weather turns cold.
Skiing enthusiasts will find plenty of snow on slopes at nearby New England ski areas and resorts if Boston seems too balmy.
Lots of fun activities such as the St Patrick's Day Parade, Dine Out Boston, and the beginning of seasonal whale watching cruises give you hard-to-resist reasons to get outside and enjoy the March weather in Boston - whatever it happens to be!
Top photo: The edge of Boston Common along Tremont Street, with Park Street Church (Freedom Trail site) in the background
Boston Discovery Guide is a reader-supported publication. When you buy through our links, we may earn a commission at no additional cost for you. Learn more
---
March Weather in Boston - What to Expect
The key thing to remember about Boston weather in March is that you should expect extremes. Enjoy the beautiful days, but keep in mind that wind characterize March weather - and due to our coastal location, we can sometimes get a lot of it.
The other important thing to remember, especially if you encounter an unpleasant patch of March weather conditions, is that nothing lasts long this month. Snow, if we get it at all, usually melts quickly. Strong winds die down after a day or two.
We have noticeably more daylight hours than during the previous 3-4 months, and after Daylight Savings Time kicks in on the second Sunday in March, afternoons feel much long longer and brighter.
The photos on this page show you the range of what March in Boston looks like.
As you'll notice, a little snow on the ground does not keep people from going out and enjoying warm (relatively speaking) temperatures.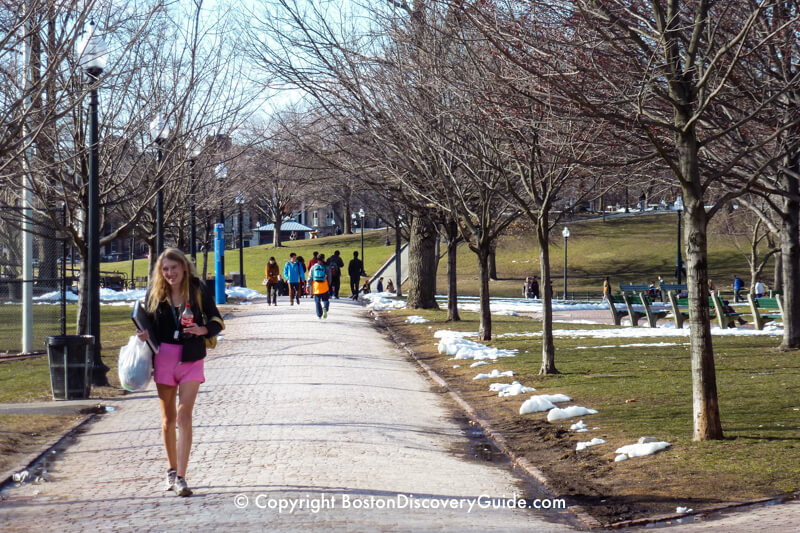 Throughout much of the year, Boston's leafy streets hide much of the beautiful architectural detail of the old and historic buildings.
By March, most leaves are still off the trees (except for oaks, which retain their brown leaves until late spring when new ones finally appear).
Take advantage of the lack of leaves to explore the magnificent architecture in several of Boston's oldest neighborhoods: Beacon Hill and Bay Village for Colonial-period buildings, and Back Bay and the South End where you can see block after block of magnificent Victorians.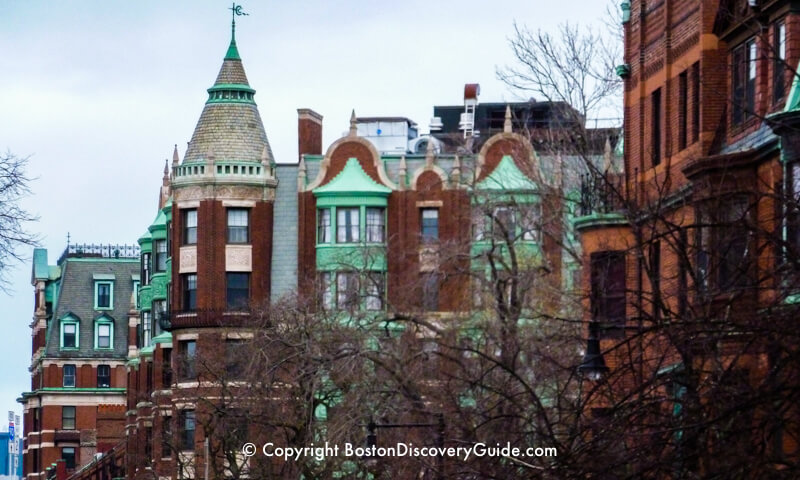 To see a few spring-like colors, head to the Public Garden where the golden branches of weeping willows around the Lagoon provide bright color.
During early March, it's still often a slushy mess after being frozen all winter, but once it is drained, cleaned, and refilled later in the month, you may begin to see a few resident mallards return.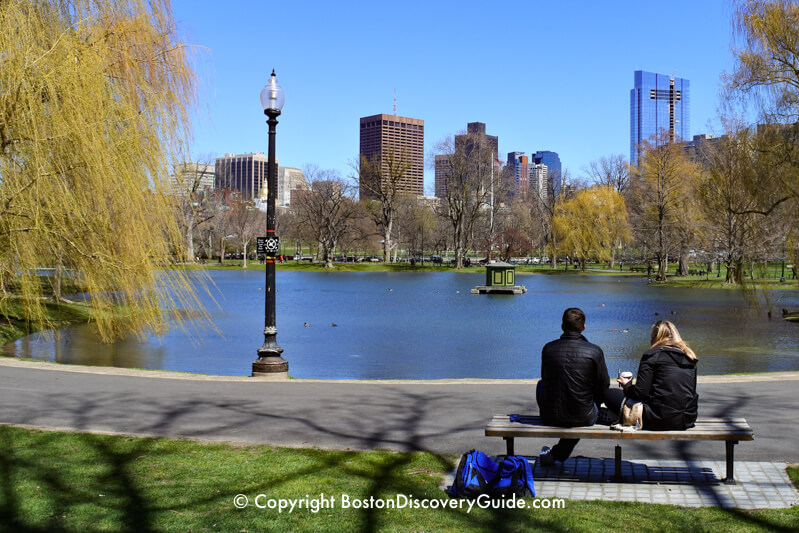 ---
March Temperatures and Conditions
March weather in Boston differs every year.
In general, though, you should expect a mix of chilly-to-cold weather, more wind than you'd prefer, some sunny days, and rain. March is actually our rainiest month - so count on having an umbrella handy.
Snow? Hard to predict - can range from lots to none.
If you're planning a Boston visit during March, take a look at average temperatures for the month - as well as the record highs and record lows:
Record high temperature for March: 89° F (1998)
Record low temperature for March: -8° F (1872)
Average March high temperature: 45° F
Average March low temperature: 31° F
Average precipitation for March: 4.3 inches

Be sure to check the current Boston weather report before coming.
What if the weather in Boston feels too warm to you? No problem - head north to New England ski vacation resorts to return to real winter!
---
In Case of Rain, Snow, or Cold Temperatures . . .
Tour Boston on a hop-on, hop-off trolley:
---
What to Pack for Boston in March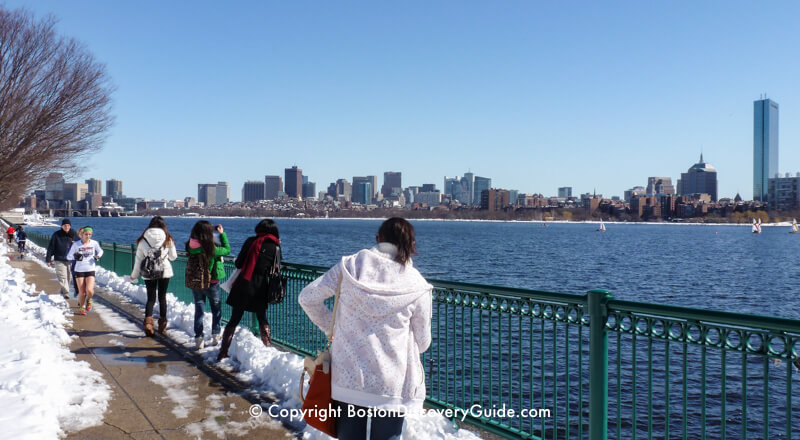 Boston weather in March means layers.
Fleece jackets with perhaps a sweater to layer underneath can keep you almost as warm as a regular jacket - and you can shed the layers you don't need if temperatures rise.
For women and men alike, a lightweight trench coat looks fashionable yet gives you protection against unpredictable March showers - or downpours.
Gloves, a scarf, and an umbrella are also good additions. As noted above: March is Boston's rainiest month.
Boston's compact size makes it a great walking city, and March weather may inspire you to spend a lot of time outdoors. Be sure to bring comfortable walking shoes. Boots are not really necessary.
Even if we have snow this month, it usually gets cleared out quickly and we're unlikely to have the multiple snow storms and frigid temperatures that make sidewalks slushy or icy earlier in the winter.
From a packing perspective, you should also take into account the possibility of a day or two of unusually warm weather - so bring a light weight t-shirt or top just in case.
Check our general suggestions about what to pack for your Boston trip to get more tips.
To find lots of selections along with discounted prices, head to Assembly Row - a 5 minute subway ride from Downtown Crossing.
---
5 Top Activities for Enjoying March Weather in Boston
1. Line up with other spectators along the street to watch Boston's famous St Patrick's Day Parade - If you're lucky, you can soak up some Vitamin D, but even if you have to bundle up, the high spirits will keep you warm.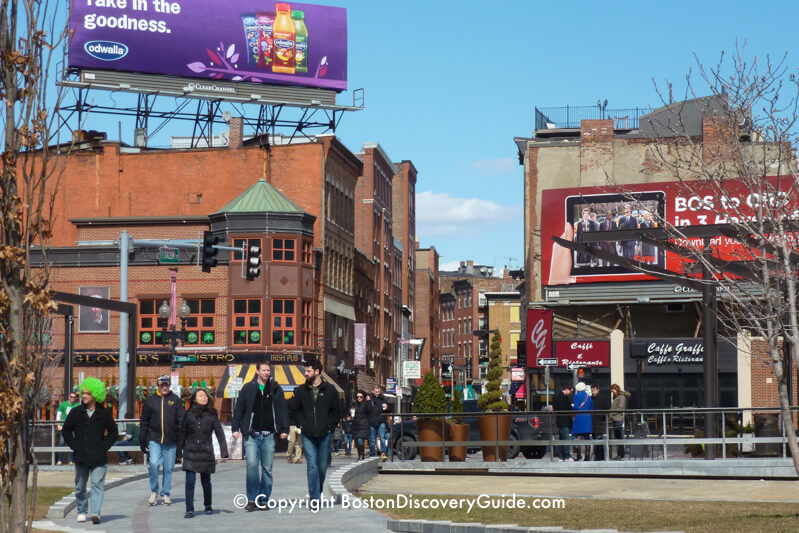 2. During the first week or two of March, you may still be able to ice skate at Frog Pond and other local rinks. Be aware that outdoor arenas sometimes close early if temperatures at night rise too high - so check before you go if the weather has been warm.
3. Get a glimpse of spring at the Isabella Stewart Gardner Museum's indoor gardens, where the lush foliage and early blooms will make you'll forget about the March weather outside.
4. Especially toward the end of March, go for a walk and admire Boston's earliest spring flowers.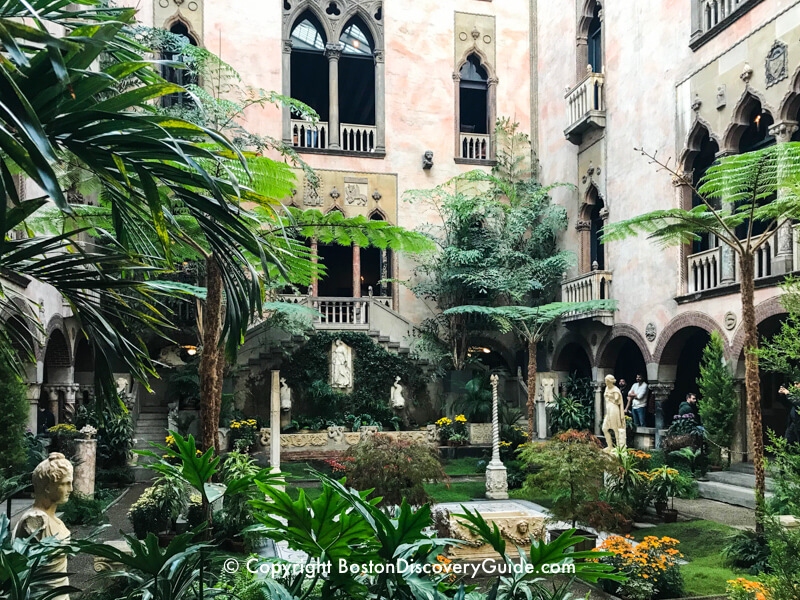 5. What to do if March weather turns nasty? Dine Out Boston provides the perfect excuse to enjoy a wonderful meal at an attractive discount in one of Boston's top restaurants. Ask for a window table so that you can look outside - and appreciate being inside.
Fun Boston Tours for March
---
More Scenes of March Weather in Boston
What does Boston look like during March?
You should expect to see a city in transition from winter to summer. The first hints of color are from leaf buds forming in shades of pale green and sometimes purple.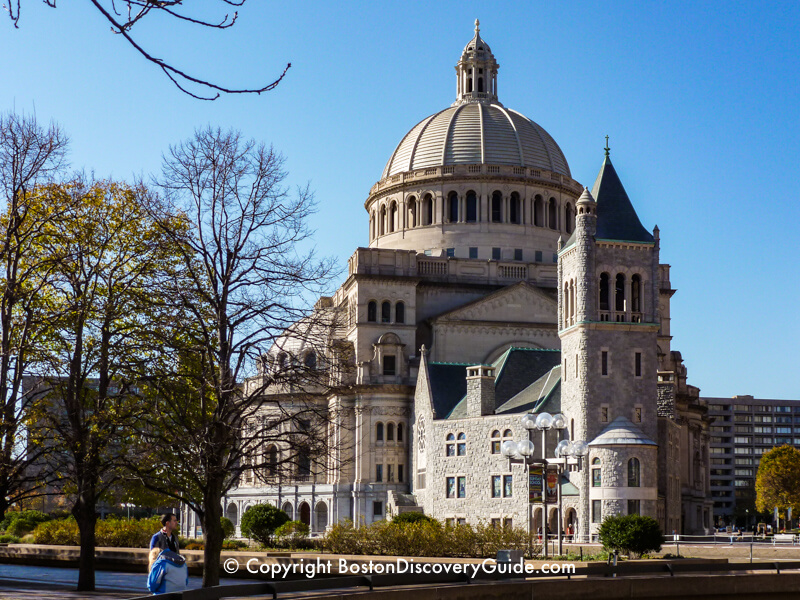 Despite the amount of rain that Boston gets during the month, many days are bright and sunny - perfect for walking around the city.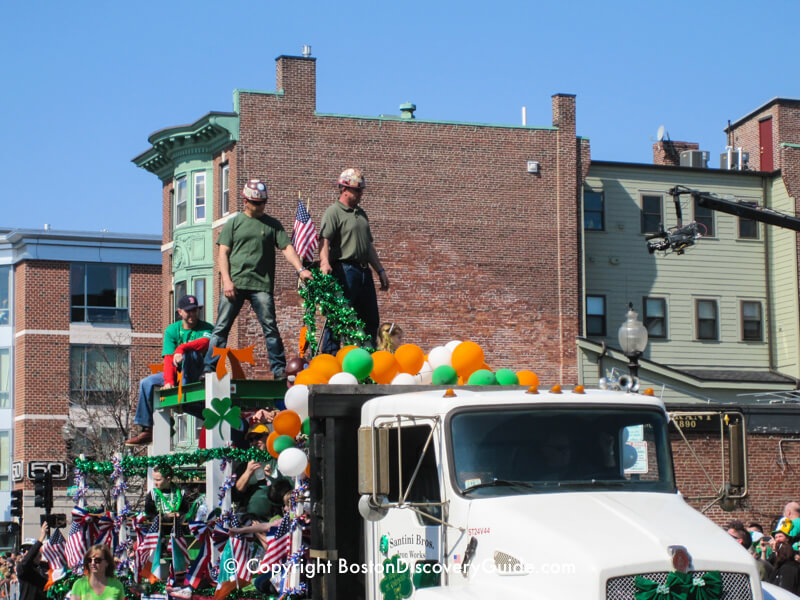 The hugely popular Saint Patrick's Day at the middle of the month contends with all kinds of weather conditions: torrential rain, unexpected heat, and occasionally streets so narrowed by massive snowbanks from earlier storms that the route gets shortened to half or less of its regular course.
---
More Things to Do in Boston in March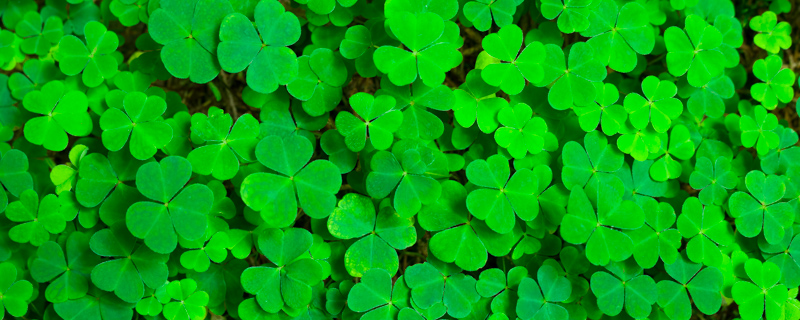 ---
More Articles about Boston in March
---
Need a Boston Hotel or Apartment?
Use this handy map from Booking.com to find the perfect place to stay. Just enter your dates to find what's available, see the best rates, and make your reservations.