Boston weather in January can be frigid and snowy - but not always. As we've seen during the past few years, the temperature can zoom as high as 50 degrees - almost balmy, especially if you're outdoors on an ice skating rink or ski slope.
Whether you choose outdoor sports or indoor pleasures such as a dazzling performance at Boston Opera House, an exciting Celtics or Bruins game at TD Garden, or one of the many concerts taking place every evening, you'll find plenty of exciting activities and attractions to keep you busy.
And if you're visiting from out of town, get ready to save big on your hotel, as hotel rates drop as fast as the temperature. January is when you'll find Boston's lowest hotel rates of the year! Even New Year's Eve/New Year's Day stays are a bargain - and rates during the rest of the month are even cheaper.
You do need to prepare for snow - because after all, January is Boston's snowiest as well as coldest month. But we'll tell you what to pack to keep you warm - it's easier than you might expect.
So embrace the January weather, and come enjoy everything Boston offers!
Top photo: Boston's Public Garden during an early January snowstorm - even the Make Way for Ducklings statues look cold! (c) Boston Discovery Guide
Boston Discovery Guide is a reader-supported publication. When you buy through our links, we may earn a commission at no additional cost for you. Learn more
---
January Weather in Boston - What to Expect
January weather in Boston typically means the lowest temperatures of the year, snow, and occasional sunny (although possibly frigid) days.
But not always. Some years bring very little snow, or enough warm days to melt whatever snow may have fallen. Sleet and ice storms are also possible, and thunderstorms are not unknown.
The good news: even the bleakest January days in Boston offer their own kind of beauty.
These photos show you a range of city views reflecting January Boston weather. You'll see conditions ranging from bare ground to a lot of snow in all of them.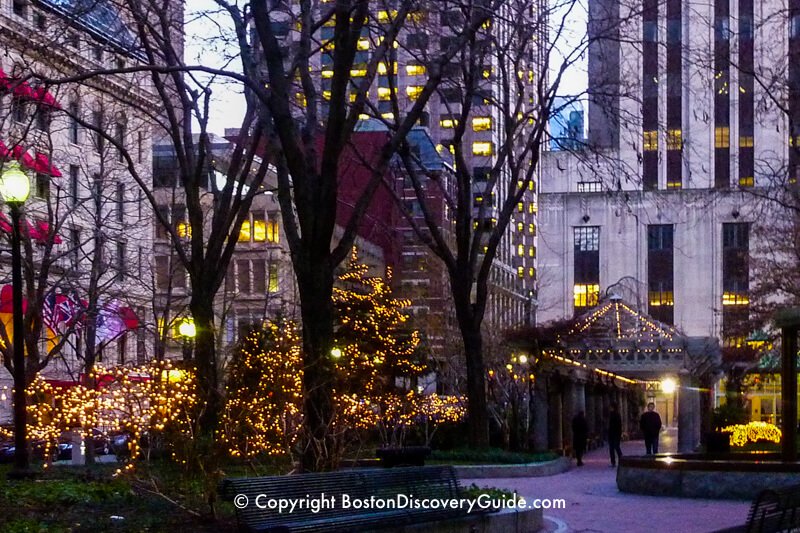 At least through the first half of the month, sparkling holiday lights will continue to be on display at a number of sites around the city.
Days are still short, so the lights are a festive touch.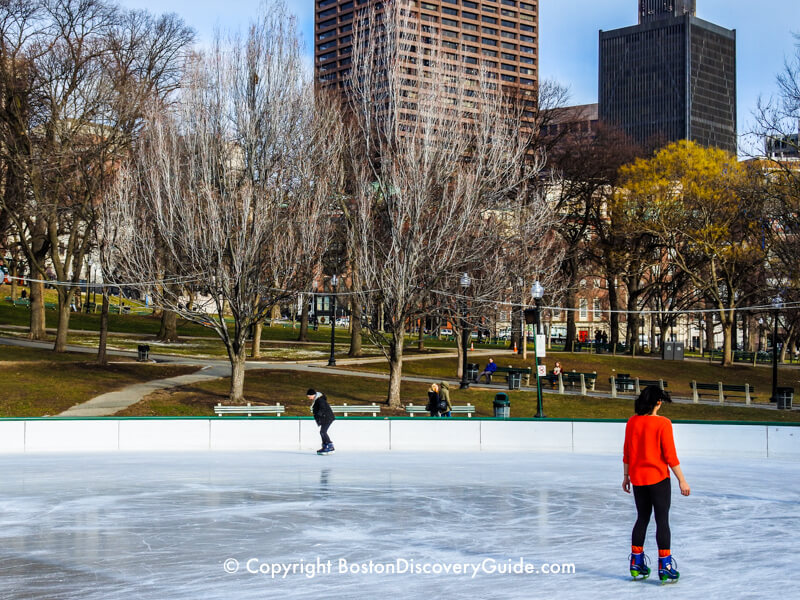 Even without snow on the ground, the ice skating rink at Frog Pond stays well-frozen. When the sun shines and temperatures rise about freezing, you can even skate without wearing a heavy jacket.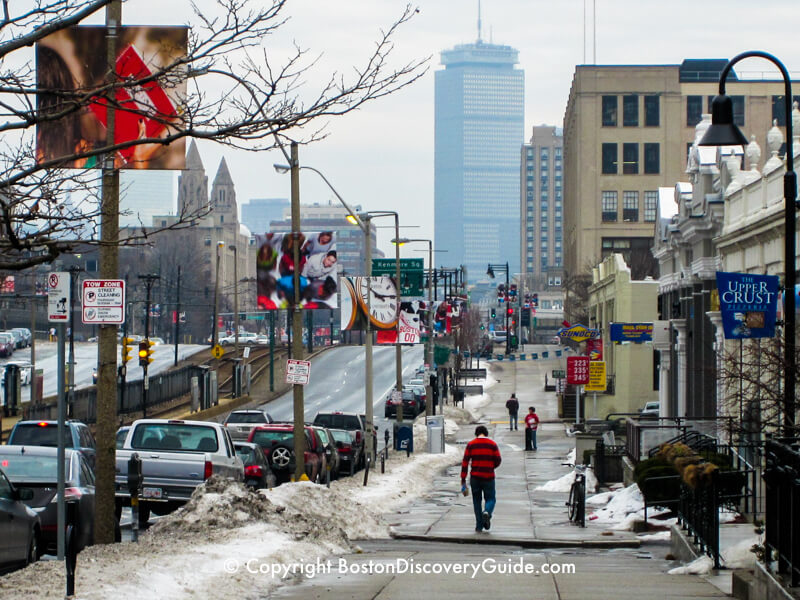 ---
January Temperatures and Conditions
Despite occasional warm days, January is when we usually encounter the most severe weather of the winter. By the end of the month, Boston usually has experienced several significant snowfalls.
If you're planning a Boston visit during January and wondering what to pack, you should take a look at average temperatures for the month - as well as the record highs and record lows:
Record high temperature for January: 72° F (1950)
Record low temperature for January: -13° F (1882)
Average January high temperature: 36° F
Average January low temperature: 22° F
Average precipitation for January: 3.4 inches

Be sure to check the current Boston weather report before coming.
If you plan to drive, familiarize yourself with extreme Boston weather weather conditions and what to do if you encounter a whiteout blizzard or other dangerous storm.
If you're into skiing, snowboarding, or other winter sports, of course you'll love cold January weather. Find the best Massachusetts ski areas close to Boston, or check out all New England ski areas and resorts
---
What to Pack for Boston in January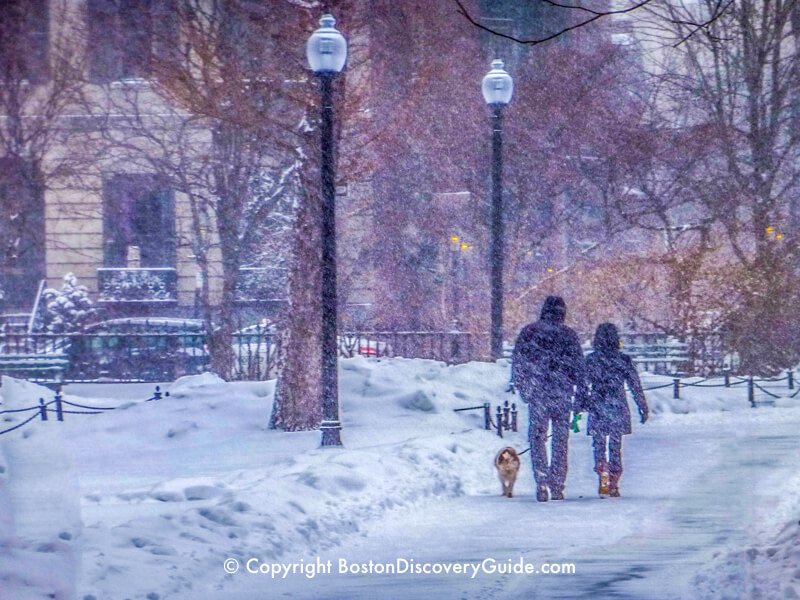 Potentially frigid and stormy January weather in Boston means being prepared for the worst conditions you might encounter, but also having the option of stripping off a couple of layers in case we get a rare 50 degree "heat wave."
Checking the current Boston weather forecast before you come will help you guess the general temperature range during your visit - but keep in mind that Boston weather tends to be unpredictable and changeable.
You're generally wise, during January, to bring a warm, well-insulated jacket or coat and well-insulated boots, plus a couple of sweaters to layer. Also pack warm gloves, warm socks, a scarf or two, and a hat, and you should be ready for whatever you encounter.
An umbrella is always a good idea in Boston. Without one, sleet and wet snowflakes can feel even worse than rain as they hit your (unprotected) face.
Check our general suggestions about what to pack for your Boston trip to get more tips.
If you arrive in Boston and discover you have not brought the right clothes, head to Washington Street in Downtown Crossing for emergency shopping.
Within a 2-3 block stretch, you'll find a huge Macy's, TJMaxx, Eddie Bauer Outlet, DSW (shoes), and a number of other reasonably priced shops.
If you want even more variety at (usually) a higher price point, continue along Washington Street to Faneuil Marketplace.
---
Best Activities for Enjoying January Weather
1. Go ice skating at Frog Pond
2. This is not for everyone, and it's more about defying January weather than enjoying it . . . but you can join the L Street Brownies for their famous New Year's Day plunge into Dorchester Bay - see details on our January Calendar
3. Go skiing - pick a convenient nearby ski area, or try one of the many other New England ski areas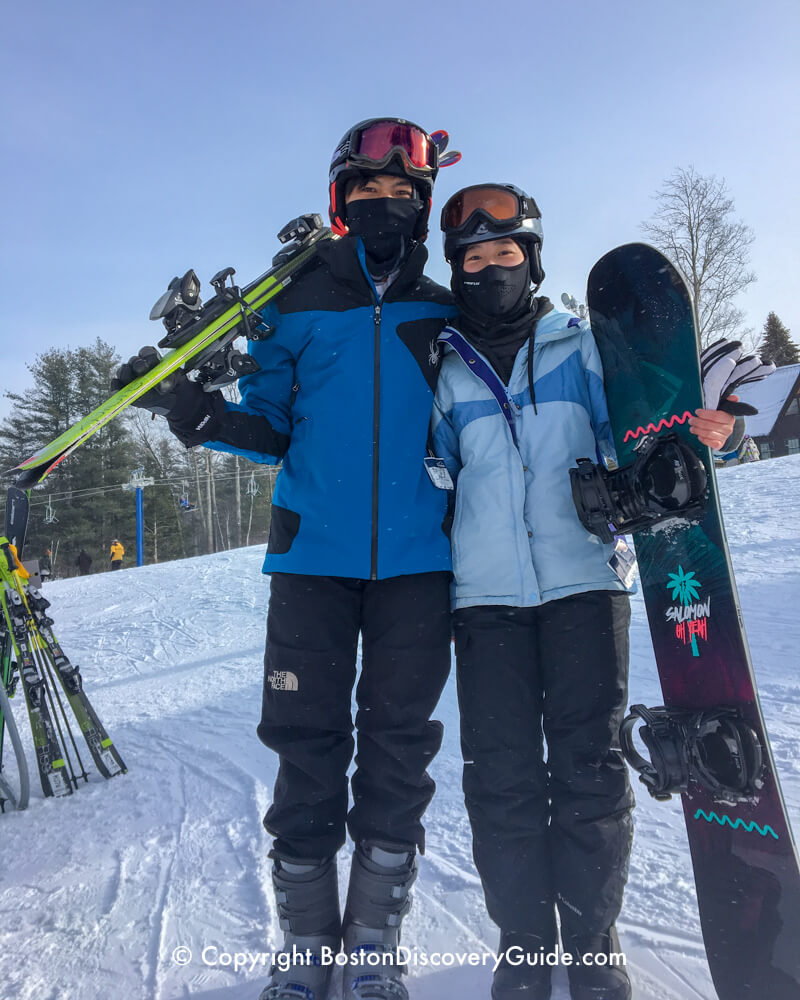 4. Go for a walk around the city. Popular spots include the Boston Public Garden and the Esplanade
5. Stay warm - head to one of Boston's theaters and see a show
More Boston outdoor winter activities
More Boston indoor winter activities
---
More Scenes of January Weather in Boston
Want to see how Boston weather looks in January? Here are a couple more photos of memorable scenes.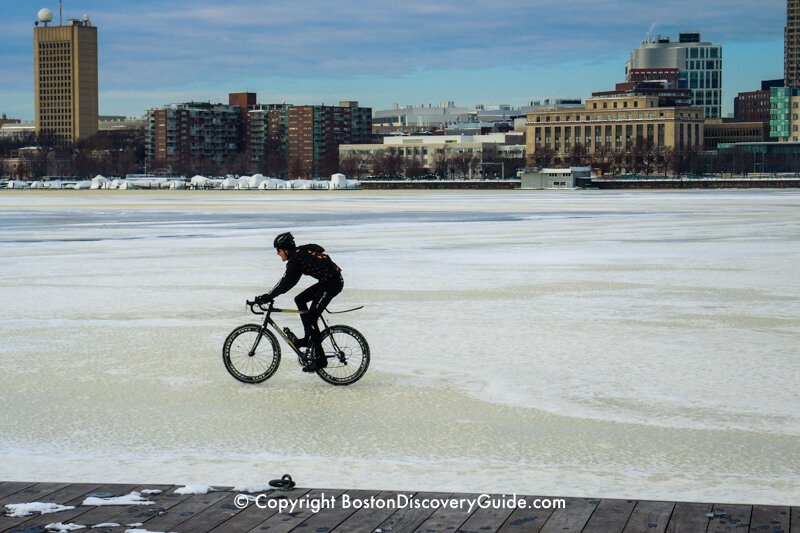 The Charles River may freeze - at least partially - during January. You can't count on it being frozen solid, though, so better to stay off it.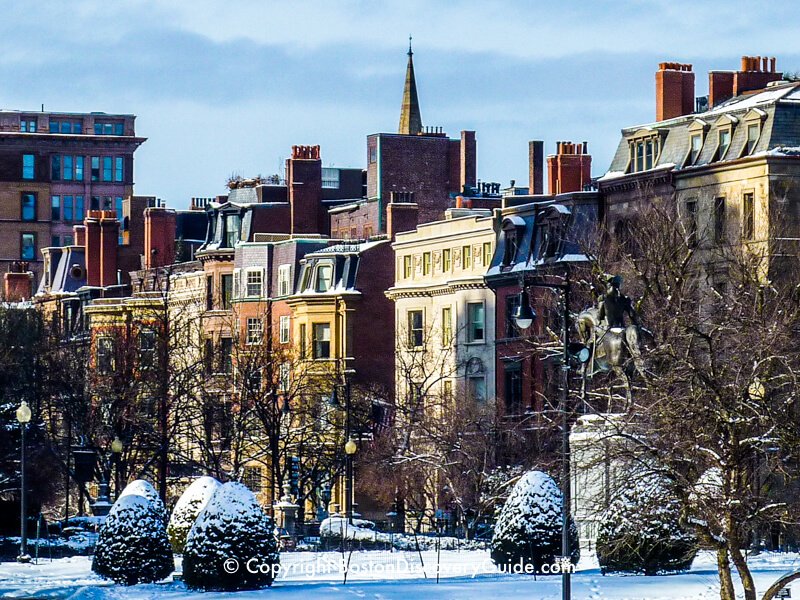 No matter how cold January weather feels, go out for a walk - you'll be surprised by how much beauty you can find in every neighborhood.
Fun Boston Tours for January - Even during Bad Weather!
More to Do in Boston during January
More Things to Do in Boston in January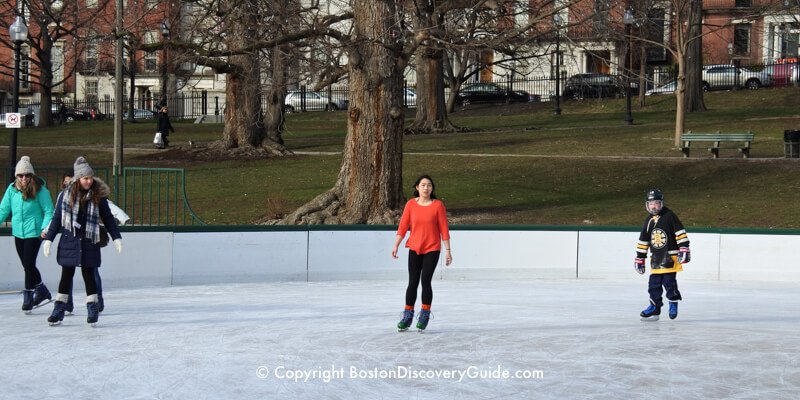 More Articles about January Weather & Activities
---
Need a Boston Hotel or Apartment?
Use this handy map from Booking.com to find the perfect place to stay. Just enter your dates to find what's available, see the best rates, and make your reservations.