Home > Boston Weather >
Boston Weather in January
How to Prepare for January Weather in Boston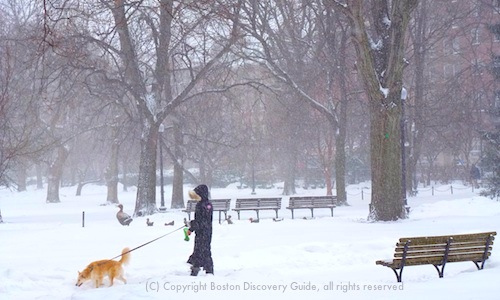 Boston Public Garden, during a snowstorm - Even the Make Way for Ducklings statues look cold!
Boston weather in January can be frigid and snowy - but not always. If you're visiting the city this month, you need to prepare for warmer days as well. How warm? Well, imagine ice skating on Boston's Frog Pond or heading out to nearby skiing as the thermometer hits 50°!
You'll get the most out of January in Boston by learning what to expect, what to do, and how to pack - which is what this page is about!
As a bonus, January weather inspires Boston hotels to offer their best deals of the year - and you'll find plenty of entertainment in the theaters, the Boston Opera House, Celtics and Bruins games in TD Garden, museums, and nightspots, as well as lots of outdoor winter sports on the ice and the slopes. Visiting the city during January is a Win - Win!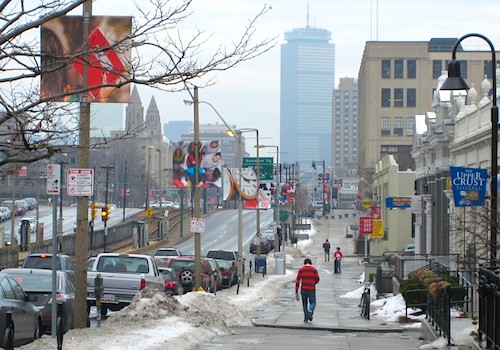 January 2, on Commonwealth Ave near Boston University - Weather is warm and slightly foggy
Despite occasional warm days, January is when we usually encounter the most severe weather of the winter. By the
end of the month, Boston usually has experienced several snowfalls.
If you're planning a Boston visit during January and wondering what to pack, you should take a look at average temperatures for the month - as well as the record highs and record lows:
Average January high temperature: 36° F
Average January low temperature: 22° F
Record high temperature for January: 72° F (1950)
Record low temperature for January: -30° F (1946)
Average precipitation for January: 3.46 inches

Be sure to check the current Boston weather report before coming.
What if the weather in Boston feels too warm to you? No problem - head north to New England ski vacation resorts for some real winter!
Photos Showing Boston in January
Want to see how Boston weather looks in January? These photos will show you what it's really like!

Scenes showing Boston weather in January, left to right (run your mouse over each thumbnail photo to get a larger view):
1) January weather is perfect for ice skating on Frog Pond in Boston Common
2) If Boston's January weather turns too nasty, head over to Faneuil Hall Marketplace and visit Cheers - perfect place to get snowbound
3) Boston's famous Make Way for Ducklings statues in the Public Garden, looking bedraggled in the snow
4) Yes, those are holiday decorations on a door on Beacon Hill - you'll continue to see lots of Boston holiday decorations through January, and typically into February - they make the city festive!
5) More Christmas lights glowing in Post Office Square in the Financial District, across from the red awnings of the Langham Hotel
Return to Top - Boston Weather in January
Three Reasons to Love Boston Weather in January
What to Pack for Visiting Boston in January
Boston weather in January usually means that you'll need a warm jacket or coat. You'll see lots of down ski jackets being worn this month. Remember to also pack insulated gloves, a scarf, and a hat and/or earmuffs.
If you're planning to walk any further than from a taxi to your hotel door, bring warm boots with thick soles to protect your feet from the cold. Warm socks will also make you happy. An umbrella can also prove useful if we get rain, or even worse, sleet.
For more packing information, check my tips for what to pack for your Boston trip.
5 Top Activities for Enjoying January Weather in Boston
1. Go ice skating at Frog Pond
2. This is not for everyone, and it's more about defying January weather than enjoying it . . . but you can join the L Street Brownies for their famous New Year's Day plunge into Dorchester Bay
3. Go skiing - pick a convenient nearby ski area, or try one of the many other New England ski areas
4. Go for a walk around the city. Popular spots include the Boston Public Garden and the Esplanade
5. Stay warm - head to one of Boston's theaters and see a show
More Boston outdoor winter activities
More Boston indoor winter activities
More ideas for enjoying Boston weather in January
Check out Boston Weather in February
Home > Boston Weather > Boston Weather in January