A huge Chinese New Year Parade, Beanpot hockey, Disney on Ice, and exciting Theatre District shows and dance performances, concerts are just a few of the fantastic things to do in Boston in February.
Lots of outdoor events and activities, brewery and wine tasting tours, family events for school vacation week, and nearby skiing and snowboarding give you plenty to do outside.
Winter sports keep everyone active and entertained - skating, skiing, or watching the action on the ice and court as the Boston Bruins and Boston Celtics entertain the crowds at TD Garden.
For college hockey fans, the Beanpot Tournament continues its 50+ years of intense rivalry.
But you'll also find plenty of other entertaining February events - Chinese New Year, Valentine's Day, the New England Boat Show, and more!
February in Boston often brings a mixture of bright and sunny almost-warm days, and cold snowy periods - plus everything in between. It's a wonderful time of the year to walk around with a camera and photograph all your favorite spots without tree leaves hiding them.
If you're planning what to do in Boston in February, here are 17 fun events and activities to consider. You can find even more on the Boston Event Calendar for February.
Top photo: Ice skating on Frog Pond at Boston Common - Beacon Hill mansions in the background
---
Fun Outdoor Things to Do this February
1. Plan a Day on the Slopes - Or an Hour in the Snow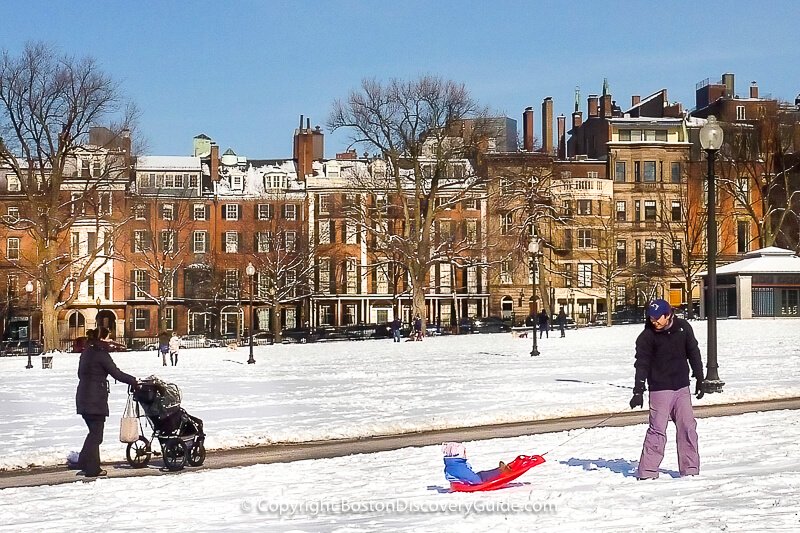 Even when Boston has no snow at all, Massachusetts ski areas near Boston make and groom it daily - so head for the slopes for a day or more of fun. For steeper slopes and actual mountains, you'll find plenty of wonderful New England ski vacation areas just a couple of hours away.
Have only an hour or two of free time during your visit to Boston? Head over to Frog Pond on Boston Common, rent skates, and go ice skating right in Boston. Or stroll through the next-door Public Garden and check out the Make Way for Ducklings statues.
More Boston outdoor activities for winter
---
2. Cruise Boston Harbor in a Spacious Commuter-Style Yacht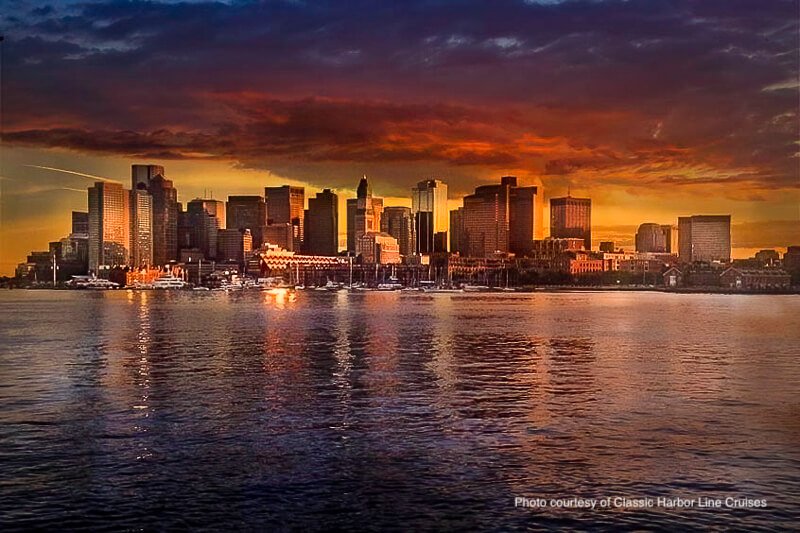 ***y-boston-sailing-cruises.html***
---
3. Visit the Franklin Park Zoo
Although Boston's Franklin Park Zoo may not be the obvious spot for a February visit, many animals such as the zebras, lions, tigers, wildebeests, ostriches, and others will be out and about, especially on warmer days (ie, above the 32 degree freezing mark). You'll also see most of the tropical forest animals such as gorillas, lemurs, pigmy hippopotamuses, ocelots, birds, and more, plus farm animals. Sometimes even the kangaroos will be out and frolicking.
What if you get chilly? Not to worry! Head for the tropical forest and soak up the 72 degree warmth. Bird's World will also feel comfy. Dining at the Giddy-Up Grill is available when you get hungry, and don't forget to also check the special and holiday events and education programs that take place throughout the winter.
Get your tickets online before you go.
---
4. See Something New - Go on a Tour!
Whether you're from Boston or visiting, a tour can give you a special experience and let you see the city in a different way. Plus they are entertaining. Here are several fun Boston tours to consider:
Finally, if you're visiting with future college students, take a private tour of Harvard University led by a current student who will share insights and personal experiences, and can customize the tour to fit your interests.
---
Boston Holidays & Special Events in February: Best Things to Do
5. Celebrate Valentine's Day on a Special Cruise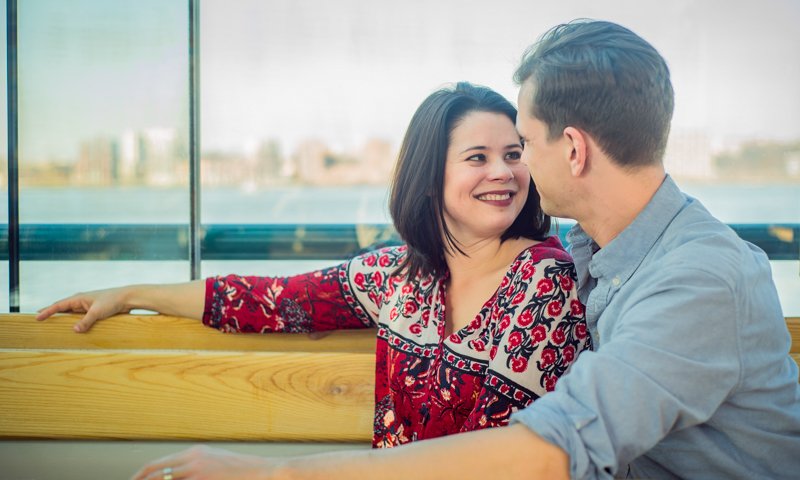 Romantic Boston Harbor Cruises for Valentine's Day:
6. Declare Your Love . . . Celebrate Valentine's Day with a Show, Dinner, & Hotel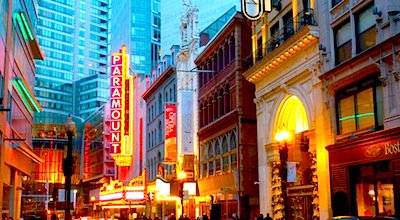 Go for dinner and a show in Boston's lively Theatre District, and spend the night or weekend in one of the Boston hotels offering Valentine's Day packages, and enjoy special amenities such as a bottle of champagne, chocolate covered strawberries, or perhaps a wood-burning fireplace in your room.
Plenty of romantic and fun events take place on Valentine's Day - so start making your plans now!
7. Celebrate Chinese New Year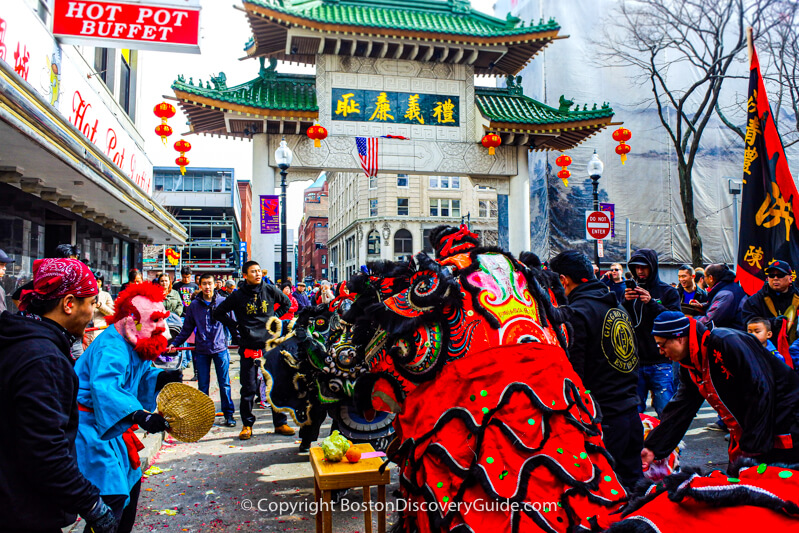 Chinese New Year falls on the first day of the first month of the Lunar New Year, and most celebrations in Boston take place in February (check our February Events Calendar for the exact date).
The annual Chinese New Year Festival in Chinatown brings in the New Year with a bang as local Chinese martial arts groups parade through the streets performing the famous Lion Dance, accompanied by drums, cymbals, gongs - and huge firecracker explosions.
More about Boston's Chinese New Year Parade
---
Indoor Things to Do this February
8. Catch a Show in the Theatre District

Top February Shows in Boston - Schedules & Tickets
Enter DISCOVERY10 to save 10% on TicketLiquidator & TicketNetwork tickets. Good through 12/31/24.
More Boston Theater District Shows
Where to stay and dine in Boston's Theatre District
9. Escape the Cold Weather - Go to a Movie
Whether you prefer the glitzy new theaters showing the latest blockbuster films like the Icon in Seaport and ArcLight Cinema next to TD Garden, or indie favorites like Coolidge Corner Theatre in Brookline and Brattle Theatre in Cambridge, or even family favorites like the huge IMAX screens at Museum of Science and the New England Aquarium, Boston has the perfect place for you to escape the cold weather outside.
Where to find the top Boston movie theaters
---
10. Celebrate Chinese New Year by Dining in Chinatown
Although the Chinese New Year Parade has been canceled again this year, most of the popular restaurants in Chinatown remain open. Here are a few recommendations for some favorites:
5 fun restaurants in Chinatown - Check out our suggestions for Chinatown dining - including a couple of the city's trendiest restaurants
Dim Sum restaurants - Dim sum is the Chinese equivalent of brunch - lots of fun because you pick small plates of tasty food from carts or order off a special menu
---
11. Enjoy Big Savings on Hotels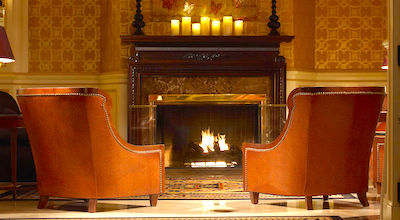 If you're reading this and wondering, "Is Boston the perfect place to spend a long weekend in February, the answer is "Yes!" As you can tell from this list of things to do in Boston in February and the Boston Events Calendar for February, you'll find lots to do here this month. And as a bonus, you'll get cheap hotel rates.
Boston hotel rates start to rise again in March - but in February, you'll still find winter rates for half or even less of what you'd pay in July. Boston is on sale, and it's a great time to stay in a Boston luxury boutique or hotel with in-room fireplaces.
How to find a bargain rate? Check Booking.com which typically includes special deals, best rates, and discounts in their listings of hotels and even apartments, plus recent reviews by other visitors.
A quick and easy way to compare rates is to use Booking.com's map showing hotels and apartments. Just enter your dates, and you can see the cheapest rates across the city:
More about how to save on Boston hotels
---
2 Easy Ways to Save BIG in Boston
Find out more about Boston discount cards, and how they give you big savings on top attractions.
---
12. Stay Warm & Entertained at a Boston Sports Bar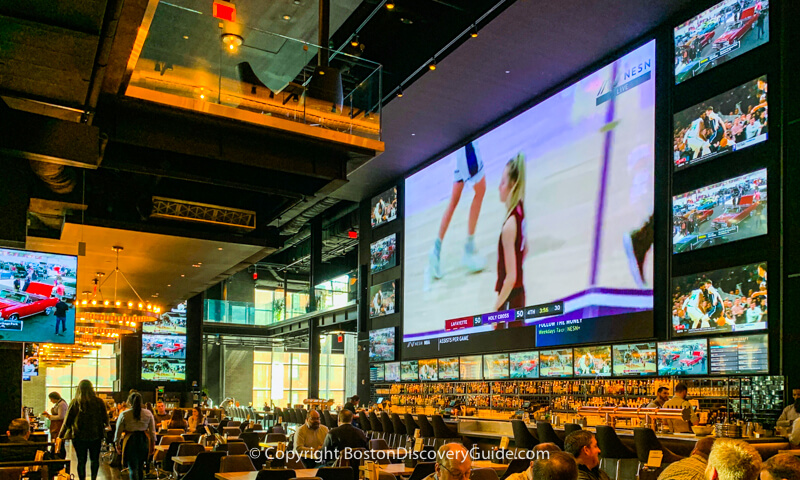 When the weather gets cold, stay warm and watch sports on a big screen at a Boston sports bar.
You'll find the biggest crowds during winter months at sports bars such as Banners near TD Garden, especially when the Bruins or Celtics have a home game.
For a less-packed experience, head to one of the Fenway Park sports bars.
Super Bowl weekend? Find the best places to watch and party.
Remember, take the T - or a designated driver.
13. Dream about Spring . . . Visit the New England Boat Show
The New England Boat Show, held during the last week of the month at the Boston Convention and Exposition Center in the South Boston Waterfront, is the biggest boating event in the Northeast. With boats up to 50' long on display and over 40,000 visitors, you'll find plenty of excitement.
If you're coming to Boston for this event, check out nearby South Boston Waterfront hotels.
Get details about the boat show on the Boston Event Calendar for February.
Desperate for spring scenes? Check out spring flowers in Boston.
14. Go to a Concert at a Top Boston Venue or Club
From mid-sized venues such as House of Blues, Royale, and Big Night Live to small clubs such as Bijou and Cafe 939 to Boston's biggest stages at Wang Theatre and Boston Symphony Hall, here are some of the top performances you can enjoy in February:
Boston concerts in February 2024 haven't been announced yet.  Check back later to find great shows!
Schedules & Tickets:
Enter DISCOVERY10 to save 10% on TicketLiquidator & TicketNetwork tickets. Good through 12/31/24.
More Concerts & Shows for February
See Concert Schedule for All Months
---
15. Join the Rivalry at the Boston Beanpot Tournament
The Beanpot Tournament pits Boston College, Boston University, Harvard, and Northeastern University ice hockey teams against each other.
BU holds the biggest number of trophies - so expect a lot of excitement as the others try to seize the championship!
Beanpot Schedule & Tickets
Enter DISCOVERY10 to save 10% on TicketLiquidator & TicketNetwork tickets. Good through 12/31/24.
Get get your Beanpot tickets here
---
16. More February Sports in Boston
Boston Bruins at TD Garden
Find Bruins schedule & tickets for February home games at the Garden
Find Bruins schedule & tickets for all home games
Boston Celtics at TD Garden
Find Celtics tickets for February
17. Disney on Ice Show
Just in time for winter school vacation week in February, Disney on Ice puts on a fantastic show at TD Garden.
Disney on Ice Tickets for Boston Shows - February
Enter DISCOVERY10 to save 10% on TicketLiquidator & TicketNetwork tickets. Good through 12/31/24.
**y-disney-on-ice.shtml***
See Disney on Ice Show Performance Schedule & Tickets
More about Disney on Ice and visiting TD Garden
Find more winter break week Boston activities
---
More to See and Do in Boston during February
More Things to Do in Boston in February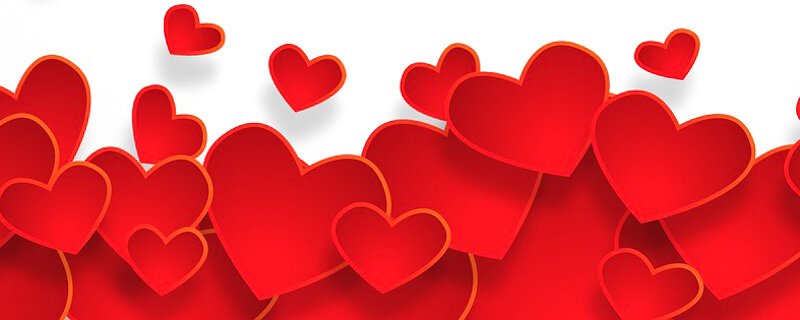 Check Out More Top Boston Events Each Month
January | February | March | April | May | June | July | August | September | October | November | December | Year at a Glance
---
Find a Hotel for Your Boston Visit
Enter your dates to see available hotels and rates:
More about how to save on Boston hotels
---
More Articles about Things to Do in Boston in February