Although it is not a museum, the Boston Public Library is crammed with spectacular paintings, tapestries, architectural details, and sculpture - plus a fabulous third floor gallery filled with John Singer Sargent murals.
Even before you enter the 1895 Renaissance Revival building overlooking Copley Square, you're surrounded by magnificent sculpture and architecture - and once you're inside, you'll see something splendid everywhere you look.
But art treasures are just the beginning of what you can see, do, and experience here.
The Boston Public Library's "Central Library," as the location in the Back Bay neighborhood is called to distinguish it from other more ordinary neighborhood branches, is actually comprised of two buildings. Both are architectural gems but offer you distinctly different experiences.
In this article, we provide recommendations for the top attractions you won't want to miss, the best places inside the library to eat and enjoy a drink, and free tours you can take.
Top photo: Grand entry staircase at Boston Public Library - Photo credit: Michael Browning
Boston Discovery Guide is a reader-supported publication. When you buy through our links, we may earn a commission at no additional cost for you. Learn more
---
10 Top Things to See & Do in Boston Public Library
The original McKim Building, named after architect Charles Follen McKim, is the ornate and rather imposing building across Dartmouth Street on the west side of Copley Square, and is where you'll find the famous art, sculptures, rare books, and other treasures.
McKim promoted his masterpiece as a "palace for the people" when it opened in 1895. Built from pale pink granite, many architects praise this Back Bay jewel for its perfect classical proportions.
Next to the McKim Building on Boylston Street is the starkly modern 1972 Johnson Building, designed by Phillip Johnson and renovated in 2016, where all the resources and activities of a 21st century library take place.
Both buildings are packed with fantastic things to see and fun things do.
Here are our top 10 recommendations of things you might not want to miss:
1. Architecture - McKim Bldg - exterior and door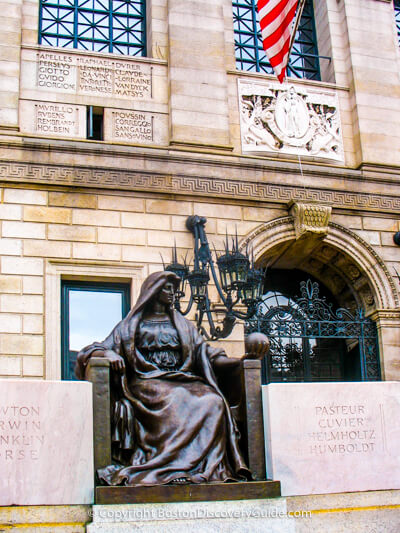 The McKim Building looks imposing on the outside, partly because of its size, although once you go inside, you'll discover that it's actually warm and welcoming.
As you walk up to the building, take a moment to admire the sloping red tile roof with its green copper edging along the copper gutters. The granite facade is made from stone quarried in Milford, Massachusetts.
Look up to the second story, and you'll see names of great artists, scientists, philosophers, religious figures, and leaders under the arched windows.
The building's facades contain sculptural elements by Augustus Saint-Gaudens (you can also see his magnificent bronze relief Memorial to Robert Gould Shaw and the Massachusetts Fifty-Fourth Regiment sculpture on Boston Common) and Domingo Mora.
Three huge arches form the entrance, flanked by clusters of branching wrought-iron lanterns.
In front of the library, you'll see two large statues by sculptor Bela Pratt representing Art and Science.
Pause for a moment before you go in, and look closely at the ornate bronze doors designed and made by Daniel Chester French. You'll see representations of Music, Poetry, Truth, Romance, Knowledge, and Minerva, the Goddess of Wisdom.
Once you're inside the entry hall, you'll see large bronze statues flanking both sides. One of them depicts Sir Harry Vane, governor of the Massachusetts Bay Colony from 1636 to 1637.
---
2. Entrance Hall and Staircase
Walk around a bit and absorb the spectacular murals and mosaics, the enormous vaulted reading rooms, and the painted ceilings. Art, architecture, and engineering merge perfectly.
Inside, there's almost too much to take in with a quick glance. On the white marble floor of the entrance hall, you'll find inlays of zodiac symbols and inscriptions. Look up, and you'll see names of 30 famous Bostonians on the vaulted ceiling.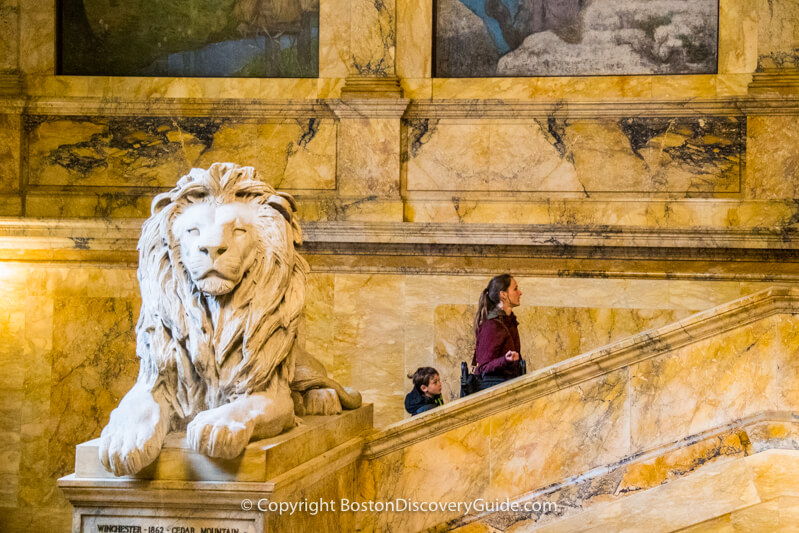 Now, go up the staircase, and notice the fossil shells embedded in the marble, which was quarried in France. Where the stairs split into two separate sections, you'll see two enormous lions carved from single blocks of marble. Each of them commemorates a Massachusetts Civil War infantry regiment.
On both the second and third floors, you'll find galleries with displays of the library's rare books and fine art.
---
3. Puvis de Chavannes Gallery Murals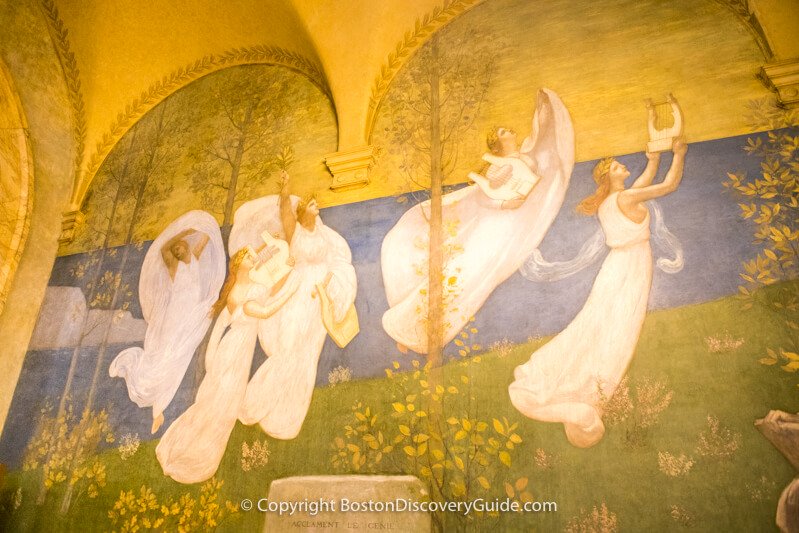 As you walk up the stairs past the marble lions, you'll see a series of lovely murals done in shades of pale blue, pale green, and ivory. They were painted by by French artist Pierre Puvis de Chavannes - his only murals on display outside of France.
Although you have probably never heard of Puvis de Chavannes (most people today haven't), 19th century Europeans regarded him as a top French painter and muralist whose work combined elements of Romanticism and Symbolism.
Each mural depicts an aspect of science or literature embodied in the library: poetry, history, science, and philosophy.
---
4. Bates Hall
The magnificent Bates Reading Room, named in honor of the Library's first major benefactor occupies the entire front half of the second floor where light streams through the high arched windows. You can spot him among the busts of prominent late 19th century literary Bostonians scattered around the room, and there's also a portrait of him at the south end.
The ornate barrel-vaulted ceiling of intricately molded plaster soars 50 feet high. The room itself is 218 feet long and 42.5 feet wide. Be sure to look at the gorgeous terrazzo floor crafted from yellow, white, and black Italian and Belgian marble - a 1931 replacement for the original.
The English oak bookcases surrounding the room and heavy oak tables are original, although the chairs are modern reproductions.
If you have a book with you, find a place to sit and read for awhile.
---
5. Sargent Gallery: Murals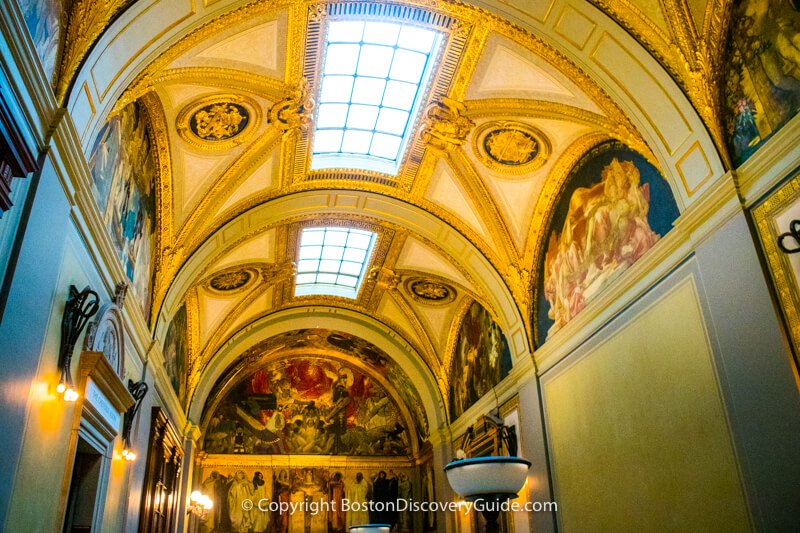 On the third floor, you'll find a room with the John Singer Sargent murals along the walls and vaulted sky-lit ceilings.
The great American painter considered these murals to be his most important work, created over a period of 29 years between 1890 and 1919.
Titled The Triumph of Religion and painted in the style of Italian Renaissance frescos, the murals depict the development of world religions of interest to Sargent - Paganism, Judaism, and Christianity - and are strikingly different from his refined society portraits that you can see in the Museum of Fine Arts.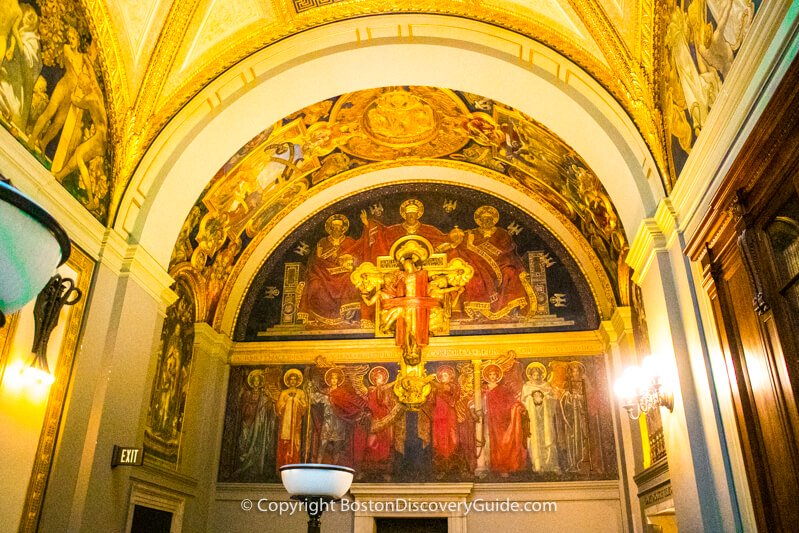 Sargent had long chafed at his reputation as a "society painter" and hoped these murals would cause his public to regard him in a new light.
They did - but not in the way he hoped.
Leading art critics such as Bernard Berenson panned his new work. Others took issue with displays of religious scenes in a secular building.
But the biggest objections related to his attempt to show a "progression" of beliefs from pagan ignorance to Jewish law to increasingly liberal forms of Christian faith, culminating in 1919 when he installed what is now called the "synagogue" panel in which he chose to use a medieval motif depicting Judaism as a blindfolded old woman with a crown falling off her head as she clutches a book and holds a broken scepter. This stereotype, seen also in European cathedrals from the Middle Ages, conveyed the idea that Christianity had replaced a "broken" Judaism.
Outrage and calls for removal derailed his work on the murals, even though he insisted that he had not intended to demean or defame Judaism. The final mural, meant to depict the Sermon on the Mount described in the Christian New Testament, was still unfinished when he died in 1925 and the panel where he'd planned to mount it remains blank.
---
---
6. Rare Books and Manuscripts at Boston Public Library
The Boston Public Library's vast collection contains over 1.2 million rare books and documents (plus, of course, its vast collections of more recent fare).
The library displays many of the rare books and documents on a rotational basis - so wander in at any time and you may see rare medieval manuscripts, first edition folios by William Shakespeare, records from Colonial Boston, centuries-old maps, and highest-quality Old Master prints.
John Adams' personal library is also housed here, as well as original music scores by Mozart, Prokofiev, and other famous composers.
---
7. Abbey Room: The "Delivery Room" at Boston Public Library
The Abbey Room - arguably the most ornate space in Boston Public Library - was once known as the "Delivery Room" where patrons waited for books they'd requested in Bates Hall.
Its current name pays homage to American-born artist Edwin Austin Abbey, painter of the room's 15 murals depicting Sir Galahad's Quest of the Holy Grail, a story familiar to 19th century patrons who would have understood what the scenes represented.
As a 21st century visitor, you may be less likely to grasp the references, but hopefully you'll still enjoy this lovely space
---
8. Courtyard Garden at Boston Public Library
After experiencing the magnificence of the Library's rich cultural treasures, be sure to find the peaceful inner Italian-style courtyard, surrounded by columns and arches designed to look like an arcade in the Palazzo della Cacciatella in Rome.
Spend at least a few tranquil minutes enjoying the fountain and statue of Bacchante and Infant Faun.
The statue you see is not the original Bacchante created by Frederick MacMonnies and given to the museum by its architect, McKim. The original sculpture caused an uproar among "proper" Bostonians, who objected to the naked figure and its promotion (so they claimed) of the consumption of wine. McKim finally had enough and ordered the statue removed, no doubt while rolling his eyes, and gave it to New York's Metropolitan Museum of Art where you can still see it today.
However, Boston's Museum of Fine Arts also has a copy of the original Bacchante. The statue you can see in the garden today is a cast of MFA's copy which was made and installed in the 1990s.
The tables under the courtyard's arcades are coveted spots for eating lunch and reading - so if you can snag one, enjoy!
---
9. Boston Public Library's Johnson Building: A Modern Masterpiece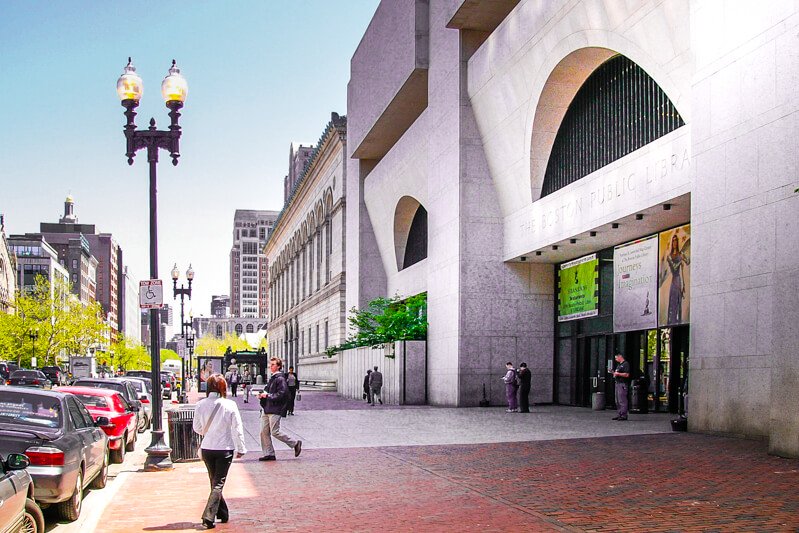 By the mid-twentieth century, the library had begun to outgrow its space. However, adding onto the McKim Building presented a huge architectural challenge.
Should a new adjacent building copy or blend with the McKim? If so, would it always seem less beautiful - like the proverbial less-attractive younger sister of a world-famous beauty queen? If not, how could a new building be different without seeming jarring and out of place?
In 1972, a modern addition designed by Phillip Johnson opened. You may not even notice it from the front of the library. To get the best views, walk down Boylston and perhaps cross the street to see it properly.
At first glance, the Johnson Building, as it is called, looks very different.
But take a closer look - it's built from the same pink granite and has the same monumental scale as the McKim Building—even though its square lines, angled walls, and plain facade provide an unmistakable late 20th contrast.
You can't miss the arches - well, you can if you're walking next to the library along Boylston Street and see it only close-up, but you shouldn't. Cross the street and take a closer look, and you'll see how the arches sort of echo those of the McKim Building.
Look some more - preferably with the McKim Building not in your line of vision, and you'll notice the Johnson Building's commanding proportions. Light plays off its angles and curves in different ways throughout the day, and in different seasons, highlighting its sculptural qualities.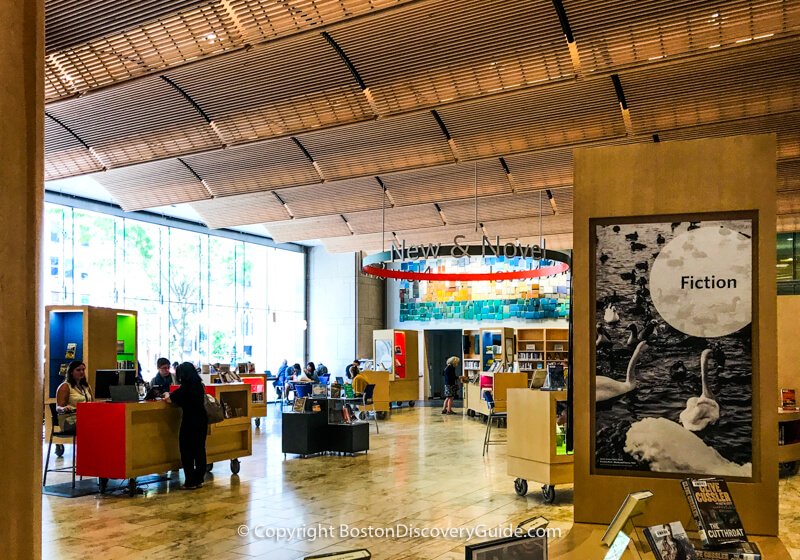 Without the over-the-top carvings and embellishments of the McKim Building, the Johnson Building may never capture our attention in quite the same way - but it does have its own claim to beauty.
The Johnson Building houses circulating materials and also serves as headquarters for the Boston Public Library's 28 branch libraries.
The McKim Building holds the non-circulating research and reference collection, as well as much of the library's incredible art.
---
10. Inside BPL's Johnson Building: Children's Library, Teen Central, & Lots More
To fully appreciate the Johnson Building's architecture and the visitor experience it delivers, you need to go inside and wander around. The light, bright, airy spaces house the circulating book collection and provides a fantastic space for enjoying the books.
A dedicated Children's Library (easy to find: just look for dozens of parked strollers outside the entrance), a "Teen Central" section, a "Movies & Music" section featuring CDs, DVDs, and digital music and movies, a huge collection of periodicals, a business library, and all sorts of daily and nightly events and programs give you lots of reasons to love the Johnson Building.
---
Jim and Margery Show Broadcasts from BPL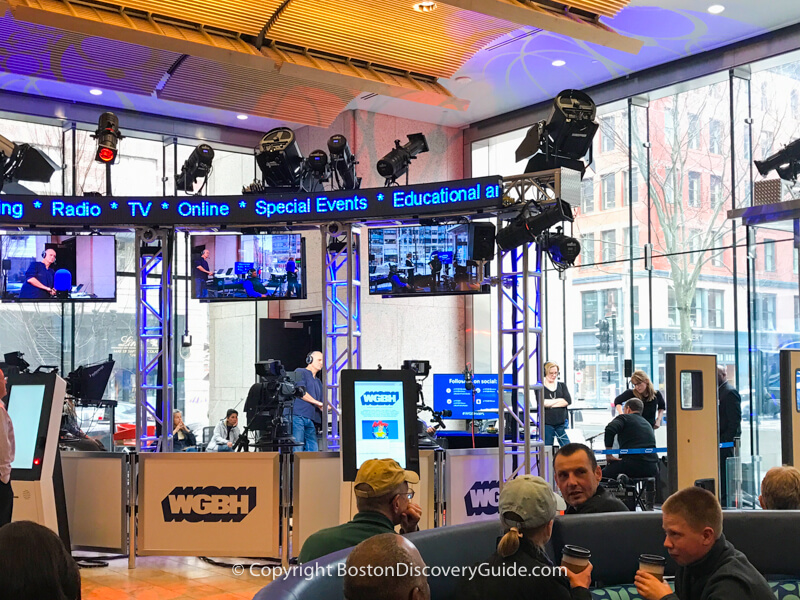 Want to see a live radio broadcast in action? Stop by the WGBH 89.7 radio broadcast studio set up in a corner of the first floor in the Johnson Building on weekdays from 11am - 2pm to watch the Jim and Margery show being recorded live.
In addition to their own commentary on Boston events, the hosts interview local politicians, scientists, educators, and a huge array of other special guests, including musicians who then usually do a short performance.
---
Where to Eat at the Library
Boston Public Library currently offers several places to eat:
Newsfeed Cafe (Johnson Building) offers beverages, pastries, sandwiches, snacks, and salads.
Tea Room Lounge (McKim Building) offers tea-infused cocktails such as the Ginger Lemony Snicket, wine, and beer, and upscale bar food such cheese and charcuterie boards, smoked salmon tartines, and pecan tarts.
Courtyard Tea Room (McKim Building) serves Afternoon Tea (Wednesday - Friday) and Copley Tea (Saturday - Sunday). Modeled after an English-style High Tea, the seasonal prix-fixe menus include a first course of soup or salad, fancy sandwiches (such as lobster, smoked salmon, chicken salad), scones served with Devonshire cream, lemon curd, and orange preserves, and petits fours.
Outside the library on Boylston Street, you can usually find at least one food truck serving lunch on weekdays.
And of course Boylston Street and nearby Newbury Street are lined with lots of other great places to eat.
---
Boston Public Library Free Tours
Trained volunteer guides lead free tours of both buildings on a daily basis. You'll learn about the architecture, history, and decorative details as you walk through the buildings, and see many of the most famous pieces of art and murals by John Singer Sargent and Daniel Chester French. The tours last about an hour.
Interested in joining one of these tours? They depart from the front entry (ie, vestibule) of the McKim Building's Dartmouth Street entrance (that's the main entrance across from Copley Square), so all you need to do is arrive a few minutes before the tour starts.
Current tour days and times include:
Mondays at 2:30 pm
Tuesdays at 6:00 pm
Wednesdays at 11:00 am
Thursday at 6:00 pm
Fridays at 11:00 am
Saturdays at 11:00 am
Sundays at 2:00 pm
The schedule can change at any time - so please verify the schedule on on BPL's website before you go (search for "free tours"). You'll also see a note stating that tours do not occur on scheduled holiday observances - click on the link to see what those are, because there are more than you might expect. You can also find information about fee-based private tours for small groups; if that's of interest, you need to allow as much as 2 months of lead time.
---
More to See & Do in Boston
---