Looking for cheap flights to Boston - or anywhere else in the world?
It's no secret: airlines offer cheap fares all the time for last minute flight reservations, special promotions, and flash sales - but they can be hard to find because they may be unannounced and limited to specific flights, dates, and times.
Additionally, these cheap seats sell out fast - so you need to move even faster to find and book them.
Impossible to do? Not at all. Here are our top 3 tips for how to score the biggest flight bargains:
Top photo: Boston photographed from the air - Photo credit: iStock/pat138241
Boston Discovery Guide is a reader-supported publication. When you buy through our links, we may earn a commission at no additional cost for you. Learn more
---
Cheap Flights Tip #1: Use the Right Fare Search Tool
What's the easiest and fastest way to uncover cheap last-minute fares, unpublicized flash sales, and seasonal promotions from major airlines such as Delta, United, Southwest, Air Canada, Icelandair, Air France, deep discounter Ryanair, plus smaller regional carriers?
Use a fare search tool that uses the latest technology to scan and compare tens of thousands of flights from international, regional, and low-priced budget airlines like Delta, Southwest, Icelandair, and deep-discounter Ryanair, as well as travel booking websites such as Kayak, FlightGuru, Momondo, and CheapOair.
Try it out: Find cheap flights with this tool from GoLastMinute. Enter your destination and date information. You can then choose up to 10 flight finders to compare results.
Select as many as you want - but make sure to also include GoLastMinute's own search because here's the "secret sauce": GoLastMinute uses the latest search technology to uncover unannounced flash, discount, and promotional deals as soon as they're offered, and finds cheap fares that older tools miss - that's GoLast Minute's superpower.
Can you count on one flight finder tool to always show you the cheapest fares?
No. Each tool has its own strengths. That's why you need to select several cheap flight finders and compare lowest offers.
Fair warning: The prices you'll see when you do these searches are dynamic and change all the time - so if you see a fare you like, grab it before it disappears.
What if you don't see a flight you like? Just enter your email under the search bar, click the Search button, and you'll get periodic fare alerts. (Don't worry - you can stop the alerts whenever you want.)
How Does GoLastMinute Find Lowest Fares?
GoLastMinute uses latest-generation technology to search for flight prices from well-known U.S. and international airlines such as Delta, United, American, KLM, Spirit Airlines, Icelandair, Japan Airlines, Alaska Airlines, Turkish Airlines, Lufthansa, and JetBlue, as well as lesser-known, regional, and budget carriers.
Why does latest-generation technology matter? It goes a few steps farther than older flight search tools to discover short-term special fares and discounts based on the airlines' own use of AI and dynamic pricing. For trips with 1 or more stops, it uses sophisticated algorithms to identify the cheapest fares for each trip segment, sometimes combining fares from 2 or more airlines for a lower total price than you can get without changing airlines.
---
Cheap Flights Tip #2: Be Flexible
As you probably already know, airline fares vary by day of the week, season, and even time of day, as well as other factors.
But airline fares can also vary - sometimes significantly - based on three other factors: 1) which airport you choose when your departure or destination offers more than one; 2) how many stops (vs non-stop flights) you are willing to accept and whether or not you are willing to use different airlines for each flight segment; and 3) how flexible you are about the airline for your flight.
Usually, the more flexible you can be, the more likely you will be to find a cheaper fare. But sometimes saving on your fare by being flexible comes at the expense of inconvenience, longer flight times, or possible missed connections.
Here's how to look at each of these flexibility factors and quickly assess how much you'll save, and what the risk factors might be:
How Much Can You Save with Flexible Travel Dates and Times?
There are lots of "rules of thumb" for when you'll find the best airfares and the worst - but why not remove the guesswork? Use GoLastMinute's Fare Calendar for the Next 30 Days and enter your destination and travel dates. Scroll down, and you'll see which days have the lowest flight prices.
See a day with a fare you like? Click on the date to view all the available fares from lowest to highest plus flight schedules, airlines, and flight times. You can easily tell how much you can save by being flexible, what the trade-offs might be to get the cheapest fare - for example, leaving at 5:45am or traveling on a major holiday such as New Year's Day - and whether the savings is worth the possible inconvenience of not scheduling your trip at the ideal time.
Remember, these are the cheapest fares if you book immediately. If you wait, they may change.
How Much Will Choosing a Less Popular Airport Save You on Airfare?
For some flights, you'll have only one reasonable airport choice at your departure and destination points.
But for others such as New York - Boston, you'll have several choices. If you can be flexible about which one you choose, you may be able to save lots of money on the fare.
For example, in New York, you can choose Newark (EWR), John F. Kennedy International Airport (JFK), or LaGuardia (LGA), all within the NYC Metro area.
In Boston, you may think that Logan International (BOS) is the only option - until you remember that Green International Airport (PVD) in Warwick, Rhode Island (a few miles south of Providence) and Manchester-Boston Regional Airport (MHT) in Manchester, New Hampshire are both only about an hour's drive away from central Boston, and getting to Boston from Green International is even faster if you take the train.
Once you identify all your departure and arrival options, it's time to use flight search tools to pull up the lowest fares.
To find the cheapest flights for each airport, select the All Airport" option in GoLastMinute, Skyscanner, or similar flight search application. For places like New York with multiple airports relatively close to the city, you should see fares for all the nearby airports.
For other cities like Boston with two or more feasible airports located farther away, you will need to perform separate searches - so taking Boston as an example, you would do three searches, entering Boston Logan, Manchester Airport, Green International into the search box.
Once you see which airport offers the cheapest fares, you can then determine if other costs such as transportation and travel time make the savings worthwhile.
Among NYC airports, only JFK can be reached on public transportation from Manhattan but you should count on spending 60-90 minutes to get there. Cab rides to any of the three airports are likely be faster, but will cost you much more.
Once you fly into any of the Boston area airports, you can take public transportation into the city from both Logan and Green. To get to Boston from Manchester, you'll need a car.
Should You Choose Longer Duration Flights to Save Money?
How much is a cheaper flight worth to you if its total duration takes you 4 hours to reach your destination instead of 3? Or 13 hours instead of 7? The answer probably depends on your particular circumstances - but if the savings are substantial, being flexible about duration can pay off.
Sometimes, the very cheapest fares are for flights with one or more stops, and sometimes a change of airline. This means you may have to walk from one part of a terminal to another, or even go to a different terminal. And, there is always the chance of flight delays, meaning you may miss your connection and have to reschedule on a later flight. But if you can save a couple of hundred dollars and have the time, why not?
Most fare search tools such as GoLastMinute, Expedia, Skyscanner, and Kayak clearly show total duration for each flight as well as the number of stops, connecting airlines, and of course fares.
Once you compare available flights, you can decide if being flexible is worth the savings - and the risk of possibly missing a connecting flight.
Compare the cheapest Boston - New York flights on all airlines with Skyscanner
---
Cheap Flights Tip #3: Save Even More with "Flight Plus Hotel" Packages
Finding cheap flights to Boston is nice - but your deal gets even sweeter when you book a thrifty flight plus hotel package and save on BOTH your airline fare and accommodations.
How it works: Simple - you get the lowest industry-insider rates for both.
Pitfall: Hotels paired with flights may be outside of central Boston.
Solution: Be sure you know the name and location of the hotel. Do a Google search to make sure your hotel is located in the central part of Boston.
For Flight plus Hotel packages, Travelocity usually does a good job of disclosing accurate hotel locations - plus they usually offer BIG savings on these packages.
Save Up to $525 when booking a Flight Plus Hotel Vacation Package with Travelocity.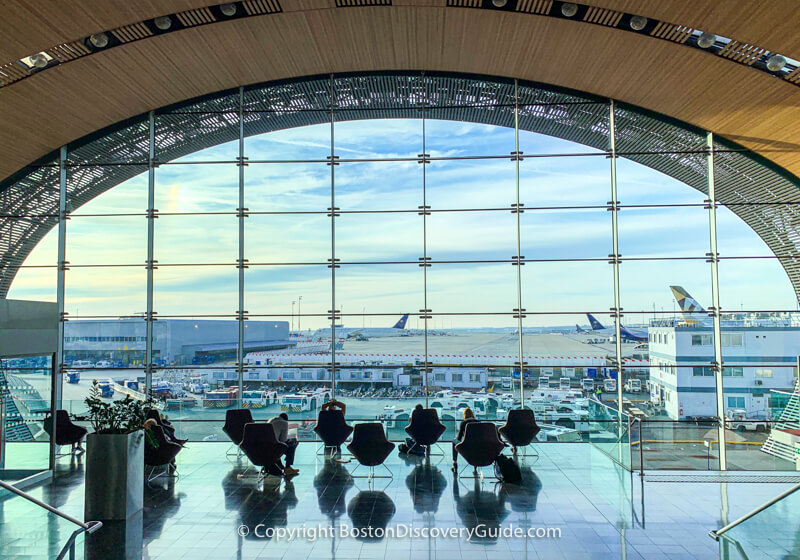 ---
More Articles on How to Save on Boston Travel
---
Need to Book a Hotel for Your Boston Visit?
Enter your travel dates to see rates for available hotels and apartment during your Boston visit: