Home > Vacation Planner >
Cheap Flights to Boston

How to find cheap airline tickets to Boston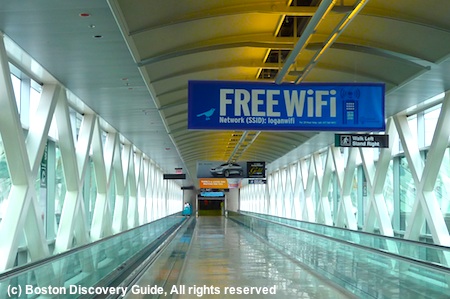 Logan Airport Skywalk - Get free WiFi along with cheap flights to Boston
Finding cheap flights to Boston Logan International Airport is easier than you might expect, even for business class flights. Why? Competition!
Consider these 3 tips for how to find the cheapest low-cost Boston flights - plus pitfalls to avoid.
Cheap Boston flights exist almost no matter where you're coming from.
With over a dozen U.S domestic airlines such as Delta, United, Southwest, and U.S. Airways and more than three dozen international carriers such as Air France, Quantas, Japan Airlines, and Gulf Air flying to Logan International Airport, you can find travel deals to Boston on low cost and full-service airlines, economy and business class flights.
Which airline will offer you the best prices on cheap airline tickets to Boston? It depends! Try my tried-and-true 3 best tips for finding the cheapest fares. And be sure to note the pitfalls to avoid.

Tip 1: Find cheap flights to Boston online - avoid extra fees!
You probably already know that lots of online airline flight booking sites offer low fares.
Here's the pitfall: Some online sites show cheap fares, but then pile on booking fees so you end up paying more. Especially when you're buying more than one ticket, these extra fees can really add up. HIgh ticket booking fees can make even the best travel deals to Boston evaporate.
Solution: Here's my # 1 tip for finding cheap Boston flights, the one that will save you money on airline tickets every time: if you want to save money, book through an online site that doesn't charge booking fees, such as Priceline.com. They offer the same low fares as other ticket consolidators but charge NO FEES. Even better, they immediately show you the total amount - exactly what you'll pay for the ticket plus taxes. They don't try to hide anything.
Priceline, for example, lets you save in 2 ways:
o Choose your flight by putting in your destination, dates, and carrier, and they'll show you all the lowest-cost options. You select the one you want. Looking for cheap business class flights? Priceline's tool also finds business and first class seats at bargain prices.
o Name your own price. Enter your departure and destination cities, plus the date when you want to travel. Check prices recently paid by others, and enter your bid. Priceline will search for the cheapest flights to Boston on those days. You can usually save up to 50% on last minute fares, and 40% on others - although I've seen savings up to 61% off!
Want to make sure you're getting the best deal on your flight to Boston?
Search for last minute flight deals at Expedia.com. Expedia also charges NO FEES on single carrier flights - and be sure to check their "Best Price Guarantee."
But that's not all . . . as soon as you know your travel plans, set up an alert through Airfarewatchdog. Go to www.airfarewatchdog.com and enter your information. They'll send you e-mails about cheap flights to Boston whenever they become available.
When you see a low discounted Boston fare, compare it with what you can find on Priceline and Expedia. Sometimes when Airfarewatchdog alerts you about a cheap Boston flight, several airlines will offer similar fares. Use Priceline and Expedia to find them all, and then pick the best one for you.
Return to Top - Cheap Flights to Boston
Tip 2: Be flexible - but weigh all costs
You'll find the cheapest flights to Boston if you can be flexible about your travel dates and flight times.
Avoid traveling on Monday and Friday, if possible, as these are typically the heaviest travel days in Boston - and therefore the days when fares are highest. Also try to avoid weekday flights arriving arriving between 7am and 10am, and departing between 4pm and 7pm, as high demand for these flights cause higher ticket prices.
Pitfall: Occasionally you can save even more if you're flexible about your arrival city - but "hidden costs" for getting to Boston from these airports can add up quickly.
Solution: Carefully compare all costs before choosing a flight.
Three other airports are within 2 hours driving time Boston (times below are approximate, and are based on non-rush hour traffic):
Providence, RI - 1 hour (airport code: PVD)
Manchester, NH - 1.5 hours (airport code: MHT)
Hartford, CT - 2 hours (airport code: BLD)
If you can't find attractive cheap flights to Boston at your target price, try these other cities. Sometimes you'll find significant ($100 or more) variations in the fare.
But keep in mind, you'll need a rental car to get from these airports to your Boston hotel, which will consume part - or maybe all - of your savings. Once you arrive at your hotel with your rental car, you must park it. Be warned - many central Boston hotels charge $44+ per day for parking.
Last but not least, you'll spend a few hours of your Boston vacation time driving back and forth to the airport.
By comparison, getting from Boston Logan Airport to Downtown Boston takes only 7-10 minutes by water taxi and costs only $10 per person ($17 round trip). The subway - the "T" as we call it here - costs only $2 per person (1 way).
For 4 people, here's how transportation costs to Boston might compare based on a 4-day trip:
| Costs and Savings | Boston Logan | Other Airports |
| --- | --- | --- |
| Airfare (total for 4 people) | $1,400 | $1,000 |
| Rental car (mid-size car + taxes and insurance) | - | $355 |
| Parking ($40/day - may be higher) | - | $160 |
| Water taxi from airport to downtown ($17 round trip per person) | $68 | - |
| Total costs | $1,468 | 1,515 |
| | | |
| Time to reach Downtown Boston (non-rush hour) | 7-10 minutes | 1-2 hours |
Check for cheap flights to cities near Boston on both Priceline.com and Expedia.com and compare which is better for you. You can also use Expedia to check typical car rental rates.


Return to Top - Cheap Boston Flights
Tip 3: Save even more with "flight plus hotel" packages
Finding cheap flights to Boston is nice - but your deal gets even sweeter when you book a thrifty flight plus hotel package and save on BOTH your airline fare and accommodations.
How it works: Simple - you get the lowest industry-insider rates for both!
Pitfall: Hotels paired with flights may be outside of central Boston
Solution: Be sure you know the name and location of the hotel. For Flight plus Hotel packages, I like Travelocity (also NO FEES) because they're very clear about hotel locations and offer BIG savings on these packages.
Now Save Up to $525 when booking a Flight Plus Hotel Vacation Package with Travelocity.
More about cheap Boston flights - Insider tips
The biggest way to find cheap flights to Boston is to avoid peak travel times - if you can.
Sure, you probably know that competition for cheap airline tickets gets fierce around U.S. national holidays such as Thanksgiving and Christmas . . . but do you know about Boston's other peak times?
The Boston Marathon, held on the third Monday in April, attracts 26,000+ athletes from all over the world. A fair number of them along with family members and friends arrive by air, usually a few days before the race, and depart soon after. Good luck with finding cheap flights to Boston during this period!
College graduations also attract a lot of visitors, many of whom arrive by air. With roughly one fourth of Boston's 300,000+ college and university students graduating each spring - well, you can do the math! Most graduation ceremonies take place between early May and early June, so book early to avoid high rates. Hotel rates also get shockingly pricey during this period.
What if you need to travel during these busy periods? Getting cheap flights to Boston can be done, but requires lots of advance planning. Book your flight reservations as early as possible!


Getting from Logan Airport to Your Hotel
Now that you've booked a cheap Boston flight, you need to get to your hotel. Find out how to take a water taxi from Boston Logan Airport. Plus you'll enjoy excellent views of the Boston skyline.


Luggage Storage at Logan Airport?
If you're only in Boston for a day, you may be wondering where to store your luggage at the airport.
The short answer is: you can't. But there are other good options: check out luggage storage near Logan.
Coming into Boston on a cruise? Here's info about Boston luggage storage lockers at and near CruisePort
Also, be sure to check our answers to these questions from other travelers - or ask your own.
Q & A: What Others Have Asked
Luggage storage in Boston during a layover
Are there lockers at Boston Logan airport to store luggage while you take in some of the sights waiting for your flight? Or, is there a car rental at the pier . . .
Need an Airport Hotel at Logan?
Boston Logan Airport Hotels - Stay right at the airport - but get to downtown Boston in 10 minutes by water taxi - the best of both worlds!
Boston Airport Hotels with "Stay and Fly" packages - How to save tons of money on airport parking - stay and park at these hotels instead - free Boston Logan Airport shuttle
More useful information . . .
Next Steps with the Boston Vacation Planner
You've just finished Step 1, finding cheap flights to Boston.
Now go to Step 2: Choose the top things you want to do in Boston (Hint - you'll also use this information in Step 3 to pick a convenient hotel)
Boston Discovery Guide > Vacation Planner > Rental Car Tips