The Boston Event Calendar for June 2021 kicks off summer in the city with plenty of fun activities, big events, exciting shows, and local favorites that visitors don't always hear about - but no worries, you'll find them listed here.
Although most larger concert venues don't reopen until next month, you can catch a few DJs (Kaskade, Jack Harlow, and Steve Aoki) at The Grand Boston in Seaport in early June, and Flora Cash at Brighton Music Hall later in the month.
But the good news is that the Boston Red Sox are back with Fenway Park at almost full capacity with home games attracting enthusiastic fans.
Other top events such as Scooper Bowl and the Dragon Boat Festival on the Charles River will return this year but in a safe but different format while the massive Pride Parade has been postponed until the fall.
Official State Holiday observed in Boston: Bunker Hill Day, Saturday June 13, 2021. Bunker Hill Day is a Boston-only holiday, is always observed on a Sunday to accommodate a parade, and is not observed in other parts of Massachusetts or the rest of the US.
Top photo: Outdoor dining along Newbury Street in Boston's Back Bay neighborhood
Summer Boston Harbor Cruises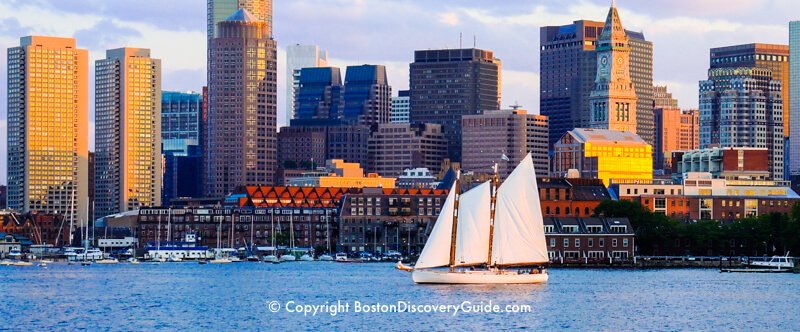 Tour Boston by boat - the best way to see the city!   Check out these fun sightseeing, music, and entertainment Boston Harbor cruises on the Yacht Northern Lights and Schooner Adirondack III:
Fun Boston Harbor Cruises To Do Right Now:
---
Boston Concerts & Shows

Top June Concerts in Boston - Schedules & Tickets
Larger concert venues don't reopen until next month - but these DJ events plus Flora Cash at the Brighton in late June look good:
Enter DISCOVERY 10 to save 10% on TicketNetwork & TicketLiquidator tickets
Schedules & Tickets:
Find concerts & shows for: January | February | March | April | May | June | July | August | September | October | November | December
Enter DISCOVERY 10 to save 10% on TicketNetwork & TicketLiquidator tickets
---
Boston Red Sox Schedule - Home Games at Fenway - June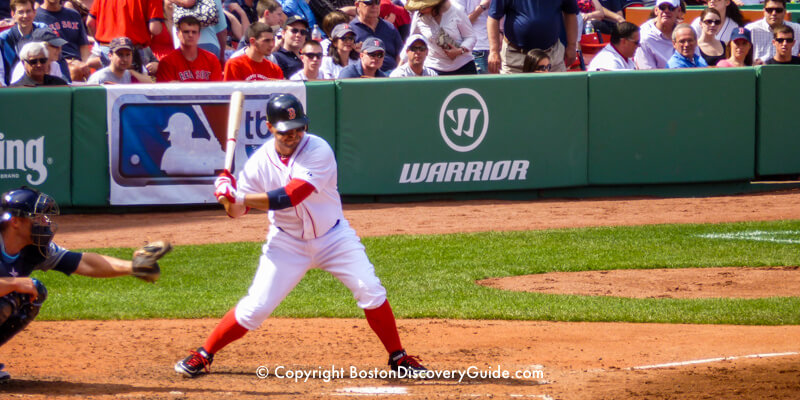 Location: Fenway Park
Nearest T stations: Green Line B or C/Kenmore; Commuter Rail Worcester Line/Yawkey

Indulge your passion for baseball by going to see the Boston Red Sox at Fenway Park.
Enter DISCOVERY 10 to save 10% on TicketNetwork & TicketLiquidator tickets
Find Red Sox home game schedule for each month: July - August - September - October
---
Where to Stay near Fenway Park
If you're coming to a Red Sox game, spend the night or the weekend at one of the nearby hotels, such as the hip Verb Hotel, directly across the street from Fenway Park: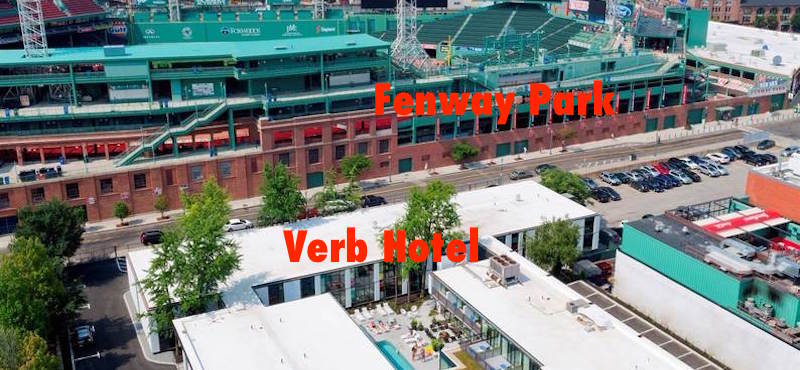 More top hotels near Fenway Park:
Check out more hotels near Fenway Park
Park: Garages & lots near Fenway Park
Celebrate: Best sports bars near Fenway Park
---
Boston Theater & Shows for June 2021

Top June Shows in Boston
Sadly, nothing is scheduled for this year - but you can book tickets now for Wicked in 2022.
Wicked - Boston Opera House - June 2 - July 14, 2022
Schedules & Tickets
Enter DISCOVERY 10 to save 10% on TicketNetwork & TicketLiquidator tickets
More Boston Theater District Shows
Where to have dinner in Boston's Theatre District
---
Top Hotels near Boston's Theatre District
Enjoy your Boston performance or show experience to the fullest when you stay in one of the nearby Theatre District hotels, such as the luxurious Hyatt Regency: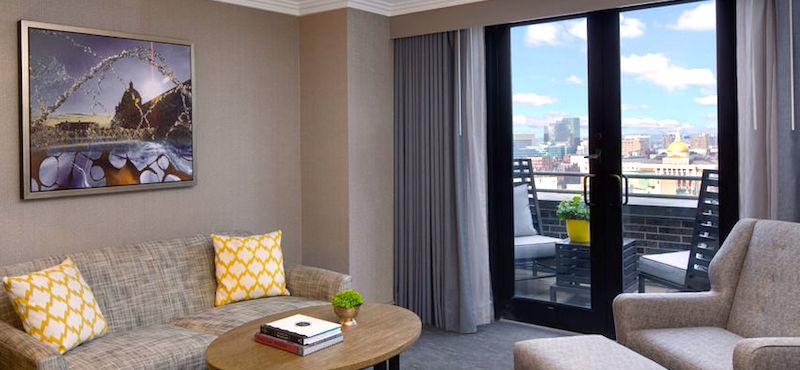 More top Theatre District hotels:
Check out more hotels in Boston's Theatre District
---
Lion Dances on Sundays in Boston's Chinatown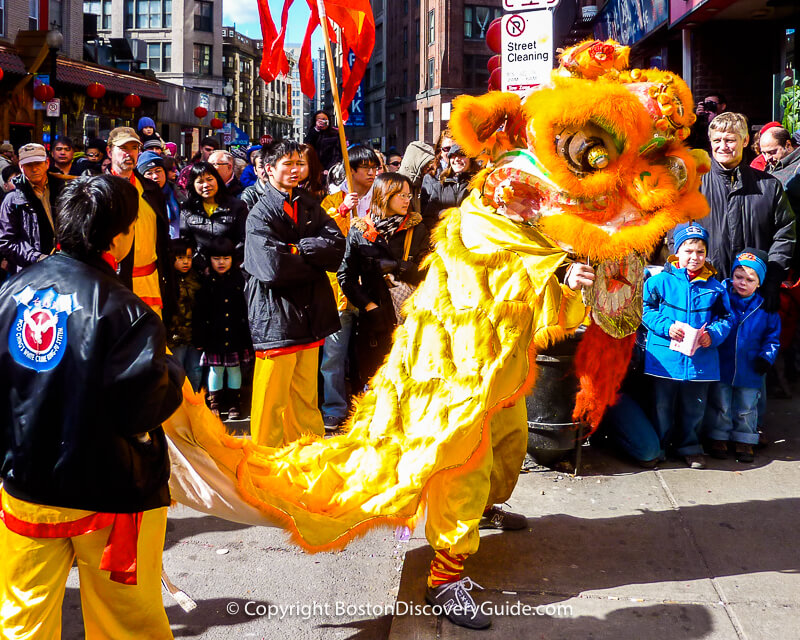 Head to Chinatown on Sundays to watch Lion Dances starting at the Chinatown Gate (Beach Street) on the Greenway at 12 noon, and then stop by one of the neighborhood's restaurants for Dim Sum. Dances continue on Sundays through July 3.
---
Fun Events & Activities on the Rose Kennedy Greenway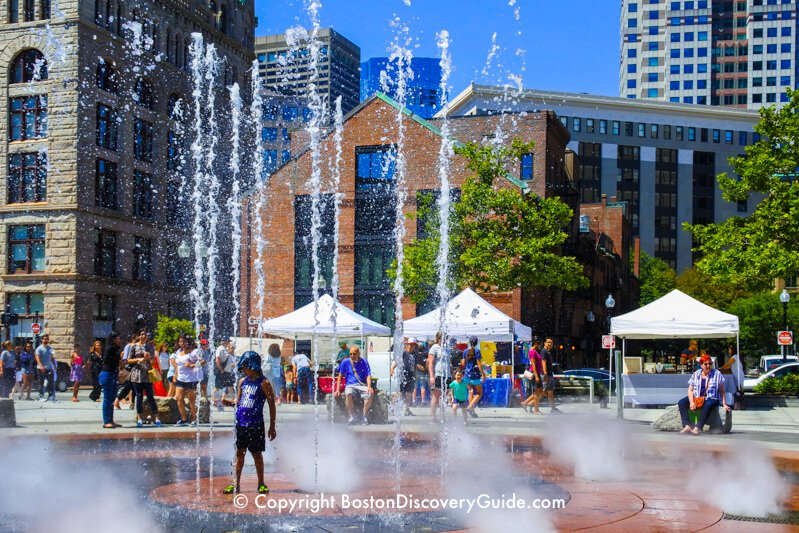 Exciting news - some Greenway events and things to do this summer are reopening! Here's what's open now and starting soon:
Greenway Food Trucks: Generally Monday - Sunday (but not on holidays) in Dewey Square, Carousel, Rings Fountain (Milk Street), State Street, and Rowes Wharf areas of the Greenway - reduced schedule, with only 2-3 locations and only a few trucks per day, at least at the beginning - starts June 1.
Farmers Market in Dewey Square run by Boston Public Market offering fresh produce, meat, cheese, breads and pastries, ice cream, and more - opens on June 2; Tuesdays and Thursdays 11:30am - 6:30pm through November 21.
Public Art - Starting on June 5, you'll see new installations by Mexican-American folk artist Catalina Delgado-Trunk and British-Nigerian artist Yinka Shonibare, plus other revolving art installations thoughout the Greenway, and especially in the Fort Point Channel Park
Fountains - Six of them will be on between 9am-11pm starting on June 16. The seventh, the North Canal Fountain, will go on during the week of June 22 after repairs are completed.
Greenway PlayCubes - Chinatown Park; opens June 16 for children with a supervising adult.
Greenway Open Market - Opens Saturday June 20, and Sunday, June 21. Going forward, it will take place each Saturday and the first and third Sundays of each month, 11am-5pm in the Wharf District Parks
Carousel - Reopens at the Wharf District Park (near Faneuil Marketplace) on June 26. Will follow a limited Friday, Saturday, Sunday schedule, 11am-6pm. You can expect lots of cleaning and physical distancing.
Not Now but Maybe Later:
Boston Calling Block Parties held at Dewey Square (between Pearl and Oliver Streets) across from the InterContinental Hotel; different local band each week, plus a cash bar for 21+
Trillium Beer Garden in the Wharf District Parks (High Street and Atlantic Ave) featuring draft beers by Trillium Brewing Company and barrels of Westpoint Rivers Winery.
City Winery Open Air Wine Garden on Dewey Square, with beer and cider by Harpoon Brewery.
On hold for now:
Greenway Fitness Programs: Free fitness classes from local gyms and instructors
Greenway Play: Play programming for kids
More about the Rose Kennedy Greenway
---
Featured New Hotel for June: Hilton Garden Inn Boston/Brookline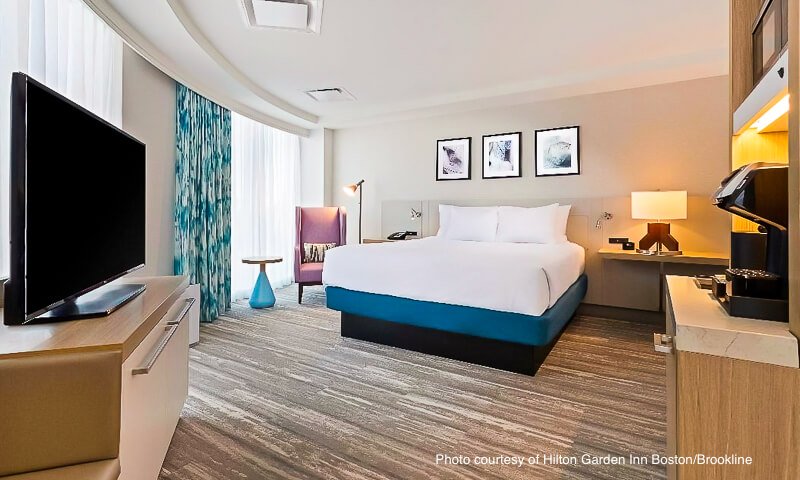 700 Brookline Place, Brookline
With 174 guestrooms and a convenient location on the Brookline/Boston border close to top cultural attractions, universities, and Fenway Park, Hilton Garden Inn Boston/Brookline offers an indoor swimming pool and fitness center, onsite dining, and shuttle service to nearby Longwood Medical Area.
If you're driving into the city from the west, you'll appreciate the hotel's convenient location close to the Mass Pike (I-90) and Route 9. Valet parking is available for an affordable (for Boston) fee.
Best of all, once you're at the hotel, you'll have lots of transportation options at your fingertips. Just hop onto the commuter rail, subway, or bus and you'll be at Fenway Park, the Museum of Fine Arts, Northeastern University, Simmons University, the Isabella Stewart Gardner Museum, Harvard Medical School, and Boston's world class hospitals in Longwood in 3-10 minutes. Or walk, and enjoy the many coffee shop/bakeries, restaurants, scenic parks, and friendly vibe in Boston's Fenway neighborhood.
Check out other new Boston hotels
---
Lawn on D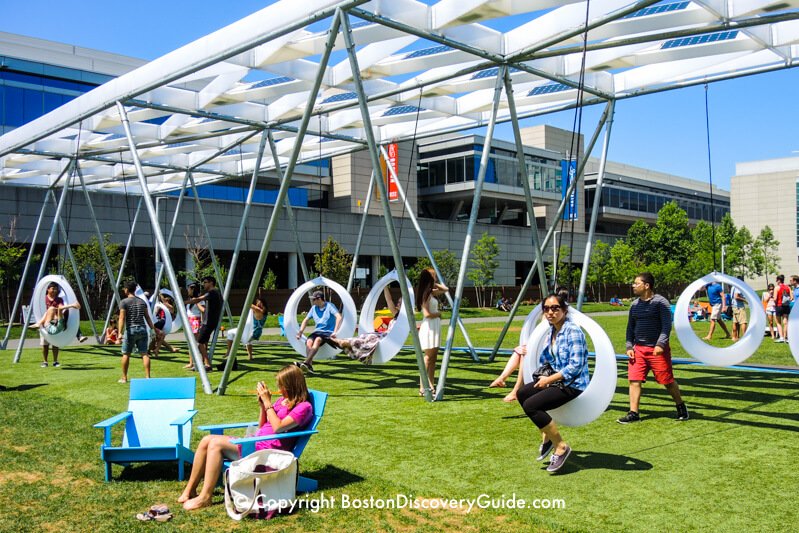 Lawn on D, a playground for adults (kids are welcome too) located behind the Convention Center in the South Boston Waterfront, is normally where you'll find fun swings and outdoor seating, beanbag and other games, and art installations throughout the summer, along with a rotating series of food trucks.
But like almost everything else, Lawn on D will be different this year.
There won't be any swings or games due to health and safety concerns - but the Lawn will be transformed into a giant outdoor dining venue with 180 carefully-spaced tables, 700 seats, and food and beverages provided by Rebel Restaurants.
Seating will be by reservation only - More info
Another option in this area is to sample one of the many restaurants in the Seaport and Fort Point areas of the South Boston Waterfront.
For Boston Harbor views while you dine, visit a Seaport restaurant.
To try the creative cuisine of some of Boston's most innovative chefs, head to a Fort Point restaurant.
---
Fun Boston Tours for June
---
Juneteenth Celebration
These events are from 2019. Look for updates soon.
Boston's celebrations of Juneteenth, the commemoration of African American freedom, will be online this year due to the coronavirus pandemic:

National Center for Afro American Artists - Juneteenth Emancipation Observance: Nubia: A Shared Vision, A Shared Commitment, with historical readings, musical performances, and speeches.
Poetry as Protest: Dr. Malcolm Tariq - A night of poetry and conversation. More information
Museum of Fine Arts - Panel discussion, chilldren's story time, art making, spotlight talk with artist Roberto Lugo, recitations of speeches, poems, and songs by teens, and performance by Débo Ray and DJ Where's Nasty. More information
---
Boston Hong Kong Dragon Boat Festival 2021 - Virtual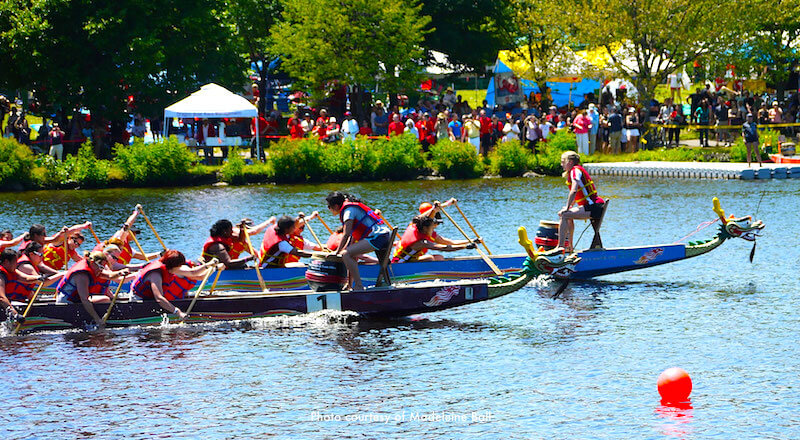 The annual Boston Hong Kong Dragon Boat Festival is the largest-running dragon boat race in North America with over 60 teams competing. Enjoy the spectacular dragon boats, with rowers ranging from novice to expert. Race seeding trials take place on Saturday, and the races occur on Sunday.
The 2021 races will be virtual. Details have not been announced as of early June, so please check the organizer's website for details: https://www.bostondragonboat.org/
For future years: Don't miss the Cultural Festival on Sunday (Cambridge side of the Charles) featuring Asian arts, crafts, martial arts, and dance performances!
When:
- Races: June 12-13
- Cultural Festival with food and entertainment: June 13 only - 12 noon-5pm
Where: Charles River, with Festival (food and entertainment) on the Cambridge side of the river
Nearest T station: Red Line/Harvard Square
Cost: Free
More Dragon Boat Festival information
---
Boston Pride Week Events & Schedule - Postponed for 2021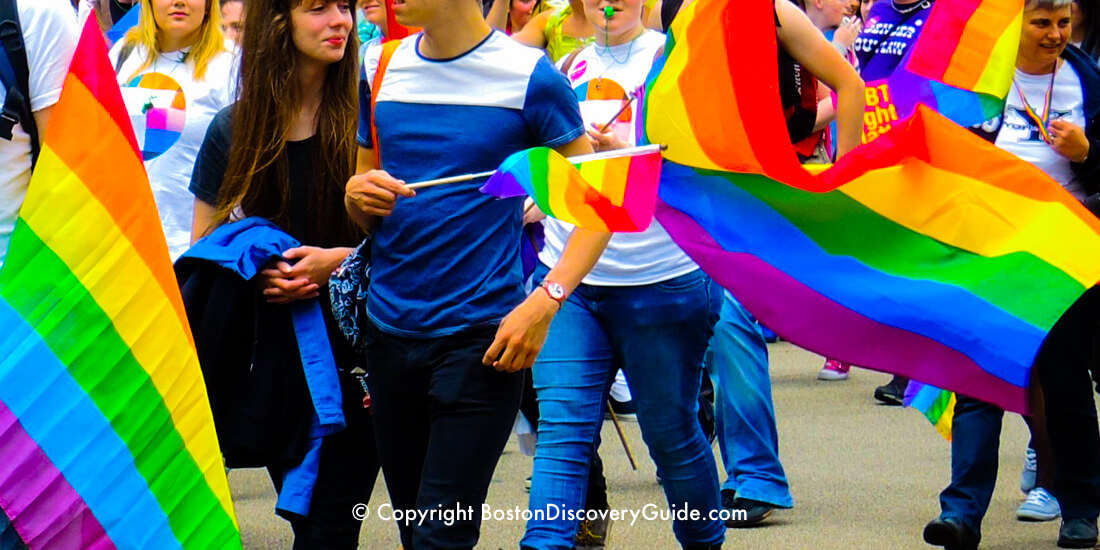 Boston Pride Week, the city's annual celebration of LGBTQ+ communities and the largest pride event in New England, has been postponed until the fall for 2021. A new date has not been announced yet.
This huge event features multiple festivities, parties, and celebrations around the city during Pride Week, with even more events throughout the month of June. Boston Pride Week highlights normally include:
- Pride Remembrance Memorial at the Garden of Peace, 64-98 Somerset Street (in the esplanade behind 123 Center Plaza in Government Center)
- Pride Night at Fenway Park - Red Sox ticket information
- Boston Pride Festival at City Hall Plaza
- Boston Pride Concert at City Hall Plaza
- Boston Pride Parade from Copley Square to City Hall Plaza
- Pride Parade Route - Parade kicks off in Copley Square in Back Bay, turns right on Clarendon Street and loops through the South End by turning left onto Trement, and left again onto Berkeley Street. At Boylston Street, the parade turns right. After passing by the Public Garden, it turns left at Charles Street, right at Beacon Street, and passes along Boston Common and Beacon Hill. After a final right turn onto Tremont Street, marchers end up at City Hall Plaza.
More events information: www.bostonpride.org
Boston Hotels with Outdoor Swimming Pools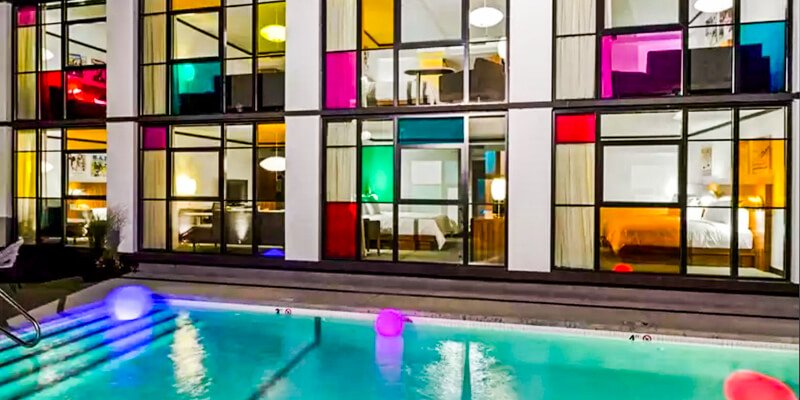 Find more Boston hotels with outdoor swimming pools
Boston Discount Cards for Attractions, Tours, Cruises
Best way to save in Boston. Save 50% or more when you take a Boston Harbor cruise or Duck Boat tour, visit Plimouth Plantation, the New England Aquarium, Museum of Science, Museum of Fine Arts, Fenway Park Tour, and more. Compare to find out which one is best for you.
Battle of Bunker Hill Day Parade 2021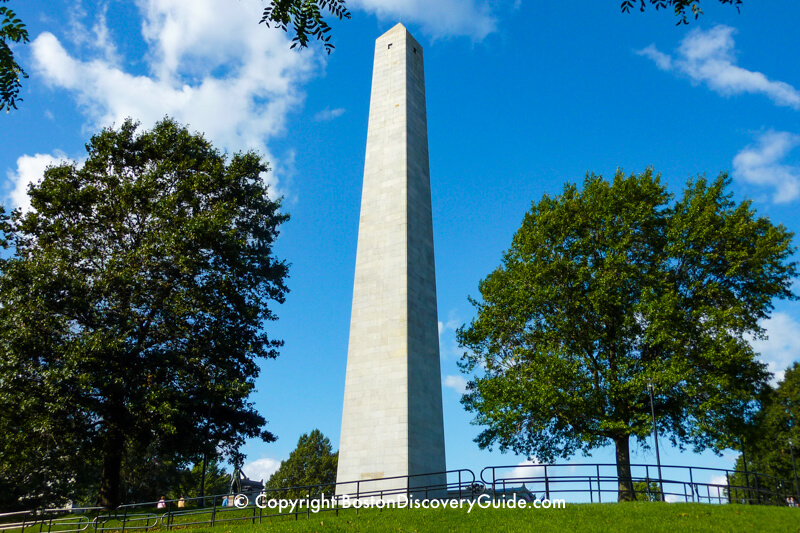 When: Sunday, June 13, 12:30pm-3:30pm
Where: Bunker Hill Monument, Monument Square, Charlestown, MA (parade starts at the intersection of Vine, Bunker Hill Street, and Main Street, Charlestown)
Nearest Boston subway station: Orange Line/Community College
Cost: Free
More information: 617-242-2724
Join the National Park Service at the Bunker Hill Monument on Boston's Freedom Trail to commemorate the anniversary of the famous battle against the British on nearby Breed's Hill on June 17, 1775, and enjoy the Bunker Hill Day Parade, a Boston tradition since 1786. Members of the Charlestown Militia dressed in Colonial attire play fifes and drums, and offer musket salutes as part of a wreath-laying ceremony at the monument.
The parade kicks off at Hayes Square (corner of Vine and Chelsea Streets), marches up and down Bunker Hill Street, turns left at Main Street at Sullivan Square, continues down Main Street, turns left onto Monument Ave and then right onto Monument Square, turns right onto Winthrop Street, and ends up at the Charlestown Militia Training Field (corner of Common and Winthrop Streets). Streets start to close to traffic soon after 9am.
Afterward the parade, explore the Bunker Hill Museum (free admission) across from the monument on Monument Street, or follow the red stripe of the Freedom Trail down to the Charlestown Navy Yard for a free tour on the USS Constitution. Please note: The museum may still be open on a modifed schedule - Friday-Sunday from 10am-12noon, and 2pm-4pm), and as we write this in April, the Constitution is stilled closed - so please check back later for possible updates.
The Battle of Bunker Hill took place during the Seige of Boston, which lasted from April 19, 1775 until March 17, 1776 when the British were finally routed and forced to flee the city.
June 17th is the official state holiday and is observed in Boston (although not in the rest of Massachusetts or elsewhere in the US). The parade always takes place on a Sunday on or before June 17.
---
Fun Boston Sightseeing Tours
More Ways to Tour Boston
Sightseeing Tours | Tours for Teens | Kids & Family Tours
---
New England Coastal Tours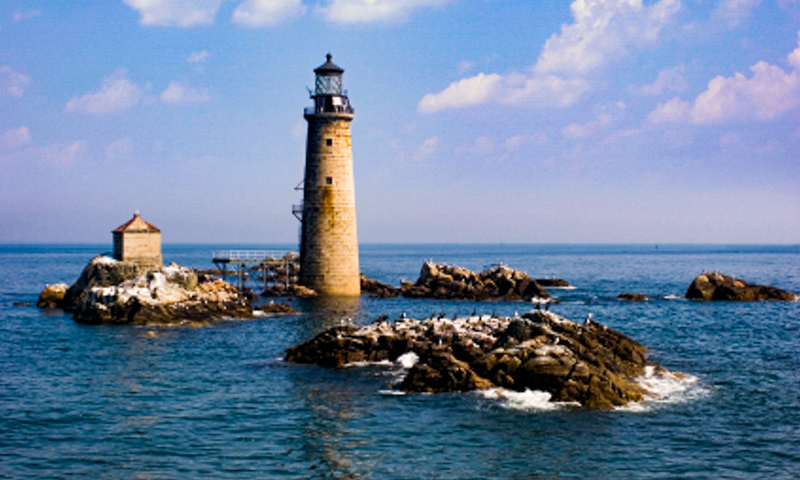 These special 1-day New England Coastal Tours on a luxury bus show you spectacular beaches, wetlands, quaint seaside villages, harbors, and lighthouses along the North Shore of Massachusetts, New Hampshire, and Maine.
Depending on when you go, you may also see the first displays of brilliant fall foliage along the New England coast.
You'll visit Hampton Beach and have plenty of time to photograph 19th century Nubble Light in York, Maine.
Don't miss this chance to see New England's glorious coast at its best!
- Find out more about the New England Coastal Tour - Now through October
- Find out about fall foliage sightseeing tours departing from Boston - Tours start in September
---
Whale Watching Cruise Tickets
Join one of the exciting 3-hour Whale Watching Cruises departing from the Downtown Boston Waterfront, and experience the thrill of spotting whales off the coast of Boston.
You'll see magnificent creatures such as Humpback and Finback whales close-up from the deck of your ship, and spot White-Sided Dolphins frolicking in the waters.
These cruises sell out quickly and capacity is currently limited to 15 participants per cruise, so don't wait to get your tickets now for this iconic Boston experience!
---
Museum of Science Exhibits - 2021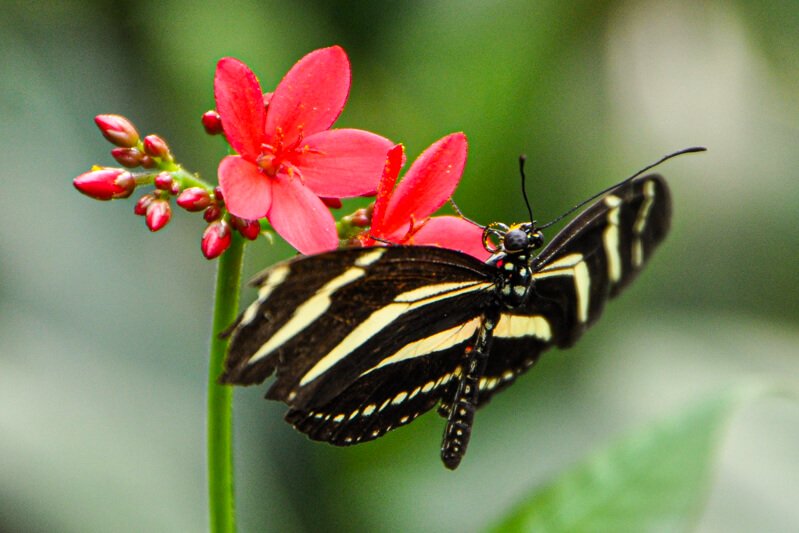 Special Exhibits
Arctic Adventure: Exploring with Technology - Find an Arctic fox, travel across a glacier, & more in this immersive exhibit
Science Behind Pixar: See how art and science create magic
Design Engineering Workshop - Design, build, and test solutions for everyday problems
Permanent Exhibits
With fascinating permanent exhibits for all ages, there's always something to see, do, and learn. Here are just a few of the most popular: Butterfly Garden (extra fee), Colossal Fossil: Triceratops Cliff, Cosmic Light, Dinosaurs, Hall of Human Life, Live Animal Care Center, Mathematica, Nanotechnology, Natural Mysteries, New England Habitats, The Light House - plus 17 more!
Where: Boston's Museum of Science
When: Daily, 9am-5pm; open until 9pm on Fridays
Admission: $29 general museum admission ($24 for kids). Buy online to skip the line. Get free museum admission when you have a GoBoston Discount card or Boston CityPASS card.
Imax Theater and Planetarium: Additional fees apply
---
Scooper Bowl Ice Cream Fest - 2021

Boston's favorite ice cream fest, Scooper Bowl, normally dishes out 10 or so tons of ice cream, gelato, frozen yogurt, and sorbet in this popular 3-day fundraiser at City Hall Plaza.
This year, the event will use a safe format involving boxed ice cream kits to be picked up in a variety of locations in the greater Boston area. Details are expected to be announced soon, and the best place to check for the information is: https://www.jimmyfund.org/events/cancer-fundraising-events/jimmy-fund-scooper-bowl/
Scooper Bowl raises money for the Jimmy Fund to benefit cancer research at Dana-Farber. Not only do you get to eat all you want of the ice cream donated by the nation's top frozen dessert companies, but you can vote afterward for your favorite among the 50+ different flavors on offer.
When: TBD
Where: City Hall Plaza, Boston
Nearest T station: Blue and Green Lines/Government Center
All-You-Can-Eat Tickets: TBD
More information: Scooper Bowl
---
Where to Stay near City Hall Plaza
If you're coming to an event at or near City Hall Plaza, spend stay in a nearby hotel, such as the chic and trendy Ames Hotel: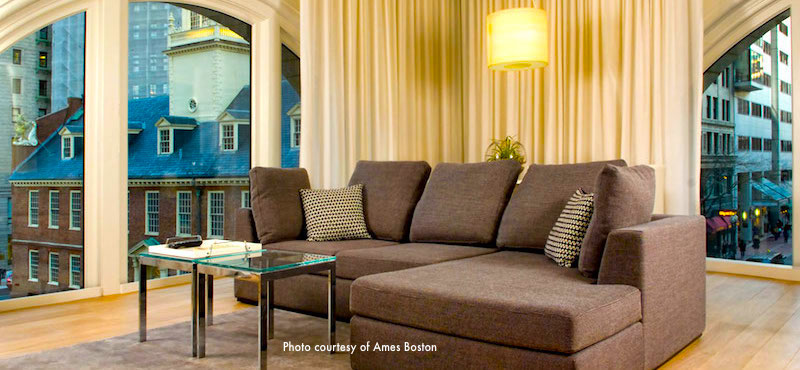 More top hotels near City Hall Plaza:
Check out more hotels near City Hall Plaza
---
Not Sure about Boston Neighborhood Locations?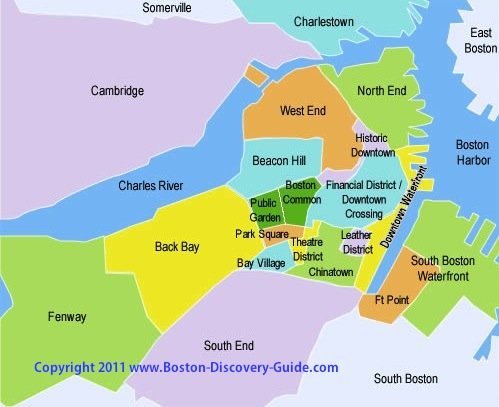 Need a more details? Here are our favorite free and low-cost Boston maps.
---
Berklee Summer in the City: Free Summer Concerts in Boston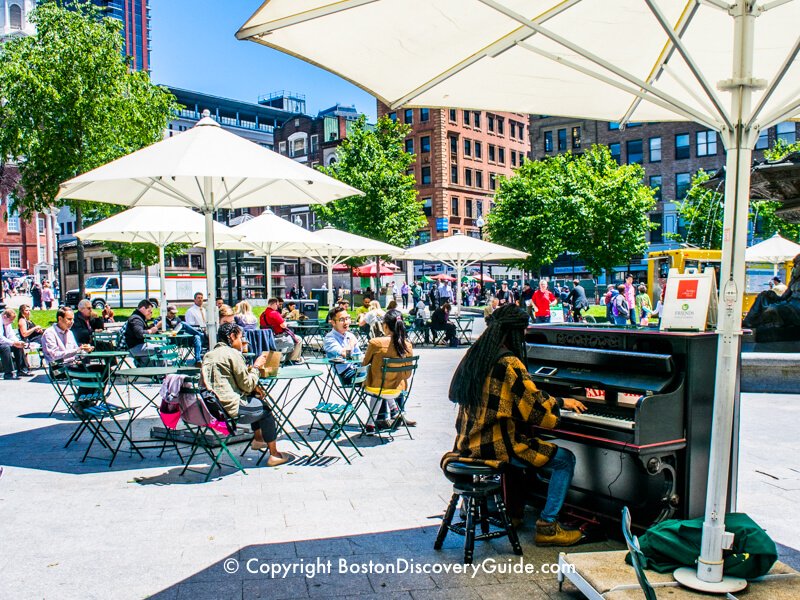 Free outdoor concerts take place all over the city during the summer - and Berklee College of Music students, faculty, and alumni give over 400 of them between early June and early October. Music ranges from jazz to classical, Latin to funk, folk to world, and are free.
Locations include Atlantic Wharf, the Boston Public Library, Brewer Fountain Plaza on Boston Common, the Charlestown Navy Yard, Chin Park and City Winery on the Greenway, selected Boston Harbor Cruises, the Arnold Arboretum, Christopher Columbus Park on the waterfront, Downtown Boston, the Longwood Medical Campus, multiple locations in Cambridge, Dorchester Heights, Institute of Contemporary Art, Prudential Center, Fenway locations, and more - so check the schedule at https://www.berklee.edu/events/summer
---
More Free Summer Concerts in Boston
Concerts in the Courtyard: Boston Public Library in the McKim Courtyard (700 Boylston Street, Copley Square in Back Bay), most Wednesdays 6-7pm and Fridays 12:30-1:30pm from early June through the end of August. Music ranges from jazz to classical, folk to world, and are free. Concerts move indoor to Rabb Hall in case of bad weather. More info: https://www.bpl.org/concerts-in-the-courtyard/
Boston Calling Weekly Block Parties: Live performances by popular banks such as East Coast Soul, Bourbon Chasers, and The Almighty Buck take place every week from 5-8pm on Thursdays at Dewey Square on the Rose Kennedy Greenway from early May through the end of August. Cash bar for 21+ with beer and wine, plus food to purchase. Check out the weekly lineup on their Facebook page: www.facebook.com/bostoncallingblockparties
---
Summer Activities in Boston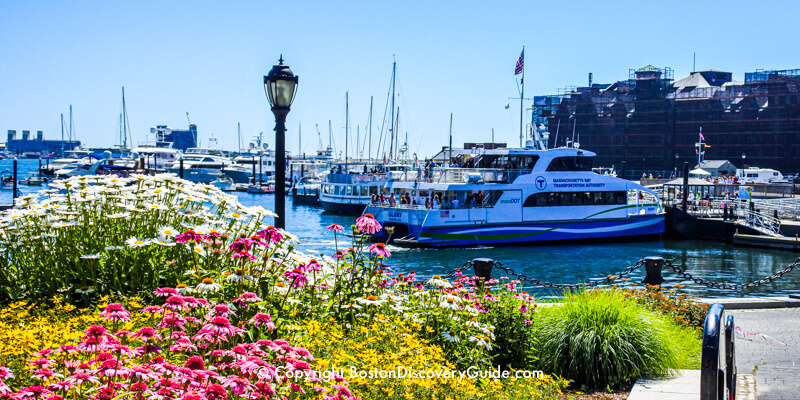 Looking for more things to do in Boston in the summer?
Check out:
- Best Boston Summer Activities
- Things to Do in Boston in June
- Things to Do in Boston in July
- Things to Do in Boston on Rainy Days
- Top 10 Boston Attractions
---
Fun Free Fridays in Boston in June
Fun Free Fridays give you free admission to top Massachusetts cultural venues throughout the summer, thanks to the generosity of Highland Street Foundation. A different selection of destinations offer no-cost access each Friday from the end of June through the end of August.
Here is the schedule from last year for Boston area destinations during June - 2021 TBD:
June 28:
- Lyric Stage of Boston,
- Plimouth Plantation
- Nichols House Museum (Boston),
- MIT Museum (Cambridge)
- Wenham Museum (Wenham)
More Free Friday Events - July
More Free Friday Events - August
More locations outside of Boston: Highland Street Foundation website
---
Free Events in Christopher Columbus Park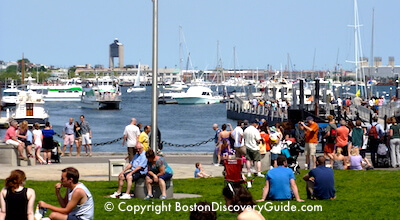 Enjoy free outdoor movies, croquet, and celebrations at Christopher Columbus Park in Boston's North End.
Here's the summer lineup:
Croquet - Wednesdays, June 5-Aug 28, 5:30-7:30pm - Play croquet on the West Lawn. Don't know how? A member of the sponsoring organization (Friends of Christopher Columbus Park) will be on hand to teach you
Lawn Games - Saturdays July 20-September 14, noon - 4pm - Corn hole, giant jenga, ladder golf, & more!
Independence Day Celebration & Fireworks - Children's parade, cartoon charachters, jugglers, magicians, face painting, and more kids activities from noon-4pm on Saturday, June 29
Movies in the Park - Sundays July 21 through August 26, 7pm - Bring a blanket or low folding chairs and watch family favorites starting at sundown. Find out what's showing: https://www.foccp.org/foccpevents
---
North End Feasts and Festivals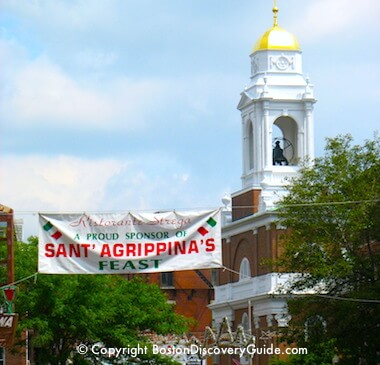 Boston's North End Italian Feasts and Festivals draw huge crowds to this historic neighborhood. You can smell the mouth-watering food, hear the music, and feel the excitement as you walk across the Greenway to Hanover Street, where many of the celebrations take place.
These parades and festivals take place almost every weekend throughout the summer.
This schedule is from last year - 2021 dates coming soon:
North End Festivals scheduled for June (all are processions only - no feasts during June):
Santa Maria Di Anzano Procession - June 2 at 1pm - Starts at St Leonard's Church (Hanover and Prince Streets); procession only
St Anthony of Padua - June 12 (date to be confirmed) - 5pm: Outdoor Mass at St Leonard Church's Peace Garden, Hanover and Prince Streets; 6pm: Candle-lit procession starts at St Leonard Church
Saint Padre Pio - June 23 at 2pm - Procession starts at St Leonard Church, Hanover and Prince Streets
Find out about North End Feasts and Festivals taking place in July
Interested in staying in the North End? Check rates at Bricco Suites, in the heart of the neighborhood, and the waterfront Yacht Haven Inn and Battery Wharf Hotel.
---
Boston Harborfest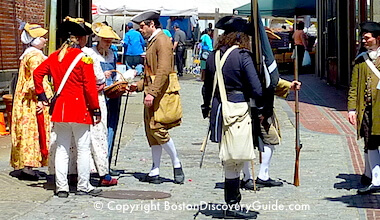 Harborfest is Boston's gala celebration of American Independence, July 4th, and the joy of summer in Boston.
Revolutionary War reenactments, live entertainment, Chowderfest, Parade of Lights & Fireworks, Arts at Harborfest, cruises, exhibits, walking tours, and more exciting events showcase Boston's colonial, Revolutionary War, and maritime history.
When: June 30 - July 4 (to be confirmed)
Where: Main events take place at Faneuil Marketplace, Downtown Crossing, along the Freedom Trail, and on the waterfront - but with 200+ events, you'll also find events in other locations as well.
Cost: Free to pricy - depends on the event! Some venues request donations.
More about Boston Harborfest events and schedules
Best Boston hotels for Harborfest
---
Boston Harbor Cruises
---
Frog Pond Spray Pool Opens on Boston Common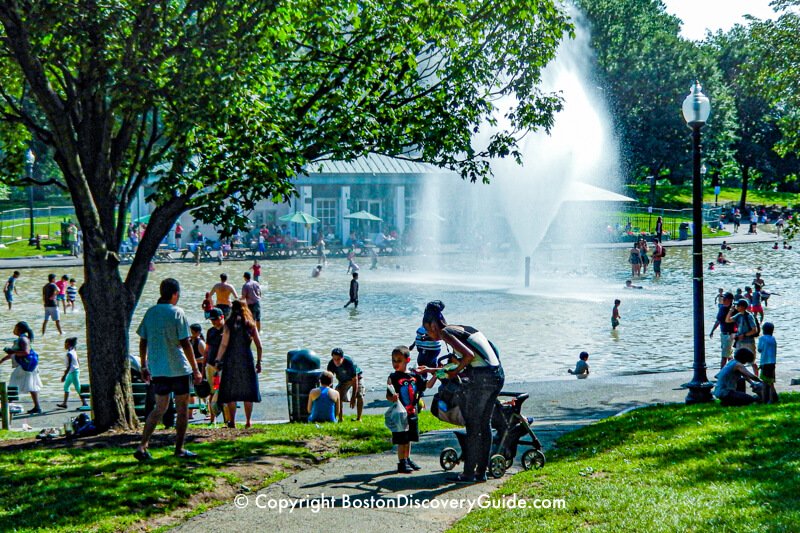 For 2 glorious months after school ends, Frog Pond turns into a spray pond and becomes the best place to cool off in the city ... if you're 12 or under. The Grand Opening Celebration features family-friendly entertainment, music, art, a gala ceremony, and of course, the chance to play in the 30-foot spray at the center of the pond. Lifeguards will be on duty this summer during all open hours.
When: June 24, 11am; remains open from 11am to 6pm every day through Labor Day, unless there's a thunderstorm (opening date to be confirmed) (dates and times to be confirmed)
Where: Frog Pond at Boston Common
Nearest T station: Green Line/Park
Cost: Free

More Boston Splash Pool Locations:
Rose Kennedy Greenway - Rings Fountain, in the Wharf District section near Faneuil Marketplace and Christopher Columbus Park
Christian Science Plaza - Boston's Fenway neighborhood, close to the Colonnade Hotel
---
South End Garden Tour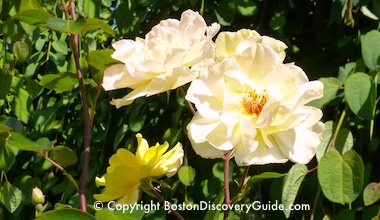 The South End Garden Tour never gets boring because it features gardens in a different area of this large neighborhood every year. This year's tour focuses on the Eight Streets, Union Park, Old Dover, and SOWA neighborhoods, with numerous gardens and green spaces open for this self-guided tour.
Back by popular demand, select South End artists will be in the tour gardens creating works of art - which you can buy at a reception immediately after the tour. Too good to miss!
Get ready to view some gorgeous gardens in this neighborhood known for its passion for gardening. Tour proceeds benefit the South End/Lower Roxbury Open Space Land Trust.
Be sure to save time for lunch or an early dinner at one of the many terrific chef-owned South End restaurants.
More about Boston and Cambridge garden tours
When: Saturday, June 11, 10am - 4pm, rain or shine (To be updated for this year)
Where: Begins at Berkeley Community Garden (corner of Tremont & East Berkeley) in Boston's South End
Nearest T station: Orange Line/Back Bay
Cost: Tickets are $35 on day of the tour, or $30 online - find details at www.thetrustees.org
---
New England Coastal Tour from Boston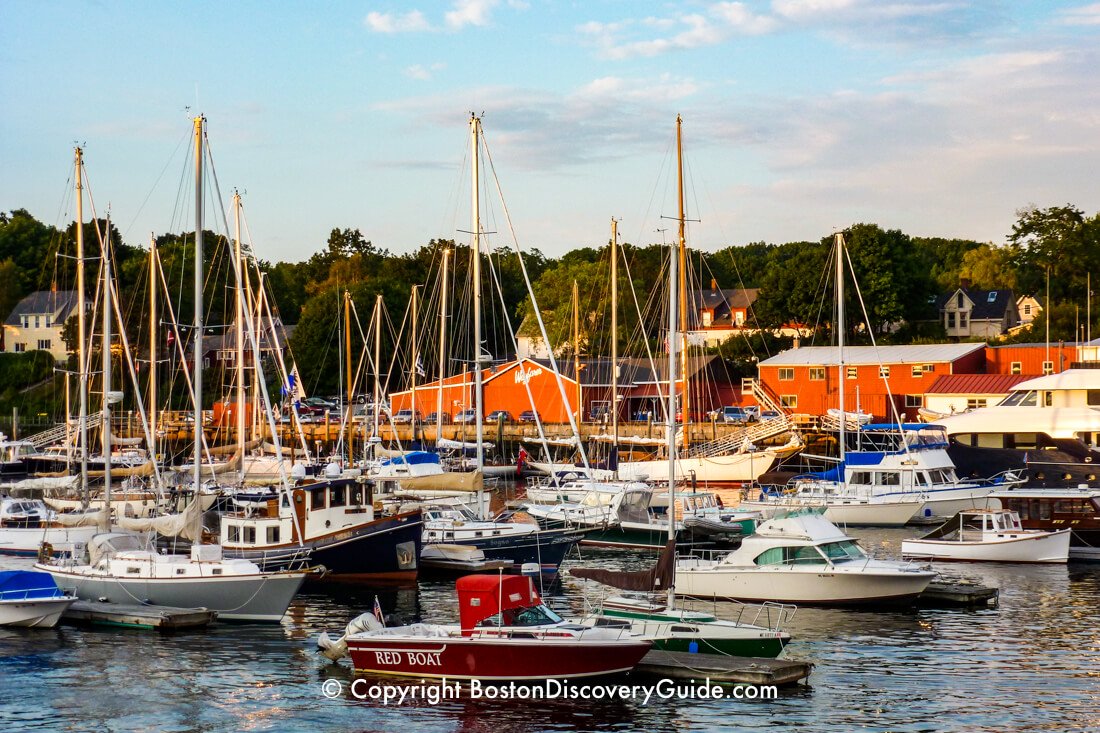 This New England Coastal All-Day Tour gives you spectacular views of the beautiful New England coastline along Massachusetts, New Hampshire, and Maine.
You'll get to visit historic Nubble Lighthouse in York, Maine, enjoy lunch, shopping, and leisure time in quaint Kennebunkport, admire the well-preserved 18th and 19th century architecture in quaint Kenebunk Village, visit Hampton Beach, and see all the charming villages along the rocky coastline as you cruise along in a luxury climate-controlled coach.
Pickup and dropoff from selected Boston hotels is included.
More Fun Boston Tours
Famous Boston Chefs in Shorts
Here's the perfect way to spend a Friday night in June: Chefs in Shorts, held outdoors on the Seaport Hotel's Upper Plaza, features grills, barbecue, and 40+ of the city's top chefs from Boston and Cambridge restaurants such as Backyard Farms, Bodega Canal, Chubby ChickPeas, Saloniki Greek, Flour Bakery + Cafe, Local 149, Ocean Prime, Fuji at Inkblock, Publico Street Bistro, and Taranta competing in a night of grill-offs, fun, and delicious food.
For about the same amount of money you'd spend on a nice dinner in a Boston restaurant, you get to sample all of the chefs' delicious creations accompanied by wine or beer, vote for your favorite dish, AND as a bonus, support Future Chefs, a Boston non-profit organization dedicated preparing local youth for opportunities in the culinary field. This event usually sells out far in advance - so don't wait to get your ticket!
When: June 21, 7pm-10pm
Where: Seaport Boston Hotel, 200 Seaport Blvd, South Boston Waterfront
Cost: $90, which includes tastings, wine, and beer
Tickets and more information: www.seaportboston.com/events/boston/chefs-in-shorts-1
Photo courtesy of Chefs in Shorts; Seaport Boston Hotel is in the background
10K Race through Back Bay
When: June 23, 8am
Where: Boston Common - Starts and finishes on Charles Street
Closest T station: Green Line/Arlington
Cost: $65 registration fee
More information: BAA Website
Whether you're training for the next Boston Marathon or just want to do a Sunday morning dash through Beacon Hill, Back Bay, and Fenway, the Boston Athletic Association's 10-kilometer race presents a perfect opportunity to test your skills and stamina during Boston's summer weather.
Limited to 10,000 runners, the race will follow a course that begins and ends from Boston Common at Charles Street, and winds through the Back Bay and Fenway neighborhoods. No qualifying standard is required for this race.
Popular Back Bay Hotels
***y-hotels-back-bay-colonade-stbotolph-copleysquare-lenox-main.shtml***
More hotels in Boston's Back Bay neighborhood
Roxbury International Film Festival
When: June 19-June 29
Where: Museum of Fine Arts, Haley House Bakery Cafe, and other sites in and near Roxbury
Cost: Tickets to most films are $11; VIP packages available
More information: MFA website (Programs/Films on the menu)
The Roxbury International Film Festival showcases films of "emerging and established filmmakers of color," with screenings, panel discussions, receptions, and workshops, plus additional events throughout the year. The IFF began in 1999 when the founders created a venue to celebrate films written, produced, and directed by filmmakers connected with Africa by birth, ancestry, or culture. It is now the largest film festival with this focus in New England. Expect an exciting (and large) collection of full-length features, documentaries, experimental films, shorts, and animations, a series of teen-produced films, and a special program of shorts for children under 10.
Check Boston movie theaters for other local films
Back Bay Fens & Rose Garden Tours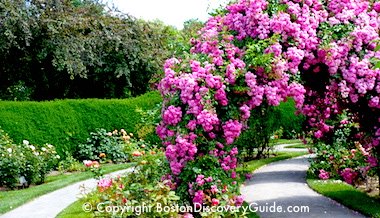 The Back Bay Fens - normally just called "The Fens," and part of Olmsted's Emerald Necklace of parks - has everything: wilderness areas, the Victory Gardens, ball fields, the Kelleher Rose Garden, war memorials, the meandering Muddy River, and more.
Tours are offered on a variety of topics and at a variety of times between May and October, and sometimes change at short notice due to weather conditions. To find out what's on offer, check the Emerald Necklace Conservancy's website. Tours are free, but a $10 donation per person is requested to help support ongoing maintenance and improvements of the area.
You can also explore the Fens, including the Victory Gardens and Rose Gardens, on your own.
More about Boston garden tours
More about the Victory Gardens and Kelleher Rose Garden
---
Hotels with Views of Boston's Public Garden
Find out more about these spectacular hotels
---
Boston Early Music Festival
The Boston Early Music Festival is HUGE, as you might expect as it's the largest early music festival in the world. While it's not the only reason why Boston takes center stage as the early music capital of the country, the Festival certainly cements its reputation.
This week-long celebration of 17th and 18th century music features a fully staged Baroque opera: Steffani's Orlando this year, plus hundreds of other performances, master classes, lectures, demonstrations, workshops, children's programs, and even a sort of trade show of instruments. On many days, the concert schedule starts at nine in the morning and goes until midnight.
When: June 9-16
Where: Multiple Boston locations - mostly Downtown, Back Bay, Fenway, and the Theatre District, plus a few in other locations; a major venue is the magnificent Jordan Hall at New England Conservatory
Tickets: Ticket costs vary from free to inexpensive to pricey, with packages available; check the event website for details about the many options

Where to stay:
---
Boston Harbor Islands - Free Ranger Tours Plus Much More!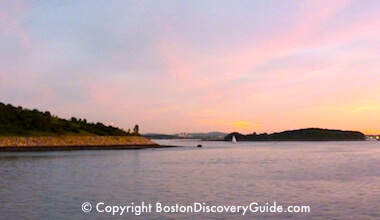 Hop on a ferry at Boston's Long Wharf for a 15-minuted cruise to the Boston Harbor Islands, where free concerts, ranger tours, kayaking trials, clambakes, a Spectacle Island beer garden, Boston Light tours, and even Zumba take place on weekends and weekdays.
Or, enjoy a day of exploring historic sites, photographing birds, enjoying a picnic, hiking, swimming, wading in tidal pools, or simply enjoying the scenery.
More about the Boston Harbor Islands
When: Late June through Labor Day
Where: Georges Island, Spectacle Island, Peddocks Island
Getting there: Boston Harbor Island ferry information
Ferry cost - round trip to the Islands: $17 adults, $10 children (ages 3-11), $12 seniors 65+, children under 3 free, family (2 adults, 2 children) $43 - you can buy your tickets at Long Wharf ticket booth
Closest hotel to Long Wharf: Boston Marriott Long Wharf
Schedule information: Boston Harbor Islands website or by calling the Park Rangers at 617-223-8666.
---
Secret Gardens of Cambridge Tour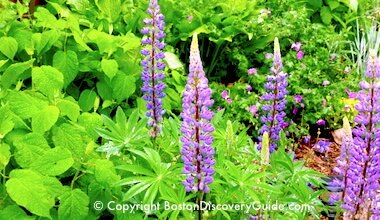 The Secret Gardens of Cambridge tour, sponsored by Friends of the Cambridge Public Library, takes place only during alternate years - and this is an OFF year. The self-guided exploration typically covers 4 Cambridge neighborhoods and 24 gardens, including many that are new to the tour each year. You'll get tons of gardening ideas, and see a mix of public and private garden paradises.
Date: Usually the first Sunday in June - check back next year for exact date and time
Where: Cambridge, MA (just across the river from Boston)
Nearest T station: Red Line/Harvard
Cost: Tickets are $25 on day of the tour; available at all Cambridge library branches and numerous Cambridge businesses, including Porter Square Books, Brattle Square Florist, Rodney's Books, Pemberton Farms, Big Picture Framing, Nomad, Clothware, and Bonny's Garden Center. Proceeds benefit the Cambridge Public Library - this is its biggest fundraiser!
More about the Secret Gardens of Cambridge tour
---
Cambridge Arts River Festival
When: Saturday, June 1, 11am - 6pm
Where: Along the Massachusetts Avenue between Prospect and Sidney Streets and down Sidney Street to Pacific Street
Nearest T station: Red Line: Central - Please note: many streets near Central Square including Mass Ave will be closed, and performers and vendors will be using the already-scarce parking - so don't even think about driving to this event
Cost: Free - although you'll find plenty to buy from food and crafts vendors

The Charles River Festival is like a huge street party celebrating early summer in the city with outstanding music, the People's Sculpture Race (you push, pull, or pedal your sculpture along the 3/4 mile course), performances, and food. Around 200,000 festival goers come each year.
Enjoy the sunshine and lots of excellent folk, Latin, jazz, and world music performances and dance at 6 performance stages, plus poetry, theater, art exhibits, and family-oriented craft-making activities at this huge festival celebrating the arts. Over 100 food vendors and artisans sell their offerings. Do your holiday shopping now and you'll be all set in December.
---
Summer in the City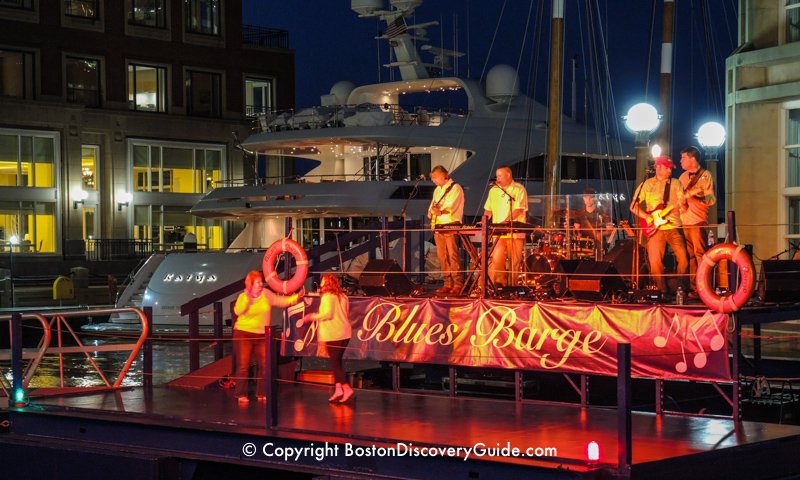 Boston Harbor Hotel's popular "Summer in the City" series lets you kick back and enjoy free music and movies overlooking the waterfront throughout the summer from June 6 until August 30.
Listen to music between 6pm - 10pm as musicians perform on the Blues Barge on Tuesday (Pop-Soul), Wednesday (Rat Pack), and Thursday (Blues Barge).
On Fridays, enjoy music (starts at 4:30) and Movies By Moonlight - your favorite classics projected on a large screen over the Harbor- starts at dusk.
Combine these events with a drink at the hotel's Rowes Wharf Sea Grill and dinner at Meritage for the perfect summer evening.
June movies:
June 9 - Mission Impossible
June 14 - Ferris Bueller's Day Off
June 21 - City Slickers
June 28 - Casablanca
More about Boston Harbor Hotel
Check reviews and rates for the Boston Harbor Hotel
---
More Things to Do in Boston in June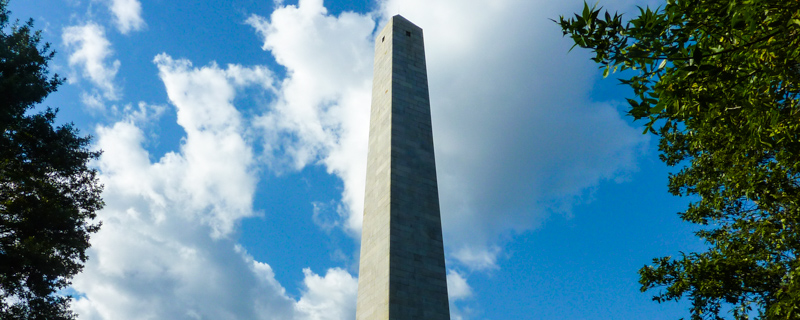 ---
---
Continuing during June in Boston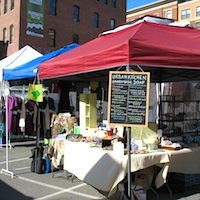 SoWa Open Market in Boston's South End
Noon Concerts at King's Chapel on the Freedom Trail
First Fridays at Museum of Fine Arts
Fish Weir on Boston Common
---
Looking Ahead to July Events in Boston
---
Boston Events Each Month
January | February | March | April | May | June | July | August | September | October | November | December | Year at a Glance
---