The Boston Event Calendar for June 2023 kicks off summer in the city with plenty of fun activities, big events, concerts, and exciting shows plus local favorites (Scooper Bowl! Beer gardens!) that visitors don't always hear about. You'll find them all listed here.
The Boston Red Sox return to Fenway Park with home games attracting enthusiastic fans.
Other top events such as Cirque du Soleil and the Dragon Boat Festival return this year, although the massive Pride Parade is still to be determined due to a change in the sponsoring organization's leadership.
June 2023 holidays in Boston:
Juneteenth, June 19 (government offices, banks, etc will be closed on June 19)
Bunker Hill Day, June 17 - this Boston-only holiday is always observed on a Sunday to accommodate the commerative Bunker Hill Day Parade in Charlestown, which takes place on June 18 in 2023
Father's Day, June 18 - not an official holiday, but you should expect restaurants to be more crowded than usual
Top photo: Outdoor dining along Newbury Street in Boston's Back Bay neighborhood, (c) Boston Discovery Guide
Boston Discovery Guide is a user-supported website. When you buy through our links, we may earn a commission. Learn more
---
Summer Boston Harbor Cruises 2023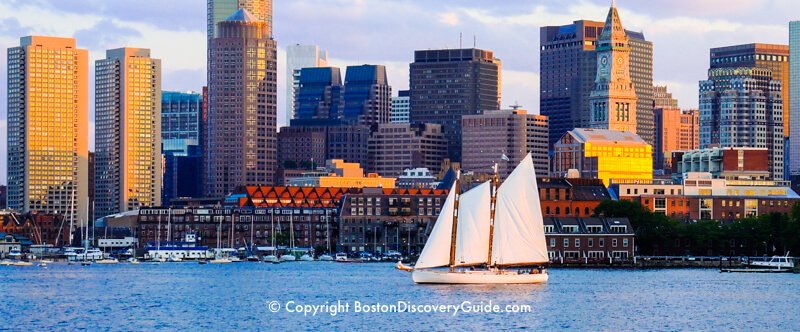 Tour Boston by boat - the best way to see the city!  
Check out these fun sightseeing, music, and entertainment Boston Harbor cruises on the Yacht Northern Lights and Schooner Adirondack III:
Popular Cruises on the Northern Lights:
Sailing on the Adirondack III
Adirondack III Day Sail - Enjoy cool breezes and the afternoon sun on this relaxing sightseeing sail around Boston Harbor and the Inner Harbor Islands - Starts May 3
Adirondack III Sunset Sail - Relax as the setting sun turns the sky brilliant colors - Starts May 3
Adirondack III 90-Minute Mimosa Day Sail - Soak up the sun on this afternoon sail through the Inner Harbor and Harbor Islands with drinks available for purchase at the bar - Starts July 1
Book Your July 4th Cruises Now!
---
Boston Concerts & Shows 2023

Top June Concerts in Boston
Checkout the terrific show lineup for June:
Enter DISCOVERY10 to save 10% on TicketLiquidator & TicketNetwork tickets. Good through 12/31/24.
Schedules & Tickets
More Concerts & Shows for June
Boston Concerts throughout the Year
---
Boston Red Sox Schedule - Home Games at Fenway - June 2023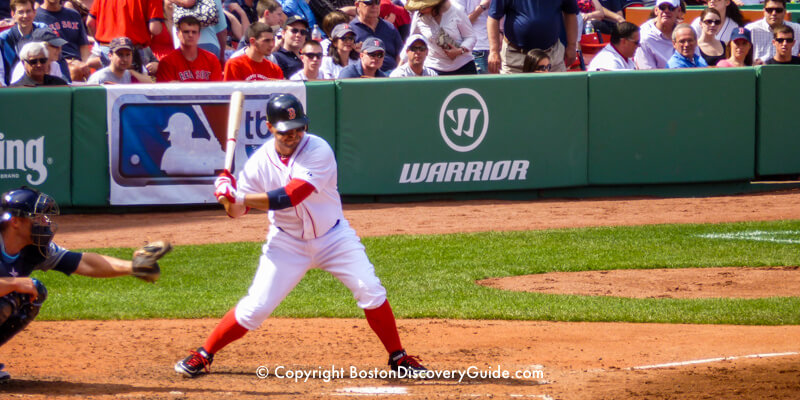 Location: Fenway Park
Nearest T stations: Green Line B or C/Kenmore; Commuter Rail Worcester Line/Yawkey

Indulge your passion for baseball by going to see the Boston Red Sox at Fenway Park.
Get Schedule & Tickets
Enter DISCOVERY10 to save 10% on TicketLiquidator & TicketNetwork tickets. Good through 12/31/24.
Find Red Sox Home Games at Fenway for Other Months
July - August - September - October
Stay: Hotels near Fenway Park
Park: Garages & lots near Fenway Park
Celebrate: Best sports bars near Fenway Park
Find out about more Boston sports
---
Boston Theater Shows for June 2023

Top June Shows in Boston's Theaters - Schedules & Tickets
Book your tickets now for the fantastic shows this month:
2024 Shows in Boston:
MJ: The Musical - Boston Opera House - June 18-22 - A jukebox musical telling the story of singer/songwriter/dancer Michael Jackson, and featuring Jackson's top hits
Enter DISCOVERY10 to save 10% on TicketLiquidator & TicketNetwork tickets. Good through 12/31/24.
More Boston Theater District Shows
Where to have dinner in Boston's Theatre District
---
Where to Stay near Boston's Theatre District
Enjoy your Boston performance or show experience to the fullest when you stay in one of the nearby Theatre District hotels, such as the luxurious Hyatt Regency: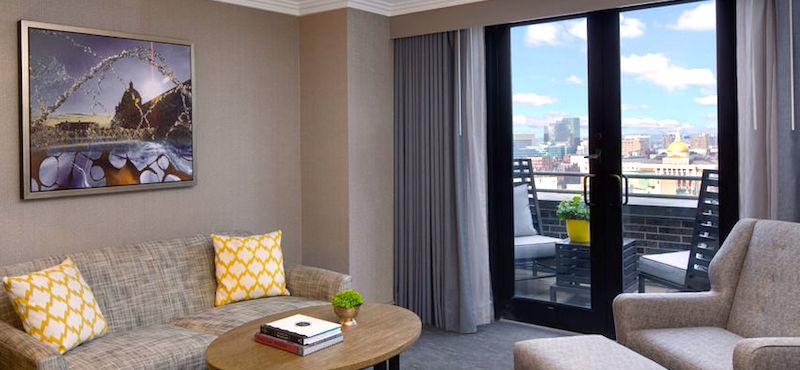 More top Theatre District hotels:
Check out more hotels in Boston's Theatre District
---
Boston Comedy Clubs 2023
Looking for something to do in Boston that doesn't (usually) cost too much money? Head over to one of Boston's comedy show. You're sure to leave smiling!
Find comedy club show schedule & tickets
---
New England Coastal Tours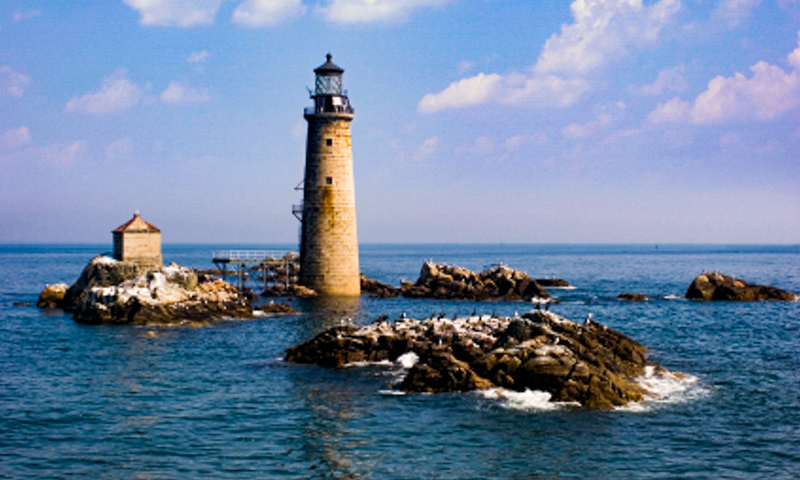 This special 1-day Boston to Coastal Maine & Kennebunkport Guided Day Trip with Trolley Tour with a driver/tour guide shows you beautiful beaches, wetlands, quaint seaside villages, harbors, and lighthouses along the New England Coast.
You'll stroll along Ogunquit's coastal Marginal Way, take a 1-hour trolley tour around idyllic Kennebunkport, and have plenty of time to visit and photograph 19th century Nubble Light (light house) in York, Maine.
Don't miss this chance to see New England's glorious coast at its best!
Pickup/dropoff at central Boston locations near hotels is included.
Find out more about the New England Coastal Tour
Want to explore a different coastal area? Check out this popular day trip from Boston to Martha's Vineyard:
Find out about the Martha's Vineyard day trip with an option island tour
Want to consider other day trips from Boston?
See our complete list of day trips with descriptions & photos
---
Immersive Disney Animation Boston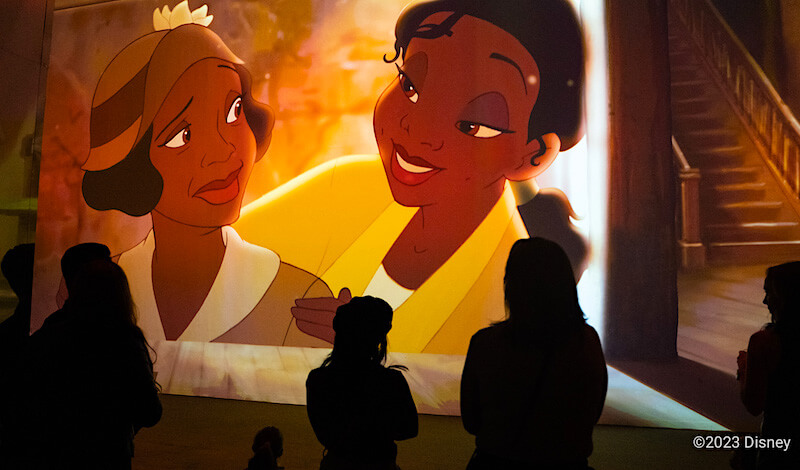 Immersive Disney Animation Boston brings all your favorite Disney characters, stories, and music to life in a magical immersive experience with you at the center.
You'll visit La Casita with Mirabel from Encanto, watch Rafiki present Simba in the Lion King, take the journey of a lifetime with Aladdin and Jasmine in the Magic Carpets of Aladdin, hop on a train to Zootopia, enter the enchanted worlds of Peter Pan and Pinocchio, and so much more in this family-friendly, kid-pleasing innovative production.
The show lasts one hour and is currently playing at Boston's Lighthouse ArtSpace at The Saunders Castle, 130 Columbus Ave, now through August 13.
Book your tickets online in advance to get your preferred date/timeslot.
---
Whale Watching Cruise Tickets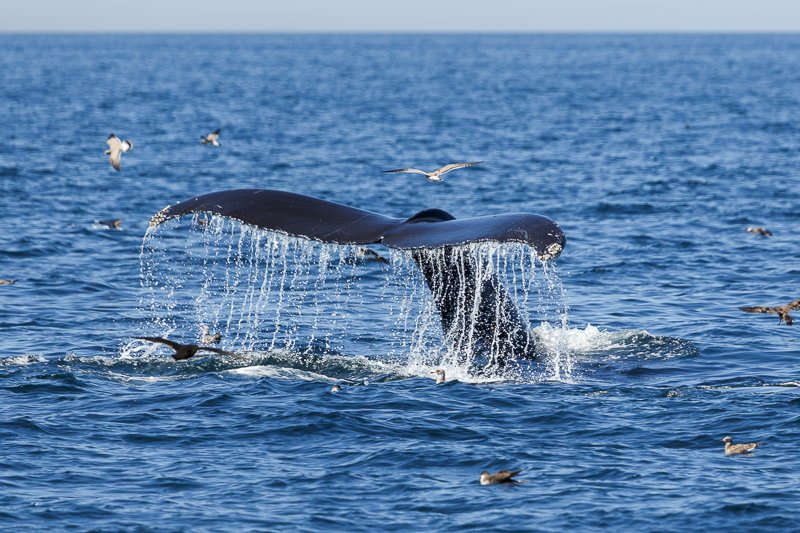 Join one of the exciting 3-hour Whale Watching Cruises departing from the Downtown Boston Waterfront, and experience the thrill of spotting whales off the coast of Boston.
You'll see magnificent creatures such as Humpback and Finback whales close-up from the deck of your ship, and spot White-Sided Dolphins frolicking in the waters.
These cruises sell out quickly, so don't wait to get your tickets now for this iconic Boston experience!
---
Fun Events & Activities on the Rose Kennedy Greenway 2023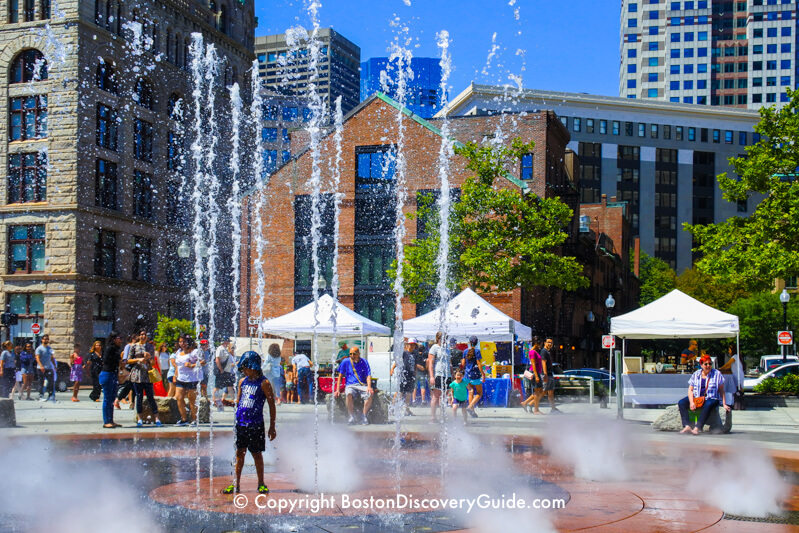 The Rose Kennedy Greenway is offering so many fun things to do this summer:
Greenway Artisan Market, 11am - 5pm, operated by Somerville Flea on Rowes Wharf Plaza - Shop for handmade items by local makers and artisans; open every Saturday from May 6 through October 31 and every Sunday from May 28 through October 8, 2023
Trillium Beer Garden in the Wharf District Parks (High Street and Atlantic Ave) featuring draft beers by Trillium Brewing Company and a rotating selection of food trucks. Open Thursday 3pm-8pm, Friday and Saturday 12pm-8pm, and Sunday 12 noon-6pm.
Greenway Food Truck Festival, May 6, 11am - 3pm at High Street and Atlantic Avenue - Savor everything from dumplings to ice cream, including local favorites such as The Dining Car, Gogi on The Block, Indulge India, and many more
Fountains - You'll find them in 7 different locations along the Greenway - so get ready to splash, wade, and cool off!
Carousel - Open daily, 11am-6pm. Tickets: $4 (buy online)
Boston Chinatown Lantern Festival with Gala Performances - 5:30pm-6:30pm, May 16 at Chin Park (near Chinatown's Gate) - Enjoy free music and dance performances in this celebration of Asian and new immigrant families
Massachusetts Youth Pride Celebration - May 20, 10am - 4pm - Youth-led festival with a march and live performances the India Street and Atlantic Ave
Greenway Food Trucks: A rotation of 18 trucks, including 6 new ones this year, offer Korean, Jamaican, Italian, Caribbean, Italian, seafood, and other specialties along the Greenway in Dewey Square, the Carousel, Rings Fountain (Milk Street), State Street, Rowes Wharf Plaza, and Trillium Beer Garden. You'll find them at several locations each day, usually with a total of about 3 trucks per day. You can track the schedule and locations of your favorites here
Public Art - See new installations by top artists
More about the Rose Kennedy Greenway
---
Featured New Hotel for June: Hilton Garden Inn Boston/Brookline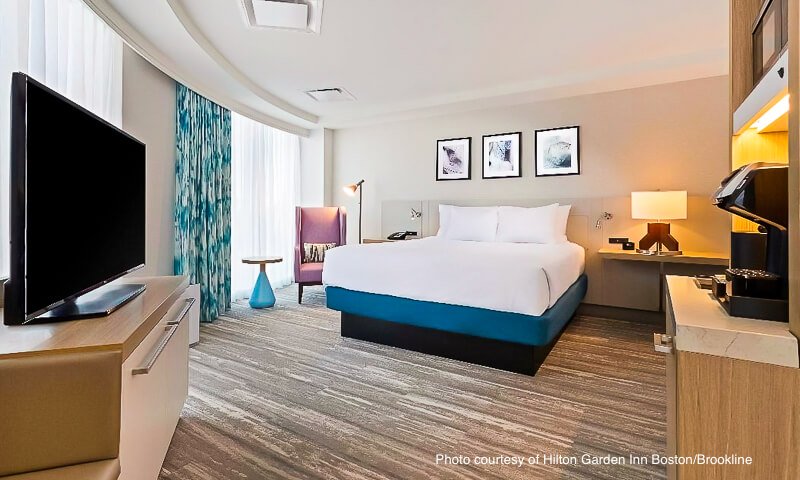 700 Brookline Place, Brookline
With 174 guestrooms and a convenient location on the Brookline/Boston border close to top cultural attractions, universities, and Fenway Park, Hilton Garden Inn Boston/Brookline offers an indoor swimming pool and fitness center, onsite dining, and shuttle service to nearby Longwood Medical Area.
If you're driving into the city from the west, you'll appreciate the hotel's convenient location close to the Mass Pike (I-90) and Route 9.
Valet parking is available for an affordable (for Boston) fee.
Best of all, once you're at the hotel, you'll have lots of transportation options at your fingertips.
Just hop onto the commuter rail, subway, or bus and you'll be at Fenway Park, the Museum of Fine Arts, Northeastern University, Simmons University, the Isabella Stewart Gardner Museum, Harvard Medical School, and Boston's world class hospitals in Longwood in 3-10 minutes.
Or walk, and enjoy the many coffee shop/bakeries, restaurants, scenic parks, and friendly vibe in Boston's Fenway neighborhood.
Check out other new Boston hotels
---
Lawn on D 2023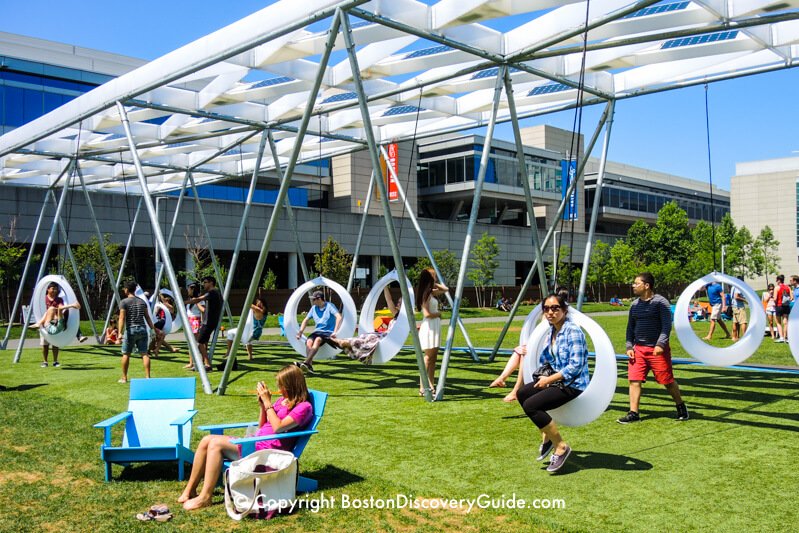 Lawn on D, a playground for adults (kids are welcome too but this is primarily an adult venue) located behind the Convention Center in the South Boston Waterfront, is where you'll find fun swings with LED lights and comfy seating, pickleball and other games, and music throughout the summer and early fall, along with casual food and wine, beer, cocktails, and non-alcoholic beverages.
Open daily from 7am-11pm from May to October, except when closed for private events (always check their website before going).
Food, drinks, and lawn games available Thursday 3-10:30pm, Friday & Saturday 12 noon-11pm, Sunday 12 noon-10:30pm, with live entertainment by local bands on the weekends.
Swings are open whenever Lawn on D is open.
Rules, in case you're wondering: No dogs, no outside alcohol, no outside food during concession hours.
Another option in this area is to sample one of the many restaurants in the Seaport and Fort Point areas of the South Boston Waterfront.
For Boston Harbor views while you dine, visit a Seaport restaurant. To try the creative cuisine of some of Boston's most innovative chefs, head to a Fort Point restaurant.
---
Fun Boston Tours for June
More Ways to Experience Boston
Sightseeing Tours | Tours for Teens | Kids & Family Tours
---
Juneteenth Celebrations in Boston 2023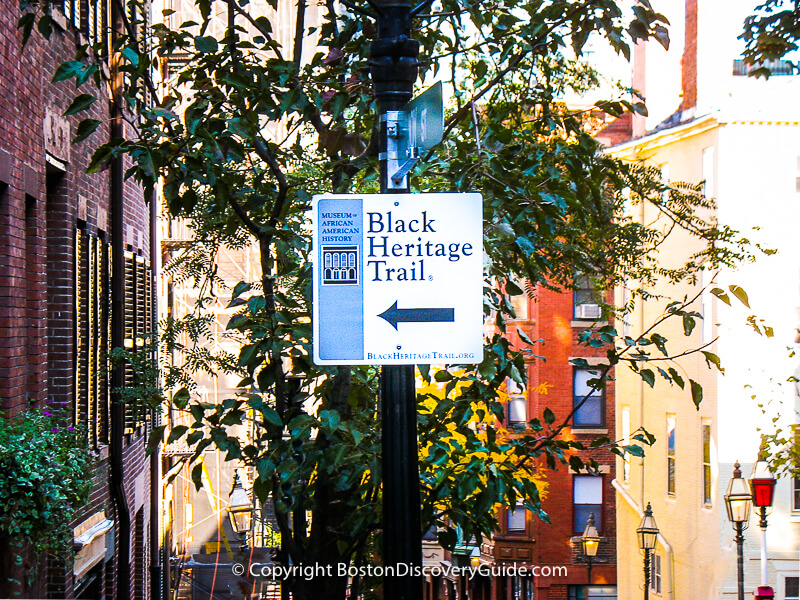 Juneteenth celebrates June 19, 1865, the day when Union soldiers reached Galveston, Texas and annouced that the Civil War had ended and that all enslaved people were free.
June 19 immediately became an unofficial day of annual celebration in Texas, and Juneteenth officially became a Texas state holiday in 1980, a Massachusetts state holiday in 2020 (although the state "recognized" Juneteenth in 2007), and a U.S. holiday a few days ago.
In addition to commemorating the end of the institution of slavery in the U.S. and the liberation of African Americans, it also celebrates Black culture and achievements.
You can find a comprehensive list of Boston's Juneteenth celebrations here. (Be sure to check out the list at the bottom of Black-owned restaurants.)
Here are more places to explore Black history and culture in Boston:
Museum of African American History - Check out their latest exhibition, "Jazz Scene in Boston: Telling the Local Story," as well as their permanent collections. More information
Black Heritage Trail (Beacon Hill) - Official tours are available, and you can walk the 1.6 mile trail yourself and check out the 10 sites. Find a map and guide the the sites here
National Center for Afro American Artists (300 Walnut Street, Roxbury)
---
Garden Tour of Historic Charlestown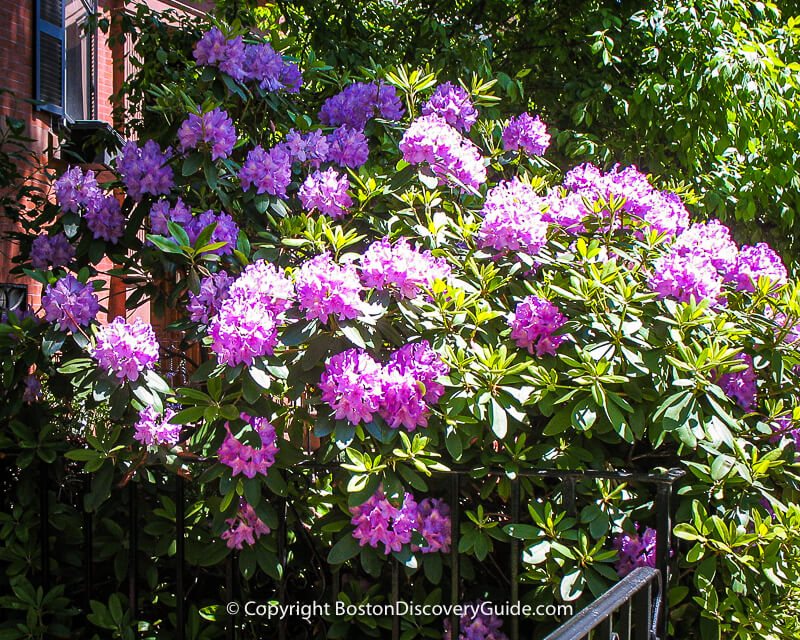 Explore the beautiful and historic Charlestown neighborhood as you tour the lush gardens in this oldest part of Boston where the Puritans first landed in 1630 before moving on to Beacon Hill.
You'll start at the Community Gardens at 499 Main Street to pick up your guide book before walking around to see the many special flower gardens and hidden shady oases.
Tickets are $25 in advance online or $30 on the day of the tour (499 Main St) on June 17, 10am-3pm.
Find out more about garden tours in Boston
---
Wine Tasting Classes with Food Pairing at Bonde 2023
Get ready to savor superb small-production American wines paired with cuisine from top local restaurants when Bonde Fine Wines' owner/sommelier Bertil Jean-Chronberg teams up with top chefs to present weekly wine and food pairings.
You'll enjoy a flight of special wines accompanied by small plates of complementary food as you learn about thekey things to consider when doing your own pairings. Here's the lineup for May:
June 14 - Beach Wines -  Sample a range of chillable, refreshing, and tasty wines to enjoy on a sunny summer day
June 28 - Pétillant Naturel - Indulge in sparkling wines created to be enjoyed young and fresh
Location: 54 Church Street, Harvard Square, Cambridge
Time: Wednesday evenings, 7pm-8:30pm
Cost: $85; sessions limited to 8 participants; reservations required
More information and reservations: Bonde website
More about where to find wine tastings in Boston
---
Beacon Hill Art Walk 2023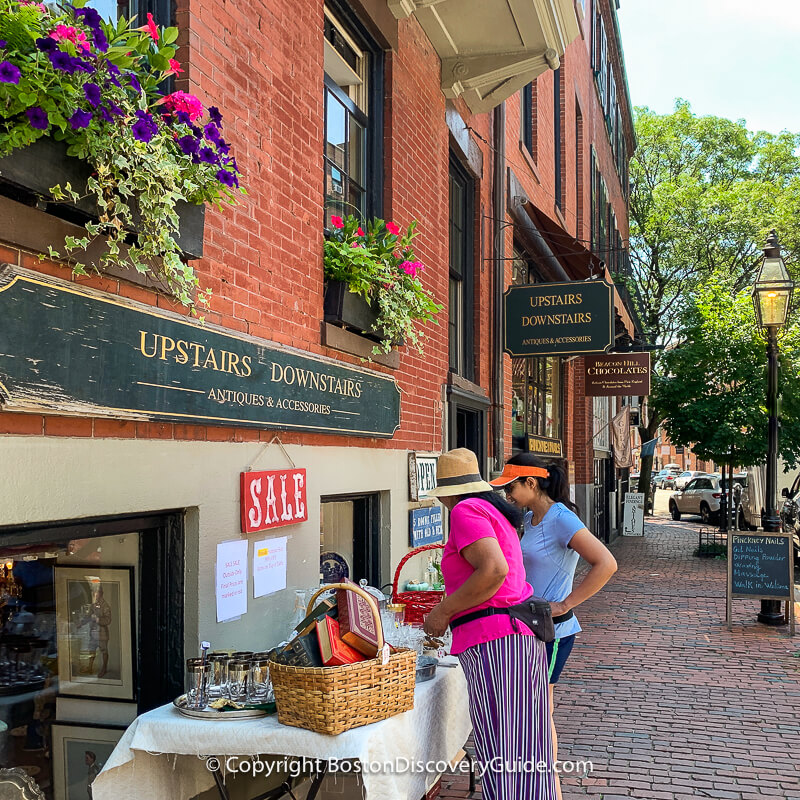 The Beacon Hill Art Walk takes place in the neighborhood's North Slope on June 4, from 12 noon to 6 pm.
Residents open up their private gardens and courtyards for the 100 or so participating artists to display their creations.
Look for original paintings, pottery, sculptures, and more as you stroll around usually hidden spaces in this historic neighborhood and listen to local musicians playing in the gardens.
Pick up an Art Walk location map when you get there. Starting points: 135 1/2 Charles Street, and the corner of Cambridge and West Cedar Streets.
The event is free - although the art is for sale and you may find treasures you can't resist.
You can find more information on the event's website.
---
Boston Harborfest with Chowderfest & Fireworks
Harborfest is Boston's gala celebration of American Independence, July 4th, and the joy of summer in Boston.
Revolutionary War reenactments, live entertainment, Arts at Harborfest, cruises, an artisan craft fair, walking tours, and more exciting events showcase Boston's colonial, Revolutionary War, and maritime history.
Highlights this year: A gala 45-minute fireworks show over Boston's Inner Harbor on July 1 and Boston's favorite seafoood event, Chowderfest.
When: June 30 - July 4
Where: Main events take place in Boston's Historic Downtown district, Downtown Crossing, along the Freedom Trail, and on the waterfront.
Cost: Many events are free, with some ticketed tours and cruises.
More about Boston Harborfest events and schedules
Best Boston hotels for Harborfest
---
Cirque du Soleil's Corteo - 2023
Cirque du Soleil's joyous Corteo at Agganis Arena celebrates the life of Mauro The Dream Clown as he watches his own funeral procession and dreams about his best memories of his past life.
With a dazzling performance by a spectacular cast of internationally acclaimed ice skaters, acrobats, musicians, and of course Mauro The Dream Cloud, this is a family-friendly show you won't want to miss!
Tickets for Corteo
Enter DISCOVERY10 to save 10% on TicketLiquidator & TicketNetwork tickets. Good through 12/31/24.
Cirque du Soleil's Corteo dates: June 8 - 11
Corteo venue: Agganis Arena, Boston
Find out more about Cirque du Soleil
---
Donna Summer Disco Party 2023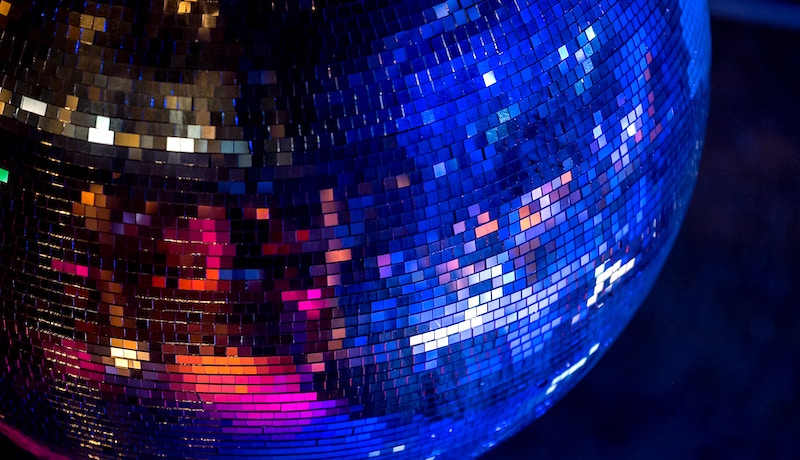 The Donna Summer Disco Party returns on June 16, 6-9pm outdoors at City Hall Plaza to honor the Boston-born disco legend's life and legacy.
Summer was born in Dorchester and grew up in Mission before becoming a star in the 1970s.
You can honor Summer's memory and her musical legacy by dancing all night (well, until 9pm) while grooving to her greatest hits, complete with a disco ball, colorful lights, and plenty of glow sticks.
DJ Vince 1 will provide the music, and Donna's family members will take the stage for a musical performance.
---
Boston Hong Kong Dragon Boat Festival 2023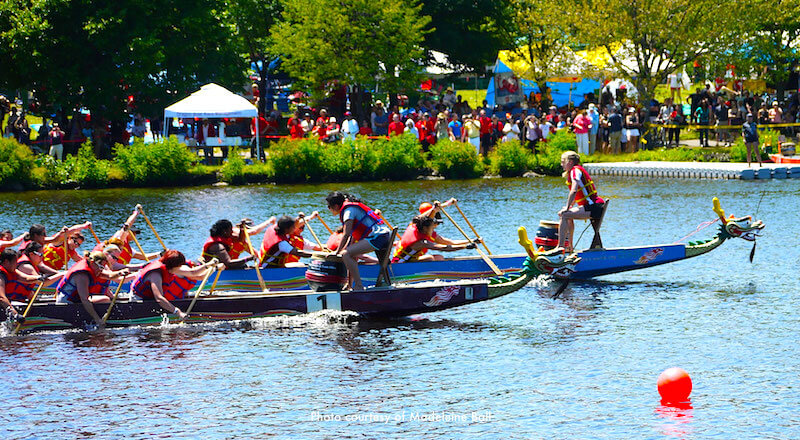 The annual Boston Hong Kong Dragon Boat Festival is the largest-running dragon boat race in North America with over 60 teams competing.
Enjoy the spectacular dragon boats, with rowers ranging from novice to expert. Race seeding trials take place on Saturday, and the races occur on Sunday.
Don't miss the Cultural Festival on Sunday (Cambridge side of the Charles) featuring Asian arts, crafts, martial arts, and dance performances!
When:
- Races: June 11
- Cultural Festival with food and entertainment: June 11
Where: Charles River, with Festival (food and entertainment) on the Cambridge side of the river
Nearest T station: Red Line/Harvard Square
Cost: Free
More Dragon Boat Festival information
---
Boston Pride Week 2023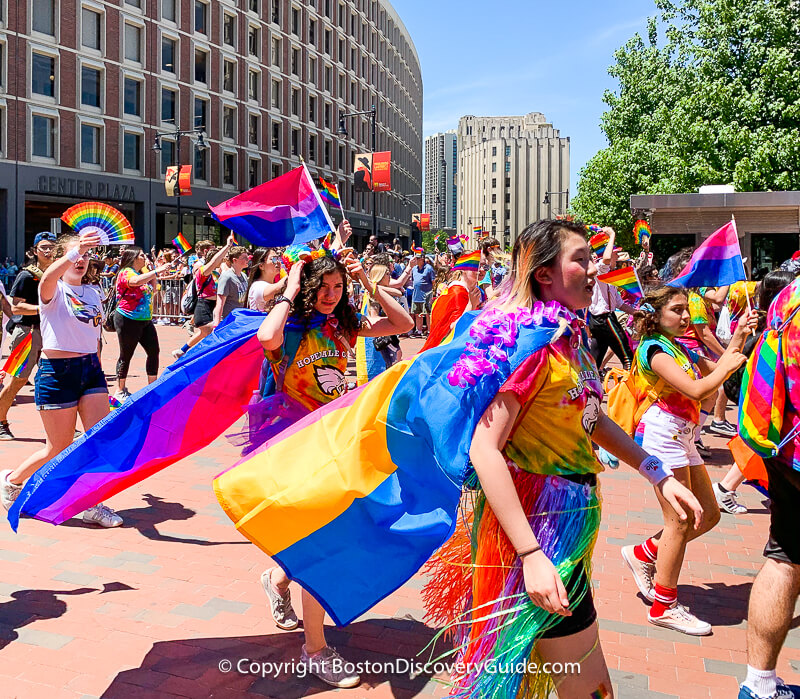 Boston Pride Week and Festival, the city's annual celebration of LGBTQ+ communities and the largest pride event in New England, returns this year for the first time since 2019.
A newly formed organization, Boston Pride For The People, has taken on the planning role for this year's events, and has announced the following celebrations:
June 10 - Boston Pride for the People Parade & Festival on Boston Common and City Hall Plaza
June 11 - More celebratory and fun events and activities
Throughout June - Additional events, festivities, and celebrationsnt Street, marchers end up at City Hall Plaza.
Check the BP4TP website to learn more.
2023 Parade Photos
Awesome parade this year, despite some showers. Here are a few photos: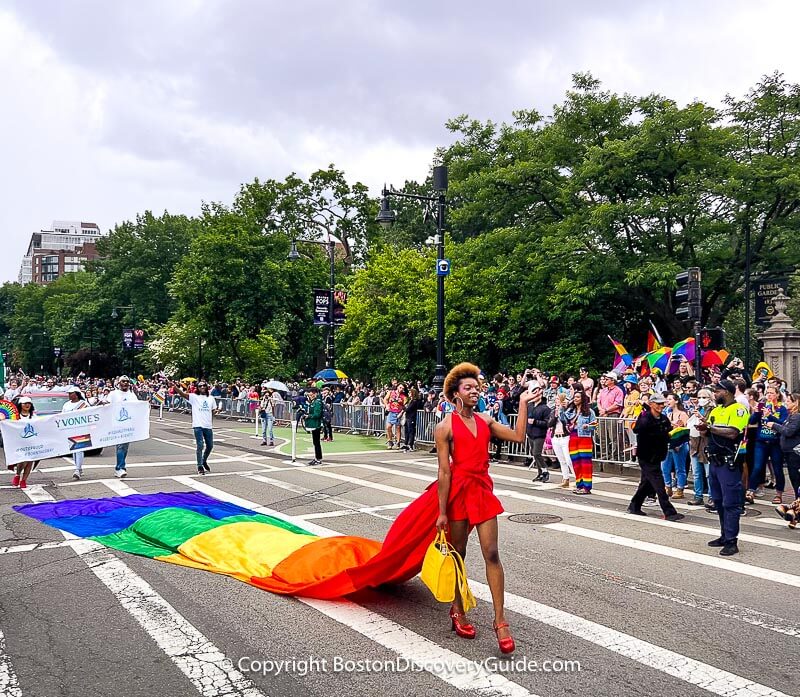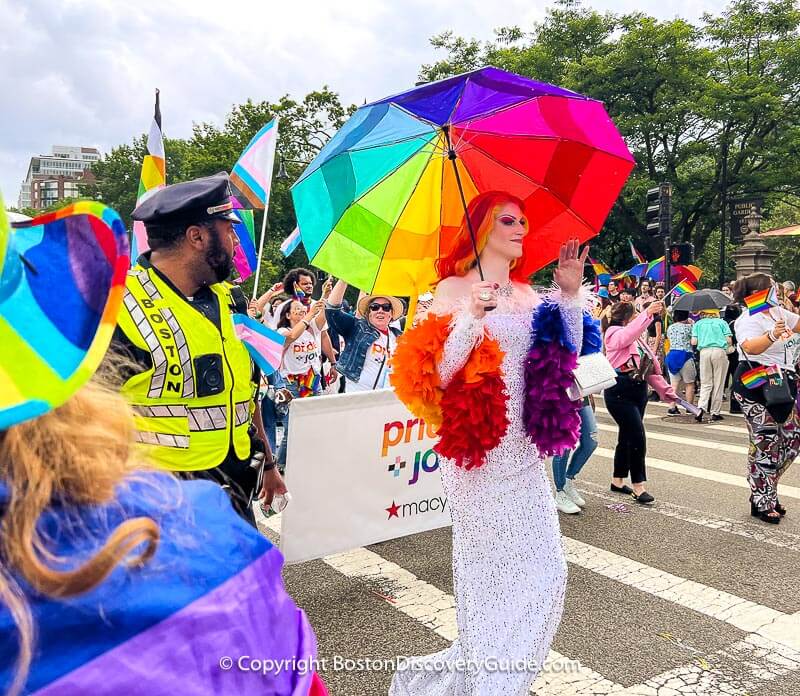 ---
Boston Hotels with Outdoor Swimming Pools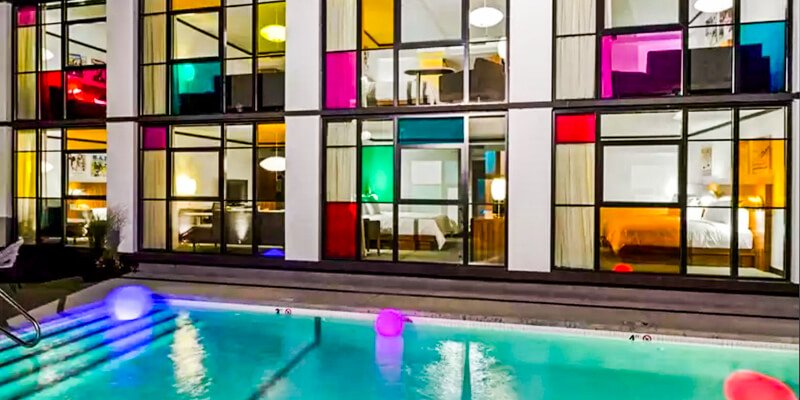 Find more Boston hotels with outdoor swimming pools
---
Boston Discount Cards for Attractions, Tours, Cruises
Best way to save in Boston. Save 50% or more when you take a Boston Harbor cruise or Duck Boat tour, visit Plimouth Plantation, the New England Aquarium, Museum of Science, Museum of Fine Arts, Fenway Park Tour, and more.
Compare to find out which one is best for you
---
Battle of Bunker Hill Day Parade 2023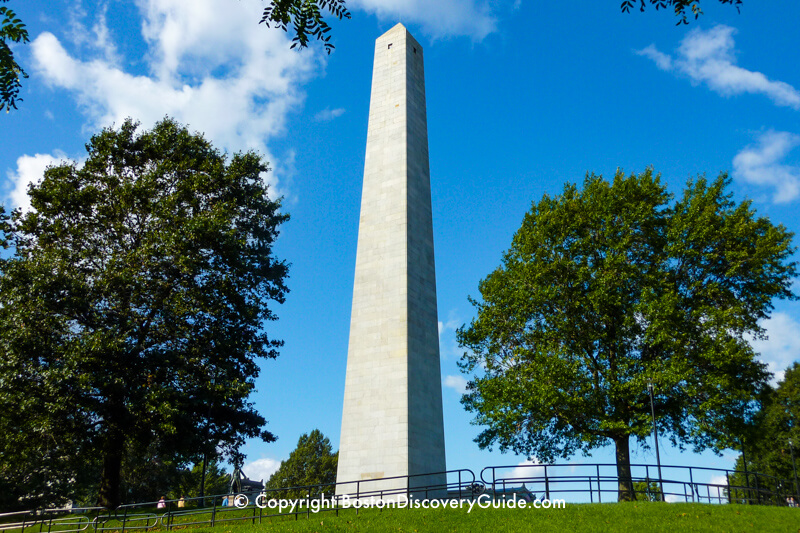 When: Sunday, June 11, 12:30pm-3:30pm
Where: Bunker Hill Monument, Monument Square, Charlestown, MA (parade starts at the intersection of Vine, Bunker Hill Street, and Main Street, Charlestown)
Nearest Boston subway station: Orange Line/Community College
Cost: Free
More information: 617-242-2724
Join the National Park Service at the Bunker Hill Monument on Boston's Freedom Trail to commemorate the anniversary of the famous battle against the British on nearby Breed's Hill on June 17, 1775, and enjoy the Bunker Hill Day Parade, a Boston tradition since 1786.
The parade always takes place on a Sunday on or before June 17.
Members of the Charlestown Militia dressed in Colonial attire play fifes and drums, and offer musket salutes as part of a wreath-laying ceremony at the monument.
The parade kicks off at Hayes Square (corner of Vine and Bunker Hill Streets), marches up and down Bunker Hill Street, turns left at Main Street at Sullivan Square, continues down Main Street, and turns left onto Monument Ave.
The parade then turns right onto Monument Square, turns right again onto Winthrop Street, and ends up at the Charlestown Militia Training Field (corner of Common and Winthrop Streets).
To prepare for the parade, streets start to close to traffic soon after 9am.
After the parade, explore the Bunker Hill Museum (free admission) across from the monument on Monument Street, or follow the red stripe of the Freedom Trail down to the Charlestown Navy Yard for a free tour on the USS Constitution.
The Battle of Bunker Hill took place during the Siege of Boston, which lasted from April 19, 1775 until March 17, 1776 when the British were finally routed and forced to flee the city.
June 17th is the official state holiday and is observed in Boston (although not in the rest of Massachusetts or elsewhere in the US).
---
Museum of Science Exhibits - 2023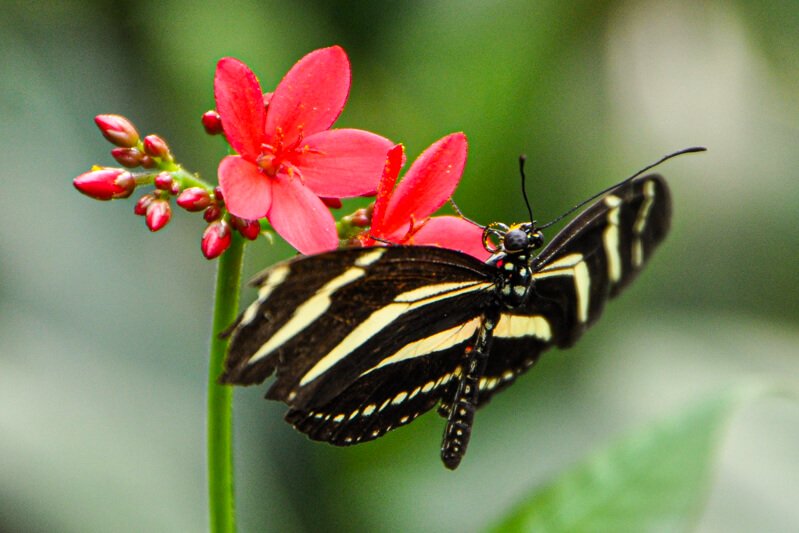 Special Exhibits
New England Climate Stories - Meet fascinating New England animals
All Aboard! Trains at Science Park - Visit miniature landscapes with fantasic model trains - through January 16
Gaia - View our planet in a new way through UK artist Luke Jerram's artwork with NASA images of Earth's surface
Mental Health: Mind Matters - Get insights into understanding mental health through this interactive exhibit
With fascinating permanent exhibits for all ages, there's always something to see, do, and learn. Here are just a few of the most popular: Engineering Design Workshop, Colossal Fossil: Triceratops Cliff, Cosmic Light, Dinosaurs, Arctic Adventure, Hall of Human Life, Live Animal Care Center, Mathematica, Exploring AI, Natural Mysteries, New England Habitats, Project Vaccine.
Where: Boston's Museum of Science
When: Daily, 9am-5pm; open until 9pm on Fridays
Admission: $29 general museum admission ($24 for kids; children under 3 free). Get free museum admission when you have a GoBoston Discount card or Boston CityPASS card.
Imax Theater and Planetarium: Additional fees apply
---
Scooper Bowl Ice Cream Fest 2023

Boston's favorite ice cream fest, Scooper Bowl, dishes out 20 or so tons of ice cream, gelato, frozen yogurt, and sorbet in this popular 2-day fundraiser.
Although this "all you can eat" event has taken place at City Hall Plaza during recent years, this year it moves to Patriot Place next to Gillette Stadium in Foxborough.
Scooper Bowl raises money for the Jimmy Fund to benefit cancer research at Dana-Farber.
Not only do you get to eat all you want of the ice cream donated by the nation's top frozen dessert companies - 44 of them this year - but there will also be live entertainment, games, and more.
Scooper Bowl takes place this year on Friday, June 2 and Saturday, June 3 from noon to 8pm.
In addition, from 5pm-8pm on Friday, all ice cream lovers who are 21+ can join the fun at Scoop at Night from 5pm to 8pm with unlimited ice cream, two drink tickets, live entertainment, and games.
Where: Patriot Place, Foxborough
Event Tickets: Scooper Bowl website
More information: Scooper Bowl
---
Where to Stay near City Hall Plaza
If you're coming to an event at or near City Hall Plaza, spend stay in a nearby hotel, such as the chic and trendy Ames Hotel: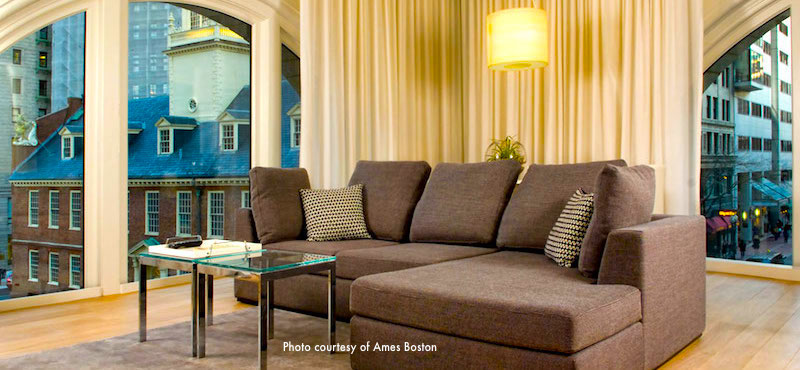 More top hotels near City Hall Plaza:
Check out more hotels near City Hall Plaza
---
Not Sure about Boston Neighborhood Locations?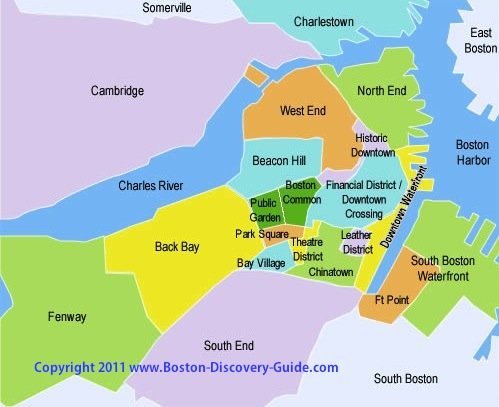 Need a more details? Here are our favorite free and low-cost Boston maps.
---
Berklee Summer in the City: Free Summer Concerts in Boston - 2023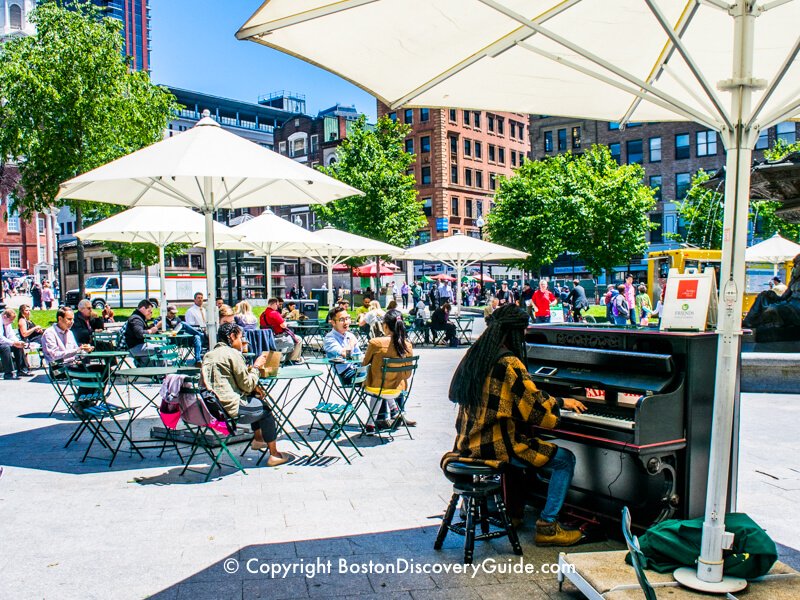 Berklee College of Music students, faculty, and alumni give hundreds of free outdoor concerts all over the city from May 1 and throughout the summer, usually going through September.
Music ranges from jazz to classical, Latin to funk, folk to world, and are free.
Most concerts for this year are still TBD but once they're announced, you can find the schedule here: Berklee events website
Locations typically include Atlantic Wharf, the Boston Public Library, Brewer Fountain Plaza on Boston Common, the Charlestown Navy Yard, Chin Park and City Winery on the Greenway, selected Boston Harbor Cruises, the Arnold Arboretum, Christopher Columbus Park on the waterfront, Downtown Boston, the Longwood Medical Campus, multiple locations in Cambridge, Dorchester Heights, Institute of Contemporary Art, Prudential Center, Fenway locations, and more.
---
More Free Summer Concerts in Boston
Concerts in the Courtyard: Boston Public Library in the McKim Courtyard (700 Boylston Street, Copley Square in Back Bay) on Fridays 12 noon-1pm from early June through the end of August.
Music ranges from jazz to classical, folk to world, and are free.
More info: https://www.bpl.org/concerts-in-the-courtyard/
---
Greenway Open Market 2023
Greenway Open Market, sister market to SoWa Open Market (held Sundays in the South End), brings an eclectic mix of hand-made art, music, and locally produced products to Boston.
Look for the sea of white vendor tents - and get ready for some fun shopping, plus good eating at the gourmet food trucks.
With a different mix of vendors present each week, you never know what treasures you'll find! It's a quintessential Boston event.
When: Every Saturday from May 1 through October 31, 11am - 5pm
Where: Rose Kennedy Greenway, near Rings Fountain along the Wharf District parks (look for the Carousel and the vendors' white tents)
Nearest T station: Blue Line/Aquarium, or Orange and Green Lines/Haymarket
Cost: Free (but of course you'll probably be tempted to buy things
---
Summer Activities in Boston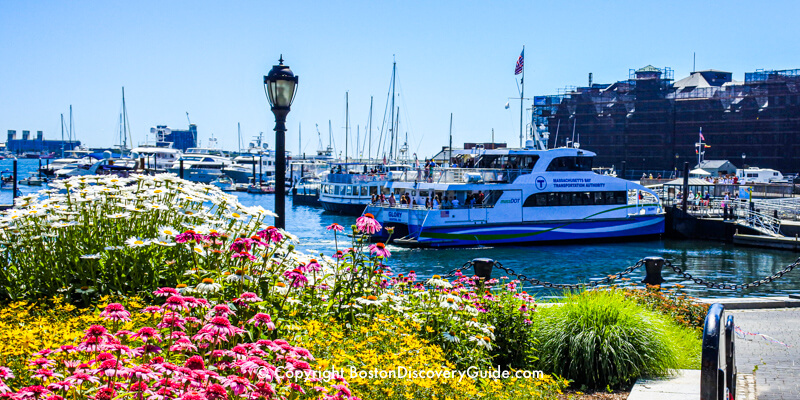 Looking for more things to do in Boston in the summer?
Check out:
- Best Boston Summer Activities
- Things to Do in Boston in June
- Things to Do in Boston in July
- Things to Do in Boston on Rainy Days
- Top 10 Boston Attractions
---
Fun Free Fridays in Boston in June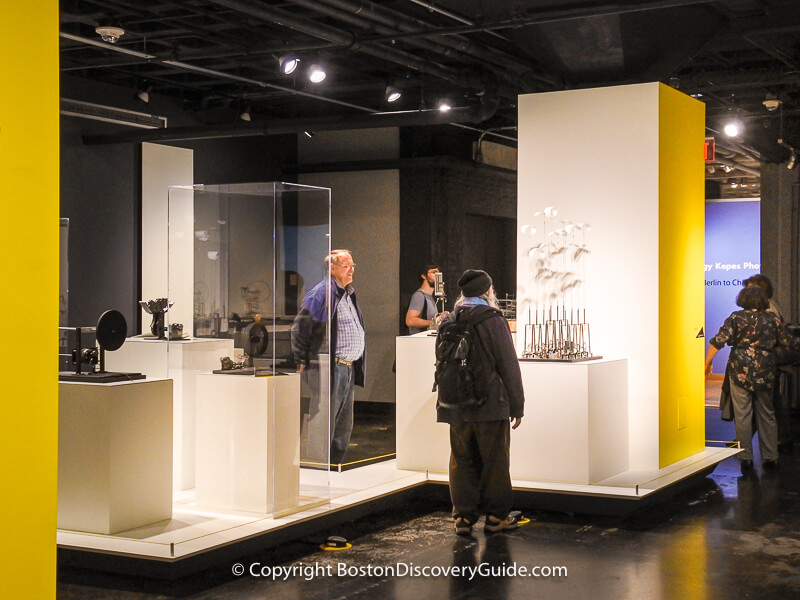 Fun Free Fridays give you free admission to 100 top Massachusetts cultural venues across the state throughout the summer, thanks to the generosity of Highland Street Foundation.
A different selection of destinations offer no-cost access each Friday from the end of June through the end of August.
Here is the schedule for Boston area destinations: (stay tuned for this year's venues!)
June 29:
- Lyric Stage of Boston
- MIT Museum (Cambridge)
- Concord Museum (Concord)

More Free Friday Events - July
More Free Friday Events - August
More locations outside of Boston: Highland Street Foundation website
---
Free Events in Christopher Columbus Park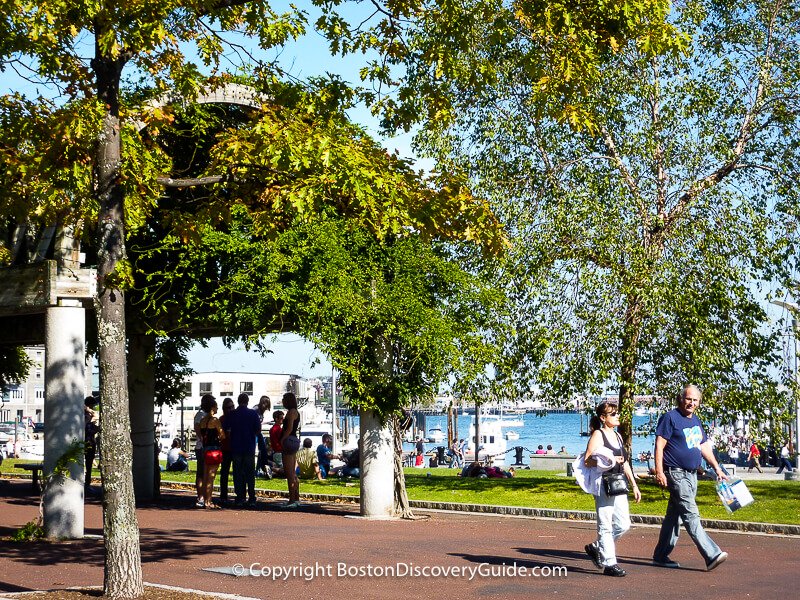 Enjoy free outdoor movies and celebrations at Christopher Columbus Park in Boston's North End. Here's the summer lineup so far:
Independence Day Celebration for Children (& their families) - June 26, 12 noon-2:30pm - Magician, storyteller, and games (to be confirmed)
Summer Sunday Movies - Sundays July 18 through August 22, 7pm - Bring a blanket or low folding chairs and watch family favorites starting at sundown. Find out what's showing: https://www.foccp.org/foccpevents (to be confirmed)
---
North End Feasts and Festivals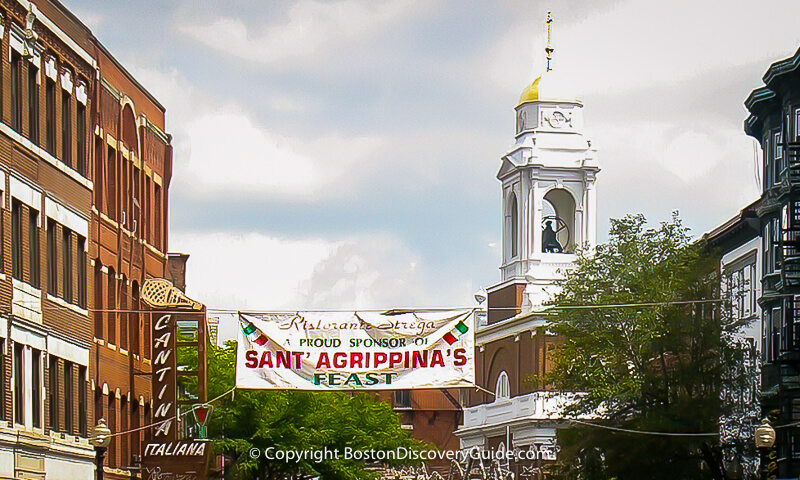 Boston's North End Italian Feasts and Festivals draw huge crowds to this historic neighborhood.
You can smell the mouth-watering food, hear the music, and feel the excitement as you walk across the Greenway to Hanover Street, where many of the celebrations take place.
These parades and festivals take place almost every weekend throughout the summer.
North End Festivals scheduled for June (all are processions only - no feasts during June):
Santa Maria Di Anzano Procession - June 4, 10:30am (to be confirmed) - Mass at St Leonard's Church (Hanover and Prince Streets); 117th annual procession to be held on Sunday, September 19, 1pm starting at St Leonard Church (this Saint's Day is always just a procession; no feast)
St Anthony of Padua - June 18, 1pm (to be confirmed) - Outdoor Mass at St Leonard Church's Peace Garden, Hanover and Prince Streets; at 6pm, a candle-lit procession starts at St Leonard Church
Saint Padre Pio - June 25 at 1pm (to be confirmed) - Procession starts at St Leonard Church, Hanover and Prince Streets
Find out about North End Feasts and Festivals taking place in July
Interested in staying in the North End? Check rates at Bricco Suites, in the heart of the neighborhood, and the waterfront Yacht Haven Inn and Battery Wharf Hotel.
---
Boston Harbor Cruises
---
Frog Pond Spray Pool Opens on Boston Common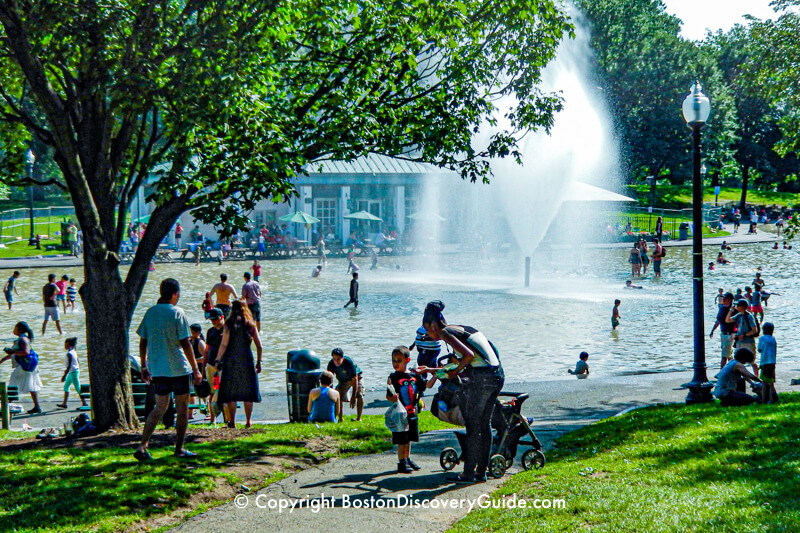 For 2 glorious months after school ends, Frog Pond turns into a spray pond and becomes the best place to cool off in the city ... if you're 12 or under.
The Grand Opening Celebration features family-friendly entertainment, music, art, a gala ceremony, and of course, the chance to play in the 30-foot spray at the center of the pond.
Lifeguards will be on duty this summer during all open hours.
When: June 22, 11am (to be confirmed); remains open from 11am to 6pm every day through Labor Day, unless there's a thunderstorm
Where: Frog Pond at Boston Common
Nearest T station: Green Line/Park
Cost: Free

More Boston Splash Pool Locations:
Rose Kennedy Greenway - Rings Fountain, in the Wharf District section near Faneuil Marketplace and Christopher Columbus Park
Christian Science Plaza - Boston's Fenway neighborhood, close to the Colonnade Hotel
---
Cape Ann Artisans Open Studios 2023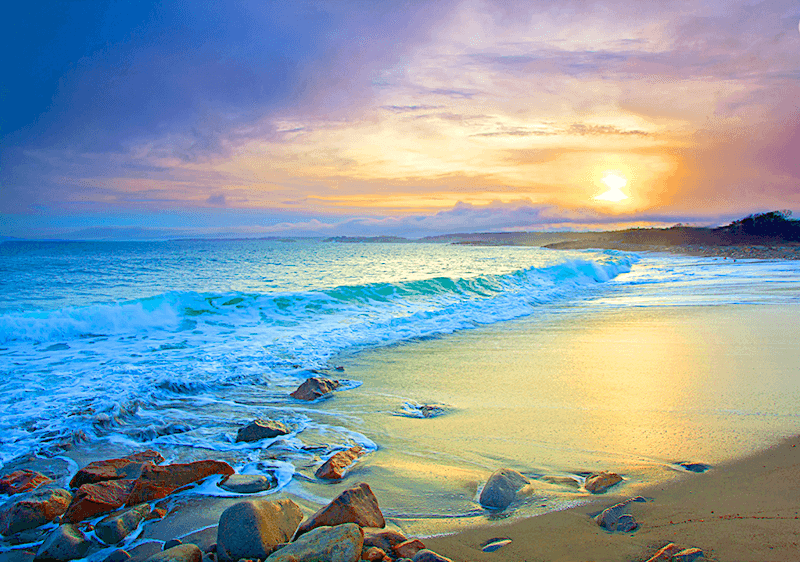 Don't miss this wonderful excuse to tour artist studios along the beautiful Rockport and Gloucester coast in early June!
Artists and artisans will welcome you to view their paintings, sculpture, mosaics, photography, pottery, jewelry, and other wonderful creations.
Drive up from Boston for the day - or spend the weekend and go for walks along the beach, dine on lobster dinners, and browse in local boutiques, galleries, and antique shops.
Open Studio Tour: June 3 and 4 at 10am - 5pm
Where: Open Studio Tour map and more information at www.capeannartisans.com - or pick up brochures with route maps at the Cape Ann Chamber of Commerce, the Rockport Information Booth on Rte 127, and at each studio. Look for the Studio Tour banner at each location
More information: Cape Ann Artisans website
Cost: Free

---
Free Drop-In Summer Yoga on Boston Common
Dropping in on free summer yoga sessions near the carousel on Boston Common is part of what makes Boston fun in the summer.
Instructors will lead a vinyasa flow class focused on releasing stress and expanding energy and welcome participants of all levels.
When: Every Thursday, 6-7 pm through September 28 (no class on June 28) (to be confirmed)
Where: Frog Pond at Boston Common
Nearest T station: Green Line/Park
Cost: Free
Bring: Your own mat, blocks, towels, and belt
---
South End Garden Tour 2023
The South End Garden Tour never gets boring because it features gardens in a different area of this large neighborhood every year.
Each year's tour focuses on gardens in specific areas such as Union Park and SoWa, with numerous gardens and green spaces open for this self-guided tour.
Get ready to view some gorgeous gardens in this neighborhood known for its spectacular gardening. Tour proceeds benefit the South End/Lower Roxbury Open Space Land Trust.
You can also stroll through the South End neighborhood on your own, admire the Victorian architecture, and perhaps stop for lunch or an early dinner at one of the many terrific chef-owned South End restaurants.
More about Boston and Cambridge garden tours
When: Saturday, June 17, 10am - 2:30pm, rain or shine
Where: Begins at Berkeley Community Garden (500 Tremont Street, corner of Tremont & East Berkeley) in Boston's South End
Nearest T station: Orange Line/Back Bay
Cost: Tickets are $35 - find details at www.thetrustees.org
---
More Fun Boston Tours
---
Roxbury International Film Festival - 2023
When: June 20-28
Where: Museum of Fine Arts, Hibernian Hall, Arts Emerson, and other sites in and near Roxbury
Cost: Tickets to most films are $12-$15; VIP packages available
More information: Rox Film Fest website
The Roxbury International Film Festival showcases films "by, for, and about people of color," with screenings, panel discussions, receptions, and workshops, plus additional events throughout the year.
This year's festival features a hybrid version - plenty online, plus some film screens in person in indoor and outdoor venues - and looks even bigger than ever!
Rox Film began in 1999 when the founders created a venue to celebrate films written, produced, and directed by filmmakers connected with Africa by birth, ancestry, or culture. It is now the largest film festival with this focus in New England.
Expect an exciting (and big) collection of full-length features, documentaries, experimental films, shorts, and animations, a series of teen-produced films, and a special program of shorts for children under 10.
Find all the details on the Rox Film Fest website.
Check Boston movie theaters for other local films
---
Back Bay Fens & Rose Garden Tours 2023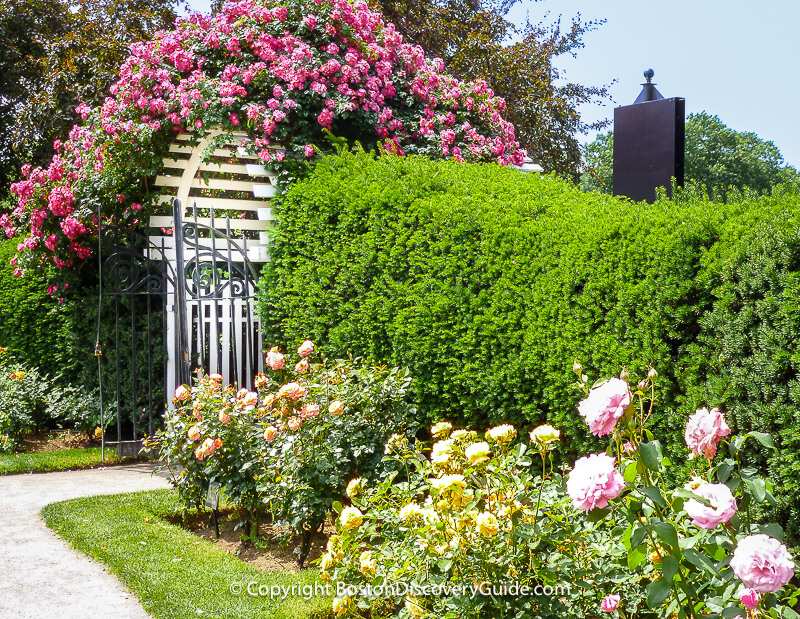 The Back Bay Fens - normally just called "The Fens," and part of Olmsted's Emerald Necklace of parks - has everything: wilderness areas, the Victory Gardens, ball fields, the Kelleher Rose Garden, war memorials, the meandering Muddy River, and more.
Tours are offered on a variety of topics and at a variety of times between April and October, and sometimes change at short notice due to weather conditions.
To find out what's on offer, check the Emerald Necklace Conservancy's website (click on Events). Tours are free, but a $10 donation per person is requested to help support ongoing maintenance and improvements of the area.
Please note: You can also walk around on your own. There's plenty to see, and the Rose Garden is especially spectacular during June, its peak blooming season.
More about Boston garden tours
More about the Victory Gardens and Kelleher Rose Garden
---
Hotels with Views of Boston's Public Garden
Find out more about these spectacular hotels
---
Boston Early Music Festival - ON in 2023
The Boston Early Music Festival is HUGE, as you might expect as it's the largest early music festival in the world. While it's not the only reason why Boston takes center stage as the early music capital of the country, the Festival certainly cements its reputation.
The Boston Early Music Festival's primary mission is to highlight lesser-known operas from the early-music era, using historically-informed musical interpretations, period set designs, costumes, dance, and staging.
This year's festival highlights women in early music, and includes two operas, plus hundreds of other performances, master classes, lectures, demonstrations, workshops, children's programs, and even a sort of trade show of instruments.
On many days, the concert schedule starts at nine in the morning and goes until midnight.
When: June 7-10
Where: Multiple Boston locations, including the Emerson Cutler Majestic Theatre, New England Conservatory, the Courtyard Marriott, and others.
Tickets: Ticket costs vary from free to inexpensive to pricey, with packages available, and the good thing is that all events will continue to be online for awhile after the festival dates; check the event website for details about the many options

Where to stay:
---
Boston Harbor Islands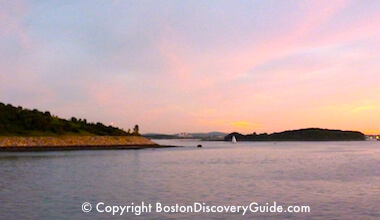 Hop on a ferry at Boston's Long Wharf for a 15-minuted cruise to the Boston Harbor Islands, where you'll find activities such as free concerts, ranger tours, kayaking trials, clambakes, a Spectacle Island beer garden, Boston Light tours, and even Zumba on weekends and weekdays.
Enjoy a day of exploring historic sites, photographing birds, enjoying a picnic, hiking, swimming, wading in tidal pools, or simply enjoying the scenery.
More about the Boston Harbor Islands
When: Late May through Indigenous Peoples Day
Where: Georges Island, Spectacle Island, Peddocks Island
Getting there: Boston Harbor Island ferry information
Ferry cost - round trip to the Islands: $25 adults, $18 children (ages 3-11), $23 seniors 65+, children under 3 free - you can buy your tickets at Long Wharf ticket booth
Closest hotel to Long Wharf: Boston Marriott Long Wharf
Schedule information: Boston Harbor Islands website
---
Secret Gardens of Cambridge Tour - NOT in 2023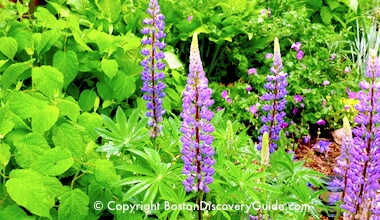 The Secret Gardens of Cambridge tour, sponsored by Friends of the Cambridge Public Library, takes place only during alternate years ending in even numbers - and this is an OFF year.
The self-guided exploration typically covers 4 Cambridge neighborhoods and 24 gardens, including many that are new to the tour each year. You'll get tons of gardening ideas, and see a mix of public and private garden paradises.
Date: Usually the first Sunday in June - check back next year for exact date and time
Where: Cambridge, MA (just across the river from Boston)
Nearest T station: Red Line/Harvard
Cost: Tickets are $25 on day of the tour; available at all Cambridge library branches and numerous Cambridge businesses, including Porter Square Books, Brattle Square Florist, Rodney's Books, Pemberton Farms, Big Picture Framing, Nomad, Clothware, and Bonny's Garden Center. Proceeds benefit the Cambridge Public Library - this is its biggest fundraiser!
More about the Secret Gardens of Cambridge tour
---
Free Drop-In Summer Yoga on Boston Common 2023
Dropping in on free summer yoga sessions near the carousel on Boston Common is part of what makes Boston fun in the summer. Instructors will lead a vinyasa flow class focused on releasing stress and expanding energy and welcome participants of all levels.
When: Every Thursday, 6-7, May 18 - August 31
Where: Frog Pond at Boston Common
Nearest T station: Green Line/Park
Cost: Free
Bring: Your own mat, blocks, towels, and belt
---
Cambridge Arts River Festival
The Charles River Festival is like a huge street party celebrating early summer in the city with outstanding music, the People's Sculpture Race (you push, pull, or pedal your sculpture along the 3/4 mile course), performances, and food.
Around 200,000 festival goers come each year.
Enjoy the sunshine and lots of excellent folk, Latin, jazz, and world music performances and dance at 6 performance stages, plus poetry, theater, art exhibits, and family-oriented craft-making activities at this huge festival celebrating the arts.
Over 100 food vendors and artisans sell their offerings. Do your holiday shopping now and you'll be all set in December.
When: Saturday, June 3, 11am - 6pm (to be confirmed)
Where: Along the Massachusetts Avenue between Prospect and Sidney Streets and down Sidney Street to Pacific Street
Nearest T station: Red Line: Central - Please note: many streets near Central Square including Mass Ave will be closed, and performers and vendors will be using the already-scarce parking - so don't even think about driving to this event
Cost: Free - although you'll find plenty to buy from food and crafts vendors
---
Summer in the City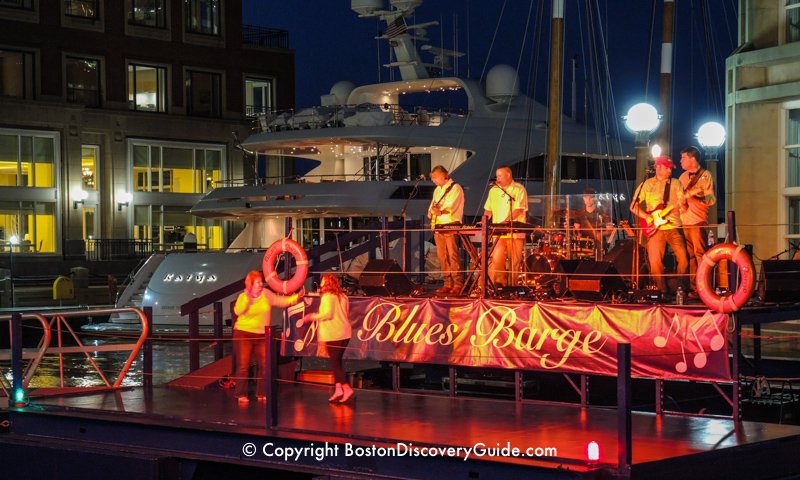 Boston Harbor Hotel's popular "Summer in the City" series lets you kick back and enjoy live music overlooking the waterfront throughout the summer from June 28 until August 25. (to be confirmed)
Listen to music between 6pm - 10pm as musicians perform on the Blues Barge on Tuesday (Pop-Soul), Wednesday (Rat Pack), and Thursday (Blues Barge).
Combine these events with a drink and dinner on the hotel's terrace overlooking the Harbor for the perfect summer evening.
More about Boston Harbor Hotel
Check reviews and rates for the Boston Harbor Hotel
---
10K Race through Back Bay
Whether you're training for the next Boston Marathon or just want to do a Sunday morning dash through Beacon Hill, Back Bay, and Fenway, the Boston Athletic Association's 10-kilometer race presents a perfect opportunity to test your skills and stamina during Boston's summer weather.
Limited to 10,000 runners, the race will follow a course that begins and ends from Boston Common at Charles Street, and winds through the Back Bay and Fenway neighborhoods. No qualifying standard is required for this race.
When: June 22, 8am (to be confirmed)
Where: Boston Common - Starts and finishes on Charles Street
Closest T station: Green Line/Arlington
Cost: $65 registration fee
More information: BAA Website
Popular Back Bay Hotels
More hotels in Boston's Back Bay neighborhood
---
More Things to Do in Boston in June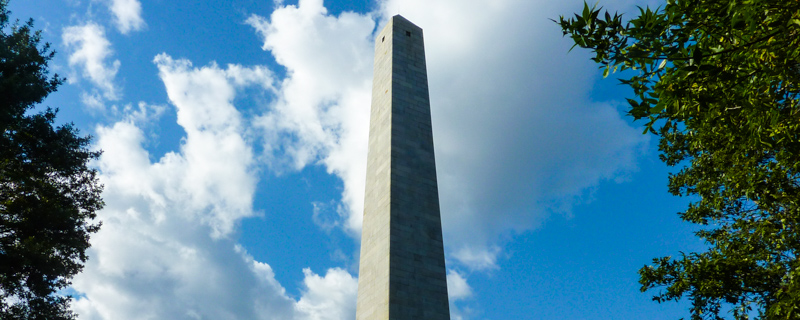 ---
Continuing during June in Boston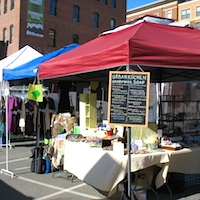 SoWa Open Market in Boston's South End
Noon Concerts at King's Chapel on the Freedom Trail
First Fridays at Museum of Fine Arts
Fish Weir on Boston Common
---
Looking Ahead to July Events in Boston
---
Boston Events Each Month
January | February | March | April | May | June | July | August | September | October | November | December | Year at a Glance
---