Boston Park Plaza Hotel
Experience one of the city's grandest hotels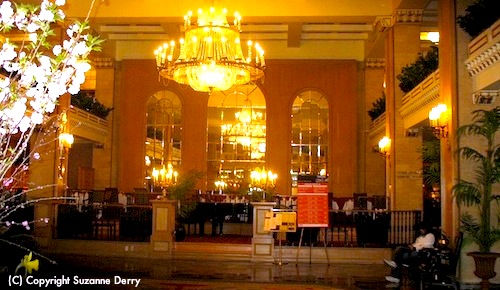 Grand lobby in Park Plaza - photographed from balcony

When famed hotelier E.M. Statler built the dazzling Park Plaza Hotel overlooking the beautiful Boston Public Garden in 1927, it instantly became one of the city's top luxury hotels.
The Park Plaza Hotel's popularity continues today as its central Boston location next to the downtown Theatre District and near the historic Freedom Trail means it's in the ideal location for exploring the city.
You'll often see orgeous public spaces make the historic Boston Plaza Hotel a popular meeting place for locals as well as visitors.
The Park Plaza Hotel Boston's Grand Ballroom with its crystal chandeliers and gilt decor is a popular venue for weddings and other celebrations as well as conferences and conventions. A long list of celebrities and dignitaries have stayed here.
A city within a city
Statler called his hotel "a city within a city," and that's still true.

Not only is the hotel huge - 1,053 rooms and suites - but eight popular restaurants are under its roof. You'll find The Melting Pot (fondue!), McCormick & Schmick's Seafood Restaurant, Finale, the Smith & Wollensky Steakhouse located in the nearby Castle at Park Plaza, and more.
Be sure to compare rates and check for specials. The Park Plaza has a wide range of room sizes and amenities, so you'll usually find a wide range of rates and even hotel "special" packages. You may be surprised by how affordable a room or even a grand suite can be.
Park Plaza Hotel at Christmas
Although the beautiful Park Plaza Hotel appeals at any time of the year, its lush Christmas decorations make it an especially perfect choice for the holidays.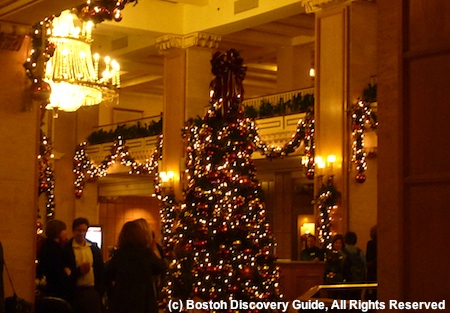 Park Plaza Hotel lobby holiday decorations in December
I love coming here for functions during the holidays because when I see the huge Christmas tree in the grand lobby, the festive garlands, and all the sparkling lights reflected on the mellow wood, I feel transported back to a more gracious time.

What's in the neighborhood?
The Park Plaza Hotel overlooks the Public Garden and anchors a section of downtown Boston now called "Park Plaza," home to even more great restaurants.
Boston's Theatre District is next door - literally, about a block away - making the Park Plaza a favorite for visitors in town for a weekend of theater.
Tranquil Bay Village, with charming streets filled Federal-style houses and art deco buildings but so well-hidden from the rest of the city that it fits squarely in the "best-kept Boston secret" category, is just a couple of blocks away.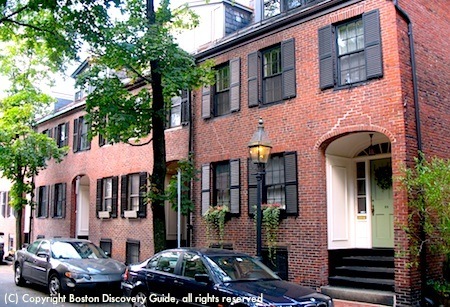 Explore Bay Village's early 19th century architecture,
just a couple of blocks from the Park Plaza Hotel
More Boston Accommodations to Consider
Home > Hotels > Downtown Hotels > Park Plaza Hotel