When famed hotelier E.M. Statler built the dazzling Boston Park Plaza Hotel overlooking the beautiful Victorian-era Public Garden in 1927, it instantly became one of the city's top luxury hotels.
The Park Plaza Hotel's popularity continues today as its central Boston location next to the downtown Theatre District and near the historic Freedom Trail means it's in the ideal location for exploring the city.
You'll enjoy gorgeous public spaces make the historic Park Plaza Hotel a popular meeting place for locals as well as visitors.
A recently-completed $100 million dollar renovation ensures guest of all the latest comforts and a beautiful new contemporary design.
The Park Plaza Hotel Boston's Grand Ballroom with its crystal chandeliers and gilt decor is a popular venue for weddings and other celebrations as well as conferences and conventions. A long list of celebrities and dignitaries have stayed here.
Top photo: Park Plaza Hotel, seen from Boston's Public Garden, (c) Boston Discovery Guide
---
Park Plaza: A City within a City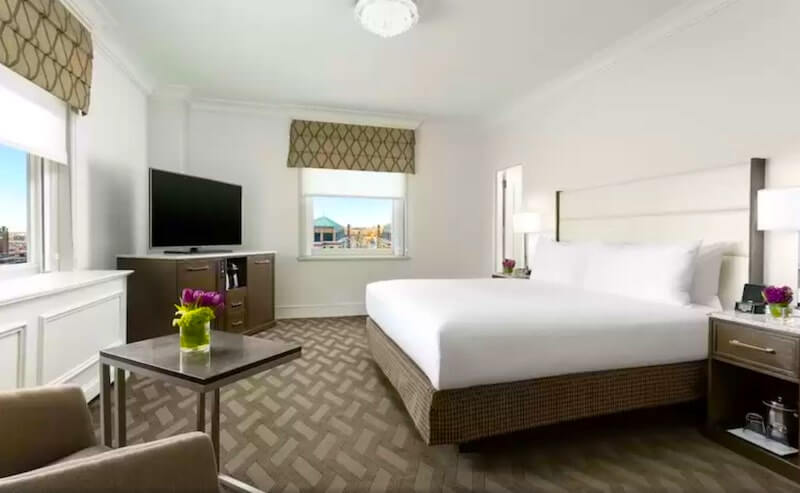 Not only is the hotel huge with 1,060 guest rooms and suites on 15 floors, but it also offers a large number of room sizes, configurations, and amenities. Rates for the smaller rooms can be very affordable. For a special splurge, book the Presidential Suite and enjoy the full bar, deep soaking tub and glass shower in the marble bathroom, and fantastic Boston views.
Multiple coffee shops, cafes, bars, and restaurants including the swanky STRIP by Strega steakhouse and MJ O'Connor Irish Pub give you plenty of dining choices close at hand, plus renowned Back Bay restaurants are just a few minutes walk away.
Be sure to compare rates and check for specials.
The Park Plaza has a wide range of room sizes and amenities including the huge Presidential Suite, so you'll usually find a wide range of rates and even hotel "special" packages.
You may be surprised by how affordable a room or even a grand suite can be.
---
Top Attractions near Boston Park Plaza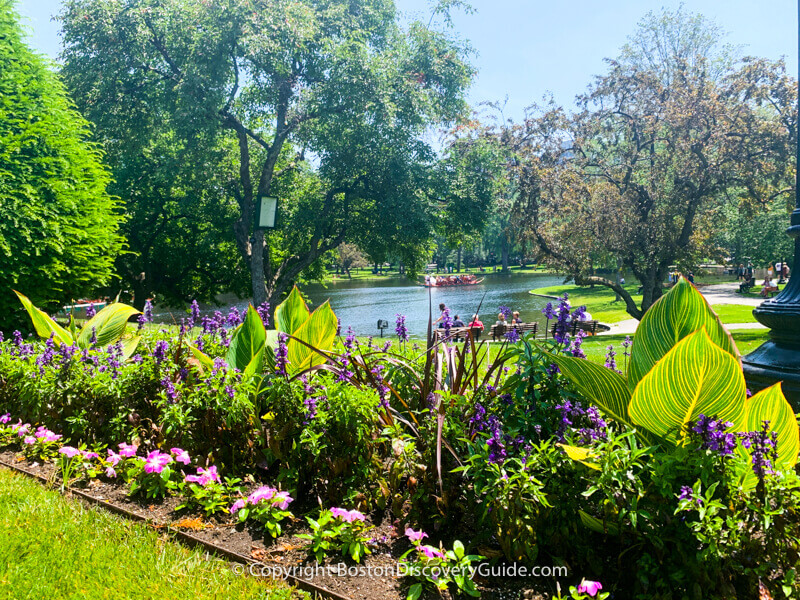 The Park Plaza Hotel's location is superb. It anchors a section of downtown Boston now called "Park Plaza, and upper floors overlook the Public Garden. Boston Common, where the Freedom Trail begins, is also across the street. Walk across the Common, and you'll be in historic Beacon Hill.
Boston's Theatre District is next door to the east - literally, about a block away - making the Park Plaza a favorite for visitors in town for a weekend of theater.
On the other side, to the west, the hotel is only about a block away from Back Bay, with historic Copley Square and Trinity Church, the Boston Marathon Finish Line, and all the boutiques and art galleries along Newbury Street - not to speak of hundreds of excellent restaurants and bistros.
Tranquil Bay Village, with charming streets filled Federal-style houses and art deco buildings but so well-hidden from the rest of the city that it fits squarely in the "best-kept Boston secret" category, is just a couple of blocks away behind the hotel.
Find cheapest rates and reserve your room
---
Getting to the Park Plaza from Logan Airport
GO Boston Shuttle is available for a fee, and the hotel can also arrange town car transportation for a fee - call the hotel concierge if interested at 617-654-1912.
If you can manage your own luggage, it's easy to take the T (Boston's subway) from Logan International Airport. The closest stops are Green Line/Arlington Street and Orange Line/Back Bay.
Another alternative, if you want some exercise and sightseeing after your flight (and can easily manage your luggage) is to take a water taxi or the T from Logan to the Downtown Waterfront (about 7-8 minutes) and then walk to the hotel (less than a mile - so about 20 minutes walking time).
---
Boston Park Plaza Parking
Although no onsite parking is available, but you can use valet parking (entrance is at 34 Columbus Ave). It is convenient but very pricey - currently $65/night, but confirm before you go in case of any changes.
A cheaper option, if you don't need in/out service, is to drop off your bags at the hotel (give them a call if you need help with your bags) and then head to a garage.
The cheapest nearby parking for weekends and nights is at Boston Common Garage (a 3-4 minute walk). Motor Mart Garage across the street also offers validated parking.
A better (and cheaper) option is to not bring your car at all, if possible.
---
Boston Hotel Map Showing Park Plaza Hotel & Other Nearby Hotels
Enter your travel dates to get the most accurate hotel rates. If the Park Plaza doesn't appear on the map, that means it's booked for your dates - so check out rates at other nearby hotels.
More about how to save on Boston hotels
---
More to Do & See in Boston
---
More Articles about Boston Hotels
---