Love a bargain?
Wrentham Village Premium Outlets is where you can find the biggest discount shopping savings near Boston.
Located just 37 miles south of the city, this discount shopping outlet mall is the biggest in Southern New England.
You get huge mark-downs, especially if you come during seasonal sales, but there's another bonus as well: no Massachusetts sales tax on clothing items priced under $175.
So if you live in a nearby state such as New York or Maine where you'd normally pay high state sales tax on clothes, shopping at Wrentham Outlets will save you even more!
Wrentham Village Outlets brings together the discount version of many luxury and high-end designer stores that you'll find on Boston's Newbury Street and in high-end shopping malls such as Chestnut Hill and Natick Mall, with a mix of budget-friendly mid-market stores as well.
How much can you save at Wrentham Village?
Standard discounts range from about 25% to 70% off the retail price ... but that's just the beginning of the bargains here.
Look for huge sales around major holidays - Dr. Martin Luther King's Day, Washington's Birthday, Memorial Day, July 4th, Labor Day, Indigenous Peoples Day, Veterans Day, Black Friday - to save even more.
Top Photo: Wrentham Village's "cornerstone" sign
Boston Discovery Guide is a reader-supported publication. When you buy through our links, we may earn a commission at no additional cost for you. Learn more
---
Wrentham Village Discount Outlet Stores
Most of the 150+ stores at Wrentham Village fall into 5 categories:
Famous designer boutiques such as DKNY, BCBG, Max Mara, AllSaints, Armani, Birkenstock, Tory Burch, Burberry, Hugo Boss, Kate Spade, Prada, Gucci, Karl Lagerfeld, Ferragamo, Ted Baker, Theory
Outlets of familiar national stores such as Bloomingdale's, Banana Republic, Ann Taylor, Saks, American Eagle, Brooks Brothers, Clair's, J. Crew, Aeropostale, Columbia, Vineyard Vines, White House/Black Market, Eddie Bauer, Gap, Lululemon
International brands such as Nike, Ugg Australia, Vera Bradley, Crocs, LaCoste, Coach, Calvin Klein, Diesel, Disney, L'Occitane, Levi's, Michael Kors, Reebok, Puma, Regatta
Home furnishings, jewelry, toys, personal care, and electronics such as Le Creuset, Bath & Body Works, RH (Restoration Hardware), Yankee Candle, Swarovski, Watch Station, Zales, Toy Express
Gourmet chocolates - Look for Godiva, Lindt, and more
---
Wrentham Village Hours, Location, & Map
Hours
Monday through Sunday, 10am - 9pm (6pm on Sundays)
Location
Intersection of I-495 and Route 1A, about 37 miles south of Boston
Map
---
How to Get to Wrentham Outlets from Boston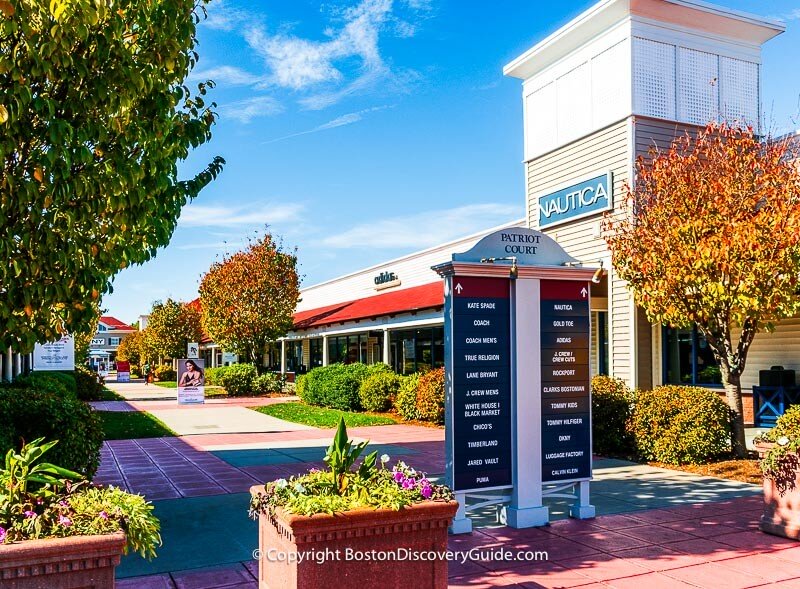 If you're visiting Boston and don't have a car, don't worry. There are three easy ways to get to Wrentham Outlets, located at the I-495 and Route 1A intersection about 37 miles south of Boston.
1. Rent a Car for the Day
If you are going to Wrentham Outlets and don't want the hassle of taking the train and then a taxi or uber for the final stretch (see Option # 2 below), renting a car for the day may be the most convenient as well as the cheapest solution, although not necessarily the easiest - you'll have to navigate Boston's crazy traffic plus find parking once you get there (the lot is spacious, but sprawling).
Although in fairness, once you are out of the city traffic, the drive down Route 95 and I-495 is relaxing, assuming you miss rush hour traffic.
Assuming you don't hit rush-hour traffic, the drive from Boston to Wrentham Village takes 45 minutes to one hour.
Pro Tip: Rush-hour traffic begins to diminish between about 9:30 - 10am. If you want to get in a full day of shopping, you'll find some excellent hotel choices at all price points, thanks to nearby Gillette Stadium.
Find the best hotels near Wrentham Premium Outlets and Gillette Stadium
2. Public Transportation / Taxi or Uber
From South Station or Back Bay Station in Boston, take the Franklin LIne of the Commuter Rail (check the MBTA website for schedules) to Franklin Station, about 4 miles from Wrentham Outlets.
Then take a taxi to the shopping center - Foxfield Taxi (508-543-2828) services this route. An Uber, Lyft, or other car share service may also work for you.
This option is definitely not as fast or convenient as renting a car for a day and driving - but if you're not familiar with driving in and out of Boston, it may be easier.
3. Easy (But Currently Not Available): Relax on a Luxury Bus from Boston
Board one of the plush tour buses that provide scheduled round-trip service to Wrentham Village Outlets, and sit back and relax - no need to worry about driving or parking.
You'll even get a complimentary VIP coupon book for additional savings.
Book your round trip transportation to Wrentham Village - Currently not available
---
Hotels near Wrentham Outlets
For dedicated bargain shoppers, one day at Wrentham Outlets may not be enough.
Plus, you may also want to shop at nearby Patriot Place (about 5 minutes away) at Gillette Stadium (you probably won't find any bargains there, but it's a fantastic place for buying New England Patriots sports gear, plus it has several excellent restaurants, some very fun sports bars, and The Hall sports museum.
So, if all of that sounds appealing, stay over.
Since rates at most hotels near Wrentham Outlets are significantly cheaper than Boston hotel rates (except for when a Patriots game or headliner concert is scheduled in nearby Gillette Stadium), your hotel savings may help pay for your shopping spree.
Here are some nearby hotels in all price ranges:
Going to Gillette Stadium for a game or concert or to Patriot Place for shopping?
Stay in one of these convenient nearby hotels:
Check out more hotels near Gillette Stadium
More about hotels near Wrentham Premium Outlets and Gillette Stadium
---