Love a bargain?
Wrentham Village Premium Outlets is where you can find the biggest discount shopping savings near Boston. Located just 37 miles south of the city, this discount shopping outlet mall is the biggest in Southern New England.
You get huge mark-downs, especially if you come during seasonal sales, but there's another bonus as well: no Massachusetts sales tax on clothing items priced under $175. So if you live in a nearby state such as New York or Maine where you'd normally pay high state sales tax on clothes, shopping at Wrentham Outlets will save you even more!
Book your round trip transportation to Wrentham Village
Wrentham Village Outlets brings together the discount version of many luxury and high-end designer stores that you'll find on Boston's Newbury Street and in high-end shopping malls such as Chestnut Hill and Natick Mall, with a mix of budget-friendly mid-market stores as well.
How much can you save at Wrentham Village? Standard discounts range from about 25% to 70% off the retail price ... but that's just the beginning of the bargains here.
Look for huge sales around major holidays - Dr. Martin Luther King's Day, Washington's Birthday, Memorial Day, July 4th, Labor Day, Columbus Day, Veterans Day, Black Friday - to save even more.
Top Photo: Wrentham Village's "cornerstone" sign
Wrentham Village Discount Outlet Stores
Most of the 150+ stores at Wrentham Village fall into 5 categories:
Famous designer boutiques such as DKNY, BCBG, Max Mara, AllSaints, Armani, Birkenstock, Tory Burch, Burberry, Hugo Boss, Kate Spade, Prada, Gucci, Karl Lagerfeld, Ferragamo, Ted Baker, Theory
Outlets of familiar national stores such as Bloomingdale's, Banana Republic, Ann Taylor, Saks, American Eagle, Brooks Brothers, Clair's, J. Crew, Aeropostale, Columbia, Vineyard Vines, White House/Black Market, Eddie Bauer, Gap, Lululemon
International brands such as Nike, Ugg Australia, Vera Bradley, Crocs, LaCoste, Coach, Calvin Klein, Diesel, Disney, L'Occitane, Levi's, Michael Kors, Reebok, Puma, Regatta
Home furnishings, jewelry, toys, personal care, and electronics such as Le Creuset, Bath & Body Works, Restoration Hardware, Yankee Candle, Swarovski, Watch Station, Zales, Toy Express
Gourmet chocolates - Look for Godiva, Lindt, and more
How to Get to Wrentham Outlets from Boston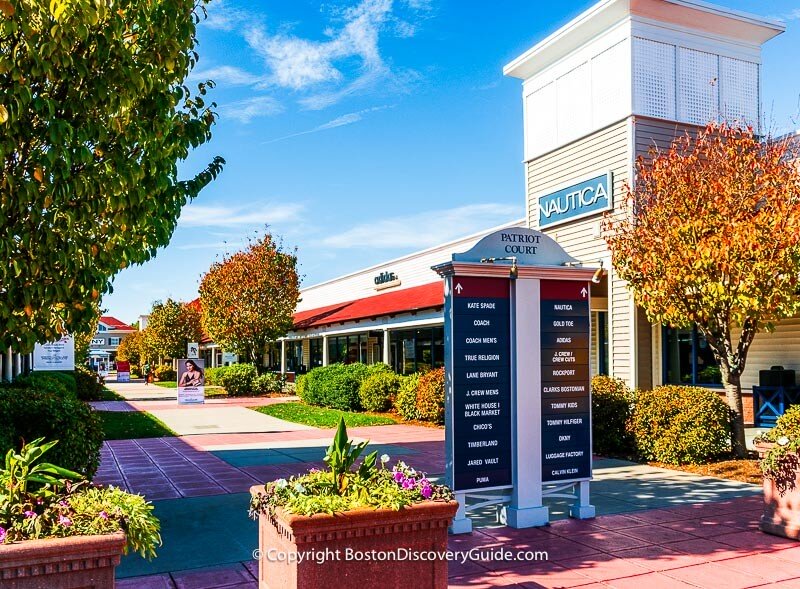 If you're visiting Boston and don't have a car, don't worry. There are three easy ways to get to Wrentham Outlets, located at the I-495 and Route 1A intersection about 37 miles south of Boston.
1. Easiest: Relax on a Luxury Bus from Boston
Board one of the plush tour buses that provide scheduled round-trip service to Wrentham Village Outlets, and sit back and relax - no need to worry about driving or parking.
You'll even get a complimentary VIP coupon book for additional savings.
Book your round trip transportation to Wrentham Village
2. Rent a car for the day
If you are going to Wrentham Outlets with one or more other people, renting a car for the day may be the cheapest solution, although not the easiest - you'll have to navigate Boston's crazy traffic plus find parking once you get there (the lot is huge, but sprawling). Although in fairness, once you are out of the city, the drive down Route 95 and I-495 is relaxing, assuming you miss rush hour traffic.
Zipcar has lots of convenient pick-up locations all over the Boston area. Bonus: take your Zipcar key to the Wrentham Village Information Center near the Food Court to get a free VIP coupon book.
Other Boston rental car options
3. Public Transportation / Taxi
From South Station or Back Bay Station in Boston, take the Franklin LIne of the Commuter Rail (check the MBTA website for schedules) to Franklin Station, about 4 miles from Wrentham Outlets.
Then take a taxi to the shopping center - Foxfield Taxi (508-543-2828) services this route.
For 1 person, this option may cost just a few dollars less than the luxury tour bus and won't be as fast or convenient - but if you're not familiar with driving in and out of Boston, it's easier than renting a car.
Hotels near Wrentham Outlets
For dedicated bargain shoppers, one day at Wrentham Outlets may not be enough. In that case, stay over.
Since rates at most hotels near Wrentham Outlets are significantly cheaper than Boston hotel rates (except for when a Patriots game or headliner concert is scheduled in nearby Gillette Stadium), your hotel savings may help pay for your shopping spree.
Here are some nearby hotels in all price ranges:
More about hotels near Wrentham Premium Outlets and Gillette Stadium
Boston Insider Tip: Why You'll Save More at Wrentham Outlets
Keep in mind that in Massachusetts, you pay no sales tax on clothing items under $175. Massachusetts sales tax on non-clothing items and clothing costing $175 or more is only 6.25%.
If you are visiting from a country with a high VAT or even from another American state where clothing is taxed - sometimes at a high rate - you can enjoy significant tax savings when you shop here.
Boston Hotel Special Packages for Wrentham Village Shopping
Several Boston hotels offer Wrentham Village Premium Outlets special packages, including pick up and drop off at the hotel.
Packages typically include round trip transportation for 2 on luxury buses, and possibly other freebies, such as breakfast or drinks.
Are these a good deal? It depends...if you're traveling with another adult, you'll often come out ahead. Traveling alone, you may be better off booking the luxury bus yourself and booking a room at the regular rate.
Here are Boston hotels that usually offer the Wrentham Village Premium Outlets Special, with links to the hotel website (look for Special Packages or Promotions - see if the Wrentham Outlets package is listed) and to Trip Advisor to find cheapest rates so that you can compare and pick the best deal:
3 Survival Tips for Wrentham Outlets Black Friday Sales
Black Friday sales at Wrentham Premium Outlets - and most other stores - can be huge, and crowds will be even bigger than usual.
Use these 3 tips to maximize your Wrentham Outlets Black Friday savings:
1. Arrive early - Yes, this tip applies anywhere, not just at Wrentham Outlets. However, keep in mind that Wrentham Outlets attracts shoppers from much farther distances than most Boston or suburban malls. You'll be competing with them as well as with local shoppers. So consider arriving really early - the day before - and staying in a local hotel near Wrentham Village for at least part of the night - much easier than driving from Boston in an semi-awake state.
2. Prioritize to maximize your savings - Black Friday savings at Wrentham Outlets will be based on top of already-discounted merchandise, so you can expect to save a lot. However, you'll typically find the biggest savings at the most expensive stores - so head there first.
3. Don't stress: arrive late - You can still save at Wrentham Outlets even if you miss out on the biggest Black Friday discounts. If you want to avoid the biggest crowds but still scoop up some good bargains in time for the holiday season, consider coming later in the day.
Where to Eat & Drink at Wrentham Outlets
Wrentham Village focuses on fashion. Food - you won't find much to get excited about here, although you won't starve.
There is a Food Court at one corner of the complex with perhaps half a dozen choices. You can also find a Friendly's and Ruby Tuesday tucked away among the stores.
Outside the complex - far enough away that you might want to drive, although you could certainly walk - are a Cracker Barrel, Pizzeria Uno, and Dunkin Donuts.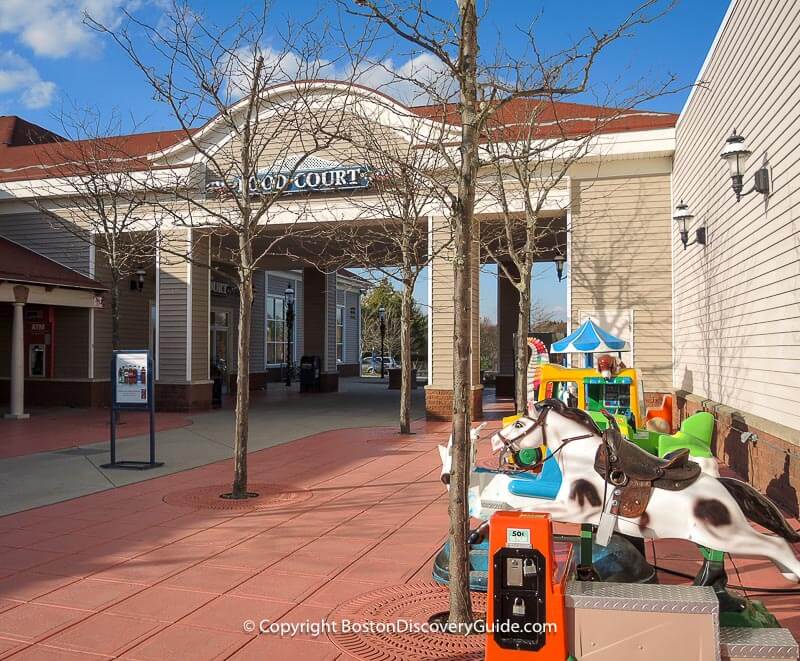 Wrentham Village vs Assembly Row - Which Outlet Mall is Best?
Wrentham Village is Boston's biggest outlet shopping destination by far - but it is not the only one, now that Assembly Row, located 5-10 minutes from Downtown Boston, is open.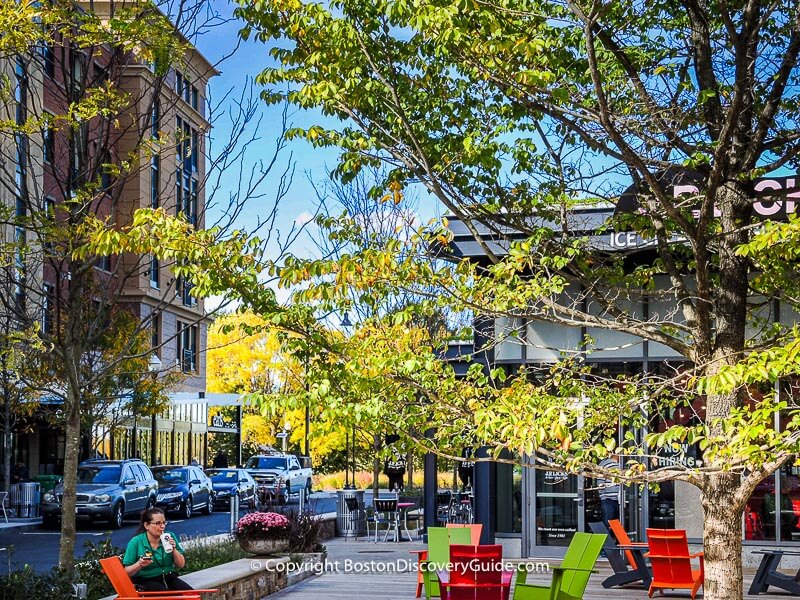 So which discount mall is best?
If you are looking for the largest number of discount stores and want luxury brands such as Coach and Burberry, Wrenthem Outlets wins hands down.
But for dining, entertainment, the chance to enjoy the natural beauty of the Mystic River, and easy access from Downtown Boston, Assembly Row is the clear winner.
What about prices? Stores with outlets in both locations offer the same prices and discounts. And overall, the percentage of discounts - typically, about 25% to 70% - is the same in both.
Find out more about how Assembly Row and Wrentham Outlets compare
More to Know about Wrentham Outlets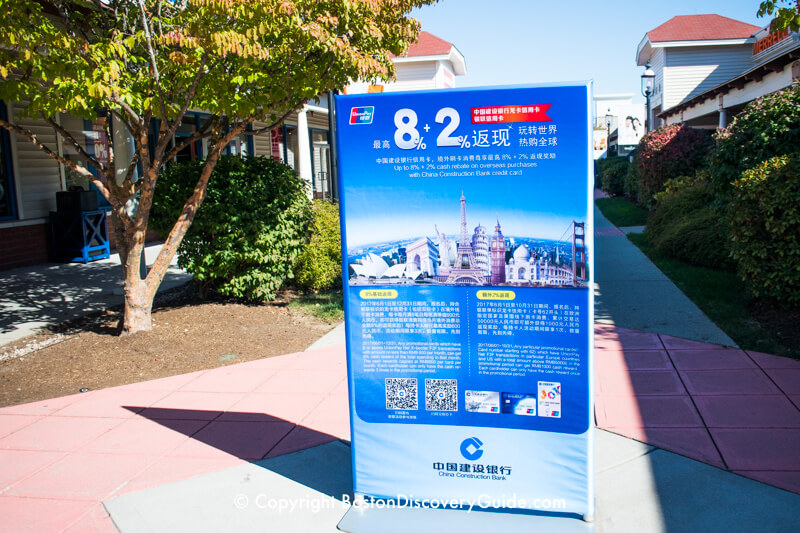 Many Boston visitors from Europe and Asia - especially China, Japan, Taiwan, and Korea - shop at Wrentham Outlets to scoop up deeply discounted luxury and designer brands not widely available outside of the U.S. at such cheap prices.
Many of the stores, especially those selling luxury brands, have multilingual employees to welcome visitors from other countries.
Since many tourists come by private chartered buses or on the popular motor coach Wrentham Village tours, the Outlets offer lockable storage lockers for a small fee near the food court for shoppers who may not have easy access to their bus yet do not want to haul around all their purchases as they continue to shop.
Questions & Answers about Wrentham Outlets
Details and Directions to Wrentham Outlets
Location: Route 1A at the Interstate 495 intersection, Wrentham, MA
Stay nearby: Hotels near Wrentham Premium Outlets and Gillette Stadium
More information: 508-384-0600; website
Parking: Free outdoor parking lot
Best tip for extra savings: If you're 50 or older, you can get an extra 10% discount on Tuesdays at many Wrentham Village stores. Ask for the "50 Plus Shopper Discount."
More Articles about Where to Shop in Boston
Need a Boston Hotel or Apartment?
Use this handy map from Booking.com to find the perfect place to stay. Just enter your dates to find what's available, see the best rates, and make your reservations.