Planning your first trip to Boston? Or want to see it from a new perspective?
Boston sightseeing tours give you the perfect way to experience the city.
Of course you'll visit historical landmarks along the Freedom Trail, famous museums and churches, American Revolution monuments and modern skyscrapers, and Boston Harbor.
You may even get to see Fenway Park.
But to enhance your experience, you'll also hear interesting facts, tales, and legends about the city from the entertaining tour guides.
Take a look at the sightseeing tours listed below - you'll see a great selection of short tours, plus even a day-long adventure! And don't miss Boston Discovery Guide's recommendation for a self-guided tour.
Boston Insider Tip: Most Boston sightseeing tours have limited space and fill up quickly - so to avoid disappointment, book your tour the easy way before you travel - book online!
Top Photo: Hop-on hop-off trolley on Boylston Street across from Boston Common, (c) Boston Discovery Guide
Boston Discovery Guide is a reader-supported publication. When you buy through our links, we may earn a commission at no additional cost for you. Learn more
---
Duck Tours - See Boston on Land and Water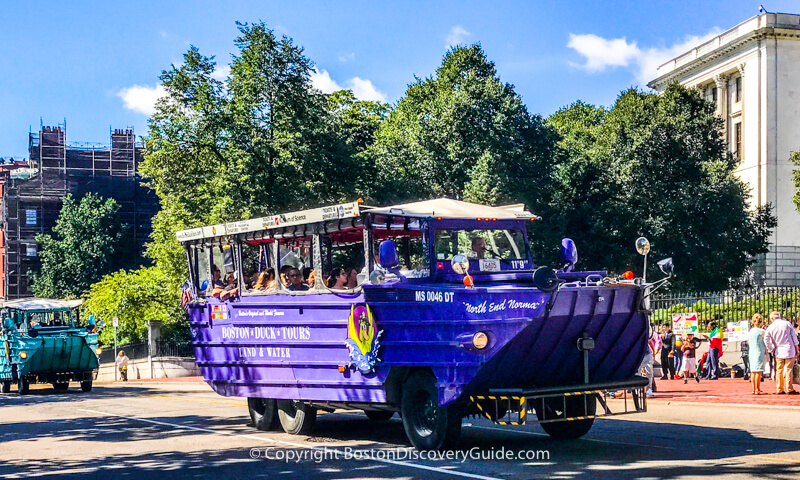 Nothing is more fun than a Duck Tour - plus it's an exciting sightseeing experience.
These huge amphibious vehicles place you high above everyone else, giving you a perfect view as you roll by famous Freedom Trail sites, stately Beacon Hill mansions, trendy Newbury Street boutiques, Faneuil Hall, Boston Common, plus more...and then you splash down into the Charles River for a leisurely cruise past unique views of Boston and Cambridge.
Find out more about Duck Boat Sightseeing Tours
Get Your Duck Boat Tickets now
---
Hop On Hop Off Trolley Tours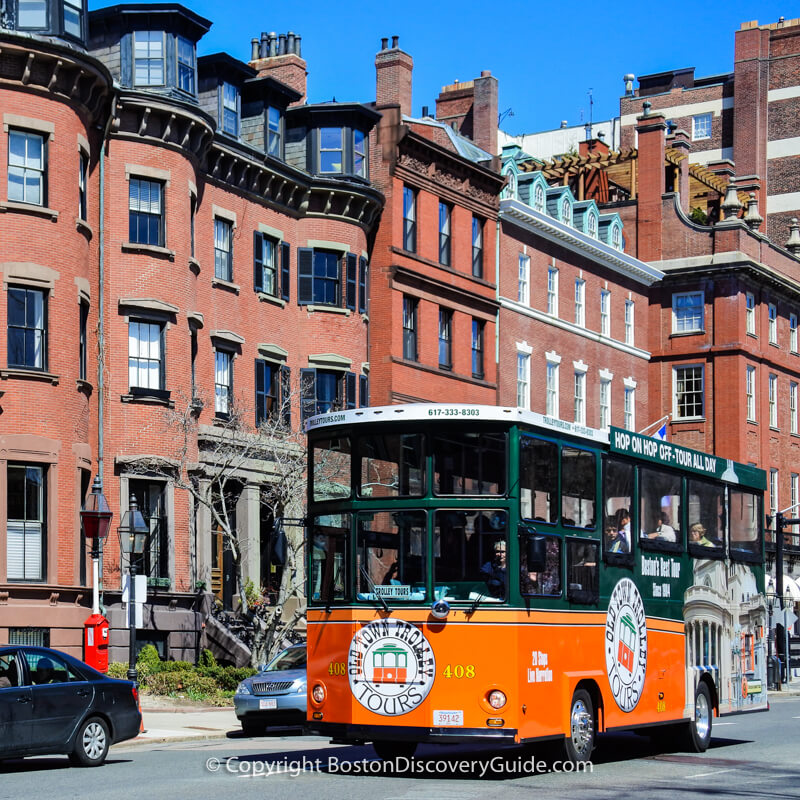 Boston tour trolleys let you sightsee and explore at your own pace. Stay on the hop on hop off trolley for the entire loop - up to 2 hours for some trollies- as the conductor points out iconic Boston and Cambridge sites along the way. Or, hop off at whichever stops you choose, explore on your own - then hop back on.
As a bonus, look for free "extras" along with your tour ticket - trolley tours frequently offer a second day of rides for free or just a few dollars extra, a Boston Harbor cruise, a free museum pass, or discount coupons to other attractions.
More about Boston's hop on hop off trolleys
Get your Boston Trolley Tour tickets now
---
Boston Ghosts & Gravestones Tour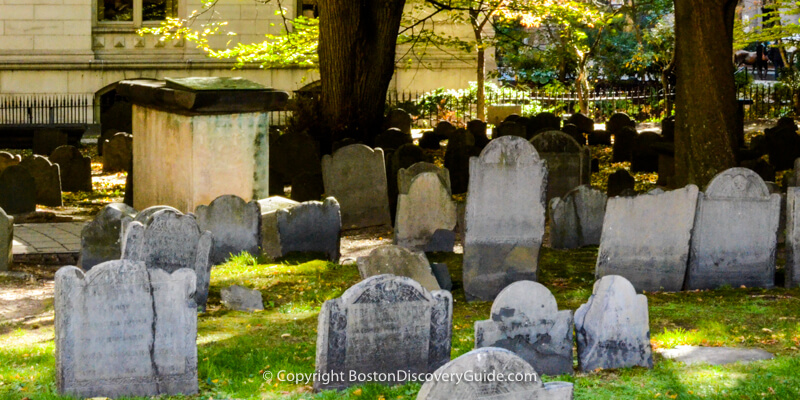 You'll shudder, you'll shiver, and you'll see Boston in a new way as the talented cast of characters-tour guides shows you the darker side of the city.
Tales of murder, mayhem, treachery, and even molasses come alive as you tour by trolley and on foot to our oldest graveyards, its most haunted hotel, and even Jack the Ripper's haunts. Expect to hear loud sounds, learn shocking details about the city's grisly past, and believe it or not, have loads of fun!
Get your tickets for the Ghost & Gravestone tours
---
Total Boston Tour - Plus Lexington, Concord, Cambridge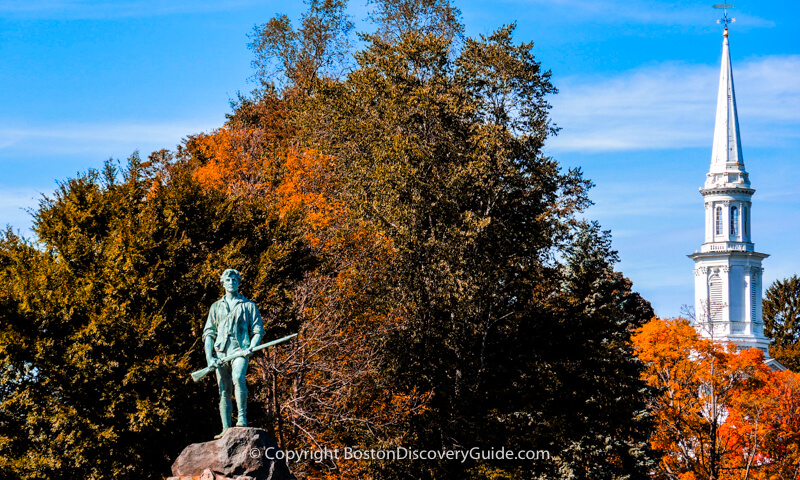 Lexington and Concord, made famous by Paul Revere's ride and the first battles of the American Revolution, lie just outside of Boston, and Cambridge, home to Harvard University is just across the Charles River. To see these special historic places as well as Harvard and Boston's most important sights, join the Boston Historic Bus Tour with Revolutionary War Sites.
After a luxury motorcoach picks you up at your hotel, you get to sit back and relax as the expert tour guide describes each famous site along the way.
Enjoy lunch or shopping on your own in Faneuil Marketplace - and then return to Boston and wrap up the afternoon with a special Boston tour of famous historic and modern landmarks. Your last stop will be the USS Constitution, ("Old Ironsides") from the War of 1812 and the world's oldest commissioned warship still afloat.
Book your Boston Historic Bus Tour with Revolutionary War Sites
---
More Boston Sightseeing Tours for You to Consider
---
Take a Walk through History on a Freedom Trail Tour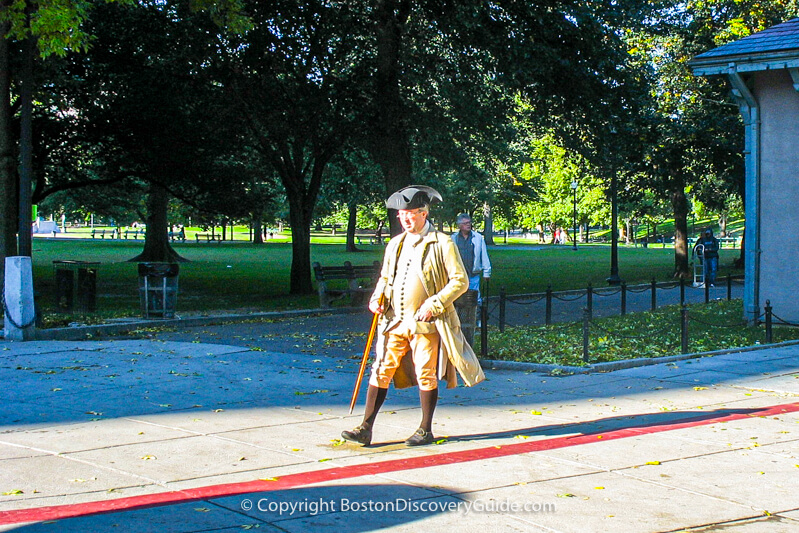 Think a Freedom Trail tour involves a lot of dull history? Think again! Your authentically dressed guide entertain you with tales about Revolutionary Boston as you stroll along the red stripe marking the 2.5 mile Freedom Trail.
You'll almost hear the rowdy crowds defying the Redcoats, Sons of Patriots holding secret meetings in our local taverns, and rebel-heroes plotting the path to American freedom.
As you walk along the Trail, you'll see Boston Common, old graveyards, historic meeting houses (now museums), Faneuil Hall, and other iconic sites - plus, you're right in the heart of Boston, so you'll see the waterfront and lots of restaurants and boutiques to visit later.
More about Freedom Trail Walking Tours
Find out about all the ways to tour the Freedom Trail
---
Bike Tour of Famous Boston Neighborhoods & Sights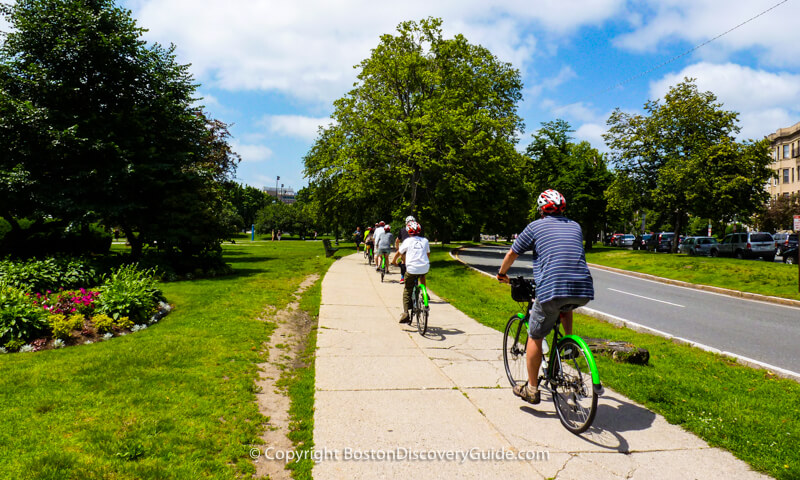 During this fun tour on wheels, your guide leads you through top Boston neighborhoods and past famous attractions, giving you an overall introduction to the city.
Routes may vary a little but typically, you'll ride along the Charles River Esplanade, the Rose Kennedy Greenway, out to see Fenway Park, through Boston Common, and past the elegant Victorian mansions in Back Bay and the South End. You'll glide through Copley Square and Trinity Church, and pass tantalizing cafes in narrow lanes in the Italian North End.
Although this tour lasts 2 1/2 hours, your experienced guide sets a comfortable pace. You get a helmet, water, and of course an individually fitted bike (you can request a hybrid or pedal-assist electric e-bike when you book); ask for child seats and trailers in advance if you need them.
You'll cover a lot of miles, but don't worry - most of Boston is as flat as a pancake.
Book this tour as far ahead as possible - each tour is limited in size, and they fill up quickly!
This is also a popular family tour for those with kids 12 or older.
Find out more about Boston Bike Tours
---
Historic Boston Harbor Sightseeing Cruise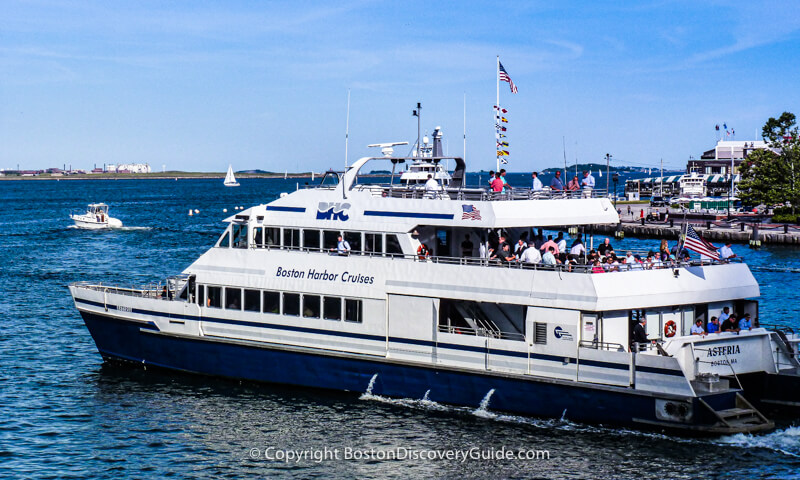 Boston's most famous Revolutionary War confrontations took place not on land but in the Harbor, and this fascinating Boston Harbor sightseeing tour shows you historic and modern landmarks from the water - along with America's oldest continuously manned lighthouse, plenty of picturesque islands, and gorgeous views of the Boston skyline.
You'll see a lot during this affordable historic cruise, and its 90-minute length makes it a perfect choice if you have limited time. Plus, it is offered all year, even during winter months.
Book your historic sightseeing cruise now
More about Boston Harbor sightseeing cruises
More sightseeing cruises to consider:

---
Sightseeing Day Trips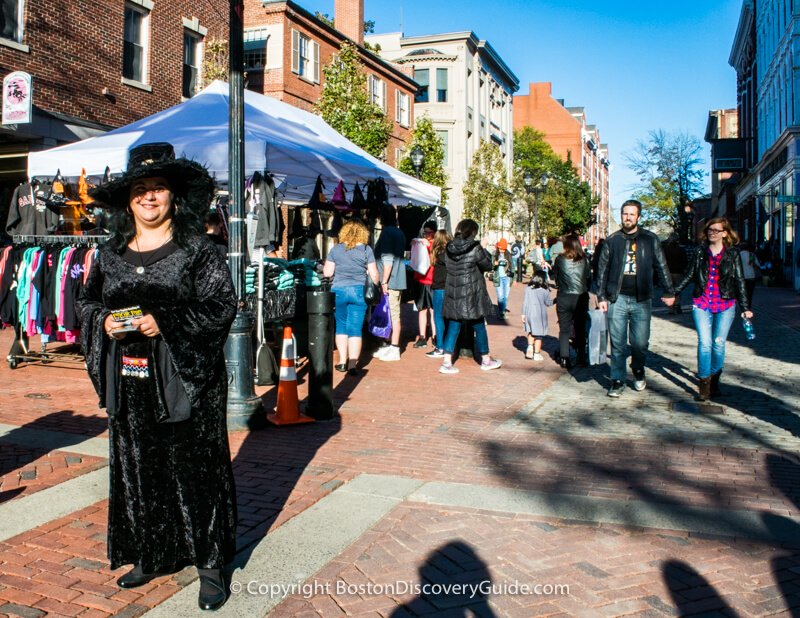 Salem (aka "Witch City), Provincetown beaches, Newport Rhode Island mansions, New England fall foliage, a recreation of the first Pilgrims' settlement at Plimouth Plantation, even New York City - these are just a few of the day (or longer) sightseeing trips you can take from Boston.
More about Day Trips from Boston
---
More Boston Sightseeing Tours for You to Join
Fall Foliage Tours
See Boston and other parts of New England while enjoying spectacular fall colors.
---
Whale Watching Cruise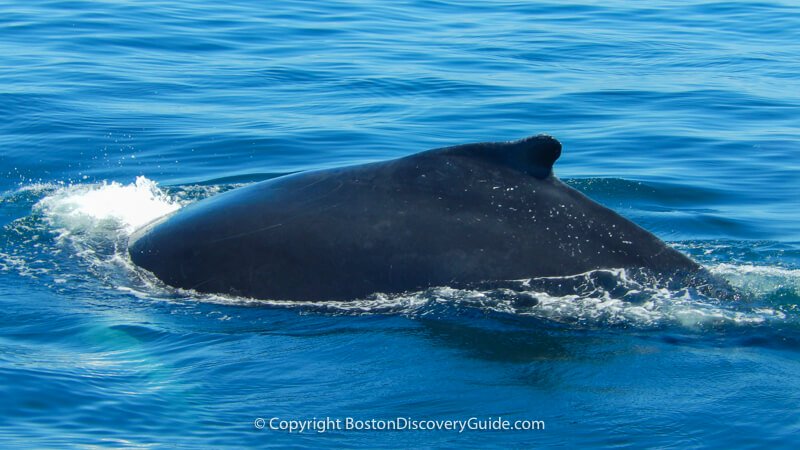 Explore a whole different world beyond Boston Harbor and see whales and other fascinating marine life close up and in action. How many whales will you see? Usually between 3 and 10 - but sometimes a lot more.
More about whale watching cruises departing from Boston
Reserve your spot on a whale watching cruise now
---
Wang Theatre Tours
To get a taste of the opulent historic theatres in Boston's Theatre District, join a behind-the-scenes tour of the famous Wang Theater, and then head out on your own to explore the rest of the neighborhood
Get your Wang Theatre tour tickets now
Find out more Wang Theatre tours
---
Boston Shore Tours
Arriving on a cruise ship? These shore excursion tours are for you . . .
---
Boston Tours for Winter
Don't let cold weather stop you! These winter sightseeing tours keep you warm and show you lots of interesting city sights - plus you can stop for hot chocolate along the way . . .
More about how to tour Boston once the weather turns cold
---
Self-Guided Boston Sightseeing Tours
Rose Kennedy Greenway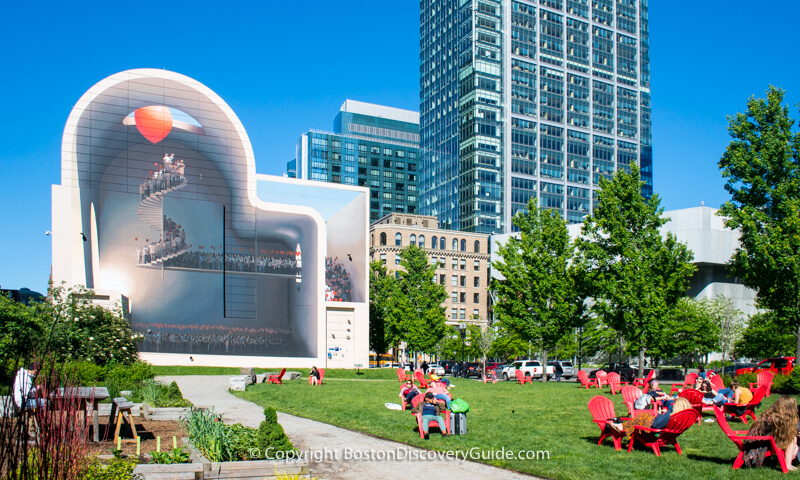 To see a swath of the best of Boston with many inviting detours beckoning to you along the way, head over to the Rose Kennedy Greenway, a gorgeous ribbon-like park stretching from the North End down to Chinatown.
The Greenway runs parallel to the waterfront. Sample delicious food in the North End and Chinatown, explore wharfs and scenic views along the Harbor, and detour into Faneuil Hall Marketplace.
Or simply enjoy the Greenway's own attractions - a seasonal carousel, the best splashing fountain in town, numerous places to sit, and a panorama of gardens, trees, and grassy expanses.
Find a map and read about our recommended self-guided walking tour
---
More Self-Guided Sightseeing Walking Tours
---
---
---
More Fun Ways to See Boston