I am planning a 4 day stay in Boston in Mid November - I am traveling by myself, no car, and staying in Brookline. How should I dress for the weather, and will I be able to walk the Freedom Trail? Any other advice you have for a first time visitor?
Thanks,
Nancy
Top Photo: Mansions in Boston's Back Bay neighborhood in November; photo credit: Boston Discovery Guide
Boston Discovery Guide is a reader-supported publication. When you buy through our links, we may earn a commission at no additional cost for you. Learn more
---

Hi Nancy,
November is a wonderful time to visit Boston. The air is usually crisp and comfortable for walking around, you'll still see plenty of gorgeous fall foliage color (at least during the first half of the month), and lots of things are going on.
As for how to dress, plan on layers. November is one of those tricky months where the daytime temperature can range from the 40s into the 70s.
Typically, mornings might start off cloudy but fairly warm so just a sweater seems fine - but by mid-afternoon, a cold rain and driving wind is soaking everyone who has to go outside, except for those few smart people (never me) who happen to be wearing fleece or quilted jackets and rubber boots. What to do? When you start out in the morning, consider bringing an umbrella and windbreaker in a bag or backpack . . . just in case.
For packing, bring things that will allow you to dress in layers - a sweater, a medium weight jacket, and a scarf and gloves - and most important, comfortable walking shoes.
Check out Boston weather in November for more specific examples.
And yes, November is a wonderful time of the year to explore the Freedom Trail. Since this is your first visit to Boston and I'm guessing that you'll be getting into the city on the T's (Boston's subway) Green Line since you're staying in Brookline, a good first stop is Park Street Station at the edge of Boston Common, the first Freedom Trail site.
Since you're here for 4 days, you might walk along the Downtown part of the Freedom Trail on one day, and the North End section on another.
More suggestions about things to do and see in Boston's Historic Downtown along the Freedom Trail
Unless you're fascinated by historic ships, you can skip the Charlestown stretch (although do definitely go if you want to tour the USS Constitution.)
Alternately, from the Park Street Station subway stop, walk across the Common to the Public Garden and check out the formal plantings and Make Way for Ducklings Statues.
Beacon Hill is also close - just across Beacon Street. Walk down Charles Street and explore the antique shops on Beacon Hill.  You can find more about what to see and do on Beacon Hill here.
If you're interesting in more shopping, walk back across the Public Garden to Newbury Street, known for its famous and up-and-coming designer boutiques.
Two other interesting walks are the Rose Kennedy Greenway, which runs from the North End to Chinatown (you may want to stop for a meal at one of these fun Chinatown restaurants), and HarborWalk, which skirts along the edge of the water.
Boston is very compact, so if you're an enthusiastic walker, you can easily walk from the Waterfront to Fenway Park or the Museum of Fine Arts, also in Fenway.
Finally, if you hit a rainy day or just get tired of walking, you might want to consider a more weather-proof way to get around. For example, the hop-on hop-off buses take you to see all the most famous attractions. There are also specialized bus tours, such as the Boston Brewery Tour, where you go by bus to visit famous Boston breweries, cider houses, and distilleries and enjoy samples along with lunch or dinner - plus you get a behind-the-scenes view of how beer is made while you chat with the brewery owners.
One more Boston travel tip, if you're using the subway's Green Line to get back and forth from Brookline: be aware that the Green Line has 4 branch lines, B, C, D, and E (no A), and if you're boarding at a station with multiple branches, such as Park, be sure you get on the right train. The different branches can be confusing!
Have a wonderful time, and enjoy the Freedom Trail!

Publisher, BostonDiscoveryGuide.com
Need a Boston Hotel or Apartment?
Use this handy map from Booking.com to find the perfect place to stay. Just enter your dates to find what's available, see the best rates, and make your reservations.
More to Do in Boston in November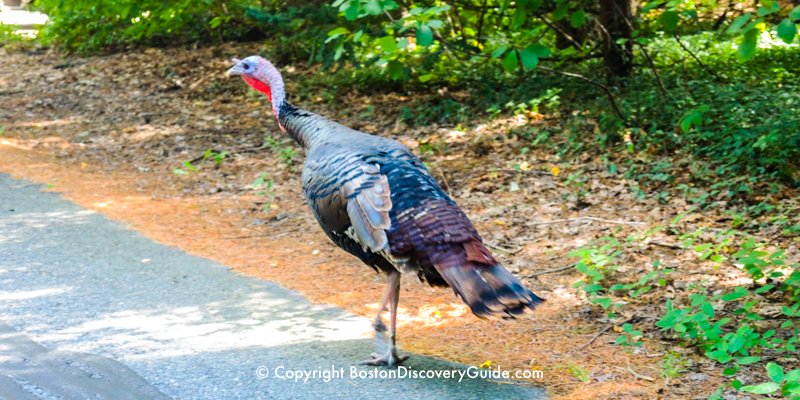 Fun Ways to See Boston