Looking for fun things to do in Boston in November?
Winter fun begins this month as the weather grows colder, the days become shorter, and holiday lights begin to sparkle all over the city.
Weather this month can be changeable - so pack a warm jacket, a couple of sweaters to layer, and a warm scarf and gloves. An umbrellas is also a good idea.
With fall foliage, ice skating, Thanksgiving, Veterans Day, and holiday shopping, you can take advantage of crisp fall days and cozy evenings, and perhaps even experience the first real snowfall before the month is over.
Need more suggestions about what to do in Boston in November? Check the November Events Calendar.
---
11 Top Things to Do in Boston in November
1. Enjoy the Last Bits of Gorgeous Fall Foliage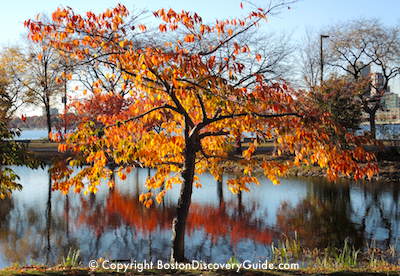 Outside of the city, fall foliage is way beyond peak. But fortunately for foliage lovers, Boston's somewhat warmer microclimate means you'll usually still find plenty of color within the city during the first couple of weeks during November - sometimes even longer.
So stroll through some of Boston's parks and enjoy the last sight of crimson, gold, and even green while leaves still linger on the trees. My recommendations:
The Esplanade (shown above) - The contrast of golden and crimson leaves with blue water and sky can't be beat!
Boston Public Garden - Bring your camera and take spectacular photos of colorful leaves reflecting in the Lagoon; if your children are with you, bring a frisbee.
Back Bay Fens between the Back Bay and Fenway neighborhoods - You'll still find autumn blooms in the Rose Garden and the Victory Gardens, and this is also a top spot for Boston fall foliage.
---
2. Be the First on the Ice at Frog Pond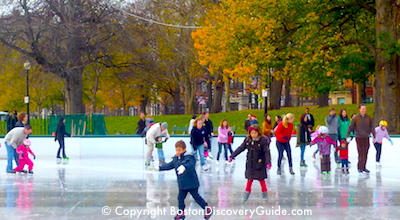 One of the coolest - literally - things to do in Boston in November is to go ice skating as the city's rinks reopen for the season while golden foliage lingers overhead.
Boston Common's Frog Pond traditionally opens for skating mid-month (although please note - if the weather is too warm, the rink's opening will take place later in the month - or even early December) and other rinks soon follow.
If you're visiting Boston, don't worry about packing your skates - you can rent them at the rinks. Details for ice skating in Boston
Hotels near the Ice Rink at Frog Pond