Boston hop-on hop-off trolley tours . . . you'll see them everywhere around the city's top attractions and historic neighborhoods.
Part transportation and part sightseeing, the colorful trolleys offer you lots of fun while giving you the easiest way to tour Boston at your own pace.
The conductors will entertain you with lots of stories about famous sites and local characters as you drive around the city's fabled historic areas.
See interesting places you want to explore along the way?
Just hop off - and then hop back on again once you're ready. You can do this as often as you like while your trolley pass is valid - typically for one or two days.
If you're visiting Boston for the first time , there's no better way to get acquainted with our city and all it offers.
And if you've been here before, you know there's nothing more fun than getting around the city on these comfortable trolleys.
Get your Hop On Hop Off Trolley tickets:

"I LOVE trolley tours - and when you're visiting Boston in the rain with your 5-year-old and 13-year-old, the trolley takes you everywhere you want to go AND provides plenty of entertainment for all ages. MUCH easier than the taking subway - and a lot more fun!"
Sandrine,
Montreal, Canada
Top photo: Hop on hop off trolley going past Boston Common, (c) Boston Discovery Guide
Boston Discovery Guide is a reader-supported publication. When you buy through our links, we may earn a commission at no additional cost for you. Learn more
---
What to Expect on Hop-On Hop-Off Trolleys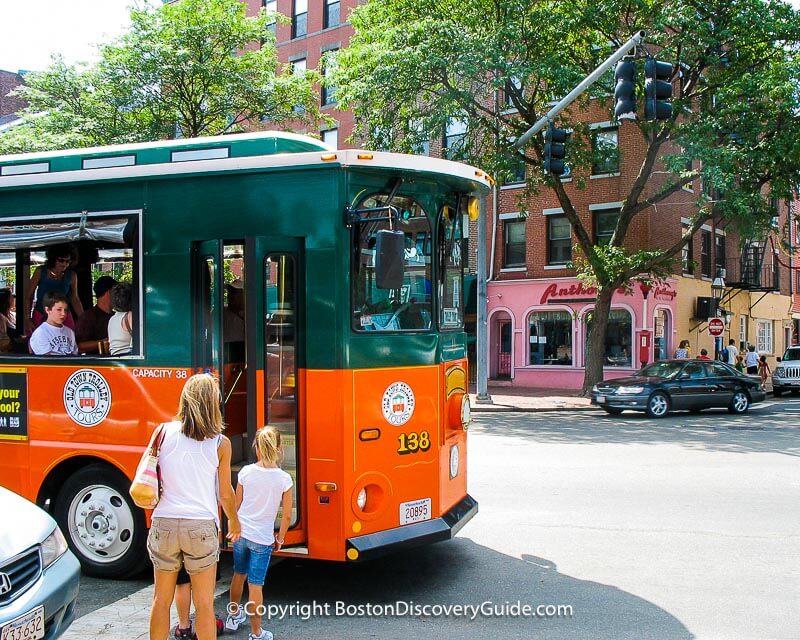 Two trolley companies - Old Town Trolley Tours and Boston Sightseeing Trolley Tours- offer hop-on hop-off tours in Boston. You'll get a similar sightseeing experience from both of them, but with some key differences.
Similarities:
On-board guides who inform and entertain you with descriptions about the famous and historic sites you'll see, the neighborhoods you travel through, and bits of Boston history
You can get off and on the trolleys as many times as you please.
Both trolleys cover a core historic route including Freedom Trail sites in Downtown Boston, Copley Square in Back Bay, and top attractions in Seaport/South Boston Waterfront.
Both trolleys provide service to CruisePort.
Although the Boston Sightseeing Trolleys appear to be somewhat higher than Old Town Trolley Tours, both offer seating at a sufficiently high level to give you to have a great view.
Both trolleys operate during a similar time period (9am-9:30am to 4pm-5pm), based on the season, and pick up/drop off at each stop at intervals of 10-30 minutes, depending on the season and traffic conditions.
Both trolleys operate through much of November. Their reappearance in March is a sure sign of spring in Boston.
Differences:
Routes and stops: In addition to the core historic route, Back Bay, and Seaport, Old Town Trolley Tours take you past Paul Revere's House and makes three stops in the North End neighborhood, and loops past Bunker Hill and stops near the USS Constitution ("Old Ironsides") in the Navy Yard in Charlestown, making a total of 18 different stops. In contrast, Boston Sightseeing Trolley Tours cover only the core historic route, Back Bay, and Seaport, and makes only 9 stops.
Trolley design: Although both trolleys have high-level seating, the Boston Sightseeing trolleys are somewhat higher due to being a true a double-decker height, with two levels of seating vs just one level in the Old Town Trolleys. The Old Town Trolleys are semi-enclosed with a roof overhead whereas some of the Boston Sightseeing tour trolleys have open tops.
Length of narrated tour: 1 hour, 30 minutes for Old Town; 45 minutes for Boston Sightseeing.
Cost: It depends. Old Town tickets sometimes cost a little more, perhaps because the trolleys take you more places and makes more stops; sometimes they cost a little less, perhaps because they don't have open air seating. At other times, Boston Sightseeing tickets cost a little more, perhaps because they offer open-air seating on the top deck; sometimes they cost a little less, perhaps because they cover a smaller route and make fewer stops. Bottom line: If you're price-sensitive, see which one is cheaper at the moment; otherwise, both tours offer excellent value so choose the best fit for you based on what you want to see, where you want to go, and perhaps what the weather is like, in terms of whether you want an open-air experience or prefer to have a roof over your head.
Discounts & Savings: You will usually find the best prices, promos, and deals (such as 2 days for the price of one, or free admission to other top attractions such as the Boston Tea Party Ships & Museum and a Boston Harbor cruise when you buy your tickets online.
---
Tickets, Promos, & Deals for Hop-On Hop-Off Trolleys
---
What to Bring on Your Hop-On Hop-Off Tour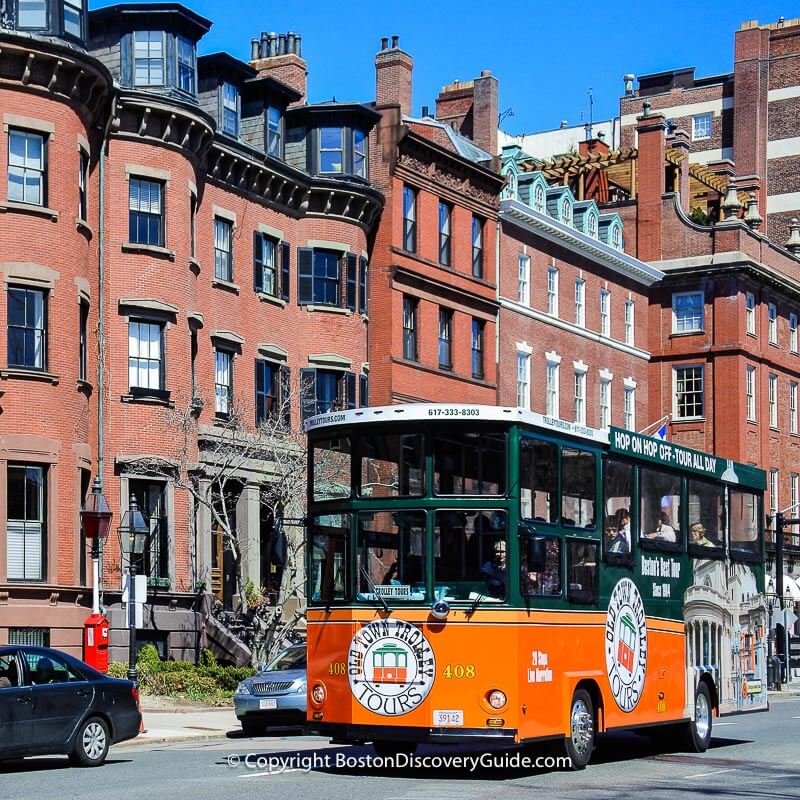 No need to worry about bringing a map, because your trolley driver will give you one. In addition to showing all the stops, you'll also see lots of other attractions to explore around each stop.
However, there are several items that will make your day or two on the trolleys more comfortable:
Sunscreen - Boston sun can be strong, and there's lots to explore on foot near each stop.
Water bottle - Especially if you're visiting in the summer, stay hydrated!
Umbrella - Boston weather can change faster than you'd expect - so you think there's any chance of rain, be prepared! (Of course, if you do get caught in a sudden shower without an umbrella, you can stay on the trolley in comfort until the rain stops.)
Comfortable shoes for walking - Many interesting attractions, including several of the Freedom Trail sites such as the historic graveyards, are 2-3 blocks from where the trolleys can stop as Boston's narrow winding streets in the older historic areas don't allow them to get closer.
---
More Articles about Boston Tours
---
More Fun Ways to See Boston
---
Need a Boston Hotel or Apartment?
Use this handy map from Booking.com to find the perfect place to stay. Just enter your dates to find what's available, see the best rates, and make your reservations.