How to Get to Gillette Stadium from Boston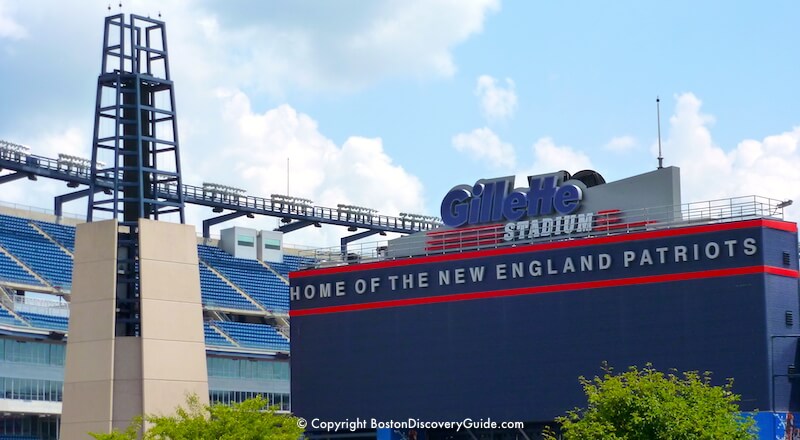 If you want to get to Gillette Stadium from Boston without driving your own car, you'll find several good options, including public transportation. However, your choices will depend on the event you plan to attend.
If you're going to a New England Patriots game, you can take the Gillette Stadium train (sometimes called the Patriot Train) directly to Patriot Place, where the stadium is located.
But for most concerts, New England Revolution games, and even just shopping next door at Patriot Place, getting to Gillette Stadium requires a little more creativity. NOTE: The Patriot Trail WILL provide special service for the Bruce Springsteen concert at Gillette on September 14, 2016 - see the MBTA website for details: www.mbta.com/riding_the_t/trains_to_gillette
If you've ever driven back to Boston after a game or concert and spent hours on the clogged highway, you'll understand the appeal of taking the train to Gillette Stadium.
Even though the stadium located in Foxboro Massachusetts is only 22 miles south of the city, the drive back can take forever because of how the traffic backs up. Trouble is, you're not really driving...you're just sitting in the bottlenecks around the parking lots.
So keep reading to find the best transportation options to get to Gillette Stadium from Boston - and back - based on each type of event.
How to Take the Patriot Train to Gillette Stadium
MBTA's Gillette Stadium Train (locally known as the Patriot Train) provides Boston service from Boston's South Station and Back Bay Station to the stadium on Preseason and Regular Season home game days.
You can buy the inexpensive round trip tickets right at the stations - go to the Commuter Rail (MBCR ticket) window. Regular commuter rail tickets or passes aren't valid for the Gillette Stadium Train.
Patriots Train tickets typically become available 2 weeks before each game. You can buy them in advance at South Station, North Station, and Back Bay Station as well as on game days.
Tickets remain available until they're sold out, or until 15 minutes before departure. Even though the MBTA (Boston's transit authority) has increased the train's capacity, the tickets do sell out ... so buy in advance if you can, and have a "Plan B" for getting to the stadium if you can't.
You can find the Patriot Train schedule on MBTA's website. The round trip price is $20 - making the Patriot Train the cheapest way to get to Gillette Stadium from Boston. (The fare is always subject to change - so verify on the MBTA website.)
Unfortunately, the Gillette Stadium Train normally runs only on Patriot home game days.
And occasionally the train experiences delays . . . total bummer if you get to the game late, and really annoying if the trip back to Boston takes longer than you expect. But even so, the train is still faster, much cheaper, and more predictable than getting there, parking, and getting back by car.
Luxury Coach Transportation
Another excellent option for getting to games and concerts at Gillette is to reserve space on Boston Common Coach, which will pick you up at Boston Common (corner of Boylston and Charles Streets) right before the entrance to the Boston Common Garage.
Coolers for tailgating, restrooms, and TVs with DVD players are just a few of the amenities you'll find onboard.
Check Boston Common Coach's website for schedules, fares, and reservation information: http://bostoncommoncoach.com
Boston Common Coach also offers service from Boston to Wrentham Outlets and to Xfinity Center.
Getting to Other Events at Gillette Stadium
Getting to Gillette Stadium from Boston by public transportation for other events such as New England Revolution games is trickier and potentially a lot more expensive, but still feasible.
First, it's always worth checking to see if a "Patriot Train" equivalent will be scheduled by MBTA. For high-profile soccer matches, for example, MBTA sometimes schedules a special Soccer Train from South Station/Back Bay direct to Gillette.
Check the Boston Events Calendar for the month of your event - if a game is big enough to rate its own train, it's normally listed on the calendar.
If there's no direct train service, a relatively easy and relatively inexpensive option is to take Boston's MBTA Commuter Rail's Franklin Line from South Station in Boston to the Walpole station, a few miles away. (If you're coming from Providence, the Mansfield station is the closest.)
From the station, take a taxi to Gillette Stadium, and then back to the station after the event. Plenty of taxis are usually around but if not, call the local cab company, Foxfield Taxi - 508-543-2828.
You can also rent a car for the day or even shorter period of time. Keep in mind that in addition to the car rental fee, you'll also have to pay for parking at the stadium - count on $50 or more.
If renting a car makes sense for you, Zipcar can save you some money.
November Discounts
TicketNetwork Discount Code - Enter TNTIX to get $10 off orders of $300+
TicketLiquidator Discount Code - Enter 17FALLTL to get $10 off orders of $350+
Essentials: New England Patriots & Gillette Stadium
---
More To Do & See in Boston