Boston's Duckling Day Parade provides the perfect way to celebrate Mother's Day when your child reaches a certain age - perhaps 18 months - and even younger if you're willing to carry your little duckling.
The Duckling Day Parade commemorates Robert McCluskey's classic children's book, Make Way for Ducklings, set here in Boston and made even more special by our Make Way for Ducklings statues in the Public Garden.
The parade begins in Boston Common and traces the path taken by Mr. and Mrs. Mallard and their flock of 8 recently hatched ducklings as they search for the perfect place in the city to bring them up, which turns out to be Mallard Island in the middle of the Lagoon in the Public Garden.
As a doting mom or dad, you get to dress up your own offspring in something yellow and fuzzy, and parade with them.
For parents, there's no sweeter Mother's Day treat than seeing your own adorable baby duckling march - or toddle - in this annual parade.
More about Mothers Day Events in Boston
---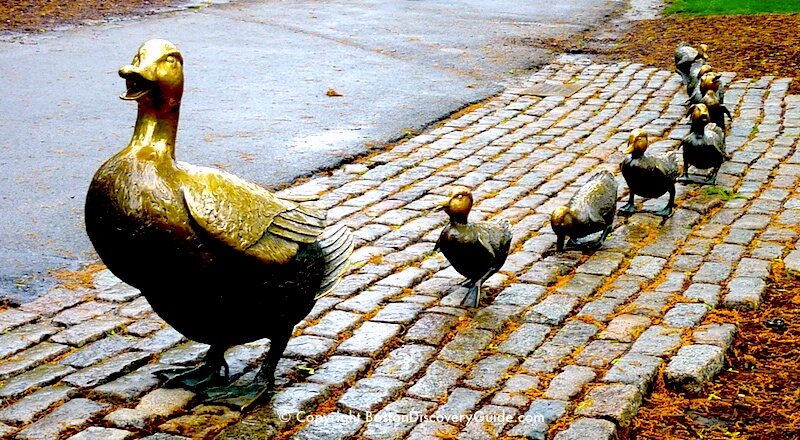 You need to do the Duckling Parade while your children are still young because once they're old enough to realize what they look like while wearing yellow fuzzy outfits, they'll rebel and refuse to participate.
You'll probably have the best success in getting your children to dress like ducklings when they're about 5 or under - although you'll see plenty of 7, 8, and perhaps even 9 year olds gamely marching along with their younger siblings in the parade. Once they reach that age, you might want to take pity and settle for letting them wear a yellow t-shirt.
More things to do in Boston on Mother's Day
---
What to Expect at the Duckling Day Parade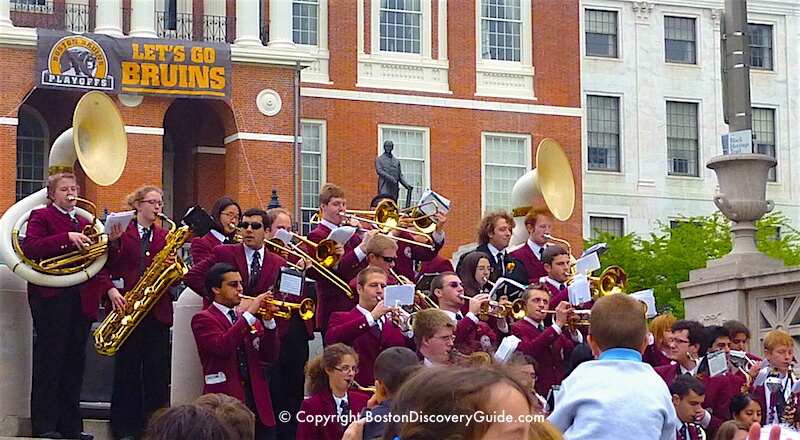 Duckling Day Parade participants assemble near the Shaw Memorial (across from the Massachusetts State House) on Boston Common, typically at 10:30am on Mother's Day (confirm the time and other details by checking the Boston Event Calendar for May).
You need to register and pay a small fee, which covers the cost of music, snacks, and a goodie bag with duck-themed gifts for each child in the family.
While this is going on, you'll hear some great music by the Harvard Marching Band.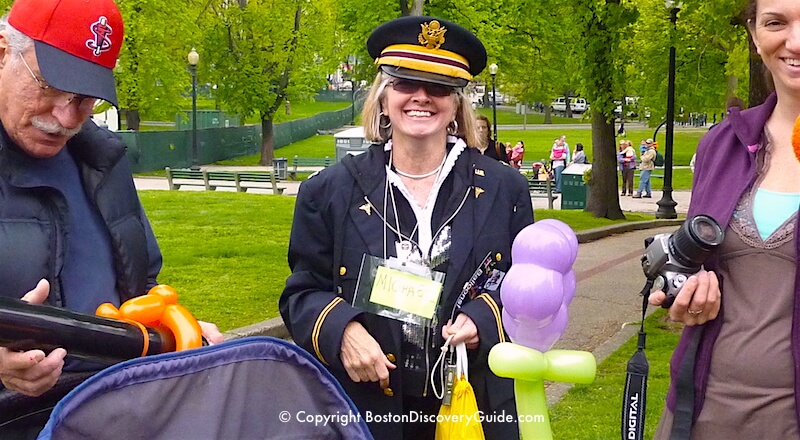 Be sure to look for Officer Michael (portrayed by a member of the Boston Police Force).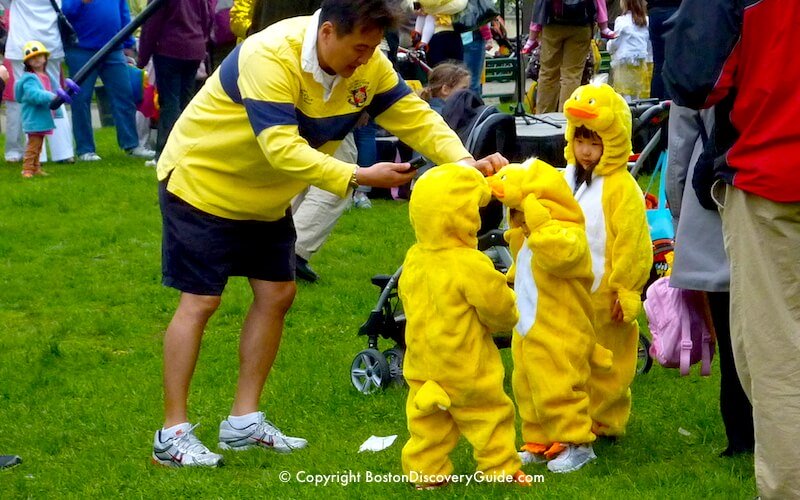 After you register, you can start lining up for the parade - although this usually takes awhile.
The parade begins its journey across Boston Common at about noon, led by Officer Michael and the band.
Just like in the book, Officer Michael stops the traffic on Charles Street so that you can safely walk across to the Public Garden.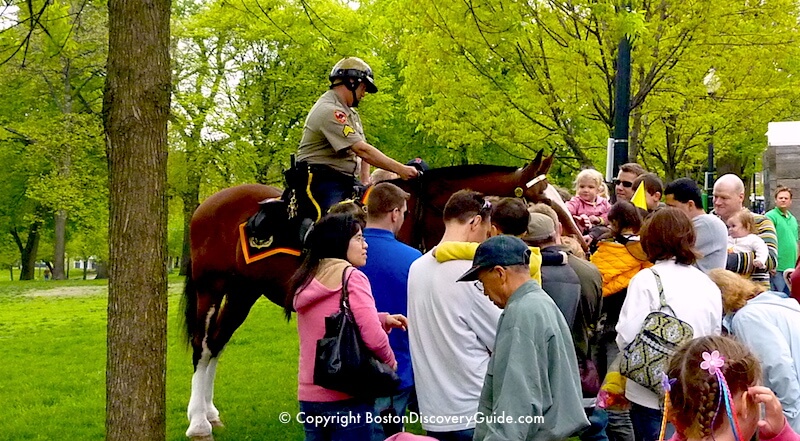 As an extra highlight, a police officer on horseback may join the festivities - always a huge hit!
The parade continues to the Lagoon, where Wheelock Family Theater actors read Make Way for Ducklings to the children, and everyone enjoys snacks.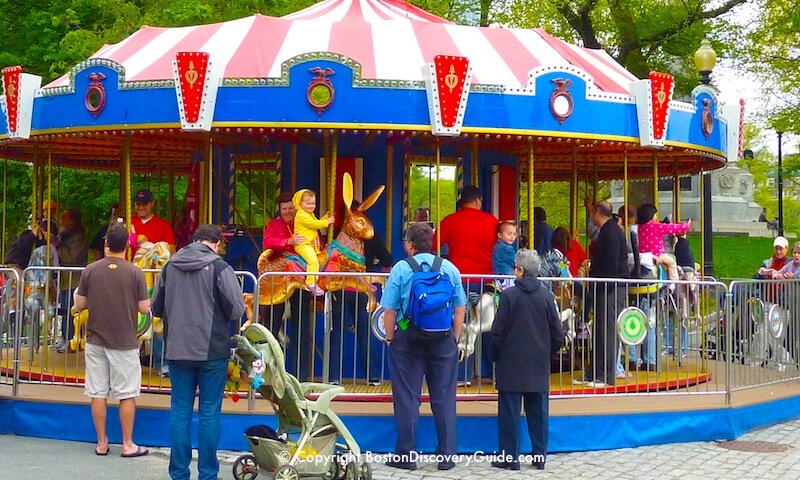 After the parade finishes, you can walk back over to Boston Common and go for a ride on the carousel.
---
Q & A: Where to Buy Duckling Costumes for the Parade
Question: I'm planning to come to the Duckling Day Parade. Where can I get Duck outfits for my children?
Thanks, Sandy
Boston Discovery Guide's Answer: Check out these adorable duckling costumes available on Amazon (#ad). They make cute Halloween costumes too!
Kids grow up fast - so enjoy the opportunity to dress them up like adorable ducklings while you still can.
---
Hotels near the Duckling Day Parade on Boston Common & the Public Garden
Coming into Boston for the Duckling Day Parade on Mother's Day? Turn it into a weekend celebration by staying at one of the luxury hotels overlooking Boston Common and the Public Garden, such as the beautiful Taj Hotel: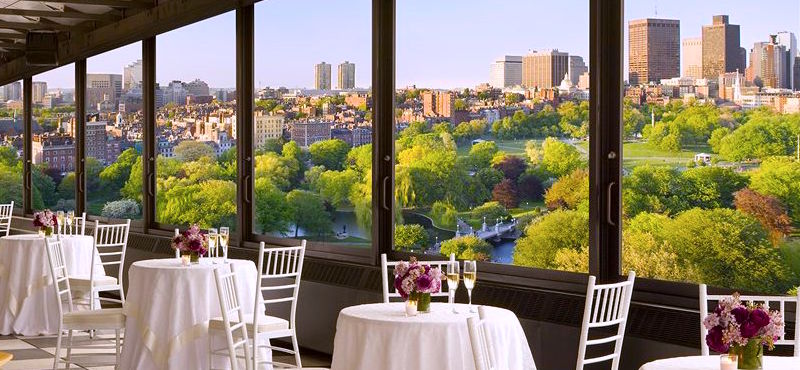 Not only will you get some serious pampering along with gorgeous views, but your children will have the joy of playing in these beautiful parks just steps from your hotel lobby.
More luxury hotels across from the Public Garden and Boston Common:
More about hotels near Boston Common and the Public Garden
For hotels only a block away, where you typically may find lower rates, try these:
Find More Boston Hotels
Enter your dates to find available hotels and rates:
More about how to save on Boston hotels
---
More Activities after the Duckling Day Parade
If you still have energy after the parade and no one has had a meltdown or needs a nap, try these fun activities:
1. Go for a swan boat ride on the Lagoon in the Public Garden and see Mallard Island up close
2. Walk over to the Make Way for Ducklings statues and take lots of photos
3. Take a spin on the carousel or spend some time at Tadpole Playground on Boston Common
4. Get something to eat - Good child-friendly choices nearby these fun restaurants in Boston's Chinatown
More Suggestions for Exploring Boston
---
More Mother's Day Events in Boston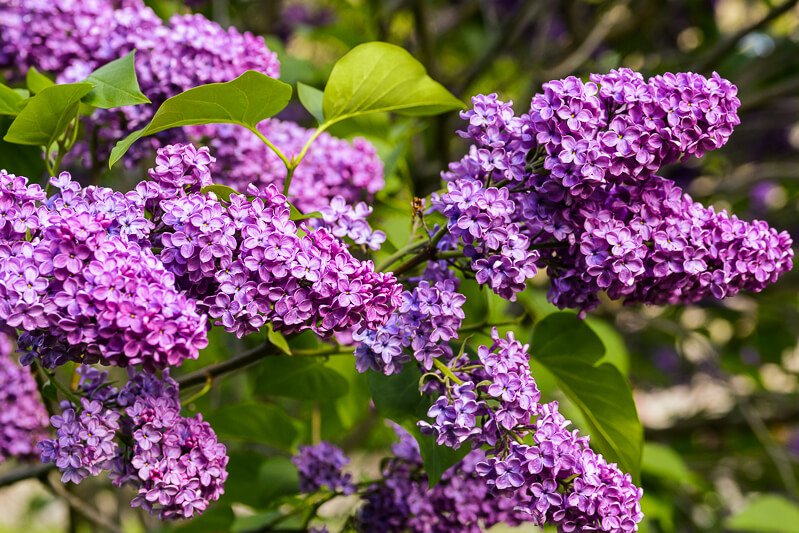 From Lilac Sunday to special Mother's Day brunch and dinner cruises in the Harbor, Boston has plenty of unique ways to celebrate your mom.
Find more Mother's Day events & activities
---
---
Check Out Top Boston Events Each Month
January | February | March | April | May | June | July | August | September | October | November | December | Year at a Glance
---
More Articles about Family Activities in Boston
---