The Boston Events Calendar for March 2024 is packed with fun things to do, including Dine Out Boston, the Saint Patrick's Day Parade which normally which attracts around 1 million spectators, and the kick-off of whale-watching cruise season.
Look for exciting shows in Boston's Theatre District and plenty of concerts by top performers, including multiple Dropkick Murphys on and around St. Patrick's Day.
March Holidays & Important Dates in Boston:
March 5 - Boston Massacre took place in 1770
March 10 - Daylight Savings Time begins (set your clocks 1 hour forward!)
March 17 - St Patrick's Day - and also Evacuation Day, when the Seige of Boston by the British ended in 1776 (official Boston holiday)
You'll also see the first hints of spring as early bulbs begin to bloom - and enjoy the return (maybe) of warm weather.
Check out all our top recommendations for fun things to do in Boston in March, make your hotel reservations (tip: you'll find some very attractive rates), and start planning your visit now!
Top Photo: St Patrick's Day Parade in South Boston, (c) Boston Discovery Guide
Boston Discovery Guide is a reader-supported publication. When you buy through our links, we may earn a commission at no additional cost for you. Learn more
---
St Patrick's Day Parade 2024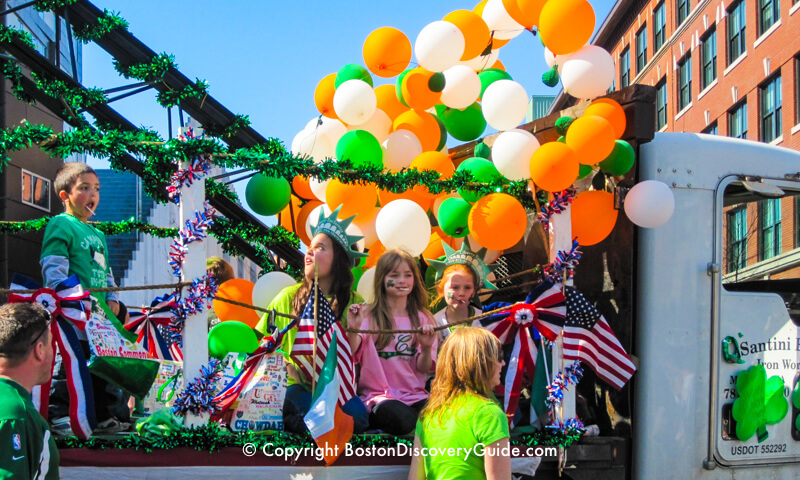 Boston's famous St Patrick's Day Parade takes place in South Boston ("Southie"), and starts at the Broadway T station on the Red Line. The parade will follow its normal (ie, long) route again this year.
Don't forget to wear green!
When: Sunday, March 17, 1pm
Closest T station: Red Line/Broadway
More about the St Patrick's Day Parade route plus tips for getting there
More about other St Patrick's Day events
See our recommendations for the most convenient places to stay
---
St Patrick's Day Weekend Boston Harbor Cruises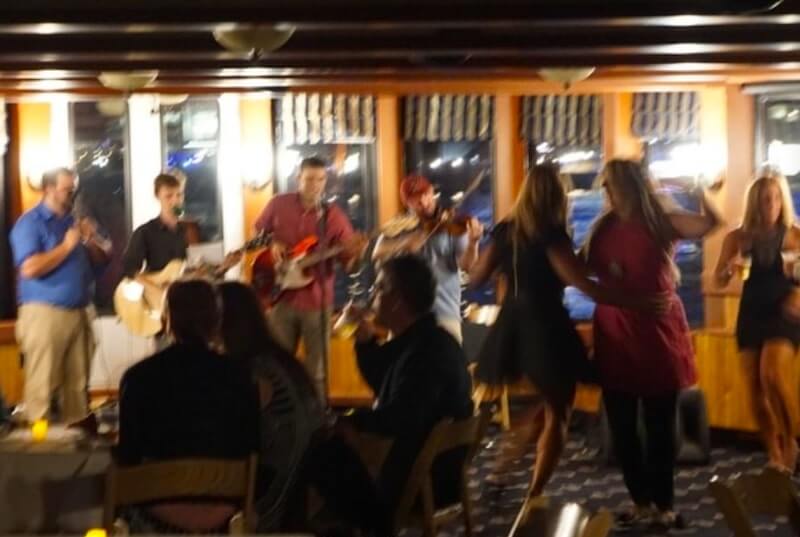 St Patrick's Brunch Cruise - Savor a delicious 3-course Irish breakfast and Irish drink as you enjoy a live Irish music on board the Northern Lights on this cruise around Boston Harbor - March 19, 20
Live Irish Music Cruise - Enjoy live Irish tunes on this fun sightseeing cruise around the Harbor - March 18
Other Popular Cruises on the Northern Lights:
Northern Lights Sunset Cruise - Choose your favorite beverage from the bar and then relax as you watch the sun set on this sail around the Harbor, just in time to catch the USS Constitution fire its cannons as the sun dips down past the horizon
Brunch Cruise - Savor a delicious 3-course brunch on this relaxing sightseeing cruise around Boston Harbor
---
Boston Concerts & Shows - March 2024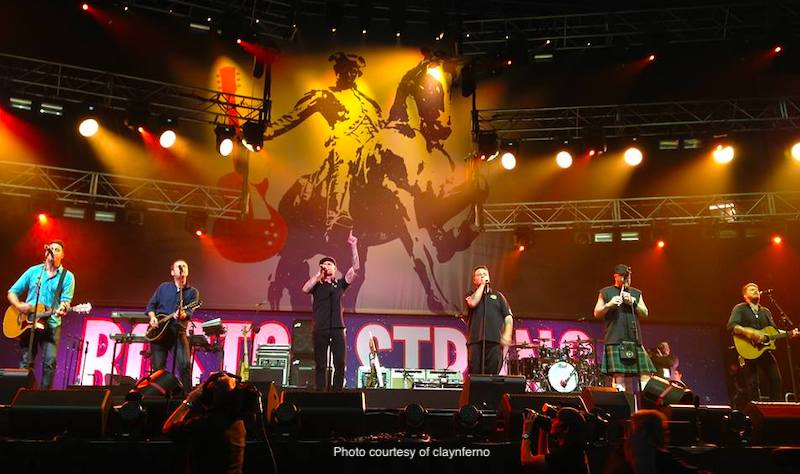 Top March Concerts in Boston
Boston concerts in March 2024 are just now starting to be announced.  Check back later for more great shows!
Enter DISCOVERY10 to save 10% on TicketLiquidator & TicketNetwork tickets. Good through 12/31/24.
Schedules & Tickets
More Concerts & Shows during March
Boston Concerts throughout the Year
---
Boston Theater & Shows for March 2024

Top March Shows in Boston - Schedules & Tickets
Enter DISCOVERY10 to save 10% on TicketLiquidator & TicketNetwork tickets. Good through 12/31/24.
More Boston Theatre District shows for March
Where to have dinner in Boston's Theatre District
---
Top Hotels near Boston's Theatre District
Enjoy your Boston performance or show experience to the fullest when you stay in one of the nearby Theatre District hotels, such as the luxurious Hyatt Regency: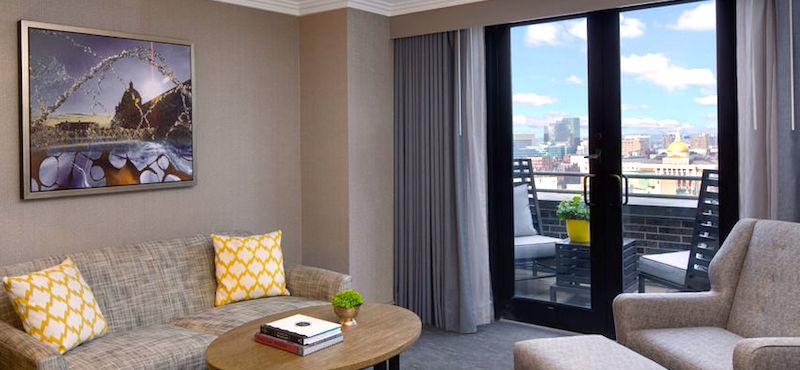 More top Theatre District hotels:
Check out more hotels in Boston's Theatre District
---
March 2024 Boston Red Sox Schedule - Opening Day & Home Games at Fenway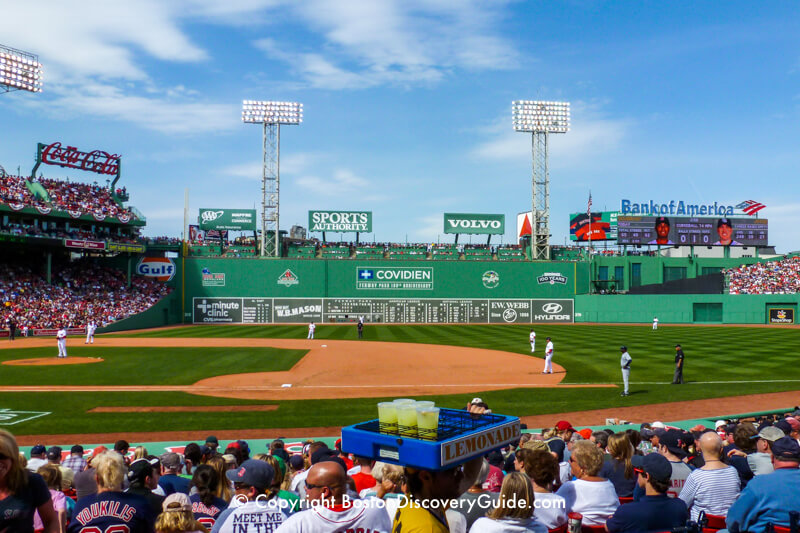 The Red Sox typically play their home field season opener at Fenway Park in early April each year.
See available seats and get your tickets.
Enter DISCOVERY10 to save 10% on TicketLiquidator & TicketNetwork tickets. Good through 12/31/24.
Find all Red Sox games & tickets here
---
Boston Wine Expo 2024
The annual Boston Wine Expo is the largest wine event in New England - a fantastic opportunity experience top vintages made by some of the best winemakers as well as lesser-known labels from around the world.
Although this is primarily a wine-tasting event for enthusiasts as well as those working in the industry, you can also attend classes, presentations, and seminars.
In addition to wine, you can also sample other types of beverages such as specialty vodkas as well as treats such as fine chocolates.
For more information and tickets (which you should buy in advance to avoid disappointment if they run out), check Boston Wine Expo's event website.
When: March 2-3
Where: Boston Park Plaza Hotel - stay here for top convenience - guestrooms come in a wide range of sizes with rates ranging from cheap (for Boston) for small rooms to very pricey for the largest, swankiest suites
More places to stay nearby (so that you can sip as much wine as you'd like):
Find out about other wine tasting events in Boston
---
Dine Out! Boston 2024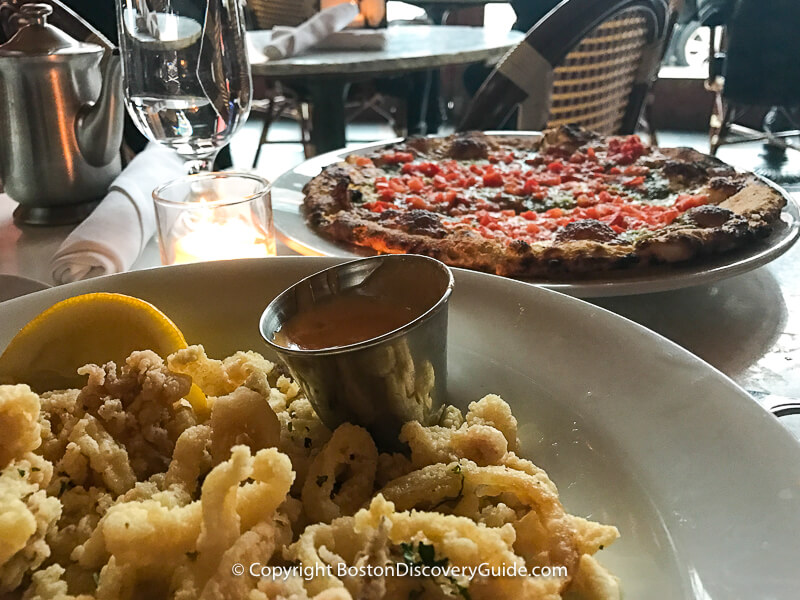 Twice each year, you can enjoy fine dining at fixed prices at the best Boston restaurants. Sample the latest "hot" restaurants, visit old favorites, and explore a few places you've never tried before.
Check for participating Dine Out Boston restaurants, meals offered and costs, and other information. And don't forget to check our tips for getting the most value out of Dine Out Week!
When: March 10 - 23 (to be confirmed)
---
St Patrick's Day 5K Race in Southie 2024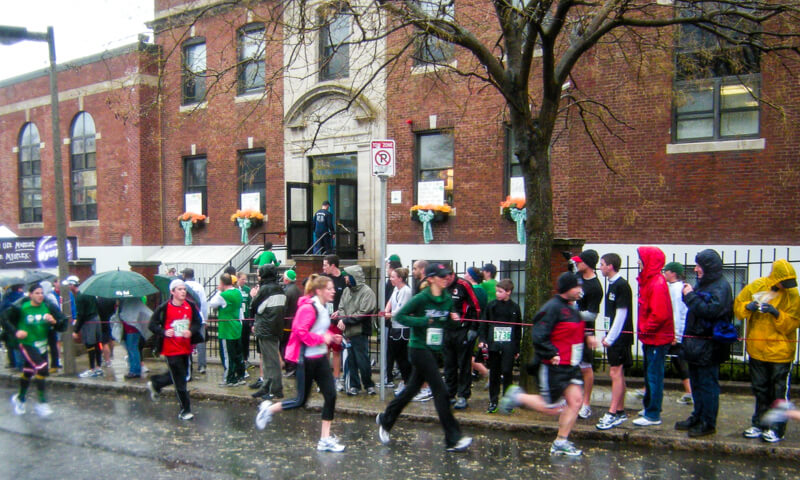 Just a couple of hours before the big St Patrick's Day Parade starts on Sunday, March 17th, the St Patrick's Day 5K Road Race kicks off at 11am (to be confirmed) from the Edgerley Family South Boston Boys and Girls Club at 230 6th Street.
Head over to cheer on the 1,750 runners, who are carrying on a long tradition - this race first started back in 1940. You can identify the first 650 entrants by their official long-sleeved race shirts designed by one of the race's most famous sponsors, the Dropkick Murphys, Celtic punk rock group with Southie origins who will again be playing their annual St Pat concerts in Boston this year.
The route goes from West 6th Sth Street to Dorchester Street, down E. Broadway to Farragut Statue, back up E. Broadway to W. Broadway, and then down E Street to West 6th.
This is a 100% charity race, run by volunteers, and with all proceeds going to support South Boston youth programs. More details and registration at the South Boston Boys and Girls Club website (search on "5K road race"). If you don't want to run but want to help, they're also looking for volunteers!
---
Bruins March Home Game Schedule at the Garden - March 2023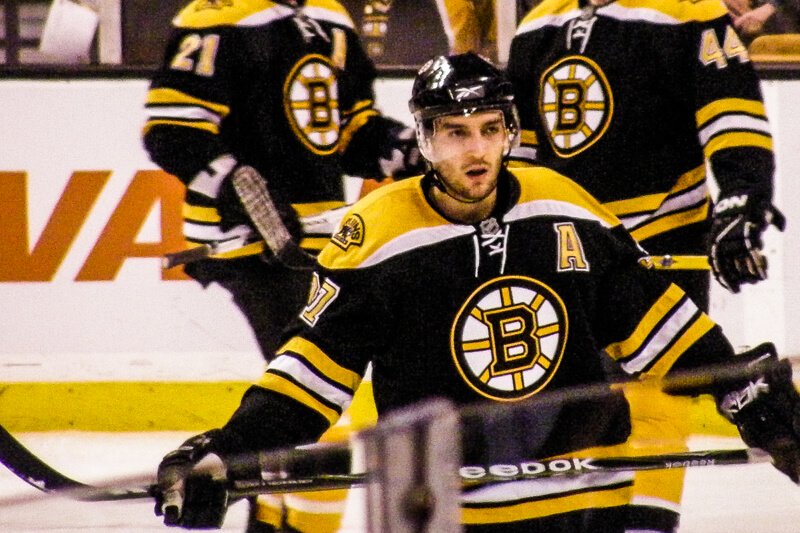 Get your Boston Bruins tickets for March home games, and head over to TD Garden for some fast action on the ice.
The Garden's convenient location next to North Station and close to Faneuil Marketplace makes it super-easy to get to.
Don't miss the chance to see Boston's hockey team, winner of 6 Stanley Cup championships!
Enter DISCOVERY10 to save 10% on TicketLiquidator & TicketNetwork tickets. Good through 12/31/24.
Find Bruins schedule & tickets for March home games at the Garden
Find Bruins schedule & tickets for all home games
Hotels near TD Garden
Coming to an event at the Garden? Consider spending the night or the weekend at one of these top nearby hotels:
Check out more hotels near TD Garden
More about TD Garden: Schedule, directions, best ticket prices
---
Dropkick Murphys St Patrick's Day Concerts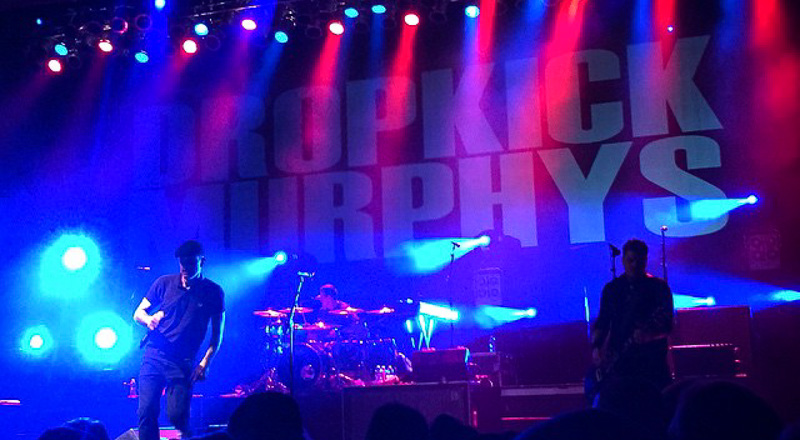 Boston's favorite Celtic punk rock group, the Dropkick Murphys play their iconic favorites to celebrate St Patrick's Day in their home town in four special concerts this year:
Their Boston shows usually sell out far in advance - maybe because their "Shipping Up To Boston" song is practically the city's official anthem. So don't wait to get your tickets!
---
Boston Flower & Garden Events
---
Celtics Basketball at TD Garden - March 2024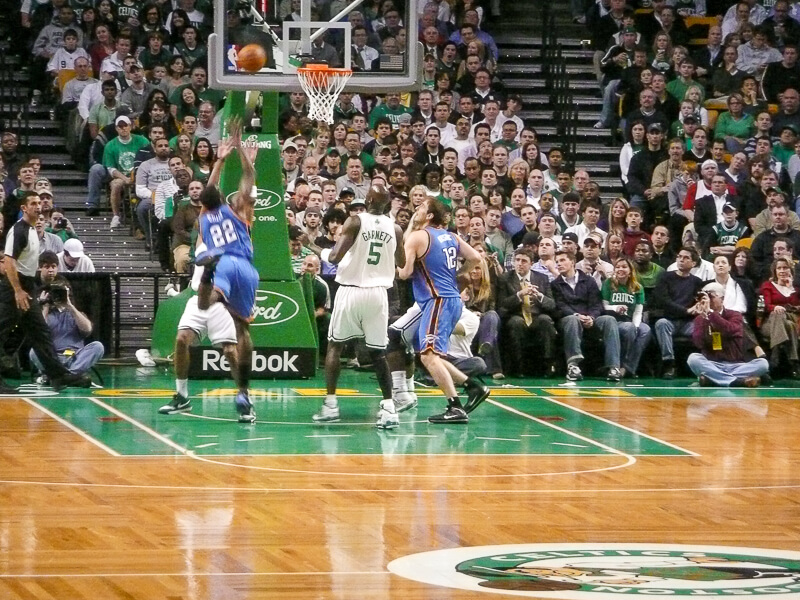 You can cheer the Boston Celtics home games at TD Garden throughout March - so be sure to get your Celtics tickets, wear green, and go support our home team!
Tickets are affordable, TD Garden's central city location is super-easy to reach (just take the T to North Station), and plenty of neighborhood sports bars and clubs mean you can have a lot of fun before and after the game.
Enter DISCOVERY10 to save 10% on TicketLiquidator & TicketNetwork tickets. Good through 12/31/24.
Where: TD Garden
Nearest public transportation: Green Line/Orange Line or Commuter Rail to North Station, next to the Garden
Where to stay: Hotels near TD Garden
---
Best Boston Harbor Cruises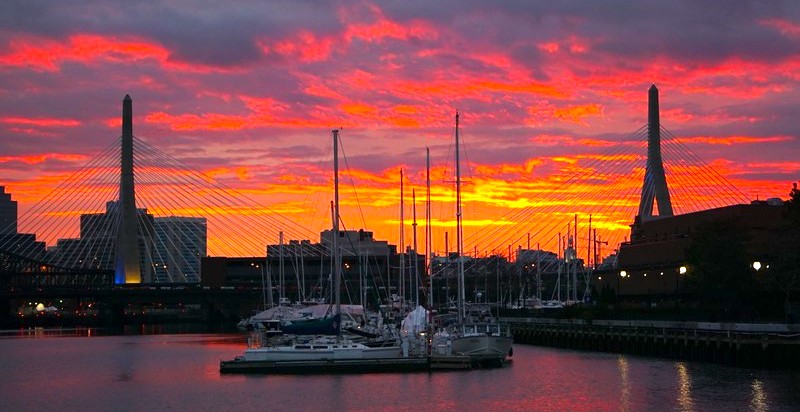 Popular Cruises on the Northern Lights:
Sailing on the Adirondack III
Adirondack III Day Sail - Enjoy cool breezes and the afternoon sun on this relaxing sightseeing sail around Boston Harbor and the Inner Harbor Islands - Starts May 3
Adirondack III Sunset Sail - Relax as the setting sun turns the sky brilliant colors - Starts May 3
Adirondack III 90-Minute Mimosa Day Sail - Soak up the sun on this afternoon sail through the Inner Harbor and Harbor Islands with drinks available for purchase at the bar - Starts July 1
Book Your July 4th Cruises Now!
---
Fun Boston Tours & Adventures for March
---
Featured New Hotel for March: Revolution Hotel in Boston's South End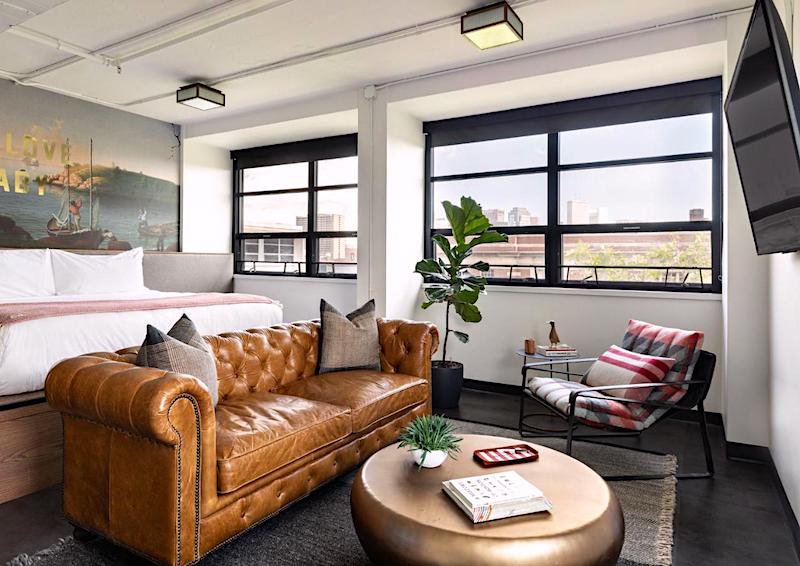 40 Berkeley Street, Boston's South End
A trendy vibe, "micro" guest rooms, and - dare we say it, cheap rates position the new Revolution Hotel as one of Boston's most attractive affordable hotels, especially considering its close distance (5-10 minute walk, depending on where you're going) to Downtown Boston. Free high-speed wifi is a nice bonus.
---
What to See in Boston's Museums & Aquarium - March 2024
New England Aquarium
Harbor seals and seal lions, a giant 4-story ocean tank with hundreds of Caribbean reef animals, an Amazon rain forest, sharks, Myrtle the green sea turtle, and frisky penguins are just a few of the thousands of aquatic animals you'll experience here.
Get your tickets in advance, or find out more about the Aquarium. Admission also available through the Go Boston Pass, Explorer Pass, and Boston CityPASS discount cards.
Boston Tea Party Ships & Museum
Watch the famous tea party event come alive with live actors, immersive exhibits, and a visit to the full-scale replica 18th century sailing ships at this unique living history museum. Get advance tickets.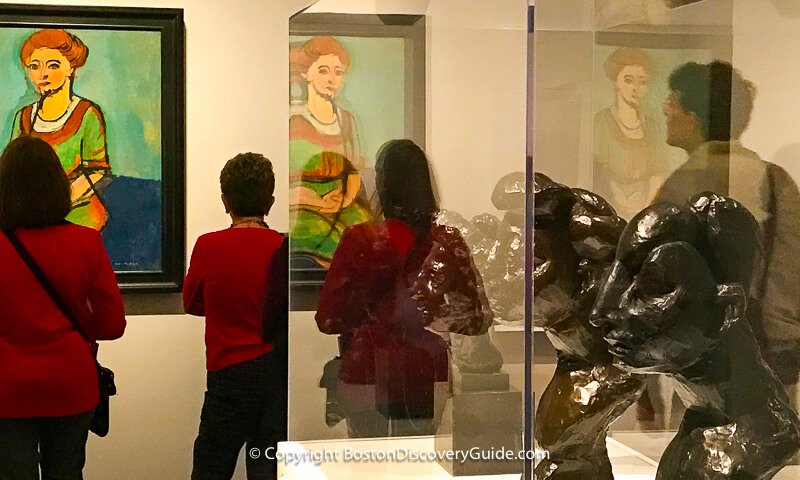 MFA Boston - Current & Future Shows
Frank Bowling's Americas: Powerful color-saturated abstracts by this BritishGuiana-born artist who has spent much of his career in London and New York - Through April 9, 2023
Weng Family Collection of Chinese Painting: Art Rocks - Over 25 works exploring how the aesthetics of rocks permeate Chinese architecture, landscape design, and painting styles - Through May 3, 2023
Touching Roots Black Ancestral Legacies in the Americas - Exhibition tracing the ways in which 20th century Black artists trace their African roots in their art - Through May 21, 2023
Making Past Present: Cy Twombly - Explores Twombly's fascination with antiquity and its influence on his art - January 14-May 7, 2023
Hear Me Now: The Black Potters of Old Edgefield, SC - Focuses on the work of 19th century Black potters in Old Edgefield, a center of stoneware production before the Civil War - March 4 - July 9, 2023
Hokusai: Inspiration and Influence - A new look at the impact of Japanese artist Hokusai on other artists; features over 90 woodblock prints, paintings, and illustrations by Hokusai - March 26-July 16, 2023
Museum (and show) admission: $27; some special exhibits require a timed-entry reservation and/or additional fee; free entrance with Boston Discount Cards (GoBoston card and Boston CityPASS). Free admission on Martin Luther King Jr. Day, Lunar New Year Celebration Day, Memorial Day, Labor Day, & Indigenous Peoples' Day. MFA is open Thursday - Monday and closed Tuesday & Wednesday.
Institute of Contemporary Art/Boston - Current & Future Shows
To Begin Again: Artists & Childhood - Works depicting childhood by Jean-Michel Basquiat, Paul Klee, Faith Ringgold, and other artists from the early 20th century through today - Through Feb 26, 2023
Barbara Kruger - Large-scale commissioned work on the Fineberg Art Wall- Through Jan 21, 2024
Admission: $20 adults, 18 and under free; free entrance with GoBoston card and Boston CityPASS. Closed on Mondays. Free admission on Martin Luther King Jr. Day, Presidents' Day, Memorial Day, Juneteenth, Labor Day, & Indigenous Peoples' Day, and every Thursday from 5-9pm. For free days and nights, you must have timed tickets for free admission.
Museum of Science Exhibits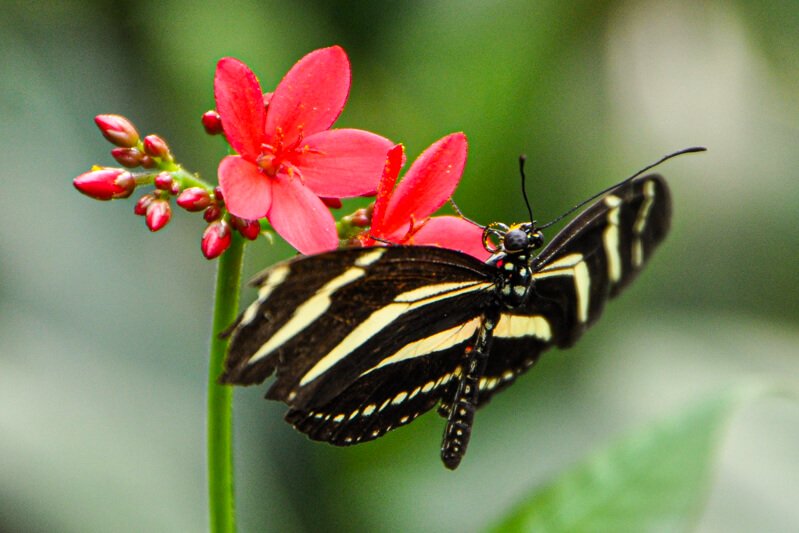 Special Exhibits
New England Climate Stories - Meet fascinating New England animals
All Aboard! Trains at Science Park - Visit miniature landscapes with fantasic model trains - through January 16
Gaia - View our planet in a new way through UK artist Luke Jerram's artwork with NASA images of Earth's surface
Mental Health: Mind Matters - Get insights into understanding mental health through this interactive exhibit
With fascinating permanent exhibits for all ages, there's always something to see, do, and learn. Here are just a few of the most popular: Engineering Design Workshop, Colossal Fossil: Triceratops Cliff, Cosmic Light, Dinosaurs, Arctic Adventure, Hall of Human Life, Live Animal Care Center, Mathematica, Exploring AI, Natural Mysteries, New England Habitats, Project Vaccine.
Where: Boston's Museum of Science
When: Daily, 9am-5pm; open until 9pm on Fridays
Admission: $29 general museum admission ($24 for kids; children under 3 free). Get free museum admission when you have a GoBoston Discount card or Boston CityPASS card.
Imax Theater and Planetarium: Additional fees apply
---
Not Sure about Boston Neighborhood Locations?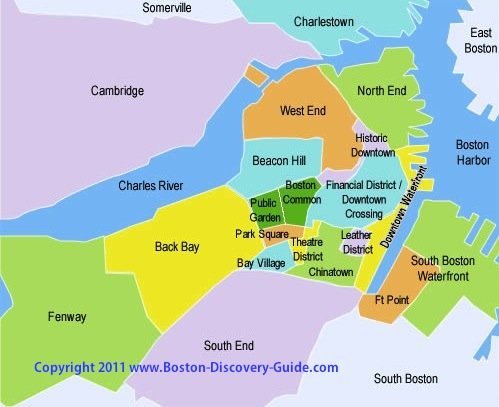 This neighborhood map should help you get oriented. You can find a list of top attractions in each neighborhood here.
Need a more details? Here are our favorite free and low-cost Boston maps.
---
2 Easy Ways to Save BIG in Boston on Tours, Cruises, Admissions
Best way to save in Boston. Save up to 50% when you take a Boston Harbor cruise or Duck Boat tour, visit Plimouth Plantation, the New England Aquarium, Museum of Science, Museum of Fine Arts, Fenway Park Tour, and more. Compare to find out which one is best for you.
---
Boston's Irish Pubs: More Places to Hear Irish Music 2024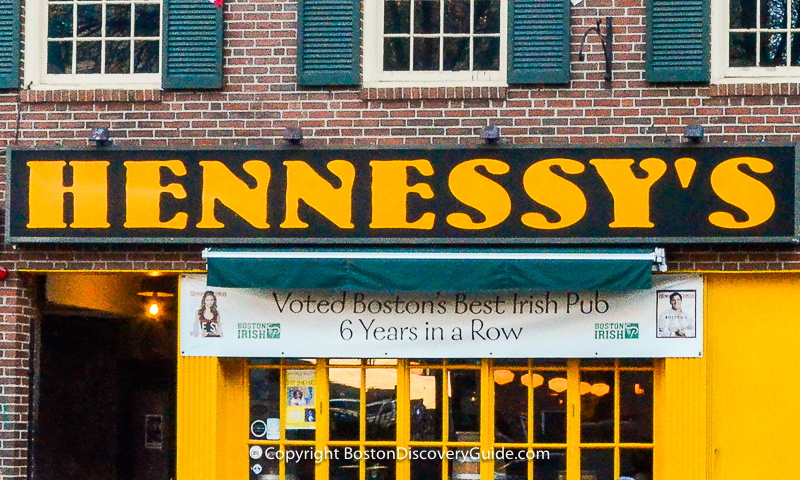 Boston has the best Irish pubs in the world, outside of Ireland - and almost as many to choose from. Thanks to the large number of Boston residents who hail from the Emerald Isle, you'll hear plenty of Irish accents on both sides of the bar in many of these pubs.
Needless to say, St. Patrick's Day is a huge event at Boston's Irish pubs . . . expect Irish music, dancing, green beer, and week-long celebrations.
Almost every Boston neighborhood has several or more Irish pubs - the Italian North End and Chinatown are the only 2 exceptions that come to mind.
Although some of these pubs feature live Irish music at least some of the time, almost all of them normally bring in terrific musicians around St. Patrick's Day. Even without live music, though, you'll have a lot of fun!
Use our guide to Boston Irish pubs to find a spot to celebrate St. Patrick's Day - and be sure to wear green!
---
Boston Underground Film Festival 2024
When: March 21-25 (to be confirmed)
Where: Brattle Theatre, Harvard Square, Cambridge
Closest T station: Red Line/Harvard
More information: website
The Boston Underground Film Festival screens independent, provocative, and experimental films and videos that deliberately push the envelope in style, content, and form.
What can you expect to see? An exciting mixture of experimental feature films, music videos, animations, documentaries, and shorts that celebrate and embrace the controversial, the confrontational, the political, and the alternative visions of their makers and their audiences.
If you're coming specifically for the festival, here are several hotels convenient to Harvard Square to consider:
---
Harpoon St Patrick's Day
Harpoon Brewery (306 Northern Ave, South Boston Waterfront) kicks off their St Patrick's Day Festival with a 2-day beer festival at their brewery featuring a large selection of Harpoon and UFO beers, handmade brewery pretzels and food for purchase, and non-stop live music from Joshua Tree, Colum Cille Pipes & Drums, Dicey Riley with Dicey Riley and the Celtic Rock Band, and other local bands throughout the weekend.
Check their website for all the details!
Age: 21+

More Things to Do in Boston in March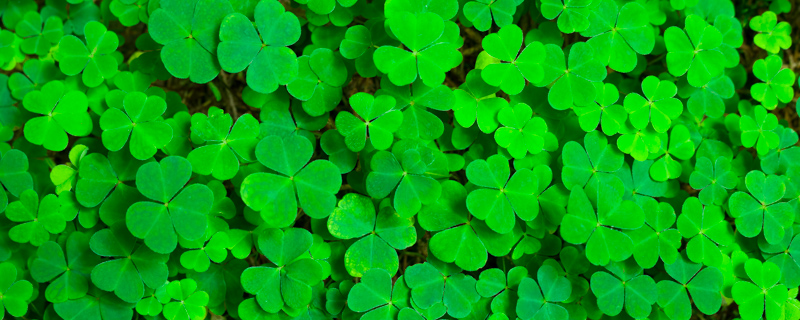 ---
More Ways to Experience Boston in March
March marks the beginning of spring in Boston - a perfect time to get out and see the city! These fun trolley tours, bus tours, and special destinations let you enjoy the best of Boston!
---
Boston Massacre Reenactment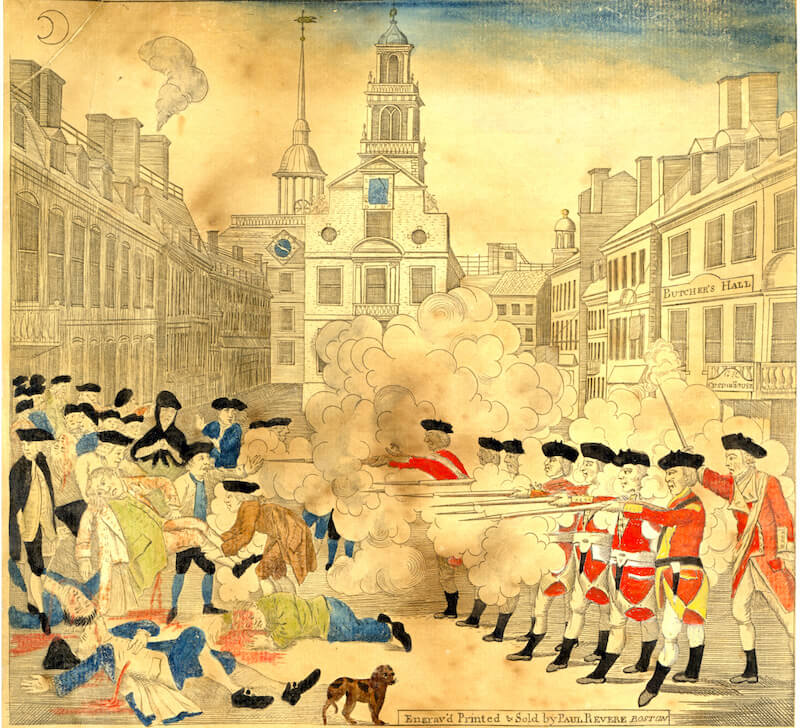 March 5 marks the 250th anniversary of the Boston Massacre, an explosion of tension between Boston Colonists and the occupying British troops in 1770 that ended with five dead Bostonians and set the stage for the American Revolution five years later.
The annual reenactment during a day-long event on Saturday, March 5. From 1pm-5pm, look for costumed reenactors portraying a variety of citizens from 1770 Boston who will share their experiences with British troops who landed in the city in October 1768 and stayed on as no-so-welcome "guests." These historical vignettes will take place between in the areas along the Freedom Trail between the Old State House (206 Washington Street) and Old South Meeting House (310 Washington Street).
The Boston Massacre reenactment will take place near the Old State House at about 7pm. For more information, see the event website.
Find out more about what really happened at the Boston Massacre & where to find the memorial
---
First Fridays at MFA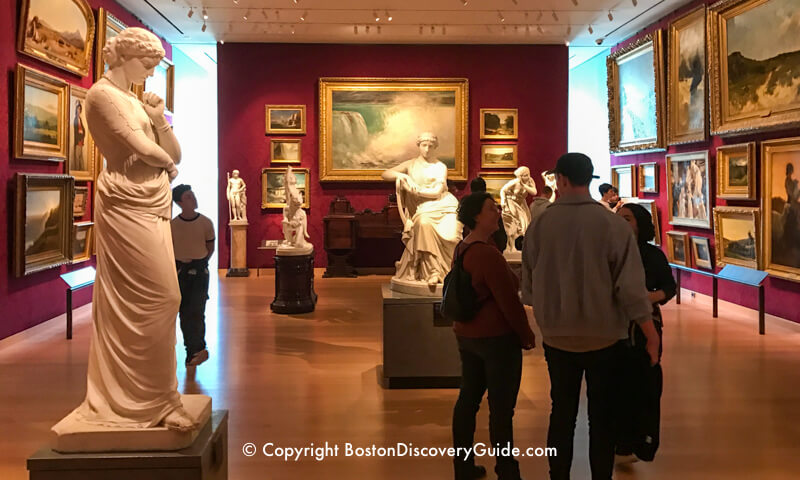 Art, music, and a cash bar featuring signature cocktails, wine, and tapas provide the perfect setting for meeting up with friends and making new connections, relaxing, and enjoying the MFA's elegant ambiance. Part social event, part opportunity to enjoy the Museum and the art within it.
When: March 3, 6-9:30pm (and also the first Friday of most months)
Where: Museum of Fine Arts, 465 Huntington Ave, Boston's Fenway neighborhood
Nearest T station: Green Line/Museum
Cost: Tickets required; get free ticket with museum admission
Must be: 21+
Boston Insider's Tip: Arrive early to get your ticket - they do sell out for this event
---
Utopia Seaport
Utopia Seaport, a gala horticultural and epicurean festival, opens March 2 at the Flynn Cruiseport Terminal.
Look for the Massport's Cruise Terminal three floors to be filled with fantastic new experiences and entertainment, including immersive horticultural displays, a culinary demonstration stage, free tastings, workshops, a gardener's "toolbench," a cafe, a food hall, a "Mainstreet Marketplace" with over 100 artisans and makers, and even a live DJ.
Don't miss this unique event, designed to welcome spring while also offering some of Boston's best culinary, beverage, and artisan delights.
Dates & hours: March 2-5; Thursday-Saturday, 10am-8pm, Sunday 10am-6pm
Location: Flynn (Black Falcon) Cruiseport Terminal, 1 Black Falcon Ave, Boston's Seaport neighborhood.
---
Boston Events Each Month
January | February | March | April | May | June | July | August | September | October | November | December | Year at a Glance
---
More Articles about Things to Do in Boston