Getting Dine Out Boston reservations at the city's finest restaurants gets competitive . . . a twice-yearly sport where the "winners" get the chance to dine at the city's most highly-sought culinary hot spots and enjoy great food at bargain prices.
As you probably already know, Dine Out Boston takes place over 2-week periods in March and again in August when top restaurants in Boston, Cambridge, and nearby suburbs go on sale.
Chefs get to showcase their cuisine (and hopefully attract new fans who will return during the other 48 weeks of the year to dine at regular prices) while you have the chance to discover new restaurants and return to old favorites while enjoying lunch or dinner at a discount.
For local foodies as well as tourists and other visitors, Restaurant Week (as the event is often called) is an opportunity not to be missed - so unless you want risk losing the chance to dine at your top choices, you need to make reservations - and for the hottest destinations, you need to do it fast.
How do you make sure you get the restaurant reservations you covet? That's where our five well-tested strategies for getting the most out of this twice a year experience come in. Keep reading - and then be prepared to move fast, because you'll be competing with lots of other foodies for the same tables.
Top Photo: Restaurant in Boston's Back Bay neighborhood, (c) Boston Discovery Guide
Boston Discovery Guide is a reader-supported publication. When you buy through our links, we may earn a commission at no additional cost for you. Learn more
---
Check the Dates for Dine Out Boston
Restaurant Week dates differ somewhat each year. Check them here:
As you'll notice, we also list participating restaurants and menus. Although some updates start rolling in about 2-3 months before each event, many more get finalized just a month or even less (sometimes much less) before the first dinner is served. We leave the prior menus up, so if you click and see that it hasn't been updated, you can at least get a general idea about what might be on offer for the current season.
In addition to the official Restaurant Week dates, some restaurants also offer their special menus on the Saturday between the two weeks. A few make them, along with discount prices, available throughout the months of March and August.
Although drinks, tax, and tip are additional and a few selections even require supplemental charges, Dine Out Boston still serves up a sweet deal. Optional wine pairings and beer flights (also usually at attractive price points) at some places make the deals even better!
---
How to Get Best Deals & Meals at Dine Out Boston: 5 Winning Strategies
Strategy # 1: Identify Your Top Restaurant Choices
Want to score a spot at the table of one of Boston's or Cambridge's hottest big-name chefs? Or try a new-to-you place, or even an old favorite?
Although the list of participating restaurants doesn't get finalized until close to the start of Dine Out, you can expect to get to choose from a huge range of options: award-winning chef-owned bistros, regional or national chain restaurants, the latest super-hot spots, long-time favorites, and every cuisine and cooking style you can imagine from Asian to Italian, seafood to steak houses, comfort food to gourmet, sushi to tacos.
So you'll have a lot to sort through. If you like to try the newest chefs and cuisine without risking lots of money, this is a golden opportunity. Ditto if you want to try places beyond your normal budget.
If you're hoping to get the most for your money, here's a tip: you can usually find some amazing values at certain steakhouses and seafood restaurants. Newly-opened spots also often offer great deals, as they're hoping you'll become a regular customer - Dine Out Boston is the best advertising opportunity around.
Pick your top 4 - 6 choices if you're planning 2-3 meals out.
---
Strategy # 2: Check the Restaurants' Menus
About one month before each event, participants begin to post their Dine Out menus. Check them out to see what's actually on offer, and for how much - or give them a call and ask.
Most top Boston chefs use Dine Out to showcase their culinary skills and fine cuisine by offering selections from their regular menu or equally impressive special creations. But a few similarly stellar spots offer a watered-down menu with simple dishes you could easily prepare at home. Do your homework to figure out who is offering a great value, and who you may want to drop from your list.
Also check the price chosen by the restaurant, and compare with similar restaurants. You'll begin to see that some deals are much better than others.
At the same time, check to see if optional wine pairings or beer flights are offered - these can be a good-to-great deal, depending on what is being offered.
Finally, compare prices on the regular menu to make sure the Dine Out Boston menu is really a bargain. Some restaurants offer similar prix-fixe options on an on-going basis which you can savor any time.
---
More Fun Ways to Enjoy Eating & Drinking in Boston
---
Strategy # 3: Make Your Reservations
At the hottest spots, tables go fast - so reserve early to avoid disappointment. Plan a couple of back-up choices. If your "A List" places fill up, move fast to your "B List" - unless you want to work your way down the alphabet!
You'll find the most competition at "big name" restaurants such as No 9 Park, Menton, and practically every steak house. Basically, reservations at any restaurants associated with famous chefs such as Barbara Lynch, Ming Tsai, and Daniel Boulud are going to be highly sought after. North End restaurants fill up fast too, partly because they tend to be small but mostly because they're extremely popular.
If you are targeting any of these places, your chances of a table are best if you make your move on the first day reservations open - usually about three weeks before Dine Out begins.
---
Strategy # 4: You're Seated at Your Table - Now Relax & Enjoy!
Your dining experience during Dine Out Boston may differ from normal times. Menu items and preparation complexity may be scaled back due to the price point, despite what the menus suggest, and service may not be as attentive as normal due to the crowds.
Prepare to enjoy your meal because it's one of the best Boston dining deals of the year, and you'll have a great time.
If possible service lapses will spoil your evening, eat at home during the two weeks of Dine Out Boston - or choose a non-participating restaurant.
---
Strategy # 5: Depart in Style
Be nice to the waitstaff. Tip generously. Just because you're getting a bargain on your meal doesn't mean they cut back on service - so do your part to make sure they don't go home with less money than normal. Do your best to figure out what your meal might normally cost you, and tip based on that amount.
Start looking forward to the next Dine Out Boston.
---
More Ways to Enjoy Boston's Food & Beverage Culture
---
Favorite Boston Restaurants & Pubs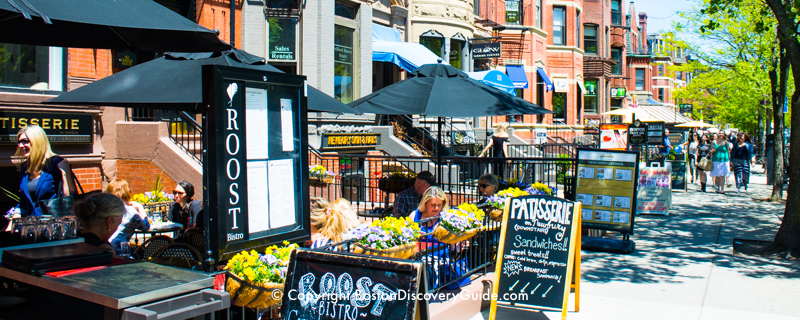 ---
---
Find a Hotel for Your Boston Visit
Enter your dates to see available hotels and rates: