Even though the biggest Boston New Year's Eve event for 2021 is the famous First Night celebration, there are plenty of other New Year's Eve parties and special events for you to consider - plus a spectacular fireworks show over Boston Harbor and Countdown at Copley Square at midnight.
Whether you're looking for a romantic night of dancing and champagne, a fireworks cruise, entertainment at a concert or comedy club, or a festive but family-friendly way to welcome the New Year, you'll find plenty of exciting choices.
Our guide to the best New Year's Eve events and celebrations in Boston gives you the whole spectrum of things to do on this special night.
Credit: Top photo of fireworks over Boston courtesy of Bill Damon
New Year's Eve Fireworks on Boston Harbor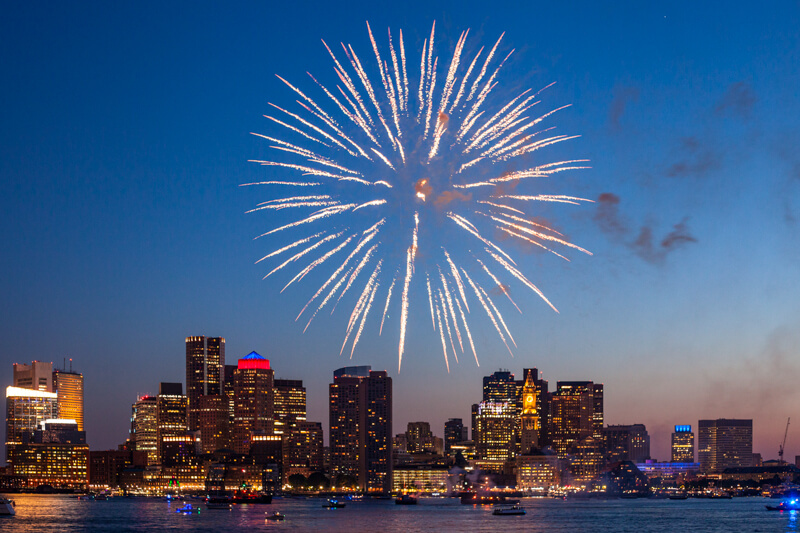 Head over to Christopher Columbus Park to ring in the New Year by watching fireworks over Boston Harbor at midnight launched from a barge between Long Wharf and Fan Pier.
The best place to watch? Any spot along the waterfront overlooking Boston Harbor, such as the North End's Christopher Columbus Park, the Downtown Waterfront, Fan Pier in the Seaport District, the East Boston Harborwalk, Charlestown Waterfront, and Castle Island.
The fireworks display is co-sponsored by Friends of Christopher Columbus Park, the organization that is also responsible for the gorgeous lighted trellis and all the many activities that take place in this gorgeous waterfront park - the gateway to Boston's North End, and other Boston Harbor Now members (numerous waterfront-related businesses, institutions, organizations, including the US Coast Guard), the Wharf District Council, and City of Boston.
New Year's Eve Cruises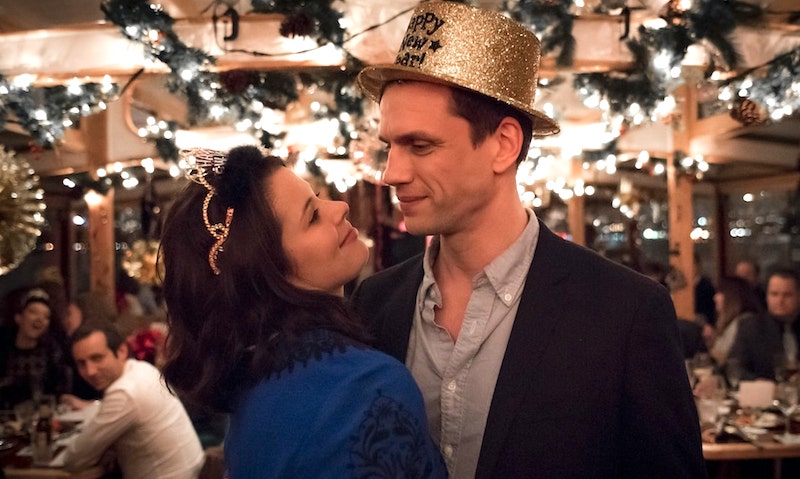 Welcome the New Year aboard the elegant yacht Northern Lights on these special New Year's Eve and New Year's Day cruises around Boston Harbor. These cruises always sell out early - so don't wait to make your reservations!
More holiday cruises:
Celebrate the holidays while relaxing and sightseeing on the festively decorated Yacht Northern Lights on these special cruises around Boston Harbor:
First Night Boston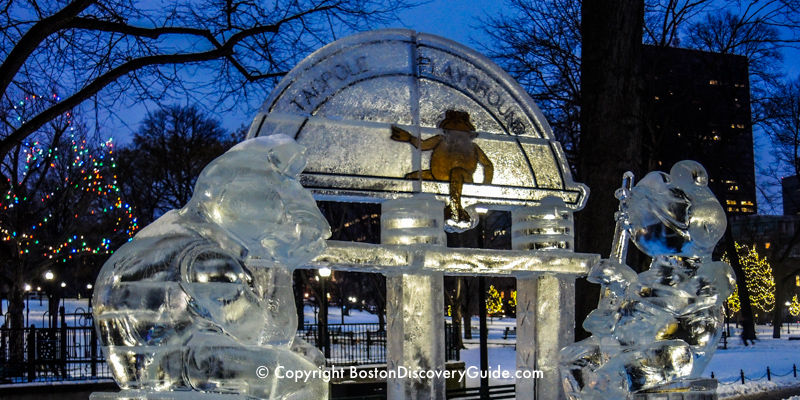 Ice sculptures, a huge parade down Boylston Street, non-stop entertainment, music and dancing, Countdown to Midnight in Copley Square - Boston's annual First Night celebration offers something fun for everyone.
With events starting at noon, the alcohol-free, family-friendly First Night Boston is the city's largest New Year's Eve celebration.
Best of all: All official First Night/First Day events are free.
More about First Night Boston events, schedule, hotels, transportation, and parking
New Year's Eve Shows & Theater in Boston
From Blue Man Group to Lake Street Dive, you can choose from several shows in Boston's theaters on New Year's Eve:
Enter DISCOVERY 10 to save 10% on TicketNetwork & TicketLiquidator tickets
New Year's Eve Comedy Shows
Start the New Year with a laugh.
Bryan Callen is appearing at the Wilbur Theatre on New Year's Eve (find tickets), and Boston's comedy clubs will have exciting lineups as well.
More about Boston's comedy clubs
Boston Sports on New Year's Eve
TD Garden is usually a good bet for New Year's Eve entertainment - but not this year! If you want to catch a Celtics, Bruins, or Harlem Globetrotters game there this year, head over on Christmas Day or Wednesday or Thursday.
Enter DISCOVERY 10 to save 10% on TicketNetwork & TicketLiquidator tickets
Check out New Year's Eve parties instead!
New Year's Eve (and Day) on the Waterfront
In addition to the Midnight Harbor Fireworks, lots more mostly free fun activities take place along the Waterfront throughout New Year's Eve and New Year's Day:
Ice Sculpture Stroll
The annual Ice Sculpture Stroll along Boston Harbor is bigger and better than ever this year, with imaginative ice sculptures and activities for you to enjoy in these (mostly) waterfront locations:
North End Ice Sculpture Locations
Atlantic Wharf
Battery Wharf Hotel
Christopher Columbus Park
Charlestown End Ice Sculpture Locations
Downtown Waterfront Ice Sculpture Locations
Marriott Long Wharf
New England Aquarium
Harbor Towers
International Place
Boston Harbor Islands Welcome Center (Greenway)
Boston Harbor Hotel
Seaport/South Boston Waterfront Ice Sculpture Locations
Envoy Hotel
Fan Pier/Fallon CBRE
Fjällräven
Kings Dining & Entertainment
LL Bean
Moakley Courthouse
Sephora Seaport
WS Development Seaport
Yotel
More New Year's Eve Along the Waterfront Activities - December 31
Wharf District Harborwalk Tour
1pm-4pm - First Responder Touch-a-Truck/Boat at the Envoy Hotel in Seaport
Harbor Map Tour at the Boston Harbor Hotel
New Year's Day Activities - January 1
12 noon-about 1pm - First Day Hike from Old North Church (meet there at noon) to the Bunker Hill Monument in Charlestown (to be confirmed)
12 noon-4pm - Seafarer's Island Holiday - New Year's Cruise to Thompson Island from Rowes Wharf on the Downtown Waterfront - Tickets $30 adults and $20 children 3-12 - buy tickets online in advance or on the day of the trip; more details here: www.brownpapertickets.com/event/3620789 (to be confirmed)
Cheap Flights & Cozy Hotels for New Year's Eve in Boston
Need a cheap flight to Boston for your New Year's Eve celebration? Check out our tips for finding flight bargains, including last-minute deals.
Now that you've saved on your flight, treat yourself to a cozy Boston hotel with fireplace. Rates are at their lowest
Public Transportation on New Year's Eve
MBTA provides extended subway and commuter rail service on New Year's Eve with until approximately 2am.
Additional subway cars will operate and provide rush-hour level service throughout the evening.
And as a bonus, the T (subway) will be free between 8pm and approximately 2am.
The Commuter Rail does its part by providing additional trains, making all stops on the way to destinations, and following a weekday schedule.
Buses, the Silver Line, and trackless trollies also operate on a weekday schedule.
So don't even thing about driving into, around, or out of Boston on New Year's Eve!
More about Boston's subway service
More details about New Year's Eve service (including bicycle restrictions during certain hours) here: https://blog.mass.gov/transportation/mbta/mbta-new-years-eve-free-service
More Things to Do in Boston on New Year's Eve
Q & A about First Night: You ask, we'll answer . . .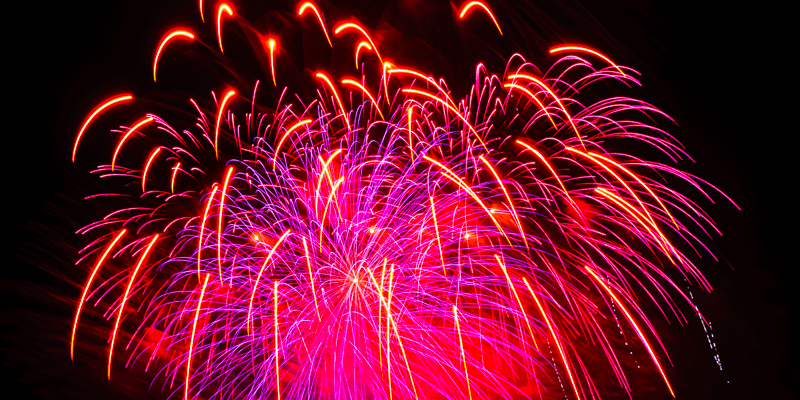 Where to have dinner near the 7pm First Night Fireworks?
Folks I know are going to Chinatown for dinner and then to First Night fireworks on Boston Common at 7 pm. I'm vegetarian and they're not.
Where would you recommend . . . see our recommendations about vegetarian and vegan places to dine in Chinatown and near Copley Square
---
More to Do in Boston in December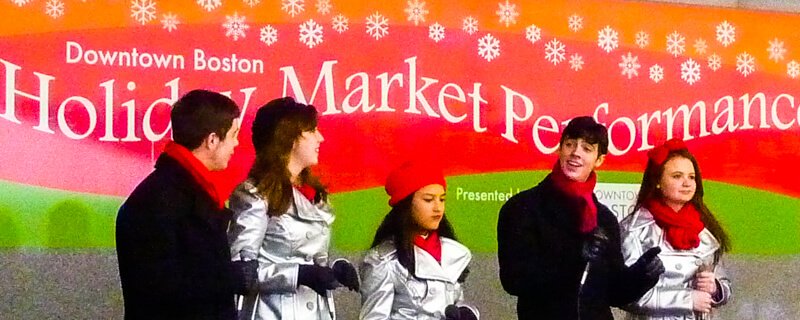 ---
More to See and Do in Boston during December
---
Check Out More Top Boston Events Each Month
January | February | March | April | May | June | July | August | September | October | November | December | Year at a Glance
Need a Boston Hotel or Apartment?
Use this handy map from Booking.com to find the perfect place to stay. Just enter your dates to find what's available, see the best rates, and make your reservations.