Boston Weather in December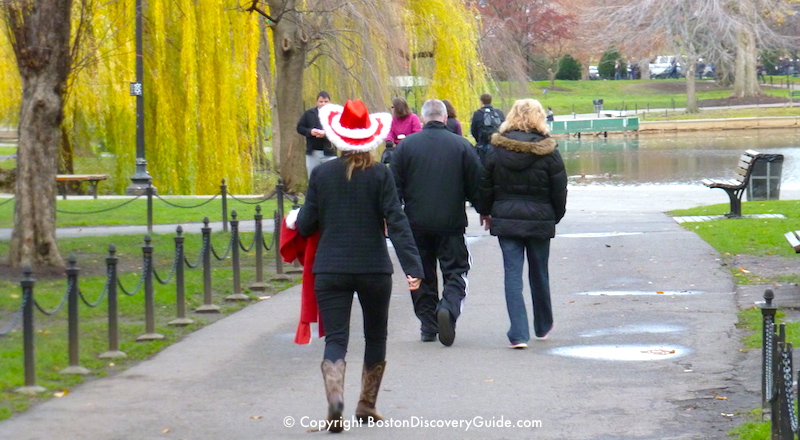 Boston weather in December can be unpredictable. Howling winds, rain, warmer temperatures than you might expect, sudden snow squalls, and beautiful bright sunny days form an unpredictable mix.
But attractive Boston hotel deals, plenty of museums and sports events, and exciting shows at the Boston Opera House and other Theater District venues make December weather in Boston almost enjoyable.
If you're planning to travel to Boston in December, keep in mind that the city tends to be warmer than the average temperatures for December weather in Massachusetts most of the time - except for when coastal storms called nor'easters dump freezing rain, snow, or sleet on us.
Although each year is different, we can almost always be sure of getting some snow, even if it is only a sprinkle, at least a few 50° days, possibly some rain, and usually many days with brilliant sunshine. And some years bring a lot of snow!
December Weather in Boston
December weather in Boston is tricky to predict because fairly wide temperature variations mean we may get snow . . . or just rain.
Most days will be somewhere between chilly and cold. If the sun is shining and no wind is blowing, you will feel comfortable regardless of the thermostat (assuming you're wearing a couple of layers and moving around). But on gray days, especially if there is strong wind, December can feel frigid.
During most years, December is the balmiest month of Boston's winter. However, some years prove the exception.
These photos will give you a sense of what December Boston weather can look like. Note that none of them show snow on the ground - although snow certainly can happen this month.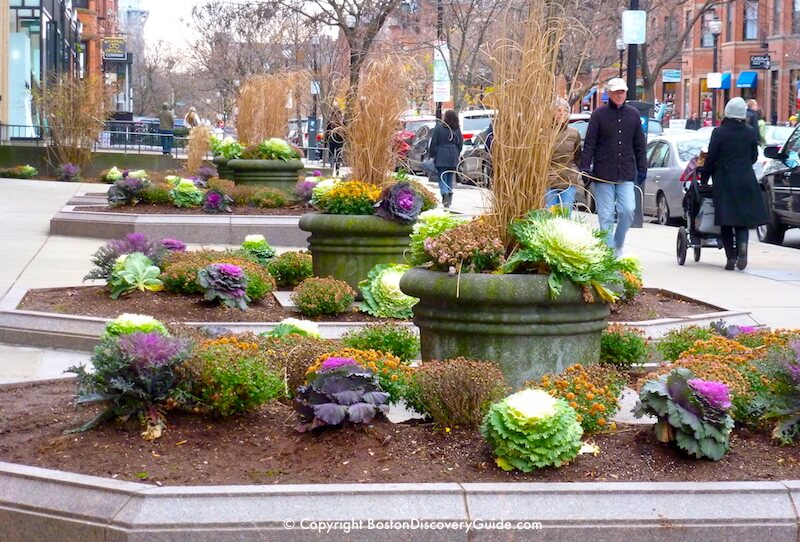 Although a few splashes of fall foliage may remain at the beginning of the month, by mid-month it has mostly disappeared - except for the weeping willows around the Lagoon in the Public Garden.
Lots of evergreens throughout the city keep the landscape from looking bleak.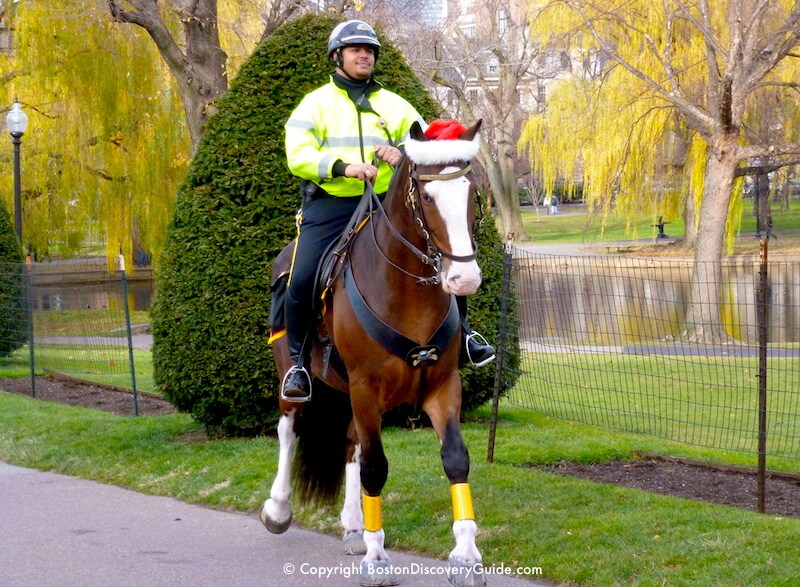 Days are the shortest of the year in December - but because the weather is still relatively warm and dry compared with January and February (and for that matter, March and April), sitting outside in late afternoon can still feel relatively comfortable.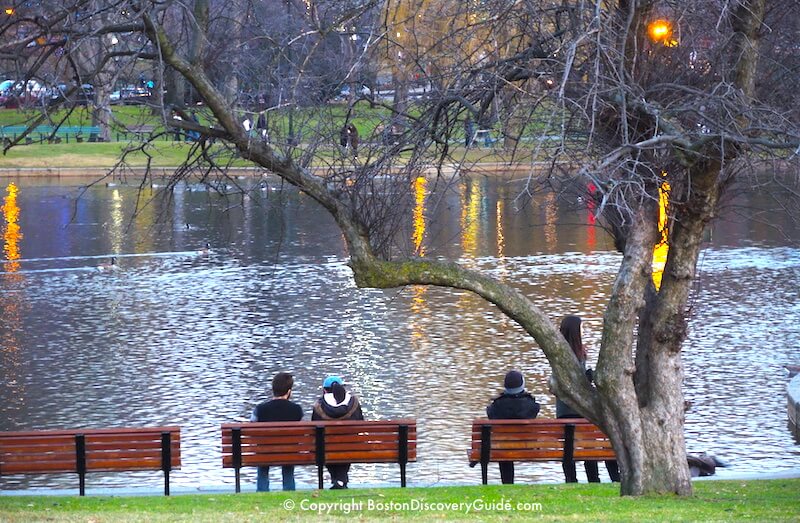 December Temperatures and Conditions
December weather in Boston differs every year. In general, though, you should expect cold weather; if you happen to experience a balmy day, just feel lucky!
If you're planning a Boston visit during December, you should take a look at average temperatures for the month - as well as the record highs and record lows:
Record high temperature for December: 76° F (1998)
Record low temperature for December: -17° F (1933)
Average December high temperature: 41° F
Average December low temperature: 28° F
Average precipitation for December: 3.8 inches

Although large snow storms are not common in December, they can happen at any point in the month, including at the very beginning.
By the end of the month when the First Night celebration takes place on New Year's Eve, temperatures are typically in the frigid zone, especially after night fall.
If you are planning to travel during December, weather can be a big consideration when deciding what to pack, so be sure to check the Boston weather report before coming.
And this is the time of the year that you should also familiarize yourself with extreme Boston weather weather conditions and what to do if you encounter them . . . just in case.
What to Pack for Boston in December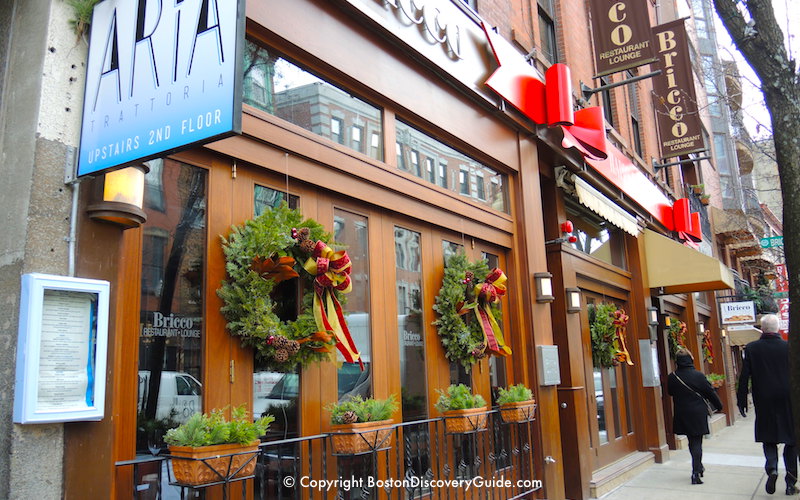 Boston weather in December dictates that you should bring a heavy jacket or coat, preferably one that's waterproof.
Warm gloves, a scarf, and a hat and/or earmuffs are also a must, and an umbrella can be a great addition.
Don't forget that Boston is a great city for walking, regardless of the weather.
If you're staying anywhere in central Boston, you'll find that sidewalks usually get shoveled quickly. However, you still need to consider the best way to keep your feet warm.
Boots with heavy soles and ideally an insulated lining provide the best protection. Make sure they're comfortable for walking. Warm socks also help keep you comfortable.
Check our general suggestions about what to pack for your Boston trip to get more tips.
Best Activities for Enjoying December Weather
Cold Boston weather in December makes indoor activities very attractive - theaters, sports, and museums rank high on lists of popular things to do.
On New Year's Eve, First Night is Boston's biggest celebration. Festivities usually start around noon and end after midnight. Many take place outdoors - so dress warmly, and remember your gloves and a hat.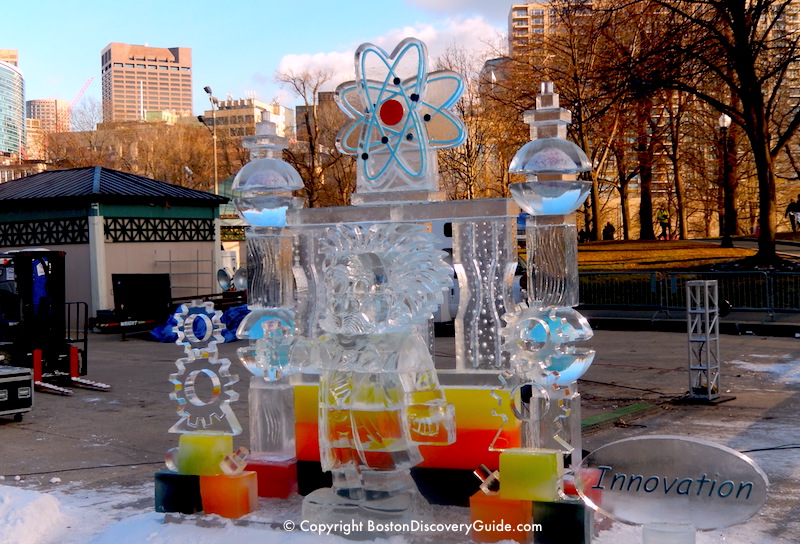 December is also a terrific time to shop in Boston, as many stores offer tempting discounts to lure in shoppers. Check out Lord & Tailor and Ann Taylor in Prudential Center, Macy's in Cambridgeside Galleria, and Gap in Faneuil Marketplace. Stores and boutiques along Newbury Street also burst with bargains during December.
And don't forget that December is actually a wonderful time for outdoor activities, unless a nor'easter is raging. Go ice skating on Boston Common's Frog Pond, or head to nearby ski areas for downhill and cross-country skiing.
More Scenes of December Weather in Boston
What does Boston look like once the weather turns colder? These photos will give you an idea of how Boston can look in December.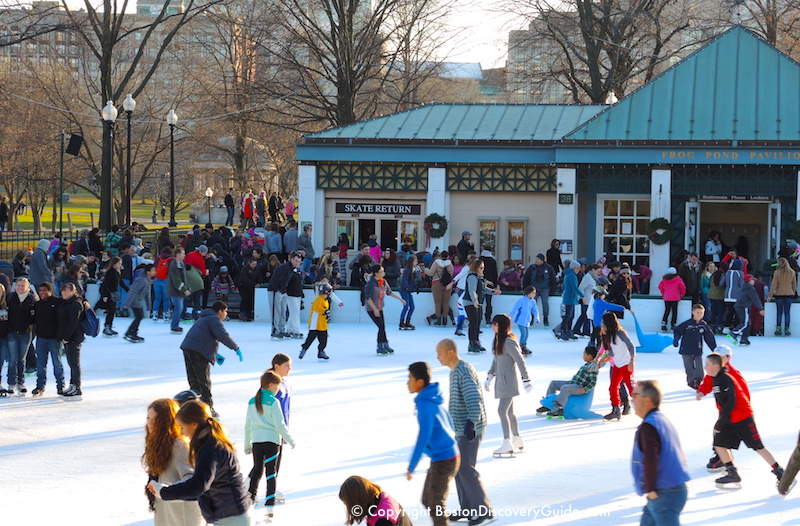 Ice skating on Frog Pond in Boston Common attracts huge crowds in December, especially when there's no snow on the ground to slog through when getting there.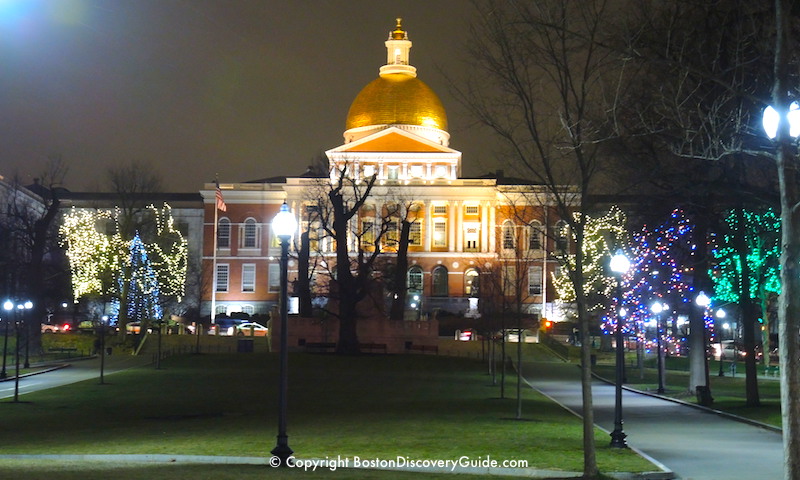 Boston Common is the site of many Christmas decorations - the huge tree sent by the citizens of Halifax, Nova Scotia each year, plus many lighted trees throughout the area.
Occasionally snow will cover the ground this month, which makes the trees look especially festive. Other years, green grass still prevails.