Home > Boston Shopping > Malls >
Best Cambridge Mall: CambridgeSide Galleria
You'll have fun shopping in this trendy Cambridge mall
Just across the Charles River from Boston is the best Cambridge Mall: CambridgeSide Galleria, packed with an excellent mix of 120 stores and boutiques.
As an extra bonus, this popular Cambridge shopping location features a lovely pond in a park-like setting next to the food court.
Styles at CambridgeSide Galleria stores and styles tend to be somewhat hipper than you'll find at suburban Boston malls, thanks to all the students at nearby Harvard, MIT, Lesley University, and other schools.
CambridgeSide Galleria Stores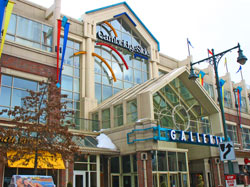 Surprisingly, considering its compact size, CambridgeSide has 3 anchors: a large Macy's, Sears, and a huge Best Buy.
In addition, you'll find Club Monaco, Banana Republic, Aeropostale, J. Crew, Made in Brazil, Timberland, Old Navy, both Ann Taylor and Ann Taylor Loft, Bebe, Benneton, H & M, the largest Gap in Boston, White House Black Market, and more.
Three especially popular stores in the CambridgeSide Galleria are the Apple Store, Game Stop / EB Games, and Brookstone.
Sales and Discounts in CambridgeSide Galleria
Look for sales and discounts at Macys throughout the year. Other stores in this mall also discount fairly heavily on a routine basis. Holiday-related Memorial Day, Labor Day, Columbus Day, and Christmas sales are usually very good here.
If you're into Black Friday shopping bargains, the Best Buy at CambridgeSide Galleria makes this mall a good shopping destination as they usually offer steep discounts.
The parking lot beneath the mall means you don't have to walk far to stash your bargains in your vehicle and then head back upstairs for more shopping.
Food Choices
A food court includes typical choices, along with a couple of less common places such as Indian Chili, which has very good Indian dishes and wraps.
When the weather is warm, take your food outside for a picnic by the pond.
Two full-service restaurants, California Pizza Kitchen and Cheesecake Factory, round out the possibilities.
Details and Directions
Location: 100 CambridgeSide Place, Cambridge, MA
Nearest T station: Green Line/Lechmere, Red Line/Kendall. Mall is a block away from Lechmere station. A free CambridgeSide shuttle bus is available from the Kendall Square station on the Red Line, about half a mile (10 minute walk) away.
More information: 617-621-8666; www.cambridgesidegalleria.com
Parking: Underground parking garage, plus an above ground garage (they don't connect, so make sure you remember which one you park in). California Pizza Kitchen and The Cheesecake Factory will validate your parking ticket for a discount rate.
If you like this Cambridge Mall, you may also want to check out:
Boston Discovery Guide > Boston Shopping > Boston Shopping Malls > Cambridgeside Galleria