Romantic Boston: December Suggestions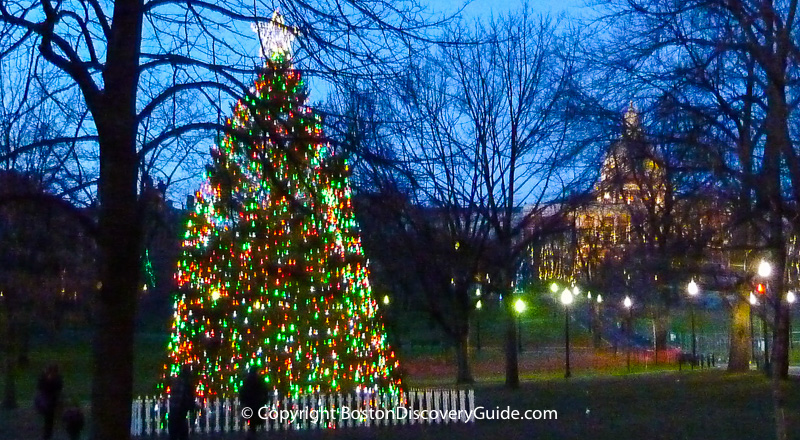 Hello! My name is Shelly. I moved to Massachusetts about a year ago but I don't know much about the state. My boyfriend of three years lives in Florida and he is coming to visit me for Christmas. I digress. Do you have any suggestions on any romantic places we can go and things we can do for the holiday season? Please?
Kind regards,
Shelly
---

Dear Shelly,
Boston feels especially romantic during December because all the festive holiday lights, Christmas decorations, and fun activities.
Visiting romantic places with your boyfriend will give you two long-lasting benefits: 1) wonderful romantic memories, and 2) a great excuse to get to know Boston better.
Part of what makes Boston romantic is that it's old - so in almost every neighborhood, you can see lots of beautiful historic buildings, cobblestone streets, narrow lanes and alleys, and small but wonderful restaurants.
Take advantage of Boston's compact size by walking around and exploring the city together.
December weather can feel crisp, so make sure your boyfriend brings a warm jacket, scarf, and gloves.
If your boyfriend will be here for New Year's Eve, don't miss the fireworks at Copley Square at midnight - perfect way to celebrate the beginning of a new year of romance!
Read our complete guide to Christmas events in Boston to get the big picture of what's going on.
The following list includes my favorite suggestions for romantic places and things to do during the holiday season, plus plenty of other fun activities and events that will feel romantic when you're with someone special.

Publisher, BostonDiscoveryGuide.com
---
---
---
---
Other Popular Boston Tours this Month
---
---
---
---