Shakespeare on the Common - 2018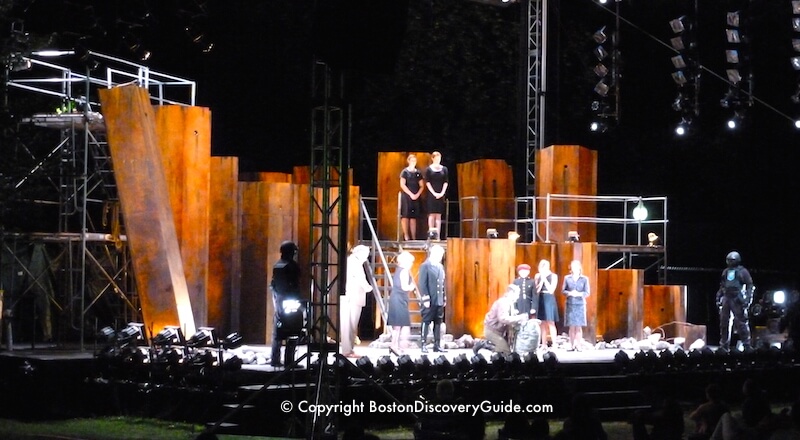 Get ready for a magical evening of Shakespeare on the Common as the Commonwealth Shakespeare Company stages Romeo & Juliet, this year's annual "Shakespeare in the Park" production of free Boston theater during July and August. (play information is for last year - we'll update once the 2018 production is announced)
There's nothing more perfect than enjoying one of these wonderful Shakespeare on the Common performances under the stars on a balmy Boston summer evening.
Performances take place in July and August on a temporary stage near the Parkman Bandstand on Boston Common.
Bring a blanket or low folding chair to sit on, and get ready to be entertained, to have your thinking challenged in new ways, and to listen to the thrilling language of Shakespeare, as meaningful today as when he wrote this play four centuries ago.
Check the Boston Event Calendar for July and August for exact dates and times.
---
"Cheat Sheet" for Shakespeare's Romeo & Juliet
Can't Quite Recall this Play? Here are the Highlights
Shakespeare probably wrote Romeo & Juliet in the early 1590s, about the same time when he wrote his romantic comedies Love's Labour's Lost and A Midsummer Night's Dream. Despite the romantic relationship between the star-crossed lovers, the play focuses on the on-going feud between the Montague and Capulet families that ends only after Romeo and Juliet both die.
Setting - Verona, Italy.
Plot - Romeo & Juliet pits the power of romantic love against the force of hate, with numerous plot twists and more than a few dead bodies along the way.
Romeo and Juliet meet by accident at a ball at Juliet's house. As a member of the Montague family, Romeo should not have been there but had developed an infatuation for Rosaline, a Capulet niece, and hoped to see her there. Instead, he meets and instantly falls in love with Juliet. Unfortunately, Juliet's cousin Tybalt observes Romeo and wants to kill him on the spot, but Juliet's father stops him as he doesn't want anyone killed inside his house.
Later that evening, Romeo stands near Juliet's balcony and hears her declare her love for him. He then declares his love, and they decide to get married. They go to see Friar Laurence on the following day and he performs a secret wedding ceremony in the hope of reconciling the two warring families.
Instead, the feud deepens when Tybalt, still angry about Romeo crashing the Capulet ball, challenges Romeo to a duel. Since Romeo now considers Tybalt a kinsman, he refuses to fight, which makes Tybalt even angrier. Romeo's best friend Mercutio fights Tybalt in Romeo's place, and Tybalt kills him; consumed by grief and guilt, Romeo then kills Tybalt.
The Prince of Verona, Escalus, exiles Romeo from Verona, but Romeo spends the night with Juliet before he leaves. Meanwhile, Juliet's family pressures her to marry Count Paris, a family friend; tensions escalate, and she asks Friar Laurence for help. He gives her a potion that will put her into a coma for 42 hours, and sends a messenger to tell Romeo about the plot. She takes it, appears to be dead, and is put into the family's crypt.
The messenger never reaches Romeo, who learns of Juliet's apparent death; he buys poison and heads to the Capulet crypt but encounters Paris, who mistakes him for a vandal. They fight, Romeo kills Paris and drinks the poison right before Juliet wakes up. She sees that he is dead, stabs herself with his dagger, and dies.
At that point, the Capulet and Montague families, Prince Escalus, and Friar Laurence converge at the tomb. After hearing the story about the "star-cross'd lovers" from Friar Laurence, the families agree to end their feud.
Meanings - Aside from depicting the intensity of young love and perhaps the harmfulness of family feuds, this play does not offer the deeper meanings of Shakespeare's other tragedies, aside from highlighting the dangers of having to choose between love and family. If you consider that events unfurl because of unfortunate mistakes and bad timing rather than any inevitability or "fate" brought on by forces beyond the characters' control, it is really more of a melodrama than a tragedy. But it does have beautiful dialog and lots of action.
Why does this play seem familiar? West Side Story!
Bottom line: will you enjoy it? - Yes, absolutely. Commonwealth Shakespeare Company excels at making even the most difficult plays accessible, and you can be sure they'll deliver an absorbing, compelling, contemporary performance to leave you entertained ... and perhaps even thoughtful.
---
Where to Stay Nearby
Watch Shakespeare on the Common, and then stroll back to your hotel in five minutes or less when you stay at one of these popular hotels overlooking the Common, or just a block away.
---
What to Expect in 2018 Performances
Typically, the 18 or so Shakespeare on the Common performances attract more than 100,000 people. Without a doubt, this is one of the most popular Boston theater events of the year.
In case you're inwardly groaning at the idea of an evening of Shakespeare, rest assured that this is not the stodgy stuff that you may remember from high school.
The high-energy performance typically mixes in plenty of bawdy jokes (there's quite a bit of sexual imagery in this play), and even songs and dances - perhaps not so different in spirit from how William Shakespeare's actors kept their diverse audience entertained in the Globe Theatre 400 years ago.
Boston Hotels with Outdoor Swimming Pools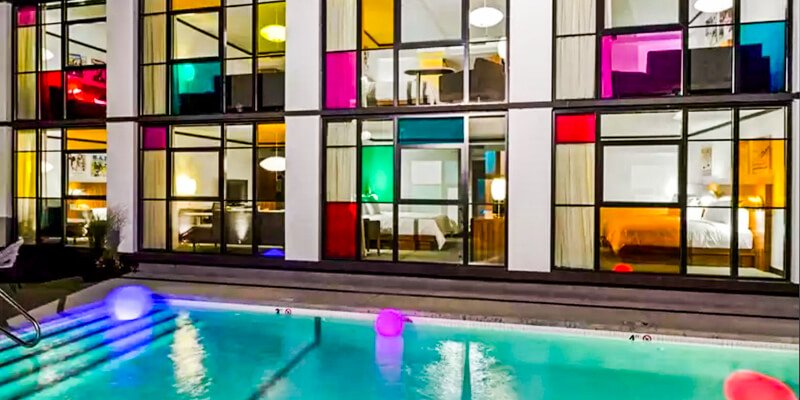 ---
What to Bring to Shakespeare on the Common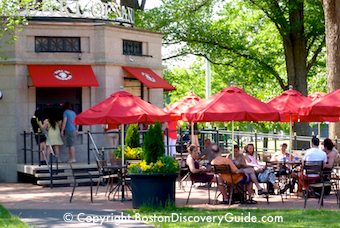 At a minimum, bring a blanket to sit on. The elevated, well-lit stage is at the bottom of a gentle slope, so you will be able to see well from wherever you're sitting. Some people also bring low folding chairs.
Mosquito repellent is always a good idea, and you should also bring an umbrella if there is any chance of rain. A light sweater or jacket can be useful.
The area closest to the stage begins to fill up about 2 hours before the performance.
However, the lighting and sound systems make it easy for you to see and hear what's going on, so this is one time when you don't need to worry about getting a "good" spot.
Lots of people bring picnic dinners, and along with something cold and refreshing to drink. But if you don't have time to pack a dinner, don't worry. Stop by Earl of Sandwich (shown in photo) for casual fare. Other food vendors and food trucks will be nearby for some performances.
Alternately, have dinner before the performance at one of the terrific Theatre District restaurants just a block or two away, Chinatown restaurants two or three blocks away, or stop by a local Boston nightlife spot after the performance for a perfect summer evening.
Essentials: Shakespeare on the Common
Alcoholic beverages are prohibited in Boston parks. However, you may notice a number of discrete thermoses and other beverage containers among the rather mellow crowd.