Get ready for a magical evening of Shakespeare on the Common as the Commonwealth Shakespeare Company stages Macbeth, this year's annual family-friendly "Shakespeare in the Park" production of free Boston theater during July and August.
Watch the actors on stage above a grassy slope on Boston Common as this classic Shakespearean tragedy about fate, paranoia, betrayal, ambition, power, and madness plays out before you.
Enjoying one of these wonderful Shakespeare on the Common performances under the stars on a balmy summer evening is an iconic seasonal Boston experiences you should not miss.
Performances take place in July and August on a temporary stage near the Parkman Bandstand on Boston Common.
Bring a blanket or low folding chair to sit on, and get ready to be entertained, to have your thinking challenged in new ways, and to listen to the thrilling language of Shakespeare, as meaningful today as when he wrote this play four centuries ago.
Bonus: Shakespeare knew the power of laughter - so even in his tragedies, such as Macbeth, you can always expect some comic relief.
Check exact dates/times on the Boston Event Calendar for July (or August)
---
"Cheat Sheet" for Shakespeare's Macbeth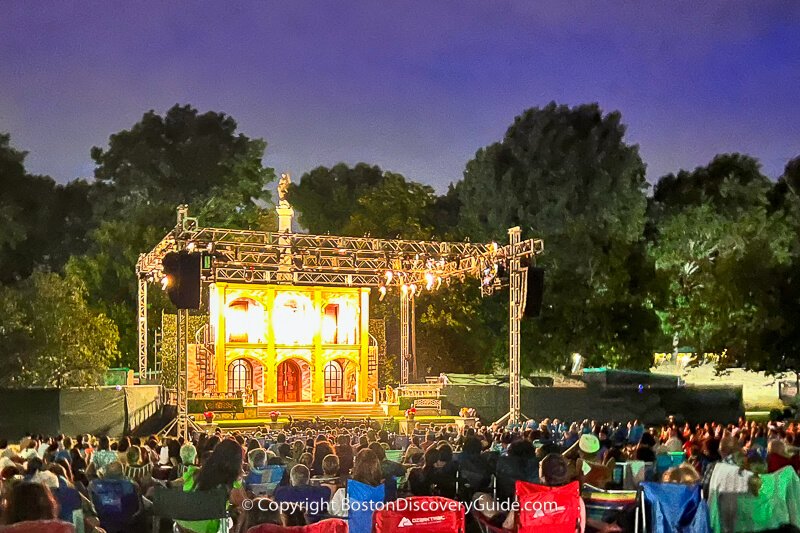 In case your high school English class was the last time you thought about Macbeth and you can't recall the highlights, we're prepared this cheatsheet:
Shakespeare's Inspiration for Macbeth
Shakespeare wrote Macbeth in 1605 or 1606, shortly after James VI of Scotland became King James I of England and Ireland in 1603 after the death of Queen Elizabeth I, the last of the Tudor rulers.
King James quickly revealed himself to be a theatre fan, and quickly became the official sponsor of Shakespeare's company.
In turn, Shakespeare renamed his troupe the King's Men. Scholars believe that he wrote Macbeth, with its setting in Scotland as a tribute to King James and also as a cautionary tale about the power of witchcraft (James was a believer) and the dangers of regicide.
Shakespeare loosely based his play on an actual person, an 11th century King of Scotland named Macbeth.
At that time, Scotland was a newly (and barely) unified kingdom containing a mix of different ethnicities and languages - Picts, Britons, Germanic Angles, Scandinavians, and Gaels, all speaking a mix of Gaelic, other Celtic languages, and Germanic languages.
To keep Scotland unified, a strong ruler was required, which meant defeating rivals in order to gain and keep the throne. I
n this context, Macbeth came to power after killing his predecessor, King Duncan. After ruling for 14 years, Macbeth in turn was killed in battle by Duncan's son Malcolm, who replaced him as king.
In addition to appropriating historical figures for his play, Shakespeare freely added numerous contemporary elements, including bits about the Gunpowder Plot, a failed attempt to assassinate James I.
Plot of Macbeth
As is so often true with Shakespeare's plays, get ready for plenty of twists, turns, and subplots.
In Macbeth, the plot begins with prophecies by three "weird" witches who Macbeth and Banquo, both generals in King Duncan's forces, encounter on a Scottish moor.
Macbeth, they predict, will be promoted and become King of Scotland while Banquo's descendants will be kings but Banquo will not.
Almost immediately, the king promotes Macbeth, who then decides the witches' prophecy must have been correct. He and his wife, Lady Macbeth, plot to kill King Duncan, and when their plan succeeds, Macbeth becomes King of the Scots.
Remorse, quickly followed by fear and paranoia, set in almost immediately.
Macbeth responds with a tidal wave of more murder and slaughter, and even kills his comrade Banquo.
When Banquo reappears as a ghost, Macbeth slides into madness. Lady Macbeth's conscience finally kicks in, and she becomes unable to sleep, leading to her own descent into darkness.
Although they isolate themselves in a remote castle, they can't escape the consequences of the events they put in motion.
Without giving away too much more of the plot, let's just say that Malcolm, Duncan's son, puts together his own army and finally restores order after a few more deaths.
Commonwealth Shakespeare's productions are always fast-paced, entertaining, and thought-provoking.
Like Shakespeare himself, they often reflect indirectly on contemporary events. In this production, look for the conflicts between loyalty and ambition, passion and reason.
Macbeth on the Common promises to be an evening to remember.
---
Bottom Line: Will You Enjoy Macbeth?
"Enjoy" may be the wrong word to describe the effect of a play in which so many people die. Macbeth is one of the Bard's more intense dramas - a cautionary, thought-provoking tale with overtones of tragedy.
Commonwealth Shakespeare Company excels at making even the most difficult plays accessible, so Macbeth promises to be both intense and satisfying.
You can be sure Boston's own Shakespearean troupe will deliver a compelling, contemporary performance to leave you entertained ... and perhaps with a few new insights.
---
Where to Stay Nearby
Watch Shakespeare on the Common, and then stroll back to your hotel in five minutes or less when you stay at one of these popular hotels overlooking the Common, or just a block away.
---
What to Expect in This Year's Performances
Typically, the 18 or so Shakespeare on the Common performances attract 50,000 - 100,000 people each season. Without a doubt, this is one of the most popular Boston theater events of the year.
In case you're inwardly groaning at the idea of an evening of Shakespeare, rest assured that this is not the stodgy stuff that you may remember from high school.
The high-energy performance typically mixes in plenty of humor and more than a few bawdy jokes and innuendos (carefully crafted to go over the heads of children in the audience).
This approach is similar in spirit from how William Shakespeare's actors kept their diverse fans entertained in the Globe Theatre 400+ years ago.
---
What to Bring to Shakespeare on the Common
At a minimum, bring a blanket to sit on. The elevated, well-lit stage is at the bottom of a gentle slope, so you will be able to see well from wherever you're sitting.
Some people also bring low folding chairs. Since the performance runs about 2.5 hour without an intermission, chairs tend to be more comfortable than sitting on the ground.
Mosquito repellent is always a good idea, and you should also bring an umbrella if there is any chance of rain. If you think the ground might be damp - perhaps from a shower earlier in the day - bring a lightweight tarp (or a couple of large plastic garbage bags) if you're planning to spread a blanket on the ground.
A light sweater or jacket can be welcome even on muggy nights, which can turn cooler than you might expect, especially if there's a breeze.
The area closest to the stage begins to fill up about 2 hours before the performance.
However, the slightly sloping ground as well as the lighting and sound systems make it easy for you to see and hear what's going on even if you're sitting far from the stage, so this is one time when you don't need to worry about arriving super-early or scrambling to get a "good" spot.
Lots of people bring picnic dinners, and along with something cold and refreshing to drink. But if you don't have time to pack a dinner, don't worry. Food and beverage vendors will be nearby during many performances.
Alternately, stop by one of Boston's wine bars or have dinner before the performance at one of the terrific Theatre District restaurants just a block or two away, and Chinatown restaurants are only two or three blocks away.
Another great option for continuing your summer evening in the city: stop by a local Boston nightlife spot after the performance.
---
Essentials: Shakespeare on the Common
---
Boston Insider Tips
Food: If at all possible, bring something to eat.
The sight of other people's elaborate charcuterie and cheese boards and picnic fare is almost guaranteed to make you feel hungry and somewhat jealous unless you have something equally good.
Beverages: Alcoholic beverages are prohibited in Boston parks.
However, you may notice a number of discrete thermoses and other opaque beverage containers among the rather mellow crowd.
---
More Theater Shows & Productions in Boston
Enter DISCOVERY10 to save 10% on TicketLiquidator & TicketNetwork tickets. Good through 12/31/24.
Find All Boston Shows and Performances
---
More Things to Do in Boston
---
More Articles about Things to Do in Boston in July & August
---
Need a Boston Hotel or Apartment?
Use this handy map from Booking.com to find the perfect place to stay. Just enter your dates to find what's available, see the best rates, and make your reservations.