Get ready for a magical evening of Shakespeare on the Common as the Commonwealth Shakespeare Company stages Cymbeline, this year's annual "Shakespeare in the Park" production of free Boston theater during July and August.
There's nothing more perfect than enjoying one of these wonderful Shakespeare on the Common performances under the stars on a balmy Boston summer evening.
Performances take place in July and August on a temporary stage near the Parkman Bandstand on Boston Common.
Bring a blanket or low folding chair to sit on, and get ready to be entertained, to have your thinking challenged in new ways, and to listen to the thrilling language of Shakespeare, as meaningful today as when he wrote this play four centuries ago.
Bonus: Shakespeare knew the power of laughter - so even in his most tragic plays, you can always expect some comic relief.
Check exact dates/times on the Boston Event Calendar for July (or August)
"Cheat Sheet" for Shakespeare's Cymbeline: Can't Quite Recall this Play? Here Are Highlights
Shakespeare roughly based Cymbeline on an early Celtic British king named Cunobeline appointed by the Roman emperor who ruled England (along with most of the rest of Europe) during the first century AD.
Like so many of Shakespeare's dramas involving kings, the play's action includes power struggles, deceptions and disguises, secret marriages, lost heirs, betrayals, and plenty of gender bending as girls dress as boys and boys as girls, leading to mistaken identities, murder plots, and fake deaths. There's even a character named Posthumus.
Shakespeare's colleagues listed Cymbeline as a tragedy when they compiled the First Folio collection of the playwright's work but most critics (and audiences) regard it as a romance or comedy.
Setting for Cymbeline
Ancient Britain.
Plot of Cymbeline
Get ready for many twists and turns loosely based on events, places, and political positions familiar to Shakespeare's audience but not to most people today.
Here are a few highlights of the beginning of Cymbeline's plot:
Cymbeline, installed by Rome as the King of England, discovers that his only daughter Imogen (and currently his only known child, since a nobleman named Belarius but now using the name Morgan kidnapped his two sons 20 years earlier in retaliation after Cymbeline banished him, Belarius/Morgan, from Britain) has secretly married Posthumus Leonatus, another member of the royal household who is not royal because he is an orphan
Cymbeline dissolves the marriage, banishes Posthumus, and reminds Imogen of her duty to produce a royal heir to the throne by marrying a royal
Cymbeline's Queen (and Imogen's stepmother) plots to have her son Cloten from a previous marriage marry Imogen to ensure that she (the Queen) will remain the Queen; at the same time, she's also plotting to kill Imogen and Posthumus with poison obtained from the court doctor Cornelius
Cornelius harbors suspicions of the Queen and therefore substitutes a sleeping potion for the poison which he gives to the Queen who then gives it to Imogen's servant Pisanio and tells him that it is a medicinal drug
Imogen avoids Cloten's advances by staying in her chambers; meanwhile, Posthumus is living in Italy where he meets somone named Giacomo who bets Posthumus that he (Giacomo) can seduce Imogen and bring back proof of her infidelity
At this point, the stage is set (so to speak) as the plot continues to unfold with a series of twists: seduction attempts, disguises, tax evasion, an invasion, rescues, conspiracies, betrayals, reunions, murder and death, confessions, a peace accord, and a big feast.
Commonwealth Shakespeare's productions are always fast-paced, entertaining, and though-provoking. Cymbeline promises to be an evening to remember.
What is the Meaning of Cymbeline?
On the surface, this play seems like pure entertainment, good for a few laughs, gasps, and suspense.
But critics looking for a broader meaning point out that Shakespeare may have been portraying the commonly view of 16th century Italy as a hotbed of vice, debauchery, and corruption - reasons cited by many Britons when arguing why their country should avoid contact with the rest of Europe. At the same time, others wanted to unite Scotland with England and Wales, form a British empire similar to the former Roman Empire, and spread British values to the Continent. Would isolation or union "win"? Cymbeline's early audiences no doubt held diverse views as they watched the play unfold.
Although it was hugely popular during the 1700s, Cymbeline is one of Shakespeare's least-remembered plays today. But as the debate about Brexit and the European Union continues across the Atlantic and tensions between nationalism vs globalism play out in many countries, it's an interesting choice for this summer's presentation by Commonwealth Shakespeare.
Why Does this Play Seem Familiar?
Cymbeline has become increasingly popular during the past two decades, although it is still one of Shakespeare's least well known plays.
However, if you are an Ethan Hawke fan, you may have seen his memorable 2014 film version with an urban gang war setting and with Ed Harris, Dakota Johnson, Penn Badgley, Milla Jonovich, Anton Yelchin, and Hawke in the leading roles.
---
Bottom Line: Will You Enjoy Cymbeline?
Yes, absolutely. Commonwealth Shakespeare Company excels at making even the most difficult plays accessible, and you can be sure they'll deliver an absorbing, compelling, contemporary performance to leave you entertained ... and perhaps even thoughtful.
---
Where to Stay Nearby
Watch Shakespeare on the Common, and then stroll back to your hotel in five minutes or less when you stay at one of these popular hotels overlooking the Common, or just a block away.
---
What to Expect in This Year's Performances
Typically, the 18 or so Shakespeare on the Common performances attract 50,000 - 100,000 people each season. Without a doubt, this is one of the most popular Boston theater events of the year.
In case you're inwardly groaning at the idea of an evening of Shakespeare, rest assured that this is not the stodgy stuff that you may remember from high school.
The high-energy performance typically mixes in plenty of humor and a few bawdy jokes - perhaps not so different in spirit from how William Shakespeare's actors kept their diverse audience entertained in the Globe Theatre 400 years ago.
---
What to Bring to Shakespeare on the Common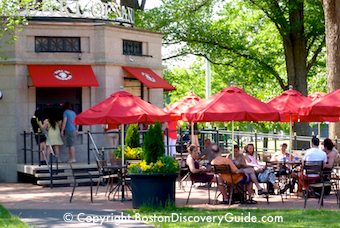 At a minimum, bring a blanket to sit on. The elevated, well-lit stage is at the bottom of a gentle slope, so you will be able to see well from wherever you're sitting. Some people also bring low folding chairs.
Mosquito repellent is always a good idea, and you should also bring an umbrella if there is any chance of rain. A light sweater or jacket can be useful even on muggy nights, which can turn cooler than you might expect.
The area closest to the stage begins to fill up about 2 hours before the performance.
However, the lighting and sound systems make it easy for you to see and hear what's going on even if you're sitting far from the stage, so this is one time when you don't need to worry about getting a "good" spot.
Lots of people bring picnic dinners, and along with something cold and refreshing to drink. But if you don't have time to pack a dinner, don't worry. Stop by Earl of Sandwich (shown in photo) for casual fare. Other food vendors and food trucks will be nearby during many performances.
Alternately, have dinner before the performance at one of the terrific Theatre District restaurants just a block or two away, Chinatown restaurants two or three blocks away, or stop by a local Boston nightlife spot after the performance for a perfect summer evening.
Boston Insider Tips
Alcoholic beverages are prohibited in Boston parks. However, you may notice a number of discrete thermoses and other beverage containers among the rather mellow crowd.
More Theater Shows & Productions in Boston
TicketLiquidator Discount Code - Enter TLWINTER to get $10 off orders of $250+
TicketNetwork Discount Code - Enter TNTIX to get $10 off orders of $300+

More Things to Do in Boston
How to Save on Boston Hotels
Check out all our tips on how to find discounts, deals, and promo codes for Boston hotels. Whether you're looking for bargain accommodations or want to pay less for luxury, we'll show you How to Save on Hotels in Boston.
More about how to save on Boston hotels