Shakespeare on the Common in Boston - 2019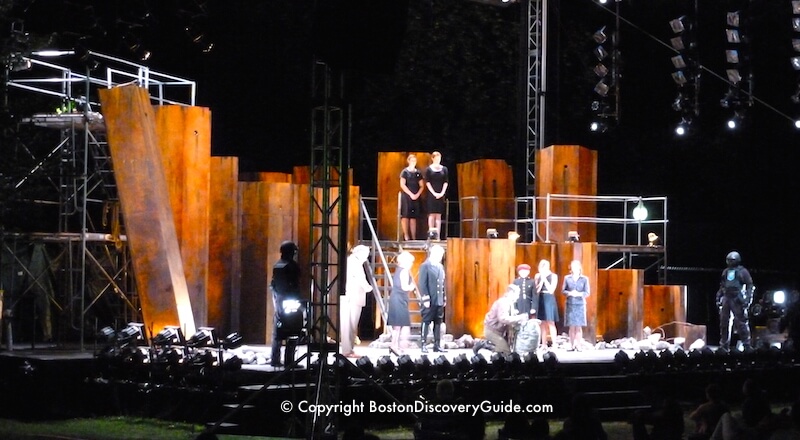 Get ready for a magical evening of Shakespeare on the Common as the Commonwealth Shakespeare Company stages Richard III, this year's annual "Shakespeare in the Park" production of free Boston theater during July and August.
There's nothing more perfect than enjoying one of these wonderful Shakespeare on the Common performances under the stars on a balmy Boston summer evening.
Performances take place in July and August on a temporary stage near the Parkman Bandstand on Boston Common.
Bring a blanket or low folding chair to sit on, and get ready to be entertained, to have your thinking challenged in new ways, and to listen to the thrilling language of Shakespeare, as meaningful today as when he wrote this play four centuries ago.
Check the Boston Event Calendar for July and August for exact dates and times.
---
"Cheat Sheet" for Shakespeare's Richard III: Can't Quite Recall this Play? Here Are Highlights
Shakespeare probably wrote Richard III in about 1593 after completing his three Henry IV plays, making it one of his earliest plays. Although an undisputed tragedy with a dark opening line - "Now is the winter of our discontent . . ." - the play contains enough humor to make it entertaining. Unlike Shakespeare's later tragedies such as King Lear, the main character cannot be described as a "tragic hero" and does not experience any sort of epiphany or redemption.
Setting for Richard III
England in 1471 prior to the reign of King Richard III.
Plot of Richard III
Get ready for many twists and turns loosely based on historical events familiar to Shakespeare's audience but not to most people today.
The King Richard III of Shakespeare's play is a ruthless and narcissistic, although occasionally witty and amusing, villain who murders his way to power during violent 15th century England. Shakespeare depicts him as an ugly hunchback, whose physical deformities reflect his morality. Fortunately, plenty of humor - mostly at Richard's expense - keeps the play from being nearly as grim as the plot might suggest.
The play opens with Richard speaking these famous lines: "Now is the winter of our discontent . . .." The action moves quickly as Richard plots and brings about the murder of his brother, King Edward IV of the House of York. He kills a number of other perceived enemies, and marries a woman he plans to discard later. As Richard positions himself to be seen as a simple and devout man, one of the "people" and therefore the true heir to the throne, the plot twists and turns with intrigues, quarrels, and betrayals against the backdrop of a toxic and chaotic court.
Despite having numerous rivals beheaded and bullying the remaining nobles into accepting him as king, Richard continues to feel threatened by his young nephews, the rightful heirs to the throne, so he recruits someone to kill them and then he poisons his wife in order to tie up loose ends, so to speak, by wooing his niece Princess Elizabeth (the nephews' sister and daughter of Edward VI, in case you're losing track).
At this point, Richard's schemes begin to unravel, as his increasing paranoia alienates his supporters including his cousin and ally Buckingham, who turns against Richard and defects to the side of Henry, the exiled Earl of Richmond. Buckingham leads a rebellion and Richmond returns and invades, triggering the Battle of Bosworth Field. Outnumbered and without a horse, f Richard is killed in a duel with Richmond, who ascends the throne as King Henry VII and marries Princess Elizabeth of York.
What is the Meaning of Richard III?
Above all, Richard III provides insight into how a monstrous tyrant gains a position of power.
How does Richard succeed to the degree that he does? By deceiving those around him by pretending to be a simple pious man caught up in and responding to the forces around him, while in reality he ruthless plots every step of the way. The audience can see this all along through the little speeches, or "asides" Richard makes to the audience - but the irony is that the other characters in the play see only the illusion Richard wants them to see until the end. At that point, they see him for what he is, turn against him, and exert their own power to overthrow him.
What Does this Play Seem familiar?
You may have seen BBC Two's The Hollow Crown Series with Benedict Cumberbatch in the role of Richard III.
And of course, the play inspired the theme and title of American writer John Steinbeck's rather bleak last novel exploring moral decay, The Winter of Our Discontent.
Bottom Line: Will You Enjoy Richard III?
Yes, absolutely. Commonwealth Shakespeare Company excels at making even the most difficult plays accessible, and you can be sure they'll deliver an absorbing, compelling, contemporary performance to leave you entertained ... and perhaps even thoughtful.
---
Where to Stay Nearby
Watch Shakespeare on the Common, and then stroll back to your hotel in five minutes or less when you stay at one of these popular hotels overlooking the Common, or just a block away.
---
What to Expect in 2019 Performances
Typically, the 18 or so Shakespeare on the Common performances attract more than 100,000 people. Without a doubt, this is one of the most popular Boston theater events of the year.
In case you're inwardly groaning at the idea of an evening of Shakespeare, rest assured that this is not the stodgy stuff that you may remember from high school.
The high-energy performance typically mixes in plenty of humor and a few bawdy jokes - perhaps not so different in spirit from how William Shakespeare's actors kept their diverse audience entertained in the Globe Theatre 400 years ago.
Boston Hotels with Outdoor Swimming Pools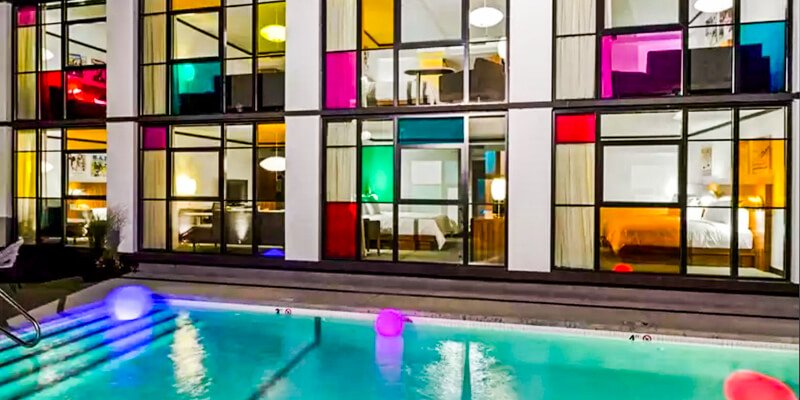 ---
What to Bring to Shakespeare on the Common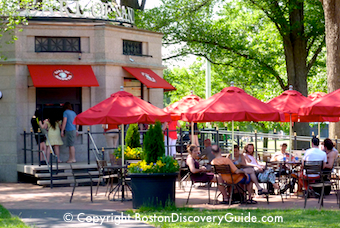 At a minimum, bring a blanket to sit on. The elevated, well-lit stage is at the bottom of a gentle slope, so you will be able to see well from wherever you're sitting. Some people also bring low folding chairs.
Mosquito repellent is always a good idea, and you should also bring an umbrella if there is any chance of rain. A light sweater or jacket can be useful even on muggy nights, which can turn cooler than you might expect.
The area closest to the stage begins to fill up about 2 hours before the performance.
However, the lighting and sound systems make it easy for you to see and hear what's going on, so this is one time when you don't need to worry about getting a "good" spot.
Lots of people bring picnic dinners, and along with something cold and refreshing to drink. But if you don't have time to pack a dinner, don't worry. Stop by Earl of Sandwich (shown in photo) for casual fare. Other food vendors and food trucks will be nearby during many performances.
Alternately, have dinner before the performance at one of the terrific Theatre District restaurants just a block or two away, Chinatown restaurants two or three blocks away, or stop by a local Boston nightlife spot after the performance for a perfect summer evening.
Essentials: Shakespeare on the Common
Alcoholic beverages are prohibited in Boston parks. However, you may notice a number of discrete thermoses and other beverage containers among the rather mellow crowd.