South Boston Waterfront hotels put you right in the middle of Boston's most sizzling neighborhood, which includes the Seaport District along the Harbor and the Fort Point area between Fort Point Channel and the Massachusetts Convention Center.
All of these hotels are convenient to the Convention Center, the Flynn (Black Falcon) Cruise Terminal (aka "CruisePort"), and popular concert venue Leader Bank Pavilion, as well as the many other attractions and businesses in this area.
Look for a wide variety of amenities designed to attract business and leisure travelers: spacious guest rooms, rooftop bars with great views, cutting edge design, recreational facilities such as indoor atrium swimming pools, and exciting public spaces.
Best of all, you're only 5-10 minutes from Boston Logan Airport by cab or water taxi, plus all the neighborhood's trendy restaurants and nightlife, museums, art galleries, and boutiques are at your doorstep.
Top photo: South Boston Waterfront along Harborwalk, (c) Boston Discovery Guide
Boston Discovery Guide is a reader-supported publication. When you buy through our links, we may earn a commission at no additional cost for you. Learn more
---
Residence Inn Seaport
Comfortable accommodations and fun public spaces provide all of the comforts of home at the Residence Inn Seaport.
However, this Marriott Residence Inn offers a twist: its 120 suites and studios occupy a former 6-story red-brick firehouse.
With 12 foot ceilings, glass elevators, and lots of firehouse artifacts, you can enjoy the unique historical space whether you are here just overnight or for an extended stay.
Enjoy the complimentary breakfast - and the convenient location near museums, the Boston Tea Party Ship, the Spirit of Boston harbor cruise ship, and of course the neighborhood's lively restaurants and nightlife.
---
Yotel Boston
Yotel Boston offers something different: luxurious but super-compact rooms (Yotel calls them "cabins") giving guests everything they need and nothing they don't combined with a club-like lounge, a rooftop terrace with a restaurant and bar, and an excellent location in the heart of the Seaport district - all at a very affordable price.
Since the hotel is directly across from the MBTA's Silver Line Courthouse stop, you can easily take the "T" directly to and from the airport - or opt for a water taxi.
Need more space? Larger (and pricier) cabins and even 2-room suites are also available.
---
Envoy Hotel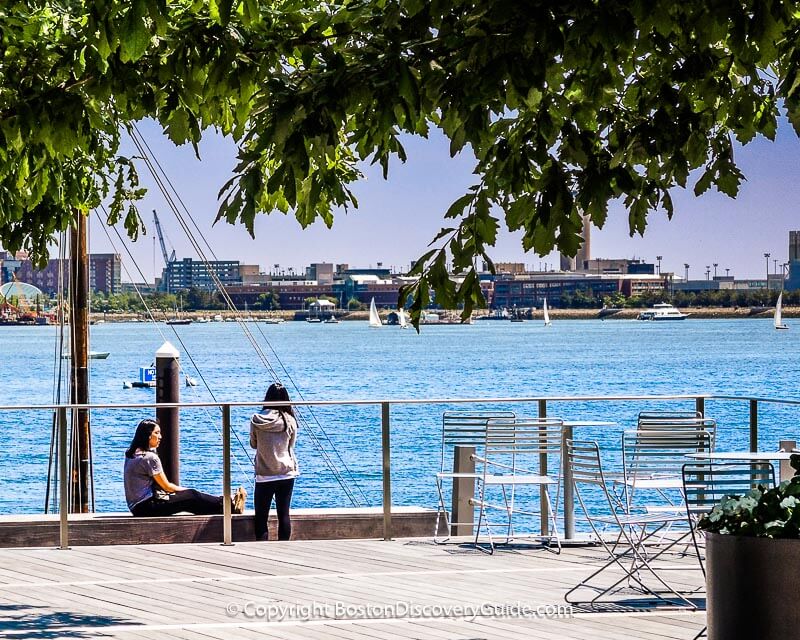 65 Seaport Boulevard in Boston's Seaport District/South Boston Waterfront
The 6-floor Envoy Hotel by Marriottoffers sleekly elegant decor, water and city views, and a couple of amenities that set it apart from other nearby hotels: The Lookout, a rooftop bar offering small bites and cocktails, and complementary bicycles to enjoy during your stay.
The hotel's Fort Point location puts it right in the middle of this artist-friendly neighborhood's fine dining options, and just a short walk from the Children's Museum, the Boston Tea Party Museum, and art galleries.
---
More Boston hotels: All Boston Hotels - Newest Hotels - Deals & Discounts - Theatre District Hotels - Boston Marathon - Hotels with Fireplaces - Seaport/CruisePort Hotels - New Year's Eve Packages - Inexpensive Hotels - Discount Hotels - Back Bay Hotels - Hotels near Fireworks - Hotels with Outdoor Pools - Faneuil Market Hotels - Valentine's Day Packages - Downtown Boston - Park & Fly - Airport Hotels - Waterfront - Seaport - Historic Downtown - Suburban Hotels - Fenway Park Hotels - TD Garden Hotels - Gillette Stadium Hotels - Financial District
---
Aloft Boston Seaport
401 D Street, Seaport/South Boston Waterfront
A mix of comfortable guest rooms, light-filled public spaces, and a convenient location next to Boston's Convention Center makes the Aloft Boston Seaport an easy choice in this neighborhood.
You're just a short walk to Seaport restaurants, nightlife, and cultural attractions - or hop on the Silverline to the Downtown Financial District, Freedom Trail, and other Boston attractions. The Aloft is also close to CruisePort.
---
Renaissance Boston Waterfront Hotel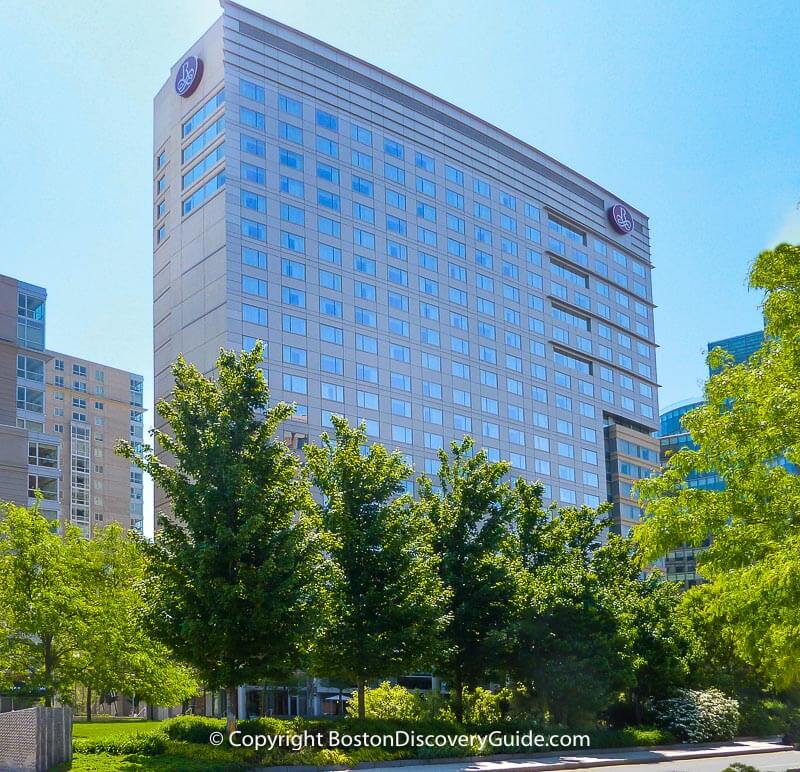 Renaissance Waterfront Hotel offers the same mix of high-end business hotel amenities as the other hotels in the neighborhood, which means you'll have a very comfortable stay.
Like the Seaport Hotel, the Renaissance is only a block or two (depending on how you count) from the BCEC, as well as being close to all the other neighborhood attractions.
Preferred guest program: Marriott
---
Homewood Suites by Hilton Boston Seaport
670 Summer Street, South Boston Waterfront
Spacious studios and suites make Homewood Suites Boston Seaport an excellent choice for your stay close to Boston's Convention Center, Boston's Cruiseport (about 50 steps away), and the South Boston Waterfront/Seaport district with numerous dining and entertainment possibilities.
Logan International Airport is also less than 2 miles away, so you can easily reach it in just a few minutes.
The hotel boasts an indoor swimming pool and health club, and convenient breakfast facilities.
---
Westin Waterfront Hotel
The Westin Boston Waterfront connects directly to the Boston Convention and Exposition Center (BCEC) through a sky tunnel. If you're attending an event at the Convention Center, the Westin will be your most convenient choice.
As a bonus, the Westin even boasts an onsite comedy club, Laugh Boston.
A Silver Line transit stop in front of the BCEC gives you easy access (5 minutes or less) to Boston's South Station and Downtown Boston. Alternately, you can easily walk there (8-10 minutes).
---
Hampton Inn Boston Seaport District
670 Summer Street, Building 1, South Boston Waterfront
Co-located with Homewood Suites Seaport, Hampton Inn Boston offers standard (although spacious) guestrooms rather than studios and suites, and somewhat budget-friendlier rates.
Otherwise, these "sister" hotels share a lot in common: attractive public spaces, an indoor swimming pool and fitness room, onsite breakfast options, and a wonderful location close to the Convention Center, Cruiseport, Logan Airport, and all of the great dining and entertainment options in the trendy new South Boston Waterfront/Seaport neighborhood.
---
Omni Boston Hotel at the Seaport
450 Summer Street, South Boston Waterfront
The 21-floor Omni Boston Seaport Hotel, with direct access from Boston Convention & Exhibition Center, offers 1,054 guestrooms including 52 suites, making it the city's 4th largest hotel - and the biggest to open since 1984.
(In case you're wondering, the huge hotel that opened in 1984 was the mammoth 1,144-room Boston Marriott Copley Place.)
The Omni also contains Boston's two largest ballrooms.
You can relax by the rooftop swimming pool with bar, choose from among seven different restaurants, clubs, and bars, and pamper yourself at the luxury spa and fitness center.
The spacious guestrooms feature elegant contemporary furnishings, and most offer sweeping views of the city.
---
Element Boston Seaport
391 D Street, Seaport/South Boston Waterfront
Located across the street from the Boston Convention and Exhibition Center, the Element Boston Seaport Hotel offers a mix of guestrooms, studio suites, and suites, all sporting comfy pillowtop king beds and fully equipped kitchens.
Like its Marriott Aloft sibling next door, the Element is close to CruisePort, restaurants overlooking Boston Harbor, and other Seaport District attractions such as the Leader Bank Pavilion, home to many of Boston's top summer concerts.
---
Seaport Boston Hotel
With 18 floors soaring high over the harbor, Seaport Boston Hotel gives you terrific water views as well as the convenience of connecting to the World Trade Center, home to many events such as the annual Flower and Garden Show.
Spirit of Boston lunch and dinner cruises depart across the street from the hotel. ICA (Institute of Contemporary Art), the Boston Children's Museum, and Leader Bank Pavilion are all just a short walk away.
---
Which Seaport/South Boston Waterfront Hotel Should You Choose?
With a variety of excellent hotels to choose from in the Seaport District / South Boston Waterfront neighborhood, how do you pick one?
Here are our suggestions:
What if none of these factors apply?
Make reservations in whichever hotel offers the cheapest rate. - which will often be YOTEL, proving that being hip and stylish doesn't have to flatten your wallet.
---
Map of South Boston Waterfront Hotels
Seaport / South Boston Waterfront hotels attract four main types of visitors: attendees at Boston Convention Center events, vacationers departing from/returning to CruisePort, business travelers visiting the biotech, financial services, and other companies in the Seaport District, and leisure travelers taking advantage of the neighborhood's many attractions as well as easy access to Downtown Boston.
Hotels closest to the Convention Center include the

Westin Waterfront, with direct access, and the
Aloft Boston Seaport and

Element Boston Seaport (both by Marriott) across the street.
If CruisePort is your destination, the

Renaissance Waterfront is closest, although the

Westin is only slightly farther.
The

Seaport Boston Hotel is a long-time favorite of business as well as leisure visitors, but the newer

Envoy,
YOTEL, and

Residence Inn also offer a lot of convenience, comfort, and easy access to nearby attractions.
If you're looking for lower rates, check out YOTEL, Aloft, and Element.
Traveling with your family? The suites and studio suites at Residence Inn and Element will give you extra space as well as the convenience of a kitchen.
---
Boston Insider Tip: How to Get Waterfront Views
While none of these hotels is directly on the waterfront, you will get expansive Boston Harbor views from upper floors of the Seaport, Westin, Envoy, Renaissance, and others, depending on your room's location. If you want a water view, be sure to request it when making reservations. Ditto for a city skyline view.
---
Boston Hotel Map
Want to see available hotels and rates at a glance? Enter your travel dates in this Boston hotel map from Booking.com:
More about how to save on Boston hotels
---
Closest Downtown Hotels near Seaport
With conventions, business visitors, CruisePort, the Leader Bank Pavilion, and a sizzling nightlife scene creating huge competition for reservations at the Seaport/South Boston Waterfront hotels, you may try to book a room only to find that they're all full.
If so, turn to these three excellent downtown hotels just a short distance away:
---
More Articles about South Boston Waterfront & Seaport
---
Fun Ways to See Boston during Your Visit
---
Need a Boston Hotel or Apartment?
Use this handy map from Booking.com to find the perfect place to stay. Just enter your dates to find what's available, see the best rates, and make your reservations.