The South Boston Waterfront gets a lot of well-deserved buzz as the city's most exciting neighborhood.
Popular museums and art galleries, entertainment venues, excellent hotels, numerous restaurants, and the lively waterfront surrounding most of the neighborhood provide visitors and locals with plenty to do.
Seaport, the area facing Boston Harbor, boasts glitzy waterfront restaurants and bars, concerts almost every summer night at the Leader Bank Pavilion, Harpoon Brewery, trend-setting Institute of Contemporary Art, and departure points for Harbor cruises.
Harborwalk, the public walkway along Boston's waterfront, gives you an easy way to walk along the Harbor, enjoy interesting views, and check out all the restaurants overlooking the water.
At the eastern tip of this area, Boston's CruisePort welcomes cruise ship passengers to Boston from April to November.
South of Atlantic Ave, the arty Fort Point is sandwiched between the channel separating the neighborhood from Boston's Downtown Financial District on the west and the Massachusetts Convention and Exposition Center on the east.
Dotted with art galleries, the fun and immersive Boston Tea Party Ships & Museum, and the always-popular Boston Children's Museum, Fort Point boasts innovative chef-owned restaurants along Congress Street and adjacent streets, as well as terrific city skyline views across the channel.
And almost hidden behind the Convention Center, you'll discover Lawn on D, a fun park/entertainment space.
Top photo: Dining along the South Boston Waterfront overlooking Boston Harbor 
Boston Discovery Guide is a user-supported website. When you buy through our links, we may earn a commission. Learn more
---
1. Tea Party Ships & Museum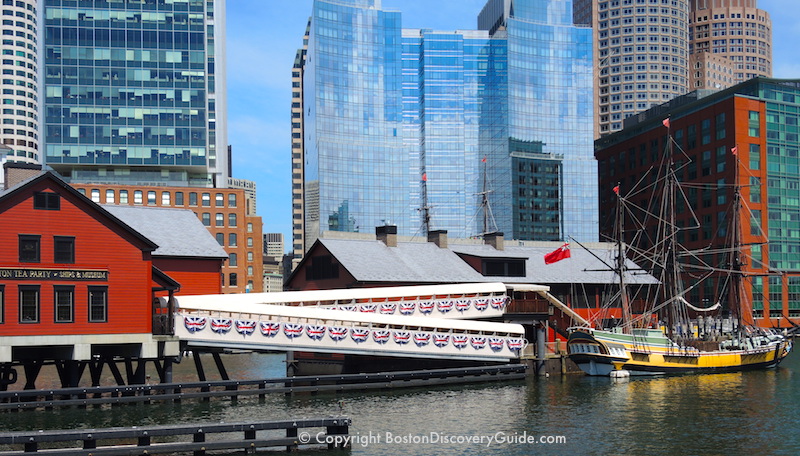 As the city's newest museum and one of the best, the Boston Tea Party Ships & Museum gives you an all-encompassing, totally immersive experience that brings to life the time and events leading up to the American Revolution.
The guided 1-hour tour of the Boston Tea Party Ships and Museum takes you back to the momentous December night in 1773 when the Sons of Liberty touched off the American Revolution with their tea party in Boston Harbor. Costumed actors, interactive displays, and high tech add to the realism.
You'll be entertained, but you also get to participate, explore, and learn. There's nothing else quite like it in Boston! Great for adults as well as kids and teens, and definitely one of Boston's top visitor attractions.
More information & tickets for the Boston Tea Party Ships & Museum
---
2. Leader Bank Pavilion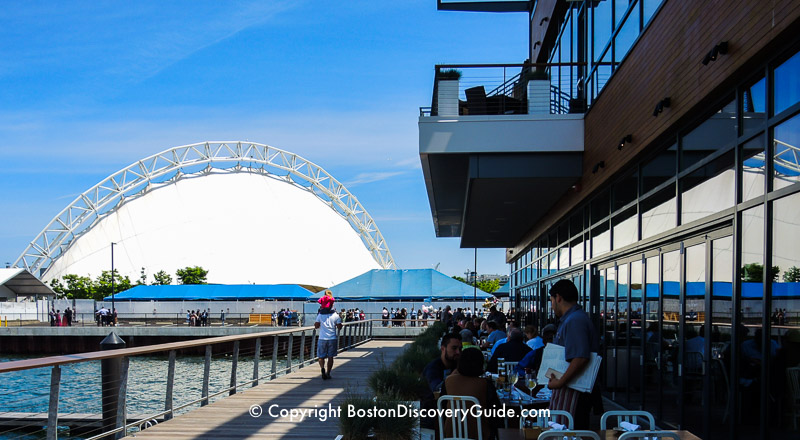 Leader Bank Pavilion (formerly Bank of America Pavilion) overlooks Boston Harbor and is where you'll find Boston's hottest summer concerts. Their shows begin around Memorial Day and continue until late September/early October.
A terrific sound system, cool breezes from Boston Harbor wafting through the open-air pavilion sides, and spectacular views of city lights dancing across the water add to the magic.
Performers range from top headliners of today to popular groups from decades past, and shows almost always sell out.
Concert Schedule & Tickets:
Enter DISCOVERY10 to save 10% on TicketLiquidator & TicketNetwork tickets. Good through 12/31/24.
See complete concert schedule for Leader Bank Pavilion
Find more Boston concert schedules
---
3. Boston's CruisePort - Flynn Cruise Terminal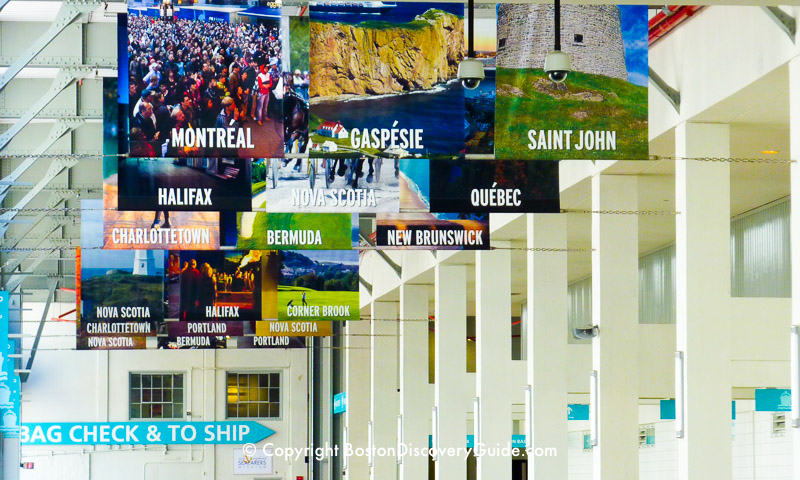 Anchoring the eastern tip of the South Boston Waterfront, the Flynn Cruise Terminal - also known as CruisePort - welcomes cruise passengers to Boston.
Whether you're arriving for a 1-Day Port of Call visit to Boston or departing on a cruise, you'll appreciate the convenient location. You can explore the neighborhood on foot, hop on the Silver Line bus near the terminal for the 10-minute trip downtown, or opt for one of the shore excursion tours around Boston on hop-on hop-off trolleys or to famous Revolutionary war sites.
More about getting to and from CruisePort
---
4. Institute of Contemporary Art Boston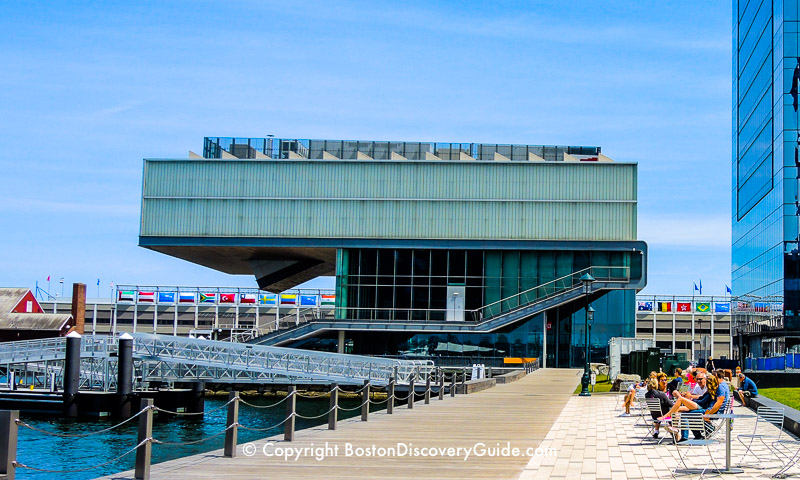 Want to see the latest mind-bending contemporary trends in art, performances, and video?
ICA Boston's dramatic space (100 Northern Ave) overlooking Boston Harbor is where you'll find them.
Although admission is reasonably priced, you can visit for free on Thursday evenings (5pm-9pm) and anytime with a GoBoston discount card.
---
5. Seaport Waterfront Restaurants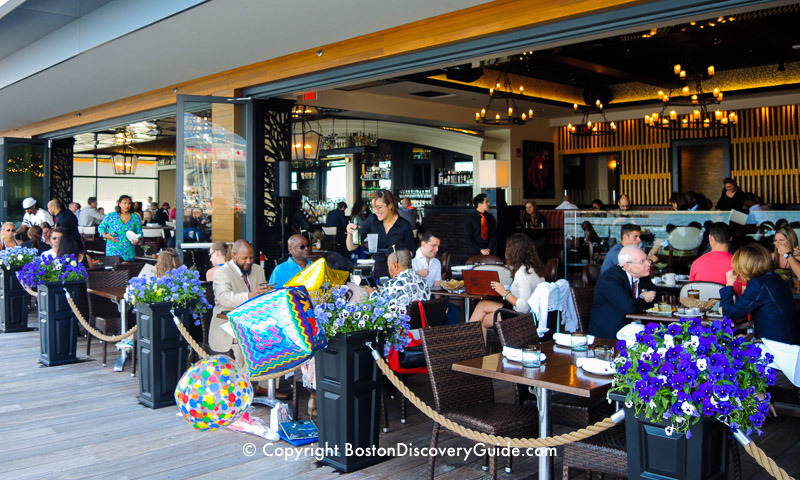 Seaport's waterfront overlooking the Harbor is lined with wonderful restaurants and bars.
You find plenty of fresh, perfectly prepared seafood as well as Italian, Mexican, French, Asian, and American cuisine.
Check all the dining and drinking choices
---
6. Fort Point Restaurants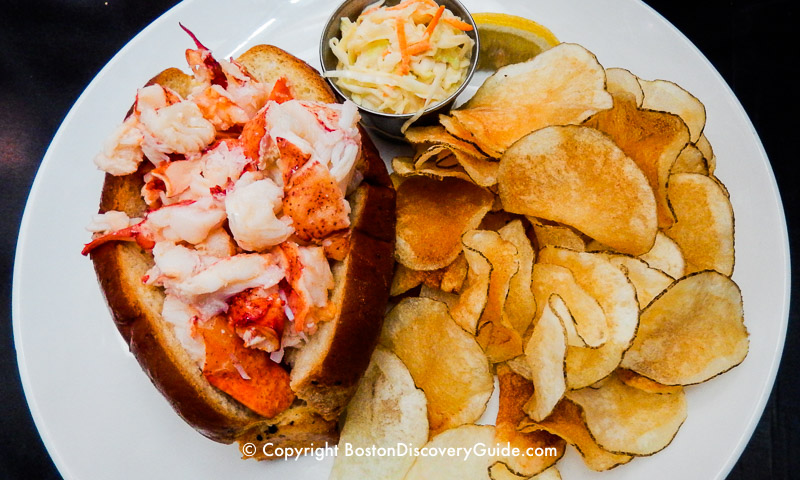 In the art-filled Fort Point area south of Congress Street, a large number of chef-owned restaurants offer innovative cuisine that draws in diners from all over the city. You'll encounter fewer tourists than in the restaurants along the waterfront while experiencing some of the city's best cuisine . . . a top seafood restaurant, French, modern Asian fusion, and a lot more!
More about Fort Point restaurants
---
7. Boston Children's Museum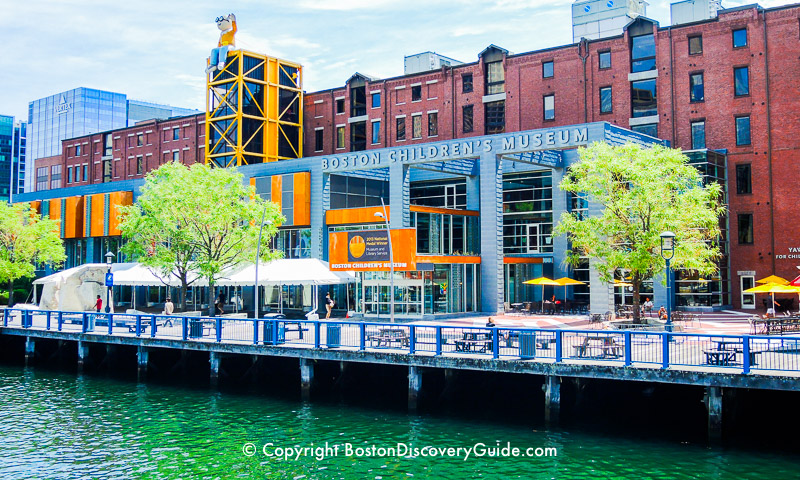 Interactive hands-on exhibits appeal to the 2-10 year old crowd at Boston Children's Museum (308 Congress Street) - a favorite of Boston kids and their parents. There's even a special area for infants.
A huge climbing maze, hands-on activities, lots of permanent and visiting exhibits, and terrific city skyline views from the plaza overlooking Fort Point Channel provide plenty of places to play, explore, and relax.
Behind the museum, stop by Martin's Park (64 Sleeper Street), named for the youngest Boston Marathon bombing victim and a lovely leafy oasis and children's playground overlooking Fort Point Channel.
More about Boston Children's Museum
---
8. Fort Point Galleries & Art Walks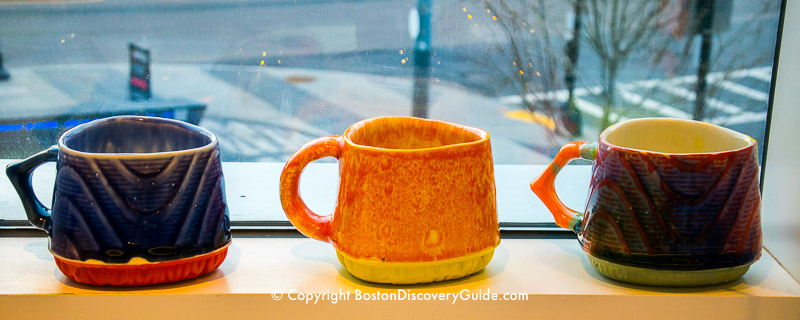 Over 300 artists, photographers, digital artists, performers, jewelers, designers, and writers reside and work in studios in the former warehouses of Fort Point. One of the pleasures of being in the neighborhood is exploring the galleries, visiting studios, and perhaps even taking a class or two.
To explore galleries, start at the Society of Arts and Crafts (100 Pier 4 Blvd, just off of Seaport Boulevard). It's actually in the Seaport area, but as the oldest arts and crafts non-profit in the country and with a spectacular space in which to display works of top contemporary artisans, it provides the perfect gateway to the neighborhood's rich artistic treasures. Then, head over to the Fort Point Arts Community Gallery (FPAC) (249 A Street) where juried shows present the creations of mostly-local established and well-known painters, sculptors, printmakers, and other artists. More to visit: Midway Gallery (15 Channel Street, M-F 10am-4pm) for the art of local and global artists.
Twice each year, you can visit the studios/residences of many of the artists during Open Studios/Art Walks. Check our May and October calendars for exact dates. You can easily spend an entire day or more visiting the studios, chatting with the artist, and perhaps buying your favorite piece.
Want to take a class from talented neighborhood artists? Boston Photography Workshops (15 Channel Center Street) offers a wide range of photography classes for beginners to experts. For classes in painting and other media, check with FPAC for recommendations.
---
9. Harpoon Brewery & Trillium Brewing Company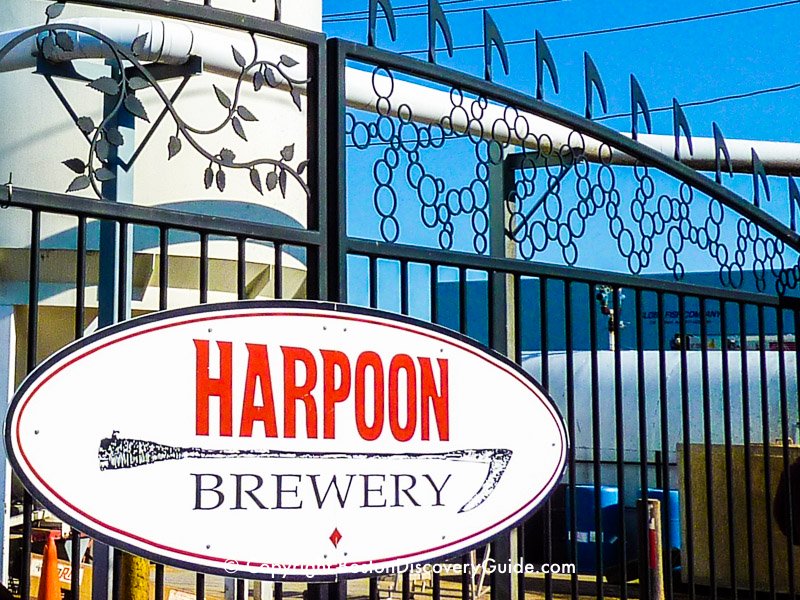 Two highly-rated craft beer breweries call the South Boston Waterfront neighborhood "home."
The largest specialty brewer in New England, Harpoon Brewery and Beer Hall (306 Northern Ave) hosts tours (11am, most days), tastings, and Octoberfest, one of the most popular fall festivals in Boston. Check the Harpoon website for the tasting schedule.
Trillium Brewing Company (369 Congress Street) is a New England farmhouse style brewery specializing in wild ales fermented with local mixed microbe culture. Stop by to fill a growler or buy a 4-pack case.
You can also enjoy Trillium brew by the glass from May through October at their Trillium Beer Garden on the Greenway.
---
10. Lawn on D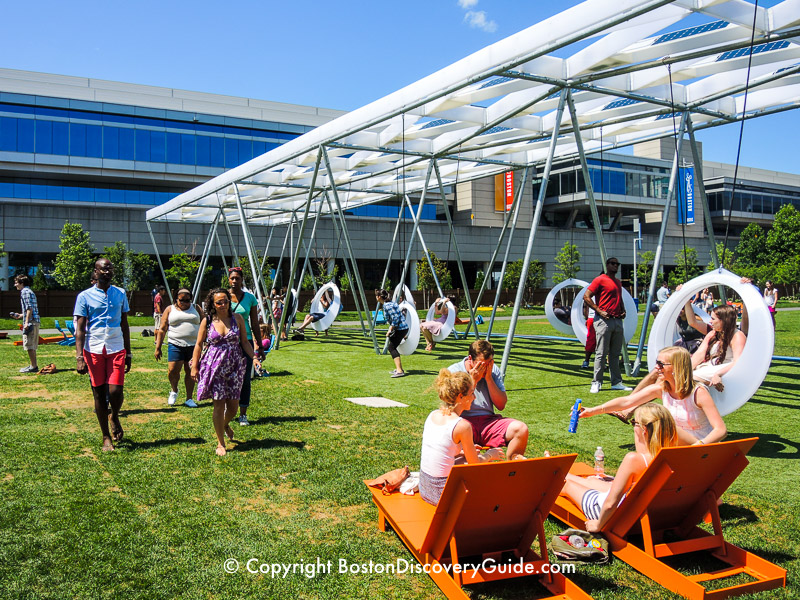 Think of Lawn on D, located on D Street behind the Boston Convention & Exhibition Center (415 Summer Street) in the South Boston Waterfront, as a playground for adults.
In addition to the circular swings and lounge chairs, you'll find lawn games to play: giant chess, lawn checkers, beanbags, and - you have to see this to believe it - an enormous version of Connect Four.
You can also enjoy free lunch-time concerts, ticketed evening concerts, a movie series, special kids events, and art installations throughout the summer, along with wine, beer, and non-alcoholic beverages plus food at the Pavilion.
But even when no special events are underway, the Lawn gives you a perfect place to just chill under the summer sun.
Lawn on D is occasionally closed for private or ticketed events - so before you stop by, check their Facebook page to see what's happening.
Getting there on MBTA: Silver Line/World Trade Center stop
Open: Seasonally - usually from late spring through late fall
---
11. Fall Foliage in Seaport & Fort Point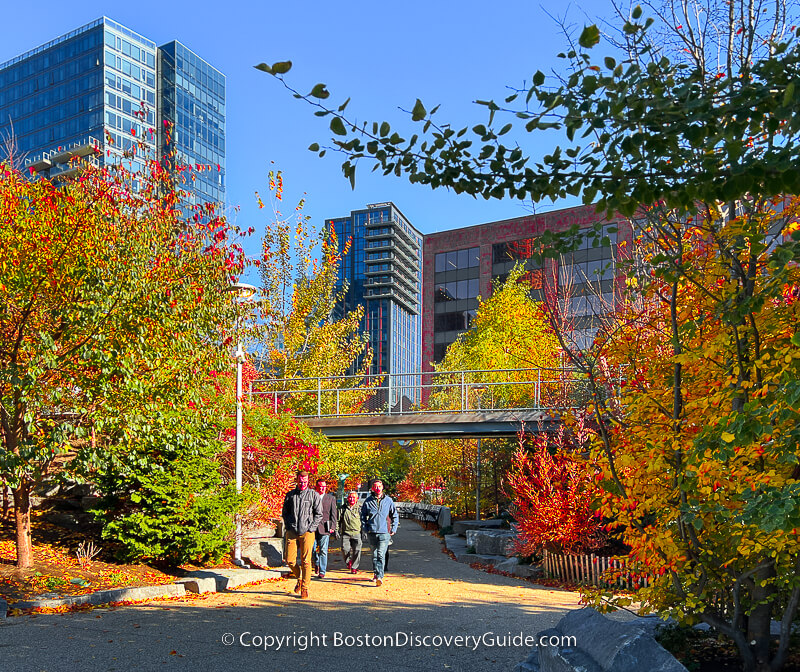 Although the South Boston Waterfront including Seaport and Fort Point may be better know for its gleaming new highrises and gorgeous waterfront, you'll find a surprising amount of colorful fall foliage.
Look for large swaths of gorgeous color from late September through November (and muted colors even in December) along Harborwalk and the neighborhood's various mini-parks and green (now turned golden) spaces.
Find out more about where to see fall foliage in the South Boston Waterfront plus other city neighborhoods
---
12. Fallen Heroes Memorial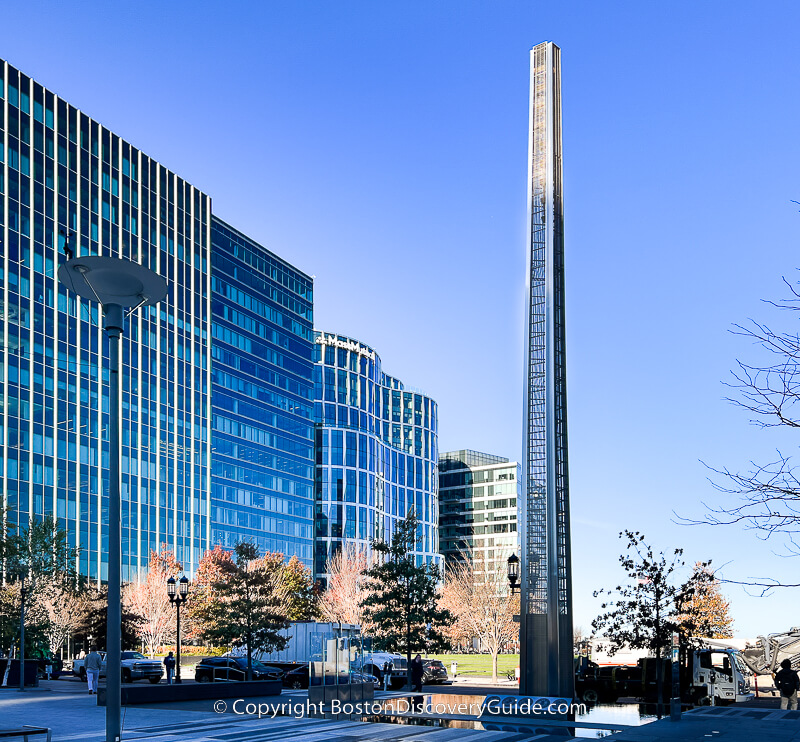 Located in Seaport Park (Seaport Blvd) overlooking the Harbor in the South Boston Waterfront neighborhood, the Fallen Heroes Memorial honors Massachusetts service members killed in Iraq and Afghanistan since September 11, 2001. The memorial's obelisk soars 50 foot high, with its five sides symbolizing the five branches of U.S. Military Service.
During the day, the tower reflects the waterfront's changing light, often seeming to sparkle if you're standing at a distance. At night, internal lighting makes it visible from different points around Downtown Boston and the Harbor.
Dedicated in 2016, this is Boston's newest war memorial.
Find more Boston war memorials
---
13. Snowport: Winter Holiday Market in Boston's Seaport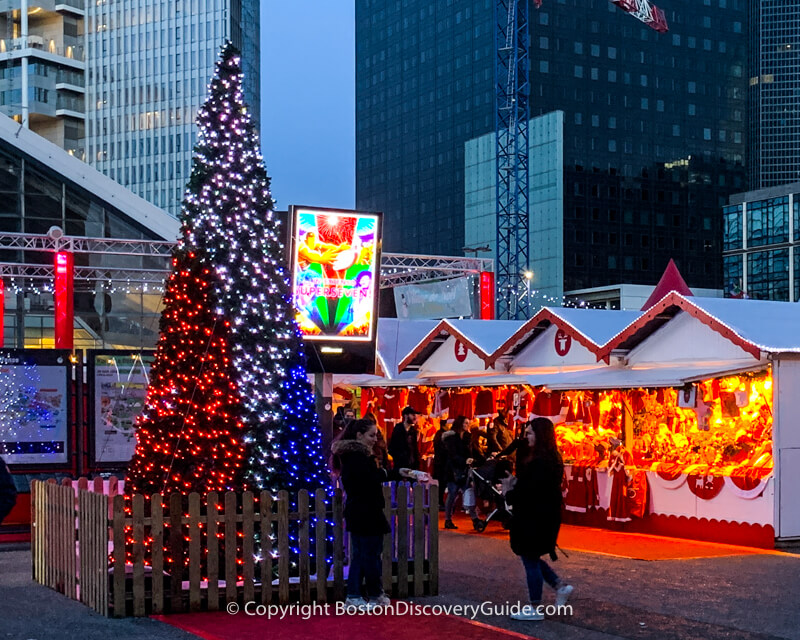 Seaport's popular European-style Winter Holiday Market at Snowport opens each year in early November and continues through early January, lighting up the holiday season with shopping, fun activities, food, and beverages.
The market typically features 120+ small businesses selling art, jewelry, home goods, apparel, and other gifts and crafts, plus seasonal treats such as hot chocolate, freshly-made waffles, craft beer, and more from 19 different food and beverage spots.
In addition, lots of fun activities and events such as iceless curling, fun games, a tree market, and even the "Light Up Seaport" holiday tree lighting celebration in early December keep everyone entertained. tons of fun - so don't miss it!
It's always tons of fun - and the perfect reason to visit Seaport in the late fall and early winter.
Location: 100 Seaport Boulevard in Boston's Seaport neighborhood
Closest T station: Silver Line SL1 / Courthouse
Dates/Hours: November 11 - December 31 (except for Thanksgiving Day, Christmas Day, & December 26); hours vary so check their website
---
Where to Stay: Seaport and Fort Point Hotels
---
More to Do in the South Boston Waterfront Neighborhood
Walk along Harborwalk, the public access waterway stretching along Fort Point Channel and Boston Harbor as a starting point for exploring the neighborhood
Visit the Fallen Heroes Memorial, a soaring 50 foot high obelisk in Seaport Park (Seaport Blvd) honoring all Massachusetts service members who died while fighting in Iraq and Afghanistan since 9/11 - More about this and other Boston war memorials
Drool over new models at the huge New England Auto Show, held each year in mid-January (check our January Calendar for exact dates and more info) at the Boston Convention & Exhibition Center
Visit the enormous and treasure-packed Boston Design Center near CruisePort (yes, you can do this even if you're not a professional designer!)
---
More to See & Do in Boston
---
More Articles Related to South Boston Waterfront
---
More Historic Boston Neighborhoods to Explore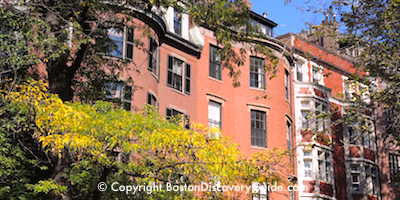 Beacon Hill - Historic Downtown Boston - Fenway - The North End - South Boston Waterfront - Bay Village - More about Boston Neighborhoods