Exploring the North End, Boston's oldest residential neighborhood, takes you through streets first settled by the Puritans.
Later, waves of Irish, Portuguese, and Jewish immigrants made the North End their home.
Finally the Italians arrived throughout the 20th century, giving the neighborhood the wonderful restaurants and cafes, Saints Day's feasts and festivals, and Columbus Day celebrations that attract so many visitors today.
You'll find today's North End filled with old buildings dating from 100 or more years ago, sleek condos, stunning waterfront views, Freedom Trail sites, gorgeous parks and green spaces, and interesting boutiques and food shops, plus several wonderful hotels where you can savor life in this unique part of Boston.
Top photo: Paul Revere House on the Freedom Trail in the North End's North Square
---
Things to Do and Top Attractions in the North End
Saints Feasts and Festivals - The North End turns into a giant street party on almost every summer weekend as residents celebrate different saints with huge feasts and festivals, as they have for the past 100 years, following traditions dating back to Italy.
Paul Revere's House (19 North Square) - Dating back to the 17th century, Paul Revere's medieval-style house is the oldest wooden residence still in its original site in Boston. On the fascinating tour, you'll see original household items in this home where Revere lived with his wife and 16 children. Included with Boston discount card
Old North Church - In 1775, on the eve of the American Revolution, Paul Revere arranged for lanterns to be hung from the steeple of the Old North Church to signal the path the Redcoats would take on the eve of the American Revolution before he left on his own midnight ride to alert the Massachusetts countryside.
Copp's Hill Burying Ground (21 Hull Street) - You can see plenty of 17th century grave markers with skulls and crossbones here in Boston's 2nd oldest cemetery, dating from 1660. Some gravestones bear pockmarks from musketballs, made when the British expressed their contempt for the Colonists by using this burial ground for targat practice.
Paul Revere Mall (Hanover Street, near Clark Street) - This small brick-paved walled park, locally called "The Prado," features a wonderful statue of patriot and silversmith Paul Revere on horseback to represent his famous midnight ride. Bronze tablets on the walls document in fascinating detail the lives of other lesser-known North End residents.
Great Molasses Flood Site - (Puopolo Park, 529 Commercial St) - A small plaque marks the spot of this horrific disaster. Close to Copps Burying Ground on the Freedom Trail.
Steriti Ice Rink (561 Commercial Street) - Although this North End ice skating rink offers only limited public skating hours due to all the hockey teams with ice time, it's a lot of fun if your timing is right. No need to bring your own skates; rent them at the rink.
---
North End Hotels
Fairmont Battery Wharf Hotel
The luxury waterfront Fairmont Battery Wharf is the only hotel right in the neighborhood, as well as Boston's only waterfront boutique hotel. Sweeping views of the Harbor, a top on-site spa, and direct water taxi service from Boston Logan Airport make the Fairmont one of Boston's best hotels.
Rates /reviews for Fairmont Battery Wharf
Boston Marriott Long Wharf
The Marriott Long Wharf's location next to both the North End and the New England Aquarium and across the Rose Kennedy Greenway from Faneuil Hall Marketplace ensures its position as one of Boston's most popular hotels, especially with families.
The large indoor swimming pool is one of the nicest in the city, and for more entertainment, head to the IMAX theater next to the Aquarium or out to the Greenway with a frisbee.
You can easily walk to all of the North End's attractions within just a few minutes. If you're traveling with children, you'll also want to check out the playground in Christopher Columbus Park next to the hotel.
Rates / reviews for Boston Marriott Long Wharf
Find more hotels in Boston's North End
---
North End Restaurants
Quite honestly, you can't go wrong wherever you choose to eat in the North End. Here are just a few suggestions:
Mamma Maria (3 North Square) - Northern Italian cuisine, excellent wines, and a romantic setting a 19th century townhouse in historic North Square. One of Boston's top restaurants, and the only Boston Italian restaurant with a 4 diamond rating from AAA.
Cantina Italiana (346 Hanover St., 617-723-4577) - Home-style Southern Italian favorites, cooked to perfection. House-made pastas.
Ristorante Fiore (250 Hanover St., 617-371-1176) - Traditional Italian classics, beautifully presented. Charming roof deck dining.
Neptune Oyster (63 Salem Street, 617-742-3474) - Terrific raw bar, a Maine lobster roll (one of my top favorites) served hot with butter or cold with mayo, daily specials plus a half-dozen or so seafood entrees. Best cioppino in Boston.
More Boston seafood restaurants
---
North End Entertainment and Nightlife
Improv Asylum (216 Hanover Street) - One of Boston's best venues for improvisation and comedy sketches; most shows recommended for 17+. Afternoon and evening shows.
Most North End nightlife centers around the cafes, bars, and restaurants. Walk up Hanover or Salem Streets to find many small, interesting spots.
---
North End Shopping
Explore small Italian groceries, specialty wine shops, and clothing and home decor boutiques for unique gifts.
---
Parks and Green Spaces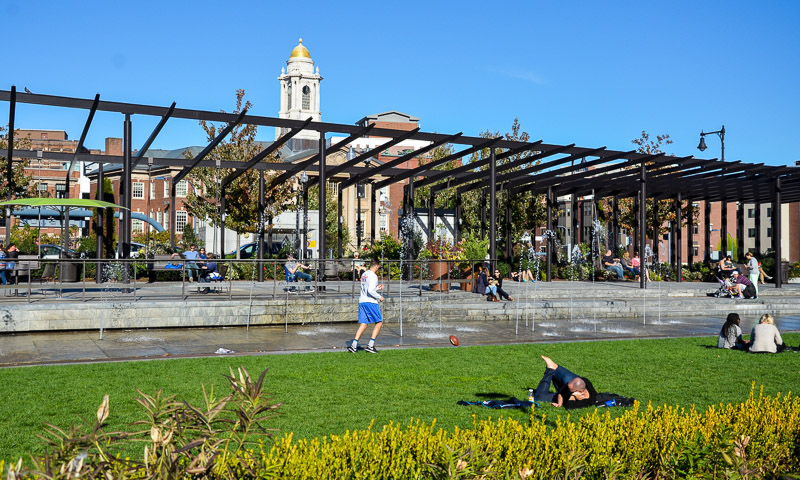 St. Cecelia's Peace Garden
---
North End T Stations
Although no T stations are located within the North End, one is just steps away, and two others are very close:
Blue Line / Aquarium - Downtown Waterfront, next to the Boston Marriott Long Wharf, just to the south of the North End's Christopher Columbus Park
Green and Orange Lines / North Station - West End, across the Greenway from Commercial Street (which turns into Causeway Street in the West End)
Green and Orange Lines / Haymarket - West End, across the Greenway from Salem Street
---
North End Parking
Almost no metered parking exists in the North End, and most streets are almost too narrow to navigate by car.
The easiest way to get to this neighborhood is to take the T (Boston's subway) to Haymarket or North Station, and walk across the Greenway.
But if you must drive, check out nearby parking garages and lots near the North End
---
More about the North End
The North End's most arrivals during the last couple of decades have been young professionals, attracted by the central location, the combination of waterfront views, nice parks, and the strong sense of community in the community, and of course, all the great food. At this point, only about half of the neighborhood's residents are Italian or of Italian descent.
Despite these newcomers and the many tourists who visit the North End, you'll still hear plenty of Italian spoken in the streets.
But what you'll NEVER hear is anyone local calling this neighborhood "Little Italy" - Boston locals always say "the North End."
---
Boston Hotel Map
Enter your travel dates to see hotels available rooms and get accurate rates.
More about how to save on Boston hotels
---
More Articles about Boston Neighborhoods
---
Fun Ways to See Boston's North End: Follow the Freedom Trail
Need a Boston Hotel or Apartment?
Use this handy map from Booking.com to find the perfect place to stay. Just enter your dates to find what's available, see the best rates, and make your reservations.