With only 12 square blocks and about 700 residents, historic Bay Village is the smallest of all "officially recognized" Boston neighborhoods.
Bay Village also qualifies as one of the city's best-kept secrets.
How secret?
Many Boston locals have never heard of it, and even if they have, they don't know where to find it.
Most travel guides don't mention it.
If you discover this hidden community of charming Federal row houses and Art Deco film warehouses-turned-condos, you'll experience Boston from an earlier time - plus you'll have the thrill of discovering one of the city's special hidden enclaves.
Located just a block (or two, depending on how you count) south of the Public Garden, Bay Village is next to the Theatre District.
With easy access to excellent restaurants, cultural events and shows, and downtown Boston, Bay Village's location is hard to beat.
Although the biggest visible attraction is the historic neighborhood's architecture - particularly the Federal period houses on Fayette and Melrose Streets - there's lots more to explore and love here.
Top photo: Historic Federal townhouses line a quiet street in Boston's Bay Village neighborhood, (c) Boston Discovery Guide
Boston Discovery Guide is a reader-supported publication. When you buy through our links, we may earn a commission at no additional cost for you. Learn more
---
Architectural Treasures in Bay Village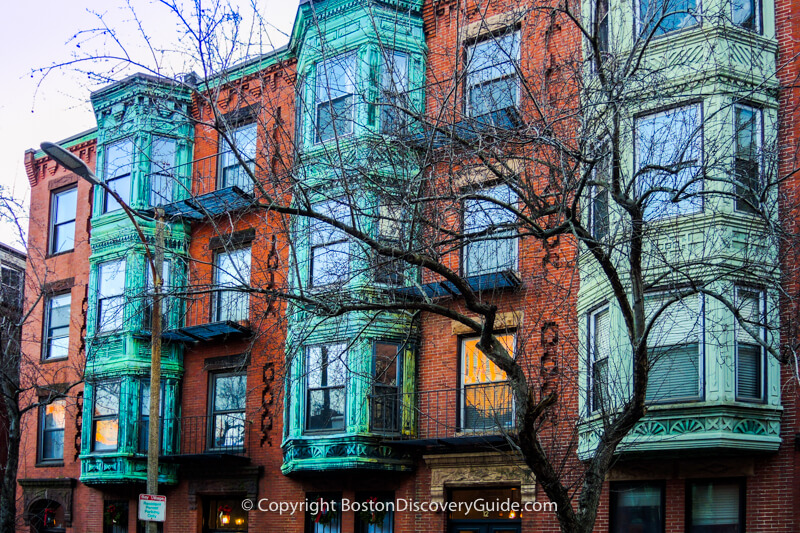 What makes this leafy Boston neighborhood so special are the numerous well-preserved original red brick Federal Period townhouses lining narrow, tree-filled streets.
Art Deco architectural details grace later buildings. You can even see a short stretch of Victorian architecture. Gas street lamps and almost-hidden gardens complete the picture.
Walk down Fayette Street, for example, and you'll feel transported back to the 1830s when the English Neoclassic houses were built.
Stroll over to Melrose Street and you'll find larger, more elaborate Greek Revival townhouses.
Closer to Stuart Street, which separates the neighborhood from Park Square's huge hotels and mostly national-brand restaurants, you'll see luxury condos fashioned from former Art Deco warehouses - reminders of the neighborhood's colorful relationship with the film industry.
On Isabella Street, French Renaissance-style Our Lady of Victories Church features 14 large German-designed stained glass windows. Windows flanking each side of the sanctuary are from Chartres, France. Marist Fathers established the church after arriving in the U.S. in 1880, and it continues to be a French National Church, although services are in English.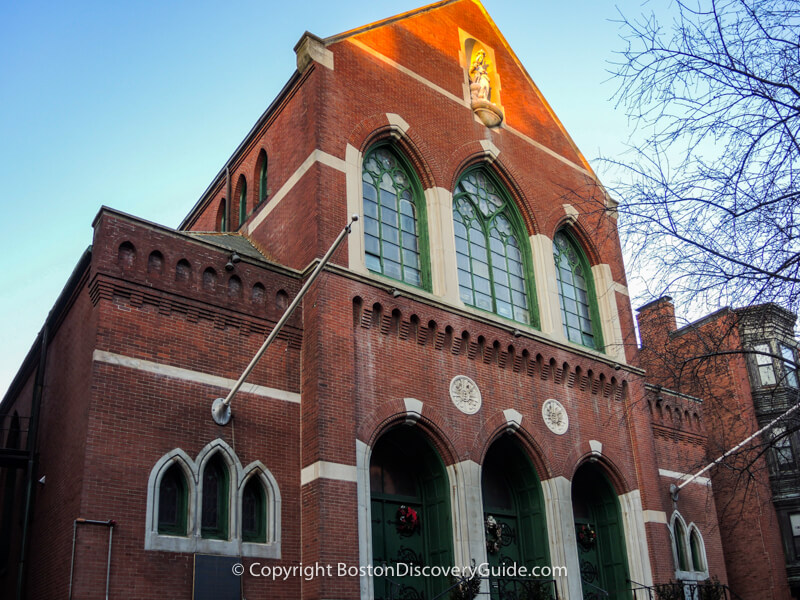 Bay Village residents love their neighborhood because of its friendliness, convenient location, and the eclectic mix of singles, couples, families with children, students, and professionals who live here.
You may love Bay Village because of its tranquility.
Once you enter its quiet streets, the buzz of city noise fades away. You are in another world.
Aside from a small handful of restaurants and local businesses along its outer edges, Bay Village is a collection of homes.
The neighborhood truly feels like a small village. Sit on a bench in one of its small parks . . . listen to the birds sing . . . enjoy a peaceful moment.
You'll have to remind yourself that you're still in 21st century Boston.
---
How Bay Village Became a Neighborhood
Like so much of Boston, Bay Village is a neighborhood built on top of land made by filling in a shallow bay.
Developer Ephaim Marsh created—and thus became the owner of—the land for much of Bay Village in the 1820s. After laying out the streets once the former mud flats became buildable in 1825, he built some of the neighborhood's finest houses, including his own at 1 Fayette Street.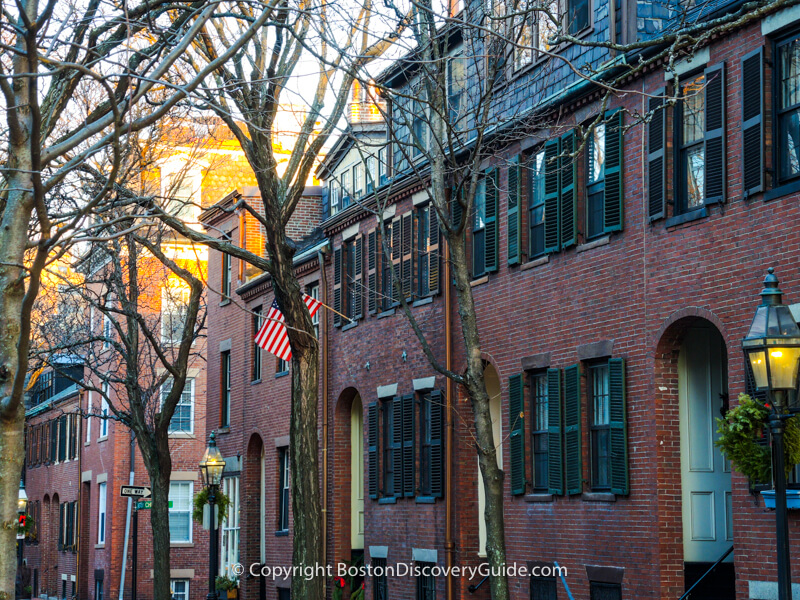 Although Marsh's house no longer stands - a lovely garden now fills the space - you can see similar houses that he constructed at 33-39 Fayette Street. All together, Marsh built 300 post-Revolutionary buildings and houses in Boston, including many on Broad Street and in Beacon Hill.
The Federal architecture of many neighborhood buildings echoes larger Beacon Hill mansions. This is because many of the carpenters and craftsmen who built the grand houses in Beacon Hill settled here and built smaller, simpler versions for themselves. Original residents also included blacksmiths, sail makers, musical instrument makers, tin workers, and rope makers.
Initially the neighborhood was called the Church Street District due to the Presbyterian church built on Church Street in 1827.
When that name fell out of favor in the early 1960s, the area came to be called Bay Village, evoking the neighborhood's watery origin as well as tiny Bay Street (off Fayette, near Marginal Road).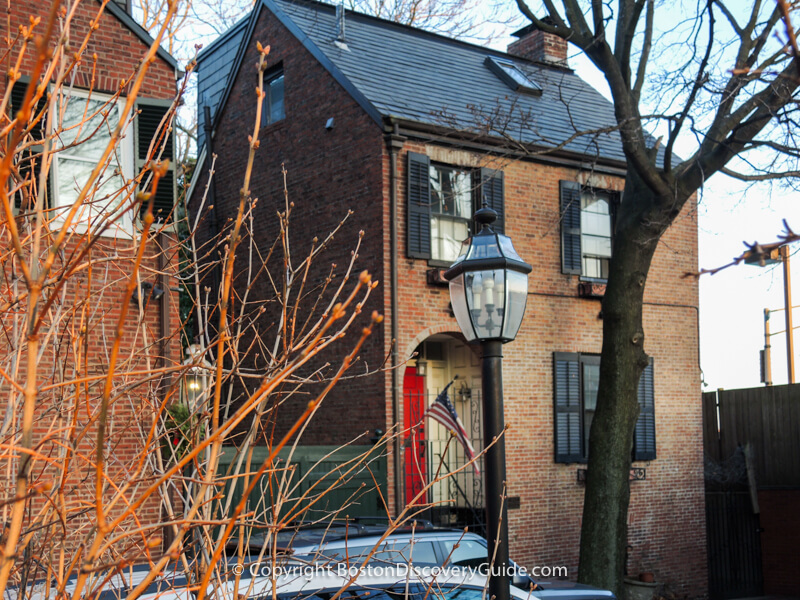 ---
Raising the Neighborhood - Literally!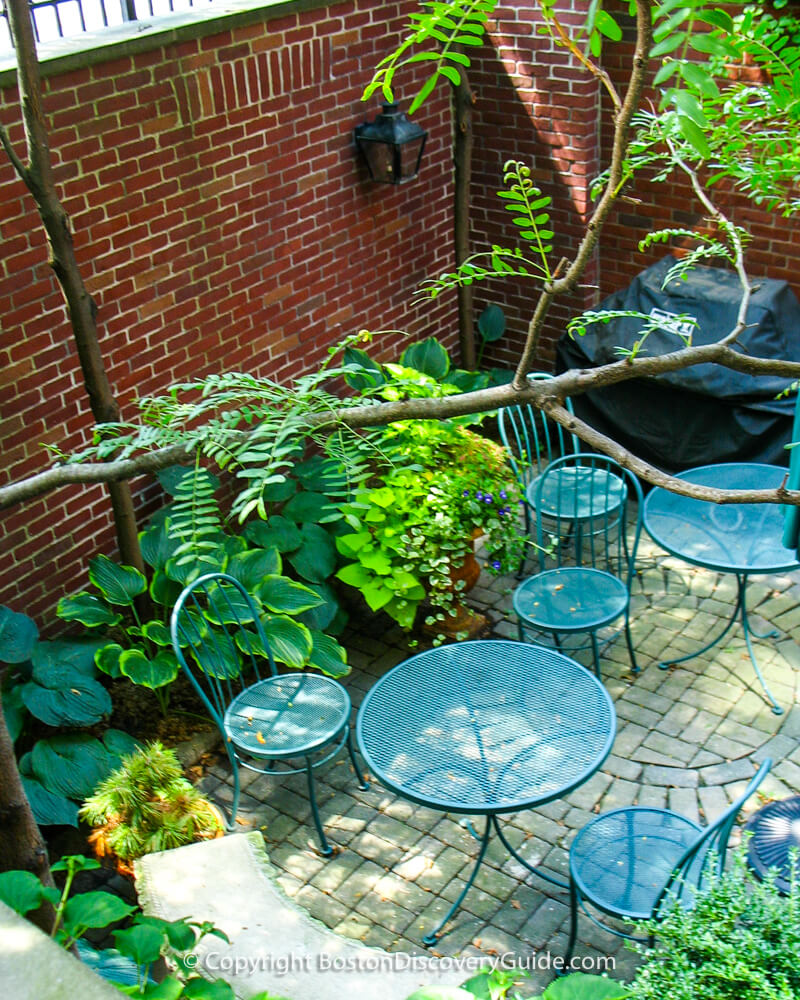 As massive landfills created ground for nearby Back Bay and South End neighborhoods, sea-level Bay Village experienced a massive sewer disaster.
By the early 1860s, Bay Village sewers could no longer drain at all—and residents' basements and filled up with malodorous sewage.
Finally, the City of Boston decided to raise the neighborhood - literally.
Starting in 1865, the City jacked up streets, 457 houses, and 24 stores on pilings 18 feet above sea level and hauled in gravel by rail to place under them.
But, here's the weird part . . . they filled back yards only to 12 feet, so gardens sat 6 feet below street level.
As you walk along the quiet streets, look for the sunken gardens throughout much of the neighborhood. Can you spot the few houses skipped by the neighborhood-raising process? Hint: Look for ground floor windows below street level.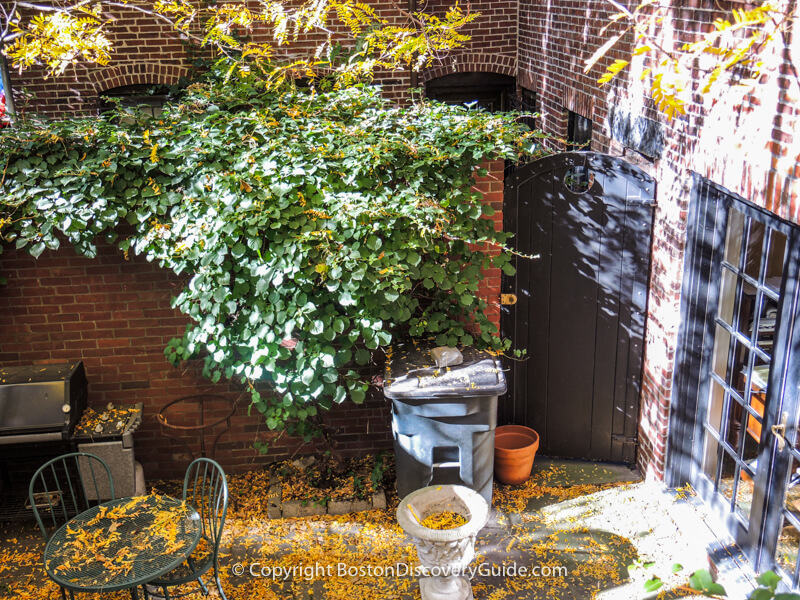 After resolution of the sewage problem, the neighborhood once again became a desirable place to live.
Developers erected Victorian-style luxury residential hotels on Cortes and Isabella Streets.
Businesses set up throughout the neighborhood.
---
Edgar Allan Poe and Bay Village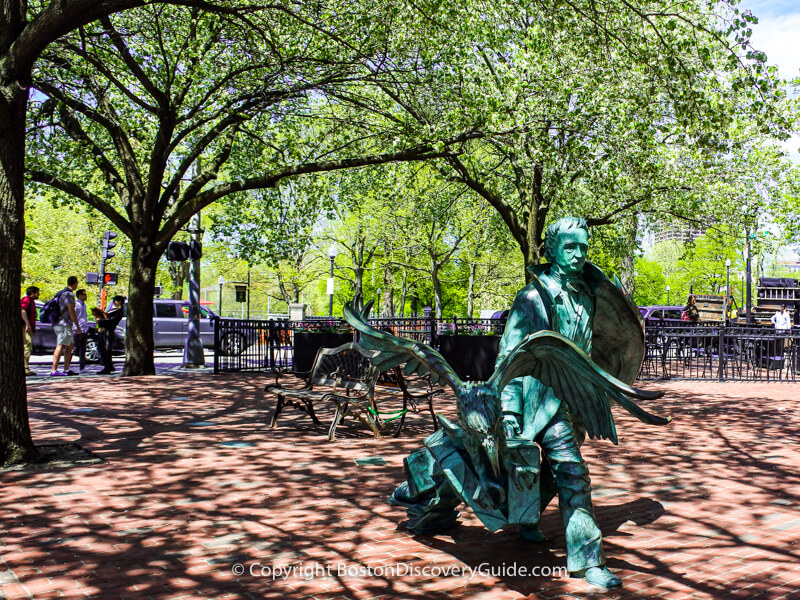 Bay Village is the birthplace of famous American poet and short story writer Edgar Allan Poe.
Poe was born in 1809 in a house on a part of Carver Street eliminated years ago.
Poe lived here less than a year before his parents, well-known actors in Boston's first theater, moved on to act in another city.
Without getting too deep into literary history and mid-19th century literary rivalries, let's just say that Poe, master of the macabre and prober of the darker sides of the human psyche, did not see eye to eye with Boston's leading literary lights.
Poe called Transcendentalists such as Emerson and Thoreau '"Frogpondians" and dismissed their work as "didactic." They returned the insults.
A 1928 map shows a square at the intersection of Broadway, Fayette, and the now-defunct part of Carver Street named after him - but this honor along with the real estate appears to have been lost to the vicissitudes of urban redevelopment.
However, thanks to the efforts of local Poe fans, including Professor Paul Lewis, a leading Poe scholar and Boston College faculty member, you can now see a statue of the famous writer at Poe Square at the corner of Boylston and Charles Streets across from Boston Common on the edge of the Theatre District, named in his honor.
---
Bay Village's Castle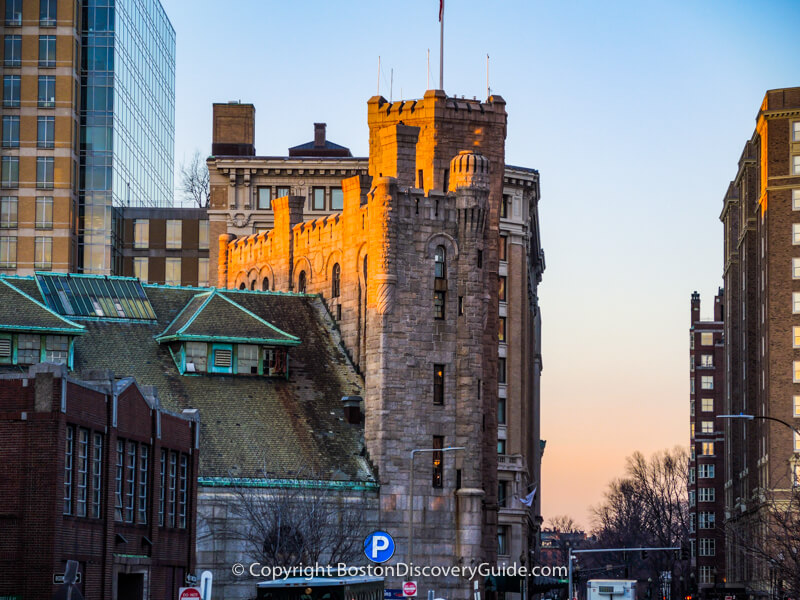 Everyone wonders about "The Castle," a landmark Bay Village building, built in the 1890s at what is now 130 Columbus Avenue to house the First Corps of Cadets, a private military organization founded in 1741 to guard the Massachusetts Bay Colony governor.
Bay Village is the only Boston neighborhood to have its own castle, and in fact, the building is commonly called "The Castle" - although its official name is The Saunders Castle at Park Plaza.
John Hancock commanded the Corps in 1776. Members served in the Revolutionary War, the Civil War, and World War I.
In 1940, the Corps became a National Guard Unit, and finally stopped using the building in the late 1960s.
Builtduring the late Victorian period from granite blocks specially cut to look "rustic," The Castle faithfully emulates medieval design with its 6-story crenellated tower complete with slit windows for arrows, a drawbridge, and corbel towers.
Owned by the Park Plaza Hotel, The Castle hosts special events, conferences, trade shows, and exhibits.
---
Changes in the Neighborhood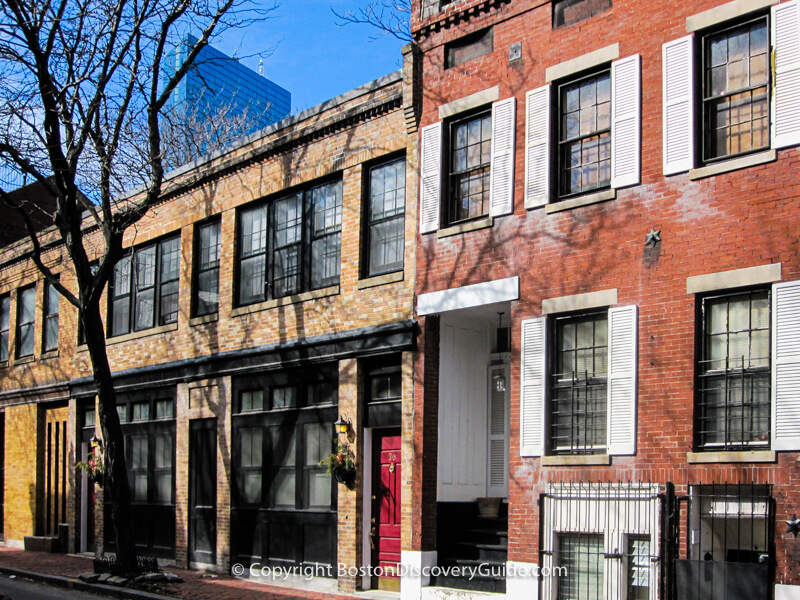 Early in the 20th century, Bay Village became the center of Boston's film industry.
Boston's blossoming Theatre District just to the north and east brought actors, musicians, and other entertainment industry professionals to the neighborhood. Several film distribution companies moved in.
To clear space for massive film warehouses, the studios demolished Federal-period houses on Piedmont, Winchester, and Church Streets.
You can still see the some of the Art Deco warehouses, now transformed into professional offices, restaurants, and stylish (and costly) condos. If you're in the neighborhood, take a look at 48-50 Melrose Street, originally built as a two-story film studio in 1915. A 1985 renovation added two more floors (although only one is easily visible from the street) in the same deco-like style.
Other non-residential structures, such as the Chemical No. 2 fire station on Church Street, also provide residential space.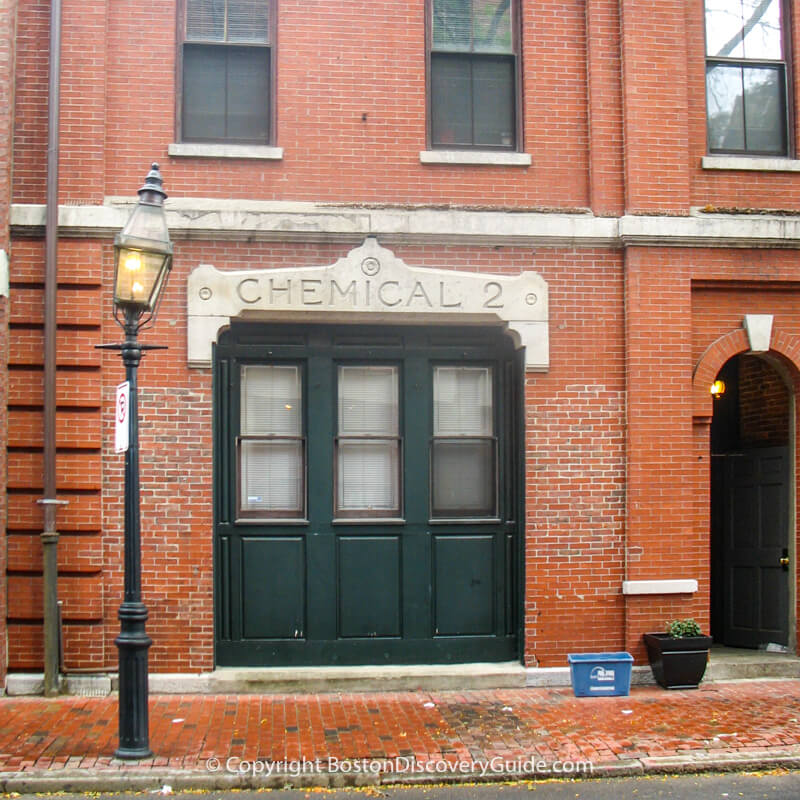 During Prohibition, the period during the 1920s and early 1930s when an amendment to the U.S. Constitution banned alcohol, Bay Village became home to many speakeasies - illegal bars - and also to Boston's film industry, including major film and newsreel production studios.
In 1983, the Boston City Council passed an ordinance to preserve the neighborhood's design heritage by designating the community as a Boston Architectural Conservation District. All external alterations to buildings and houses now require Historic District Commission approval—notoriously hard to get.
---
Disaster and Death at Cocoanut Grove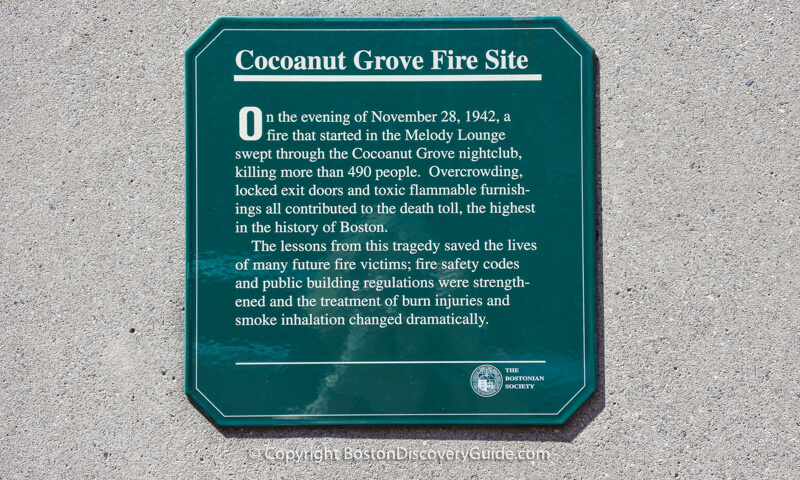 One of Boston's most horrific disasters occurred on a cold November night in 1942 when the popular Cocoanut Grove nightclub on Piedmont Street burned down.
Paper decorations inside the club caught on fire when a busboy, trying to screw in a light bulb, lit a match in order to see better.
As the band continued to play, waiters tried to stop the fire - and then flames swept through the building.
A former speakeasy, the Cocoanut Grove still had many doors bricked up or bolted shut.
The main entrance, a revolving door, quickly jammed when the 1,000 people packing the 500-person capacity building tried to escape.
A stark plaque at the site, now occupied by the Revere Hotel, commemorates the 492 people who died within 15 minutes that night. The disaster led to the creation and enforcement of more stringent fire codes in Boston and across the U.S.
---
Bay Village Today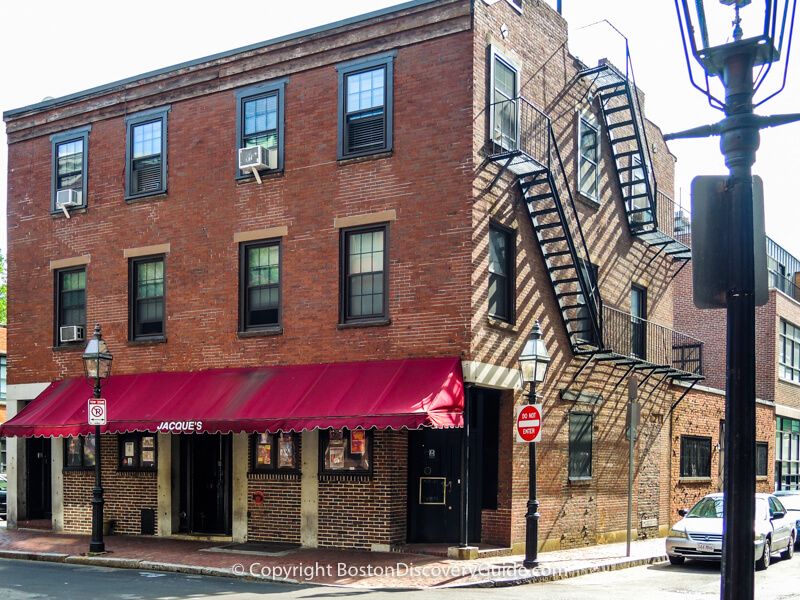 Aside from commercial buildings, the Revere Hotel, and a few restaurants and other small businesses, Bay Village is primarily residential.
A few professional offices as well as a small New England School of Law office are tucked among the residences.
In the not-so-distant past, entertainment attractions from Boston's former Combat Zone spilled over into nearby Park Square until urban "renewal" obliterated the entertainment venues by erecting the mammoth Department of Transportation building. On the positive side, numerous Park Square restaurants border Bay Village.
The neighborhood's own contribution to Boston's 21+ nightlife since the 1930s, Jacque's Cabaret (79 Broadway) showcases nightly drag performances, weekly karaoke nights, and occasional open mic shows.
Soaring neighborhood real estate prices reflect the desirability of the neighborhood's location. Although attractive mid-century apartments can be found along Stuart Street, much of the rest of the neighborhood consists of townhouses and condos.
Small "pocket" gardens scattered throughout the neighborhood add to its charm. If you're exploring the neighborhood, sit on a bench for a few minutes to enjoy the neighborhood.
To grab the fixings for a quick picnic, stop by Davio's To Go (in the Atrium Lobby at 10 St James Street) for a slice of deep dish pizza, fragrant with olive oil and herbs, and then find a bench in one of the neighborhood's parks.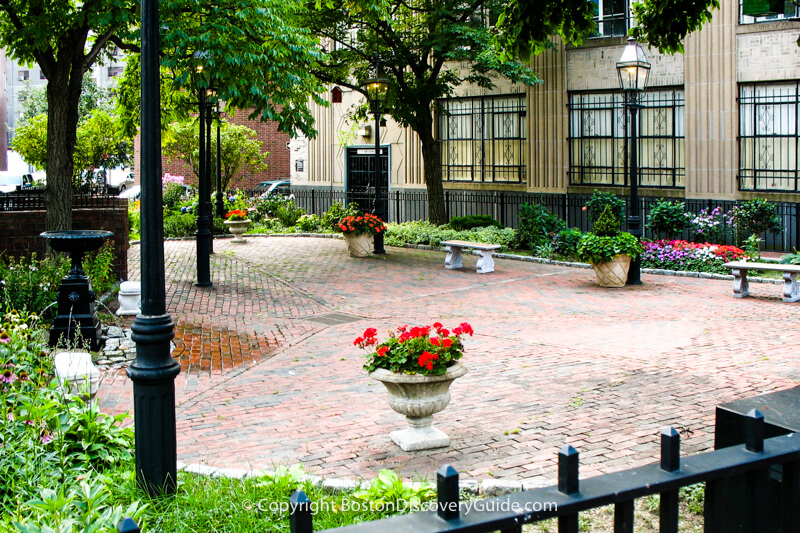 ---
Where to Dine
Although Bay Village is primarily residential, a few restaurants and cafes have managed to carve out space here. Top choices:
Mike and Patty's (12 Church Street) - A neighborhood favorite serving up gourmet-level breakfasts and sandwiches for lunch made with ingredients sourced from local farms and vendors. Eat in (if you can get a table) or take out
Mooncusser Fish House (304 Stuart Street) - Stop by Moon Bar on the first floor for chowder and a lobster roll (take out also available), or head upstairs to the elegant dining room for dinner and enjoy mostly local sustainable seafood
Basile (162 Columbus Ave) - Upscale Italian cuisine in an attractive setting
More about Theatre District restaurants
---
Where to Stay in Bay Village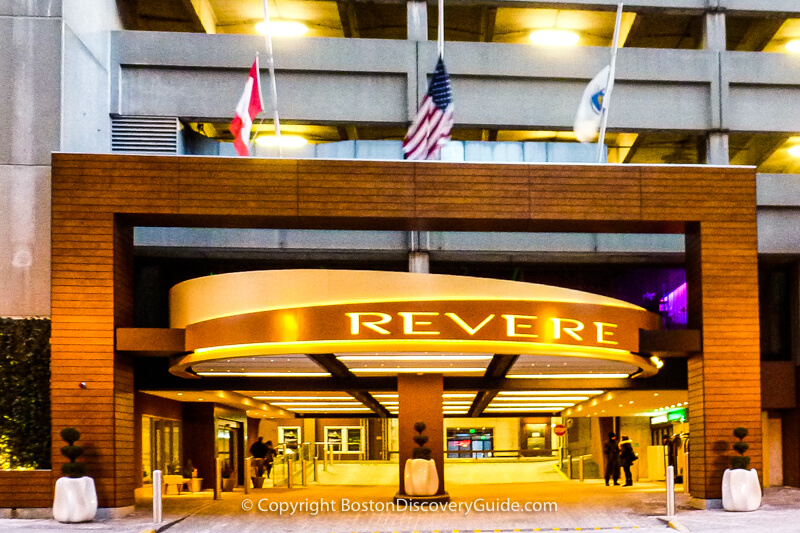 Despite its tiny size, Bay Village does have a hotel located within its boundaries.
The luxurious Revere Hotel appeals to families due to its large rooms, and to theater fans because it is steps away from Boston's Theatre District. See rates & reviews
You'll find plenty more choices just steps away in the Theatre District and Back Bay.
---
Bay Village Map & Directions
Getting to Bay Village
Location: Bay Village is located next to the Theatre District and just a couple of blocks south of the Public Garden and Boston Common.
As you can see on the map above, surrounding streets include Stuart Street on the north, Charles Street South on the east, Marginal Road and Cortes Street on the south, and Berkeley Street on the west.
Closest T Lines/Stations: Green Line/Arlington; Orange Line/Back Bay or New England Medical Center
Nearby Parking: The most convenient and often the cheapest place to park is the underground Boston Common Garage two blocks alway. You may also want to check out parking garages near the Theatre District.
Do NOT attempt to drive through Bay Village – the streets are much too narrow, and besides, this special place is best experienced on foot.
---
More Articles about Other Boston Neighborhoods
---
More to See & Do in Boston
Most Boston tours typically do not include Bay Village because it's just too small, non-driveable, and slightly hidden (despite being just two blocks from Boston Common.
But here are some fun ways to see the rest of Boston:
---
More Historic Boston Neighborhoods to Explore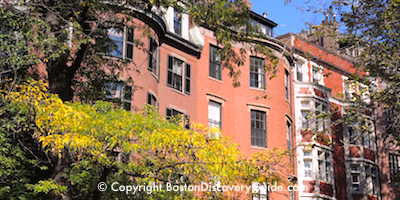 Beacon Hill - Historic Downtown Boston - Fenway - The North End - South Boston Waterfront - Bay Village - More about Boston Neighborhoods