Not all of Boston's "secret" parks are really a secret, nor are they necessarily hidden.
It's just that in a city with so many famous attractions, they're easily overlooked.
Should you take time from your Boston trip to visit these lesser-known parks?
It depends.
If you're in Boston for the first time, by all means give priority to Boston's famous parks.
But if you can carve out a few extra minutes, or if you've been to Boston before and want to visit a few places off the usual tourist track, here are 12 of Boston's almost-secret parks for you to discover and enjoy.
Top Photo: Ramler Park in Boston's Fenway neighborhood in September, (c) Boston Discovery Guide
Boston Discovery Guide is a reader-supported publication. When you buy through our links, we may earn a commission at no additional cost for you. Learn more
---
Guide to Boston's Best Small Parks & Gardens
1. Ramler Park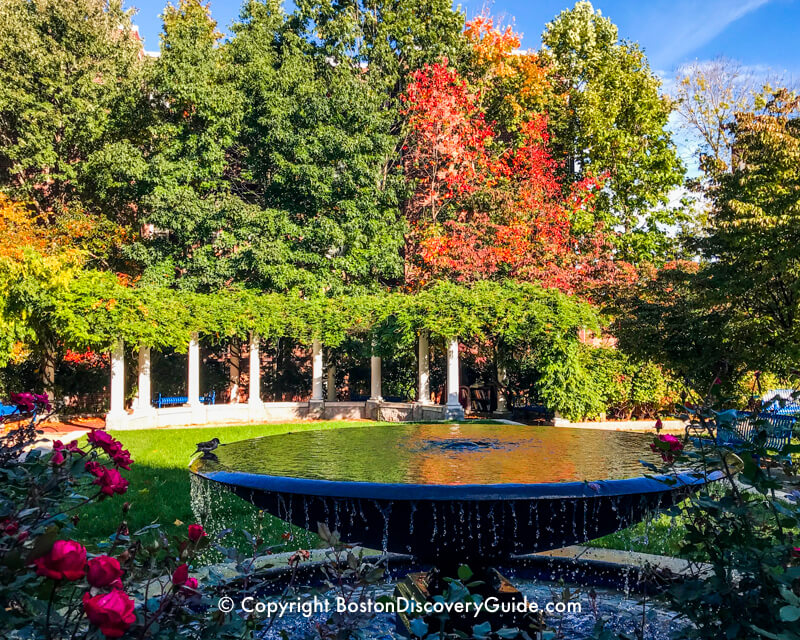 Lush flowers blooming almost year-round, a cascading fountain, and a curved arbor with classical columns and plenty of comfortable benches make the Dorothy & David Ramler Park a tiny half-acre garden paradise only a few blocks from Fenway Park. Hard to believe that a parking lot once occupied this space!
A group of volunteers cares for Ramler Park. Occasional concerts take place during the summer. But mostly, the jewel-like Eden provides a peaceful respite in the middle of the bustling city. Sit on a bench, breathe deeply, and relax to the gentle humming of bees, the scent of flowers, and the sight of occasional butterflies flitting by.
You'll find Ramler Park tucked away on Peterborough Street between Park Drive and Kilmarnock Street. Even if you have only a few moments to spare, stop by and enjoy this city oasis.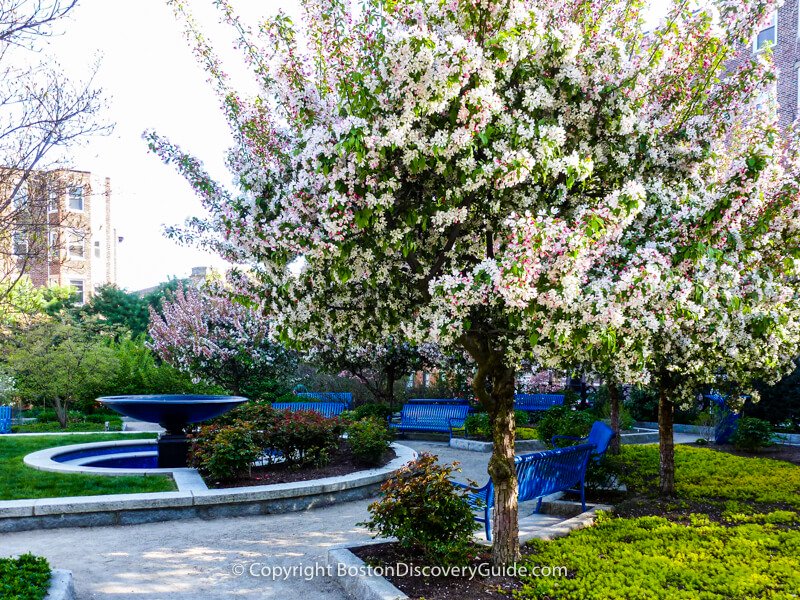 2. Paul Revere Mall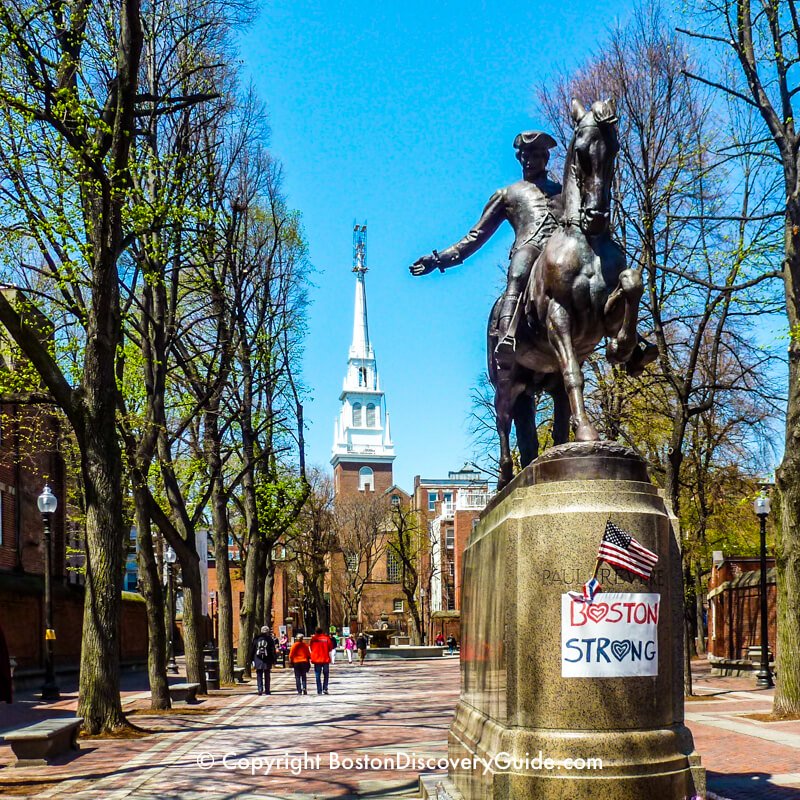 Almost hidden behind Old North Church in Boston's North End, the shady brick-walled plaza forming Paul Revere Mall - locally called The Prado - contains a dashing statue of Paul Revere on horseback by sculptor Cyrus Dallin.
Equally interesting, though, are the bronze tables with stories about famous North End citizens lining the walls surrounding the space.
With brick paving, plenty of wide benches for seating, a large fountain, and stately trees, Paul Revere Mall is the quintessential urban park - the perfect place to enjoy a carryout cappuccino and cannoli from one of the nearby North End bakeries. Look for it on Hanover Street, near Clark Street.
More about things to do in Boston's historic North End neighborhood
3. Commonwealth Avenue Mall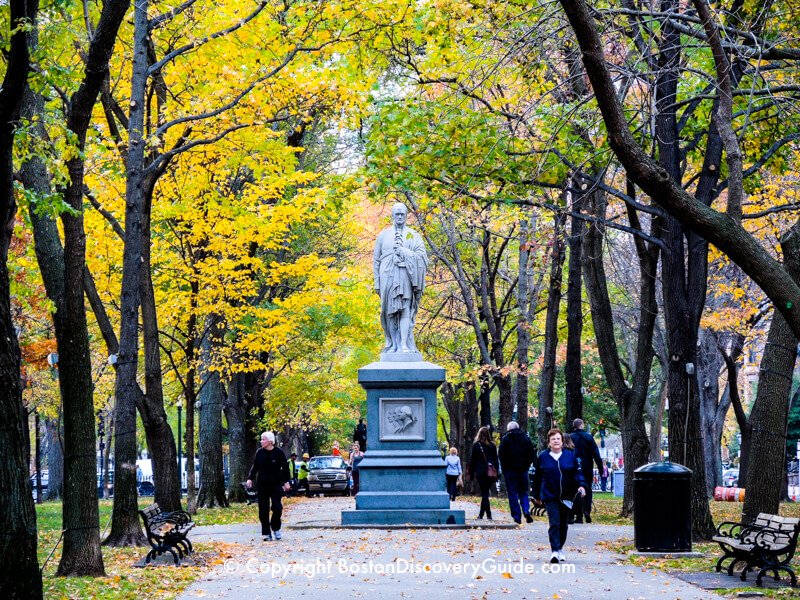 Commonwealth Avenue Mall is the tree-filled park filling the center of Back Bay's mansion-lined main boulevard between Arlington Street and Charlesgate.
Laid out in the 1860s to imitate grand Parisian boulevards, Comm Ave Mall (as locals call it) offers beauty during all seasons.
Take a break from shopping on nearby Newbury Street and join other strollers, taking time to admire its eclectic collection of statues, including an Argentinian president, war heroes, firefighters, Abigail Adams and other famous American women, a former Boston mayor, and, incongruously, Leif Erikson looking to the west toward Fenway Park.
4. Southwest Corridor Park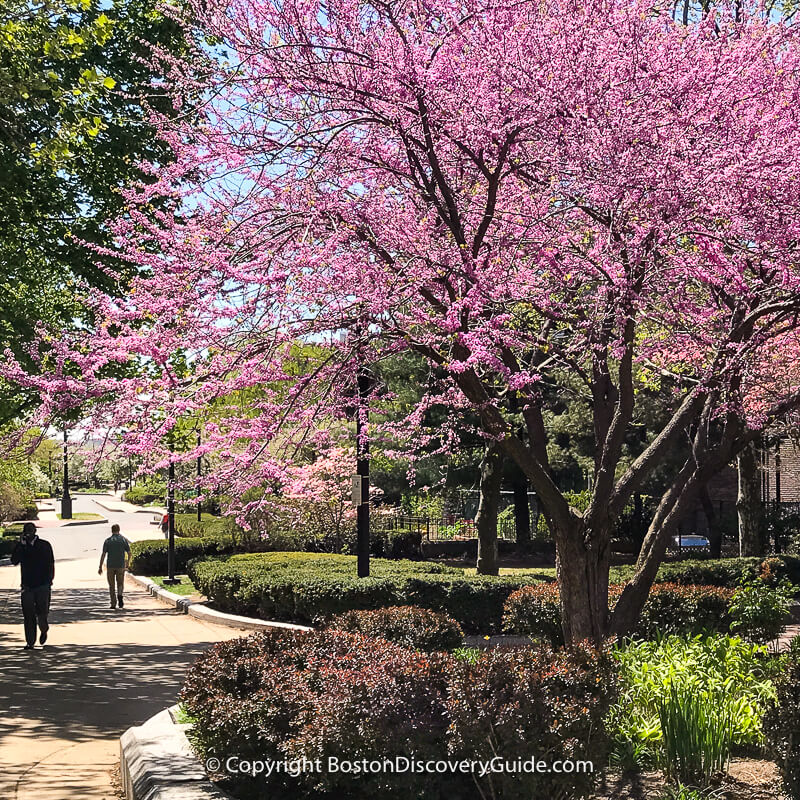 Measuring almost 5 miles long and the width of the 12-lane highway that neighborhood protesters ensured was NOT built in Boston's South End, the Southwest Corridor Park is truly a "People's Park."
Beautiful year-round, this linear park is particularly stunning during spring when flowering trees form a canopy over the central path. Glance to either side, and you'll be tempted to explore the South End's side streets, lined with Victorian brownstones and their own masses of spring flowers. In the background, Back Bay office towers frame the scene.
During the fall, these same trees turn brilliant colors - so if you want to soak up spectacular New England fall foliage color without leaving the city, this is a prime place to see it. (Boston offers lots of locations for viewing autumn colors as well.)
In summer and early fall, community gardens lining the paths burst with ripening veggies and brilliant marigolds, asters, and other flowering annuals, followed by lots of gorgeous fall foliage.
And if you happen to stroll along the Corridor on a sunny winter afternoon, the brick paths radiate warmth. When snow is falling, the whole area looks magical.
Access the Southwest Corridor across from the Back Bay Train Station on Dartmouth Street.
More Ways to Tour Boston
5. Fenway Victory Gardens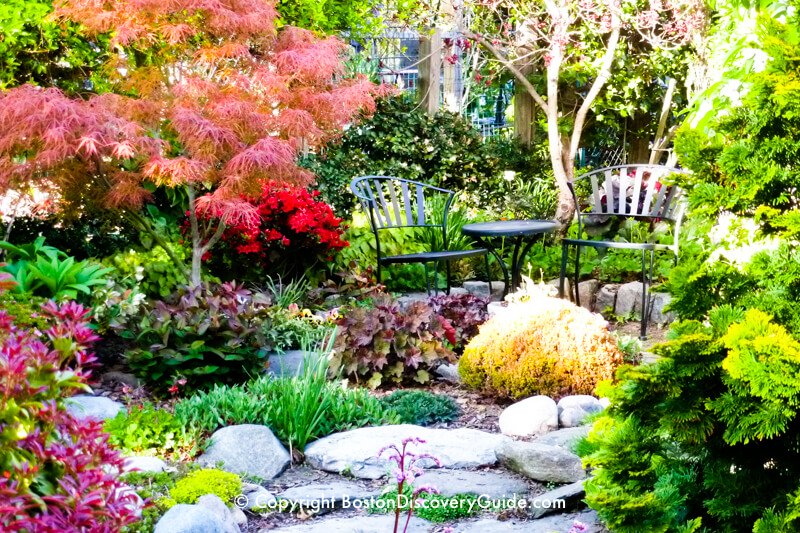 Want to see 500 gardens all in one spot?
Boston's Fenway Victory Gardens, located not much more than a block from Fenway Park, date back to World War II when local residents grew vegetables in small plots to combat food shortages.
Today, local gardeners still maintain the living room-size plots, but in most cases, flowers and ornamentals outnumber veggies.
Each plot reflects its caretaker's interests and aesthetic vision - and with 500 gardens, there's a lot to see!
You'll find the Victory Gardens at the northern tip of the Back Bay Fens, the large swath of park land stretching across much of the Fenway neighborhood. Enter from Boylston Street.
And of course, while you're in the neighborhood, catch a Red Sox game at Fenway Park!
6. Kelleher Rose Garden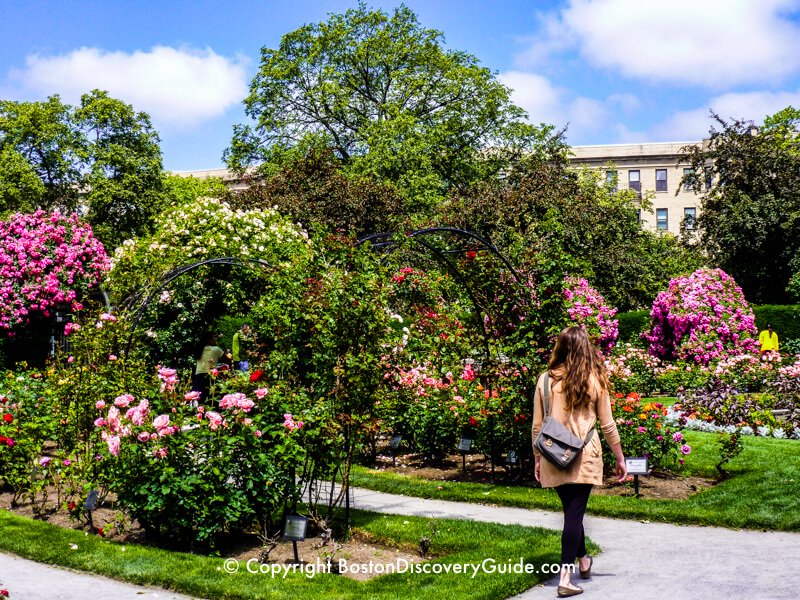 Despite being one of Boston's loveliest gardens, Kelleher Rose Garden, also located in Back Bay Fens, is known mostly to local rose enthusiasts.
Once the roses start blooming in May, you can almost find the garden just by following the scent.
In June when every plant in the garden seems to be in full bloom, there's no lovelier spot in the city, and the roses continue to flower throughout the summer and fall up until frost.
Kelleher Rose Garden is in the section of the Fens next to Park Drive between Queensberry and Jersey Streets.
More about where to see spring flowers blooming in Boston
Where to find summer garden tours in Boston
7. Christian Science Plaza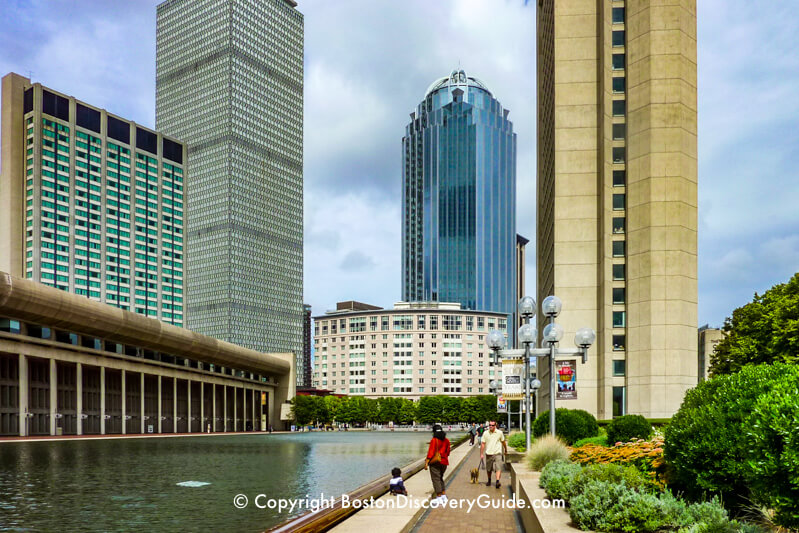 Behind a double row of linden trees along Huntington Avenue and across from Prudential Center, Christian Science Plaza offers one the city's loveliest urban gardens: a vast reflecting pond, splash fountains where kids cool off on hot summer days, and massive planters overflowing with flowering plants.
You're surrounded by skyscrapers - but after just a few minutes here, you'll feel like you're in a private, almost-hidden garden.
8. Carmen Park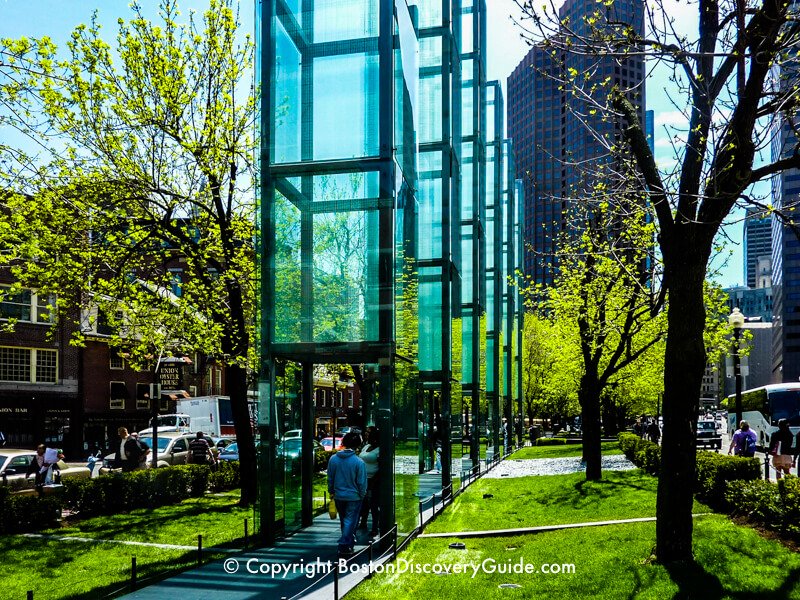 Ask most Bostonians where to find Carmen Park, and you'll get a blank look.
That's because the tiny sliver of land holds the soaring glass towers of the New England Holocaust Memorial, which dominates its space near Dock Square, one of the oldest and most historic parts of the city.
If you visit, step back a bit and you'll see how the park's trees, grass, and paths surround the luminous Memorial towers with growth, hope, and the eternal promise of the changing seasons. Although the park covers barely .2 acres, it is one of the most powerful spots in the city.
Carmen Park is named to honor William Carmen (1919-2004), a long-time Boston area resident, businessman, and philanthropist, in recognition of his vision and leadership in creating the Memorial.
Location: Near Fanuil Marketplace between Congress, North, Union, and Hanover Streets.
9. Castle Island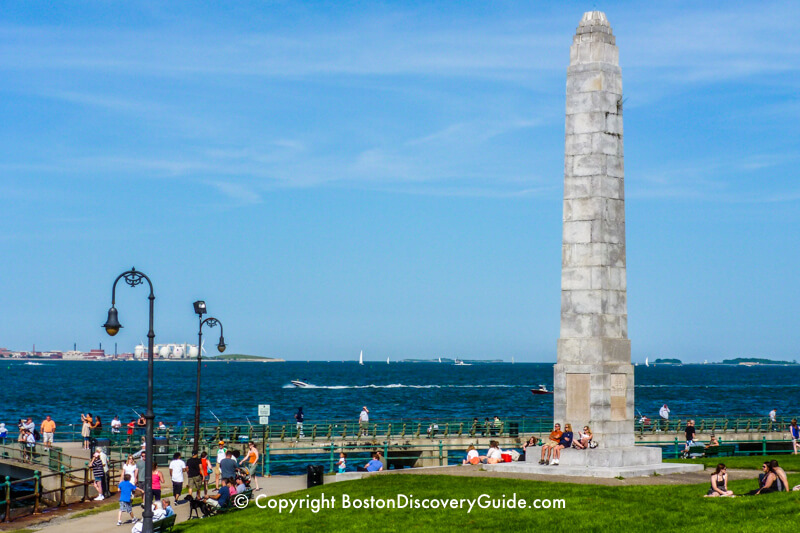 Castle Island, home to War of 1812-era Fort Independence, sits like the crown jewel among the miles of public beaches lining the South Boston coast, just a short distance from the city.
With grassy slopes, views of the Harbor Islands, and a promenade perfect for walking, Castle Island offers cooling breezes on hot summer days, a large children's playground, and great views of fireworks over the harbor on July 4th and New Year's Eve.
For the perfect summer afternoon, splash in the water along Pleasure Island Beach (watch out for jellyfish) and stop by Sully's for a hot dog.
More about Castle Island & how to get there
10. Lawn on D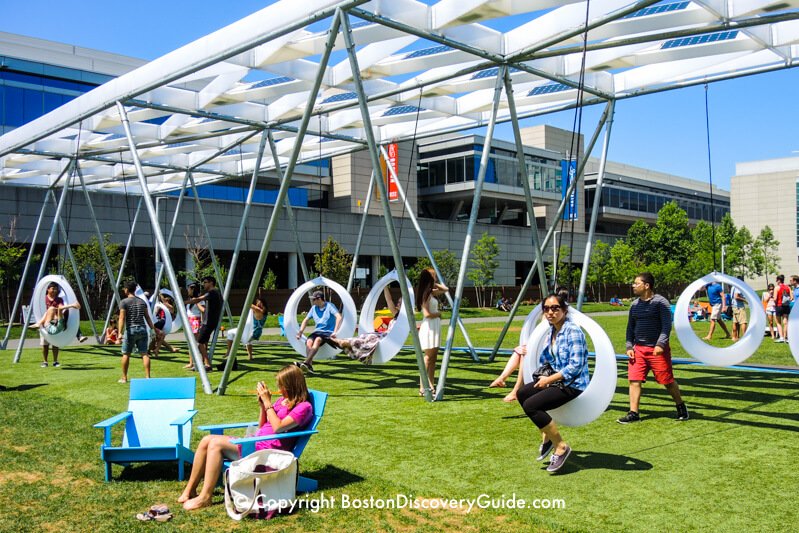 Almost hidden behind the Boston Convention & Exhibition Center on (where else?) D Street, Lawn on D is an fun adult playground with glow-in-the-dark swings, comfy chairs for lounging, and rotating schedules for lawn games, art displays, and live music on warm summer nights under the Pavilion.
From spring through fall, there's almost always something fun going on. Check Lawn on D's website for events
---
11. Rose Kennedy Rose Garden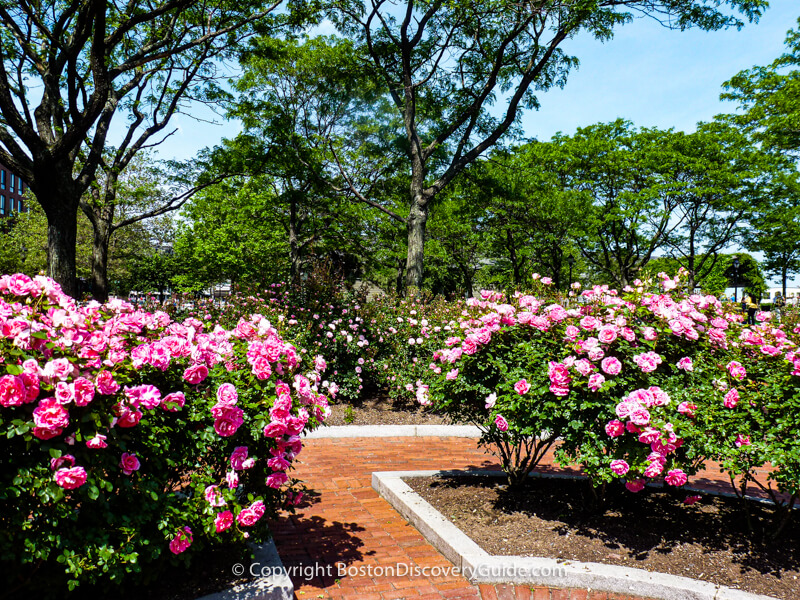 It's easy to miss the small and somewhat hidden Rose Kennedy Rose Garden in Christopher Columbus Waterfront Park in Boston's North End neighborhood but you'll be amply rewarded by the gorgeous colors and scents, especially if you visit when masses of the flowers are in full bloom.
Although the rose blossoms will be at peak during May, June, and July, the many different rose varieties planted in the garden extend the blooming season to all but the coldest months.
The garden honors Gold Star mothers including Rose Fitzgerald Kennedy, mother of President John Fitzgerald Kennedy, U.S. Senators Robert and Edward Kennedy, and six other children, one of whom was killed when his Naval plane exploded during a mission over the North Sea in World War II.
Getting there: Blue Line/Aquarium or Orange & Green Lines/Haymarket; Columbus Park is on the north side of the Marriott Long Wharf Hotel. Look for the garden between the street (Atlantic Ave) and the fountain.
---
12. Beacon Hill - Two Almost-Secret Pocket Parks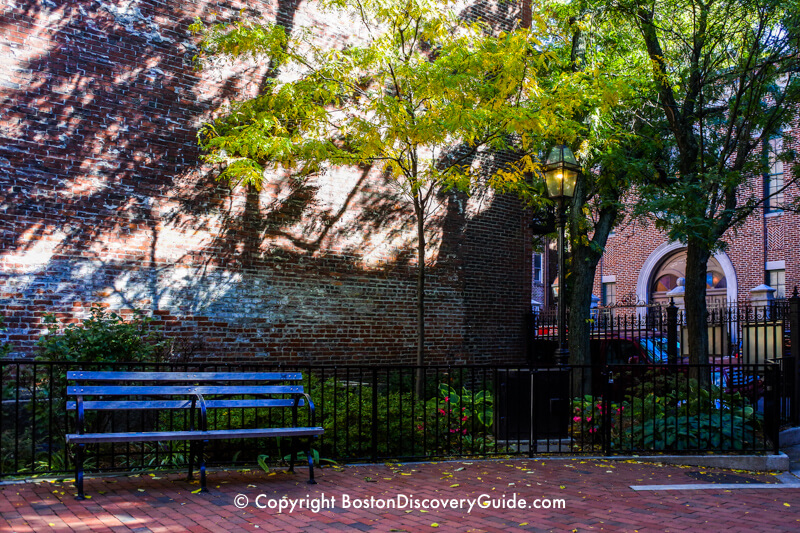 Beacon Hill, one of Boston's most historic neighborhoods, contains many treasures but none more charming than the almost-secret "pocket" parks you may stumble upon if you explore this leafy neighborhood by foot.
These are quiet spots, carved out of empty spaces with walls "borrowed" from adjacent buildings, comfortable benches, and a few shade-tolerant plants and vines.
Here's where you can find two of the loveliest:
Phillips Street Park - On Phillips Street between Garden and Anderson Streets, and across the street from Vilna Shul
Temple Street Park - On Temple Street (behind the Massachusetts State House) between Coolidge Avenue and Derne Street
More to see and do in Beacon Hill
---
More Parks to Explore: Boston's Most Famous Parks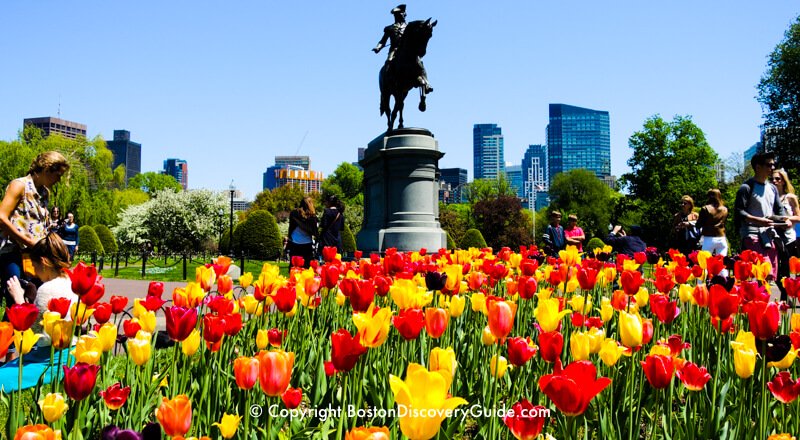 From historic Boston Common on the Freedom Trail to the Esplanade where the July 4th Boston Pops concert and fireworks take place each summer, Boston's legendary parks provide numerous recreational opportunities, host major events and celebrations, and offer you lots of fun things to see and do throughout the year.
---
---
Need a Boston Hotel or Apartment?
Use this handy map from Booking.com to find the perfect place to stay. Just enter your dates to find what's available, see the best rates, and make your reservations.