If you had to pick the most beautiful spot in Boston, year around, the Public Garden might be your top choice.
Boston's famous Victorian-era garden attracts visitors from all over the world who want to see the park's famous Make Way for Ducklings statues.
But but you'll also find lots more to see, do, and enjoy in this lush oasis located in the heart of the city between Boston Common, Beacon Hill, and Back Bay.
For a start, you can go on a Swan Boat ride around the park's tranquil lagoon, toss bread crumbs to the resident swans and mallards, pose for selfies by thousands of brightly colored tulips each spring, march in the Duckling Day Parade with your toddlers on Mother's Day, and gaze at some of the city's most colorful foliage each fall.
You can even get married in the Public Garden.
Here are our top suggestions for 10 fun things to do, see, and enjoy here.
Top photo: Boston's Public Garden at the end of February with melted snow and greening grass, (c) Boston Discovery Guide
Boston Discovery Guide is a reader-supported publication. When you buy through our links, we may earn a commission at no additional cost for you. Learn more
---
10 Things You'll Enjoy in the Public Garden
1. Make Way for Ducklings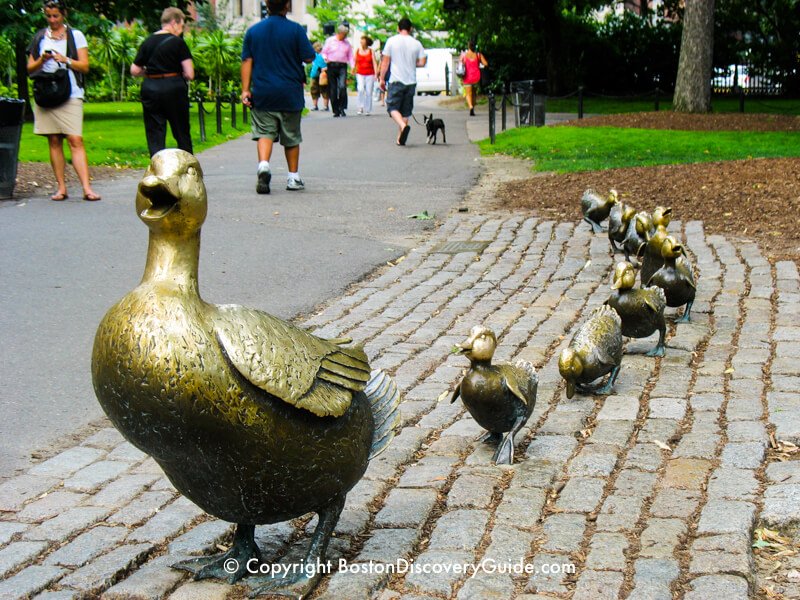 The "Make Way for Ducklings" statues, near Charles and Beacon Streets, appeal to grownups and children alike.
Not only is the duck family sculpture the most popular attraction in the Public Garden - it's probably the most famous statue in the entire city.
Inspired by Robert McCluskey's book about Mr. and Mrs. Mallard and their adventures while finding a safe place to hatch and raise their offspring in and around the Public Garden, the sculpture depicts Mrs. Mallard and her ducklings.
Boston-area sculptor Nancy Schön designed the bronze duck sculpture.
More about Make Way for Ducklings
---
2. Take a Ride on a Swan Boat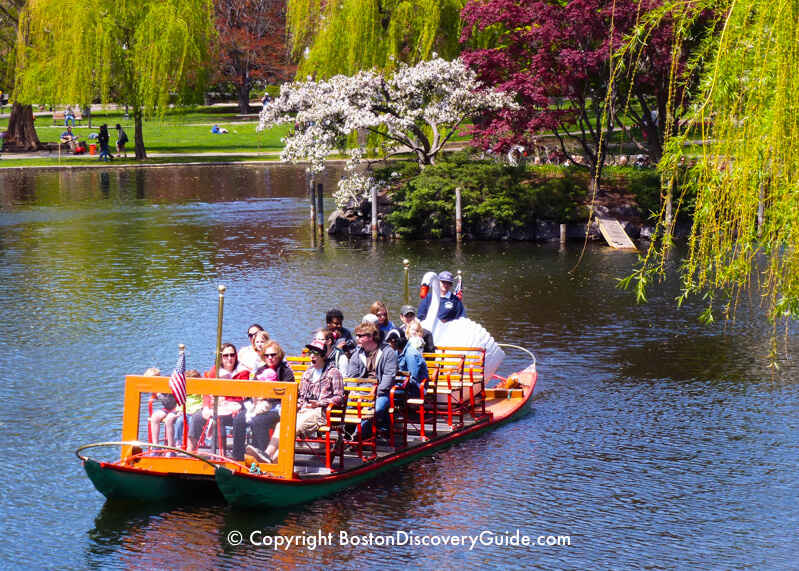 During warm months, go for a ride on the popular Swan Boats, which have been delighting passengers with 15 minute journeys around the Public Garden's Lagoon since 1877.
Going for a Lagoon ride is one of my favorite things to do whenever I'm near the Public Garden with a few minutes to spare. Although there is sometimes a line, especially on beautiful summer weekend mornings, it usually moves quickly.
The lagoon (actually an artificial lake) covers about 4 acres, and is only 3-4 feet deep. Due to Boston's cold winter climate, most of the water is drained every fall and refilled in the spring. Although the Lagoon used to be used for ice skating, that activity has now officially moved to Boston Common's Frog Pond - but you will still see spirited ice hockey going on here when conditions are right.
The swan boat ride loops around Mallard Island - once a peninsula but severed from land in 1880 after city officials learned its popularity as a site for amorous meetings. Mrs. Mallard brought her 8 ducklings here after after hatching them along the bank of the nearby Charles River. The Ducklings story may be fiction, but real mallards nest here and can be seen sunning themselves on the duck ramp leading up to the island.
---
3. Admire the Real Swans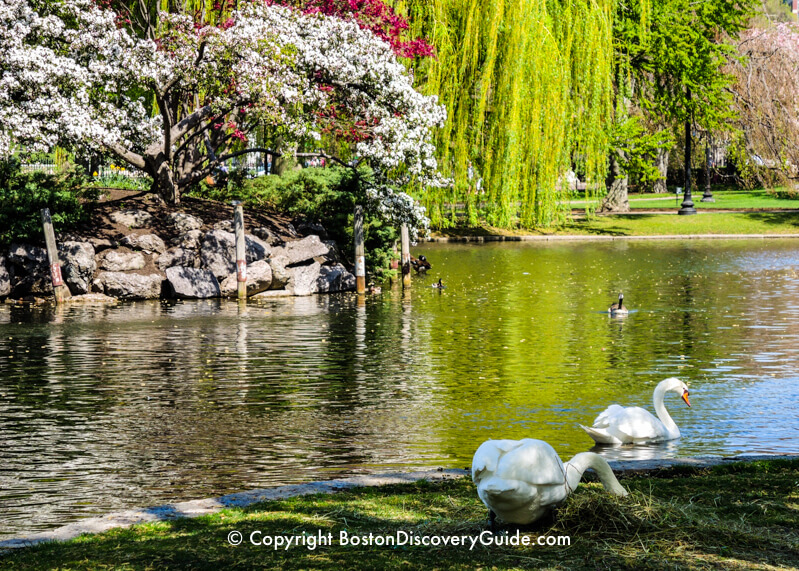 A pair of swans call the Lagoon "home" for much of the year. The first pair arrived in 1868, and except for a period between the 1960s and 1991, a resident pair has delighted Public Garden visitors ever since.
In 1991, after the Public Garden had been without swans for 20+ years, the Park Plaza Hotel's owners arranged for the return of the swans.
You can enjoy watching the graceful pair of swans during warm months, and even greet their arrival in May, when a parade welcomes them back to the Public Garden - check Boston Events for May for details.
---
4. March (with Your Toddlers) in the Duckling Day Parade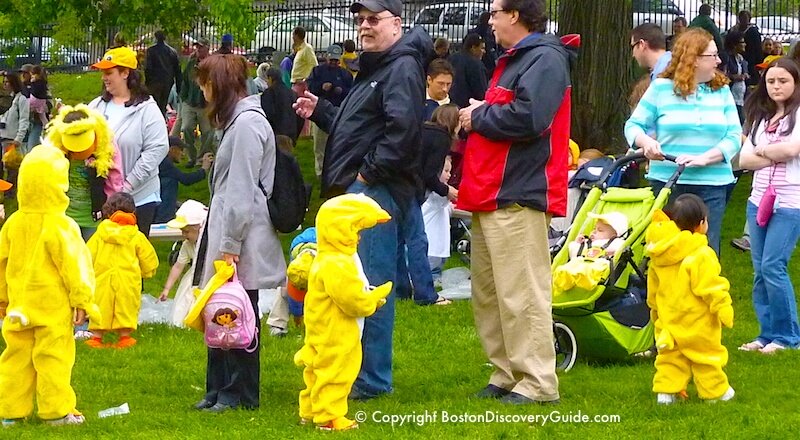 If your children are a certain age - let's say 15 months to 5 years old - the perfect Mother's Day celebration is to dress your offspring in yellow and join the Duckling Day Parade.
You retrace the path of the Mallard Family in Make Way for Ducklings - well, at least the part of it from Boston Common to the Lagoon in Boston Public Garden where the Mallards settled on, where else, Mallard Island.
This beloved family activity draws huge crowds, a brass band, and even a Boston Police Officer in the role of Officer Michael. Bring your camera!
More about the Duckling Day Parade
---
5. Say "I Do" in Boston's Most Beautiful Park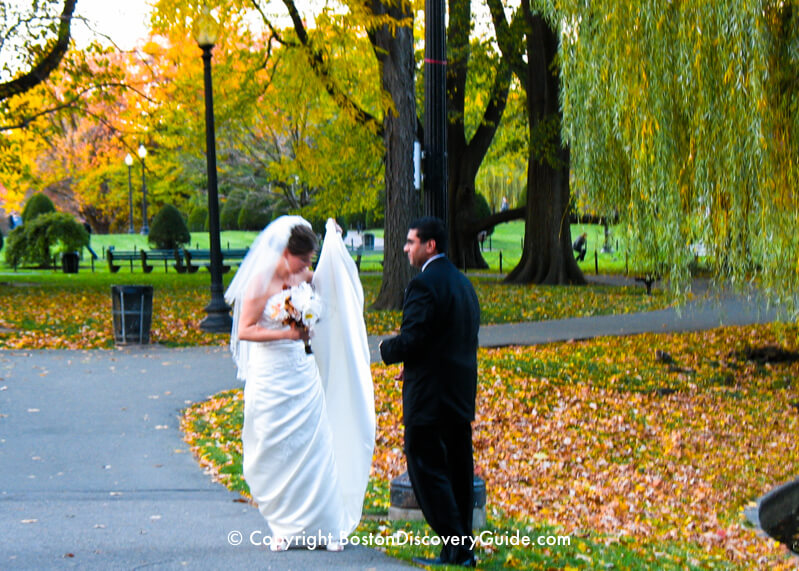 The Public Garden is also one of several Boston gardens and parks where you can get married - so if you're looking for a beautiful spot for an outdoor wedding, the Public Garden is a super spot to consider.
You do need to have a back-up plan, or lots of umbrellas, in case of torrential rain.
But with the money that you save, you can walk over to a Chinatown or Back Bay restaurant and treat your guests to a nice dinner - and then save any left-over funds toward a down payment on a Boston condo.
---
6. Let Your Kids Have Fun in the Public Garden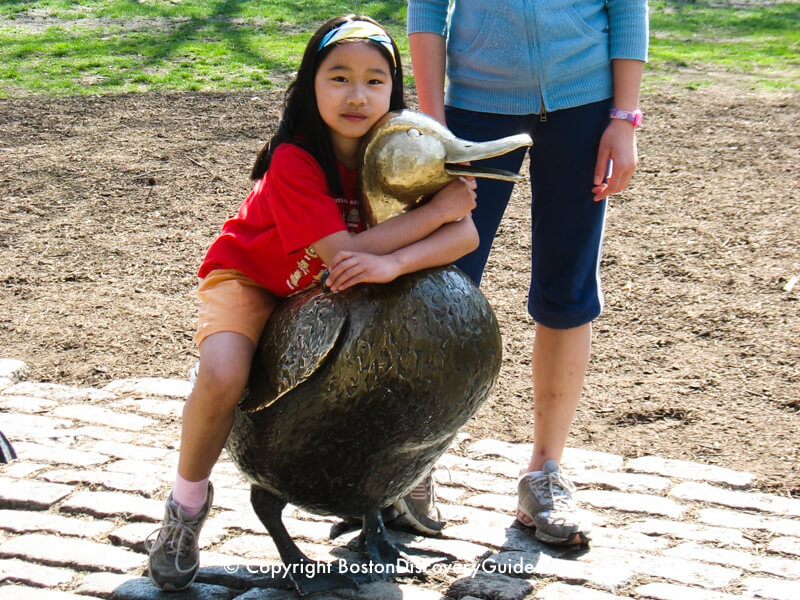 Fun kids activities for Boston Public Garden include:
More about top kids activities in Boston
---
7. Admire the Magnificent Statues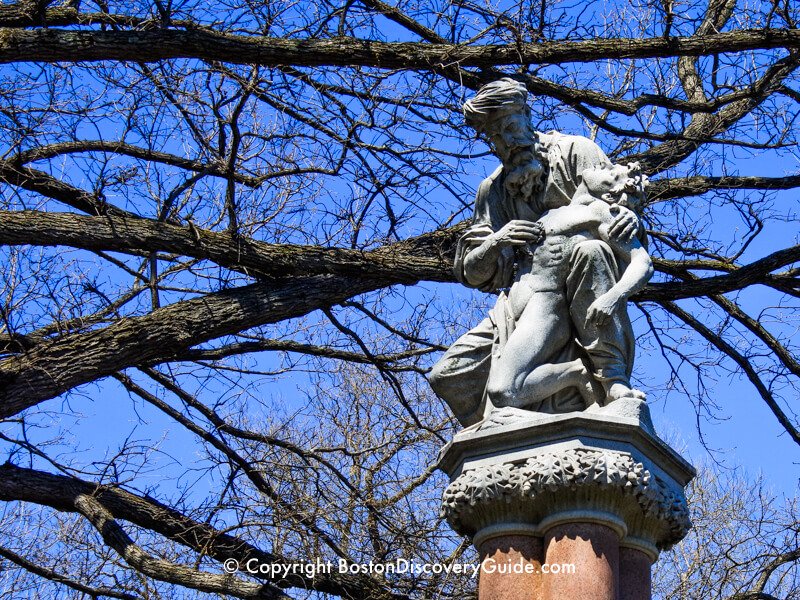 Although numerous statues grace the Public Garden, perhaps the most poignant is the Ether Monument, near Arlington Street and Beacon Street. It commemorates the first successful usage of ether as an anesthetic at nearby Massachusetts General Hospital in 1846 but instead of featuring the doctor who did this, the statue depicts a Good Samaritan comforting a child.
Up until this point, people subjected to surgery were as likely to die from excruciating pain as from surgical complications. The statue conveys the horrors of surgery before ether, when something as minor as pulling a tooth or setting a broken arm created almost unbearable pain.
Near the Garden's Arlington Street entrance, you're sure to spot a magnificent statue of George Washington, the country's famous Revolutionary War general and First President, on horseback. Washington, who spent time in Boston during the early months of the war, is warmly remembered here because he helped develop a strategy to end the Siege of Boston by fortifying a hill in Dorchester Heights (south of downtown) that not only trapped the British but forced them to leave peacefully without burning down the city as they retreated.
Sculpted from bronze by Thomas Ball in 1869, the George Washington statue is considered one of the best equestrian statues in the United States. It's also the second-most photographed statue (after the Ducklings) in the Public Garden. The most popular time to photograph it? Early May, when masses of tulips planted in front of it burst into bloom.
Sightseeing Tours of Boston
---
8. Photograph the Magnificent Tulips each Spring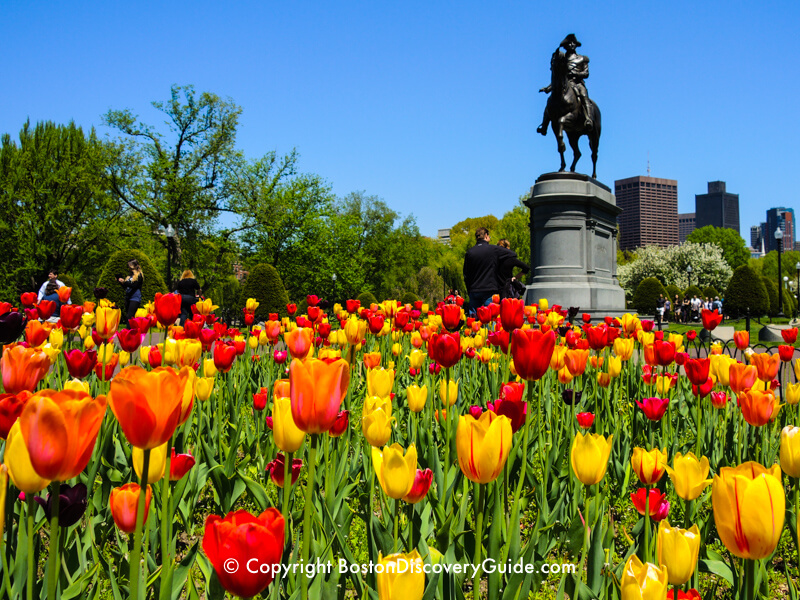 The Public Garden's lushly planted 24 acres began life as a watery marsh edging a bay formed by the Charles River. After a dam constructed farther to the west turned it into foul-smelling mud flats, desperate residents filled the area and in 1838, created the first botanical garden in America.
Revolving displays of flowers and bulbs in formal Victorian-style planting beds created gorgeous masses of blooms during every season except winter.
Each May since 1840, tulips put on the most spectacular show of all. Today, gardeners plant 26,000 tulips and except for those years when extreme weather conditions intervene, the colorful blooms extend for a period of a month or more - one of the most photographed views in Boston.
Other flowers bloom throughout the summer, and you'll see gorgeous roses blooming up to the first hard frosts in mid-fall. Following the park's early traditions, the Garden continues to feature tropical displays including palms - a Victorian favorite - in some beds.
---
9. Find Boston's Most Colorful Fall Foliage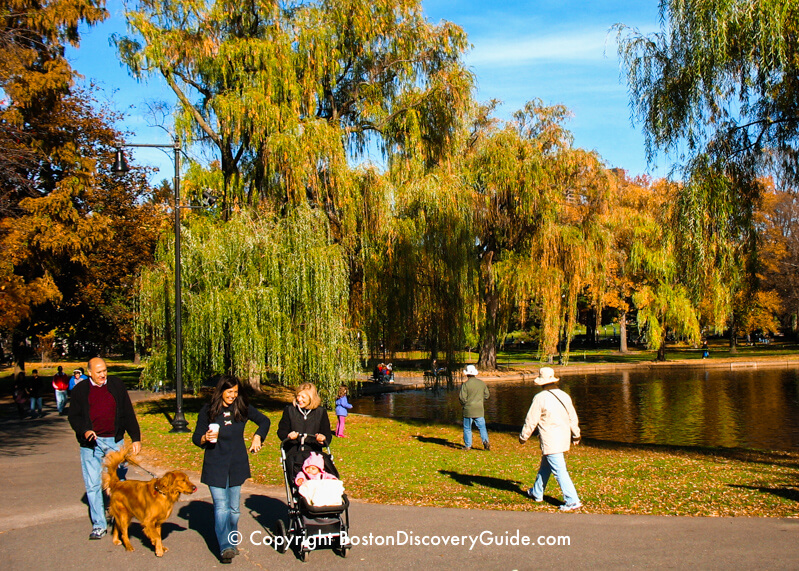 The Public Garden contains more than 600 native and imported trees, representing over 100 different varieties.
Look closely, and you'll see many trees labeled with Latin and common names in keeping with the educational tradition of botanical gardens.
What this means to fall foliage lovers is that you'll see gorgeous leaf shapes and colors that you won't find in other parts of the city or even elsewhere in New England. It also means that colorful foliage in the Public Garden tends to last for an exceptionally long time, as some trees such as Asian maples change color very early and others turn crimson and gold much later in the season.
In a typical year, you can start to see early colors by mid-September, or even earlier, and some will remain through early December unless an early snow or wind storm causes the leaves to fall.
More places to see fall foliage in Boston
---
10. Stroll (or Skate?) Around the Public Garden on Frosty Winter Days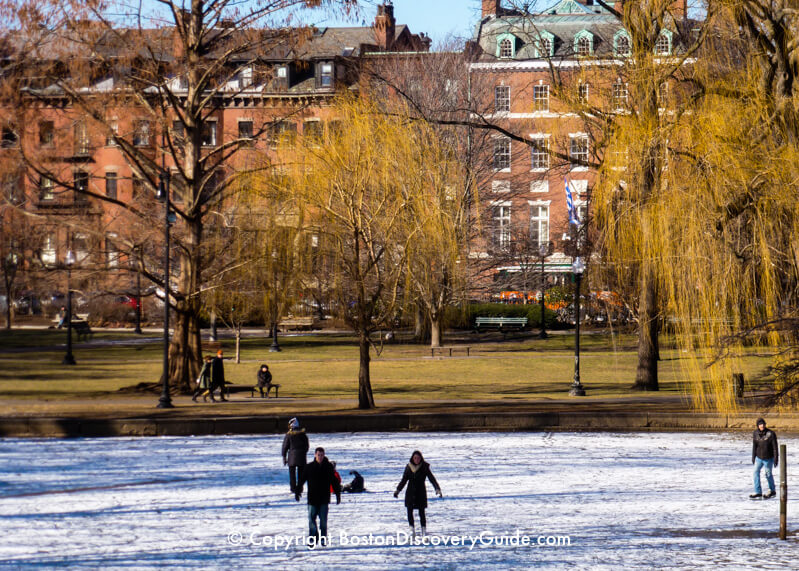 Once leaves fall off the trees, you can see the beauty of the Garden's design. It continues to be a popular place for walking and enjoying the scenery throughout winter, and looks especially lovely after a fresh snowfall.
Years ago, the Lagoon used to be deliberately flooded for skaters, but now ice skating has moved across to Frog Pond on Boston Common, where a zamboni keeps the ice smooth for skaters.
When conditions are right, you'll still see a game of ice hockey on the Lagoon.
More places to ice skate in Boston
---
Where to Stay near the Public Garden
---
Public Garden Trivia
The Public Garden is . . .
. . . America's oldest botanical park - and it's still one of the most important in America
. . . home to about 80 species of plants and flowers planted twice each year in 55 French-style flower beds and 4 rose beds
. . . the site of the world's smallest suspension bridge, built in 1867 and technically no longer a "real" suspension bridge due to the addition of reinforcements underneath that make the cables merely decorative
. . . considered the "jewel" of Boston's Emerald Necklace, Frederick Law Olmsted's series of connecting parks that encircle the city
. . . first and foremost, a garden - and is almost exactly like it was when it opened to the public in 1861
---
Public Garden Map & Directions
Getting to the Public Garden
Location:
Downtown Boston
Nearest T station:
Green Line/Arlington
Open:
Daily
Cost:
Free
Nearest parking:
Boston Common Garage (underground), entrance on Charles Street
---
More Articles about Boston Attractions near the Public Garden
---
Need a Boston Hotel or Apartment?
Use this handy map from Booking.com to find the perfect place to stay. Just enter your dates to find what's available, see the best rates, and make your reservations.