Home > Restaurants >
Top Back Bay Restaurants
Guide to restaurants in Boston's Back Bay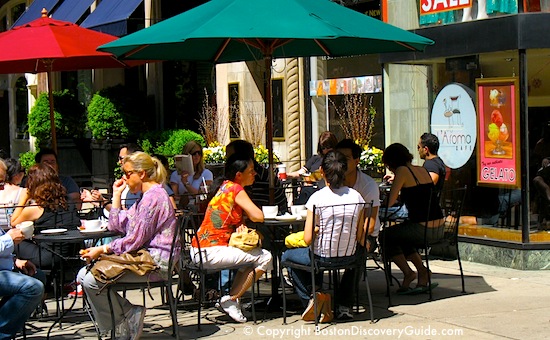 Many Back Bay restaurants offer outdoor dining during warm weather
You'll find plenty of excellent Back Bay restaurants in this fashionable Boston neighborhood, home to trendy Newbury Street boutiques, Copley Square, and many fashionable hotels.
Whether you're looking for a quick bite or haute cuisine, an American bistro or ethnic food, glamorous rooftop dining or a cozy neighborhood spot, you'll find plenty of choices at all price points.
Back Bay also offers some of the city's most romantic restaurants, a top seafood restaurant designed to feel like a New England clam shack, burgers and fries in a bowling alley, and several top steakhouses.
Use our Back Bay Restaurant Guide to find the perfect dining choices for you.
Very Expensive Back Bay Restaurants
Abe and Louie's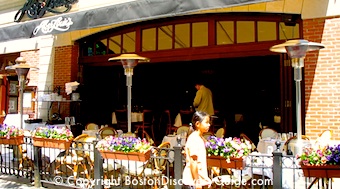 Prime steaks, huge portions, and a great wine list make award-winning Abe and Louie's one of the city's most popular steakhouses.
Choose from outdoor dining during warm weather or the comfy leather chairs and booths inside the handsome dining room featuring a barrel-vaulted gold-leaf ceiling, massive bronze chandeliers, and lots of mahogany.
Cutting back on red meat? Not to worry - have a swordfish steak, grilled shrimp, or New England lobster.
793 Boylston St | Green Line/Copley | 617-536-6300 | www.abeandlouies.com
Capital Grille
Order one of the delicious seafood appetizers - the shellfish platter or the smoked salmon from Maine - add a salad, and you may be tempted to call it a meal - but that would be a mistake. This favorite Back Bay restaurant serves up some of the best top-quality beef in town, along with perfectly prepared fish and shellfish. Interesting salad and vegetables at this popular Back Bay restaurant keep vegetarians, as long as they ignore the plates filled with juicy steaks on the other tables. Everyone will enjoy the robust wine list.
900 Boylston Street | Green Line/Hynes Convention Center | 617-262-8900 | www.thecapitalgrille.com
Grill 23 and Bar
161 Berkeley St | Green Line/Arlington | 617-542-2255 | www.grill23.com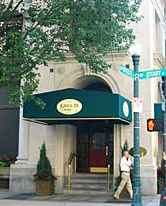 Another premier Boston steakhouse, Grill 23 specializes in prime, all-natural beef - although its grilled seafood offerings are also excellent. The menu looks extensive, but actually it's simple: if you want beef or lamb, decide which cut you fancy - and it will be cooked to your specifications. Seafood choices are also simple: large boiled Maine lobsters and large swordfish steaks.
Portions at this popular Back Bay restaurant are huge - be sure to come with a hearty appetite! Grill 23's 1,000+ choice wine list also contribute to a festive evening.
Davio's Northern Italian Steakhouse
Davio's innovative Northern Italian food and carefully chosen wine list will please meat lovers, fish lovers, and pasta lovers alike. And vegetarians and vegans will love the vegetables here.
75 Arlington St, between Saint James and Stuart; Green Line/Arlington | 617-357-4810 | www.davios.com
Money-saving tip: Some of Boston's most expensive restaurants call Back Bay "home." If their dinner prices make you blanch, consider going for lunch instead. Menus may be similar to dinner, but much more affordable.
And to try top Back Bay restaurants without flattening your wallet, check out Dine Out Boston during March and August.
Expensive Back Bay Restaurants
Deuxave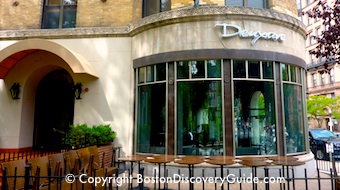 Deuxave, a stylish, light-filled spot at the corner of Mass Ave and Comm Ave uses high-quality fresh local ingredients, contemporary French preparation techniques, and flavor inspirations from around the world.
Wines also incline toward France, with a nice selection from affordable to celebratory, and 20 available by glass.
Enjoy the outdoor "terrace" (well, really the sidewalk) seating in the summer, the chic bar, and the cozy fireplace in the main dining room.
371 Commonwealth Ave | 617-517-5915 | www.deuxave.info
Return to Top - Back Bay Restaurants
Haru
55 Huntington Ave (street level below the Shops at Prudential Center) | Green Line E/Prudential | 617-536-0770 | www.harusushi.com
Japanese food fans will love this spacious, stylish restaurant with its fabulous sushi bar, artwork by local artists, and Japanese garden. Even if you don't love sushi or sashimi, you'll find some great teriyaki, tempura, fish, and seafood options on the menu at this innovative Back Bay restaurant, part of a small Northeast chain. Known for its innovative entree combinations, plus the sake and cocktail lounge.
Return to Top - Back Bay Restaurants
Sonsie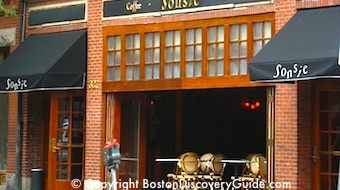 Looking for a trendy, see-and-be-seen spot in Back Bay? Sonsie is your place!
The stylish red, black, and white interior, the glamorous tres chic bar, and French windows opening onto Newbury Street project a European flavor matched by the international menu.
Sonsie feels glamorous at night, and during the day, spectacular light streams in through the large windows, giving you a "everything's right with the world" feeling.
Dinner options range from brick oven pizza . . . to herb polenta fritters with roasted artichokes and yellow tomatoes . . . to grilled duck breast with ruby plums and ginger . . . to steak au poivre. A full bar, downstairs Wine Room, a nice wine list, and music throughout the evening enhance the festive ambiance.
327 Newbury St | Green Line E/Prudential | 617-351-2500 | www.sonsieboston.com
Stephanie's on Newbury
Stephanie's sophisticated comfort food may be just what you want after a long day of sightseeing, shopping, and museum visits. Imagine lobster pot pie . . . pan roasted sea scallops with cheddar corn bread . . . a double-thick pork chop with barbeque sauce and roasted sweet potatoes. A nice wine list gives you lots of affordable options. A fireplace warms the dining room in cold months, and in the summer you can opt for sidewalk seating on Newbury Street and people-watch.
190 Newbury St | Orange Line/Back Bay | 617-236-0990 | www.stephaniesonnewbury.com
Summer Shack
Jasper White's Summer Shack proves you don't have to leave the city in order to experience a real New England shore dinner. The food at this popular Back Bay restaurant has all the traditional clam shack favorites - boiled lobster, chowder, corn dogs, corn on the cob, grilled seafood, lobster rolls, the raw bar, bouillabaisse, fish and chips. The family-friendly atmosphere is fun, informal . . . and you can almost pretend that you're at the beach.
50 Dalton St across from Hynes Auditorium, upstairs above Kings Bowling Alley | Green Line/Hynes Convention Center | 617-867-9955 | www.summershackrestaurant.com
Legal Sea Foods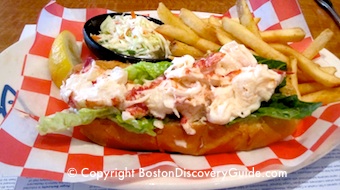 Even though Legal Sea Foods is no longer just a local seafood place, Bostonians still think of it that way. For many folks, Legal is best seafood restaurant in Boston.
You'll find a wide variety of seafood prepared in many different and delicious ways listed on its extensive menu - something for every taste. The menu even includes a small "turf" section and an excellent children's menu.
3 Back Bay restaurant locations:
Prudential Center | 800 Boylston St; Green Line E/Prudential | 617-266-6800
Copley Place, 100 Huntington Ave | Orange Line/Back Bay | 617-266-7775
26 Park Plaza, in Park Square (flagship location with an extensive wine cellar | Green Line/Arlington | 617-426-4444
Website for all locations: www.legalseafoods.com
Via Matta
79 Park Square | Green Line/Arlington | 617-422-0008 | www.viamattarestaurant.com
Via Matta features Italian regional cuisine of Piedmont, Tuscany, and Emilia-Romagna, , which relies on fresh, top-quality veggies, meats, and fish creatively prepared.
Innovative pastas. Menu changes daily at this very popular Back Bay restaurant in the Park Square area. . . tantalizing choices will cause you to want to eat too much, and return again and again. Separate bar menu. Very nice wine list.
Moderate Back Bay Restaurants
Casa Romero
You'll find authentic Mexican food here (not Tex Mex) - and it's mouthwatering! Main course offerings include specialties like grilled shrimp with tomatillos and cilantro, stuffed squid with tomato and chipotle sauce, and chicken stuffed with nopalitos and cheese with mole poblano sauce. The carefully chosen wine list features selections from Spain and South America.
If you love real Mexican food, this Back Bay restaurant is a place you'll want to visit more than once. Great patio for warm-weather dining outdoors.
30 Gloucester St (side entrance on the alley) between Newbury and Commonwealth Ave | Green Line/Hynes Convention Center; 617-536-4341 | www.casaromero.com
Return to Top - Back Bay Restaurants


City Table
This casual restaurant located at the Lenox Hotel serves contemporary versions of American classics (mac and cheese made with top-quality cheese, fondue, wonderful fish, risotto), emphasizing fresh and organic ingredients. Breakfast and dinner served daily. Or, make a meal from the wonderful appetizers.
61 Exeter St | Orange Line/Back Bay | 617-933-4800
Joe's American Bar and Grill
181 Newbury St, between Dartmouth and Exeter | Green Line/Copley | 617-536-4200 | www.joesamerican.com
Convenient spot for breakfast, lunch, or dinner in the heart of Back Bay.
Also on the Downtown waterfront next to the North End: 100 Atlantic Ave | Blue Line/Aquarium | 617-536-4200 | www.joesamerican.com
Kashmir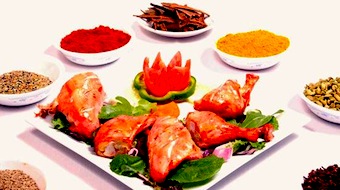 Kashmir is another popular Indian restaurant - one of Back Bay's best. Outdoor seating in warm weather.
Enjoy specials from the tandoor oven, crispy pakoras at the bar, curries, and northern Indian specialties such as barbequed goat.
279 Newbury St | Green Line/Hynes Convention Center | 617-536-1695; www.kashmirrestaurant.com
Kings Restaurant
50 Dalton St | 617-266-2695 | Green Line/Hynes Convention Center | 617-266-2695 | https://www.kings-de.com
21+ after 6pm
Kings Restaurant has surprising good food - considering that it's part of a bowling alley! Yes, you can actually bowl here! Plus, King's Restaurant is close to Hynes Convention Center, and it's a great spot to duck into between meetings or presentations . . . especially if you and a couple of colleagues want to get a little exercise by little bowling. It's also right around the corner from the Prudential Center entrance on Boylston Street.
Food choices include pizzas, wraps, salads, burgers, and even simple but delicious entrees. All of the food is freshly made daily on the premises. While you might not come to a bowling alley (Kings also has billiards and a full bar) just for the food, this casual but fun Back Bay restaurant prepares food good enough to stand on its own. My kids love, love, love the ice cream sandwiches - and so do I!
Needless to say, kids will clamor to come to this place (especially after you let them bowl) but it's a lot of fun for everyone. Did I mention the 6 huge screens and too many TVs to count for watching sports events? Kings is a little off the usual Boston tourist path - but if your significant other has dragged you around to too many museums, historical sites, and culture, Kings could be the perfect antidote.
Bangkok Blue
Huge menu - you can probably find every Thai dish imaginable here. Curries and seafood dishes are particularly good. I love their tropical drinks, especially the mango and passion fruit smoothie! Considering Bangkok Blue's location in an expensive part of Back Bay, you'll love the affordable prices. Outdoor seating during warm weather.
651 Boylston St, right across from the Boston Public Library | Green Line/Copley | 617-266-1010 | www.bkkblueboston.com

Cactus Club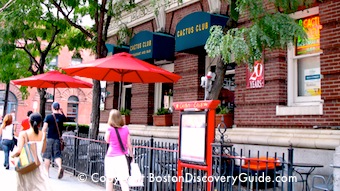 Although the emphasis at the Cactus Club is definitely on the margaritas, Tex-Mex bar food is actually quite good.
If you're exhausted from shopping, imagine a big, frosty margarita and a bite to eat in a super-casual Back Bay restaurant . . . this is your place! Cactus Club also offers sandwiches, empanadas, and wraps.
If you're in the mood for dessert and want to try something you won't find in perhaps any other Back Bay restaurant, order the cinnamon banana cheesecake, dulce de leche, or fried ice cream.
939 Boylston St | Green Line/Hynes Convention Center | 617-236-0200 | www.bestmargaritas.com

Cafe Jaffa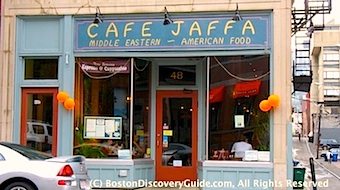 Cafe Jaffa, a cozy spot tucked between Newbury and Boylston Streets, is where to come for Middle Eastern favorites - tasty stuffed grape leaves, kebabs, baba ganouj, hummus, and falafel.
Eat in, or pick up get picnic fixings.
48 Gloucester St | 617-536-0230; Green Line/Hynes Convention Center | www.cafejaffa.net


India Samraat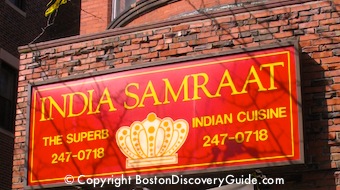 Samraat's extensive menu and delicious makes it a perennial favorite with students and locals because of the affordable prices (mostly under $15).
Considered one of the best Indian restaurants in Back Bay - lots to love in the home-style cooking.
51 Massachusetts Ave | Green Line/Hynes Convention Center | 617-247-0718 | www.indiasamraat.com


Parish Cafe and Bar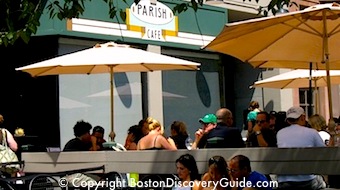 Parish Cafe's claim to fame is its sandwiches, created by and named for famous Boston chefs.
Each features an out-of-the-ordinary combination of flavors, often with a twist. A few salads and casual entrees round out the menu.
The concept is a little gimicky - but the food here is great. Unique sides accompany each order, always designed to balance out the flavors.
361 Boylston St | Green Line/Hynes Convention Center | 617- 247-4777 | wwwparishcafe.com
Piattini Wine Cafe
226 Newbury St | Green Line/Copley
Small plates of Italian specialties and excellent wine by the glass bring raves of approval to this affordable neighborhood spot on Newbury Street.
Trident Booksellers and Cafe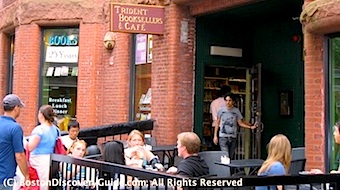 In addition to being the last independent bookstore in Boston Proper, Trident serves up delicious home-style food, including breakfast.
Look for favorites such as homemade meatloaf and cassoulet on the regular menu, plus daily pasta and risotto specials. The downside: you'll usually have to wait to get a table.
338 Newbury St | Green Line/Hynes Convention Center | 617-267-8688 | www.tridentbookscafe.com
Inexpensive Back Bay Restaurants
B Good
You can get burgers (meat and veggie), sandwiches, salads, and fries at these popular Back Bay restaurants that emphasize speed, freshness, flavor, and value. Come here for tasty, affordable freshly made food. Part of a small local chain. The Newbury St location offers patio dining during good weather.
Back Bay locations:
131 Dartmouth St, between Columbus Ave and Stuart St | 617-424-5252
272 Newbury St; Green Line/Hynes Convention Center | 617-236-0440
137 Mass Ave, at Berklee College of Music | 617-236-5480
Other Boston locations:
255 Washington Street (Downtown Crossing) | 617-227-1006
84 Summer Street (Financial District) | 617-357-7192
24 Dunster Street (Harvard Square, Cambridge) | 617-354-6500

Davio's To Go
One of Boston's "hidden" secrets - stop by Davio's To Go counter to get delicious muffins, bagels, salads, panini, soups, and pizza by the slice straight from the kitchen of one of Boston's best Northern Italian restaurants. Personal favorites: the deep-dish mozzarella cheese pizza and chopped salads. Plus, you get Davio's high quality at very affordable prices.
10 Saint James Atrium Galleria lobby (between Arlington and Berkeley Streets) | 617-357-4810 | www.davios.com
Men Tei Japanese Noodle Cafe
66 Hereford St between Newbury and Boylston | Green Line/Hynes Convention Center | 617-425-0066 | no website
You'll find great Japanese soups, stir-fried noodles, rice bowls, and fried rice at this pleasant and unpretentious Back Bay restaurant. Side dishes such as seaweed salad, steamed dumplings, and tofu with spicy sauce round out the menu.This is one of my favorite Back Bay restaurants for a quick and healthy meal - love the seaweed ramen bowl full of fresh veggies!
More Boston Restaurant Choices to Explore
Boston Discovery Guide > Restaurants > Back Bay