Boston's Greenway is made for walking - as you'll quickly discover on this self-guided tour through its lushly landscaped parks filled with fun things to do and see.
The ribbon-shaped Greenway links the mile and a half distance between Boston's Italian North End neighborhood and lively Chinatown, flanked by Faneuil Markeplace, historic parts of Downtown, and the Financial District on the west and hugging the coastline along the Harbor on the east.
You can see much of these surrounding areas as you walk the length of the Greenway and of course you can make detours to explore them - but this walking tour focuses on the various attractions, events, food and drink, and fun things to do in the Greenway's series of unique parks.
Why so many parks?
The Greenway cuts through a busy part of the city and lots of streets cross it, dividing it into block-long chunks - in other words, parks.
On our self-guided Greenway tour, you'll start in the North End Parks and stroll south along the Greenway's paths, discovering each park's unique mix of attractions - splash fountains, a carousel, huge art installations, an outdoor beer garden, historic markers and memorials - and lots more.
Here's a park-by-park guide to what you'll find:
Top Photo: Splash fountain on the Greenway, (c) Boston Discovery Guide
Boston Discovery Guide is a reader-supported publication. When you buy through our links, we may earn a commission at no additional cost for you. Learn more
---
The Greenway's North End Parks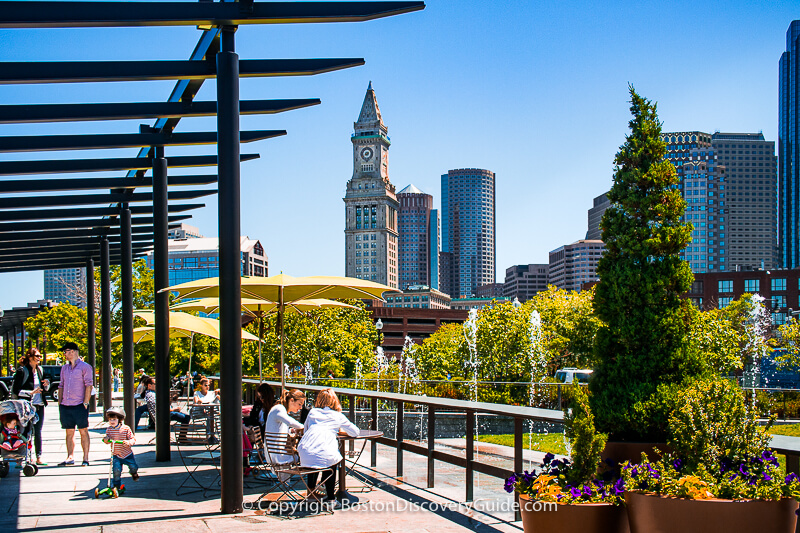 Our Greenway walking tour starts at the two North End Parks on the park's northern tip, across from the Haymarket subway station and Boston Public Market.
Perhaps the first thing you'll notice about the two parks, located between New Sudbury Street and North Street and bisected by Hanover St, is the massive steel pergola running along the east side of both parks. At 200 foot long and weighing 50 tons, the pergola frames city skyline views and expansive flower-filled plantings when you sit a table or in a swinging seat under it.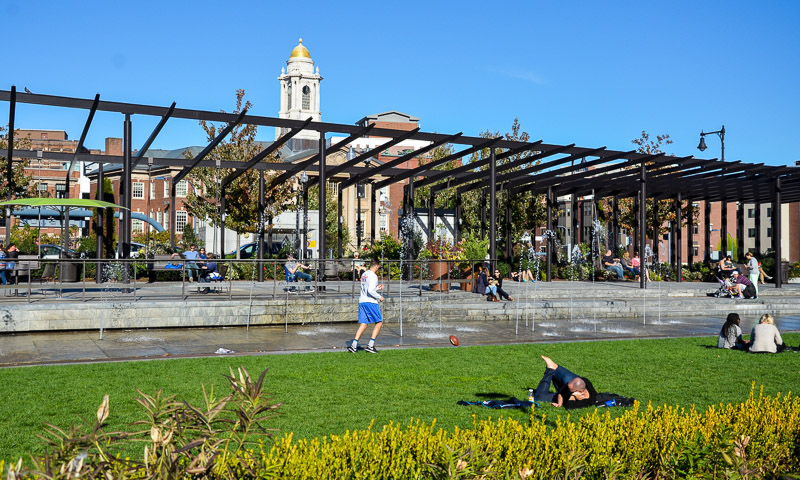 If you stroll along the opposite side of the parks, the pergola filters your view of the North End neighborhood's mellow brick buildings.
Next to the pergola is a "canal," punctuated by splash fountains. The flat surface of the bottom and shallow water depth (maybe an inch at the most) make this a popular place for kids to cool off on hot summer days.
The design of the trellis is intended to reflect the cafe culture of the North End, while the canals provide a historical reference to the days when canals used for shipping cut across Boston.
Although not obvious at first glance, the North End Parks are all about local history, and if this interests you, you may want to take a closer look at several elements.
Boston's Freedom Trail crosses the north park just above Hanover Street. Go to the corner and you'll see a marker at the commemorating Zipporah Potter Atkins, a free Black woman who in 1670 became the first woman of African descent to initial a deed and buy a house and land in Colonial Boston; the marker is at the border of her property. (Visit the Museum of African American History in Beacon Hill to find out more about Boston's African American heritage from Colonial times through the 19th century.)
Along Hanover Street, flat railings line the walkways. Take a closer look at their flat top surfaces, and you'll see a fascinating Boston history timeline with quotes from North End residents.
Design elements feature lots of granite, echoing the favorite North End paving stone. Some of the granite paving has a kind of wavy pattern - not so great if you're trying to walk on it, but its purpose is to evoke the nearby North End waterfront.
---
Armenian Heritage Park on the Greenway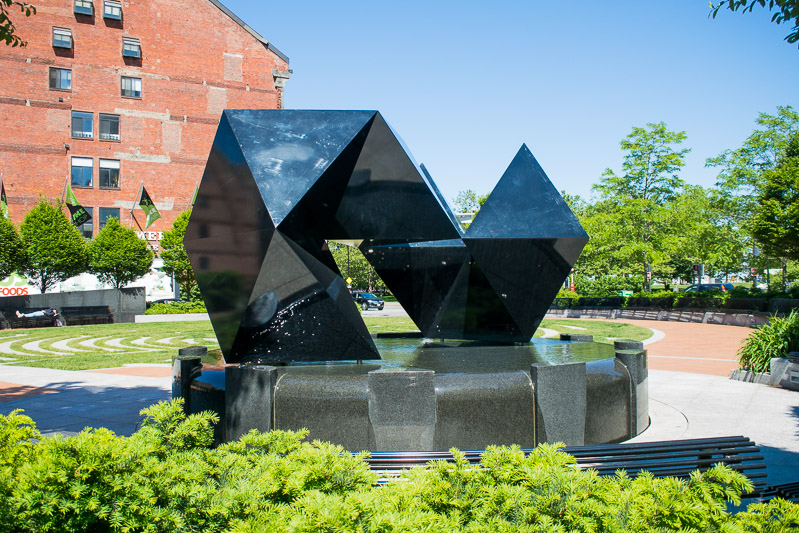 Occupying a small area north of Mercantile Street and almost directly across from Faneuil Marketplace, the Armenian Heritage Park memorializes those who died during the Armenian Genocide and other genocides. It also symbolizes the experiences of immigrants arriving in Massachusetts from all over the world.
As soon as you enter the park, you'll notice two striking features surrounded by circular paths, benches, and green borders.
The most striking, a polished black granite sculpture in a fountain, symbolizes the coming together of immigrants. Its two 12-sided pieces can be in at least 24 different positions, and it is reconfigured each spring to symbolize the ever-changing immigrant experience.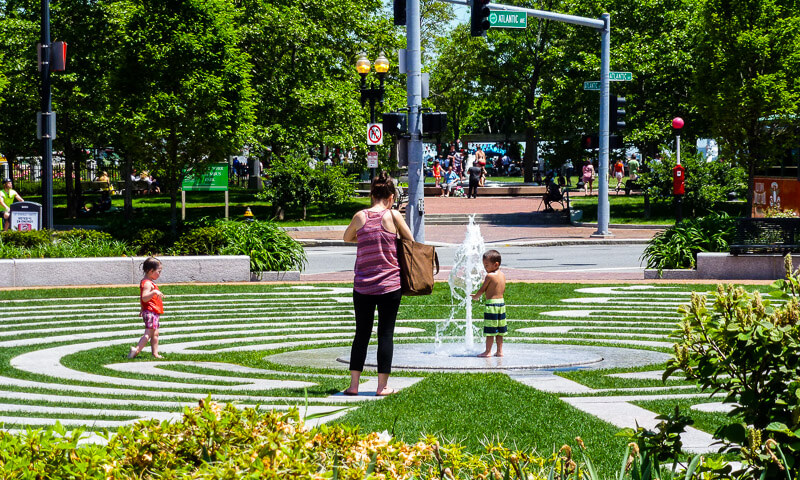 Next to the sculpture, The Labyrinth, a granite-paved maze set in the closely cropped lawn represents the journey of life.
A splash fountain in the middle - a favorite with young children who want to cool off.
---
Wharf District Parks in The Greenway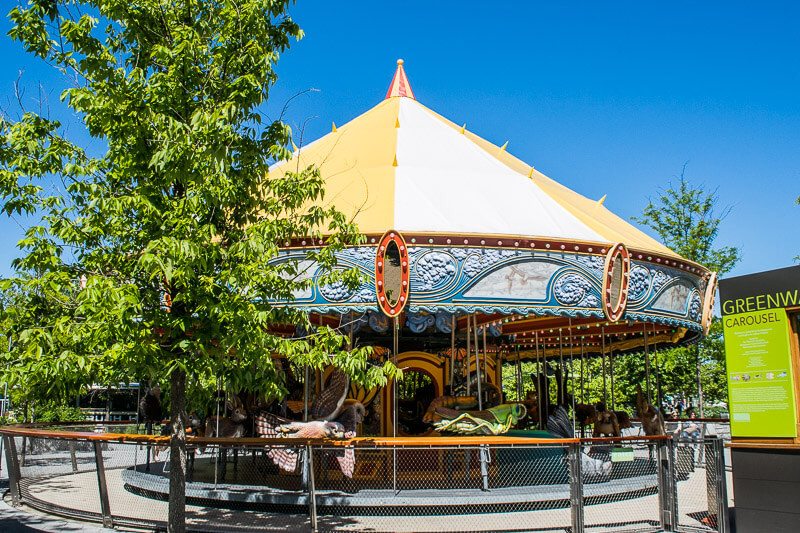 Although the five Wharf District Parks offer plenty of green spaces and lush plantings, they are also where you'll find many of the Greenway's most popular recreational attractions.
As soon as you cross Mercantile Street after leaving the Armenian Heritage Park, you'll see the brightly colored and unique Greenway Carousel - usually surrounded by happy kids and their parents. Instead of the usual horses, you can catch a ride whales, lobsters, grasshoppers, birds, squirrels, and other creatures of air, land, and water local to the Boston area. More about the Carousel
Walk a bit further, and you'll see the Boston Harbor Islands Pavilion where you can get ferry schedules and tickets for the Boston Harbor Islands, as well as information from Park Rangers about the Greenway, the Harbor, and the Islands. Incidentally, the only water fountain on the Greenway is located here.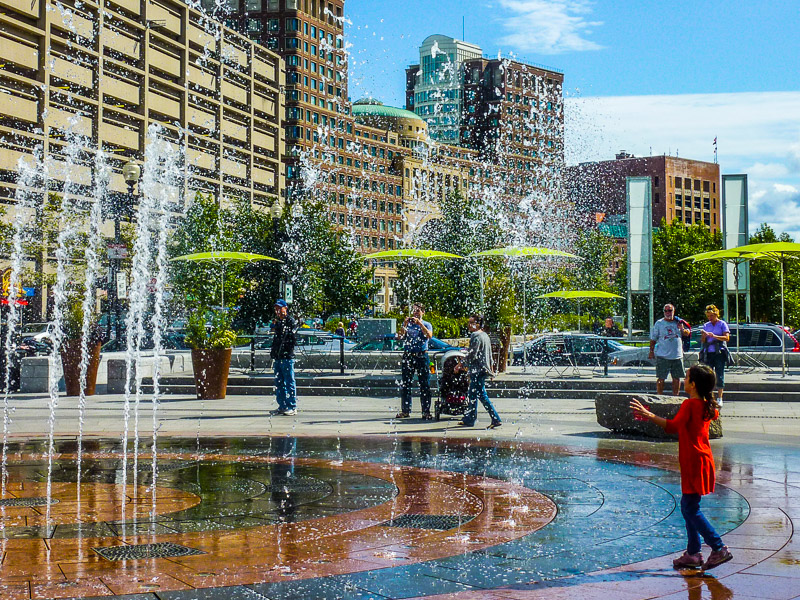 Cross State Street, where you'll usually see food trucks parked from about 11am-4pm, and in the next Wharf District Park you'll see another kids' favorite - the impressively large Rings Fountain, where water shoots high into the sky and forms a well-used splash pool in the surrounding spaces.
See the tall vertical rectangular structures -12 in total - surrounding this park and the next one? They are light sculptures called Light Blades, and while they're sort of nondescript during daylight hours, at night they light up the parks with an ever-changing display of colors and patterns. They're lovely on clear nights, but when rain or snow is falling, they become ethereal.
In the next park, across East India Row, are more interactive sculptures crafted to resemble foghorns. During warm months, they emit mist when you come near them, and make foghorn-like sounds. The south end of this park, across from the Boston Harbor Hotel, features an open plaza with colorful umbrella tables for relaxing.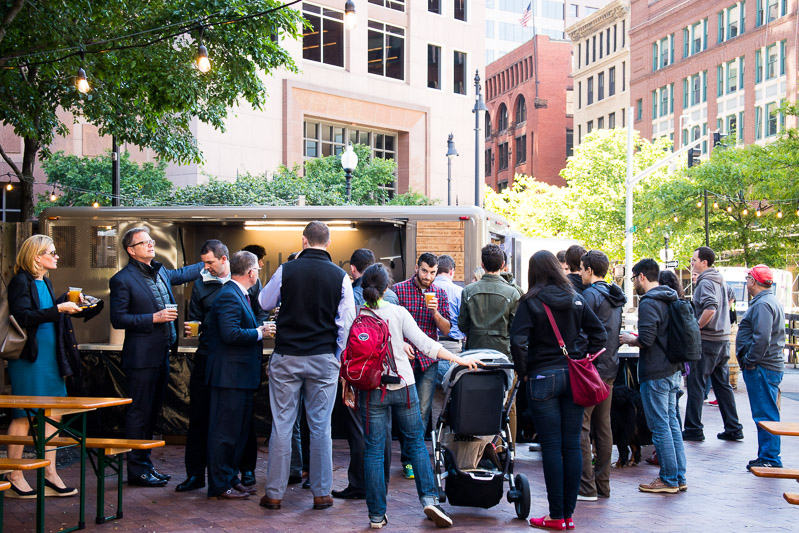 Across High Street is the fifth and final of the Wharf District Parks. Trillium Beer Garden, located on the corner of High Street and Atlantic Ave, is a popular place to relax and enjoy a beverage (wine is also available) after work and through the evening - or before continuing your walking tour along the meandering paths and groves of trees filling the rest of this park, designed to be an Urban Arboretum.
Find Trillium Beer Garden's hours and other information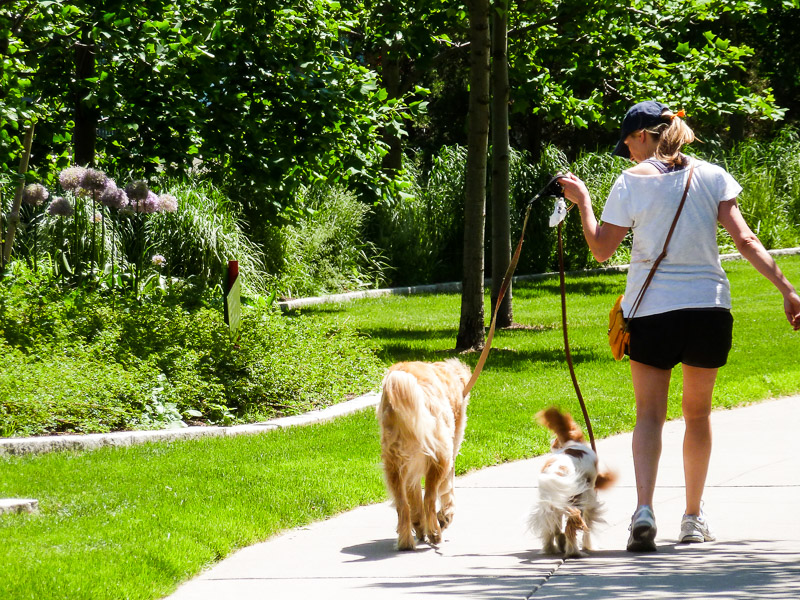 ---
Save on Boston Attractions, Cruises, More with a Boston Discount Card!
Best way to save in Boston. Save 50% or more when you visit the New England Aquarium, Fenway Park Tour, Boston Children's Museum, Plimouth Plantation, Museum of Science, cruises, and more. Compare to find out which one is best for you.
---
The Greenway's Fort Point Channel Parks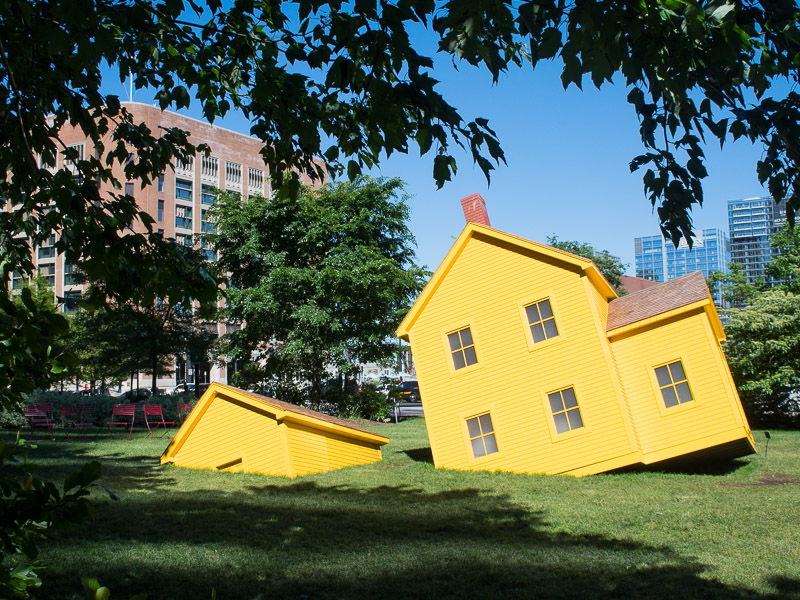 The two Fort Channel Parks, located between Oliver Street and Congress Street, pay homage to the 300+ artists living in the nearby Fort Point Community by featuring rotating large-scale public art installations, green open spaces with comfortable seating (look closely and you may even find a hammock or two), and vibrant borders of perennials where you'll almost always find something in bloom. Toward the middle of the park bordering Congress Street, you'll see a solar-powered bench where you can stop and charge your mobile phone.
Despite the colorful flowers, these parks are like a quiet oasis designed for relaxation and contemplation. Even though nearby building are clearly visible through the trees, these parks feel closed off from city life.
---
Dewey Square Park on the Greenway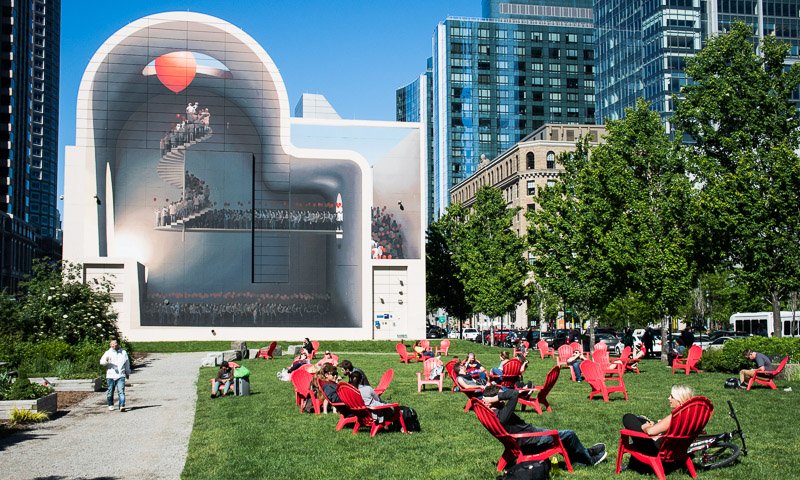 After you cross Congress Street, you're in Dewey Square Park, a small but lively area where people working in the adjacent Financial District or emerging from the South Station transportation hub congregate.
The northern half of the park features a huge art wall where giant murals get painted every year or so, and an even larger lawn with comfortable seating.
Weekly block parties with music, wine, and beer take place here on Thursday evenings in the summer (find details on our July Events Calendar).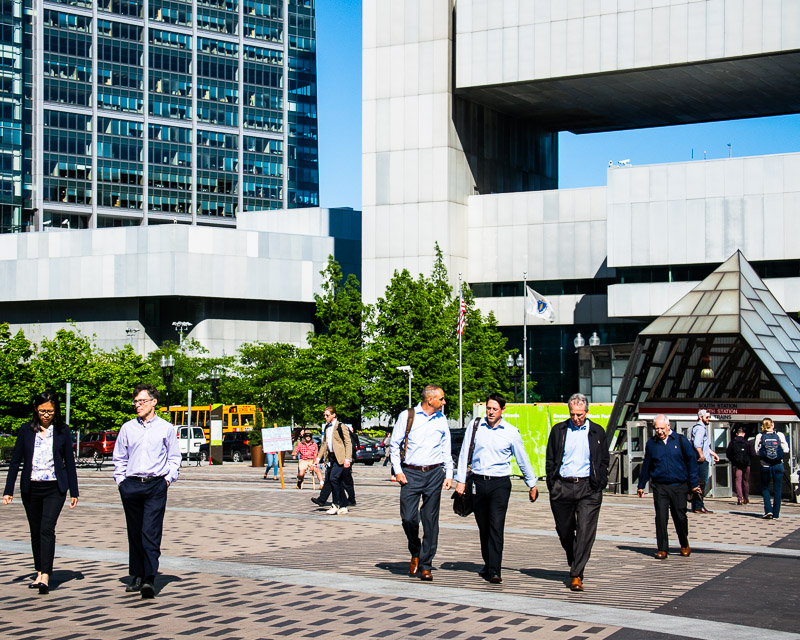 On the southern tip of the park, you'll see Dewey Square, a broad expanse of pavement across from an entrance to South Station. This area gets packed with food trucks during lunchtime, and even turns into a farmers' market on two days each week when vendors from Boston Public Market set up stalls.
Extending the food theme, demonstration gardens surround Dewey Square Park. Before continuing to the final Greenway segment, the Chinatown Park, take a minute to stroll around and see the butterfly garden, water garden, veggie garden, and other planted areas.
---
Chinatown Park at the Greenway's Southern Tip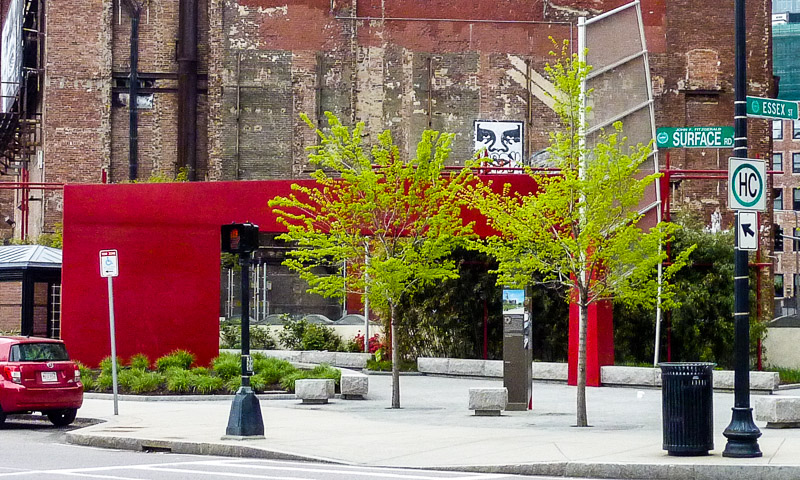 The Chinatown Park anchors the Greenway's southern tip.
Even before you cross Essex Street, you'll see a massive red gate. Like most of the design elements in this park, it carries symbolic meanings based on Chinese culture and traditional beliefs, and symbolizes good fortune and celebration.
It also contrasts the traditional Chinese "paifang" gate (scroll down to see a photo) given to the people of Chinatown by the city of Taiwan. In fact, you can see the two gates as representing Chinatown's traditional roots and modern vitality.
Next to the gate, you'll see a steel sculpture representing a sampan sail - again, another symbolic reference to the immigrant journey from China to Boston (although sampans are flat-bottomed boats totally unsuited for sailing far from shore, much less across the Pacific Ocean, and in reality, many of Boston's initial Chinese residents came in the 1870s from San Francisco; the federal Chinese Exclusion Act prohibited most immigration from China between 1882 and 1943 when the Act was finally abolished).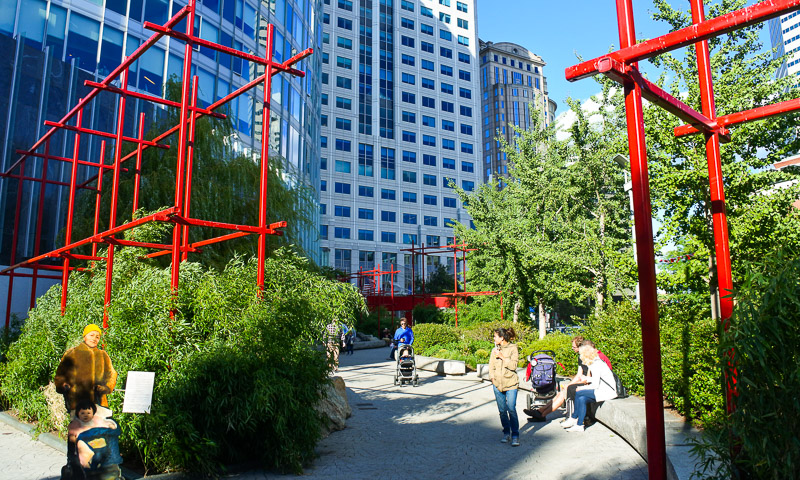 As you walk through the huge red Essex Street Gate, the path begins to curve.
Tall ornamental grasses wave gently in the breeze, while bamboo rustles. If you visit in late May or early June, you can enjoy the blooms of peonies and rhododendrons, plants ubiquitous in both China's and Boston's landscapes. Blocks of granite provide seating along the way.
In contrast to all of this undulating green, large red steel frames evoke the bamboo scaffolding seen everywhere in today's China while echoing both the linear designs of adjacent buildings as well as the still-distant Chinatown Gate at Essex Street.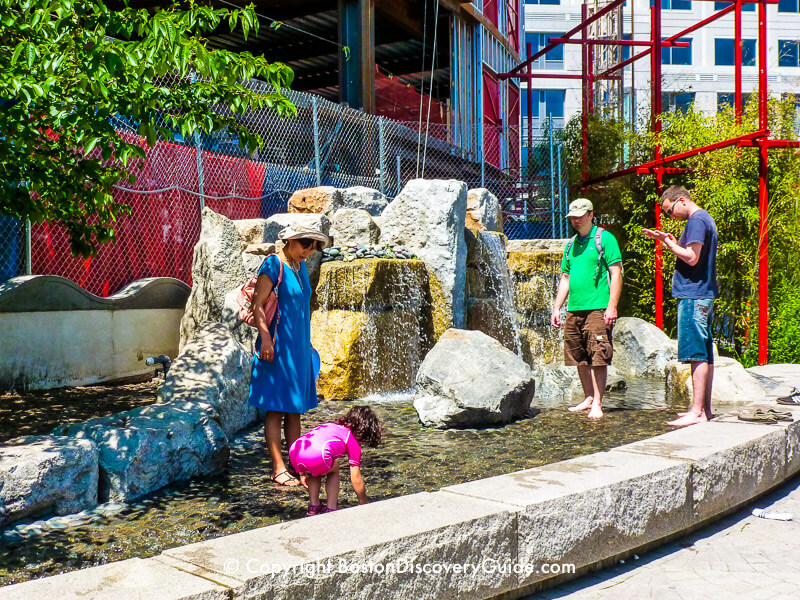 Just as you start to hear the sound of water, you'll see a waterfall running into a very shallow pool that flattens out into a stream.
This is a popular area for splashing on hot days.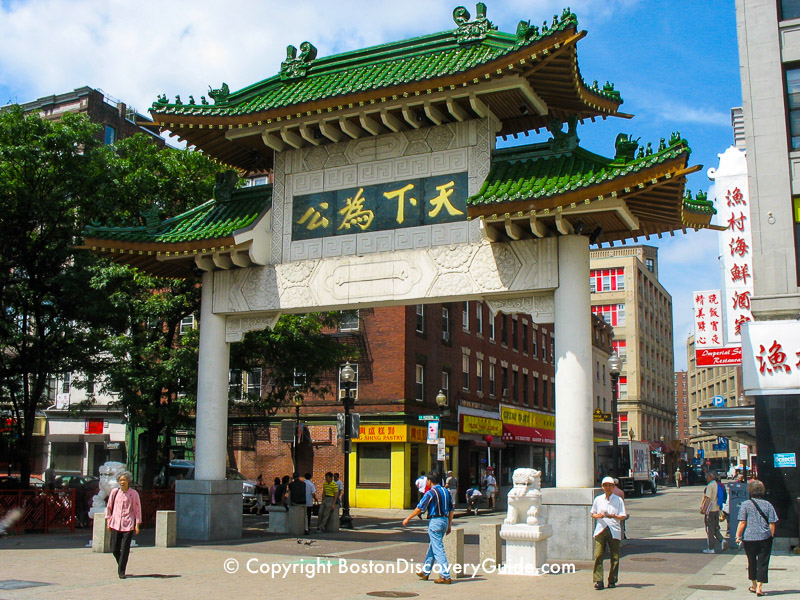 The path opens up at a broad plaza facing the Chinatown Gate. Walk through it, and you're in Chinatown where you'll find plenty of wonderful Asian restaurants where you can go for a meal or dim sum.
Check our recommendations for five fun Chinatown restaurants - both traditional and contemporary
Find out where to go for dim sum
---
More Fun Walking Tours of Boston
---
Greenway Map - Parks & Attractions
---
More Articles about Fun Ways to Tour Boston
---
More Fun Ways to See Boston
---
Need a Boston Hotel or Apartment?
Use this handy map from Booking.com to find the perfect place to stay. Just enter your dates to find what's available, see the best rates, and make your reservations.