Going out for dim sum in Boston's Chinatown neighborhood is practically a weekend ritual for many Bostonians, and for good reason: delicious food!
Although Chinatown overflows with restaurants, cafes, and bakeries where you can savor dozens of fantastic dim sum dishes, figuring out where to go and what to order can seem confusing, especially if you're a Boston visitor.
Unless you're familiar with Cantonese, Hong Kong, or Taiwanese cuisine, you may not even be familiar with the concept of dim sum, much less the specific dishes or the best places to try them. Our guide to where to go for dim sum in Boston's Chinatown tells you:
Gate to Boston's Chinatown neighborhood, (c) Boston Discovery Guide
Boston Discovery Guide is a reader-supported publication. When you buy through our links, we may earn a commission at no additional cost for you. Learn more
---
What Exactly is Dim Sum?
You can think of dim sum as the Cantonese (ie, Southern China) version of brunch involving lots of "small plates" and tea - although in Boston, beer is also an increasingly popular dim sum beverage at eateries with alcohol licenses.
The fun begins with what's on the small plates.
Typical selections include a variety of dumplings, also called "dim sum," plus an almost endless stream of other dishes.
Look for steamed rice buns (bao) filled with savory pork or sweet red bean paste, little egg custard tarts, steamed vermicelli rolls, crispy scallion pancakes, barbecued ribs, fried chicken wings, meat balls, congee (thick rice porridge) topped with tasty tidbits and fried crullers, juicy shrimp steamed in rice wrappers, shumai, sticky rice wrapped in lotus leaves, short ribs, salt and pepper squid, tofu prepared in many different ways, fried turnip cakes, crab claws - and that's really just the beginning.
If you're more adventurous, try the preserved eggs and chicken feet.
Prefer modern Asian cuisine? Here's where to find it in Chinatown
---
Where is Dim Sum Served in Boston's Chinatown?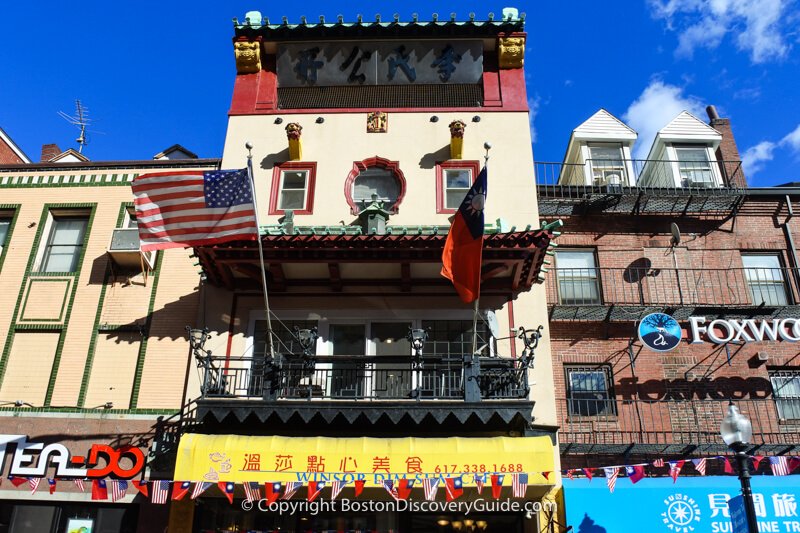 Before considering specific restaurants (although you can go straight to our recommendations if you want), you should know that in Boston, you can choose from two types of dim sum serving styles: rolling carts and cooked-to-order.
In restaurants that use the rolling cart style, the kitchen staff places small plates containing a variety of freshly cooked items on the cart, and a server rolls it from table to table to let you select what you want. The server marks what you order on a slip of paper and adds it all up at the end to compute your bill.
Once the cart begins to get empty, the server takes it back to the kitchen where more dim sum choices are added. In larger restaurants, several servers may be rolling carts around the dining area at the same time. You never know what will appear next, and sometimes the food cools off a bit before it reaches you.
Smaller cafes - usually tiny eateries so tightly packed with tables and chairs that diners and wait staff can barely squeeze through - may offer cooked to order dim sum. You look at a menu (there may be English translations and/or pictures), check off what you want on a paper list (there's often a stack of them along with pencils on the tables), and give it to your waiter.
The kitchen cooks up whatever you've ordered and depending on how crowded the restaurant is and how much the orders have backed up, you may have to wait awhile. The food is usually delivered piping hot as soon as it's done.
Typically, diners select and order a few dishes, and then once they've eaten most of them, they order a few more if they're still hungry. Alternately, you can order 4-5 items at once, because they'll arrive one or two at a time based on when the cook finishes them.
---
What Are the Best Places for Dim Sum in Boston's Chinatown?
Here are five fantastic, much-loved dim sum places you should visit - two with made-to-order food and three with rolling cart service. At all of them, you'll typically see a large percentage of Asian diners - always a sign of authentic, very-good-to-excellent food.
Great Taste Bakery & Restaurant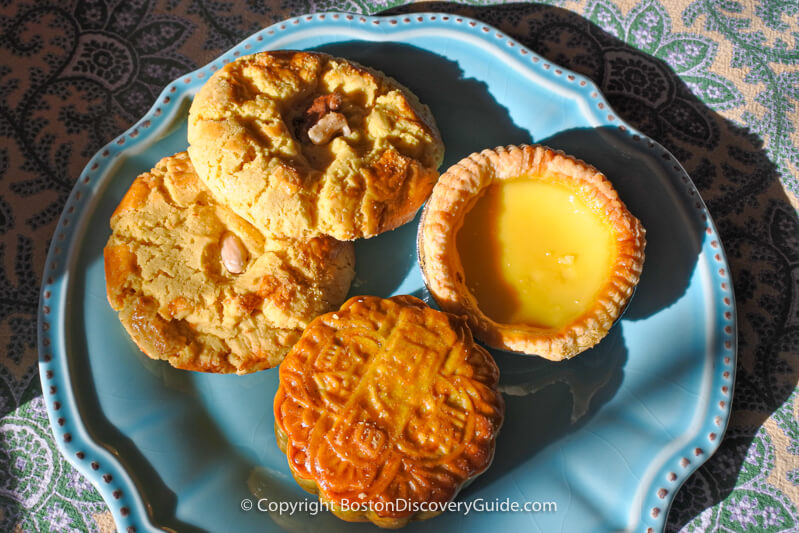 Part bakery, part Hong Kong-style eaterie, Great Taste Bakery & Restaurant offers made-to-order dim sum as well as other dishes - and of course, sweet and savory pastries, steamed buns (bao) stuffed with meat, red bean paste, and other sweet and savory fillings, and cakes to go on the bakery side. Although you'll see a few tables and chairs near the bakery case, go to the back and around the corner to the dining side if you want dim sum.
The dining area is small, no frills, and all about the food, which is authentic and excellent. You check off the items you want on a small paper list. Fortunately, most things are easy to understand and they're also inexpensive so if you make an ordering mistake, you're only out a few dollars.
What's tougher to figure out is portion size - some are small, some are larger, and you can't get clues based on the price, partly because they're all low. A good strategy is to order 2-3 items per person and then flag down a server later if you want to order more.
You may also be given a regular dinner menu with lots of tempting options. However, if you're here for dim sum, you'll be wise to ignore it because the dinner menu servings are huge and there's probably no way you can eat both at one meal (you can aways order carry out right before you leave to eat for another meal later).
Likewise, be aware that the congee is fantastic but also so filling that you won't be able to eat much else.
Food always arrives hot and fresh made. Servers bring it as soon as it's ready, which means that you'll typically get only 1-2 items at a time.
61-63 Beach Street | 617-426-6688 | open daily at 7am; dim sum begins at 8am | website
Winsor Dim Sum Cafe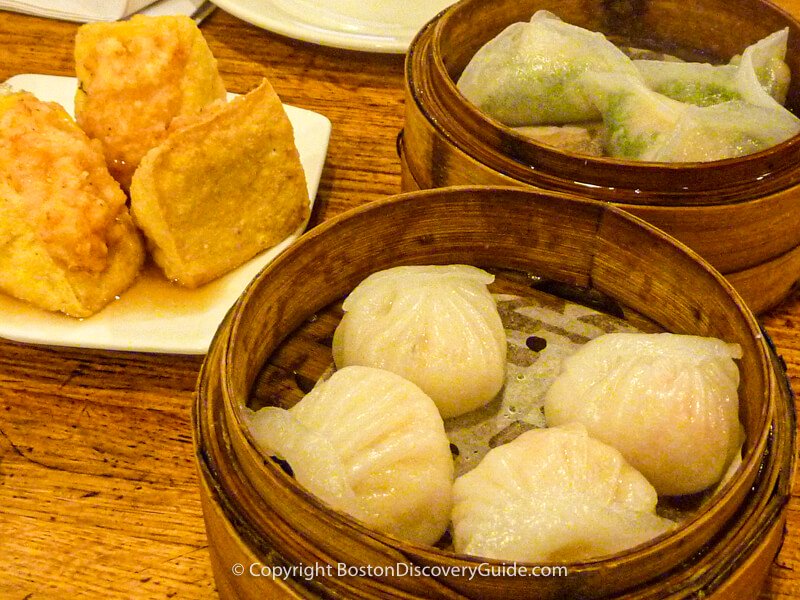 Winsor Dim Sum Cafe is another small place - too small for carts, so the food is freshly made to order. Similar to Great Taste, you check off what you want on a small slip of paper, but if you're not Chinese, you'll be given a menu with photos and English descriptions so that you have a better chance of knowing what you're getting.
Many of the tables here are large and round, so if you come at a busy time (basically, every weekend morning) and you're alone or just with 1-2 other people, you'll likely be seated with strangers. This keeps the line moving more quickly, as it often goes down the steps and out the door.
61 Beach Street | 617-338-1688 | 9am - 10pm
More Ways to Explore Boston's Food Culture
---
China Pearl Restaurant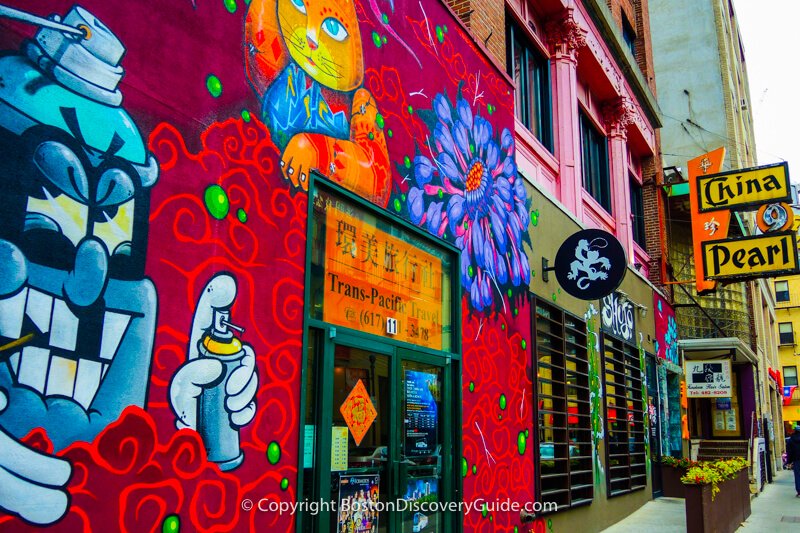 Despite the colorful murals and wall art on China Pearl's section of Tyler Street, the restaurant's entrance looks unimpressive, even though it's easy to spot by the line of waiting diners stretching down the block on Saturdays and Sundays (arrive before 10am if you want to avoid it). Fortunately, the line usually moves quickly.
Once you've gone up the stairs, you'll walk into a spacious dining area decorated attractively decorated with hanging red lanterns, with low lighting, soothing traditional music playing in the background, and a relaxed vibe.
Servers roll carts filled with small plates of the most popular dim sum dishes past the tables. On Saturday and Sunday mornings, the selection is extensive and the food is tasty, fresh, and hot. Just point to what you want. Your server will write what you select on a piece of paper and leave it on the table - this is also your check, which you pay at a register at the front when you leave. If you want something more esoteric - chicken feet, beef tripe, or even turnip cakes - take your check and go over to the hot bar, choose what you want, get your check stamped, head back to your table, and enjoy.
Service is generally attentive, with servers bringing around the carts periodically to let you see what's new. Speaking Cantonese helps but is not at all essential.
Try to come before 1pm because at some point when lunch crowds begin to thin out, the chefs stop preparing more dim sum dishes, so choices begin to diminish and whatever is left cools off. If you arrive too late for dim sum, there's also a full menu of traditional Chinese dishes.
9 Tyler Street | 617-426-4338 | 8:30am - 9:30pm
Hei La Moon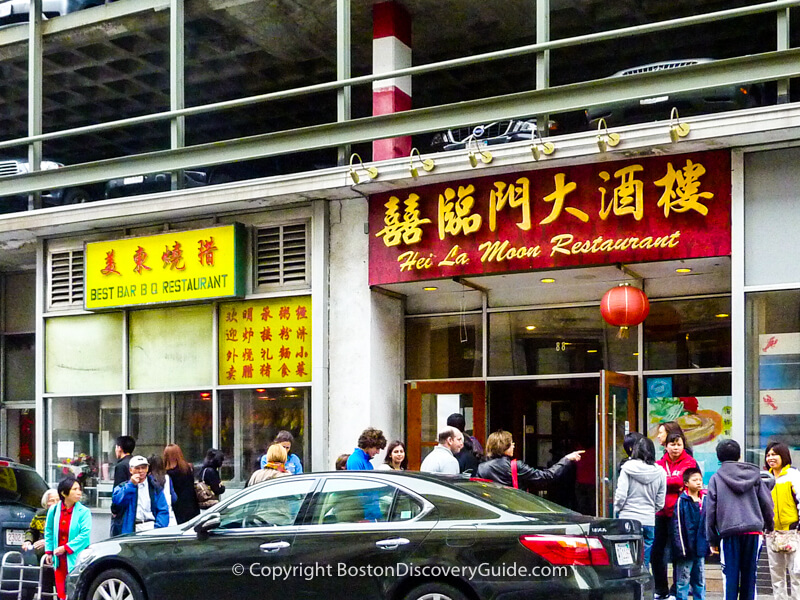 With tasty dishes delivered hot, fresh, and rapidly in rolling carts and a huge light-filled 2-floor space that's almost always packed on Saturday and Sunday mornings, Hei La Moon delivers the quintessential dim sum experience: a big variety of excellent food at very low prices.
Although speaking Cantonese or at least Mandarin (or going with someone who does) helps if you want any information about the food you're selecting or want to order something special like a big plate of fried rice from the kitchen, you can do just fine by pointing and having a sense of adventure about what you might end up eating. Servers are friendly and helpful, but very rushed during weekend brunch time - so come during the week if you want more attentive service.
On weekend mornings, expect a noisy, hectic, high-energy vibe and and fast-moving carts filled with a huge variety of items. Select what you want all at once for the easiest experience. Otherwise, to get additional dishes, just take the tab that the server leaves on your table and go chase down a cart - that's what's expected during busy times here. During the week, servers are less rushed and have the chance to be more attentive.
Despite the crowds, you normally never have to wait more than a few minutes to be seated (that's the benefit of that rushed service). The bottom floor has huge banquet-style tables capable of seating groups of a dozen or even more, while the upper floor is where smaller groups get seated.
88 Beach Street, between Lincoln and Kingston Streets | Subway: Red Line/South Station | 617-426-6688 | 8:30am - 11pm | no functional website
Empire Garden Restaurant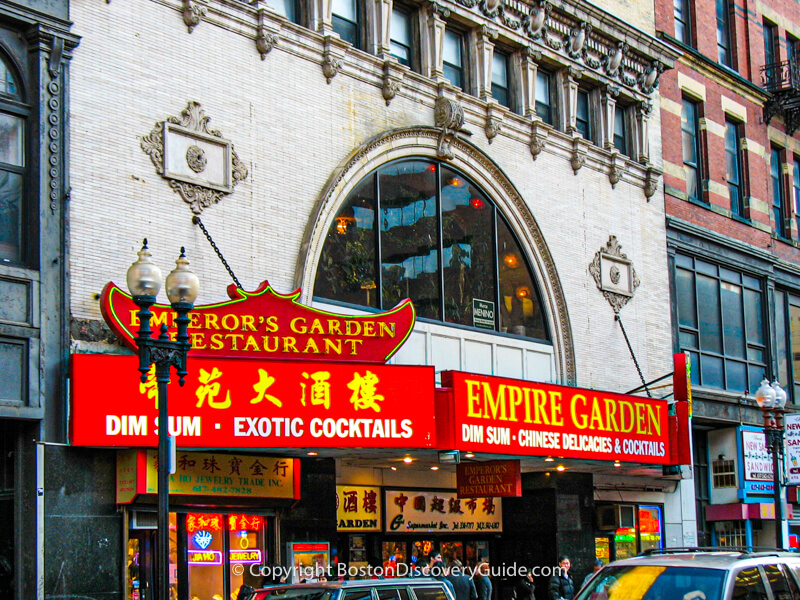 Although the lovely architectural details on the top portions of the building occupied by Empire Garden might give you a clue about what to expect inside, they're overshadowed by the attention-getting brilliant red and gold restaurant signs, not to speak of the sidewalk-level storefronts.
But once you enter the large mezzanine-level restaurant and see its dramatically high ceilings, elaborately-painted walls, and other decorative details, its former life as a performance space becomes obvious. The Globe Theatre, as it was called, opened in 1903 as a vaudeville house, switched to movies including Hong Kong action films a few decades later, and when it finally closed in 1995, Boston lost its last Chinese-language cinema.
If you've ever eaten at large banquet-style restaurant in China or Taiwan, you'll see similarities with Empire Garden from the cloth chair coverings and pink table cloths to the sense of grandeur. On close inspection, you will see some stains and spots, so if that bothers you, you should choose another place. But if authentic, tasty dim sum food is what you want, you'll find lots to love here.
Servers bring around the dim sum on rolling carts, and it is always fresh and hot, and prices are quite reasonable. As the restaurant's marquee promises, you can get cocktails and other drinks if tea is not your thing.
690 Washington Street (between Beach and Lagrange Streets | 617-482-8898 | 9am - 9pm (10pm Friday and Saturday)
More Fun for Foodies: Chinatown Culture & Cuisine Tour
Want to explore Chinatown, visit some historical and cultural places, and sample some of the best traditional Chinese, modern Chinese, and Chinese-American cuisine? If so, the Boston Citywalks: Private Personalized Walking Tour is for you. Priced per group (you can bring along up to others with you), the tour can be personalized based on your requests, with Chinatown being on of the choices.
You will see lots of interesting historic, architectural, and cultural sites within Chinatown, and of course, its dozens of mouth-watering restaurants and bakeries. After your official tour ends, you can do your own sampling tour - the perfect way to experience the best of Chinatown! Find out more
---
More about Dim Sum in Chinatown Restaurants in Boston
How Much Does Dim Sum Typically Cost?
Each dish costs just a few dollars, and most places provide free or almost-free hot tea. Unless you're totally starving, it's very hard to spend more than $20-$25 per person (before tax, tip, and beverages other than tea), and don't be surprised if you spend even less.
Although not all Chinatown bakeries, cafes, and restaurants take credit cards, the ones mentioned on this page do, but some have credit card minimums from $10-$30. If you're coming alone, bring cash just in case.
Also, some places don't take American Express - so bring another type of card, or cash.
When is the Best Time to Go for Dim Sum in Boston?
Many of these Chinatown restaurants offer their biggest array of dim sum on weekends - so go on Saturday and Sunday if you can.
And, going earlier is better than later because at some places such as Hei La Moon, the chefs make certain special dishes only at the beginning of the day and once they run out, they don't make more.
If you want to avoid potentially waiting in line to get in, try to come by 10am or earlier.
Is Dim Sum Just for Big Groups? Or Can I Go Alone?
Sometimes dim sum is a big social event, where large family and friends groups gather, eat, and talk for hours.
But going alone or with just one other person is equally acceptable and common. If the restaurant is crowded - usually the case during dim sum - you may be seated with strangers at a shared table, which is not nearly as awkward as it may sound. In fact, it can be a lot of fun - especially when everyone shares food recommendations (and sometimes offers bites).
Do Chinatown's Dim Sum Restaurants Offer Vegan or Vegetarian Options?
Scallion pancakes and vegetable lo mein are the only reliably identifiable options that come to mind. Keep in mind that in Chinese cooking, finely minced pork, tiny shrimp, bonito (tuna) flakes and other non-vegetarian items are routinely used as seasonings to add flavor - so while you may think you're ordering something that appears to be contain any meat or seafood, that may not actually be the case.
More Food & Beverages to Enjoy in Boston
---
Chinatown Restaurants - Directions & Parking
Subway: Green Line/Boylston or Orange Line/Chinatown
If you drive: For most of these restaurants, the easiest place to park is in the garage under Boston Common, just 2-4 blocks from these restaurants. Although there are garages in Chinatown where you may find slightly cheaper rates, the narrow and congested streets can cause them to be difficult to access.
If you're going to Hei La Moon, there is a parking garage above the restaurant. Parking on weekends runs about $20, but after you pay your check, the restaurants will validate your parking parking (remember to bring it in), and that cuts the cost roughly in half.
More Articles about Chinese Food & Culture in Boston