South End Open Market @ Ink Block
Treasure-Hunting at Boston's Largest Outdoor Market in the South End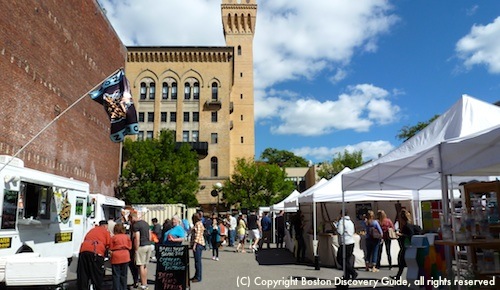 Boston's South End Open Market and Food Trucks
Boston's South End Open Market @ Ink Block (formerly known as SoWa) overflows with original works by 60+ local artists, artisans, and indie designers - plus 15-20 food trucks, a farmer's market, and antique/vintage emporium. But here's the catch: it's only open one day a week, and for only 6 short months.
South End Open Market springs to life every Sunday from 10am - 4pm starting in early May and going through October, when a field of mostly white tents springs up next to the Ink Block complex in Boston's South End.
The mix of designers and creators differs each week - so you can come each week and discover new treasures to take home.
Check our Boston Calendar for May for the South End Open Market spring opening date.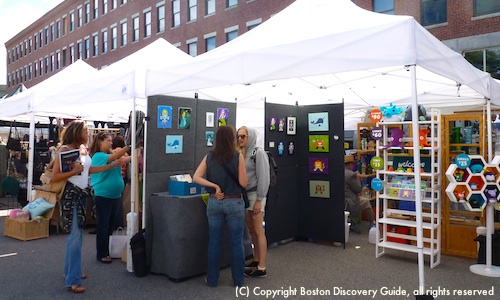 Arts Market @ South End Open Market
Artists and artisans from all over New England preside over tempting displays of paintings, photographs, gorgeous pottery, unique clothing, handbags, home decor, stunning jewelry, and gift items.
You'll find lots of unique, one-of-a-kind creations. If, for example, you want a really fashionable jacket or handbag created by an emerging designer, this is the place to come. Even things such as hand-crafted bars of soap look like works of art.
One of the coolest things about this market is that if you spot, for example, a painting that you totally love, you can chat with the artist about it. And if love conquers your pocketbook, you can also buy it. Prices are reasonable.
What will you find?
Well, that depends. Each week brings a different mix of creations.
South End Open Market is Boston's best indie market - as well as its best open air market.
Vintage Market @ South End Open Market
Lovers of old, vintage, and even antique treasures will want to head next to South End Open Market's Vintage Market.
Look for lots of irresistible mid-century modern, industrial, European, and urban chic decor, jewelry, and accessories.
Vintage Market takes place on the same Sundays as Open Market, and on the South End's First Fridays gallery stroll on the first Friday evening of each month from 5pm-9pm.
Farmers Market @ South End Open Market
The Farmers Market at South End Open Market features the best of New England produce and food products.
Juicy local fruits, berries, and vegetables will dazzle your eyes. During summer months, fresh ears of corn appear to have been picked just a few hours earlier.
You might, for example, choose a gorgeous golden heirloom tomato, goat cheese and smoked mozzarella from Western Massachusetts, and a few local peaches from an orchard north of Boston. No need to wonder what to make for dinner later!
However, a smart strategy is to first head over to the tables loaded with breads and pastries from Boston's best local bakeries. Treats such as freshly baked buttery croissants sell out quickly - so load up as soon as you get there to avoid disappointment later.
Details and Directions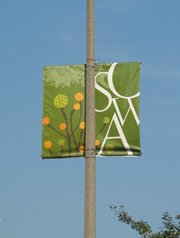 Open: Sundays, 10am - 4pm; May through October. Check Boston Event Calendar for May for opening date)

Location: 375 Harrison Ave, South End, Boston, MA

Closest T station: Orange Line/Tufts
The easiest way to get to the Market is by T. From the Tufts Medical Center station, getting to the Market is about a 12 minute walk.
As you exit the station, walk down Washington Street toward the South End (Downtown Boston should be at your back). Turn left onto Traveler Street and walk to Harrison Ave, where you'll easily spot the market in the Ink Block complex.
For more information: newenglandopenmarkets.com/southend/
More to places to discover art and artisans in Boston
Don't forget Art Walk and South End Open Studios
Boston Discovery Guide > Shopping > South End Open Market