The magnificent Boston Opera House provides a spectacular setting for gala performances, famous performers, and lavish productions.
Dazzling with gold, crystal, and an ethereal painted dome ceiling, the ornate theater comfortably accommodates 2,600 in its plush red velvet seats, and transports you back to an era of luxury and opulence.
Boston Ballet performs their famous production of The Nutcracker here each year during November and December.
This luxurious theater is where you can also see Broadway musicals, dance, and Boston's most spectacular shows.
The Opera House's convenient location in the heart of the lively Theatre District along Washington Street puts it only a block away from Boston Common.
Boston Opera House address: 539 Washington Street
Nearest T station: Red Line/Downtown Crossing
Boston Opera House Schedule: Shows & Performances
TicketNetwork Discount Code - Enter TNTIX to get $10 off orders of $300+

*** Opera House Tickets - Best Seats & Discounts ***
The easiest way to get tickets to shows and performances at the Opera House is to order online. Just choose your date, pick your seats, and click to get your tickets.
TicketNetwork Discount Code - Enter TNTIX to get $10 off orders of $300+

StubHub - Huge selection of best seats, last minute tickets
Ticket Liquidator - Also offers huge selection of excellent seats, last minute tickets
Boston Opera House Seating Map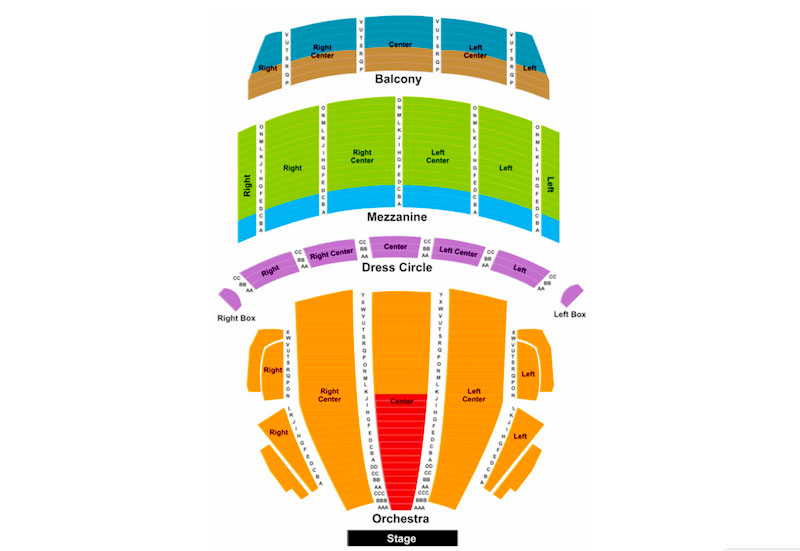 TicketNetwork Discount Code - Enter TNTIX to get $10 off orders of $300+

Boston Opera House History
Boston's original Opera House, built in 1901 on Huntington Avenue near Symphony Hall, was demolished in 1957 and Northeastern University replaced it with a dorm.
The current Spanish Baroque-style Opera House started its life as the B.F. Keith Memorial Theatre and later became the Savoy Theatre. By the 1990s, the grand but decaying building seemed destined for demolition until a $35 million overhaul fully restored its opulent splendor in 2004.
The breath-taking Beaux Arts interior features dazzling gold leaf, rococo decorations, and 16 massive Italian marble columns weighing 7 tons each - the perfect setting for the spectacular productions staged here.
In case you're wondering: the Opera House usually does not stage operas.
Where to Dine near the Opera House
Numerous restaurants, coffee shops, and wine bars line Washington Street on both sides of the Opera House.
Chinatown, home to dozens of mouth-watering Asian restaurants, begins at the corner of Washington and Essex Street (just past the Ritz-Carlton).
See our guide to recommended Theatre District restaurants
Check out our favorite fun places to eat in nearby Chinatown