Faneuil Hall Marketplace looks like an attractive outdoor shopping complex - and it is.
But it is also a historic site on Boston's Freedom Trail - the city's oldest market area, born out of a clash between a wealthy merchant and slave trader named Peter Faneuil and what he regarded as a tight-fisted, repressive, post-Puritan city government regime.
At its heart is Faneuil Hall itself, built in 1742 to replace the original Faneuil Hall built after an angry mob disguised as clergymen burned down existing market buildings on the site know as Dock Square, where traders had gathered since Colonial days.
Why arson? That was the mob's way of pressuring the City of Boston to agree to their vision of a new central market so that peddlers could stop clogging the narrow streets as they went door to door selling wares from their pushcarts.
Peter Faneuil initially amassed his fortune as a merchant, ship builder, slave trader, and occasional smuggler - and then inherited an even larger fortune from his uncle, making him one of the wealthiest men in America. Thanks to his inheritance and the money he'd made in part by shipping enslaved Africans to sugar plantations in the West Indies, he lived lavishly on Beacon Hill where he owned five enslaved people.
Convinced that a central market would provide efficiencies and synergies beneficial to business, including his own, Faneuil designed a building to look like an English marketplace, had it built , and donated it to the city.
On the open ground floor, arcades provided space for a covered meat and produce market. The second floor consisted of a large assembly room, destined to play a prominent role in U.S. history.
Looking for shopping & entertainment information about Faneuil Marketplace? Find it here
Top Photo: Faneuil Hall at Faneuil Marketplace, (c) Boston Discovery Guide
Boston Discovery Guide is a reader-supported publication. When you buy through our links, we may earn a commission at no additional cost for you. Learn more
---
Why Faneuil Hall Marketplace Is a Freedom Trail Site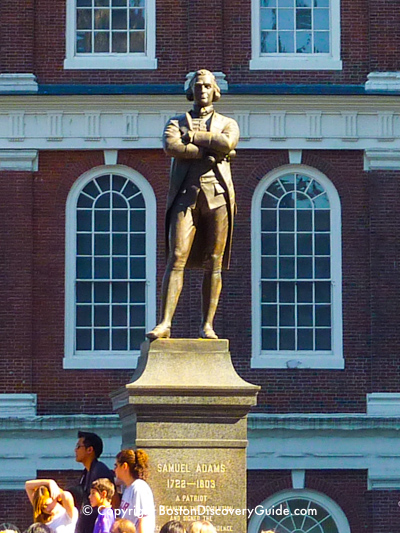 In case you are wondering how a marketplace ended up on Boston's Freedom Trail - it's due to Faneuil Hall's second floor assembly room, and the patriotic events that unfolded there.
Because of its size, the assembly hall became a favorite gathering spot for Colonial patriots who advocated liberty from Great Britain.
Nearby taverns, some of which you can still visit today, no doubt contributed to their fervor.
Noting the number of pre-revolution speeches taking place here, patriot James Otis dubbed Faneuil Hall the "Cradle of Liberty." Samuel Adams spoke fervently here about the ideals of freedom.
One of the most important events leading up to the formation of the United States occurred at a Boston Town Meeting held in the Assembly Hall in 1772.
On the west side of Faneuil Hall, you'll see a magnificent statue of Samuel Adams, who became known as "the Father of the Revolution."
This statue is actually a copy of an original created by Anne Whitney, a Massachusetts artist, for Statuary Hall in the Capital Building in Washington D.C.
Note Adams' defiant posture! His willingness to defy British rule helped create the Revolution.
After the Revolutionary War ended in victory, Faneuil Hall continued to be at the center of patriotic celebrations. The Marquis de Lafayette, President George Washington, and other heroes came here for victory celebrations.
In the 19th century, Faneuil Hall hosted celebrations of War of 1812 victories, pro-abolition speakers, and other prominent events.
After fire destroyed Faneuil Hall Marketplace in 1761, it was rebuilt, and then enlarged by famous Boston architect Charles Bulfinch in 1806. He doubled the width of the building and added a third floor, while managing to retain its Georgian columns.
However, by the middle of the 20th century, the entire Marketplace had fallen into near-ruin until a 1976 restoration by urban planner/developer James Rouse brought it back to life as a "festival marketplace" - the first of many to be built around the world, but none with Faneuil Hall Marketplace's famous history.
Today, Faneuil Hall continues to be Boston's ceremonial location of choice for speeches and rallies upholding freedom, equality, civil rights, and social justice, and the Marketplace thrives around it.
Directions & Other Information about Faneuil Hall Marketplace
Location: Congress Street, between State Street and North Street; located between Government Center/West End, Downtown, and Waterfront on the Freedom Trail

Cost and Hours: Free of charge; open Monday - Friday, 9am - 4pm
More information: 617-523-1300; www.thefreedomtrail.org
Getting there by subway: Blue Line/Aquarium; Blue and Orange Lines/State
---
What You can Enjoy Today in Faneuil Hall Marketplace
If you're about to visit Faneuil Hall, you'll discover that it's now part of middle of a fairly large shopping complex that's interchangeably called "Faneuil Hall Marketplace" and "Quincy Market."
More about shopping and entertainment at Faneuil Marketplace
For a lot of Boston visitors as well as Boston locals, Faneuil Hall Marketplace is their favorite point on the Freedom Trail because of all of the . . . well, shopping. . . plus the restaurants, historic taverns, and in warm weather, street performers and other festivities.
But if you can tear yourself away from all of these attractions and distractions, a visit inside Faneuil Hall is well worth a 10-20 minute visit. You can also go on a free 30 minute tour conducted by National Park Service rangers.
For starters, you can admire Bulfinch's design elements. After enclosing the formerly open arcades on the ground floor, he added Greek-style columns along the walls.
The first two floors have Doric columns, and the new third floor that he added features Ionic columns. On the second floor, Bulfinch also added galleries along three sides, and lots of swags and other decorative features.
The first floor contains shops and offices.
On the second floor, you can see lots of paintings of Boston and American heroes.
The second floor Assembly Hall continues to be used by the City of Boston for debates and other events.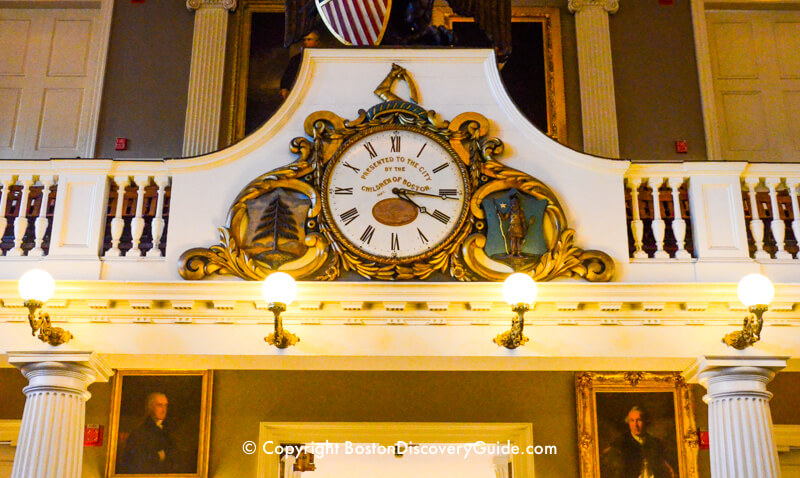 If you climb the steep steps up to the third floor, you can see the headquarters of the Ancient and Honorable Artillery Company of Massachusetts. This group is a militia of the Commonwealth of Massachusetts founded in 1638, making it the oldest in the nation and the third oldest in the world. It's been housed in the building since 1746.
After Bulfinch's expansion, the Company moved up to the third floor where it continues to be located today. You can see more historic paintings, view various armaments, and visit its interesting museum.
Don't forget to look out the windows to catch a glimpse of Boston Harbor. Remember, when this building was built, it was right on the docks. As you can see, land filling during the last few centuries has moved the shoreline quite a distance away.
When you come back downstairs and walk out into Quincy Market, pause for a moment and think how gratified Peter Faneuil would be if he could see this large, popular shopping area, filled with stores and eager shoppers, fulfilling his vision of Faneuil Hall Marketplace as a center of commerce.
---
Freedom Trail Tours
Most Freedom Trail Tours include Faneuil Hall Marketplace, and many conclude here - leaving you free to shop, dine, and explore.
---
Where to Stay in Near Faneuil Hall Marketplace
Want to stay near superb shopping, TD Garden, the New England Aquarium, the Waterfront, the Freedom Trail, and many more attractions near Boston's historic Downtown and Waterfront?

Check out these top hotels near Faneuil Hall Marketplace
Check out more hotels in Historic Downtown Boston
---
More Fun Ways to See Boston near the Freedom Trail
---
More Freedom Trail Tours
---
More Articles about Boston's Freedom Trail