Are you considering visiting Concord, Massachusetts and wondering about the best things to do there?
Packed with historical and literary sites as well as modern-day charm and plenty of other fascinating attractions, Concord, Massachusetts rightfully earns its reputation as one of the most popular day trips from Boston.
The Old North Bridge, site of the first battle of the American Revolution in 1775, spans the Concord River a mere half-hour to the west of Boston.
But it is just one of the fascinating historical sites that make Concord a perfect day trip from Boston.
Visit the Old Manse, Orchard House, Sleepy Hollow Cemetery, the Wayside Inn, and the Concord Museum, and you'll enter the world of the famous American writers and Transcendentalists who called Concord "home" during the mid-19th century.
Visit Many of these Sites & More on the Full Day Historical Lexington & Concord Tour
Ralph Waldo Emerson, Henry David Thoreau, Bronson Alcott, Louisa May Alcott (Little Women), and Nathaniel Hawthorne all lived, socialized, and wrote here.
And just down the road, you can stop by Walden Pond where Thoreau wrote Walden and "Civil Disobedience."
Add in some terrific shops, renowned restaurants, and cozy inns and hotels if you extend your day trip to include the whole weekend, and you'll see why Concord is one of the Boston area's top destinations.
In this article, you'll find out about the best things to do in Concord, MA.
Top Photo: Concord Museum, in Concord, Massachusetts, (c) Boston Discovery Guide
Boston Discovery Guide is a reader-supported publication. When you buy through our links, we may earn a commission at no additional cost for you. Learn more
---
Planning Your Visit to Concord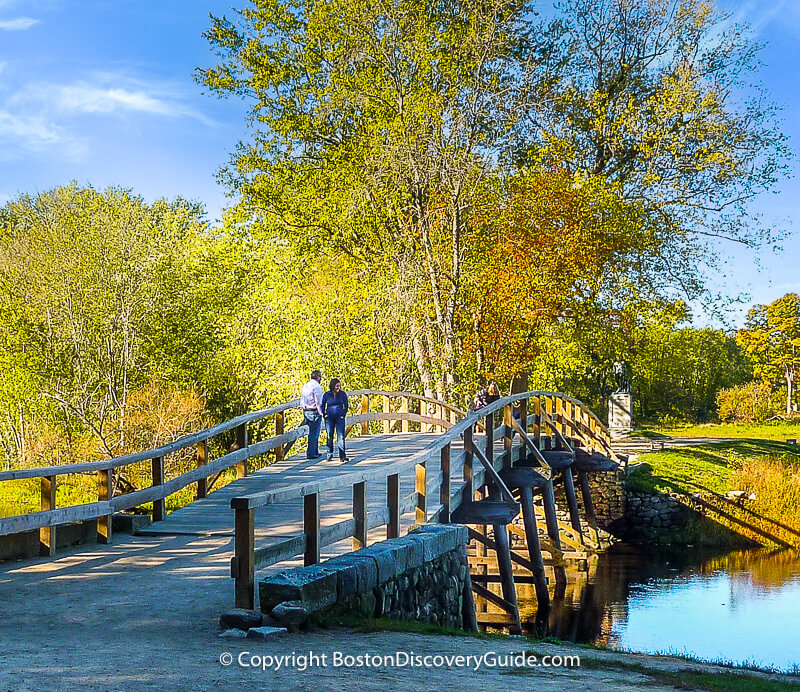 If you're coming from Boston, you can easily see Old North Bridge and all of Concord's other famous sites in a day, especially if you get an early start.
However, if you want to visit the time to shop, dine, and perhaps even swim in Walden Pond, plan a weekend getaway.
If you're coming for Patriots' Day events, be sure to also check out the Patriots' Day schedule for Old North Bridge battle re-enactments.
Concord Essentials
Best Concord Day Trip Tour from Boston:
Best Driving Route for Visiting Concord Attractions:
Suggested route: Mass Pike to Rt 128 North to Route 2 West. At the Route 2 / Route 126 intersection, turn left to Walden Pond. Then take Route 126 North into Concord and visit all the other Concord attractions, which cluster in and near the town's center. Going back to Boston, take Route 2A. The Paul Revere capture site is the Minute Man National Historical Park, about 3 miles from Concord Center on the left. Continue on 2A to Route 128 South to Mass Pike. Take Mass Pike back to Boston.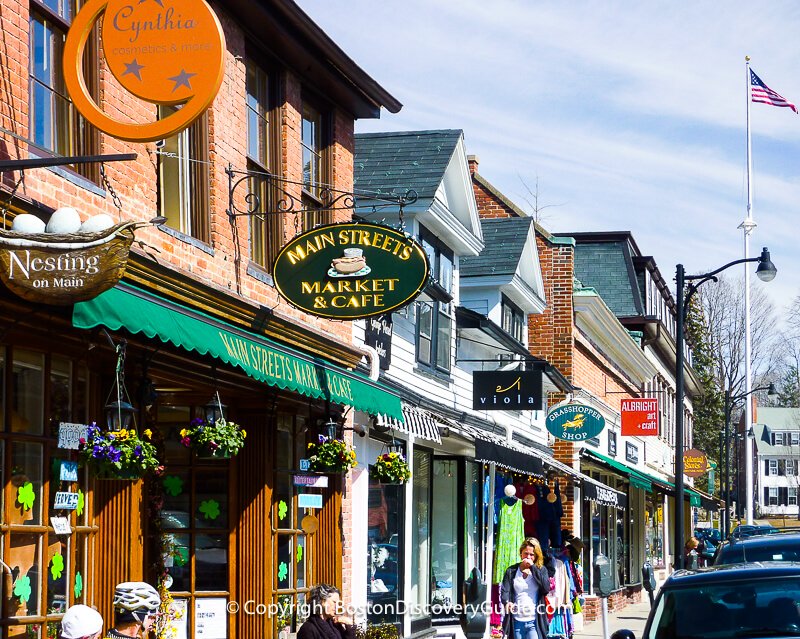 Best Time of the Year to Visit to Concord, MA
Like many places in New England, Concord looks its best in late spring, summer, and fall when the trees are have leaves. Autumn foliage color is particularly spectacular.
But winter and early spring have their own attractions and exciting events. You'll find lots of cheer around the Christmas holidays, and the exciting Patriots Day reenactments of the first day of the the American Revolution have their own charm.
Concord MA Visitor Center
58 Main Street, in Concord Center. Information and public restrooms. Open April through October.
---
11 Top Things to Do & See in Concord, MA
1. Relive the First Day of the Revolutionary War at Old North Bridge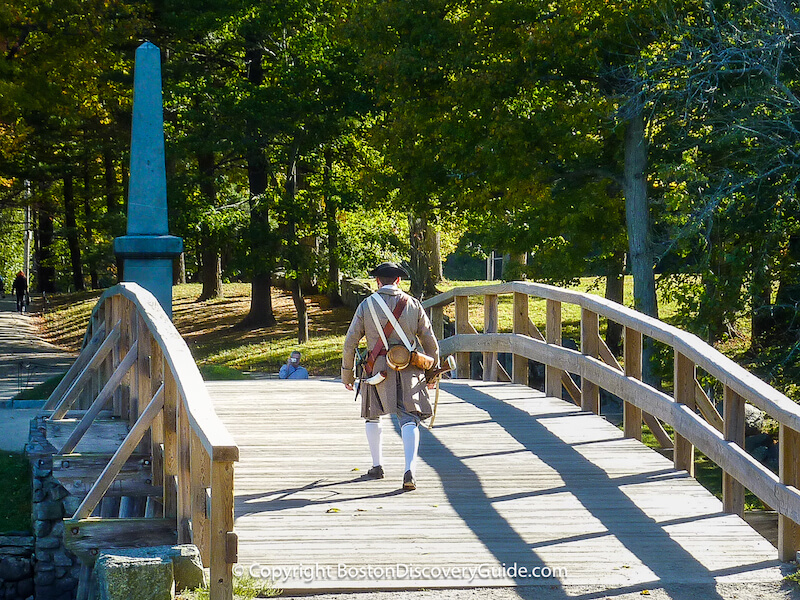 Old North Bridge provides the perfect introduction to Concord, because one of the key battles on first day of the American Revolution took place here.
Today, the bridge is a bucolic site in a lovely wooded setting in the Minute Man National Historical Park where you can stroll past Colonial-period stone walls through the woods and rolling pastures.
The violence and bloodshed that happened here in 1775 can be hard to imagine.
But by the time British troops marched from Boston to Concord on April 19, 1775, word had already reached locals about the 8 militiamen killed by the Redcoats on Lexington Green that morning.
When a skirmish broke out on Old North Bridge and the British fired a volley that killed two local minute men, Major John Buttrick of Concord gave the order to return the fire toward the British troops.
That's how the American Revolution began with what Concord writer Ralph Waldo Emerson later called, "the shot heard 'round the world."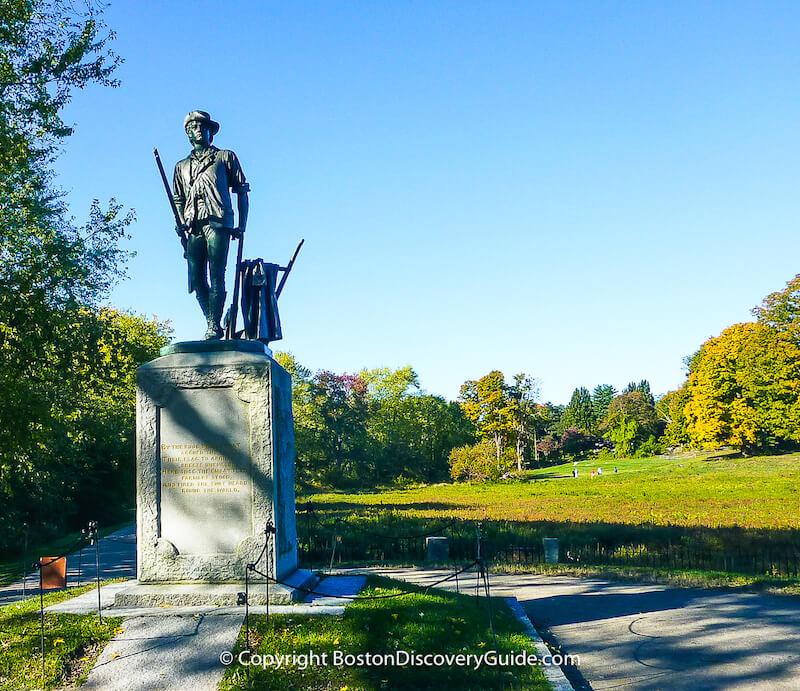 Today, if you visit North Bridge - locally known as "Old North Bridge" - you won't see the original wooden bridge, as it has been rebuilt a number of times since 1775.
But you will get an authentic glimpse of the peaceful rolling countryside and the Concord River.
Several nearby plaques and markers commemorate the battle. On the far side of the bridge (shown in the above photo) is the Minute Man statue.
Location: Monument Street, about 1/2 mile north of Concord Center
Open: Year-round, sunrise to sunset
Cost: Free
More information: website
---
2. Watch the Start of the Revolutionary War Unfold on Patriots Day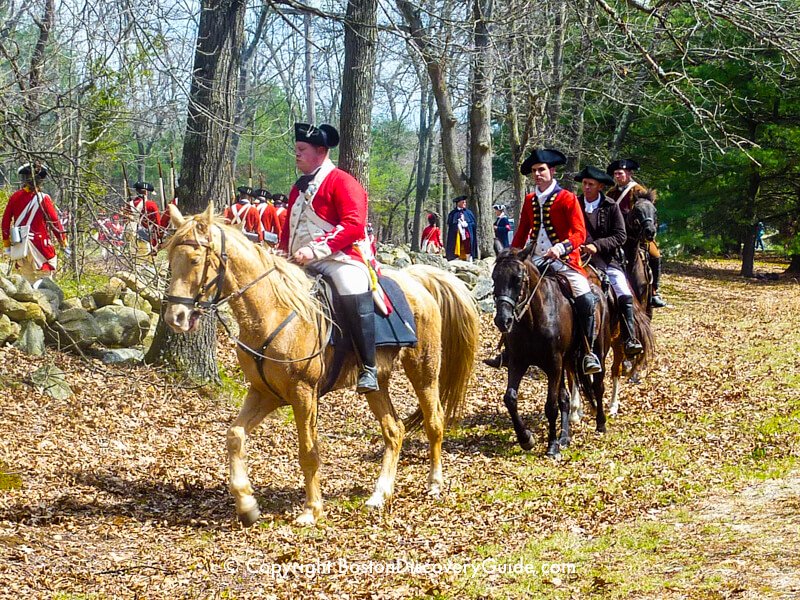 Back on April 19, 1775, British soldiers marched toward Concord with plans to seize the Colonial militias' stockpile of gunpowder, weapons, and other military supplies stored on the land of a local farmer.
To their surprise, they were met along the way by the Colonial militias and Minute Men, who had been warned about the Redcoats' plans by Paul Revere and William Dawes as they rode across the countryside.
First, a skirmish broke out and shots were fired on Lexington Green, killing eight people. This was followed by an ambush and more deaths on Concord's Old North Bridge.
As you probably already know, these events mark the beginning of the American Revolutionary War and the fight for freedom - a pivotal moment in American history.
You can see all of these important events portrayed by re-enactors in the exact spots where they happened in Concord and neighboring towns each April around Patriots Day, which always falls on the same day as the Boston Marathon. You can check the schedule here:
Schedule for Patriots Day reenactments, parades, & other events
---
3. Visit the Heart of 19th Century Literary Life in Concord at The Old Manse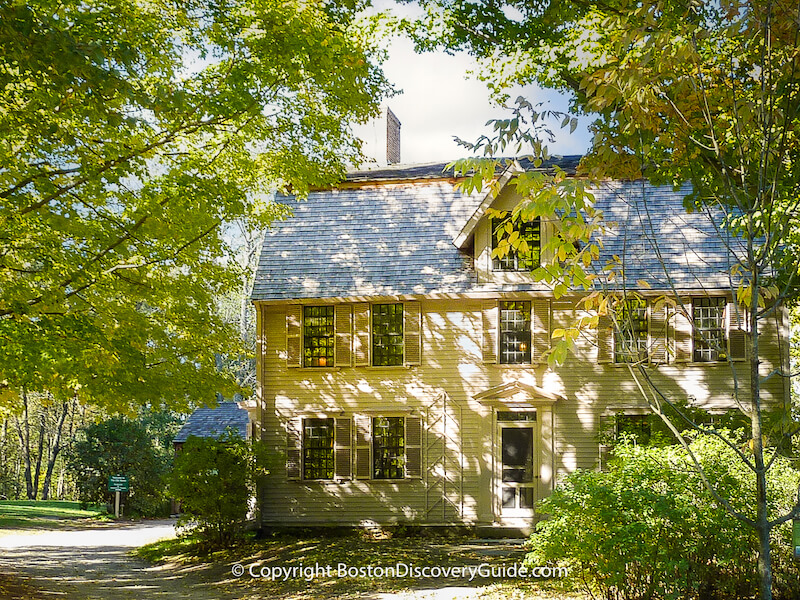 Within just a few decades after the Revolutionary War, Concord had become the center of 19th century literary life, and the Old Manse was at its heart.
Although the Old Manse looks similar to plenty of other Colonial-period houses (as well as numerous modern homes constructed in Neo-Colonial, and more specifically, Neo-Georgian style) that you'll see in and around Concord, it holds a special place in history because of its famous occupants.
Built by the father of Reverend Joseph Emerson almost a century earlier in 1769, the Old Manse is where all the area's famous writers, politicians, and social activists of the mid-19th century gathered, exchanged ideas, and fomented their own type of revolution.
Ralph Waldo Emerson (great-grandson of Joseph Emerson) wrote his famous essay, "Nature," here. And his friend Nathaniel Hawthorne composed his collection of short stories, Mosses from an Old Manse, while living here for a short time with his bride Sophia.
The Old Manse is surprisingly well-preserved. You can see many of the Old Manse's original furnishings, still in place. And if you visit here in the summer, be sure to spend some time in the vegetable garden.
Now planted with heirloom veggies, the garden you see today is based on one planted by Thoreau in 1842 as a wedding present to Nathaniel and Sophia Hawthorne.
Location: 269 Monument Street, next to the Old North Bridge, about 1/2 mile north of Concord Center
Open: Grounds are open year-round, sunrise to sunset; guided tours are also available year round, although winter hours are limited - check the website for details
Admission fee & other details: See the Old Manse website
---
4. Stay or Dine at The Colonial Inn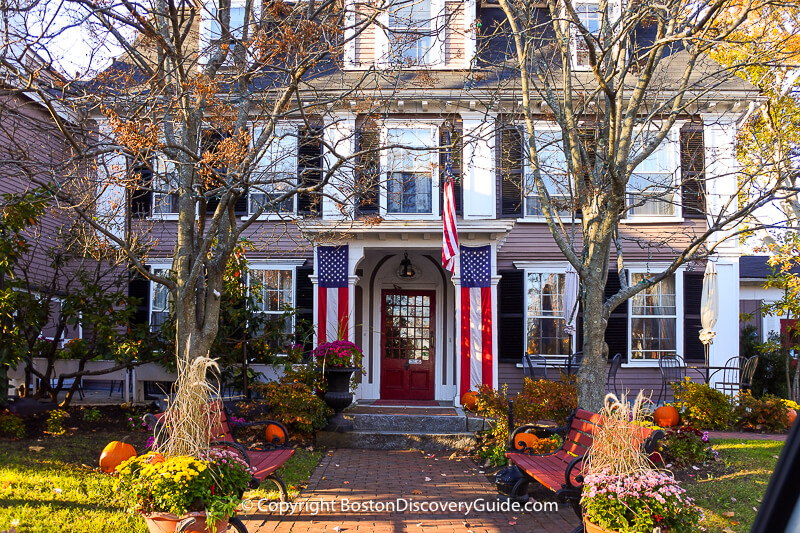 Built in 1716, the Colonial Inn has operated as a hotel since 1889, but its historic roots and fame are firmly planted in the Revolutionary War.
Colonists stored arms and supplies in one of its original buildings, which became a target of the British troops who marched to Concord on April 19, 1775 to seize these goods.
After fighting broke out on Old North Bridge, they instead fled back to Boston as Colonial militias and Minutemen attacked them along the way.
Through the centuries, the Colonial Inn has served a variety of purposes, ranging from a dry goods store to home of the Thoreau family, including Henry David Thoreau.
Today, the Colonial Inn provides lodging, food, drink, and entertainment.
Location: 48 Monument Square in Concord Center
Stay: Reservations
---
5. Pay Your Respects at the Graves of Emerson, Thoreau, & Others at Authors' Ridge in Sleepy Hollow Cemetery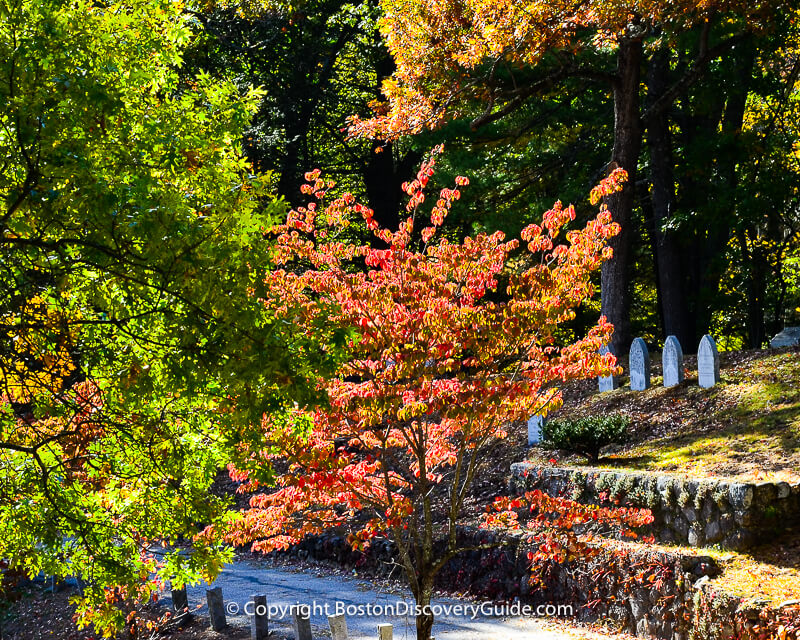 Located on Bedford Street just beyond Concord Center, Sleepy Hollow Cemetery contains the graves of the most famous Concord Transcendentalists and writers in an area called "Authors' Ridge."
Here you can find gravestones for Emerson, Thoreau, Hawthorne and his wife Sophia, Bronson Alcott, Louisa May Alcott, and William Ellery Channing.
When the cemetery opened in 1855, "garden" cemeteries had become popular, and Sleepy Hollow - still in active use for burials today - follows that tradition.
A small sign will direct you to Authors' Ridge, but also take a few moments to stroll around other sections of this beautiful spot.
Location: Bedford Street, about 1/3 mile from Concord Center
Open: Year-round, but it's often snow-covered or icy in winter/early spring, so best to avoid its hilly slopes until the ground thaws
Cost: Free
---
6. View Historical Treasures at The Concord Museum
The Concord Museum uses its extensive collection of local historical, literary, and decorative arts treasures to bring to life Concord's significant role in the history of New England and the United States in 16 interactive galleries.
History galleries show Concord's progression from its 1635 founding by English settlers, its pivotal role in the American Revolution, and its role as the center for intellectual thought and literature in the mid-1800s.
In the museum's period rooms, you can see fascinating scenes of Concord domestic life during the 1700s and 1800s.
A recreation of Emerson's study includes all of its original furnishings, art, and personal objects.
The decorative arts galleries draw upon the museum's collection of over 30,000 objects.
You'll see everything from weather vanes, locally-made silver, and 18th century furniture to one of Paul Revere's famous lanterns that he hung from North Church in Boston to signal the British troops' movement toward Concord.
Location: 53 Cambridge Turnpike, about 1/4 mile from Concord Center
Open: Tuesday - Sunday, 10am - 4pm; closed on Easter Sunday, Thanksgiving Day, Christmas Eve and Christmas Day
Cost : $15 adults; $12 seniors (62 and over) and students (18 and over with valid ID); $8 children 6-17; free for children under 6 and active military with valid ID; enter for free with the Go City Boston All-Inclusive Pass
More information: website
---
7. Swim, Picnic, or Channel Thoreau at Walden Pond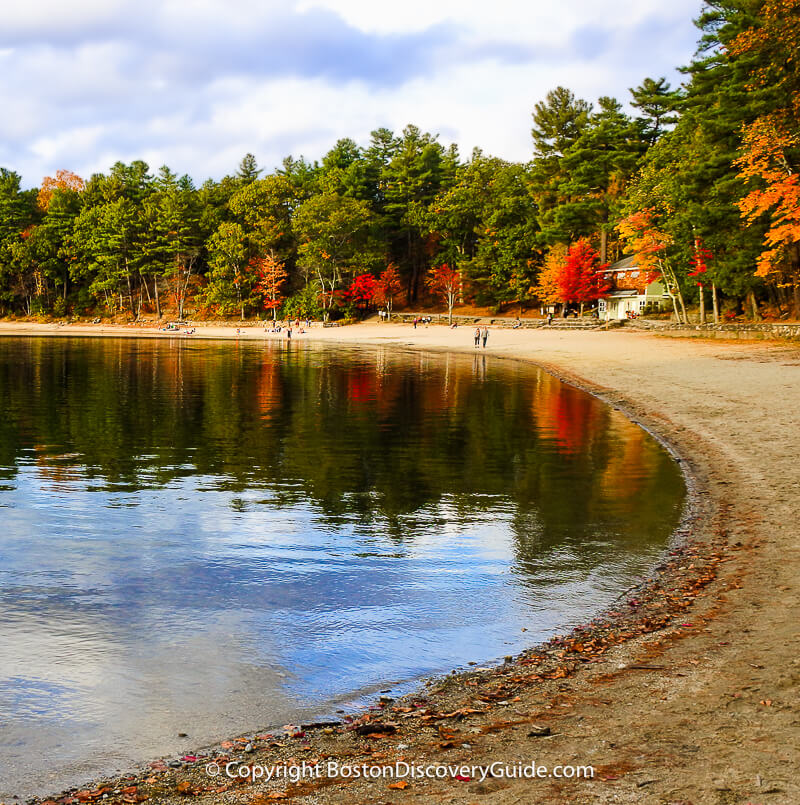 Walden Pond, now part of the Walden Pond State Reservation's 462 acres of protected open space, lies a couple of miles to the south of Concord Center.
If you're a fan of the 19th century Transcendentalist writers who called the Concord area "home," Walden Pond is a must-visit site. If you're traveling with kids, or just want to cool off on a hot day, it's also an irresistible spot for a quick swim or dip in the water.
When Henry David Thoreau built his famous 1-room cabin in the woods near the pond and moved into it in July 1845, his friend and mentor Ralph Waldo Emerson owned the land.
Emerson let him erect a small dwelling and live rent-free in exchange for clearing some land and doing a few other chores.
Thoreau lived in his cabin for over two years before moving back to Concord, where he remained for the rest of his relatively short life. He died from tuberculosis when he was 44, and was buried on Authors' Ridge at Sleepy Hollow Cemetery.
Although Thoreau's actual cabin was moved and eventually dismantled not long after his 26 months there, you can walk through the woods or around the pond and easily imagine him enjoying his secluded bit of paradise as he wrote about his decision to "live deliberately, to front only the essential facts of life... "
Thoreau also wrote his first book, A Week on the Concord and Merrimack Rivers, a story about a trip taken with his brother in 1839, while living at the pond for a little over two years.
Walden Pond continues to be even more popular today than during Thoreau's time.
During the summer, many people come to swim, walk, and enjoy the same vistas that inspired Thoreau.
The pond itself is what's called a glacial kettle pond. It's deep - over 100 feet - and surrounded by Walden Woods.
A fairly spacious parking lot across the road provides the only place to leave your car (without getting ticketed) in the area.
During the summer months, the lot fills up very quickly, so your best strategy is to arrive early and beat the crowds or come late as most other people are leaving for dinner.
Only about 1,000 visitors are allowed at a time in order to protect the environment around the pond, so when the lot reaches capacity, it closes.
If you're spending a long weekend in Concord and have plenty of time to see other sites, consider bringing a picnic and taking time for a swim or hike around the pond. The pond's bottom and even the beach are a bit rocky, but as Thoreau knew, the views from the water are idyllic.
You can even see a replica of Thoreau's cabin.
Location: Route 126 (915 Walden Street), about half a mile south of Route 2
Open: Year-round, 8am - sunset (about 4:30pm in December, 9pm in June)
Cost: Fee-based daily parking in the lot (reasonable for MA residents; expensive for everyone else; no parking elsewhere; the parking fee is charged all year, and proceeds are used to maintain the reservation and facilities; pay online or in the Visitors Center
Are dogs allowed at Walden Pond? No
Printable trail maps of Walden Woods: Download from the website
More information: Visitor's Center next to the parking lot is open 10am-3pm, Tuesday - Sunday; website
Address: 915 Walden St., Concord, MA 01742
---
8. Visit the Little Women's Home at Orchard House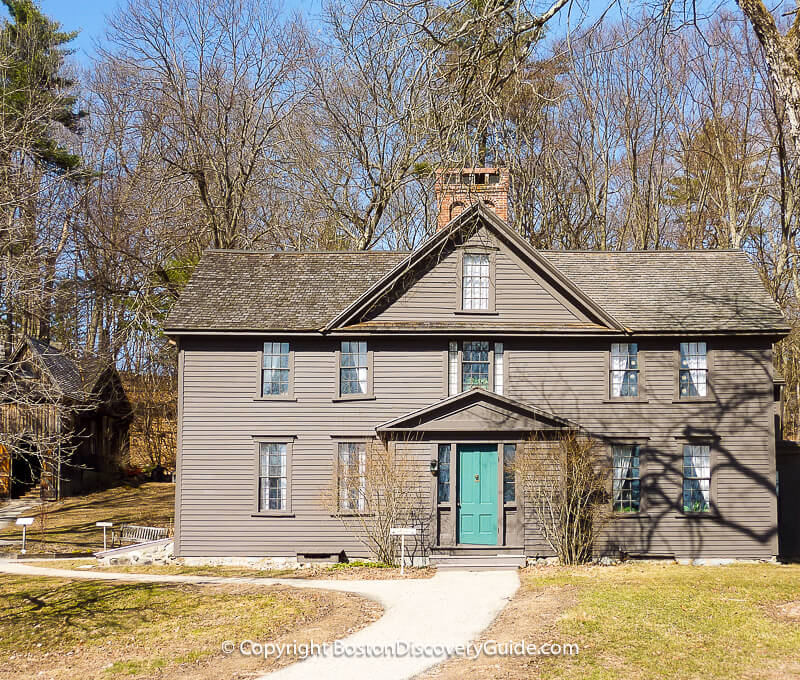 For fans of Louisa May Alcott's Little Women, Orchard House is a must-see because it's where she lived when she wrote her famous novel, loosely based on the story of her, her sisters, their parents, and Concord society. In fact, Orchard House is the house she depicts in her book.
The house dates back to somewhere around 1690-1720. Bronson Alcott, Louisa's father, named it in honor of its 40-tree apple orchard.
Orchard House is virtually unchanged since the Alcotts bought it, and 80% of the furnishings on display belonged to the Alcotts.
You'll see all kinds of personal objects belonging to the Alcotts, including the shelf desk where Louisa wrote - it's as though the pages of Little Women have sprung to life!
Access to the house is by guided tour only.
Location: 399 Lexington Road, about 2/3 mile from Concord Center
Open: Year-round, with reduced hours in the winter; check their website for details
Cost: $9 adults; $8 seniors (62+) and college students (with ID); $5 kids 6-17; free for children under 6; check the "Visitor Info" page of their website for a discount coupon
More information: website
---
9. Visit Hawthorne's Former Home at The Wayside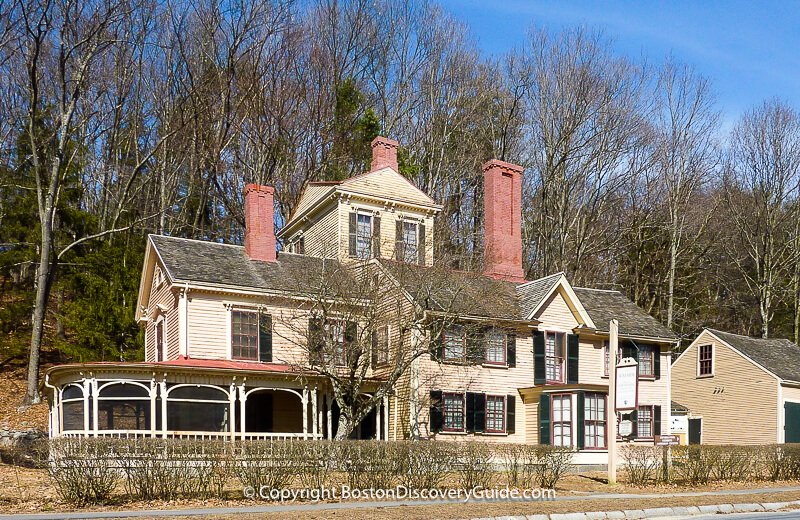 Just up the road from Orchard House is The Wayside, where the Alcott family lived for 7 years before moving to Orchard House. After the Alcotts moved, Nathaniel Hawthorne bought the house and gave it its present name.
In the 1880s, Boston publisher Daniel Lothrop and his wife Harriett, who wrote Five Little Peppers under the pen name Margaret Sidney, lived at The Wayside. Fans of Hawthorne's writing, they made as few changes as possible to it and even acquired some of Hawthorne's furniture for it.
The Wayside, part of the Minute Man National Historical Park since 1965, probably dates from the late 1680s, although additions and the Victorian-style porch have been added onto the original Colonial structure.
The Park Service has continued to maintain and restore the property. A barn-like structure next to the house serves as a Visitor Center and contains displays about the writers who once lived in the house.
Location: 455 Lexington Road (Route 2A), about 7/10 mile from Concord Center
Open: May through October; open days and hours vary - Check website
Admission: Check the website for the latest updates
More information: https://www.nps.gov/mima/planyourvisit/ranger-programs-and-tours.htm
---
10. See Original Furnishings at Emerson House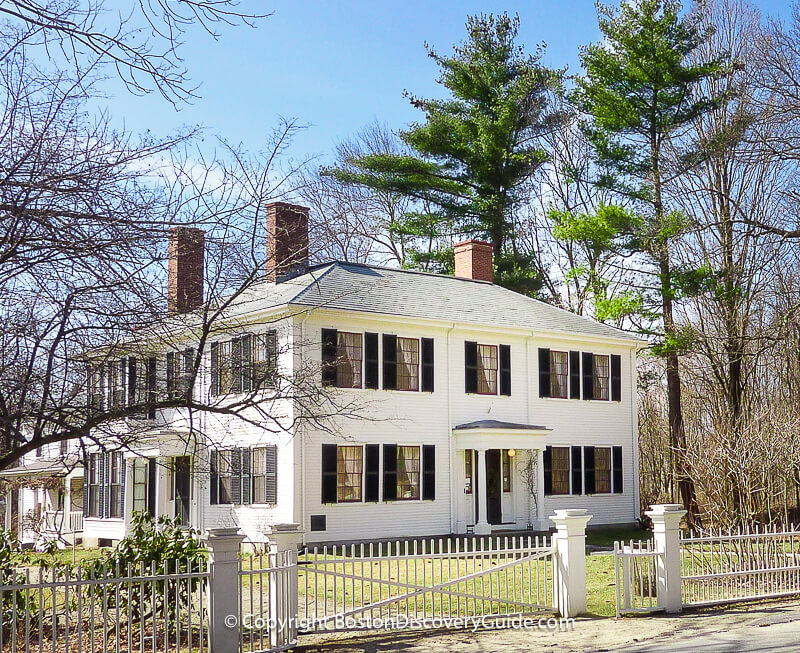 If you're an Emerson fan, you'll find his house fascinating because it still contains many of the original furnishings (except for Emerson's study, now on display at the Concord Museum across the street).
The house continues to be owned by Emerson's descendants, who maintain it as a private museum and offer guided tours to visitors.
Originally built as a summer place in 1829, the house became the year-round home of the Emerson family when they bought it in 1835. Thoreau, the Alcotts, Margaret Fuller, and many other friends all visited the Emersons here throughout the years.
Although an 1872 fire almost destroyed the house, Emerson, his family, and his papers all escaped harm. Neighbors surprised Emerson by taking up a collection and repairing the house while he traveled abroad.
Today, the house feels so unchanged that you can almost imagine that you'll find Emerson hard at work in his study.
Location: 28 Cambridge Turnpike, about 1/3 mile from Concord Center
Open: Mid April through October, Thursday - Sunday
Admission & other information: Website
---
11. Visit the Paul Revere Capture Site at Minute Man National Historical Park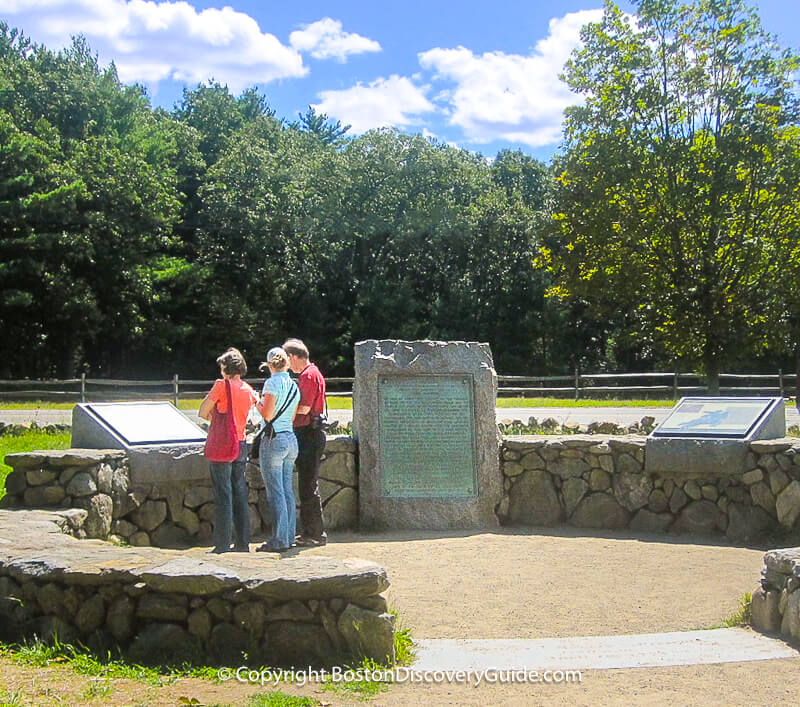 In addition to areas around Old North Bridge and The Wayside, the Minute Man National Historical Park flanks both sides of Route 2A, starting about a mile from Concord Center and continuing to Route 128.
The park includes the route taken by the Redcoats on their march to Concord on April 19, 1776 - and when they fought their way back to Boston, under constant fire from enraged Colonial militia.
There's much to explore in this park, but if you're on your way back to Boston after exploring Old North Bridge, Walden Pond, and all the other historic Concord sites, you may not have time.
However, you can quickly stop by the spot (well-marked by a sign on the road) where a British patrol stopped Paul Revere, William Dawes, and Samuel Prescott as they rode on horseback to Concord. They managed to capture Revere, although he later escaped.
You'll find a marker commemorating the incident, as well as brochures about the Minute Man Park.
Frankly, the marker is one of the least interesting things in the park, but you can pick up a brochure and start planning your next visit to this interesting historical area near Boston. If possible, visit during Patriots Day Weekend, when many of the buildings are open. Some of the most important Revolutionary War battle reenactments take place here; check the schedule.
Location: Route 2A between Concord and Route 128
Open: Year-round, sunrise to sunset; some Visitor Centers and historic buildings open only seasonally; see website for details
Cost: Park entrance is free; some of the historical buildings charge small admission fees
More information: Website
Visit Many of these Top Attractions on the Full Day Historical Lexington & Concord Tour
---
Best Places to Stay In & Near Concord, MA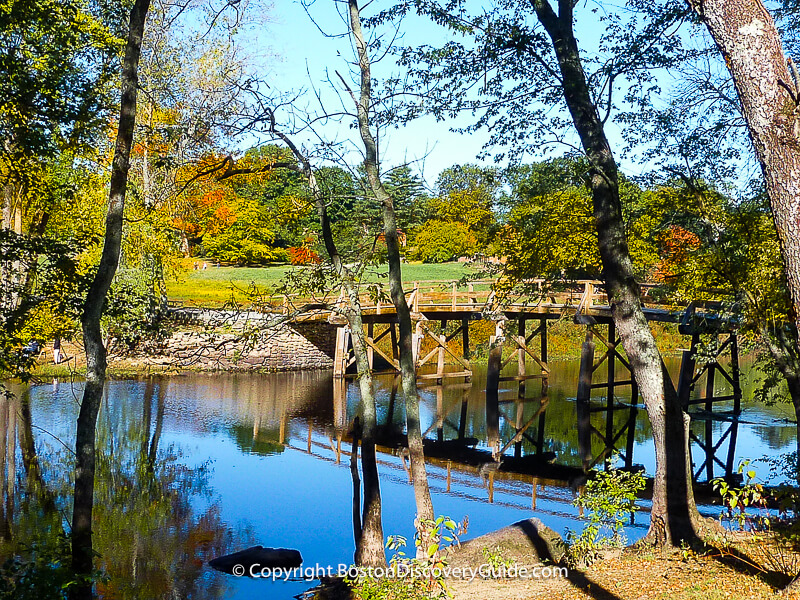 ---
More Day Trips from Boston