Newport tourism attractions are legendary . . . gilded mansions to tour, gorgeous beaches to lie on, boutiques and restaurants to explore, and all sorts of interesting things to do.
Only about 60 miles (100 km) from Boston, Newport RI makes a perfect day trip destination - although with so much to do and see plus wonderful hotels and restaurants, you may want to plan a weekend getaway.
Small group day trip from Boston: Visit "Gilded Age" Newport Mansions
To get the best recommendations for what to do on a day trip from Boston, we turned to a Newport, Rhode Island native, Paul.
Keep reading to learn about Paul's suggestions - and to see why Newport has been a long-time favorite for New England vacations.
Top photo: Newport Harbor at sunset
Boston Discovery Guide is a reader-supported publication. When you buy through our links, we may earn a commission at no additional cost for you. Learn more
---
Best Newport Tourism & Visitor Recommendations from a Local: Newport Cliff Walk, Mansions, & More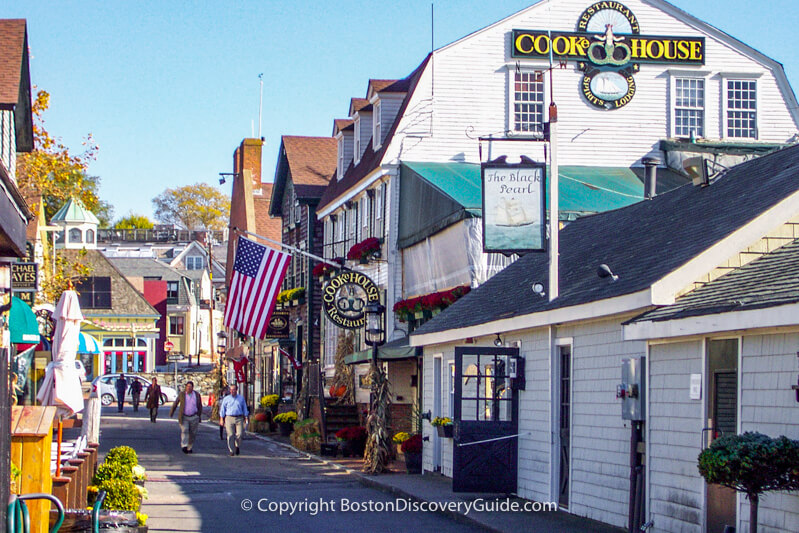 To find out about the best Newport visitor attractions, we reached out to Paul, a native Newporter who knows all the best things to do in this exciting Rhode Island city overlooking the Atlantic Ocean.
Here are Paul's recommendations in response to my questions:
Boston Discovery Guide: Paul, for visitors who want to spend just a day - or maybe a weekend - in Newport, what top attractions and places do you recommend?
Paul: If you only have one day or a weekend to visit Newport, I suggest you see some of the following attractions:
Newport Cliff Walk – Enjoy breathtaking views of the Atlantic Ocean and many of the fabled Newport mansions along the 3.5 mile long Newport Cliff Walk.
Newport Mansions – You can't leave Newport without seeing at Breakers or one of the incredible mansions built a century or more ago by some of the country's richest tycoons to use as summer "cottages" More about mansion tours
International Tennis Hall of Fame – Amazing history and interactive exhibits in the old Newport Casino building.
Fort Adams – Explore the Fort itself, the Museum of Yachting and The Eisenhower House all located on the same property!
Touro Synagogue - The oldest synagogue in America. Visited by George Washington during his trip to Newport promoting the Bill of Rights.
Tour Newport Harbor – Enjoy the ocean breeze and a cocktail while seeing some of Newport's landmarks up close and personal from one of many great vessels.
---
Visiting The Breakers & More Newport "Gilded Age" Mansions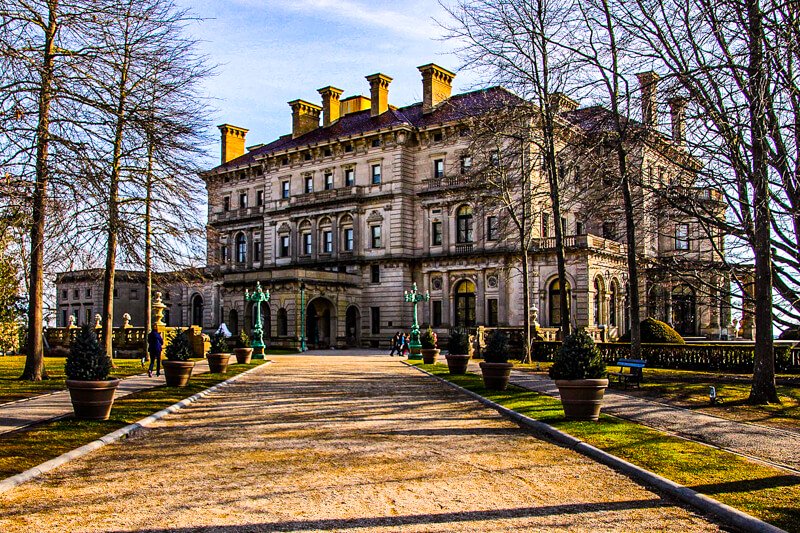 Boston Discovery Guide: Newport's mansions sound amazing...but there are so many of them! Which ones do you recommend as most interesting to a visitor, and why?
Paul: All of the Newport mansions are fascinating, but I'd recommend seeing one of these 3 first:
The Breakers is by far the grandest of all the Newport mansions. It was built by Cornelius Vanderbilt II (President and Chairman of the New York Central Railroad), and you simply can't imagine the opulence of this "summer cottage" until you see it for yourself.
Rough Point was the home of tobacco heiress and philanthropist Doris Duke until her passing in 1993. It opened to the public in 2000. You can now see the priceless paintings, the salt-water swimming pool in her basement, and the 300 year old furniture she allowed her dogs to lounge on!
Astors' Beechwood is Newport's only living history museum. Once the home of "The Mrs. Astor" who hosted the most lavish summer events of the Gilded Age, this property was purchased by Larry Ellison, the founder of Oracle and [at one time] the 4th richest man in the world. It may not be open to the public forever, so check it out now if you have the chance!
Boston Discovery Guide Update: Beechwood is now closed to the public since its purchase and renovation by Ellison, who has subsequently purchased three adjacent properties. The mansion is believed to house Ellison's private collection of 18th and 19th century art. Ellison has bought numerous other estates around the world to house his art.
More ways to tour Newport Mansions
---
Favorite Newport, Rhode Island Beaches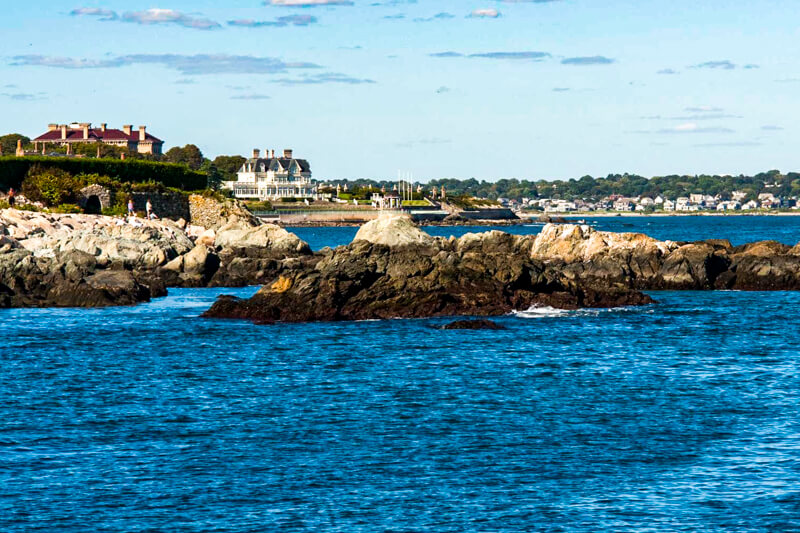 Boston Discovery Guide: Newport is also known for its gorgeous water views and beautiful beaches. What's your favorite beach that you'd recommend to others? Why do you love it?
Paul: If you're looking for Newport's ultimate beach experience, check out Easton's (known as First Beach to the locals) on Memorial Boulevard.
You can attend summer concerts and volleyball tournaments here, get married on the beach or in the Rotunda, and provide hours of entertainment for your children at the:
Great snack bar (try their famous Twin Lobster Rolls!)
Save the Bay Exploration Center and Aquarium
Children's playground
Skateboard park
---
How to Experience Newport's Ocean Drive
Boston Discovery Guide: What's your favorite thing to do in Newport?
Paul: My absolute favorite thing to do in Newport is to take a leisurely cruise (either on my bike or in a car) around the famous 10-mile Ocean Drive. Like on the Cliff Walk, you'll see beautiful homes, breathtaking views of the Atlantic Ocean, and the entrance to Narragansett Bay here.
You can easily spend your whole day out here with a chair and a good book, your camera or your fishing pole. If you're with a group, you can picnic at Brenton Point State Park and enjoy the cool ocean breezes while you watch people fly their kites and play with their dogs.
If I could only see one thing during my trip to Newport, it would be Ocean Drive, without a doubt!
---
Why Visit Newport?
Boston Discovery Guide: With so many Newport tourism attractions to choose from, can you sum up for us why it's a great place to visit?
Paul: There are few places in America that have the rich history, breathtaking scenery and multitude of attractions, events and entertainment that Newport is blessed with.
I may be a little biased since I grew up here, so I think everyone reading this should come see for themselves what makes the "City by the Sea" such a special place!
Susan: Paul, thank you so much for sharing your favorite Newport places and experiences with us.
After hearing about these wonderful Newport tourism attractions, I'm ready to jump into my car and drive south for a day trip - or even better, a long weekend getaway.
Find more visitor tips from Paul on his website, Newport Discovery Guide.
---
Newport Tours - Mansions, Christmas, & More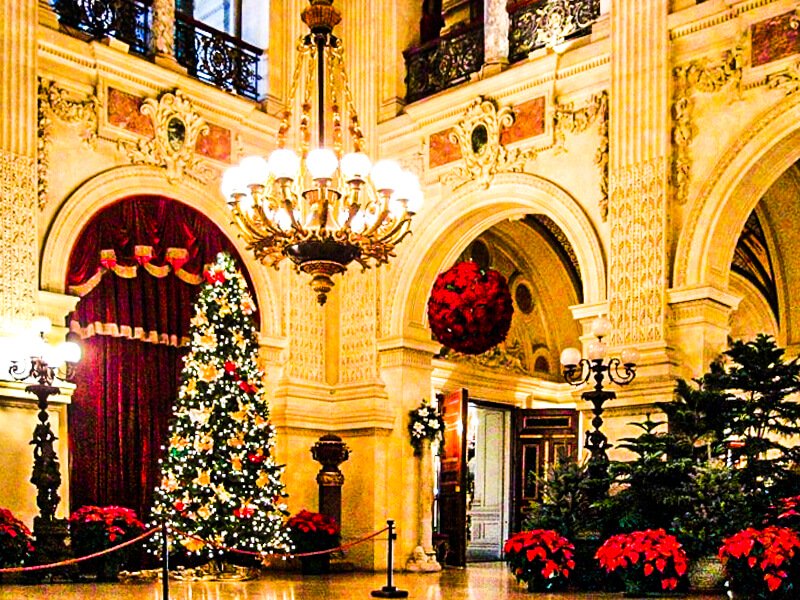 The easiest way to take a day trip from Boston is to join a tour. You'll get to visit Marble House and The Breakers, two of Newport's fabulous mansions.
You'll also enjoy the spectacular 10-mile Ocean Drive, and the chance to stroll around the beautiful waterfront with fascinating shops and tantalizing restaurants. You'll have the opportunity to have lunch on your own - be sure to check out all the great restaurants overlooking the harbor!
This day trip includes pickup from select downtown hotels by luxury motorcoach, transportation to Newport plus the return trip to Boston, and admission to the two mansions, so it's a really good deal.
More about the Newport Christmas Mansion tour departing from Boston
---
Where to Stay in Newport - Hotels, Inns, B&Bs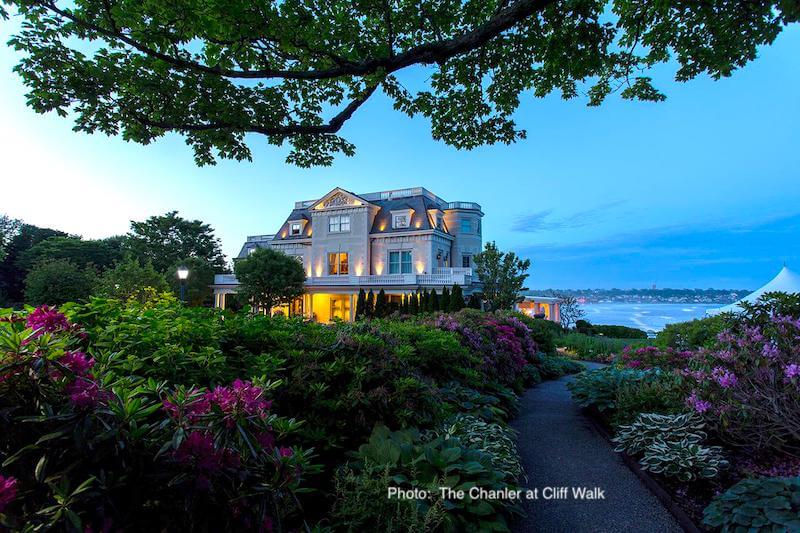 You'll find lots of wonderful choices of places to stay in Newport - everything from glamorous hotels overlooking the water to cozy inns and B&Bs - you can even stay in a lighthouse. The hardest part will be making a decision . . .
How to choose? Start here:
The Chanler at Cliff Walk
The Chanler at Cliff Walk is a spectacular luxury hotel overlooking the Atlantic Ocean and Easton Beach - perfect for romantic getaways with breathtaking views and cozy private fireplaces.
Explore breath-taking Cliff Walk and Newport's famed Gilded Age mansions. Reviews and rates
Vanderbilt Grace
Small and luxurious, Vanderbilt Grace offers an indoor swimming pool in a grand 1909 mansion in Newport's most historic area.
Enjoy personalized service, champagne when you arrive, and the fabulous spa along with pampering worthy of the Gilded Age. Reviews and rates
Forty 1 North Marina Resort
Forty 1 North Marina Resort, a stylish modern inn in easy walking distance of bistros and boutiques along Thames Street, puts you right in the center of Newport's lively center.
Be sure to request a room with marina views as you may never want to leave - all rooms have fireplaces and soaking tubs. Reviews and rates
Newport Marriott
Offering lovely harbor views, Newport Marriott is just a short walk to Thames Street boutiques, waterfront restaurants, and mansions.
Great family choice - kids will love the indoor pool with skylights, easy access to harbor activities, and snacks available in the lounge all day. Reviews and rates
Hotel Viking
With lovely traditional furnishings and plush linens on the beds, Hotel Viking will make you feel like you're living in the elegant Gilded Age.
You'll enjoy the rooftop spa, pool, and convenient location in downtown Newport. Some rooms offer ocean views - ask for a corner room with water views on both sides. Reviews and rates
Newport Hotel Map
Enter your dates to see what is available:
---
More Ways to Experience Newport
These fun tours and cruises offer you lots of different options for experiencing Newport:
---
More Articles about Day Trips & Weekend Getaways from Boston
---
Need a Boston Hotel or Apartment?
Use this handy map from Booking.com to find the perfect place to stay. Just enter your dates to find what's available, see the best rates, and make your reservations.