Home >Weekend Getaways > New York Tourist Attractions
Top New York Tourist Attractions
Make a day trip from Boston to New York City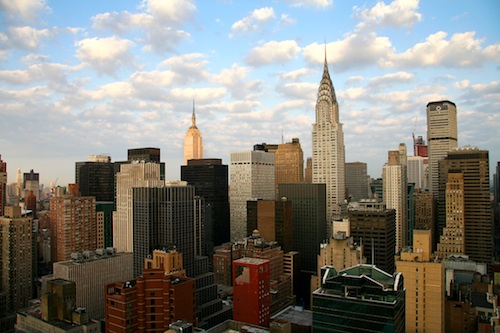 New York City, photographed in early morning
Photo courtesy of AngMoKio
New York tourist attractions thrill visitors from around the world.
If you're in the Boston area, you can easily make a day trip or weekend getaway to New York City and see them yourself.
Travel from Boston to New York City is fast - 4 hours or less by bus, Amtrak, air, or car.
You'll find New York tourist attractions well worth the trip!

A New Yorker's favorite New York tourist attractions
So what are the best NYC attractions if you have only 1 day - or at most, 2 days - to explore the city?
To find expert answers to this question, I touched base with my friend, Melissa - a 4th generation New Yorker and granddaughter of one of the City's very first taxi drivers. A true New York insider, Melissa publishes the NYC Insider Guide, where she shares all the hidden secrets and cool things to do in NYC.
Check out Melissa's recommendations for a short visit - -
Susan: Melissa, what your top 3 must see/must do recommendations for someone who will have about a day and a half in the city?
Melissa: For first time visitors, I suggest seeing our historical landmarks, including Top of the Rock and/or Empire State Building, Statue of Liberty Ferry and Ellis Island, Museum of Natural History. Either the New York CityPASS or a NYC Explorer Pass
give you the best values for seeing the most in a short amount of time.

View of New York from Top of the Rock, photographed in early morning
Photo courtesy of Daniel Schwen
Definitely take in a Broadway show if there's time, and rather than blowing your budget on a nice dinner that you won't have time to linger over, grab a hot dog or prix-fixe meal in Times Square before or after the show.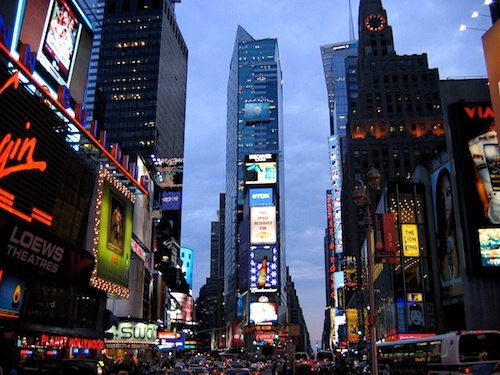 New York's Times Square and theaters, photographed at dusk
Photo courtesy of John Kolter, GNU Free documentation license
For return visitors, I suggest taking in a new Museum, possibly during one of their free days. Explore the neighborhoods, such as Greenwich or the West Village, Little Italy, Chinatown or SoHo. Each has a different flair and culture.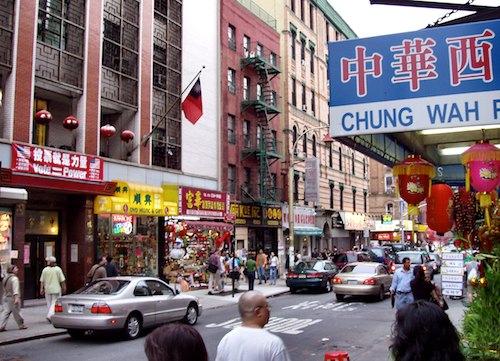 Mott Street in New York's Chinatown
Photo courtesy of Derek Jensen
Go deeper into Central Park, either with one of their free walking tours, or biking or blading. Add an Off Broadway Show, nice dinner or night club and definitely check to see what cool monthly events are happening.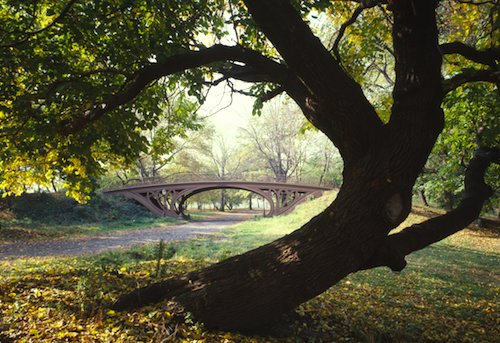 Central Park, in New York City
Susan: What's your favorite New York neighborhood - and why?
Melissa: I live Downtown, defined as anything below 14th Street. I love the Village, SoHo and Meatpacking areas, all filled with culture, nightlife, character, the arts and shopping.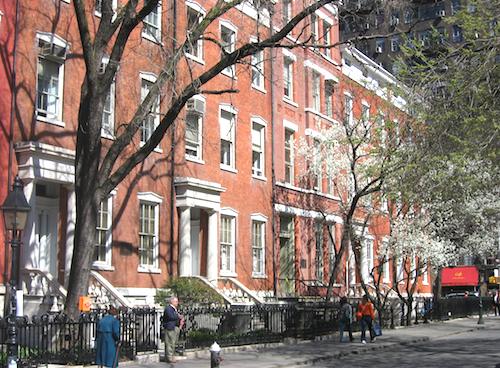 Near Washington Square, in New York City's Greenwich Village
Susan: For a visitor to NY who loves shopping but has only 2 hours - what's the best place to go?
Melissa: For designer shopping, Barney's, Bergdorf's and Bendel's are all near Central Park, the Plaza, and FAO Schwarz.
For discount shopping, which is always a hit or miss experience, Century 21 is near Ground Zero, Statue of Liberty and Wall Street. But there is nothing like one of our Sample Sales if you are in town when your favorite brand is there.
Susan: Thank you, Melissa! You've given us great ideas about New York tourist attractions - plus real "insider" ideas about interesting places to explore!
Essentials - New York City
Getting there from Boston:
Where to Stay:
Getting around: If you're in New York just a short time, walk or take cabs - fast, and less pricey than Boston's taxis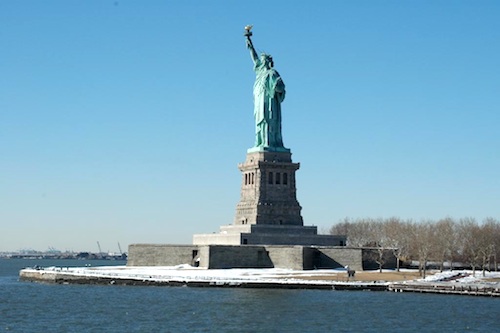 Statue of Liberty

More Daytrips and Weekend Getaways from Boston
Boston Discovery Guide > Weekend Getaways > New York Tourist Attractions